Valentine's Day is just around the corner and you might be trying to decide what to do. Are you looking to unplug and unwind in the Keweenaw? Get outside and explore the great outdoors?
We've got you covered. Choose your own adventure style.
It doesn't matter if you're single, married, dating, or looking for a fun activity to do with friends, we hope these date ideas inspire you!
EXPLORER
"Onward and upward!" to the historic Keweenaw Mountain Lodge and prepare for a weekend of exhilarating fun and adventure with a side of culinary delight. Reserve a cabin nestled in the woods with miles of picturesque trails to explore and breathtaking views of Brockway Mountain. No skis or snowshoes? No worries. Visit the Outdoor Recreation Center. They offer winter rental equipment including skis and snowshoes.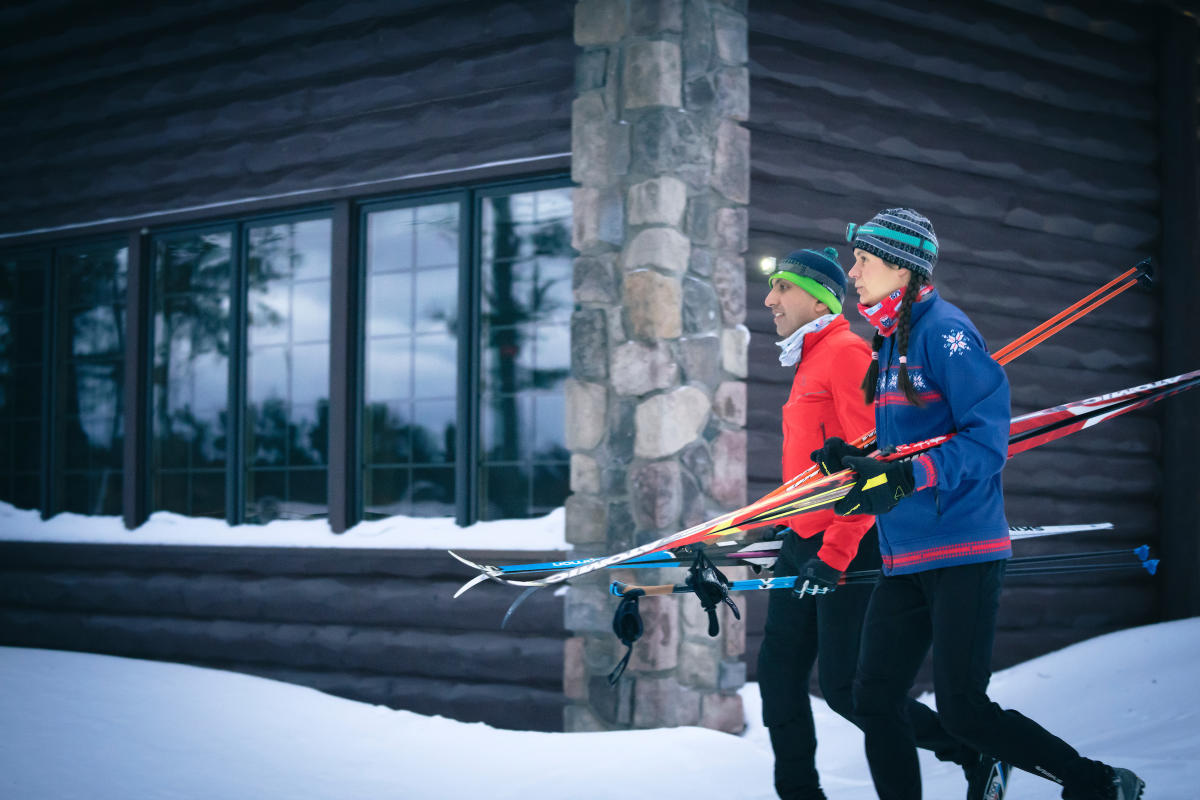 A couple heading out to the Nordic ski trails at the Keweenaw Mountain Lodge in Copper Harbor
Surprise your date with a private dinner at the Keweenaw Mountain Lodge. The KML Dining Room revolves around a slow dining experience, where you can relax and enjoy the atmosphere of the rustic lodge property. The lodge prides itself in a culinary experience that is built around the concept of "Rustic Worldly Food."  The lodge's Little Cabin Cafe serves out-of-this-world specialty coffee drinks, as well. Learn more about the Keweenaw Mountain Lodge Dining Experience here.  Call the lodge at 906-289-4403 to make your reservation. 
After a day on the trails, unwind with the ultimate in relaxation at Mount Bohemia's Nordic Spa. This is an experience designed to rejuvenate the mind and body using hot and cold water exposure. Let the stress and tension melt away while surrounded by a wintery wonderland.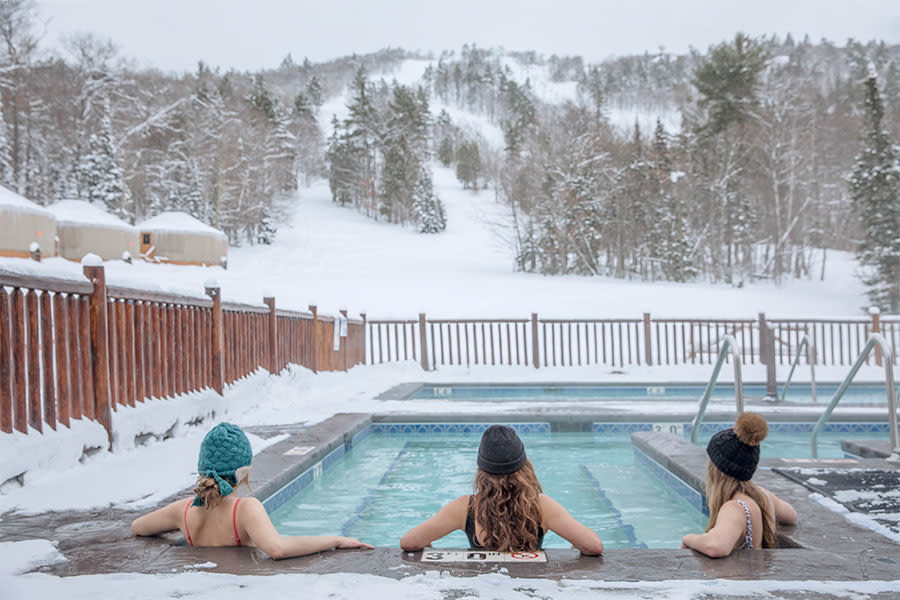 Nordic Spa at Mount Bohemia
HISTORY BUFFS
The Quincy Mine is offering tours this winter. The tour is above and below-ground, lasting approximately 2 ½ hours. This is an incredible opportunity to explore and experience the mine that was nicknamed "Old Reliable" because of its consistent payout to investors year after year. You'll have plenty of time to explore the mine ruins and ask questions.
History buffs will find themselves positively smitten with The Vault Hotel in downtown Houghton. This head-turning sandstone building was built in 1887 as the new home of Houghton National Bank. Millions in gold and cash were secured inside these walls during the copper boom.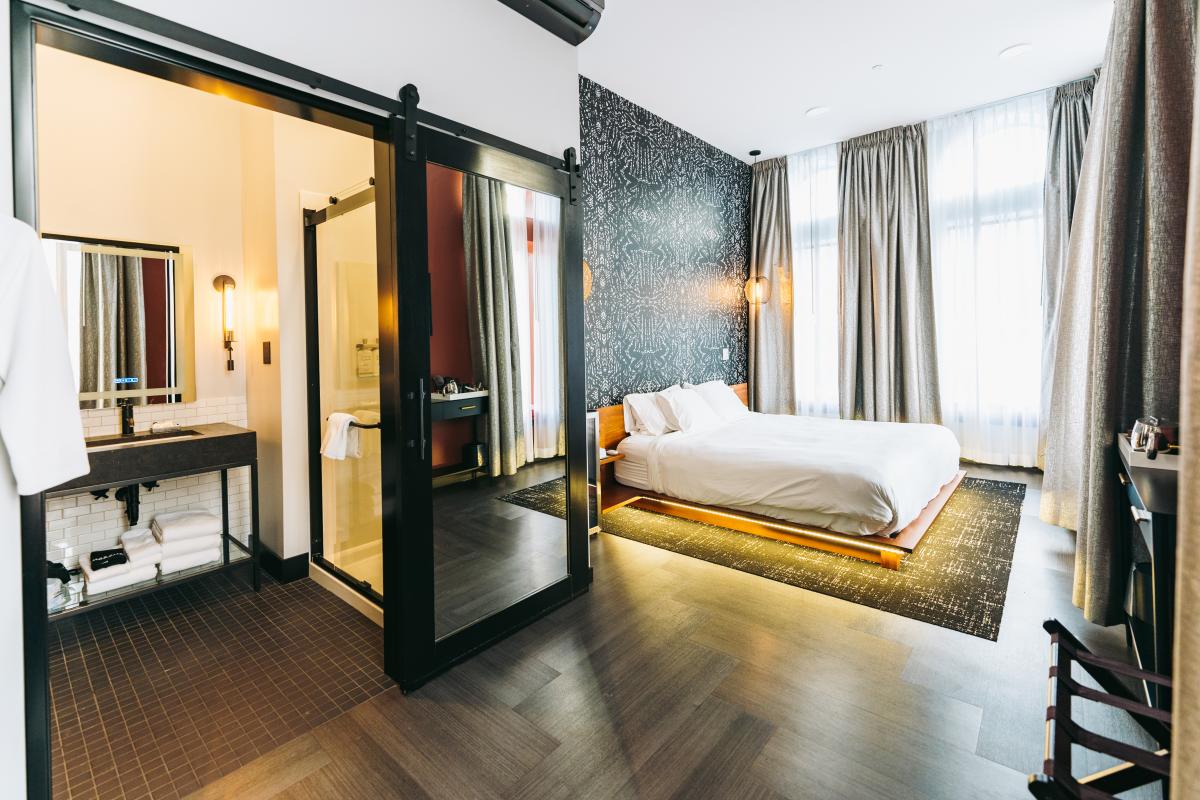 The Vault Hotel, a luxury boutique hotel in downtown Houghton
Book an overnight stay in the Vault Chamber room and marvel at the original super vault with an impenetrable two-ton door. Luxury, exclusivity, and history collide at The Vault Hotel. It's truly an experience like no other.
The Library Restaurant and Brewpub is just around the corner from The Vault Hotel. The interior brick walls are well over 100 years old, having previously been a cabinet maker's storefront. The food is vibrant and delicious—say "Yes!" to dessert. You can't go wrong with either the New York Style Cheesecake smothered in wild berry sauce or the Chocolate Miner's Cake with layers of chocolate ganache.
ADRENALINE JUNKIE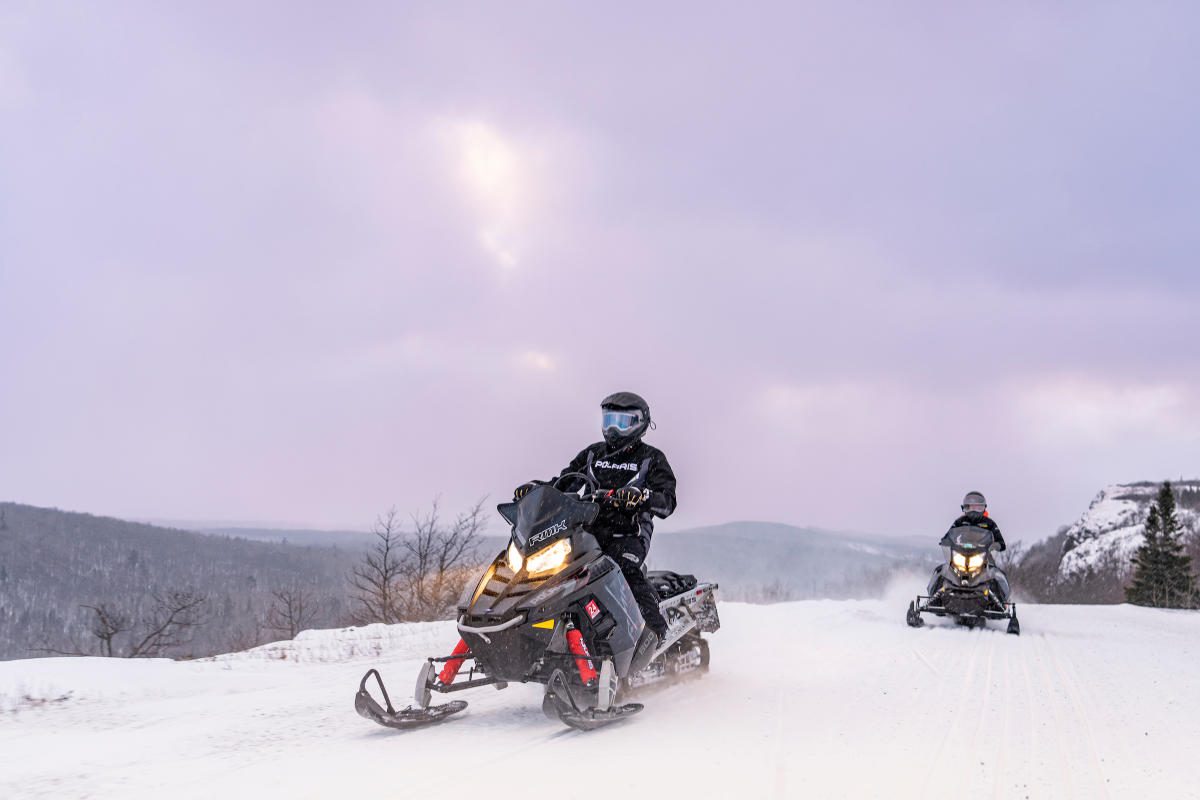 A couple snowmobiling in the Keweenaw's wilderness.
Did you know there are over 230 miles of snowmobile trails in the Keweenaw?! There are several locations throughout the Keweenaw that rent snowmobiles and gear, visit here. And you'll find a cozy cabin right off the trail at Krupp's Resort in Twin Lakes, Vic's Cabins in Calumet, and the Mariner North in Copper Harbor.
Rent a snowmobile for the day or weekend and venture out onto the trails. Depending on where you go, there are many amazing restaurants and watering holes located right on or very near the trails. Places like the Mosquito Inn in Toivola; Quincy's Restaurant in Dollar Bay; The Gay Bar in Gay; Ambassador Restaurant, The Downtowner, and Keweenaw Brewing Company in Houghton; Gino's in Hancock; and Dreamland in Lake Linden.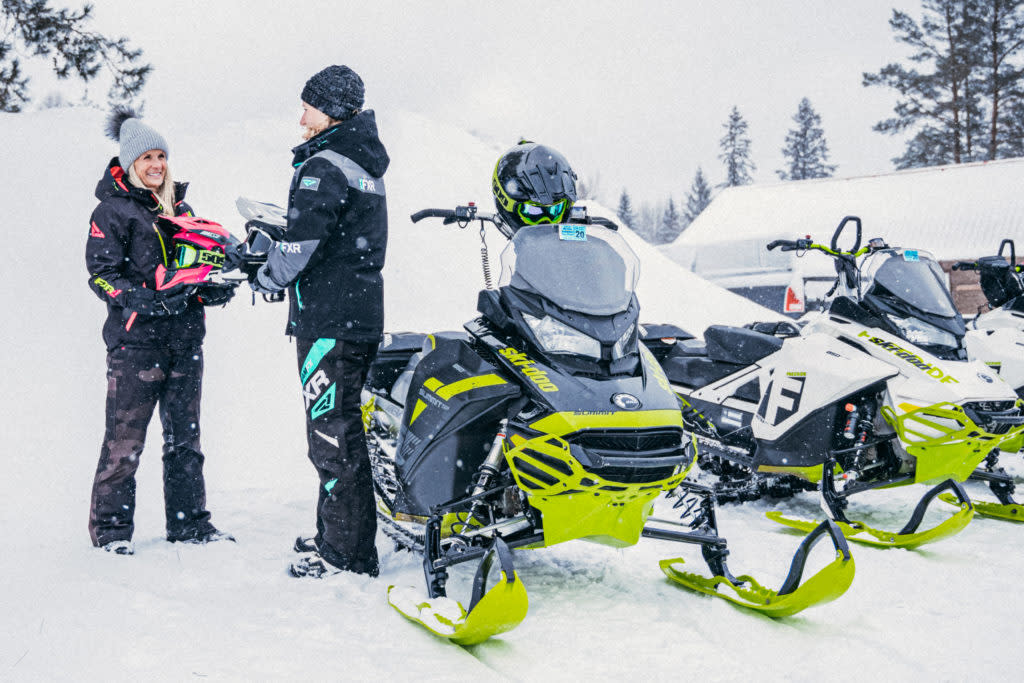 Staging next to the Trailside Lodge in Calumet.
CASUAL RELAXATION
Conversation and caffeine at Keweenaw Coffee Works in historic downtown Calumet. A locally-owned coffee shop with specialty coffee, fresh-pressed juice, bakery, a Yooper chic atmosphere, and plenty of cozy places to sit, relax, and kick back.
Take a stroll around downtown Calumet, where you can browse the shops. Visit Copper World to try some of their delicious homemade fudge.
While you're downtown, book a massage at Encompass Massage Therapy on 6th street. They have massage therapists that specialize in a variety of massage and relaxation techniques like hot stone and deep tissue massages.
For dinner, head over to the Michigan House Café & Red Jacket Brewpub on the corner of 6th and Oak Streets. Try the Pesto Pasta paired with their famous handcrafted Coffee Oatmeal Stout.
Enjoy an overnight stay at the AmericInn Wyndham Calumet. They have suites available with fireplaces and hot tubs, and the hotel has a beautiful saltwater pool available for guests.
Enjoy a local brew from the Red Jacket Brewing Co.