Heading to the tip of Michigan's Keweenaw Peninsula requires no less than a full day exploring Michigan's northern-most community of Copper Harbor. From the scenic drives, awe inspiring nature, and good eats – there's so much to be accomplished with just 24 hours in Copper Harbor!
THIMBLEBERRY DONUTS ON LAKE SUPERIOR
What could make your morning more steeped in Keweenaw glory than biting into a donut topped with hand-picked thimbleberry frosting while soaking in the sunrise right on the lapping shores of Lake Superior? Jamsen's Bakery is located right on the Lake Superior waterfront, sharing water access with the Isle Royale Queen IV. Jamsen's is a bakery and coffee shop beloved by Copper Harbor acolytes and those preparing to journey out to Isle Royale National Park. Their wide selection of bakery, savory breakfast sandwiches, and fresh coffee greet the early risers of the far north and fill the bellies of eager adventurers.
MORNING MARVEL AT ESTIVANT PINES
Towering into the sky is one of the truest gems in the Keweenaw's crown: The Estivant Pines Nature Sanctuary. Reaching high into the sky, these pine forests lay claim to the honor of being Michigan's largest tract of old-growth Eastern White Pines in the state. Some of the behemoths have graced the landscape with their presence for 500 years, growing as wide as 3-5 feet in diameter. No one would blame you for giving in to the desire to wrap your arms around one of these beauties just to feel the sheer magnificence of their presence. This peaceful area is a fantastic place to reflect in nature and play among giants!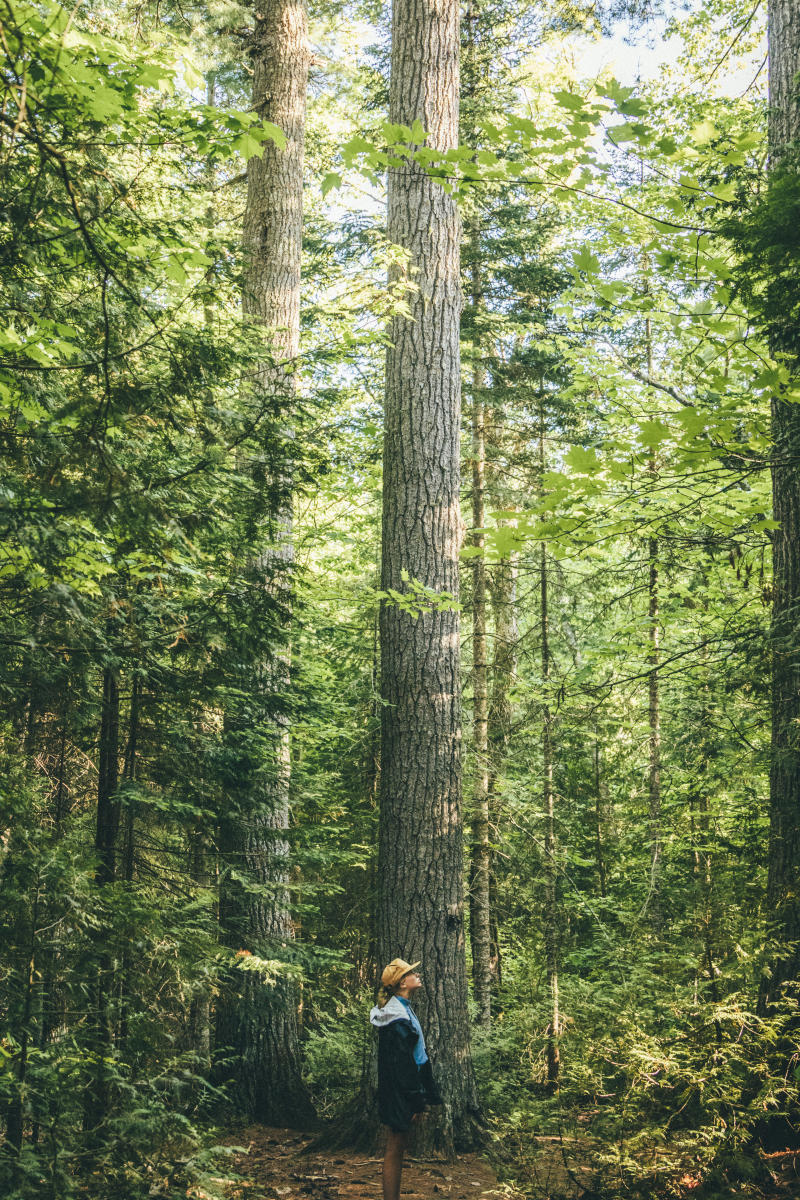 TEN-HUT! TO FORT WILKINS!
This immaculately preserved 1800s military outpost is a must-see for those who love a little Copper Country history! Fort Wilkins Historic State Park, built in 1844, is a monument to the army men who kept law and order in the wild northern frontier days of the Copper Rush. Here you can walk among the buildings and see what their life was like. If you know what a Keweenaw winter can bring, it's a worthwhile exercise to stand in those Spartan accommodations and imagine what grit those folks had. The expansive park offers a great place to enjoy a summer stroll, and walk along the shores of Lake Fanny Hooe!
FUEL UP AT THESE LUNCH FAVORITES
Getting the most out of your Copper Harbor visit requires a full stomach. Luckily, this small town punches above its weight when it comes to food options.  The Mariner North is a year-round favorite with a big menu filled with great sandwiches, burgers and seafood options. The trout spread is a homemade specialty.  Across the street, the Lake Effect Bar and Grill serves juicy burgers and abundant drink options. Plus, you'll find local musicians jamming out a nights throughout the year.
TIME FOR A KEWEENAW ADVENTURE (COMPANY)
Even those enjoying Copper Harbor for a day can still enjoy the expansive opportunities for mountain biking and kayaking! The Keweenaw Adventure Company, located in the heart of Copper Harbor, offers expert guides, advice, and rentals for anyone looking to move their body in nature. Whether you're looking to shred some of the 37 miles of IMBA Silver Level Trails maintained by the Copper Harbor Trails Club, trek out to High Rock Bay, or are looking to simply cruise around Copper Harbor – they've got the perfect bike for you! If you're looking to get out on Lake Superior, KAC offers guided paddles on sea kayaks that will fit your timeframe!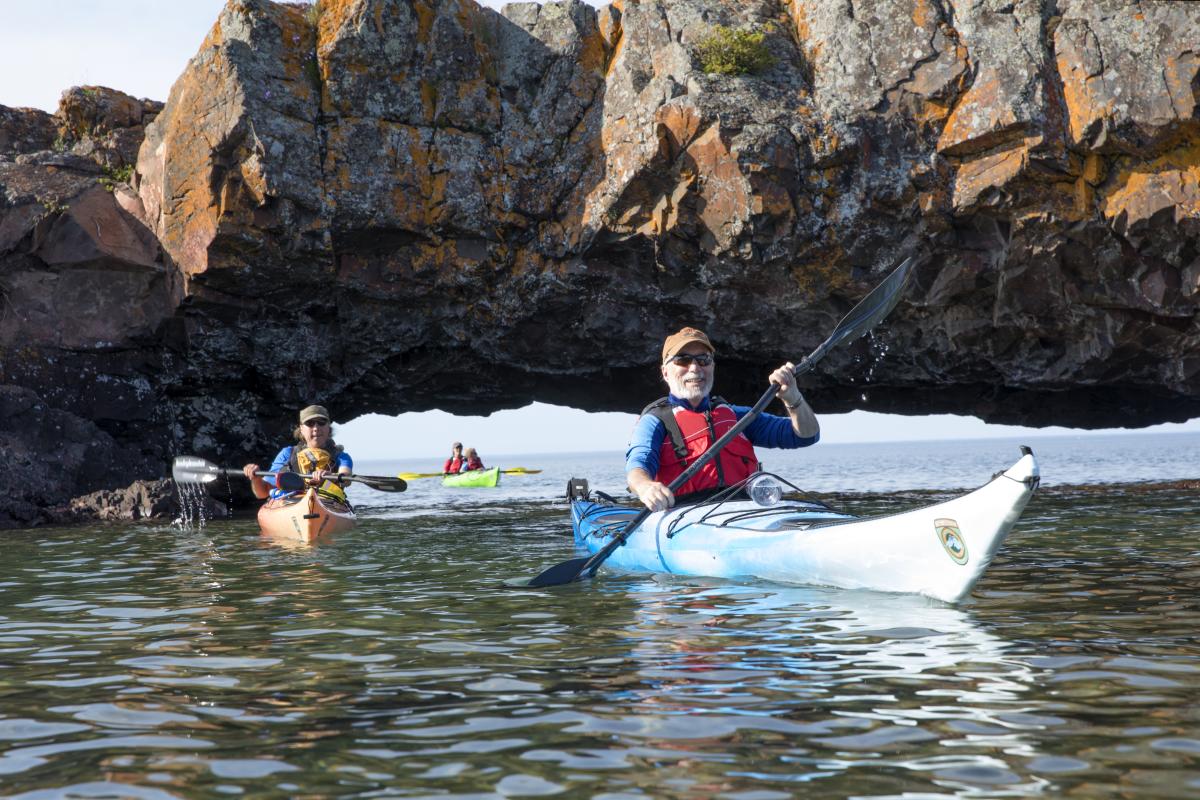 CHEERS TO BRICKSIDE BREWERY
For all of you craft-beer aficionados, Brickside is a destination brewery that is well worth checking off your beer bucket list! Situated well at the tip of the Keweenaw, Brickside Brewery holds the honor of being Michigan's northernmost brewery! Sipping a brew here will give major cred to your craft beer resume. Brickside is a cozy, intimate location to plan your day and chat with friends and the brewmaster. There's board games to play while you try the creative seasonal brews.
HAWK'S EYE VIEW FROM BROCKWAY MOUNTAIN
Driving up Brockway Mountain is an experience that many define as the quintessential Copper Harbor moment. The winding road from M-26 takes you up through the wooded slopes of Brockway to the peak for amazing views. From the top of Brockway Mountain, which is technically in Eagle Harbor Township, you can see the incredible magnitude of the Keweenaw landscape – inland lakes like blue jewels in a velvet tapestry of rolling forests… the jaw-dropping expanse of Lake Superior as far as the eye can see… Days of clear summer weather bring limitless views and great birdwatching, and even inclement weather can bring gorgeous, moody views of fog rolling into valleys or clouds that you can nearly touch with an outstretched hand.
DINNER & A STELLAR SHOW
The Keweenaw Mountain Lodge is a special destination all on its own. Home to a 9-hole golf course, fling golf and trail systems for hiking and biking…visitors can spend the entire day recreating at this historic WPA property. Throughout the year, KML staff host dark sky photography and viewing sessions so that visitors can truly appreciate the Keweenaw's unblemished night skies. Don't miss out on the opportunity to dine on property as they offer rustic, worldly culinary experiences with meals inspired by dishes from across the globe.