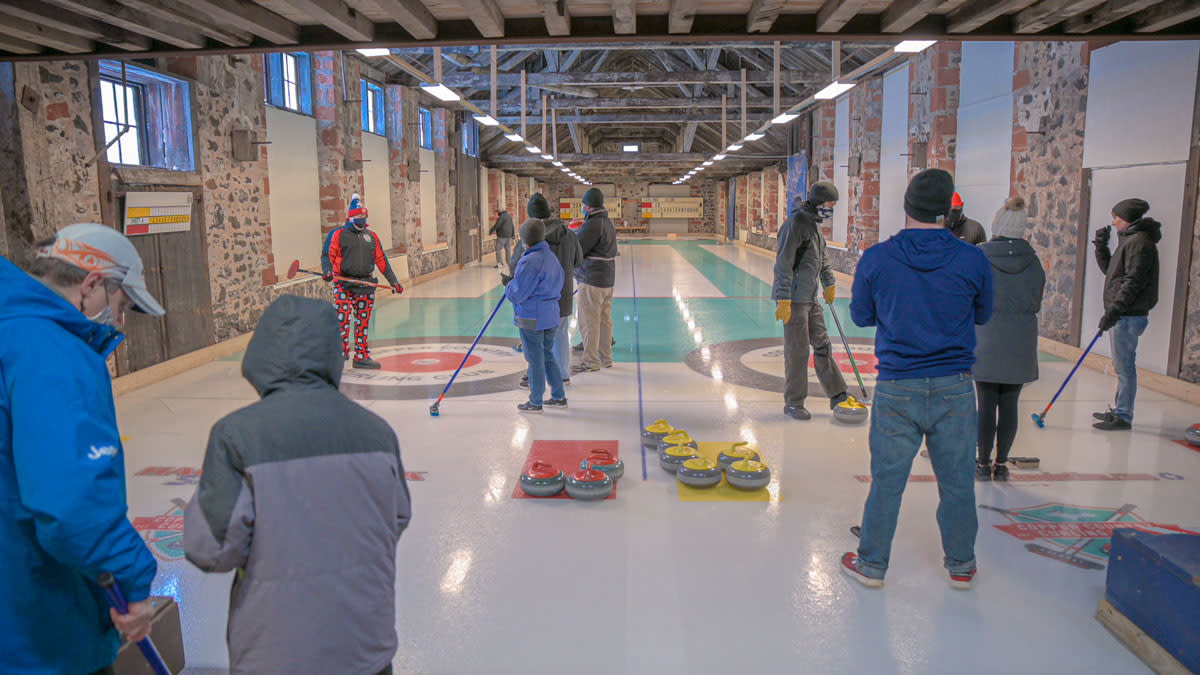 Curling is considered one of the world's oldest winter team sports with its roots found in 16th century Scotland where the art was practiced on frozen lochs and lakes. Today, curling is a Winter Olympics darling, and the sport is sweeping across the Midwest (pun intended)!
Tucked away in the heart of historic Calumet, groups of locals and visitors can give the 'roarin' game' a go at the Copper Country Curling Club (CCCC) housed in Calumet & Hecla Mine's former drill shop. This unique venue and activity is sure to be a perfect addition to your Keweenaw winter visit.
WHAT IS CURLING?
You've likely seen curling on a niche ESPN channel, the Winter Olympics, or (in the case of one CCCC member) on Canadian TV. Curlers slide large, polished granite stones down a slick sheet of ice to a targeted area. Teams employ "sweepers" to influence the path of the rock, using brooms to create a curved path – or the "curl". This sport is much like a human-sized game of shuffleboard (found in many of the Keweenaw's local drinkeries), so those that are drawn to the skill and finesse of that beloved bar game will get a thrill from curling.
COPPER COUNTRY CURLING CLUB
Address: 110 Red Jacket Rd, Calumet, MI 49913
Phone: (906) 337-5582
The CCCC was formed in 1996 in Lake Linden. The club found a loyal membership, and thanks to an invigorated interest in curling due to the 2002 Winter Olympics, found a permanent home rink at the Drill Shop in Calumet in 2005. This fantastic stone building was erected in the 1880s by the Calumet & Hecla Mining Company.
Here they manufactured the drills used throughout the Keweenaw's mining operations. When the CCCC moved in in the mid 2000s, the building was still chock full of drill bits! The warming room is decorated with a few long metal drills to commemorate its history. Due to the largely original construction of the building and deep Keweenaw winters, it lends perfectly to the maintenance of a natural ice facility.
During the curling season, members enjoy league nights where they can compete and practice. While league nights are not currently open to the public, there are plenty of opportunities to access the ice!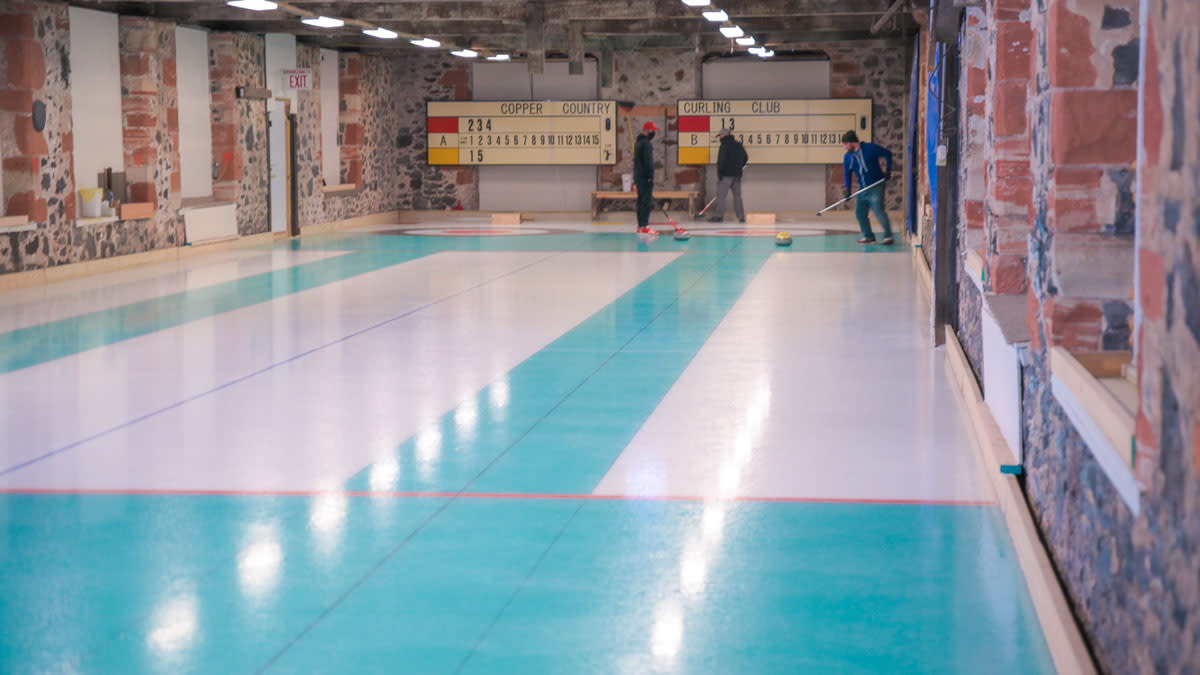 HOW TO CURL AT THE CCCC
If you're looking to get on the sheet yourself and try your hand at curling, the CCCC offers multiple ways to learn:
OPEN-HOUSES
As their season opens, the CCCC will organize open houses to introduce visitors to the Drill House and introduce the sport. Keep an eye on the CCCC social media for possible dates.
BOOK A PRIVATE EVENT!
This is the sure-fire way to get curling and to guarantee an absolutely memorable event for your friends and family. Enjoy a ~2-hour lesson from a certified curling coach, starting with the basic techniques in the first hour, and then throwing down in a real game with your group. To book your private event, visit their website for contact details!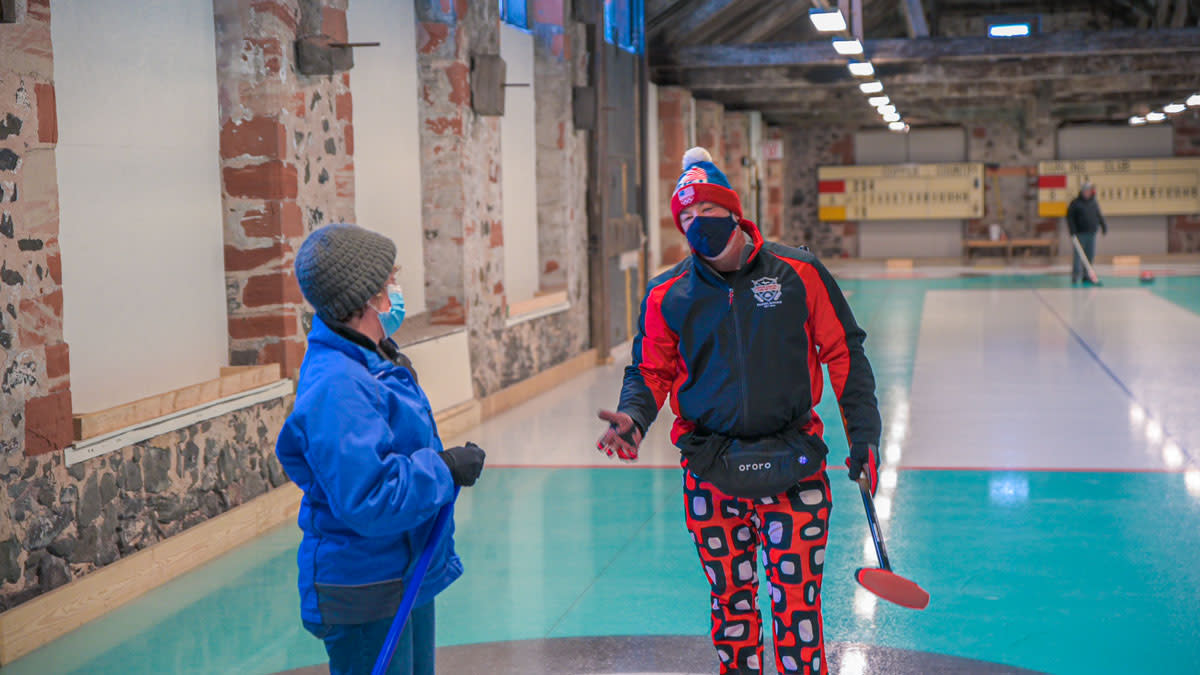 RECOMMENDED GEAR AND WARDROBE
Once your curling night is booked, make sure that you and your group knows how to prep before hitting the ice. All the necessary equipment like sweeps and stones are provided by CCCC, but you'll want to dress appropriately as you'll be "on ice" for experience.
Bring along (not wear) a clean pair of tennis shoes. This ensures that the ice stays clean and free of dirt, salt, and debris. Also, you want to stay nimble on the ice, and a hard-soled snow boot is a ticket to Slipsville.
Wear warm, but flexible clothes. You'll be getting into some deep yoga-poses, or at least a down pretty low, so you'll want range of motion.
Don't forget warm gloves and hats! Thankfully, there's a cozy warming room with great seating for those who need to heat up or would like to just watch.
Even if your curling career is just for one night a year, embrace the uniqueness! You'll want to bring your A-game, but leave your pride at the door, as this novel sport will lead to a lot of goofiness on the ice (and maybe humble you when you belly flop mid stone throw). Curling in Calumet is a quintessential snowy, northern activity and must be a part of your Keweenaw itinerary!
Interested in updates, travel tips and quirky information about the Keweenaw? Just sign up for the Keweenaw Explorer, our monthly e-newsletter. Complete the form…