There are some nights in downtown Houghton where your dinner plans call for something a little… more. Perhaps a sunset stroll along the waterfront has inspired a little romance… you're celebrating a personal best after a day on the Tech Trails… or you're just looking to break bread with friends in a place with a certain atmosphere. Whatever reason finds you near Shelden Avenue, we have sit-down dinner suggestions that will wow both your travel buddies and your palate alike!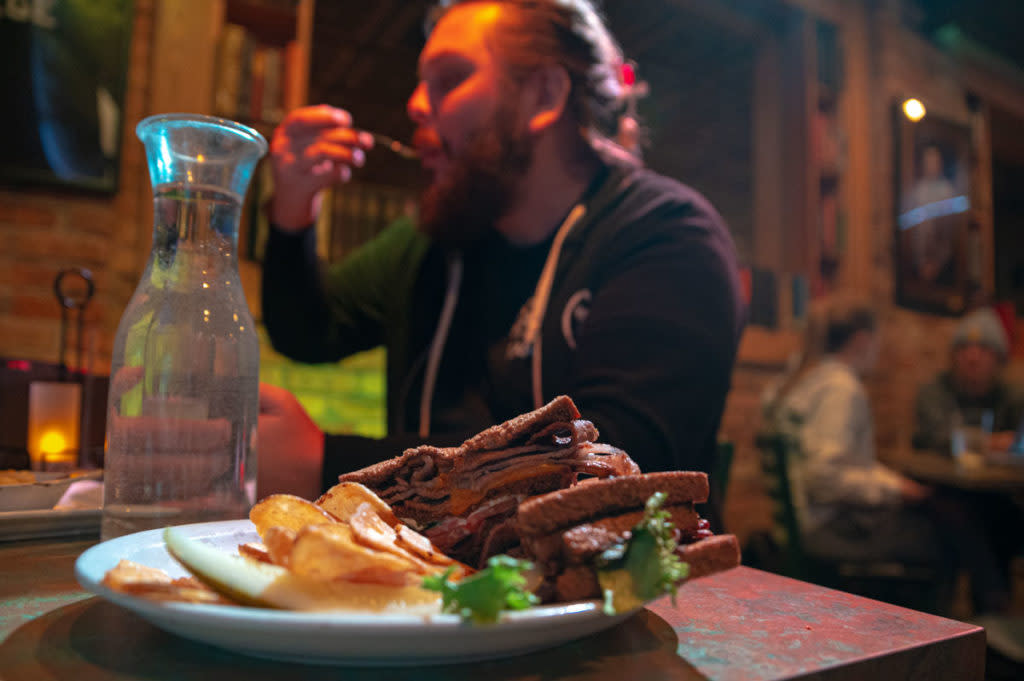 Since 1967, folks have been saying they're off in a rush to "the library" with a twinkle in their eye. At this establishment just a hop down from the main street, your main reading material will be the menu and beer list! Playful lighting sparkling against the ornate tin ceiling panels, books line the walls, and the romantic dark wood and brick interplay inside The Library, creating a warm and inviting atmosphere. The Library Restaurant features upscale pub food ranging from crafted sandwiches like the Epicurean (a double-decker roast beef BLT) to Ahi Tuna to zesty pasta dishes. Prominently featured alongside the dining room is Copper Country Brewery, the in-house craft beer brewery. Sip on a seasonal ale or one of the tried-and-true brews while taking in the fantastic evening views from the picture windows facing the Portage and Mont Ripley.
Our Recommendation: The Epicurean with house-made chips & a Devil's Washtub Double IPA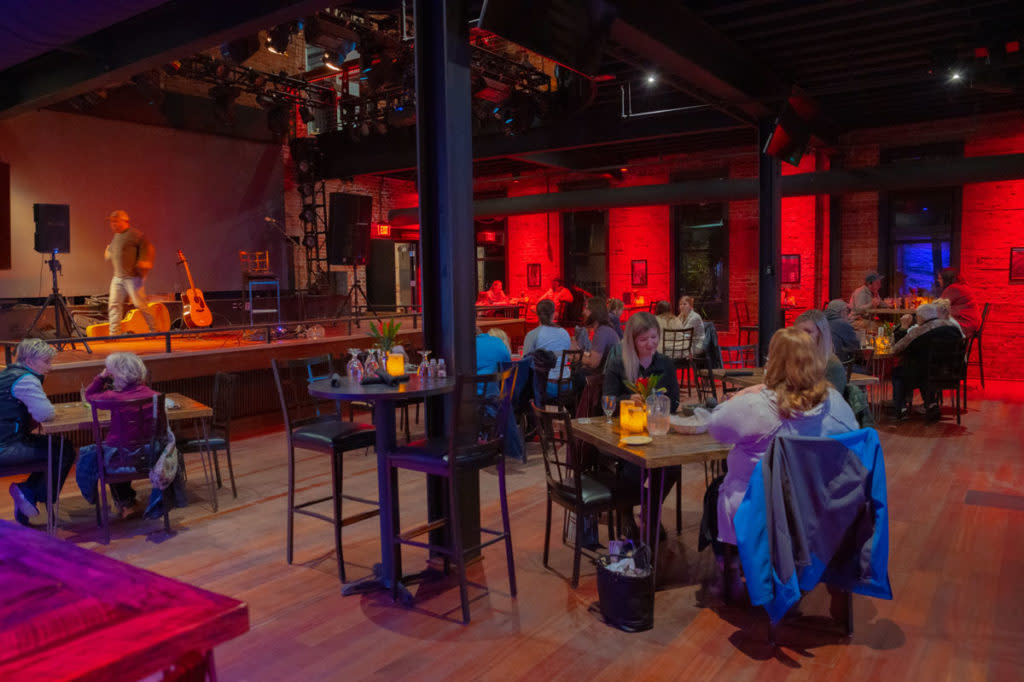 The Bonfire is a restaurant with a saucy, little secret. During the dinner hour, Bonfire serves up high-quality American fare inside a historic Houghton building… but at night Bonfire transforms into the Keweenaw's only dance club! This 160+ year old building once served as the Houghton Fire Hall, and as you mount the stairs to the dining room you'll see photographic homages to its former life. This venue playfully melds together both historic brick architecture with modern aesthetic, which makes for a truly unique experience regardless of what time you're here. During the dinner service, you'll find options ranging from a plethora of shareable small plates to truly upscale dishes like lobster and New York Strip. Keep an eye on events, as the stage is often home to local musicians, or if you're really lucky, karaoke!
Our Recommendation: Go wild on the small plates – Pulled Pork Bonfire Nachos, Cheese Curds, Smoked Wings! (with a fancy cocktail?)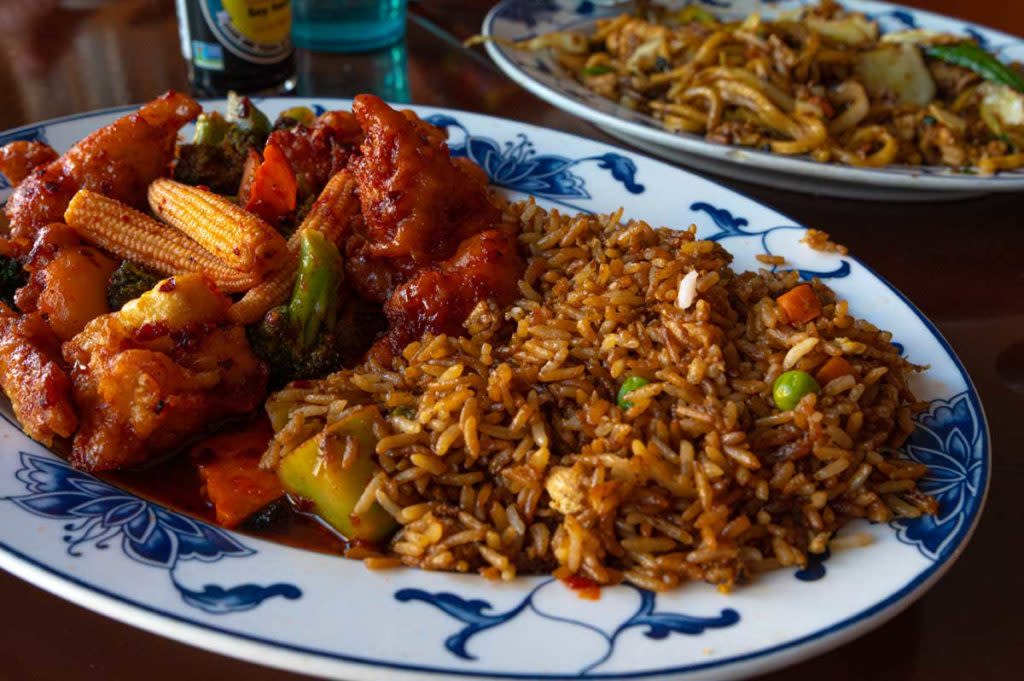 The ornate golden dragons framing the doors of Hunan Garden have welcomed many a hungry traveler. Inside, a life-sized statue of Buddah smiles joyously – even he knows what great bounty awaits you here! From your perch in the red leather high-backed booths, you can watch the hustle and bustle of Shelden Avenue pass you by. This kitchen is helmed by the indomitable force that is Mrs. Chu – both the proprietor and head chef! She deftly doles out favorites like crab rangoons and potstickers alongside wonton soups that are delicate yet flavorful. Here you'll find many familiar Asian dishes, but Mrs. Chu spins her own brand of magic with specials that explore current trends across the world or harken to her own favorite home-cooked meals. Leave your expectations at the door, and prepare yourself for rich flavors!
Our Recommendation: Peep the specials (We are avid fans of the Coconut Curry Beef!) OR the Empress Chicken with Fried Rice

The Den is a foodie's paradise. At this contemporary restaurant, you'll find a curated wood-fired menu that delights in taking well-known favorites and revolutionizing them with farm-to-table ingredients and clever culinary techniques. This downtown establishment doesn't just prioritize Keweenaw farms for their ingredients – you'll also find their bar is stocked with exclusively Michigan-based libations, a perfect accent to their artisan cocktail menu! Here, in the chic, black dining room warmed by shining Edison lights, the chef makes his rounds bonding with patrons and sharing his love of the craft. The Den sets its sights on keeping a fresh and inventive specials menu that keeps folks coming back for more. Whether you can't deny yourself the hearty bite of their signature meatloaf sandwich or are feeling frisky with a spaghetti squash shrimp Pad Thai, the Den will be sure to satisfy all curious palates!
Our Recommendation: Focus on the specials OR the Game Hen. Pair with the Siren's Call – a lovely little gin and crème de Violette number!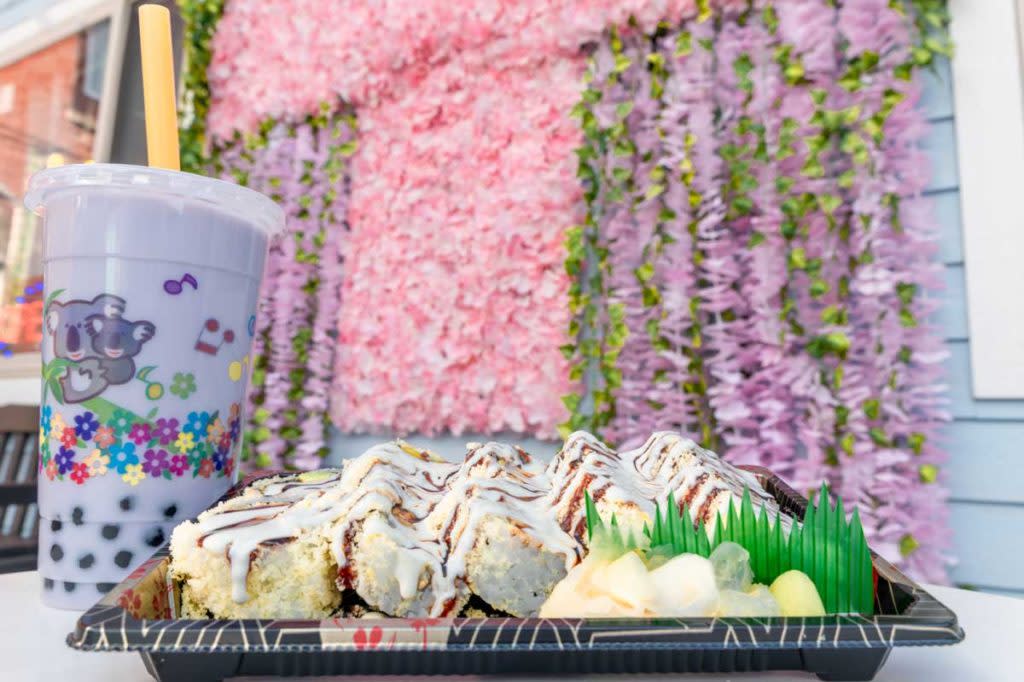 Sky Sushi is the epitome of "small but mighty"! The modern, bright interior of this small restaurant offers intimate seating for sushi acolytes. Sky Sushi offers a long list of beautifully prepared maki, nigiri, and sashimi. These artfully prepared rolls are a delight in color and texture, and so thoughtfully plated amongst flowers, foliage, and accenting sauces… it almost seems a shame to eat it! There are big, spectacular dishes like the Flaming Dragon, a tempura shrimp and salmon roll that comes literally on fire, but also just undeniably solid offerings like the California maki. Additionally, there are ramen and poke dishes for those looking for a hearty pairing to their sushi.
Our Recommendation: Sky Maki – a kaleidoscopic tempura shrimp roll one has to see to believe!