What is it about a little pub tucked away in some quiet place that's just so darn appealing? Is it the friendly bartender, who's likely the owner? Is it the history lining the walls – mining photos, dollar bills stuck to the ceiling, vintage local sports jerseys, Bosch brewing memorabilia… Or perhaps it's the feeling of friendship and community and a cozy, welcoming atmosphere. We asked Michigan's Keweenaw Peninsula online community where some of their favorite Keweenaw watering holes were, and they did not disappoint!
SCHMIDT'S CORNER BAR AND GRILL
Location: 16810 Fire Hall Rd, Houghton, MI 49931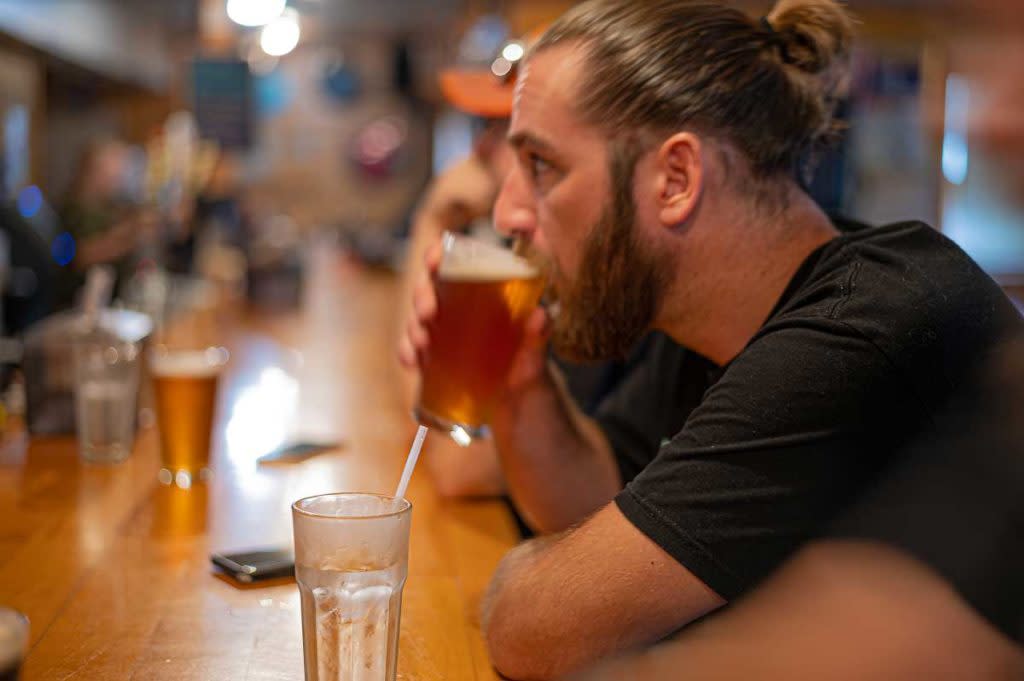 Schmidt's Corner Bar and Grill in Houghton
For aurora seekers heading back from Breakers, snowmobilers, or just those looking to travel outside the Houghton city limits, Schmidt's is a can't-miss local bar. Here you'll find a good variety of beers on tap, an extensive Moscow mule menu, and that classic cooked-behind-the-bar dining fare. It's not uncommon to hear of folks making this relaxed venue their dinner stop multiple nights in a row, especially when their menu includes items like the Pasty Slider, a collaboration with the famous Suomi Restaurant! Schmidt's is home to arguably the best fried wings in the Keweenaw. You can watch as they are fried to crunchy perfection right behind the bar and liberally dusted with the Copper Country's own Bruno's Spices. Top 'em off with Schmidt's house-made hot sauce if you're feeling nasty. Pairs well with a pitcher of KBC Widowmaker!
CLIFF VIEW BAR
Location: 5014 US-41, Mohawk, MI 49950
Cliff View Bar in Mohawk
Fall color seekers and those making their yearly pilgrimage to Copper Harbor will recognize the Cliff View Bar as they pass the cliffs in Phoenix, but only the truly savvy know to stop in. This immaculate 1930s-era bar welcomes visitors with a great view of the cliffside, a killer footlong, and (if you're lucky) the warm and charming conversation of bar owner, Marjie. It was in one of those conversations that we learned a sort of unofficial mantra from behind that bar: "If it's not in the name, you're not getting it," Marjie told us.  Rum and cokes and whiskeys on the rocks are the types of drinks you can expect to sip here. So while you probably won't find a 10-ingredient cocktail, Cliff Side still has a couple tricks up their sleeve with their rotating pudding shot selection (we had blueberry cheesecake) and their true signature item, the Vollwerth Natural Casing Footlong with Cliff View Relish. This housemade relish is a truly unique secret recipe developed by a former owner, and Marjie says you can have the recipe if you buy the bar! Since this bar is right in the middle of Trail #3 between Houghton and Copper Harbor, the Cliff View bar is a great stop for anyone in the Keweenaw enjoying motorized recreation – snowmobiles, side-by-sides… really, whatever you hit the trails with.
SHUTE'S 1890 Saloon
Location: 322 6th St, Calumet, MI 49913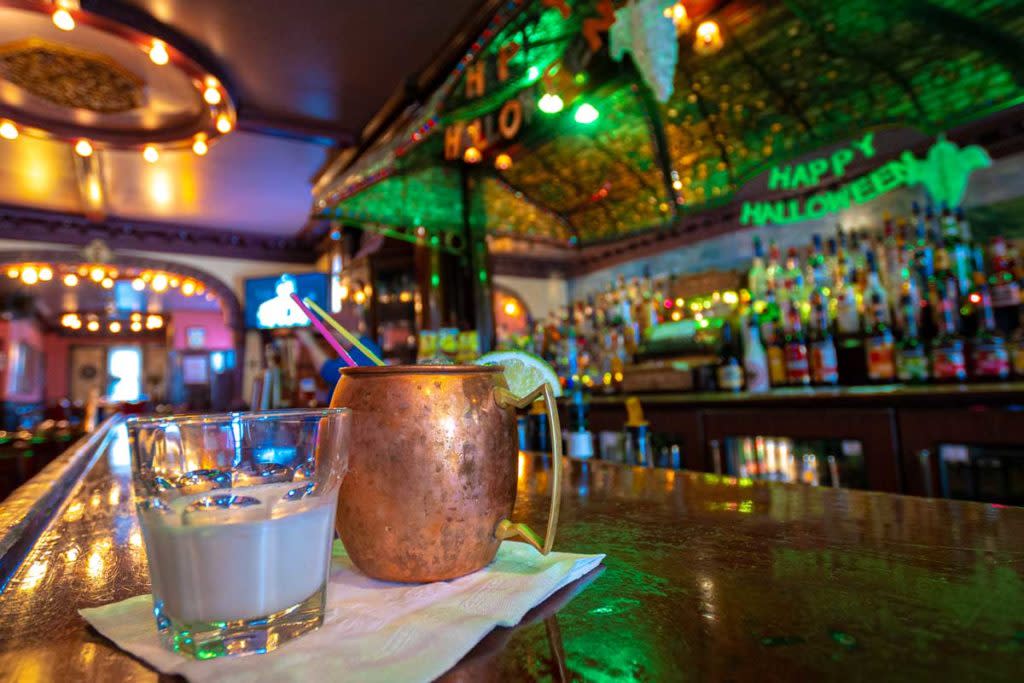 Shute's 1890 Saloon in Calumet
Walking into Shute's is like stepping back into the Copper Country during her heyday. A rich, dark wood bar runs the length of the long, narrow bar. Brass accents glitter in the archways and lighting. There's nearly an infinite amount of architectural nuances and novelties to discover in this historic bar. That's not even mentioning the hand-painted mural spanning the whole left side of the bar! The shining gem of Shutes lies proudly glittering above the neatly organized spirits- a fantastic stained glass overhang. Sidle up to the bar and order the Club Shute's Shot (Rumchata, buttershots, and salt!) and get one of their famous Moscow Mules (how can you resist a copper mug). Shute's is located right next to the equally historic Calumet Theater, which makes this the perfect venue to stop for a post-show cocktail (and a pre-show AND intermission drink, our bartender said to us with a wink). The friendly barside conversation at this beautiful Calumet saloon blossomed with historical lessons and exciting insights into the current happenings in town.
BILL'S B & B BAR
Location: 409 Memorial Rd, Houghton, MI 49931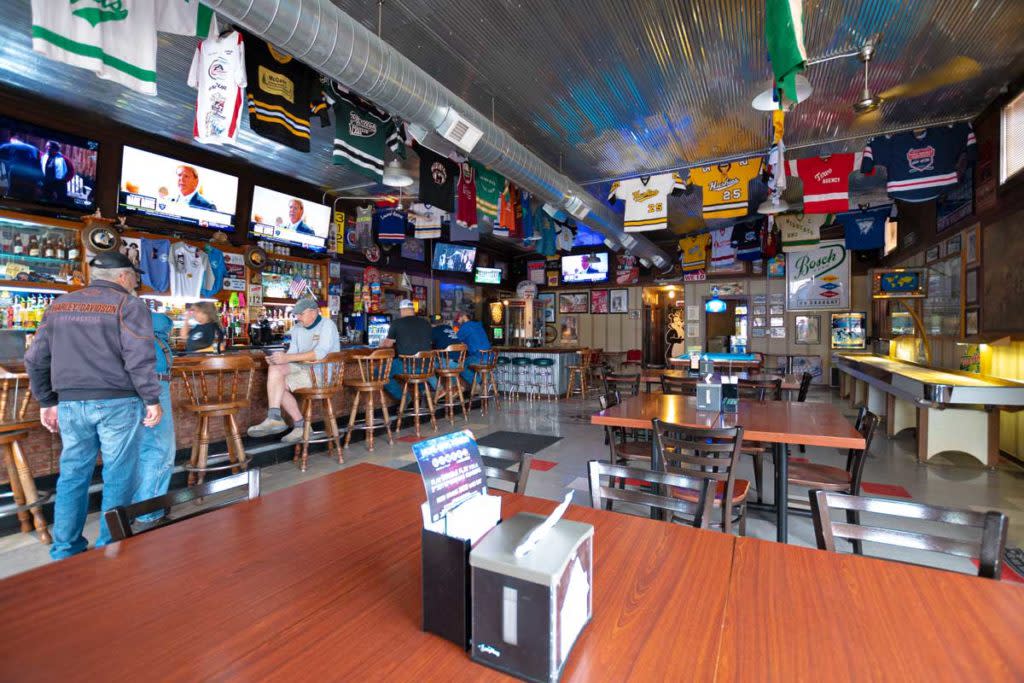 Bill's B & B Bar
Serving as the stalwart guardian of the world famous Yooper Loop, this inconspicuous bar is where you can get what some consider the best pickled egg in the world. In fact while we sat at the bar, a regular patron estimated that in a year the bar can sell $30k worth of pickled eggs alone (we can't confirm these figures). In the past, students and alum alike would come to Bill's B&B with giant jars to bring back home with them during those years… alas, today, you can only leave with the pickled eggs in your belly. Today, you can find a friendly spot to play shuffleboard amongst local sports memorabilia and all sorts of relics from the Bosch Brewery days. If you're looking for a good story or two about the Bosch days, maybe you'll be lucky to bend the ear of some of the former brewery workers who call the B&B their home bar. The last box of Bosch off the line sits atop the door, signed by the friendly fellow we shared a drink with. While you're here, help yourself to some fresh popped corn and try the ham and eggs – er… excuse me, HAMMS & pickled eggs – the cheeky B&B combo!
SOUTH RANGE PUB
Location: 31 Trimountain Ave, South Range, MI 49963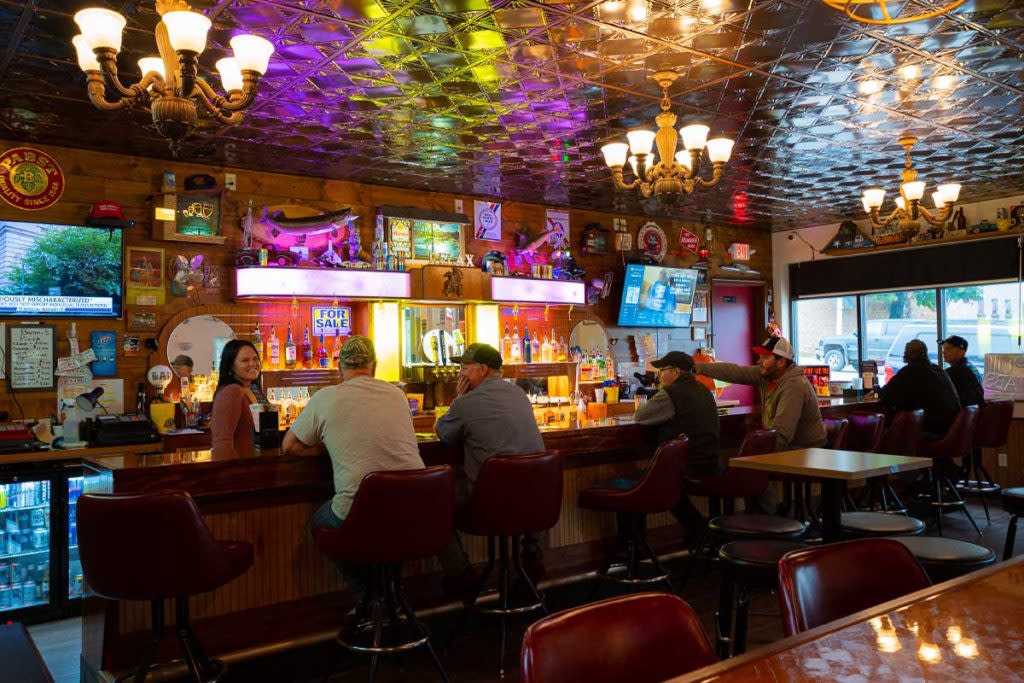 South Range Pub
Under new ownership, and completely remodeled from stem to stern, the South Range Pub is a highly-underrated establishment. Here you'll find a place that welcomes any patron with a ready refreshment and a friendly face both behind the bar. Inside you'll find a veritable treasure trove of vintage bar decor surrounding the original South Range Pub wooden bar. Purple and yellow lights give off enough art deco vibes you might think you just left South Range and ended up in South Beach. Complementing the spectacle of the bar is a sparkling metal ceiling that nods to the original Copper Country aesthetic of other historic buildings, but combines to create a look you can literally only find at The Pub. Beyond the stunning looks, this is a place for the avid sportsman – and we're not just talking about outdoor recreation. Pool leagues are very popular here, there are darts for the keen shooter, and the shuffleboard regularly commands long queues of competitors! Running flush behind the Pub is a leg of the extensive Keweenaw snowmobiling trails, so those wrapping up a day of riding can pull straight in. So whether you're knocking the sand off after a day at Agate Beach, or find yourself in need of a winter warmer, you'll be in no better hands than at the South Range Pub!