In National Geographic's: Uncharted "Michigan's Yooper Cuisine", we witnessed famous chef Gordon Ramsay explore the Keweenaw Peninsula as he pursued Upper Peninsula culinary ingredients. Inspired by Ramsay's quest to become a true yooper, here are our recommendations on visiting the Keweenaw like a celebrity chef.
SUOMI
In 2019, early morning breakfasters at Houghton's famous Suomi Home Bakery & Restaurant noticed that they had some interesting company. Seated in the booth under the driftwood photo was none other than Chef Gordon Ramsay. It's not hard to understand why. Suomi has been serving Finnish aamiainen and lounas (breakfast and lunch) to devoted locals, curious visitors, and hungry college students for 40+ years. At Suomi, one absolutely has to try the pannukakku, a thick, creamy, baked custard pancake. Served with the traditional red raspberry sauce, it'll give you the necessary energy as you explore Michigan's northern-most wilderness.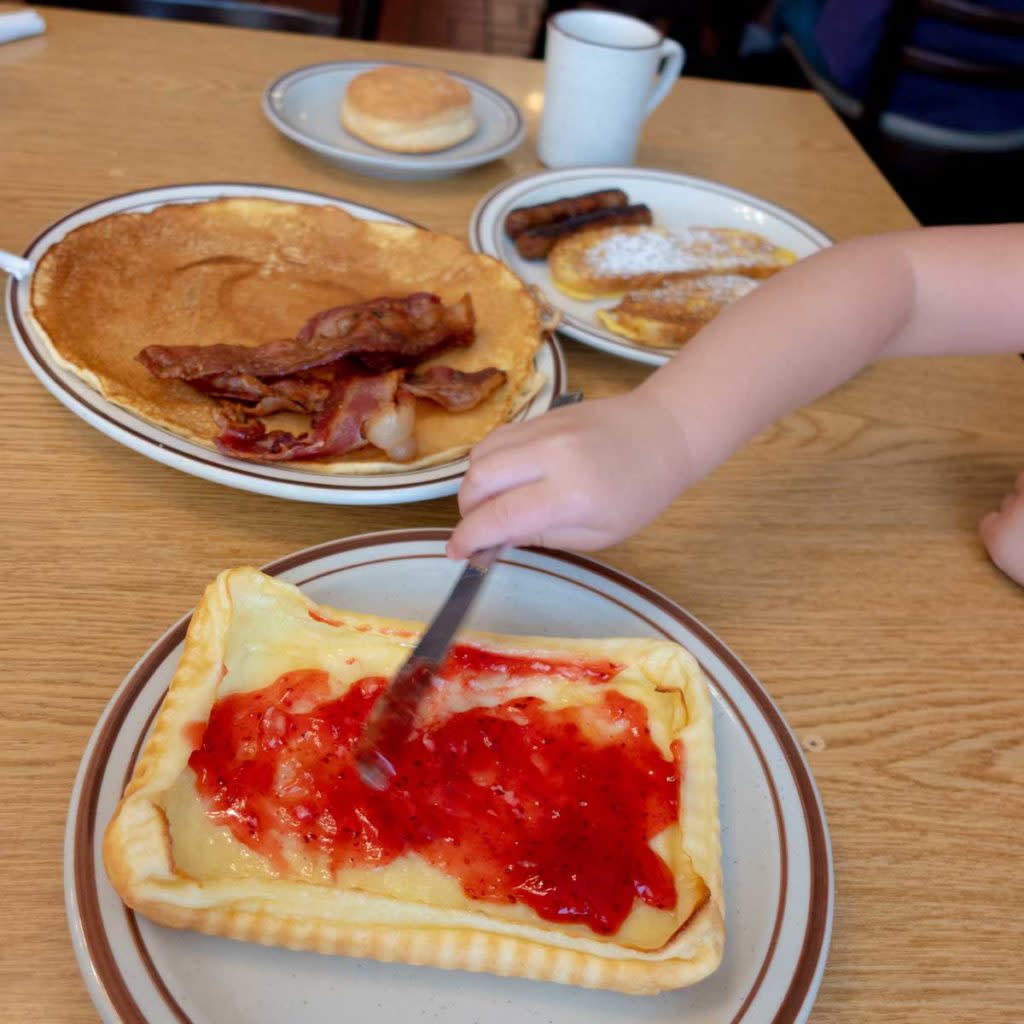 The Celebrity Chef was spotted enjoying Suomi's in Houghton.
MOUNTAIN BIKING
As the episode opened with the glorious Michigan fall vistas, we saw Gordon climbing through the forested trails on a mountain bike. Copper Harbor lent those amazing shots, and anyone who mountain bikes knows the trails up in the Harbor are among the world's best – read more about some of our favorites! Rent your bike from an outfitter like Keweenaw Adventure Company and perhaps you'll be lucky to ride the "Gordon Ramsay Flyer"…the same bike Gordon rode during his tour of Copper Harbor.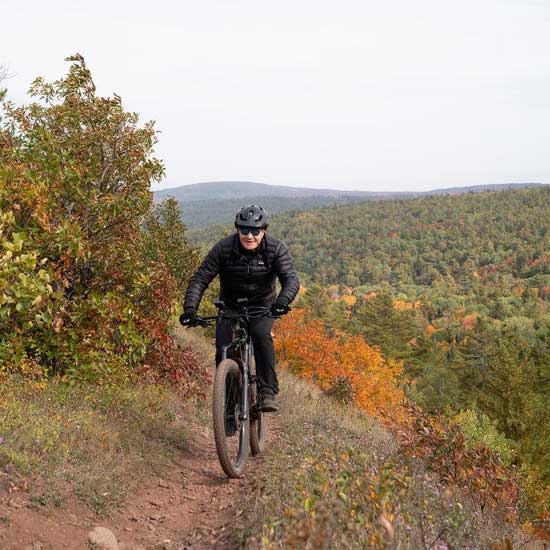 Gordon Ramsay exploring Copper Harbor's mountain bike trails. Photo credit Justin Mandel | National Geographic
DELAWARE MINE
Following the mountain biking, Chef Gordon and Chef James were seen in some ruins where they got a pasty steaming hot over an open fire. While not usually the site of shovel-based cooking, those ruins were located in the Delaware Mine. The Delaware Copper Mine Tours are a Keweenaw Heritage site, and are seasonally available for self-guided tours above and below ground. One hundred feet of stairs take you down to a restored and maintained first level, where you can meander approximately 1700 feet of mine shaft, just like the miners in 1847.
JAMSEN'S FISH MARKET AND BAKERY
Jamsen's in Copper Harbor is a must-stop on your morning adventures in Copper Harbor, or as you prepare for a visit to Isle Royale. That wasn't lost on production, as Gordon stopped here for a cup of coffee and a tasty treat. Jamsen's smokes Lake Superior Trout and Whitefish, and whips up breakfast sandwiches, scones, turnovers, and their iconic thimbleberry donuts. The proprietors of Jamsen's shared with us that Gordon took a moment for himself in the driftwood chair on the dock, drinking in the beautiful sights of Lake Superior along with an oatmeal cookie. Upon leaving, Gordon made a point to note that "this is a truly beautiful area." We couldn't agree more.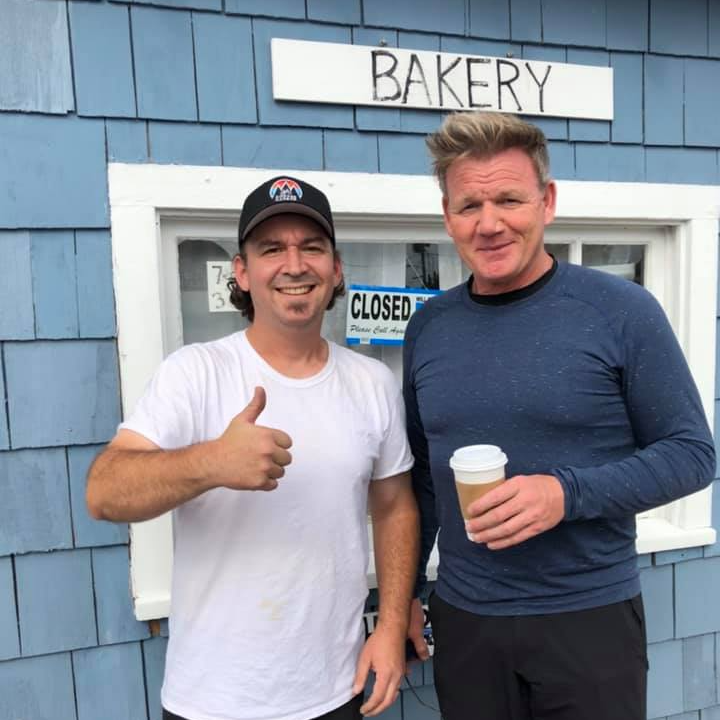 Gordon Ramsay visiting Jamsen's Bakery and Fish Market in Copper Harbor
MUSHROOM FORAGING
For those hiking on public land, keep an eye out for that gnarled nub of fungus known as chaga. This mushroom has been used in herbal medicine and as a supplement, and has gained quite a following in the Keweenaw thanks to the prime growing conditions. Chaga thrives in areas that have very cold weather, and like growing on birch and quaking aspen – both prolific trees in the Keweenaw. You can find chaga products at many of the gift shops or the Keweenaw Co-Op. Mycophiles will find a mushroom paradise at any of the local farmers markets as well – vendors like Superior Mycology always stun with their farmed and foraged mushrooms!
SHIPWRECK DIVING
It is estimated that there are about 550 shipwrecks in Lake Superior alone. If you're a certified diver like Gordon, head up towards Copper Harbor toward the Keweenaw Underwater Preserve. Off the shore of Esrey Park are 12 officially preserved shipwrecks. This area has been dubbed a "catcher's mitt" for ships, and beginner or intermediate divers can enjoy seeing broken hulls, boilers and other machinery. There's even the U.S. Coast Guard Cutter Mesquite, a ship intentionally sunk after it ran aground in the 80s. Most are in shallow water, but are not buoyed, so enterprising divers should be prepared for a bit of self-exploration. 
THE POORROCK ABBEY JAMPOT
Fit for the queen's scones, indeed! In this episode of Uncharted, we were treated to a rare insight into the monk's life, and their wry charm. The Holy Protection Monastery in Eagle Harbor is well-known for its quaint little bakery across the road. Here the monks harvest local thimbleberries and make spectacular and unforgettable jams and bakery. Here you'll find fruit spreads, gigantic frosted cupcakes, cookies, habanero caramels, boozy fruit and rum cakes, and of course the crown jewel – thimbleberry jam! While you're here, don't forget to stop for a peek at Jacob's Falls.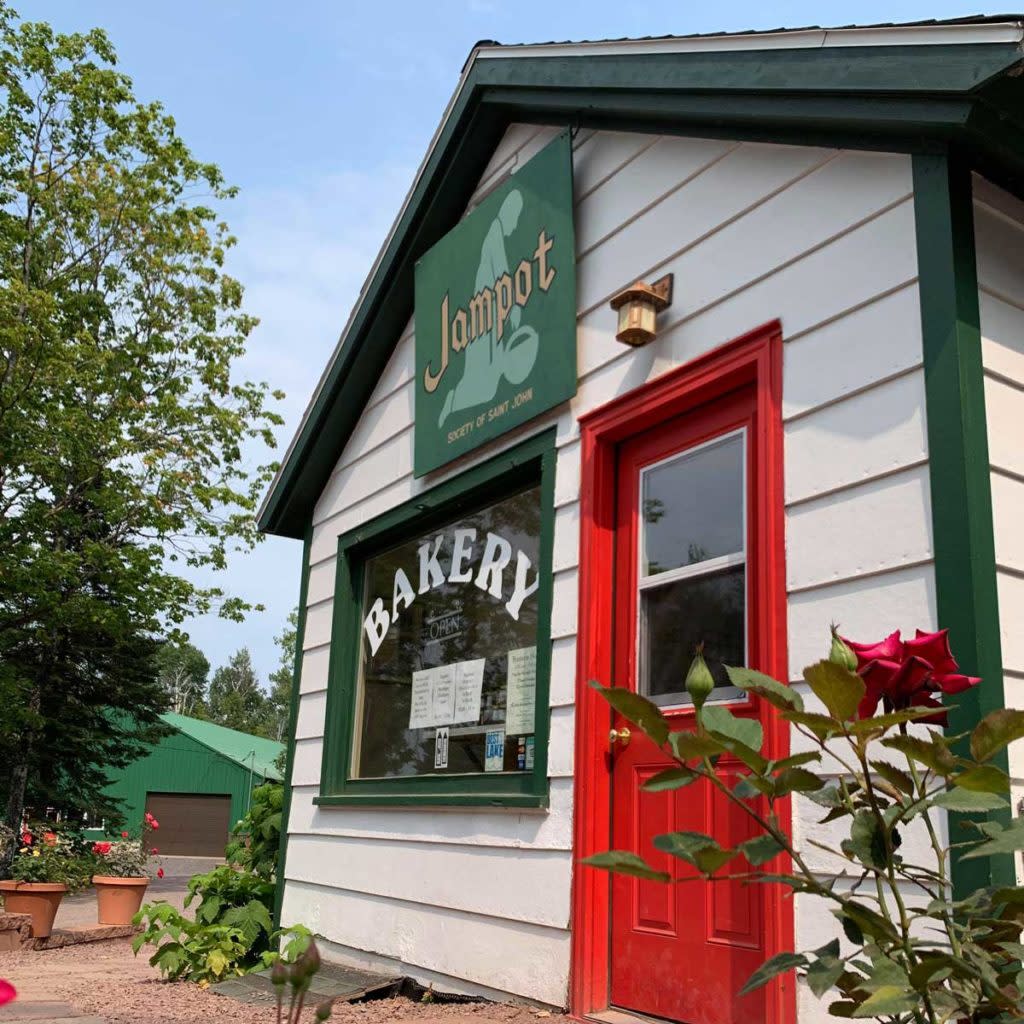 Jam fit for The Queen's scones? This is where you'll find some according to Gordon Ramsay.
SMOKED FISH SAUSAGES
Peterson's Fish Market in Hancock daily brings home fresh fish straight from Lake Superior and has been doing so for over 28 years. Peterson's smokes their fish hard with maple, and if you're curious, here you can buy your own link of smoked fish sausage. Right next to the fish market is their restaurant, Four Suns Fish and Chips. Amazing fried white fish, chowder, tacos, and more – all sourced daily from their Lake Superior catch.