Children growing up in the Upper Peninsula know why sledding is all the rage. Not only is it one of the most classic ways to enjoy the freshly fallen snow, but it's also loads of fun! There is nothing quite like the exhilarating rush of cruising down a steep hill covered in fresh powdery snow.
Besides building a snowman or making snow angels, sledding is one of the most affordable family-friendly winter activities. And of course, we do highly recommend making at least a few snow angels on every sledding adventure for additional enjoyment.
So, what are you waiting for? It's time to grab a sled and check out one of the Keweenaw's top sledding hills for some good old-fashioned fun!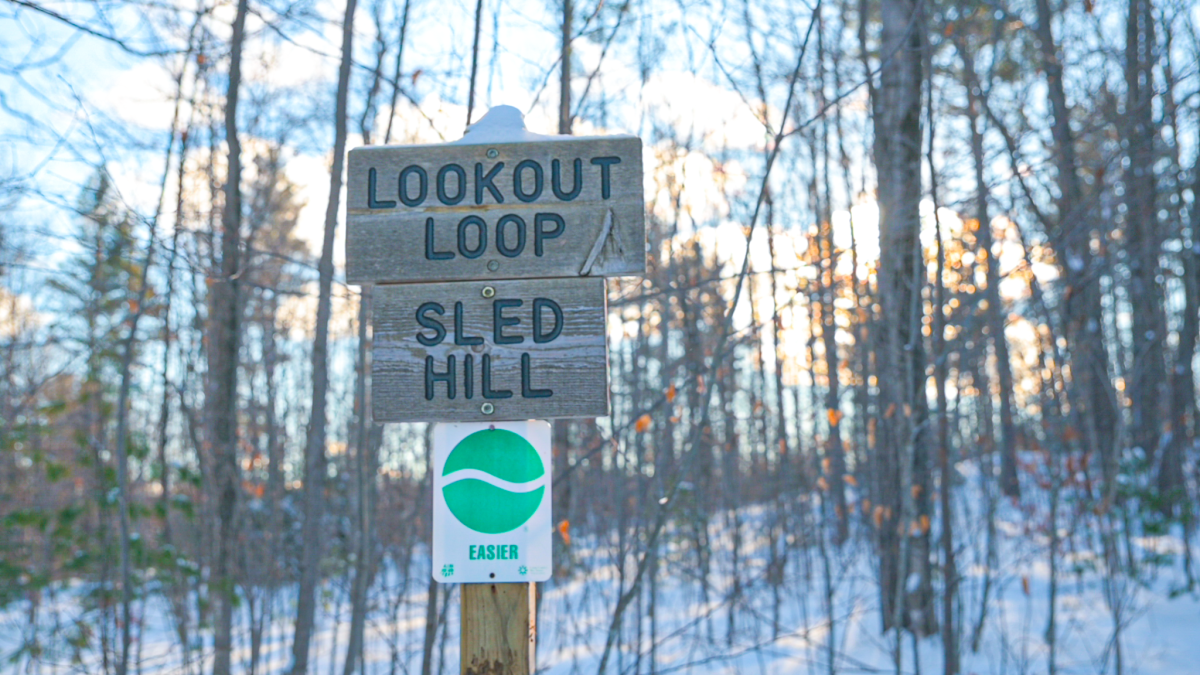 Nara Sledding Hill is located on Lookout Loup at Nara Nature Trails. Park at the Nara Park Entrance and Chalet.
MONT RIPLEY TUBING PARK- HANCOCK, MI
Mont Ripley Ski Area isn't just a wonderland for skiers and snowboarders. It also offers a 3-lane tubing park perfect for families with children (and also the young-at-heart adult). Cruise down the hill in your fast, comfortable tube, and hitch a ride back up the hill using the hand lift for easy effortless tubing fun! With beautiful views of the Keweenaw Waterway and the Houghton waterfront, its an effortless way to spend a winter day while in the Keweenaw. Warm-up with a cup of hot chocolate and a snack from the Huski Café, located in the Mont Ripley Chalet. Daily tubing passes can be purchased online by visiting www.mtu.edu/mont-ripley.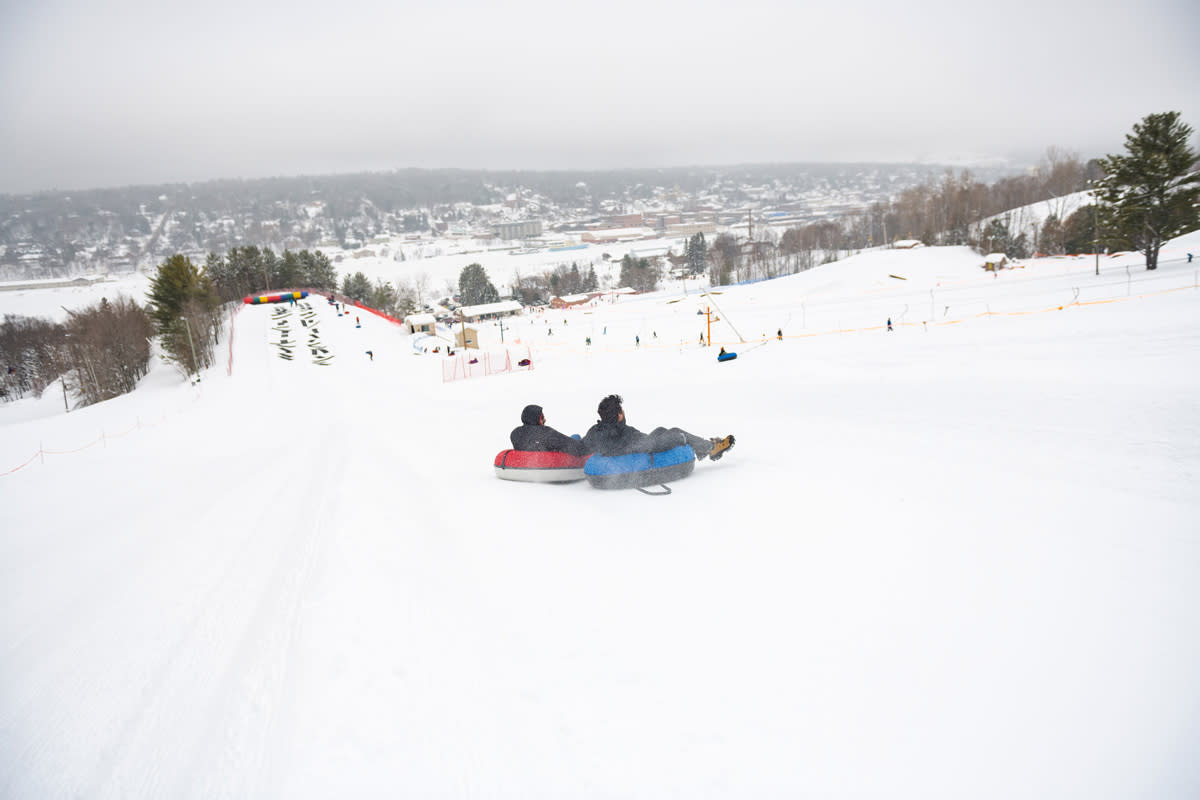 Mount Ripley tubing park offers fun for the whole family! Photo by Michigan Technological University.
NARA NATURE PARK- HOUGHTON, MI
Nara Nature Park is not only a beautiful place for a nature walk, but it also provides the community with a fun sledding experience during the winter season. Most afternoons and weekends, you'll find young families and children flying down the hill on an assortment of inner tubes and plastic sleds. Part of the Nara winter trail system which offers snowshoeing and classic cross country ski trails, the hill provides an exhilarating ride. It offers a 30-foot drop at a rather steep slope, making rides here short, but fast! After an hour or two of sledding, be sure to warm up at the chalet next to the parking lot which has public restrooms and can be rented for birthday parties for a small donation.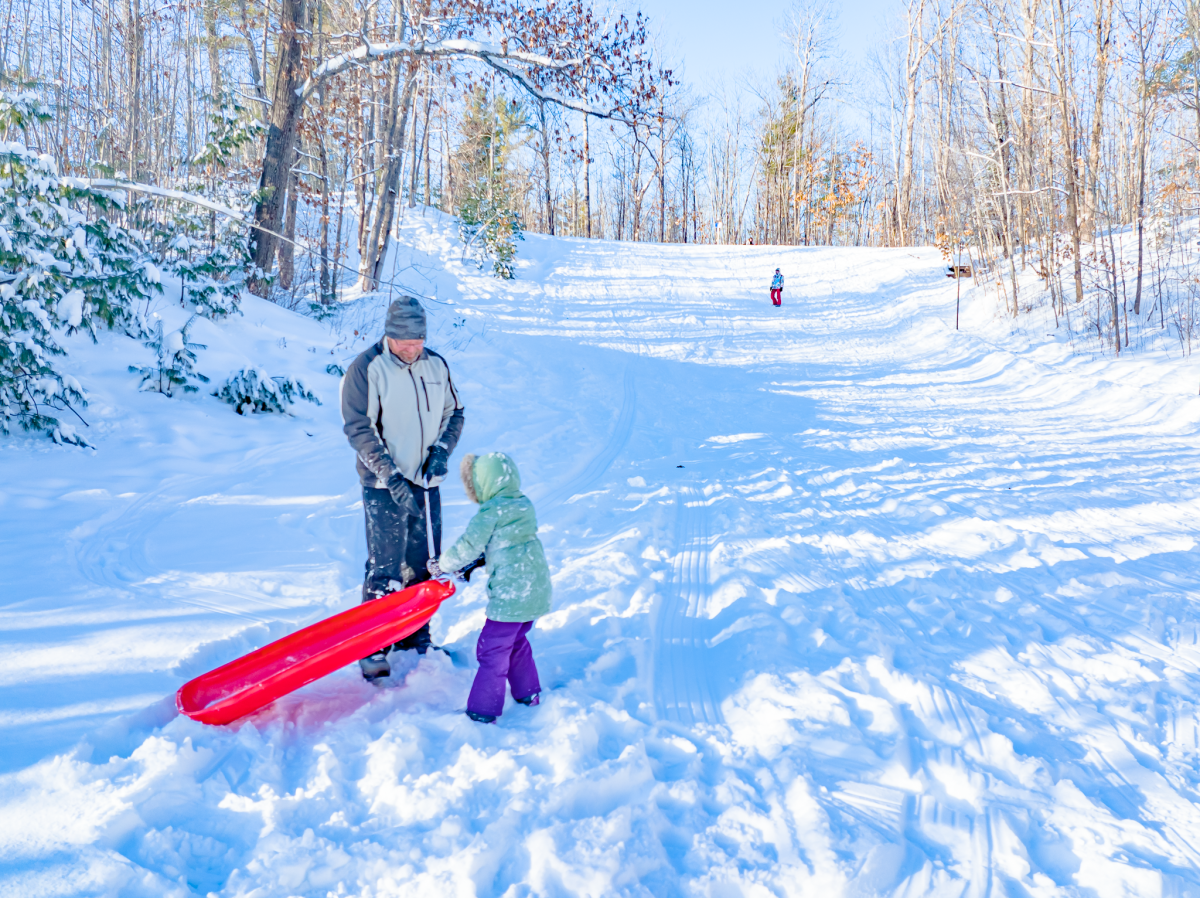 The steep slope of Nara Sledding Hill means a fast ride down!
QUINCY GREEN- HANCOCK, MI
After a fresh snowfall or on a warm winter day, families fill the Quincy Green with laughter and excitement. This unofficial sledding hill of Finlandia University features two terraces with about a twenty-foot drop. The slope is steep enough to provide plenty of thrill and a short walk to several downtown Hancock restaurants. Bring your own sled and get ready to slide into some fun on this snowy downtown hill.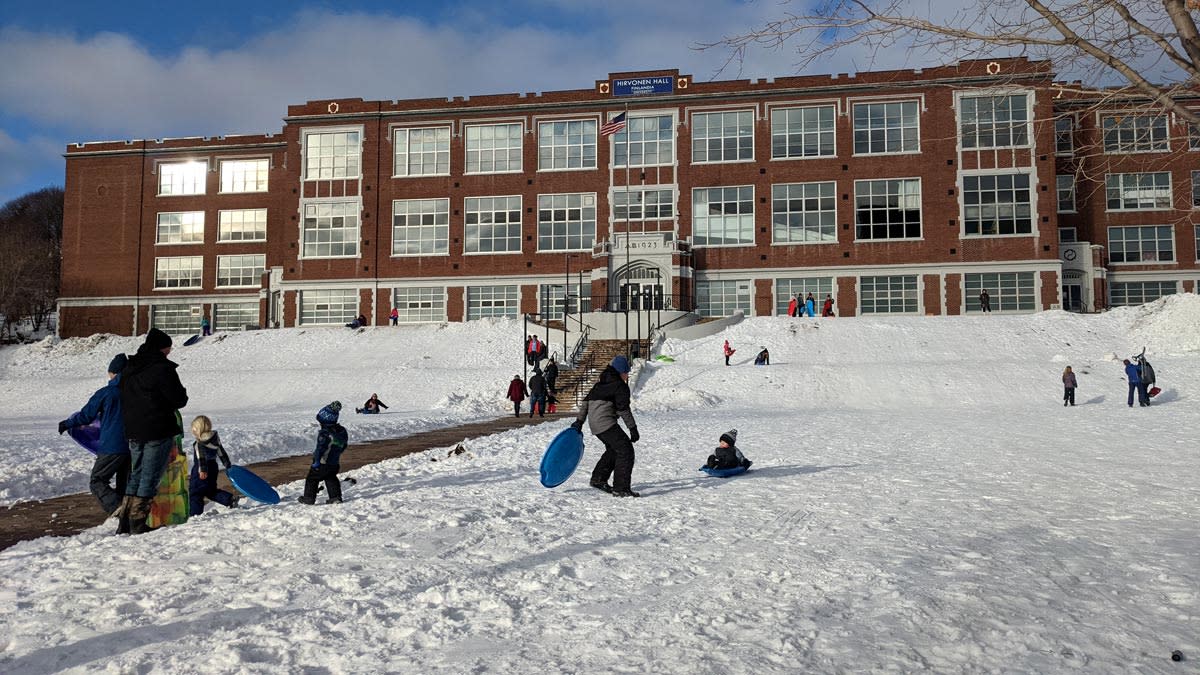 The Quincy Green in Hancock, MI, provides families with a safe and fun place to go sledding.
While at the Quincy Green, take note of the giant kicksled, "potkukelkka" in Finnish. Kicksleds were traditionally used on hard, slippery surfaces and could be used for traveling long distances over frozen lakes. Although the kicksled on the Quincy Green is much larger than life, it is an interesting reminder of the importance of Finnish heritage in the Keweenaw Peninsula.
SWEDETOWN HILL- CALUMET, MI
Swedetown Recreation Area provides space for a variety of winter activities, including skiing, snowshoeing, fat-tire biking, and of course, sledding. This is the largest free community sledding hill in the Keweenaw and also features a chalet where you can warm up and purchase snacks. Swedetown Hill features a modest grade with about a 45-foot drop. This means long rides at moderate speeds. Swedetown Hill is also an excellent spot for night-time sledding, as the hill is lighted after dark.
WHERE TO BUY A SLED?
Swift True Value Hardware store in downtown Houghton has a variety of sleds available for any sledding adventure. They even carry Zipfy sleds, fast and sporty modern-day sleds! Campioni's True Value in Calumet, MI, has everything from simple plastic sheet sleds to saucer-style sleds. No matter what style of sled you choose, you are destined to have a blast and cruise fast on the Keweenaw's favorite sledding hills.
WHAT TO WEAR?
Bundle up, and make sure your kiddos are bundled up, too! It's essential that you wear snowpants, winter boots, a winter coat, mittens, and a warm hat to make your experience as enjoyable as possible! We also recommend dressing layers and wearing a neck gator or face covering if you have one. For extra great times, bring a thermos of hot chocolate to enjoy between runs down the hill.
Interested in updates, travel tips and quirky information about the Keweenaw? Just sign up for the Keweenaw Explorer, our monthly e-newsletter. Complete the form…