Mount Bohemia is famous nationwide for its backcountry skiing and snowboarding.  The mountain's vast acreage and rugged terrain make it one of our favorite playgrounds for all manner of downhill sport. However, if swimming in powder or catching air off a cliff isn't something you like to do on vacation, Mount Bohemia's growing snowshoe scene may be for you. Follow along for a quick guide on how to make Mount Bohemia your next destination for a nice, relaxing day in the woods!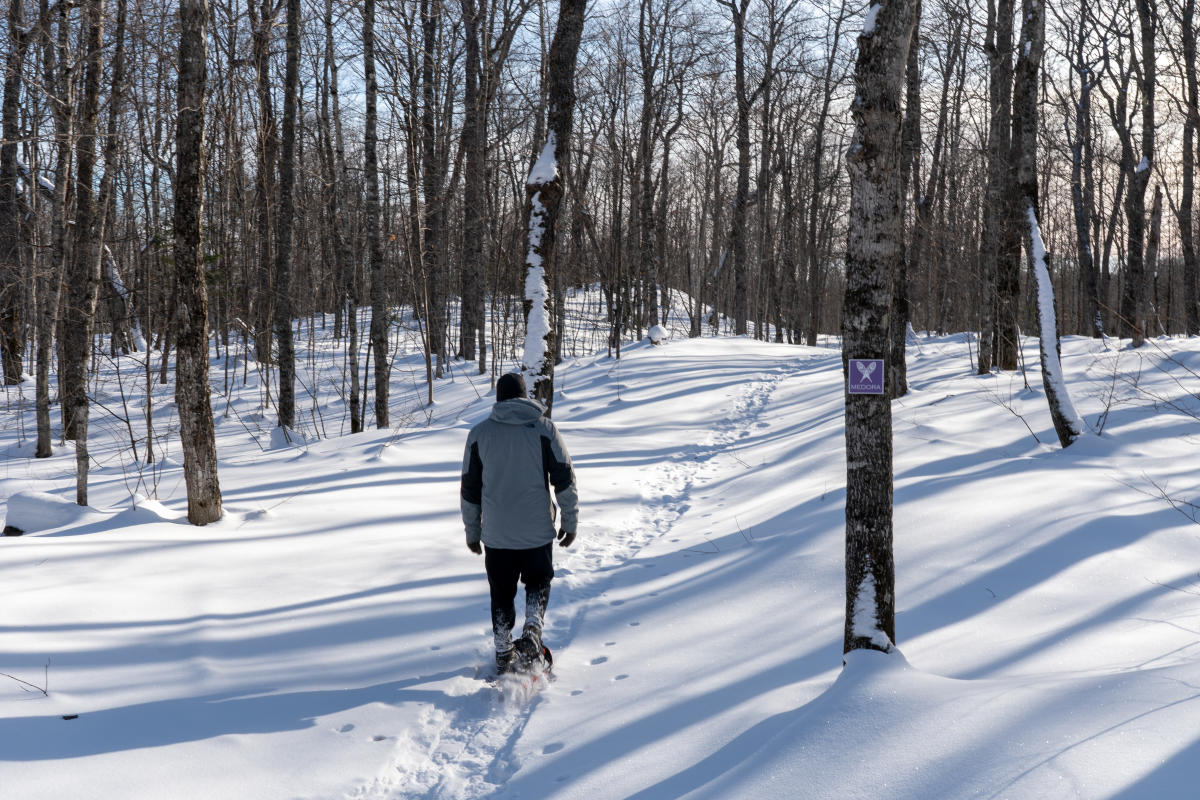 Snowshoeing at Mount Bohemia provides a relaxing alternative to downhill adventures. 
A Mount Bohemia Refresher
Located along the southern shores of the Keweenaw (map), Mount Bohemia is quite a ways from most communities but has just about everything you need all in one place.  They have brick-oven pizza and other food options, two small bars, cabins, and coffee, all clustered together in a little yurt village.  Oh yeah, and a full Nordic Spa featuring the largest outdoor hot tub in the U.P.  Talk about the perfect way to relax after a day on the hill!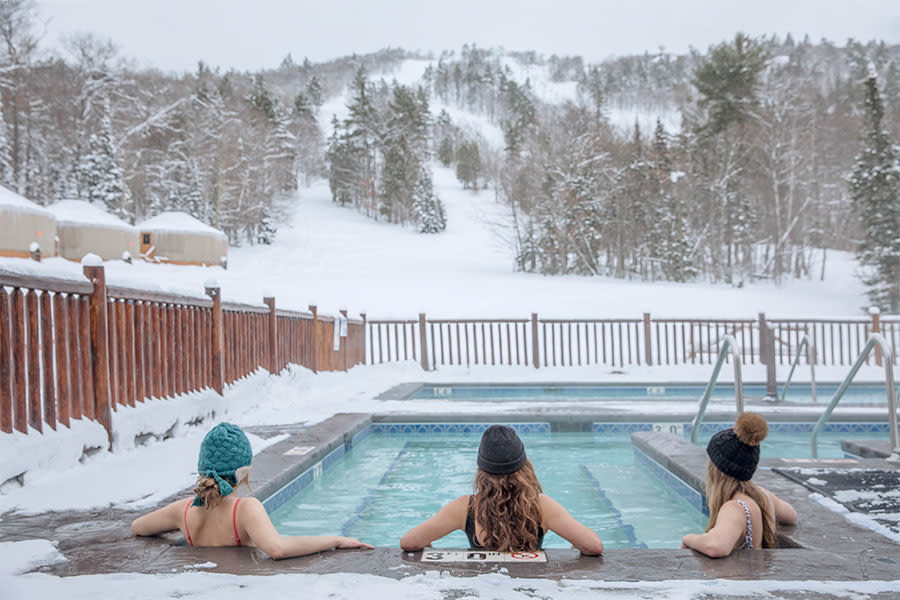 Mount Bohemia offers several amenities, including an outdoor Nordic Spa. 
Know Before You Go
As much fun as skiing Mount Bohemia can be, the challenging downhill terrain is not for everyone.  Fortunately, snowshoeing is a great alternative if you aren't up for eye-watering speeds, or just want to take a break to try something new.  The snowshoe trails are surprisingly easy-going given Bohemia's penchant for doing things to the extreme!  
The snowshoe trails provide take a gradual route up and around the northwest side of the ski hill. Pick up your own map at Mount Bohemia's main shop. 
First things first: do you have snowshoes?  If not, you're in luck because Bohemia rents snowshoes!  They have various sizes available and will give you a quick rundown of how to put them on if you're a first timer.  Snowshoes can be rented ahead of time online or day-of if you happen to forget your ski boots at home and need something to do.  Visit their main shop to pick up your gear.  Don't forget a trail map before you go!
Most of the snowshoe trails are groomed after big snowfalls to keep them packed down and easy to follow.  There are a few that have more of a backcountry style that aren't groomed but are still well-marked.  Best of all, no lift ticket is required to snowshoe the trails.  Come and go as you please!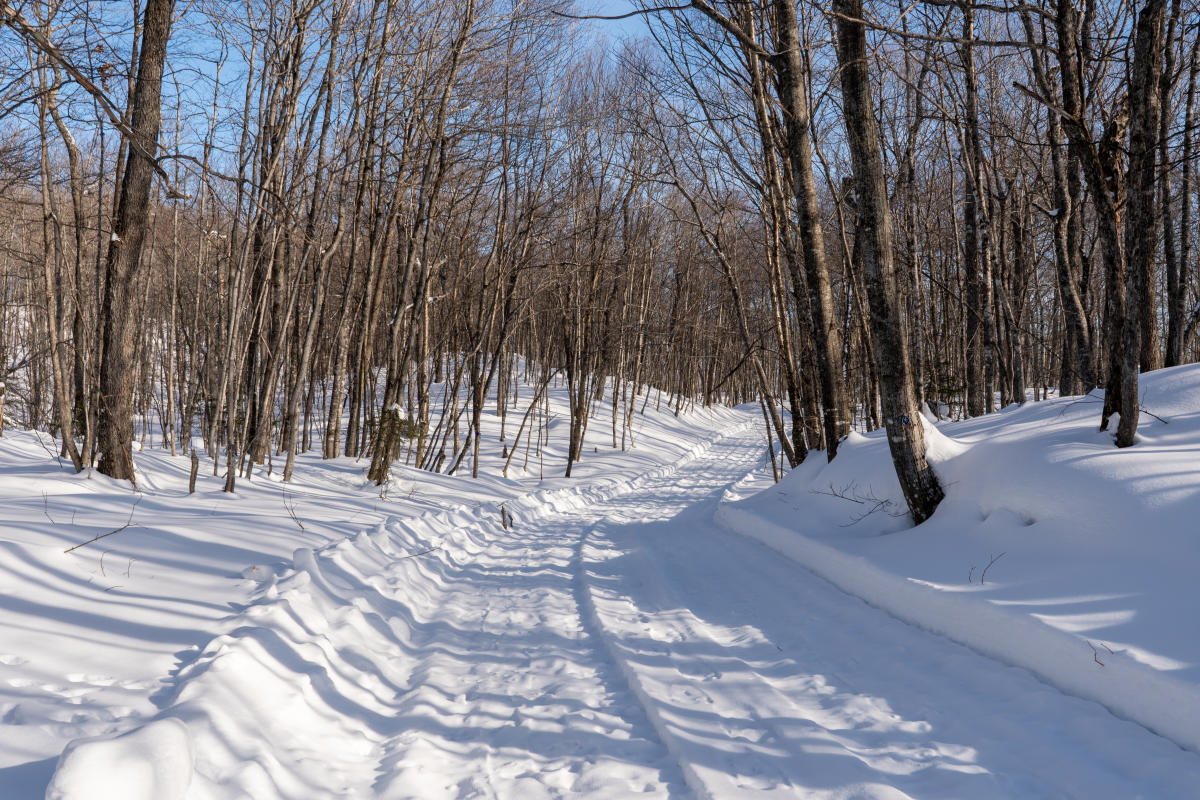 Mount Bohemia's snowshoe trails are groomed or packed down after large snowfalls, making them easy to follow. 
Hit the Trails
The snowshoe trail system begins literally right out the front door at Bohemia's basecamp.  The system has two major zones, each featuring several miles of trails to explore.  All of their trails are named after famous mines from the Keweenaw's copper mining era, including Quincy, Delaware, Tamarack, and more.  The trails are very well marked, with confidence markers on trees and maps at every intersection.  Getting lost shouldn't be a worry here.
The quickest trails to access are those that climb Mount Bohemia itself.  No, you won't be going straight up the hill to the top.  That wouldn't be very enjoyable!  Instead, the snowshoe trails take the longer, gradual way up and around the northwest side of the ski hill.  You barely even interact with the ski trails at all, and only at the very bottom.  Otherwise it's just you and miles of endless forest to explore.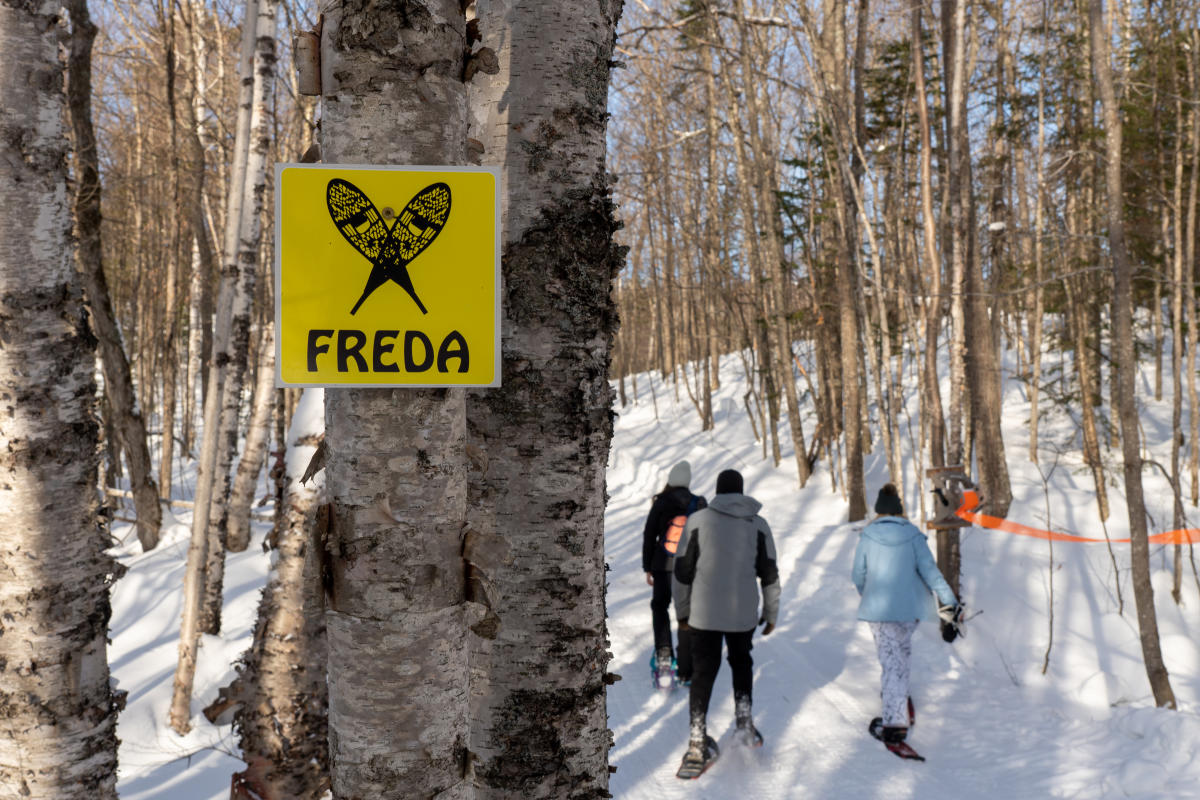 The snowshoe trails are all named after historic Keweenaw mines. 
There are a few loops on the upper portion of the trail system, including the trails Quincy, Freda, Medora, and Delaware.  Stay out as long as your legs and the weather hold up!  The terrain up here is not particularly steep but is still a solid intermediate in difficulty (if snowshoe trails had ratings).  You will be going up and down a bit, and being far from civilization you should come prepared with extra layers, snacks, and other essentials.  You'll likely have the place to yourself, which is an amazing feeling as you tromp along through peaceful snow-covered woods while the extreme ski enthusiasts bomb downhill just over the next ridge.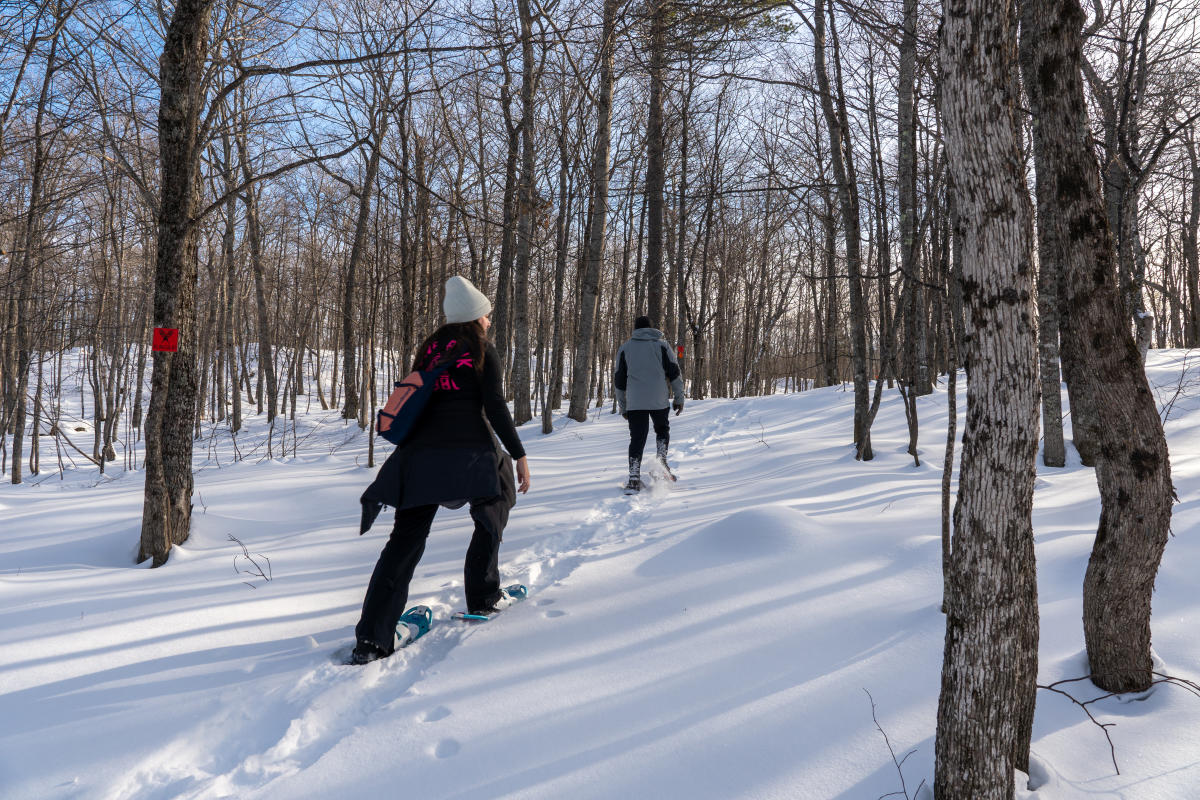 Some of the loops along the upper portion of the trail system have some gradual elevation changes. 
If climbing the hill isn't your cup of tea, the lower trails are much gentler.  These include Hecla, Mendota, and Atlantic.  These trails explore the forests near the edge of Lac La Belle, and even bump into 'town' if you need a snack from the Bear Belly along the way.  The lower trails are not quite as easy to access and require a quick drive down the hill from Bohemia's base camp, unless you hike the long way up and around the entire mountain via the Tamarack trail.  Check in at the main shop for the best place to park for the lower trails as it may change depending on how much snow we've gotten.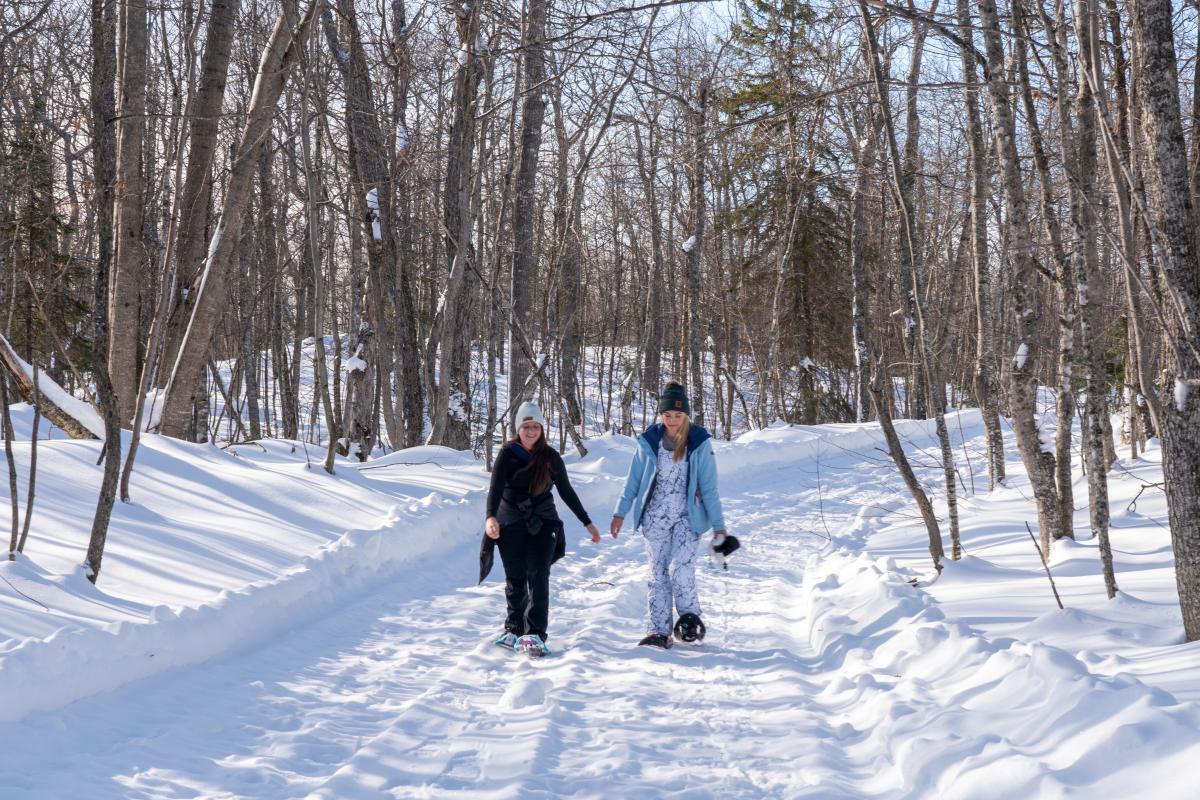 The snowshoe trails at Mount Bohemia provide the opportunity to enjoy peace and solitude in nature. 
Guided Hikes, Pancakes, & Lantern Lit Trails!
Looking to take your Mount Bohemia snowshoe experience to the next level?  Reserve a spot for a Sunday morning guided hike and follow it up with delicious pancakes!  These 1.5-hour snowshoe adventures will get your morning started off right.  Whoever thought of having hot pancakes at the end of a winter hike was a genius.  Sign up today!
Not to be outdone, the after-hours snowshoe scene at Bohemia also is worth the trip.  Every Saturday from 5-8 PM portions of the upper trails are lit with rustic lanterns for that old-timey feel.  Pick up the trail near the cabins just uphill from base camp and enjoy the Keweenaw night like nowhere else!
Interested in updates, travel tips and quirky information about the Keweenaw? Just sign up for the Keweenaw Explorer, our monthly e-newsletter. Complete the form…