Spring showers bring the flowers, but don't let the weather ruin your plans in the Houghton area this spring. Houghton is the fastest growing city in the Upper Peninsula, home of Michigan Technological University, and the Gateway to the Keweenaw. Whether you are on vacation or a local looking for something new, there's plenty to keep you entertained on a rainy day. From museums and art centers to entertainment venues and historic sites, there are activities that cater to all interests and ages. In this guide, we'll take a closer look at some of the top things to do indoors in the Houghton area in Michigan's Upper Peninsula, so you can make the most of your time here, rain or shine. Although many of these activities will be in Houghton, we have included some in the connected Hancock area as well.
Visit a Museum or Educational Center
By visiting a museum or educational center, you are sure to come home having learned the Keweenaw's history or something new. Houghton has plenty of opportunities to enjoy some educational and inspiring activities outside your home.
The Carnegie Museum
The Carnegie Museum can be enjoyed year-round as it features rotating exhibits and programs exploring the region's cultural and natural history. You'll find the museum is a 1910 Classic Revival building that previously served as Houghton's public library until 2006. Admission is free, although donations and memberships are appreciated to keep up the educational opportunities.
The Quincy Mine and Shafthouse
Known as "Old Reliable," the Quincy Mine was operated from 1864 to 1945 and the copper that passed through might have gone on to become a button on the uniform of a Civil War soldier, a wire for one of the first telephone poles, or part of the early electrical grid.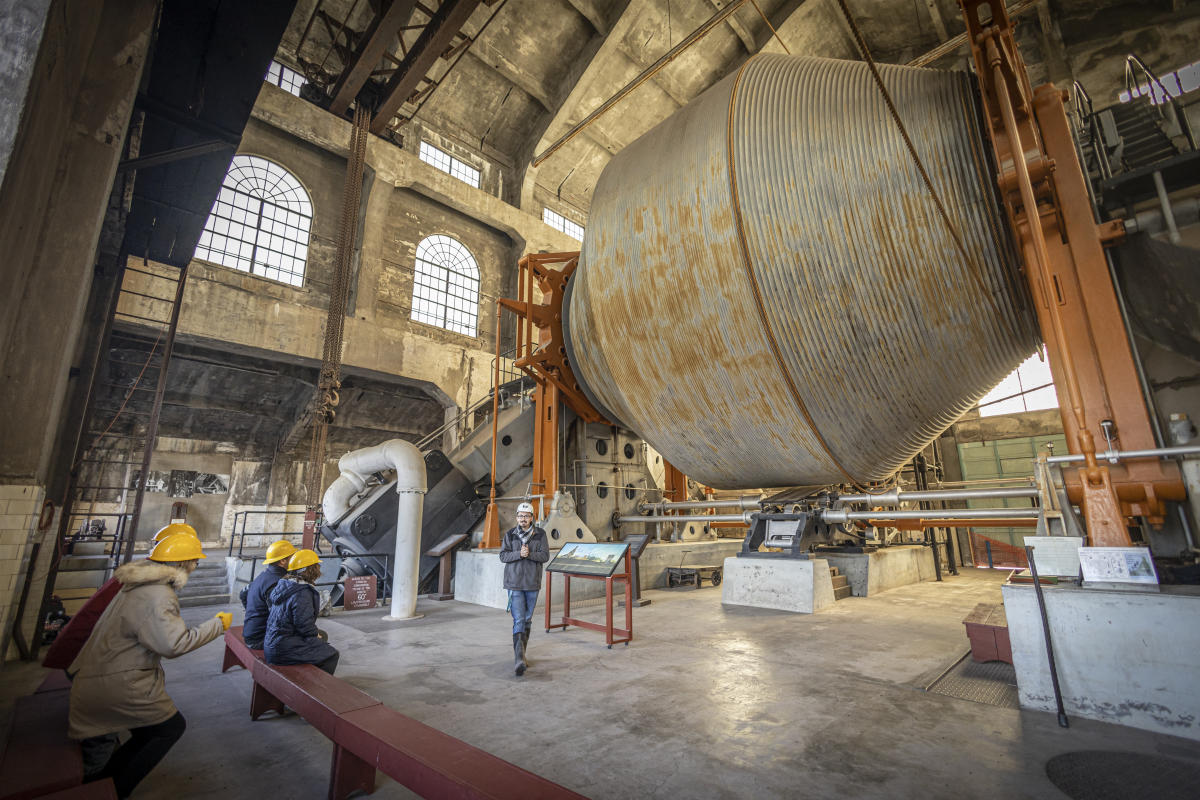 The Quincy Mine is home to the largest steam hoist engine in the world. 
You can take a two-hour guided tour through the hoist house, ride a cog-rail tram, and enter the mine to learn all about early mining life. Admission prices range from $10-$35 depending on age and tour type.
A. E. Seaman Mineral Museum
The A. E. Seaman Mineral Museum is nationally and internationally recognized by mineral collectors and connoisseurs. You can find the largest public exhibit and the world's finest collection of minerals from the Great Lakes region.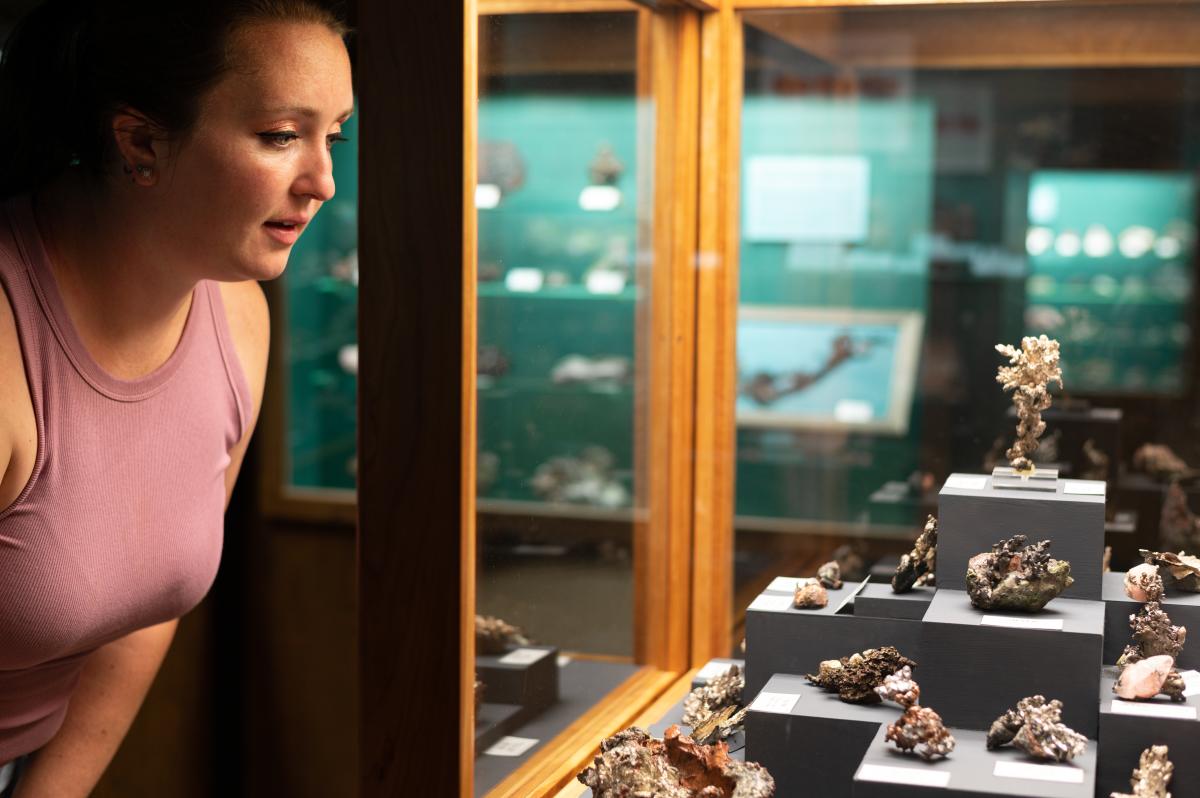 The A.E. Seaman Mineral Museum of Michigan Tech is the "Official Mineral Museum of Michigan." 
The museum is a great destination for anyone interested in minerals, gemstones, and the region's natural history. You can even find a life-sized oil painting by Douglass Houghton himself at the museum. We recommend planning for at least two hours, but admission is good for two days in a row and varies from $3-$8 depending on age.
Finnish-American Heritage Center & Historical Archive
Whether you have historic ties or are just interested in learning more of the cultural connection, it is advisable to make a reservation in advance to head over to the Finnish-American Heritage Center & Historical Archives and learn about the Keweenaw's heritage. They house the historical archives, a museum, a theater, an art gallery, the Family History Center, and the "Finnish American Reporter" newspaper.
The Quincy Smelter
Head over to the Quincy Smelter, the only existing early 20th century copper smelt in the country, to observe copper being processed. It is open June through mid-October, all ages are welcome, and no reservations are necessary. 
Check Out Books & Coffee
Rainy days make for perfect reading days, so why not enjoy some books at the local bookshop or library.
The Portage Lake District Library
The Portage Lake District Library overlooks the waterfront, with cozy reading sections by the big bay windows. The Library also hosts community events, workshops, and offers a dedicated area for children with select toys, crafting table, and reading days.
Black Ice Comics & Books
You can head over to Black Ice Comics & Books for a relaxing comic shop with a wide range of comics, a curated selection of books, beverages, or ice cream. There is a dining space with a few select tables and chairs surrounding an electric fireplace.
The Well Read Racoon
The Well Read Racoon is a bookstore that just reopened with a brand new hang-out spot! You can find select community events, book signings, and live readings here. Visit their Facebook Page for events and updates.
Cyberia
Cyberia Cafe prides themselves in being the oldest coffee shop in the Upper Peninsula! Enjoy a phenomenal brew or a unique beverage with specially made syrups by the owner, Steve. Cyberia is open Monday - Friday from 6 a.m. to 11 p.m., Saturdays from 8 a.m. to 11 p.m., and Sunday from 9 a.m. to 11 p.m. 
Steep and Brew
Steep and Brew has a delicious selection of coffee, seasonal treats, and bakery options. You can find them just outside of downtown. They are open weekdays from 7 a.m. to 8 p.m. and Saturdays from 8 a.m. to 6 p.m.
Culture & The Arts
Take a creative art class or witness a stellar performance this spring in Houghton's stunning cultural buildings.
Bonfire at the Continental Fire Co. 
Inside this historic fire company building, The Bonfire Grill creates a unique, one-of-a-kind dining experience. You can find a wonderful selection from appetizers and small plates, to burgers, salads, pasta, entrees and more. Then, you can stay for music, dancing, and other live weekly shows.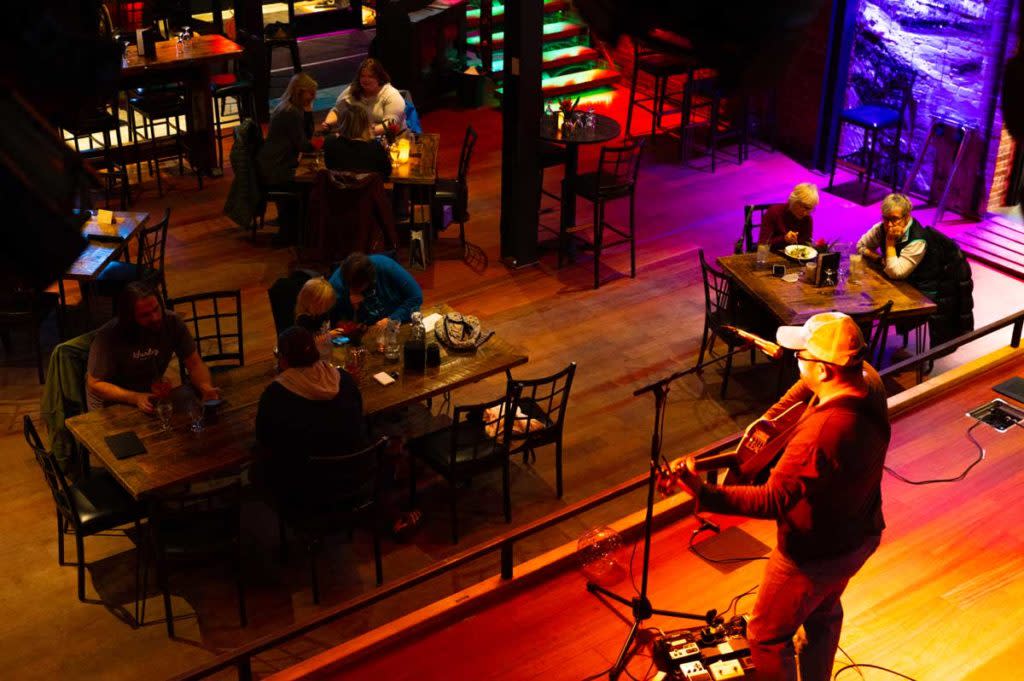 Enjoy dinner at the Bonfire Grill while listening to local musicians. 
Copper Country Community Arts Center 
Rainy days are perfect opportunities for exploring the creative arts at the Copper Country Community Arts Center. Here, you can find a wide range of art classes and programs for all ages year round. They also host community and cultural events or supply a working letterpress studio, clay studio, black & white photography darkroom, exhibits, and a gallery space for artists to sell their pieces. 
Rozsa Center
The Rozsa Center for the Performing Arts is the Upper Peninsula's largest performing arts venue. You can attend world-class acts in theater, music, and dance. It also houses a banquet space, a reception area, theater stage, and wet bar for various events and presentations.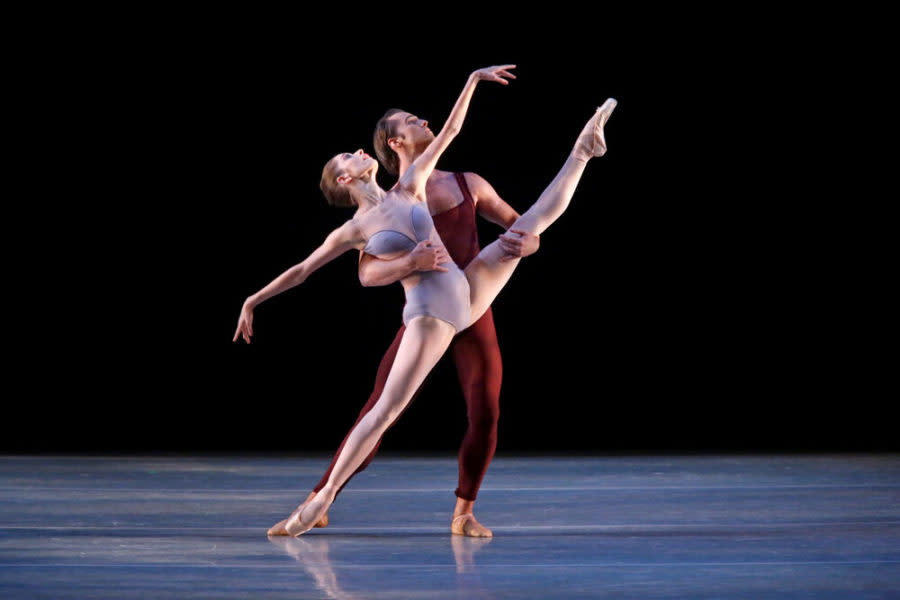 The Rozsa Center for Performing Arts offers a wide variety of world-class performances and acts.
Orpheum Theater
Enjoy delicious pizza and a show in the remodeled Orpheum Theater. This vaudeville theater was built in 1910 and showcases the best Copper Country and regional musical talent. 
Rogers Cinema 5
The Rogers Cinema 5 provides a cozy movie experience showing the latest blockbusters with large screens, plushy chairs, and clear audio. You can find the cinema in the Copper Country Mall.
Magic Kiln Studio
The Magic Kiln Studio boasts a wide selection of already made pottery. This "paint your own" pottery studio in Hancock makes for a perfect creative day away from the rain. You simply pick out a piece, paint it, and come back later to pick it up. The Magic Kiln is suitable for all ages.
Sew Cranky
Test your sewing skills at Sew Cranky, where you can find antique, hand crank, sewing machines. This is an excellent activity for children and beginners since the machines are hand-cranked and self-paced. You can also find workshops, repairs, restorations, and items for sale. 
Get Moving
Spring means it's time to get moving and start waking up for summer! Rainy days may put a damper on getting outdoors, but they don't have to stop you from moving.
The Dee Stadium
The Dee Stadium is a historic stadium and the birthplace of professional hockey. The ice surface is open from October through April, so you can enjoy one of the open skate nights, a hockey game, tournament, or other activity. Be sure to bring your own skates as there are no rentals available. 
The Mine Shaft & Rock House Hardwood Grill
The Mine Shaft offers a large space for an enjoyable game of bowling, a SportsPlex, an arcade, and dining. The Rock House at the Mine Shaft is locally themed with delicious food and drink options. This family friendly dining experience and homey atmosphere are sure to add some excitement into your rainy day!
Respawn Tactical Laser Tag
You can enjoy a competitive, engaging, team play game of laser tag with Respawn Tactical Laser Tag. This activity is recommended for ages 8 and up and you can find open-play sessions, $10 Thursdays, Pro Sessions for those more experienced, or rent them for a party or event. For families with younger kids, the Tree House Indoor Playground is an innovative indoor playground for ages 0-4 and their parents/caregivers. Admission to the playground is $6 a family. 
Play a Game
Head out to enjoy hygge with the comfort of company, maybe a beverage, and cozy up with a game in one of our cozy gaming spaces. 
K. C. Bonkers
K. C. Bonkers is the perfect space to release your inner child with their unique selection of toys, games, and novelties. You can order a whimsical beverage, or coffee and enjoy one of the variety of games in the dining area. We recommend ordering the Dragon's Blood drink and watch as the drink master puts on a unique performance. 
Retro Rental & Repair
Retro Rental & Repair is another stop to shop all collectibles or enjoy a game, class, or workshop in their ballroom space. They host their own game nights, or you can reserve the space for your own event. 
Visit the Shops
Houghton's shopping district on Shelden Avenue has a unique selection of shops to keep those rainy day blues away. You are sure to find the perfect memento, unique treasure, locally made art, or one-of-a-kind keepsake that sparks joy for yourself or a loved one.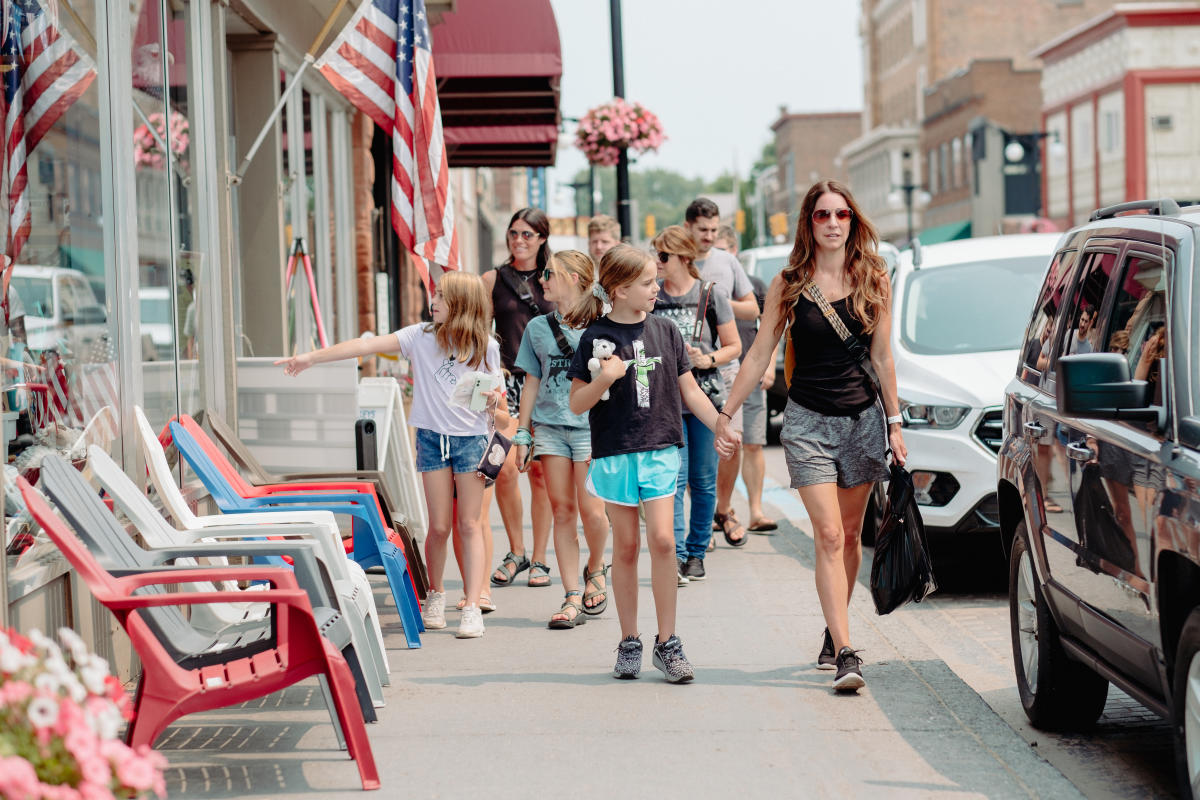 The Houghton area is home to many stores that offer everything from outdoor gear to local keepsakes and treasures.
Unique Dining
The uniqueness and history of the area doesn't end when the adventure ends. Head into one of the decades-old restaurants for a truly unique twist and must-try regional foods. 
Roys
Roy's whips up some delicious pasty's, hearty soups, artisan breads, cakes, frostings, and stellar cookies. Be sure to stop in and see what the baker's crafted up! 
Ambassador Restaurant
This restaurant has such a unique history! Around 1902, Mr. Rohrbeck hand painted the story of gnomes brewing beer for the old Giltedge Bar. During Prohibition, the Ambassador, then called "Hole in the Wall" was a speakeasy and stored away the oil paintings on canvas. Around 1933, Prohibition was repealed and the old bar was restored into what it is now. The Ambassador has now expanded with two dining spaces and is well known in the Pizza Hall of Fame for their one-of-a-kind pizza.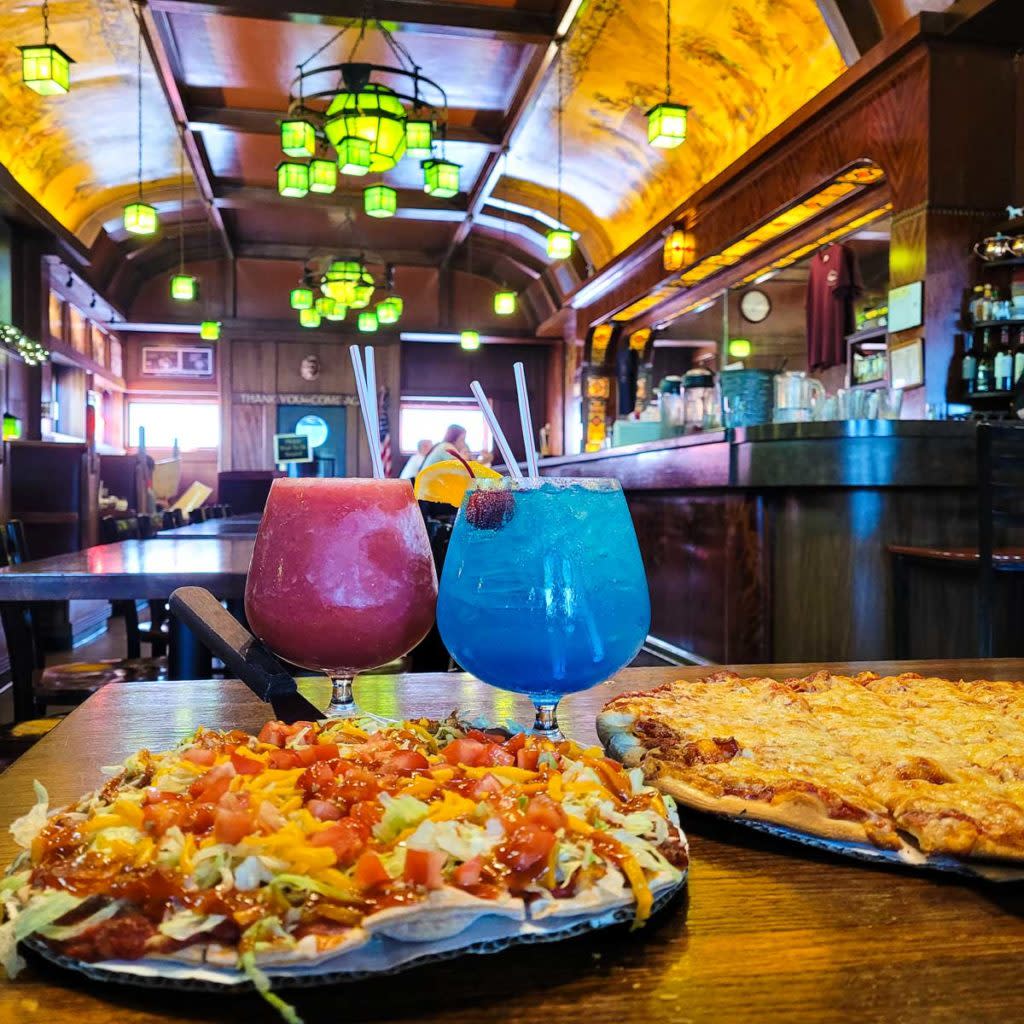 The Ambassador is a fan-favorite thanks to their original pizza and colorful fishbowl drinks. 
The Den
The Den provides a premier, upscale dining experience in downtown Houghton. They have a rotating specials menu, a wood-fired grill, and a full bar. 
The Library Restaurant
The unique and innovative Library Restaurant has been long heralded as one of the community's premier eating and drinking establishments. Students have been telling their parents they were headed to the 'Library', but not to enjoy books. The old brick walls have been standing since 1898, but it was officially The Library Restaurant in 1967. Books decorate the walls and it overlooks the canal while you enjoy decadent food and local brews. 
Interested in updates, travel tips and quirky information about the Keweenaw? Just sign up for the Keweenaw Explorer, our monthly e-newsletter. Complete the form…