Trudging through epic morning snowstorms to make class and late-night study sessions aren't the only experiences Husky grads share. In preparation for Michigan Technological University Alumni Reunion Weekend, we've created a guide to waltz down memory lane. 
STROLL THROUGH MTU'S CAMPUS
These summer days see Michigan Technological University's campus bright with flowers, lush trees, and a cool breeze off the Portage. The campus is home to over 100 landscape installations, and the wide, open path through the length of campus allows both alum and vacationer to soak in the collegiate atmosphere. Alumni can regale their friends and family with stories about life on campus and explore new additions and features, like Husky Plaza. The 9 foot tall, 1,600-pound bronze Husky statue is a hit with kids and a great spot for family photos! Plus, you can tell your Big Fish tale of having to climb all 11 floors of the R.L. Smith building every day (we won't snitch about the elevator).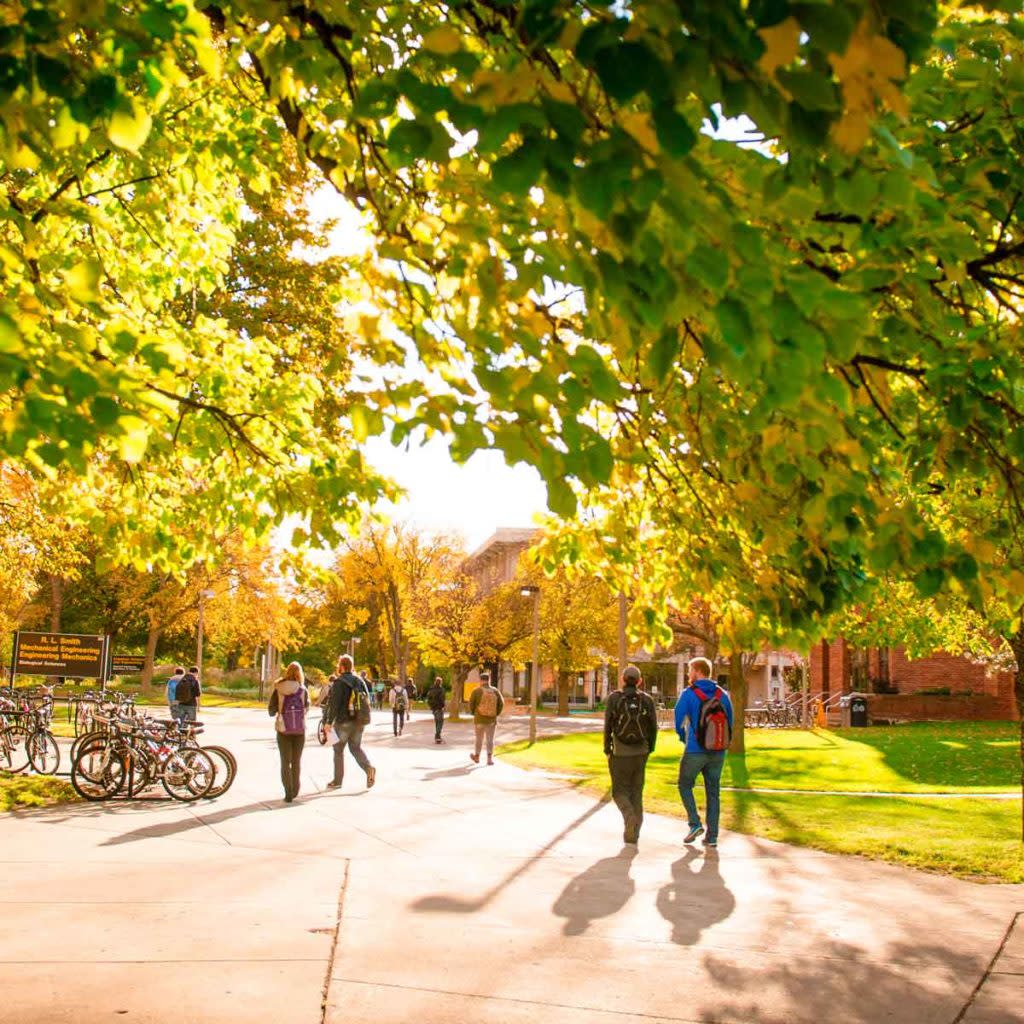 Enjoy a leisurely stroll across campus. While the campus has experienced change, many favorite classroom and university buildings have stood the test of time. | Photo credit: Michigan Technological University
PRINCE'S POINT
For some students, a swim at Prince's Point was their first dip into any Keweenaw waters. Prince's Point is (and was) accessible from the sidewalks leading from Phoenix Drive by the Great Lakes Research Center, or a walking path leading down from Tech's snowmobile parking. This little beach area allowed students to relax and swim on hot summer days, and returning alumni could find some joy in taking another dip or picnicking with their friends and family.
Prince's Point still offers students and alumni a convenient spot for bonfires along the Keweenaw Waterway.
TECH TRAILS
Across from the Student Development Complex lie the Michigan Tech Trails and Recreation forest. Here students and community members enjoy 35km of trails throughout the whole year. Whether you ran, skied, hiked, or biked for pleasure or competition, many former Tech students spent countless hours enjoying these trails. Whether you're traveling back to the Keweenaw with bikes in tow, or just want to take a hike through your old stomping grounds, anyone is welcome to purchase a pass to access the trails!
THE DOUGLASS HOUSE SALOON
This historic bar attached to Armando's Restaurant is a classic part of the Houghton night-life scene. The vaulted ceilings, leaded glass chandeliers, rich wood bar have welcomed in many generations of revelers. Freshly-made popcorn awaits alumni inside the hallowed halls, and those who know the establishment know to order the Tom Collins. For the real brave of heart, here you can attempt the Yooper Challenge, a timed contest to see who can best a lager, a shot of blackberry brandy, and a pickled egg.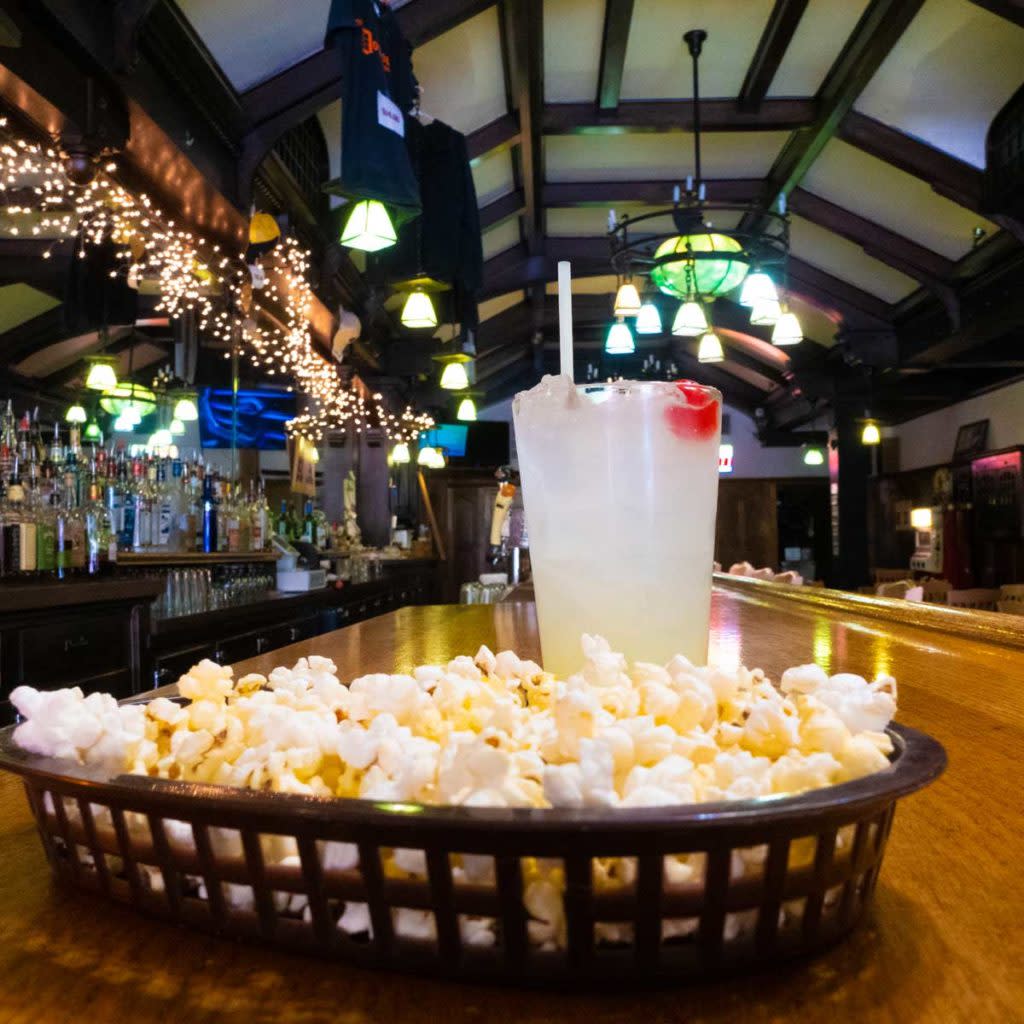 For many alum, the aroma of popcorn evokes memories of late nights at "The Dog."
THE AMBASSADOR
The Ambassador is a restaurant that is regularly lauded as one of Michigan's best. And it's not hard to see why once you push open the dark wood front door. The tall vaulted ceilings, similar in style and construction to the Douglass House Saloon, are adorned with paintings of dancing, smiling gnomes. These artistic flourishes are just as famous and memorable as the pizza that the Ambassador is famous for. Thin crust pizza with combinations beyond pepperoni (which is still great) – combos like chicken and broccoli, lobster, Greek, and of course, the Tostada taco pizza. Pizza is often paired with a long list of colorful and creative libations in the classic Ambo fishbowl. Alumni (and nearly everyone who has been to the Ambassador) still remember their exact order even years later!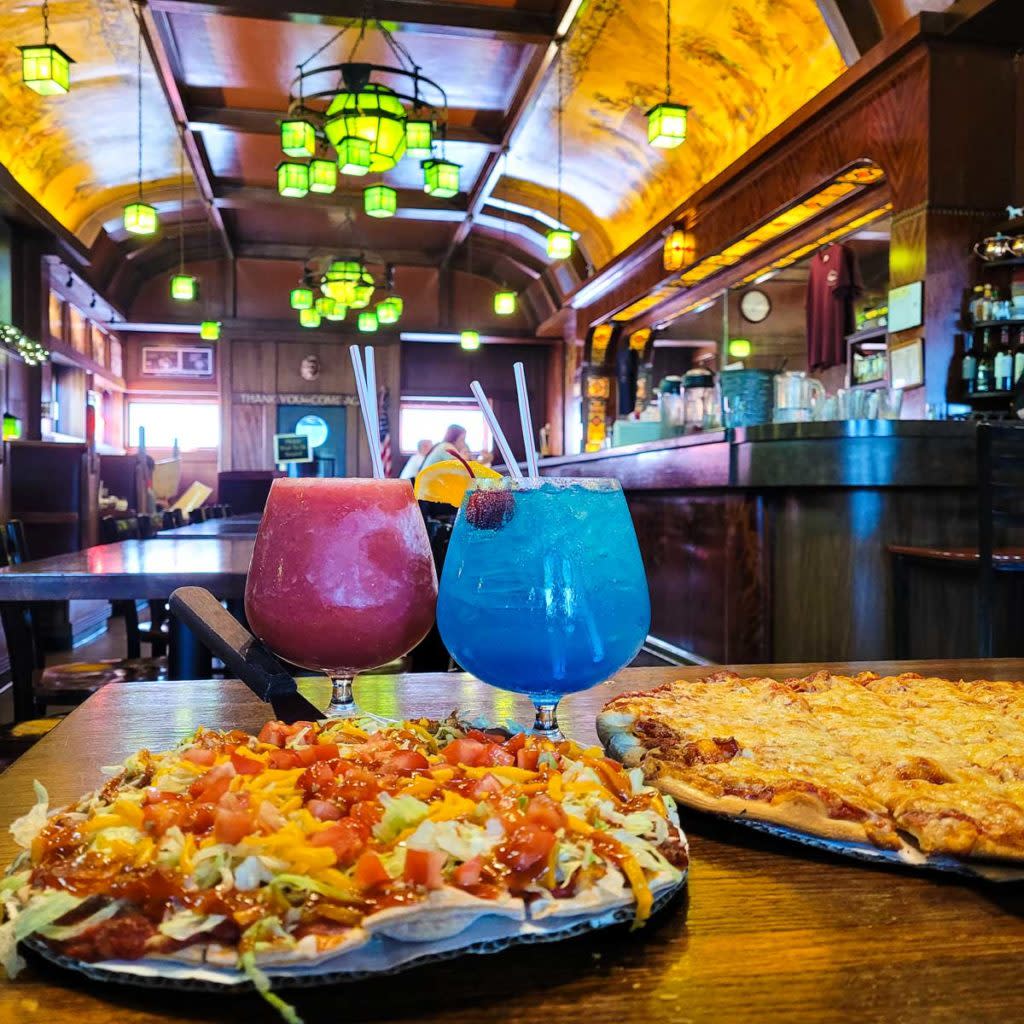 Not much has changed at the Ambo. It still offers great food, drinks, and an amazing atmosphere.
KAYAK THE PORTAGE
Kayaking the Portage waterway is an activity that is still wildly popular, just as it was for many past Tech students. The canal is easily accessible to all skill levels and offers a truly memorable experience in the Houghton/Hancock area. No worries if you don't have your own kayak – the Keweenaw boasts several outfitters around the Tech area. Depending on where you'd like to launch, Portage Paddle Sports offer locations at Roy Kester Park and at Hancock Beach. Gitche Gumee Outfitters allows you to launch into the Portage from Chassell. It's inevitable that once on the Portage, you'll gravitate towards the Lift Bridge. Regardless how many times you've seen it, walked it, or drove on it, seeing the Bridge up close and personal from the water will be an entirely new and exciting experience!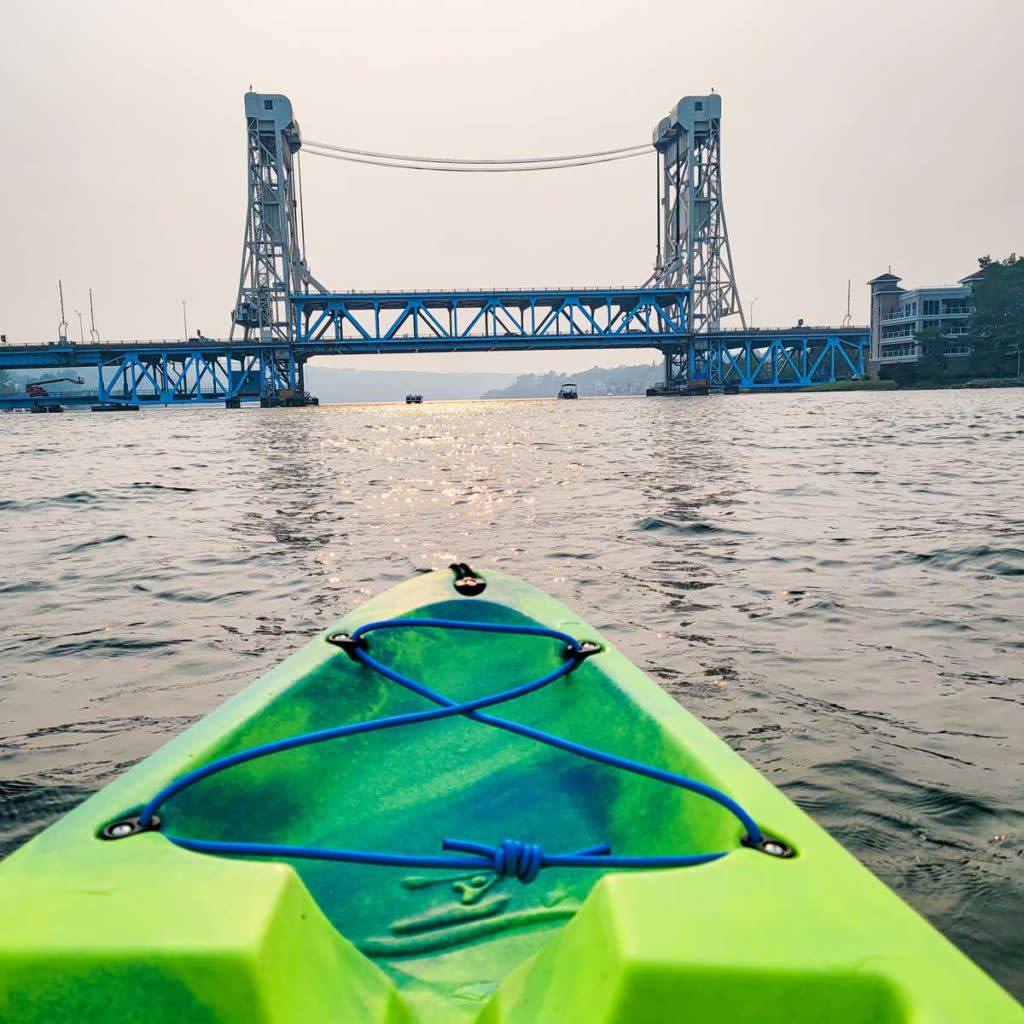 Enjoy a paddle along the Keweenaw Waterway and under the iconic Portage Lake Lift Bridge.
HIKING HUNGARIAN FALLS
For decades, Huskies have explored a series of cascading waterfalls called Hungarian Falls. Located in Hubbell, the falls still draw students year-round, including during the winter months when its rushing waters turn to ice requiring visitors to strap on snowshoes. Several hiking trails allow alumni to access the upper and middle falls, and the top of the lower falls for sweeping views of the Keweenaw's landscape.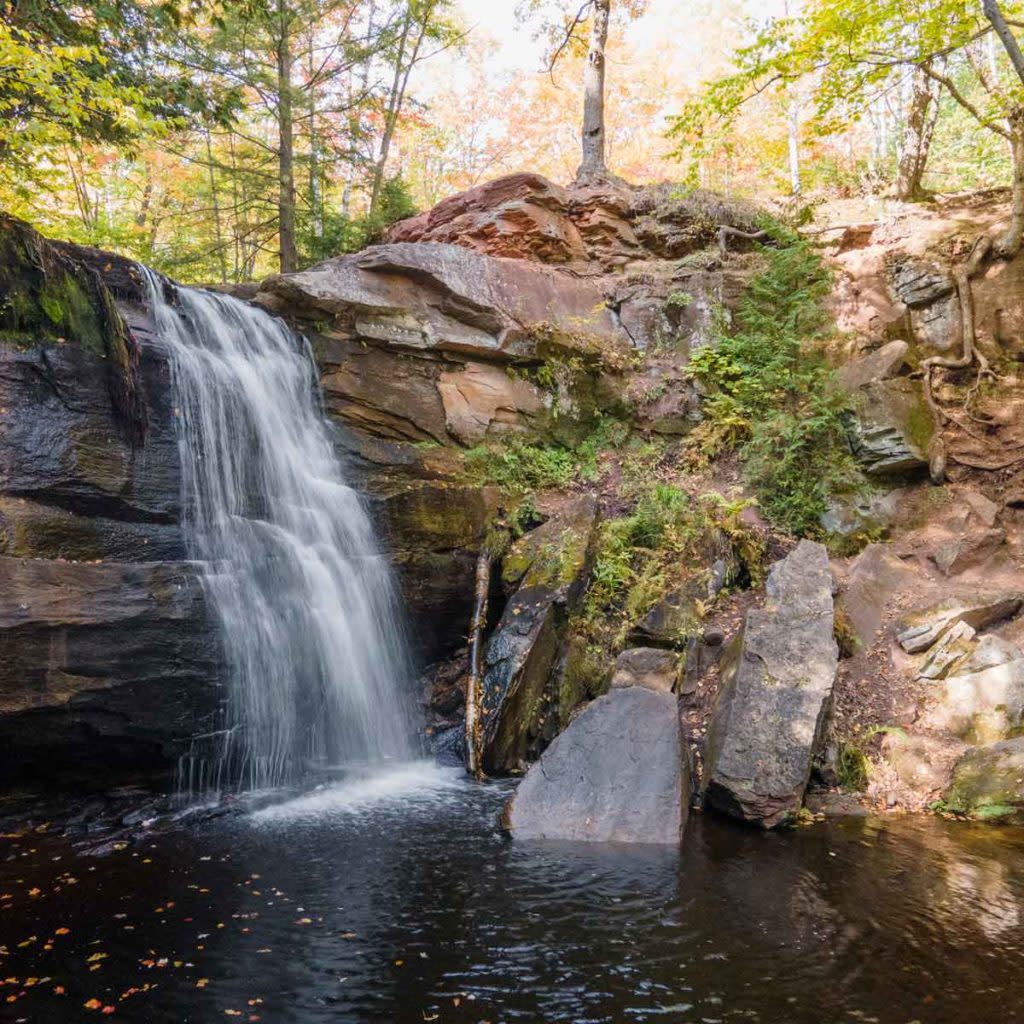 Hiking Hungarian Falls outside of Hancock is a frequent Husky activity.
BONFIRE AT BREAKERS
How many students have piled into a car just before sunset to catch an incredible view of a Lake Superior Sunset at Breakers? These evening forays are beloved by locals, students, and vacationers alike. As your Alumni Reunion evening wanes, once again pile your family and friends into your car, stop for the $5 bundle of wood on the way out, and pass on that glorious memory of the vibrant and rich sunsets over the seemingly endless Lake Superior. A small bonfire will usher you into a silky, black evening where new memories will form for a place that we all have loved so much.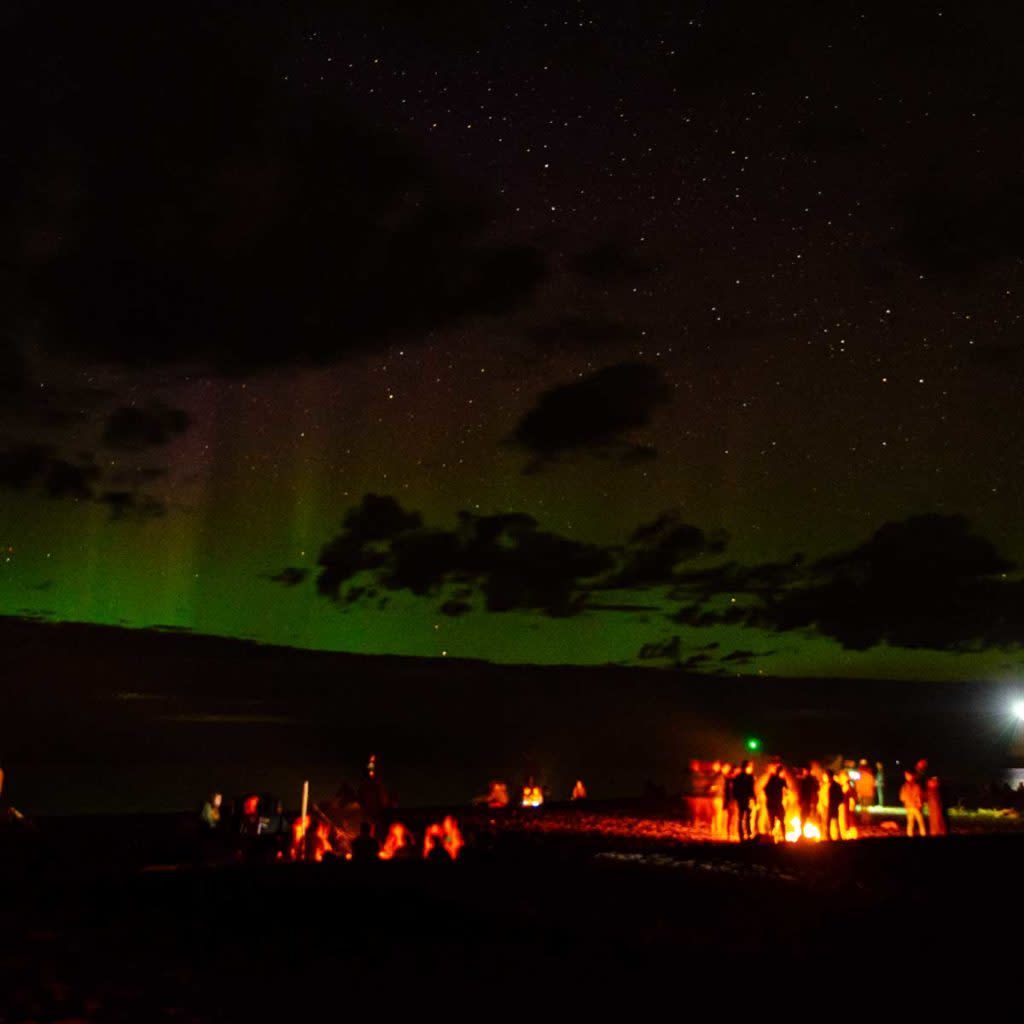 Bonfires at Breakers. Nothing beats taking in the stars with friends on the coast of Lake Superior.