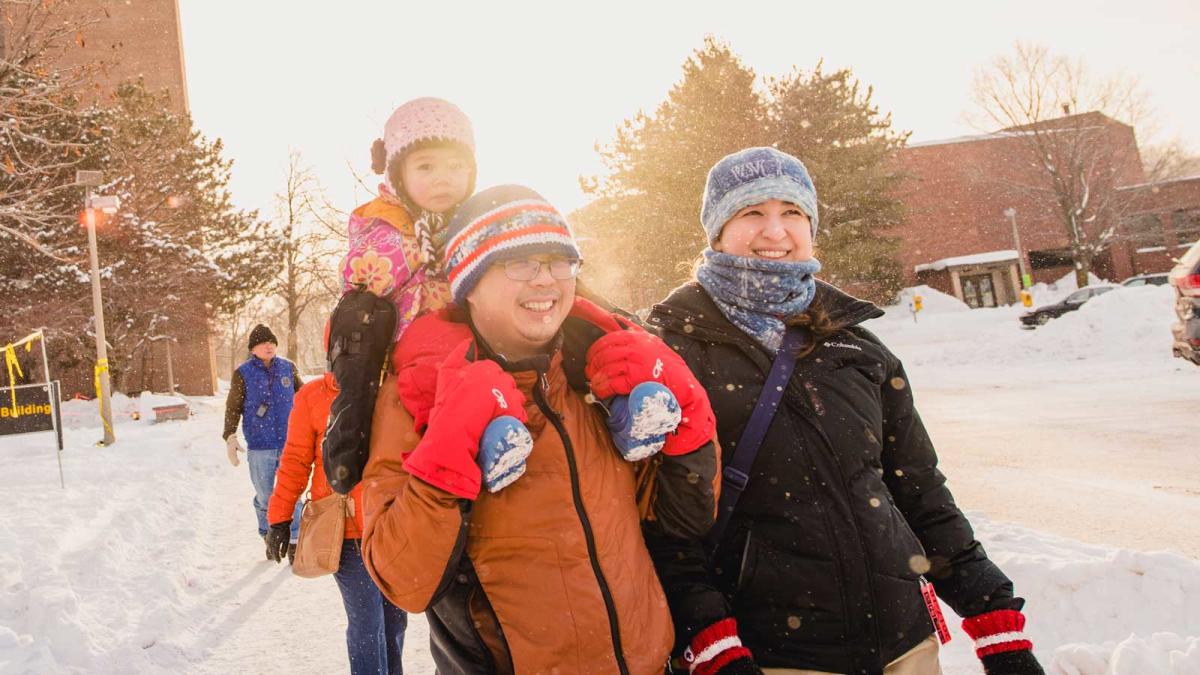 In a place that regularly averages over 200 inches of snow a year, playing in the snow has become a skill that the Keweenaw has honed to utter perfection. Michigan Technological University's Winter Carnival, full of snow and ice sculptures, music, and outdoor sports, celebrates the incredible magnitude of Keweenaw snow. Though the event has grown significantly since its inception in 1922, it remains a staple Copper Country winter event. 
Winter Carnival, run entirely by Tech students, is a unifying experience that literally transcends generations. The experience of building snow statues, marveling at icy creations on campus, getting chilly and silly with friends has occurred for over a hundred years! 
Its bevy of events and promise of snowy masterpieces is reason enough to set your sights on a Keweenaw trip. Add in the perfect conditions for tons of other outdoor adventures, a thriving food, and shopping scene, you've got the recipe for an unforgettable winter vacation! Now, if you want to get the low-down on how to experience Winter Carnival in a way that'll make our MTU engineer forefathers proud, follow along closely.
ICE BOWLING
Now folks, don't let this name fool you. This isn't some mere outdoor version of your Uncle Larry's favorite pastime. We're talking HUMAN ice bowling. As in lob your friends down the ice! Bring up to 10 of your friends to the John MacInnes Ice Arena and create a team whose goal is to sling a friend on a sled down the ice to knock down as many pins as possible. Do you have what it takes to devise a human bowling ball catapult? Do you have what it takes to BE a human bowling ball? The stakes have never been higher. 
ALL-NIGHTER
Though Winter Carnival is a multi-day event, the All-Nighter is the night. In the late afternoon, the students and organizations creating their snowy pièce de résistance are given one last overnight last-ditch attempt to finish and perfect their statue. The energy and activity on campus and all along Shelden Avenue is electric. The sounds of students working and encouraging each other, laughter, and music clamor. 
It's an incredible time to walk through campus and watch the labor and skill the students employ to build these statues. Statue building techniques have been passed down through the years, and it's fascinating to witness the evolution of a rough-hewn block of snow morph into a work of art. All I'll say is that there are clothes irons involved. 
You'll find a multitude of other attractions set to keep the energy and spirits high for all involved. An annual favorite, a DJ booth made of snow and ice is created for all to jam to music and maybe throw down a couple cool moves in your winter parka and snow pants! Belt out some tunes in the MUB during an All-Nighter Karaoke session, and warm your belly with a ton of pancakes at the ROTC Pancake fundraiser!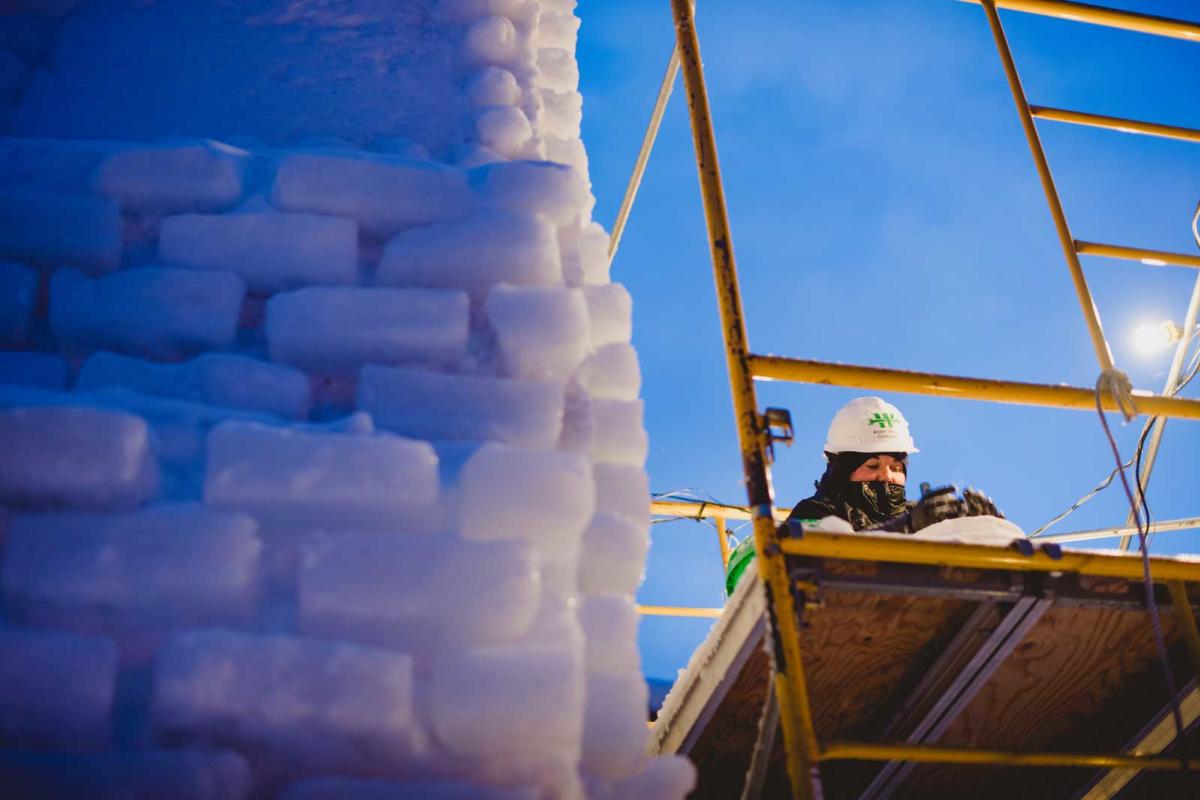 The All-Nighter is the last dash for Tech students to perfect their snow statues. Photo credit: Michigan Technological University
SNOW STATUE WALKING TOUR
Once the entirely frozen ice sculpture crews have hit their 9 AM deadline and gone to bed, all of us warm and well-rested folks can marvel at the finished statues! The day after All-Nighter will show the statues at their absolute best- our recommendation is to start your trek to see them all at the Rozsa, walk through campus, down Shelden Ave, and don't forget the fraternities in Hancock! 
This is also the perfect opportunity to trek through downtown Houghton and Hancock. Perhaps you'll be looking to relive your favorite lunch spots, or craving a hot cup of coffee to warm you up – you will find a plethora of both new and long-established spots to enjoy!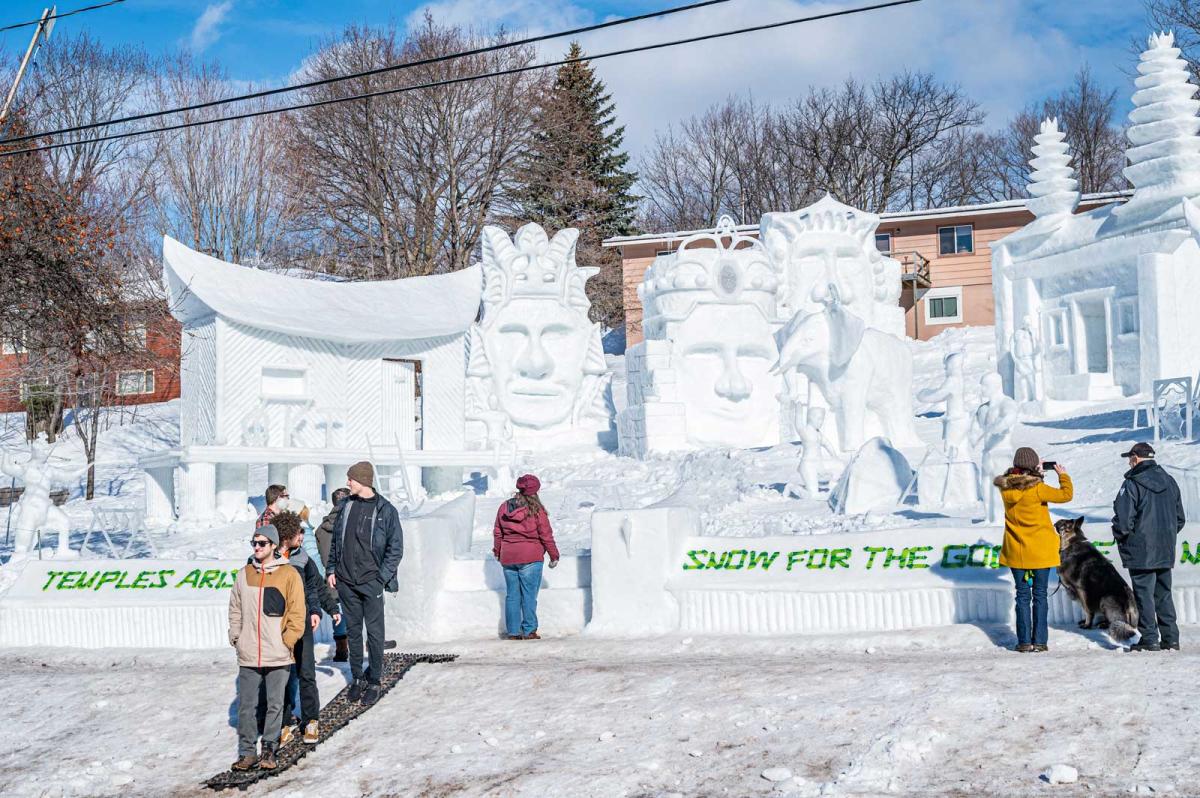 The highlight of Winter Carnival is touring campus and the surrounding communities to view the impressive snow statues designed by Michigan Tech students.
BROOMBALL
Is it even really winter if broomball hasn't happened yet? Broomball – quite literally a version of hockey played with a broom and a ball – began as a Winter Carnival event in the 1950s. The sport has grown significantly and enjoys a large contingent of players and fervent fans. Folks driving on US41 through MTU's campus have likely seen their rinks in the wintertime, so this is a great opportunity to watch the sport. Games will be played throughout Winter Carnival, and an Alumni vs Student match is available to register for!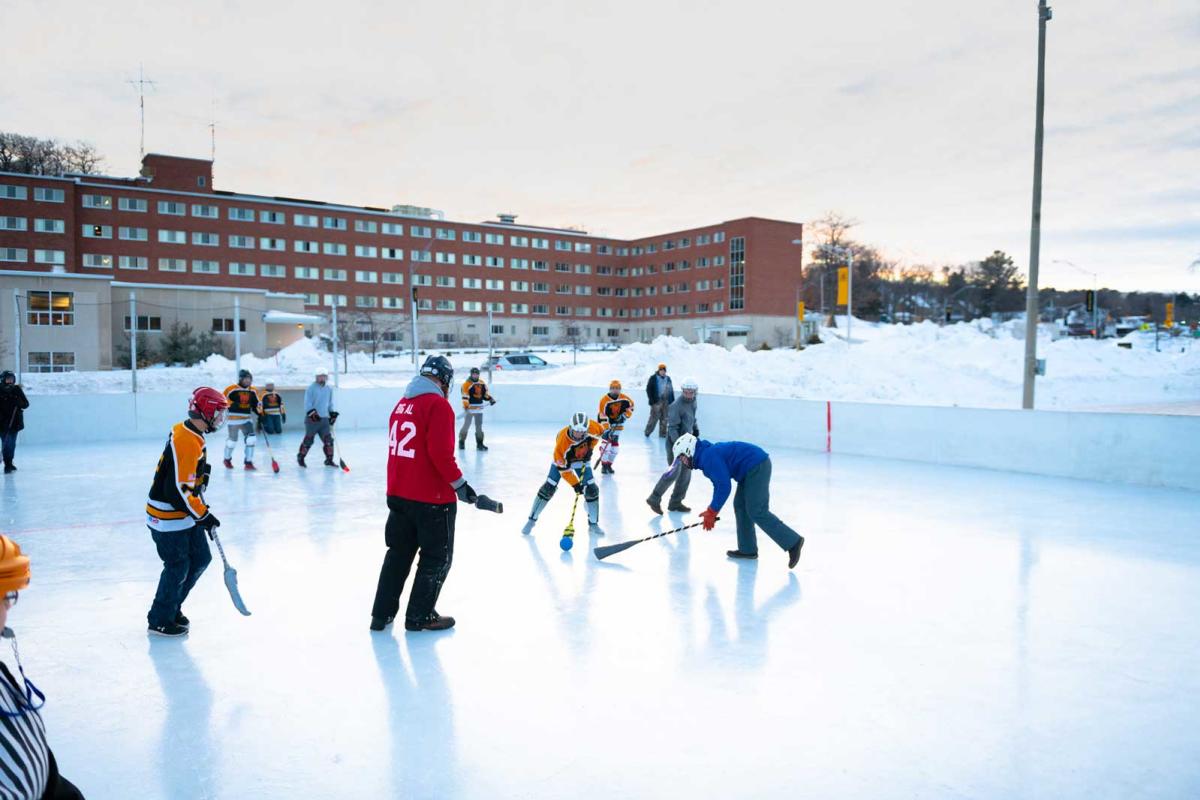 Broomball combines hockey with everyone's favorite household chore: sweeping. Photo credit: Michigan Technological University
WINTER CARNIVAL: STAGE REVIEW SHOW
This wildly popular sketch comedy event takes over the Rozsa stage and features many different MTU organizations. Here, the students cut loose and riff on the year's theme with very cheeky and smart (but never blue) jokes. Tickets go fast for this event, so don't hesitate to snag them!
ST. AL'S ICE MASS
Held in a magnificent open-air chapel made of snow and ice, St. Al's Catholic church holds a public evening candlelight mass for the students and general public. This event has become a highlight event for people of every walk of life, as it celebrates the connection many people feel to winter, the outdoors, and their spirituality. Definitely worth viewing just to appreciate the building's beauty and the student's efforts – this event is open to all. 
HOCKEY 
No MTU experience is complete until you've gotten to see a MTU hockey game! A true hockey fan would know how important it is to see a game in Houghton since this Copper Country community is THE birthplace of professional hockey. The student and Keweenaw community fanbase are loyal and fierce, so the games and the crowd bring big energy! Almost as beloved as the sport is the electric Michigan Tech Pep Band – here they'll be fully in their element in their signature black and yellow striped overalls bringing big sound and big energy!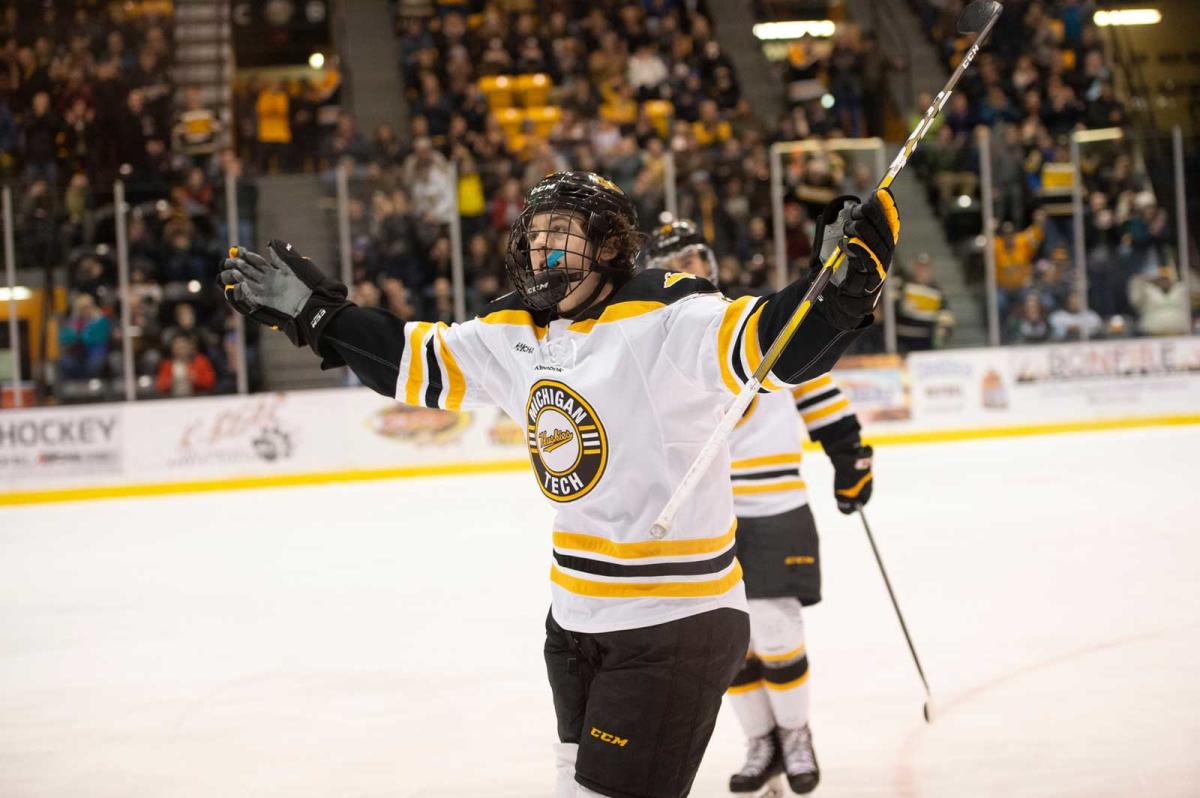 Don't miss out on Husky hockey while you're in town for Winter Carnival. Photo credit: Michigan Technological University
TORCHLIGHT PARADE AND FIREWORKS
Rounding out the Winter Carnival celebration is the Torchlight Parade and fireworks show. Post up opposite of Mont Ripley, and watch torch-bearing skiers make intricate patterns of light down the hill. After, watch a fireworks display light up the hill. This magical moment is a perfect launching point to enjoy the Houghton and Hancock dining scene and nightlife. Perhaps you hear the KBC calling you back to its warm halls,  your taste buds are craving some new and exciting flavors at The Den, or you're ready for a libation at the DT overlooking the Lift Bridge… you earned it. It's hard work having so much fun!
MORE WINTER OUTDOOR EVENTS 
The Blue Key National Honor society pulls out all the stops when it comes to outdoor recreation for Winter Carnival. Bring your family and friends to enjoy a wide range of bucket-list Keweenaw activities, and some that you'd have to see to believe! Try:
Ice skating at Roy Kestner Park
Horse-drawn carriage rides
Slalom ski events at Mont Ripley
Dog Sled rides
Human Dog Sled Races (yes, you read that right!)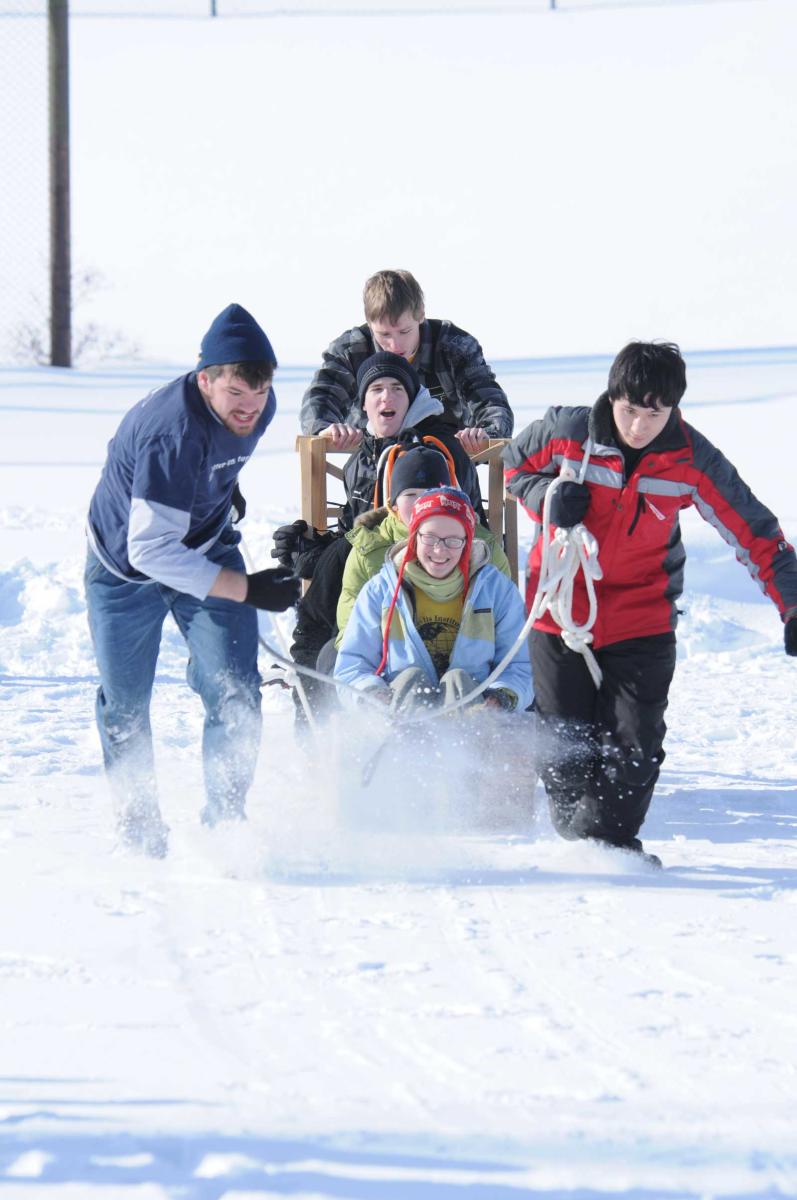 The human sled-dog competition is an annual favorite for Winter Carnival attendees. Photo credit: Michigan Technological University