The Keweenaw Peninsula is home to not one, not two, but FIVE mountain bike trail systems!  With so many miles to cover, it's hard to know where to start.  Lucky for you, there's an event designed to help people discover their next favorite trail in the Copper Country: Ride the Keweenaw.
Held annually over Memorial Day Weekend, Ride the Keweenaw offers several group rides, exciting races, and more across all of the great trail systems in our backyard.  Join local experts who know the trails best as they show you around everything we have to offer.  It's a great way to kick off the season and we hope you can join us!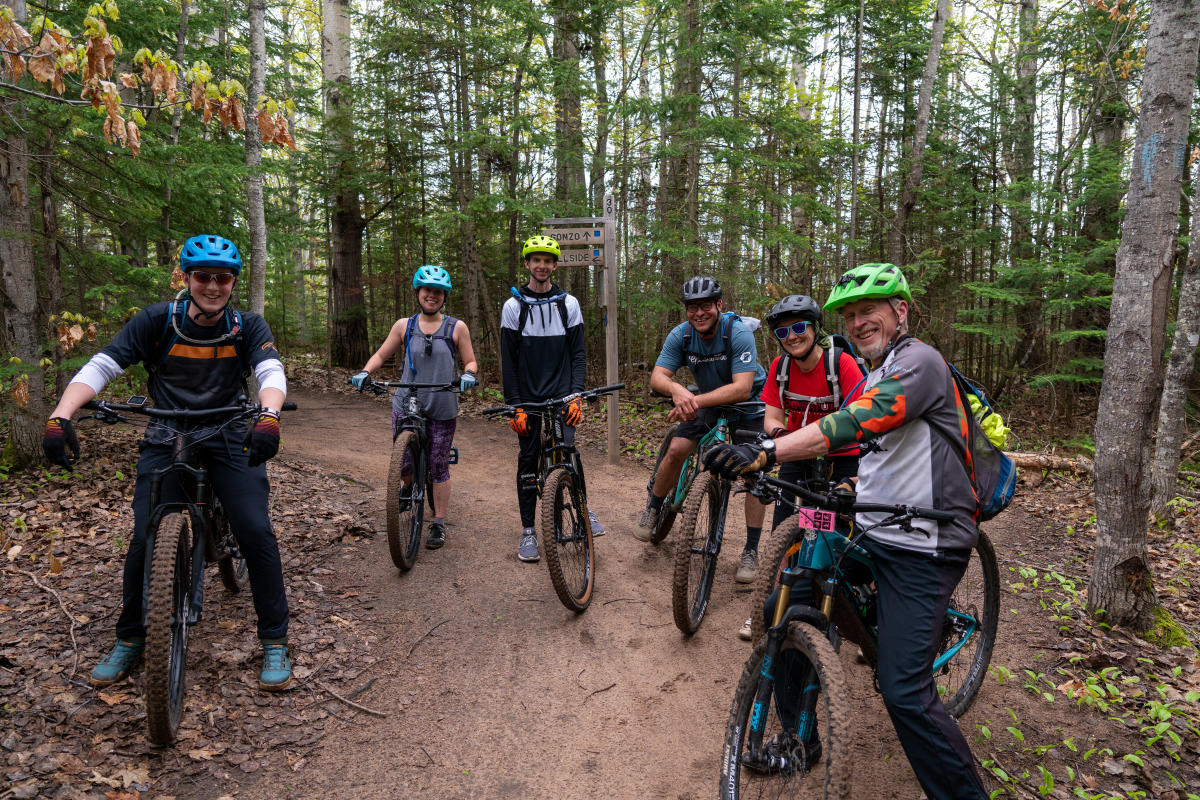 Ride the Keweenaw offers several group rides so that you can learn more about all the trails the Keweenaw has to offer.
What Ride the Keweenaw is All About
Ride the Keweenaw is a partnership between all of the different trail networks found in the Keweenaw area.  Many people have heard of the Copper Harbor Trails, one of the top destinations for mountain biking in the nation and a designated Silver Level Ride Center by the IMBA since 2012.  What many visitors don't realize is that there are even more miles of mountain biking trails right down the road than there are in Copper Harbor!
With so many great trails being built in the region, Ride the Keweenaw was formed to show them all off.  Each trail system has its own unique character and there's no better way to learn about them than from the organizations who built them.
The Trail Systems
Here's a quick rundown of the five trail systems that Ride the Keweenaw spans every Memorial Day weekend, starting from the southern end and working north.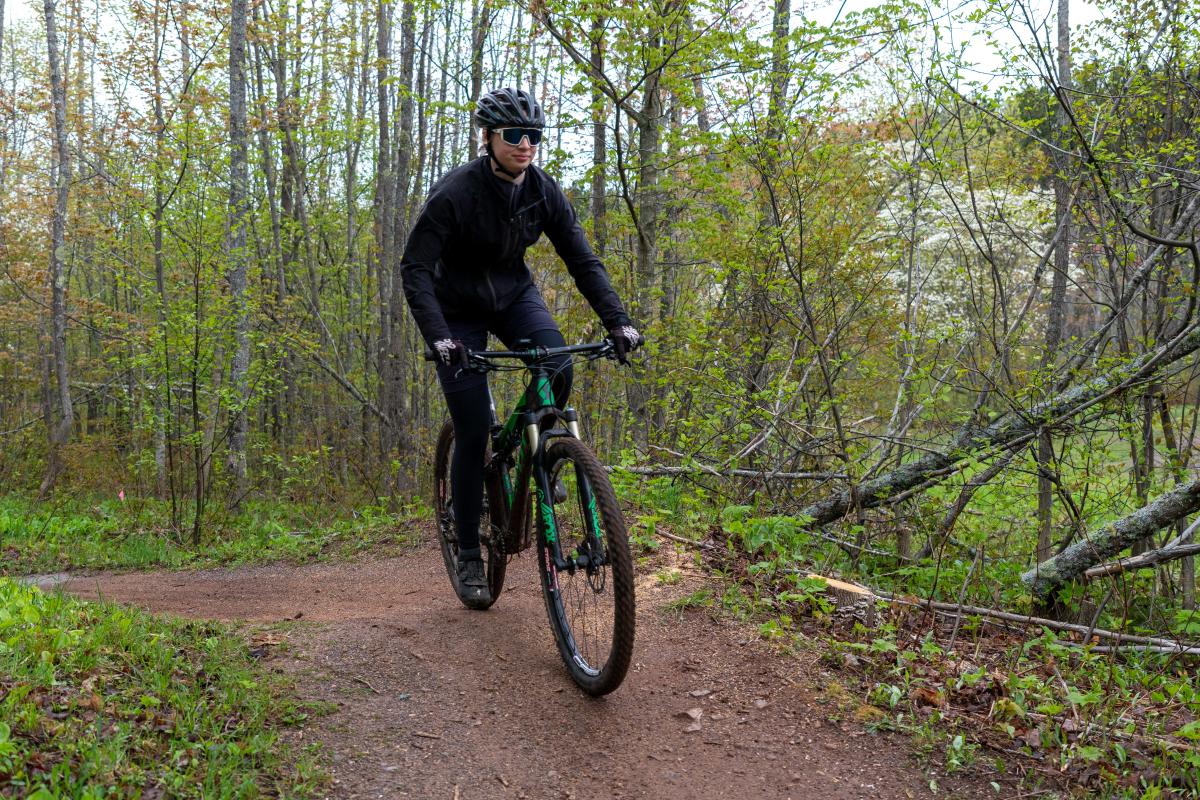 Each Keweenaw trail system offers different experiences with trails built for all skill levels.
Guided Rides
The best part about Ride the Keweenaw are the group rides at each trail system.  With so many new trails to choose from, it's hard to know where to start.  Let the locals be your guide!  Over two days, Ride the Keweenaw explores many of the trails that can be found in each network.  Each ride features leaders with different goals and skill levels.  Whether you're an advanced rider looking to knock out a lot of miles or a newbie who likes to take breaks to enjoy the scenery, there's something for everyone.  All group rides are free and open to the public.
Swedetown and Michigan Tech are the best group rides for families.  The trails here are more approachable and there are many opportunities to turn around if you get tired early.  You're also close to restaurants and shops afterwards!  If you aren't the strongest rider, you'll have a great time at either location (or both).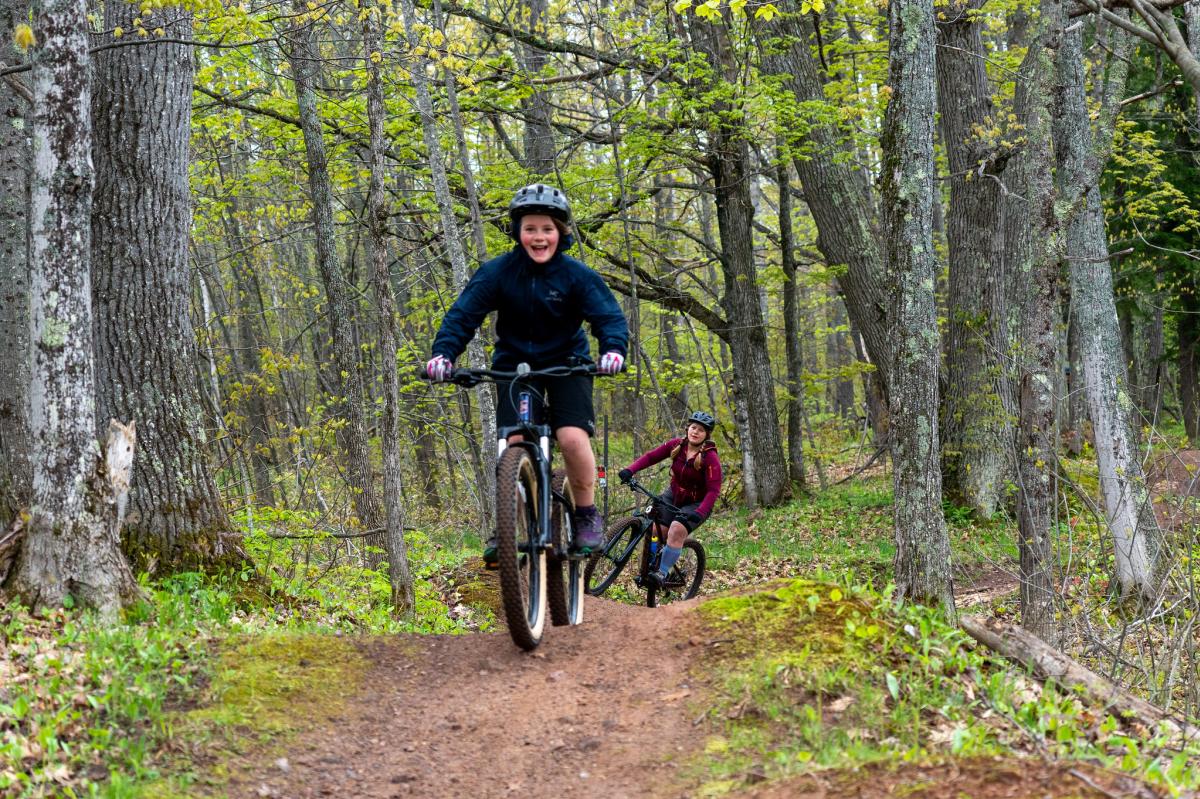 Michigan Tech Trails and Swedetown Trails offer the best group rides for families. 
Churning Rapids has a great old-school feel to many of their hand-built trails for the intermediate crowd looking for something off the beaten path.  Likewise, Swedetown is a great place to stretch your legs without getting yourself into trouble.  The terrain at both can be difficult in spots but won't punish you if you mess up.
SöKē's trails are the toughest of the bunch.  Early in the season you'll find a lot of leftover sogginess thanks to our deep snowpack.  Coupled with an abundance of rock pulled from underground and you've got a fun challenge on your hands!  Many of SöKē's trails pass through mining ruins from the copper era for bonus sightseeing as you traverse the woods.
An Underground Ride
While the rugged surface trails at Adventure Mine are a special treat, the real reward lies underground!  Ride the Keweenaw is one of two opportunities for mountain bikers to ride underground (the other being the Miner's Revenge race).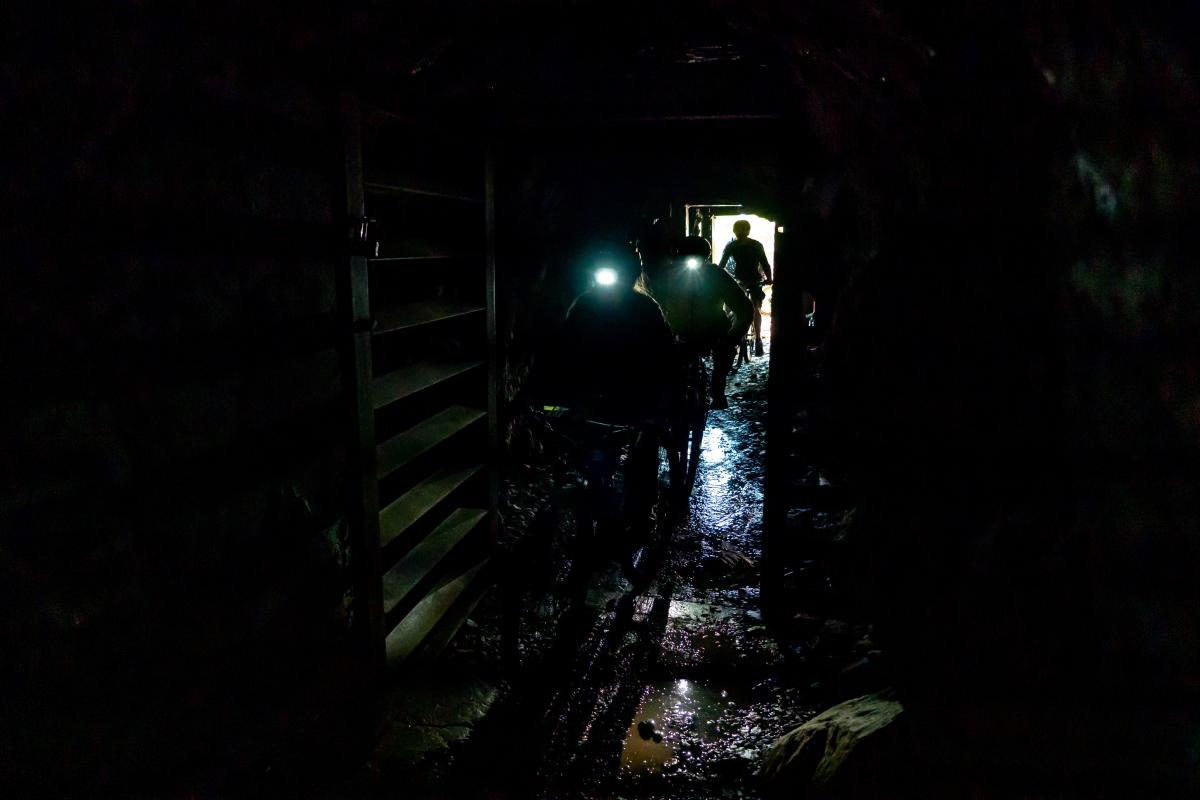 The ride at Adventure Mine literally takes you underground through old mine caverns below the mountain.
Not only do you get a chance to ride your bike through caverns below the mountain, wildlife biologists from the DNR will be on hand to share knowledge on the bats that live within the narrow passages.  For obvious reasons, you'll need a helmet, headlamp, and handlebar lights to take part in this amazing group ride.  The pace underground is slower but you should be comfortable riding intermediate trails to take part safely.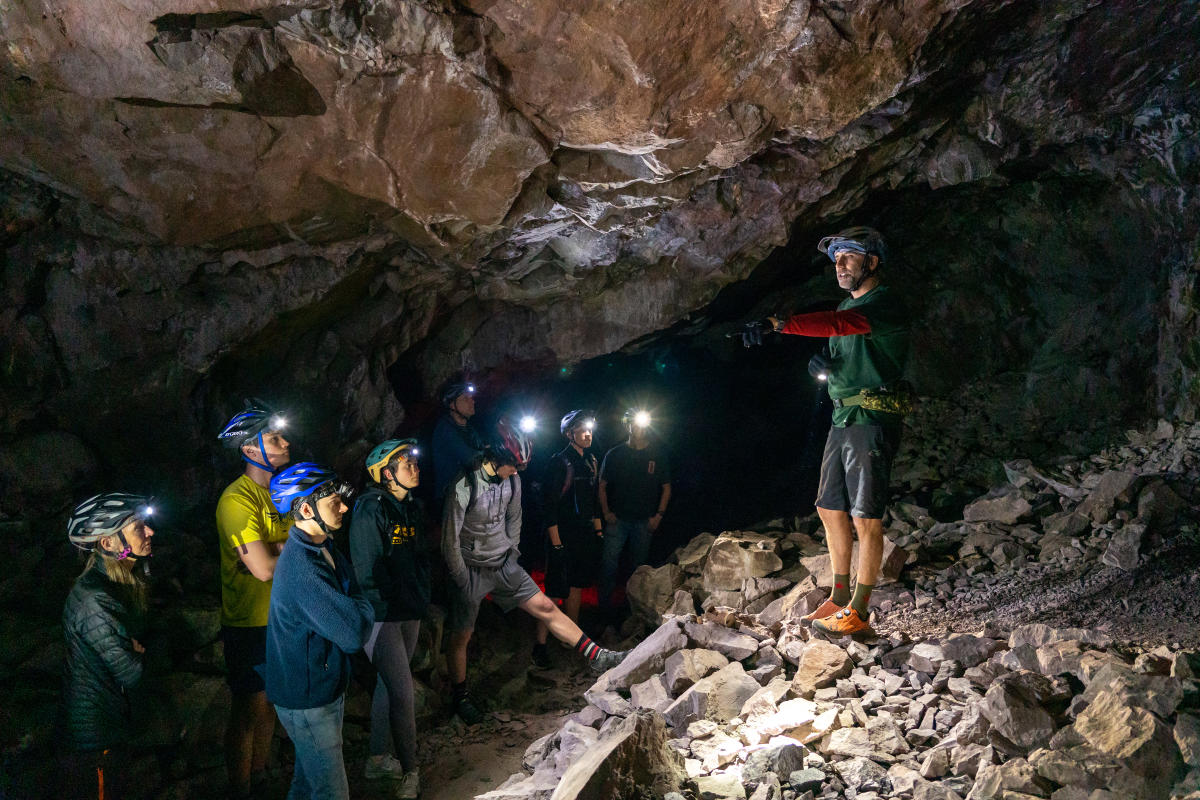 The group ride at Adventure Mine comes with an educational component about the bats that live in the narrow passages.
Two Flavors of Enduro Race
Ride the Keweenaw has two different Enduro mountain bike races for 2023.  What's an Enduro race?  It's one of the most fun ways to race on your bike!  An Enduro is a stage-race format where the goal is to accumulate the lowest combined time from a series of individually timed sections.  The timed stages are linked by predominantly ascending transfer stages.  As long as you complete the entire race within a set period of time, you can take your time on the ascents and rest up for a minute before tackling the downhill timed portions.  Taking breaks during a race without losing time?  Sign me up!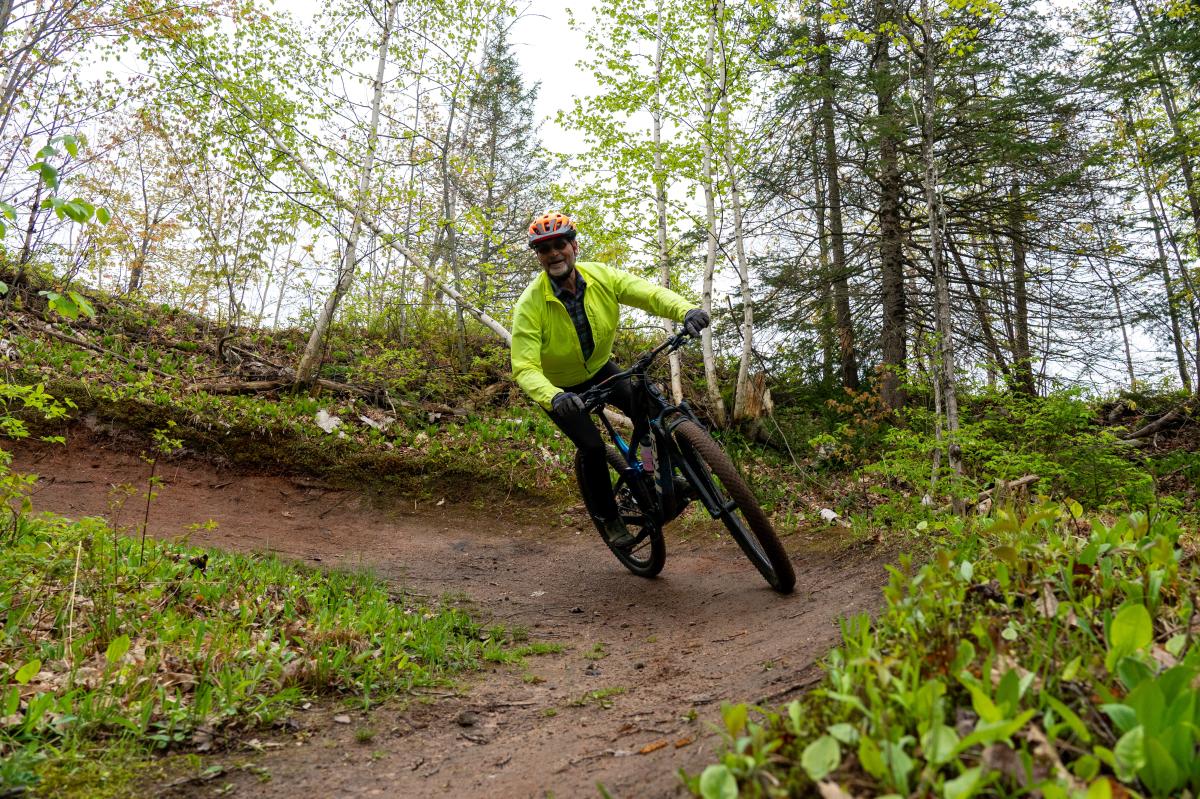 Ride the Keweenaw offers two different Enduro races for 2023. 
New for 2023 is the addition of a Family Enduro at the Michigan Tech Trails on Saturday morning.  This race will feature shorter than usual timed stages, easier transfers, and longer periods of time between racers on the course.  Families and friends will also be able to ride together as a group for moral support and added fun!  With lower entry fees and less pressure from competitors breathing down your neck, we hope more people will come out and have fun.
The more traditional Copper Harbor Enduro takes place on Sunday of Memorial Day weekend.  This is the first of the Lake Superior Gravity Series races and may sell out before race day.  Register today for some early season racing action on the fastest trails around!
An ArtBike Fundraiser
Last but not least, the Copper Harbor Trails Club hosts its ArtBike unveiling on Sunday afternoon following its Enduro race.  ArtBike is a trail-themed art show with pieces created by regional artists who love the Copper Harbor Trails.  With over a dozen never-before-seen posters available, it's a great way to support the trails while taking home limited-edition artwork for your home or office.  Every poster is as unique as the trails they're inspired by.
Schedule
Friday, May 26, 2023
6:30PM - Guided Group Rides at Adventure Mine in Greenland
Saturday, May 27, 2023
9:00AM - Guided Group Ride at Michigan Tech Trails in Houghton
10:00AM - Family Enduro Race at the Michigan Tech Trails in Houghton
12-5PM - From the Ground Festival in Downtown Houghton
1:00PM - Guided Group Ride at Churning Rapids Trails in Hancock
2:00PM Women's Pre-Ride of the Copper Harbor Enduro Race Course
5:00PM - Guided Group Ride at Swedetown Trails in Calumet & Potluck Grill-out Afterwards
Sunday, May 28, 2023
10:00AM - Lake Superior Gravity Series Enduro Race at the Copper Harbor Trails
2:30PM - Enduro Awards Announced at the Grant Township Community Hall
3:00 - ArtBike at the Harbor Opening at the Grant Township Community Hall
To find out more about Ride the Keweenaw, visit the Copper Harbor Trails Club's website or download the detailed schedule today!
Interested in updates, travel tips and quirky information about the Keweenaw? Just sign up for the Keweenaw Explorer, our monthly e-newsletter. Complete the form…