What is Plaid? And how is Plaid different than Flannel?
Plaid has been around for more than 3000 years and originated in Scotland. There, it was used to associate with your family/clans. First called "tartan", "plaid" became more acceptable language as it removed the traditional colors and striping to create more variations of plaid. It's a pattern that proves to be timeless.
Don't use the terms plaid and flannel interchangeably. While flannels can be plaid, not everything plaid is a flannel. A flannel is an article of clothing made of a medium-weight cotton fabric with a "napped, fuzzy finish on one or both sides". Typically, a flannel looks like a cozy, button up jacket. While many flannels are plaid, just remember that there's a difference.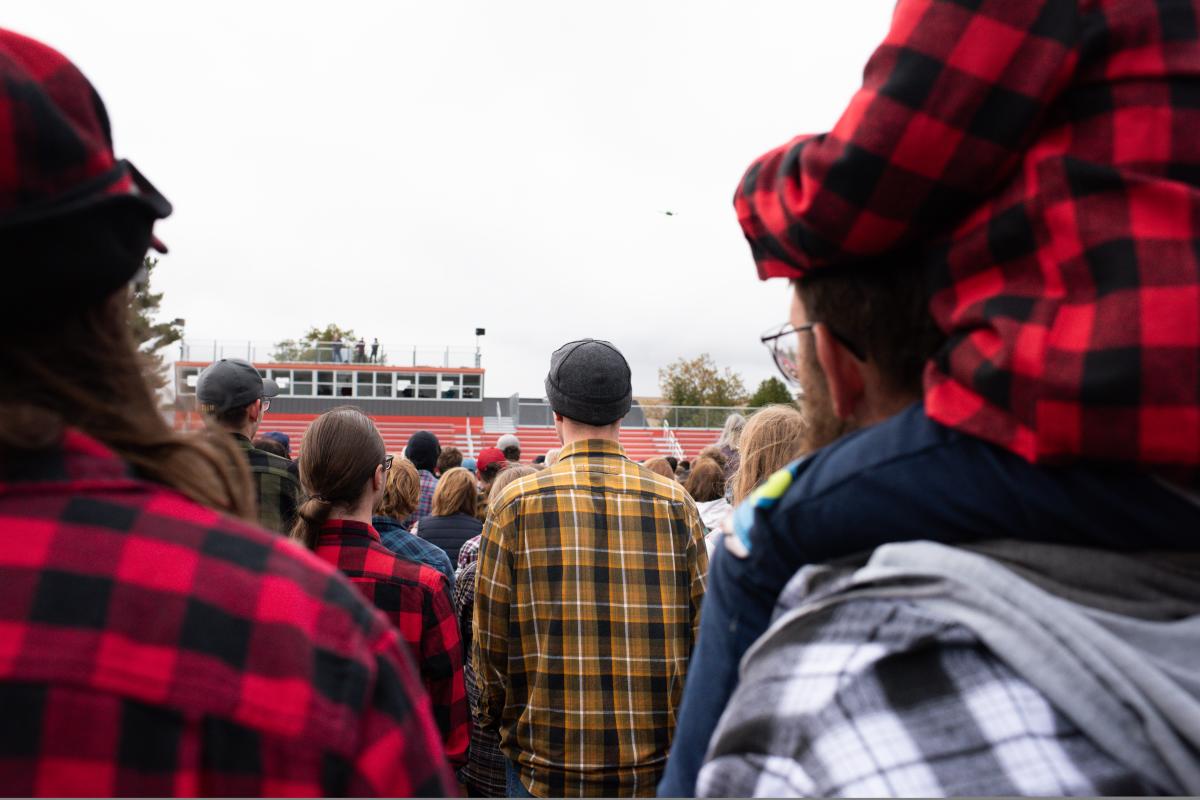 Up North we see a lot of flannel plaids because they are cozy and warm. (Photo courtesy of Michigan Tech)
What is Plaidurday?
Plaidurday is the celebration of the Yooper-beloved pattern plaid. Keeping lumberjacks, coal miners and true Yoopers warm and cozy for decades – you see it everywhere. It occurs on the first Friday of October each year, and was first observed in 2011. Many adaptations have evolved and you can celebrate the holiday by simply putting on plaid! The more plaid the better.
Visit Keweenaw Plaidurday Celebration
In 2023, Visit Keweenaw decided it wanted to do something special for Plaidurday. So, one Tuesday afternoon in the office, the staff brainstormed a plan after contemplating various fall events. The goal was to break a Canadian record from 2019 where 1,359 people gathered for a photo all wearing plaid. With a big task at hand, the city of Houghton helped coordinate and Houghton High School was willing to host.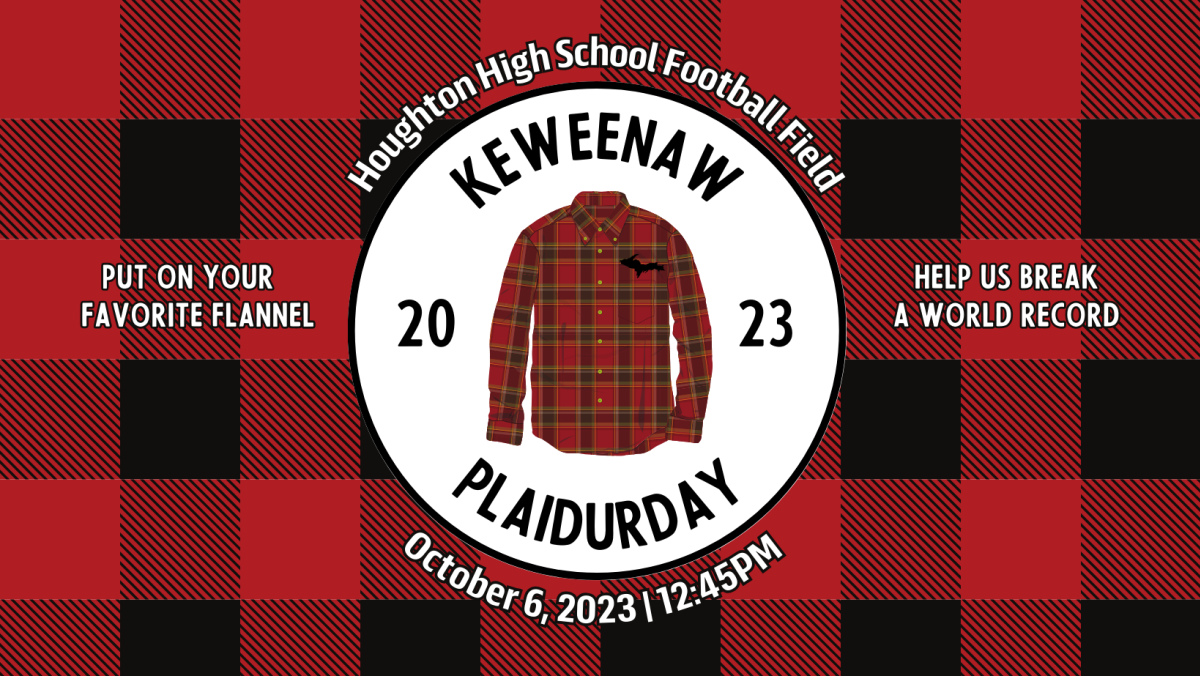 A Tuesday afternoon discussion in the Visit Keweenaw office led to enormous efforts to make Keweenaw Plaidurday a record-breaking event.
On Friday, Oct. 6, 2023, Visit Keweenaw counted more than 1,700 people who came for the photo. Attendees received a wristband to commemorate the day and help with counting.
Rain taunted the morning but allowed for a brief window of dryness for everyone to shuffle onto the field. As sprinkles came and went, people parked their vehicles and trekked across the parking lot. Volunteers stayed busy, passing out wristbands for counting and welcoming everyone. Check out the livestream of attendees arriving here.
Keweenaw Plaidurday drew many from the local community, surrounding counties and even some out-of-state folks. One special attendee was Bugsy Sailor, known for starting the holiday Plaidurday himself.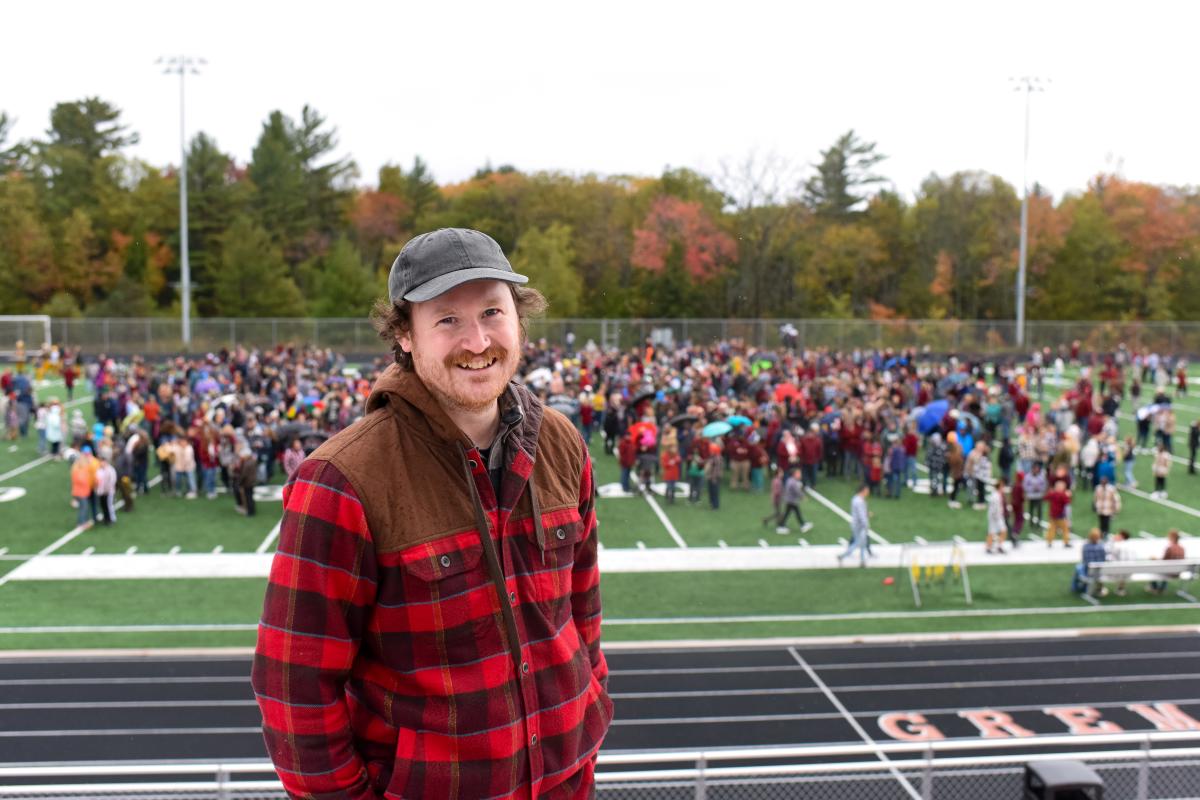 Bugsy Sailor at Plaidurday (Photo courtesy of Michigan Tech)
Some people came as far as Ludington and Clarkston, MI, and from areas of northern Wisconsin. Coming in from even farther, the celebration welcomed plaid-wearers who said they traveled from Colorado and Florida. One traveler shared with Visit Keweenaw they extended their stay by a night to participate.
The Michigan Tech Pep Band provided entertainment, hyping up the crowds and bringing a uniting energy to the turf. Centering between the 40 lines on the football field, the crowd posed for Brockit inc. to take the perfect Plaidurday shot.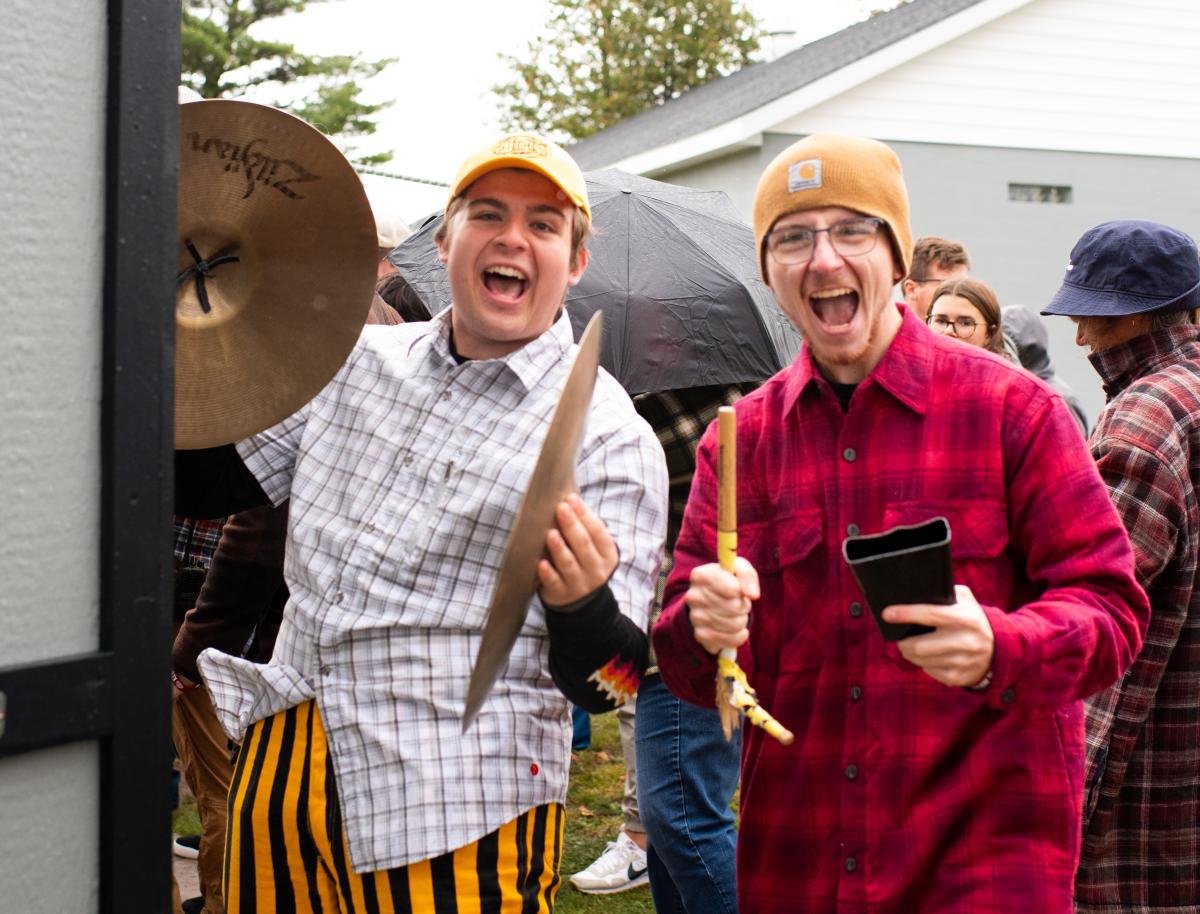 The Michigan Tech Pep Band brought plenty of entertainment to the event. (Photo courtesy of Michigan Tech)
Visit Keweenaw thanks everyone who helped make Keweenaw Plaidurday Celebration a huge success. Happy Plaidurday!
Here's the official Keweenaw Plaidurday photo taken by brockit inc. in for 2023.
Keweenaw Culture and Plaid
Even if it wasn't Plaidurday, you would likely see several wearing it on any given day in the Keweenaw. Clothes made with plaid patterns are typically associated with warm, soft, cozy feelings. It's on jackets, hats, sweatpants and gloves – all things you need for a Keweenaw winter. Some may not understand the visual appeal of the pattern, but just like our gorgeous, rugged Keweenaw landscape – we love it! It's a universal wardrobe item you can wear to work, dinners and even weddings. Wear it in the woods to stay dry on your next hike. The Keweenaw receives 300+ inches of snowfall annually, making our neck of the woods the ideal climate to wear plaid clothing. It's a versatile thermal layer that many use to their advantage.
Put on your best flannel and adventure north soon!
Interested in updates, travel tips and quirky information about the Keweenaw? Just sign up for the Keweenaw Explorer, our monthly e-newsletter. Complete the form…