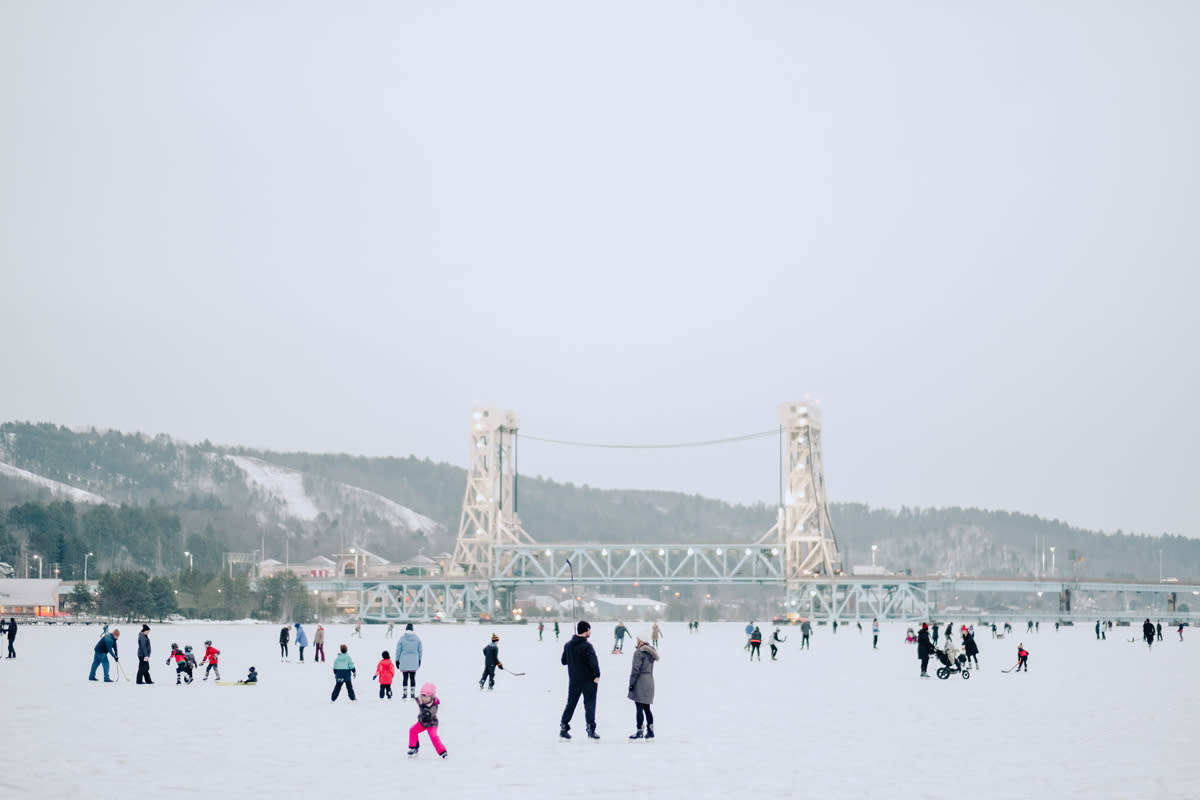 Houghton serves as the Gateway to the Keweenaw Peninsula. Located on the southern shore of the Keweenaw Waterway, Houghton's collection of outdoor snow adventures, history, dining, and culture make the city a destination for winter enthusiasts.  Here are our top recommendations for enjoying Houghton during the snow season.
GET OUTSIDE: WORLD-CLASS NORDIC SKIING, SNOWSHOEING, & FAT-TIRE BIKING
Glide across a freshly groomed trail through a snowy winter forest and experience the peace that comes from serene winter landscapes. Cross country skiing is a popular silent sport that provides a low-impact form of exercise and a fun way to explore nature during the depths of the winter months. Alternatively, slow down on a pair of snowshoes, or hit the trail with a fat-tire bike for a thrilling biking adventure.
Houghton visitors can access multiple first-rate winter trail systems groomed for both classic and skate skiing and open for other forms of winter recreation. Michigan Tech Trails, Nara Nature Park, Chassell Classic Trails, and Maasto Hiihto & Churning Rapids Trails are all located minutes from the heart of downtown Houghton and provide excellent opportunities for winter recreation.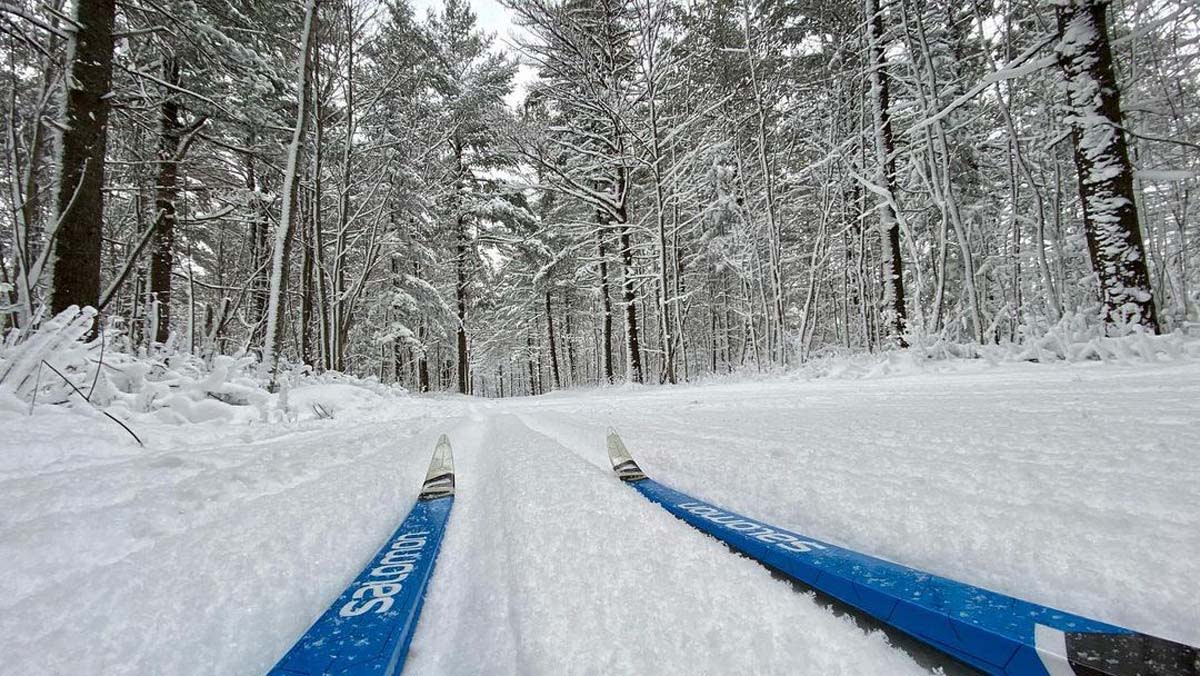 There are several cross-country ski trails within minutes of downtown Houghton. Photo by Gowtham.
MICHIGAN TECH TRAILS
Thanks to world-class grooming and reliable powder, Michigan Tech is a frequent host of the U.S. Cross Country Ski Championships. The Michigan Tech Trails, just minutes from downtown Houghton, feature long downhills, gathering speed, and sharp turns at the bottom. There are also 24k of recreation trails for fat-tire biking and 35 km of ungroomed snowshoe trails to explore. Daily and/ or season passes are required for non-students, and ski rentals are available at the Student Development Complex.
NARA NATURE TRAILS
Nara Nature Park is located minutes from Houghton, between Houghton & Chassell. Nara Nature Park is home to over 50 miles of exquisite trails that can be used for skiing and snowshoeing. The chalet, located near the trailhead, includes a fireplace and showers and is perfect for warming up after hours of fun in the snow.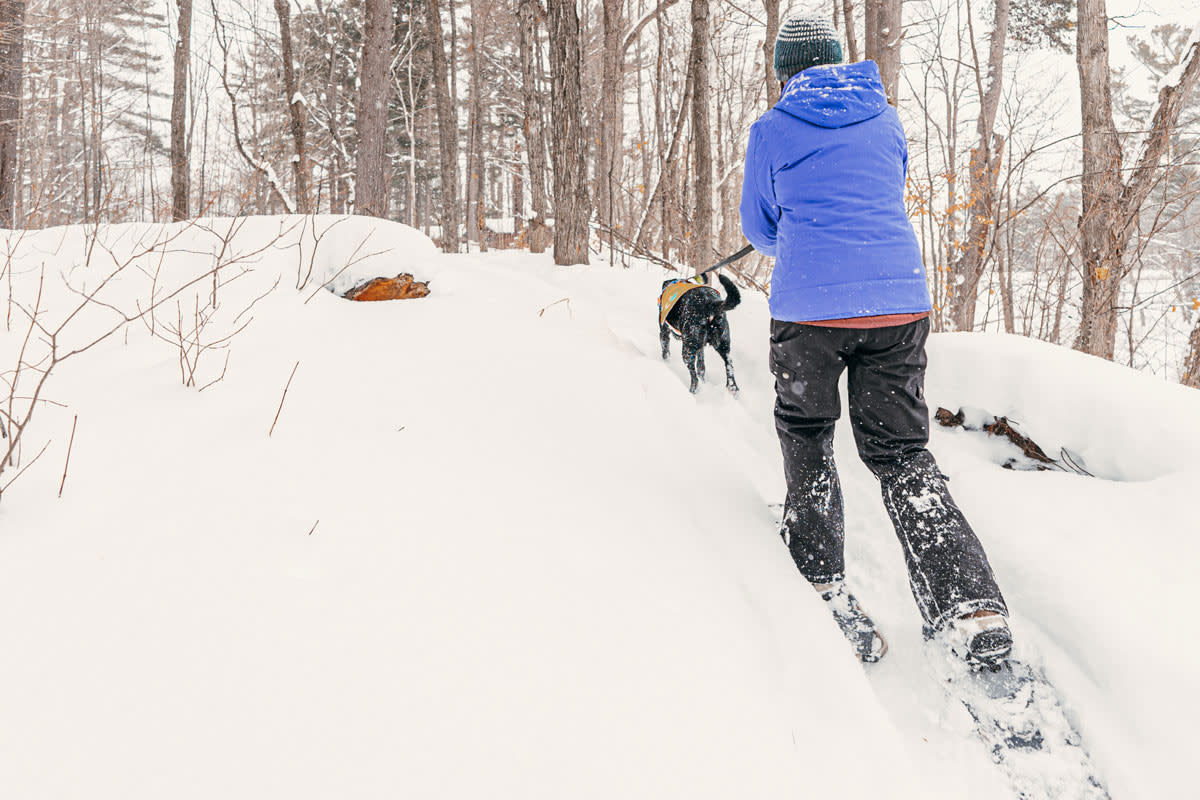 Snowshoeing is a great way to experience the snowy forests in and around Houghton.
CHASSELL CLASSIC TRAILS
For visitors seeking solitude, the community of Chassell is a perfect location for solo skiing and snowshoeing. Chassell Classic Trails are private trails maintained by the Chassell Recreation club who grooms the trails for the traditional skier. The 5K Lower Trail and the 5K Paradise Loop are both easy to intermediate, perfect for a relaxing afternoon ski. Check out our guide for snowshoeing the Chassell winter trail system.
MAASTO HIIHTO & CHURNING RAPIDS TRAILS
Maasto Hiihto and Churning Rapids winter trails are located on the Hancock side of the Portage Lake Lift Bridge. In Finnish, 'maasto hiihto' means "cross-country ski." These trails are groomed for a variety of winter activities, including skiing, snowshoeing, and fat-tire biking and are 100% dog friendly! These backcountry trails seem endless and meander over snowy Swedetown Creek.
Downwind Sports in Houghton offers equipment rentals, including, cross country ski equipment and snowshoes.
HUNGARIAN FALLS
Located north of the bridge, a few minutes from Houghton, Hungarian Falls is a great destination for snowshoers in the winter.  The series of cascading falls freeze during the winter months converting the gushing water into layers of ice. The spot has become a popular spot for local ice climbing. For more Keweenaw Frozen Waterfalls, check out our guide.
MONT RIPLEY
Mont Ripley is a skiing, snowboarding, and tubing playground for individuals of all skill levels! This ski area is owned and operated by Michigan Technological University, and from the hill, you have fantastic views of the Portage Canal, Michigan Tech's Main Campus, and the Houghton-Hancock Lift Bridge.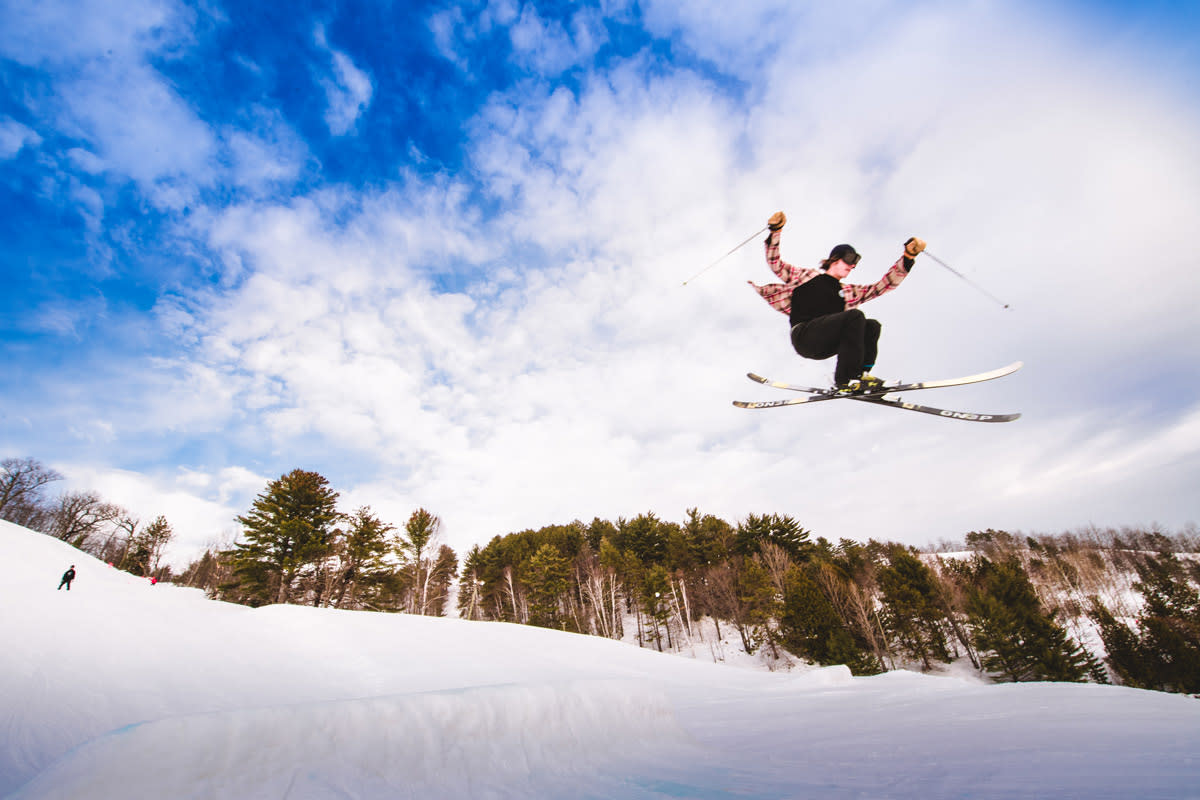 Mont Ripley Ski Area offers a terrain park for those who want to test their skiing and snowboarding skills. Photo by Michigan Technological University.
This ski resort offers a 440-foot vertical drop with six different glade runs. There are 22 trails with 112 acres of skiable terrain! This includes a terrain park with several jumps for trick-skiing enthusiasts.
Mont Ripley also has a 3-lane tubing park for an afternoon of classic winter fun that anyone can enjoy. Grab some hot chocolate and a snack from the Mont Ripley Huski Café and warm up as you watch skiers and snowboarders of all skill levels fly down the Husky Bowl Run.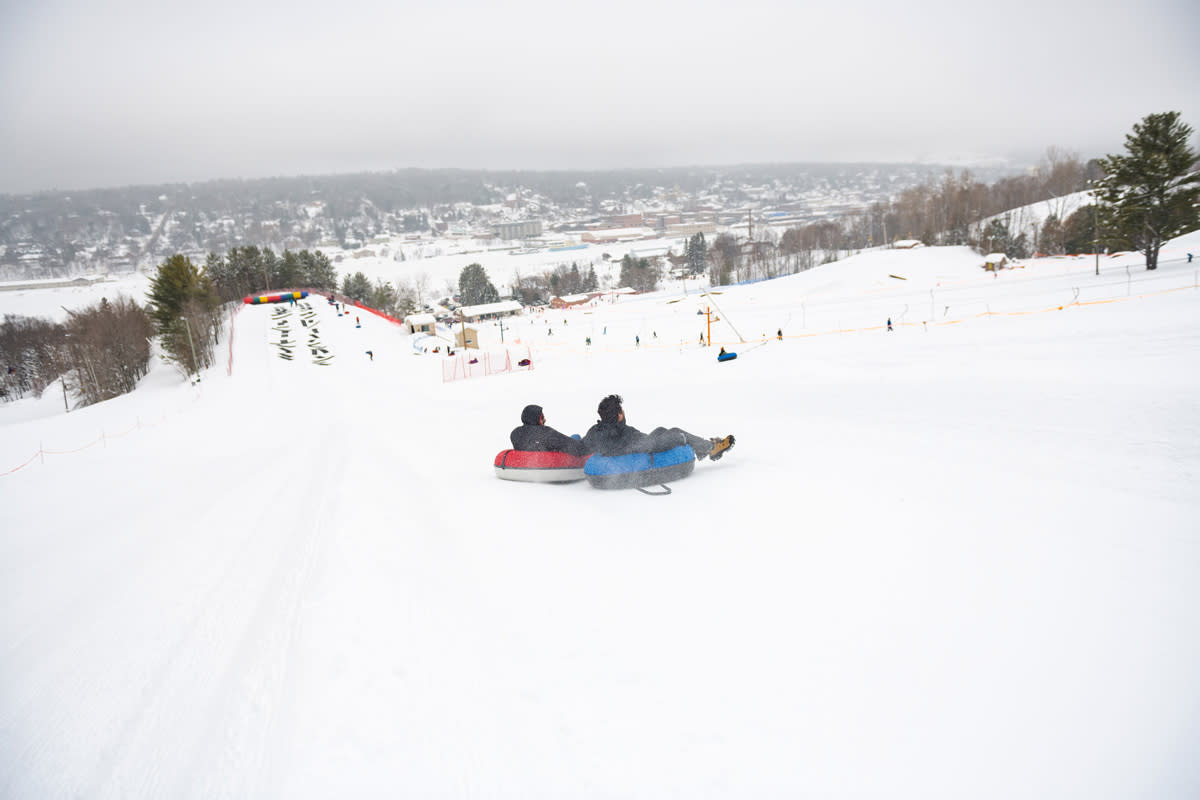 Mont Ripley tubing park offers snowy fun for the whole family! Photo by Michigan Technological University.
ICE SKATING
Grab a pair of ice skates and get ready to skate in the Birthplace of Professional Hockey! The Dee Stadium, located on the waterfront in downtown Houghton, is a historic rink that offers public skating every week. While you are in The Dee Stadium, be sure to visit the Birthplace of Professional Hockey and The History of Hockey Exhibit located in The Kenner Ruohonen Memorial History Room to learn more about Houghton's role in professional hockey.
Michigan Technological University offers indoor public skating once a week at the Student Developmental Complex. Skates and helmets can be rented at this rink. This modern ice arena is home to the Michigan Tech Husky Hockey Team. Check the Michigan Tech Hockey Schedule to see if there are any upcoming home games!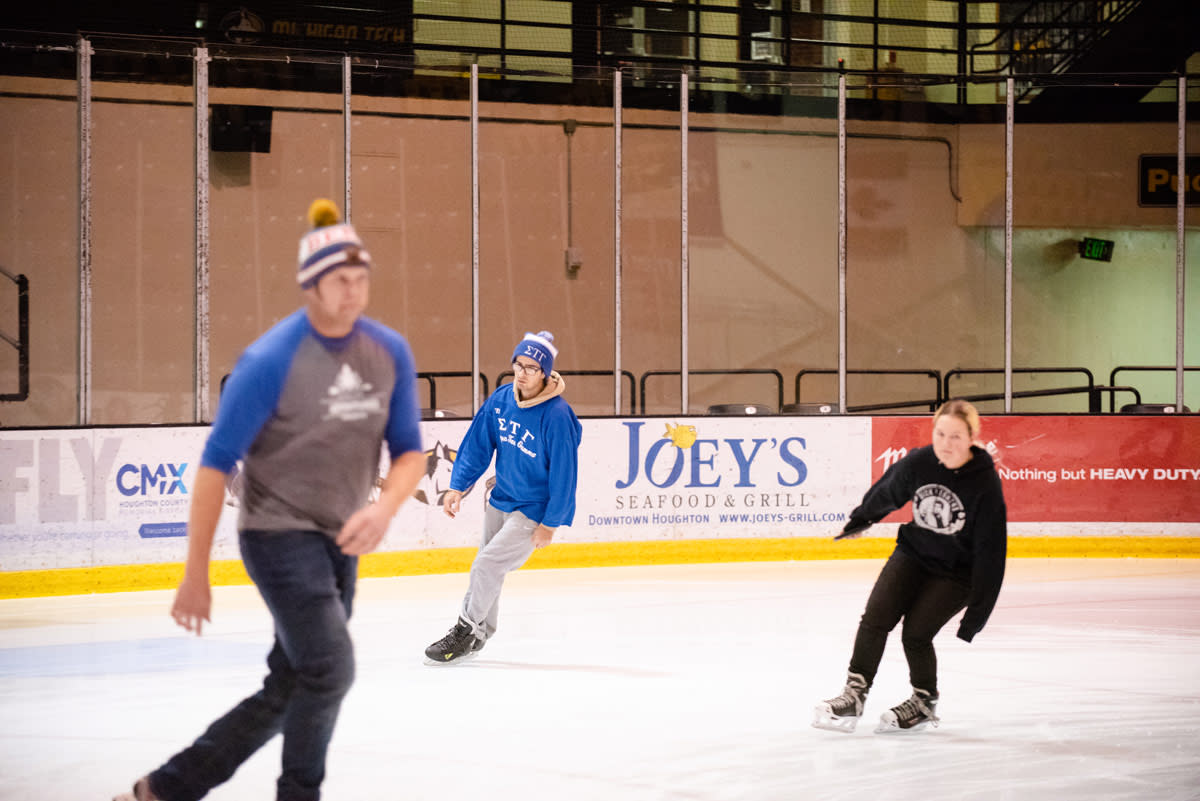 Michigan Tech's John MacInnes Ice Arena has skate rentals available during public skate. Photo by Michigan Technological University.
There are also a handful of outdoor community rinks in the Houghton area. During the winter of 2021, the City of Houghton created a new public ice-skating ribbon in the Ray Kestner Waterfront Park. The new skating ribbon was an exciting addition to the Houghton waterfront, and it now provides the community and visitors with a scenic and convenient place to skate outside.
Laurn-Grove in Hancock and Dodgeville Ice Rink are also great neighborhood options if you are looking for outdoor rinks that allow you to slap a puck around. Don't miss out on this favorite Keweenaw pastime while you are in the area!
ENJOY LIVE MUSIC & PERFORMANCES
VISIT THE ROZSA CENTER
The Rozsa Center for the Performing Arts at Michigan Technological University is the leading performing arts presenter in the Western Upper Peninsula. It is a beautiful modern facility that attracts world-class concerts, performances, and events year-round.
It is also home to the Department of Visual and Performing Arts at Michigan Tech, and a place to experience student performances and work. The lower level of the Rozsa Center has two art galleries, that feature student art twice a semester, as well as exhibits from professional guest artists. There are also several musical and theatrical student performances that take place in the Rozsa Center each academic year.
Check out the Rozsa Center calendar to see what events will be taking place while you are here!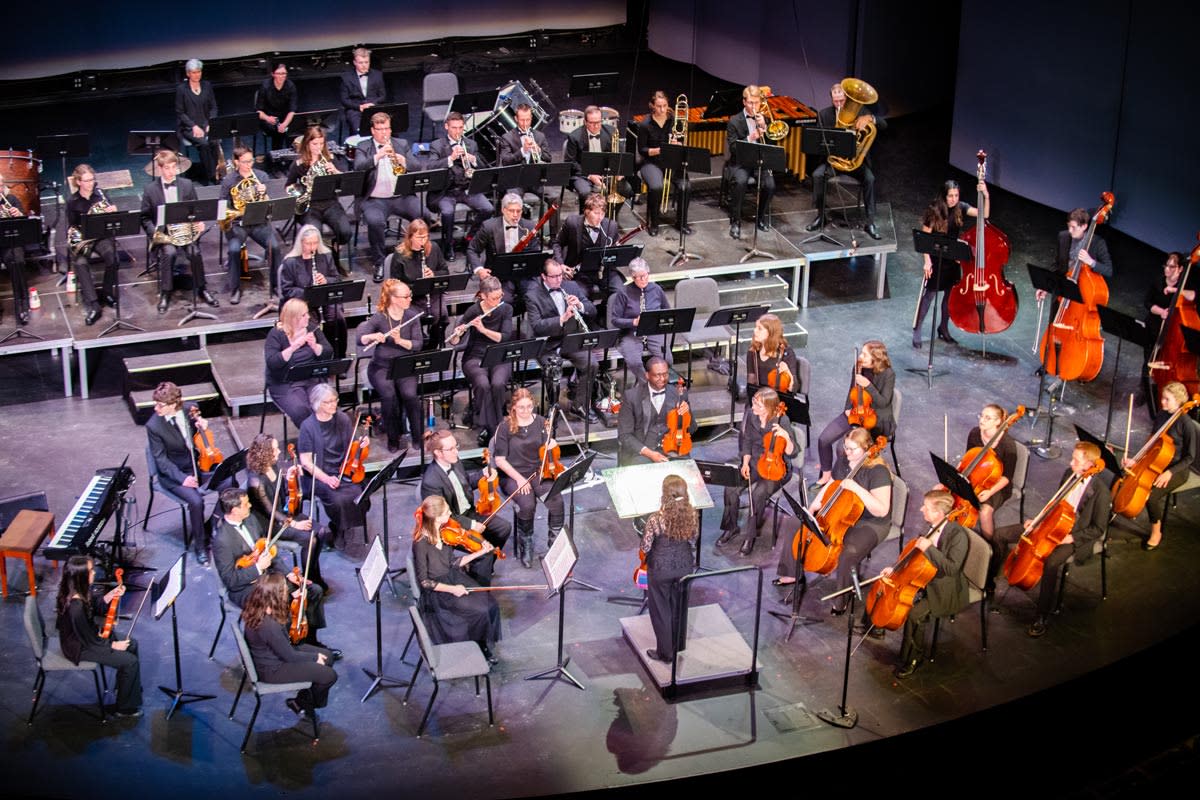 Keweenaw Symphony Orchestra playing at the Rozsa Center for Performing Arts. Photo by Michigan Technological University.
THE ORPHEUM THEATER & STUDIO PIZZA
The Orpheum Theater in Hancock is a historic venue that invites a large variety of talented musicians and performers to take the stage on a regular basis. This theater also serves delicious pizza, and its bar has a fantastic selection of adult beverages to choose from. Check their Facebook page to learn about upcoming shows!
THE CONTINENTAL FIRE CO.
The Continental Fire Co. is home to the Bonfire Restaurant, a classy bar with high-quality cocktails, and the Keweenaw's ONLY dance club. This 160+ year old brick building has been tastefully transformed into this beautiful modern venue. Not only does it host upbeat dance club nights on weekends, but its stage is also home to many local musicians, and sometimes even karaoke! Check their Facebook page to see what's happening next at the CFC!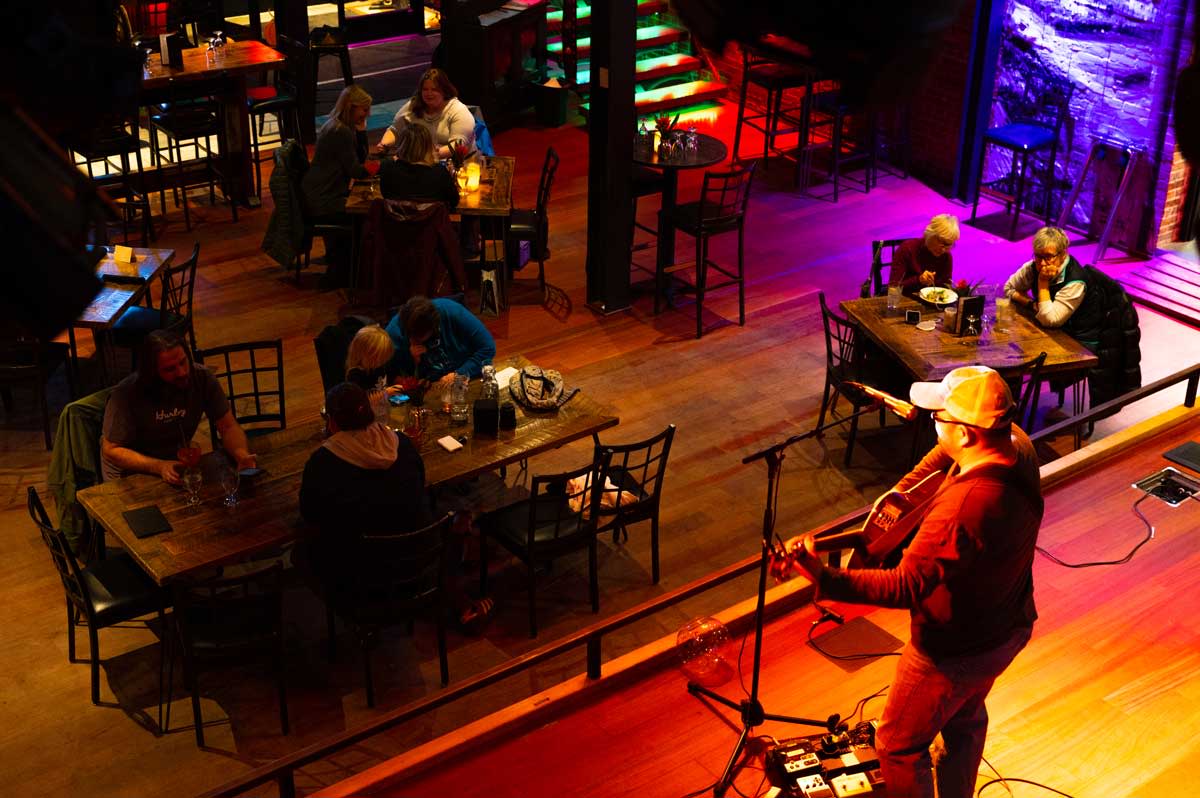 A view from the stage at The Bonfire Restaurant/ Continental Fire Co.
DOWNTOWN SHOPPING DISTRICT
Take a stroll through charming downtown Houghton, and you will find plenty of activities to keep you busy on any winter day. Shelden Avenue is home to Houghton's vibrant shopping district, with stores featuring everything from top-notch outdoor gear to modern home décor and unique gifts from the Keweenaw Peninsula.
Downtown Houghton is full of fantastic dining options to choose from. As you explore, you will find everything from modern coffee shops, like Camp Coffee Company, to fine dining experiences at The Den.  Want a table with a view? Try The Ambassador or The Library Restaurant & Brew Pub.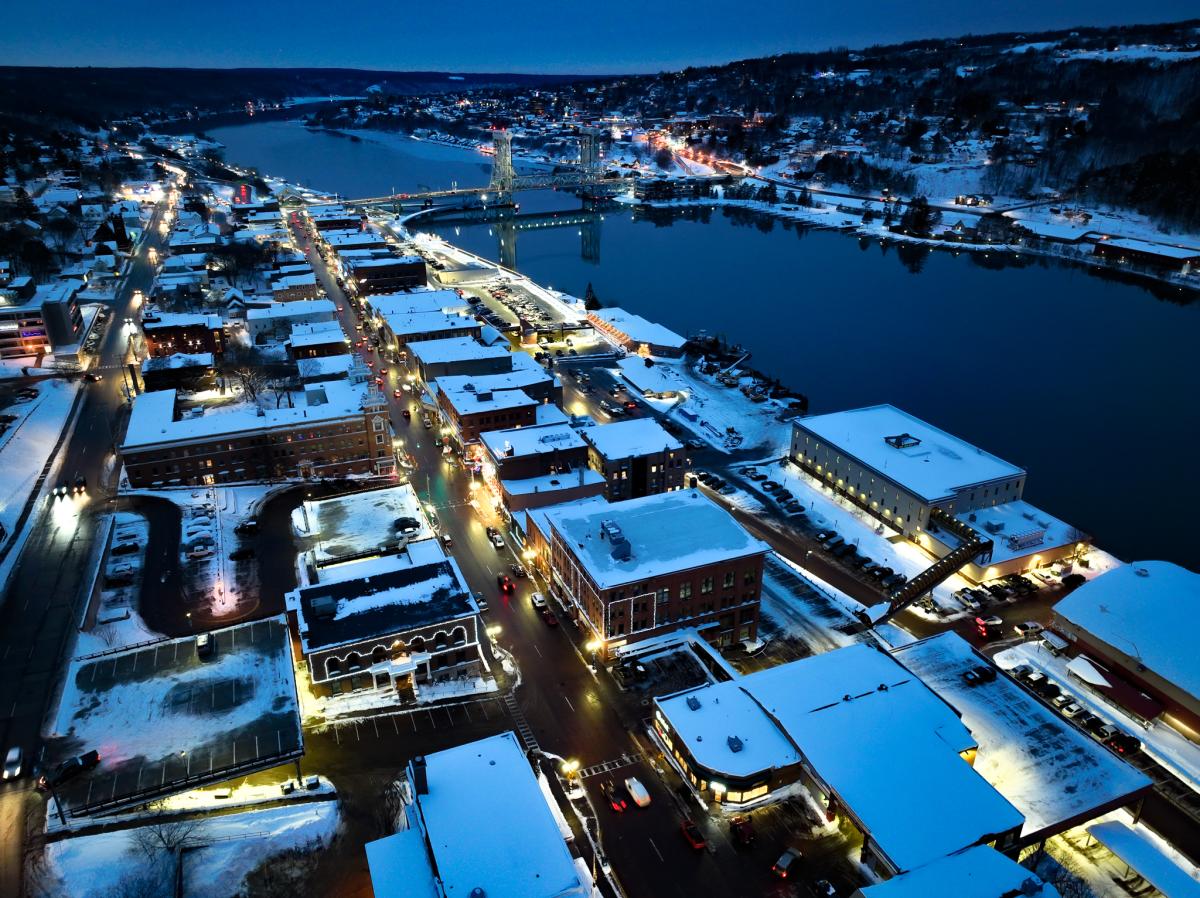 Houghton's downtown shopping district is charming, beautiful, and full of life on snowy winter nights.
There are also plenty of local watering holes to choose from. The Keweenaw Brewing Company, located in the center of the shopping district is a must. This is a cozy brewery that includes a warm and inviting fireplace area for those cold winter months. It is a gathering place that invites locals and visitors year-round to enjoy fresh local beer. The Douglass House Saloon, often referred to as "The Dog," is another watering hole you won't want to miss.  This historic bar features incredible woodwork, beautiful stained glass, and unique light fixtures.
There is no shortage of fun things to do while visiting Houghton's Downtown shopping district!
VISITING THE A.E. SEAMAN MINERAL MUSEUM
The A.E. Seaman Mineral Museum at Michigan Tech features a jaw-dropping showcase of minerals from the Great Lakes Region, as well as minerals from around the world. Not only is the A.E. Seaman Mineral Museum home to the record-holding 19-ton native copper vein, but it also has one of the best fluorescent mineral exhibits in the United States. The museum's educational and informational displays will help you discover how minerals are important to daily life, as the colorful array of specimens fills you with fascination and wonder.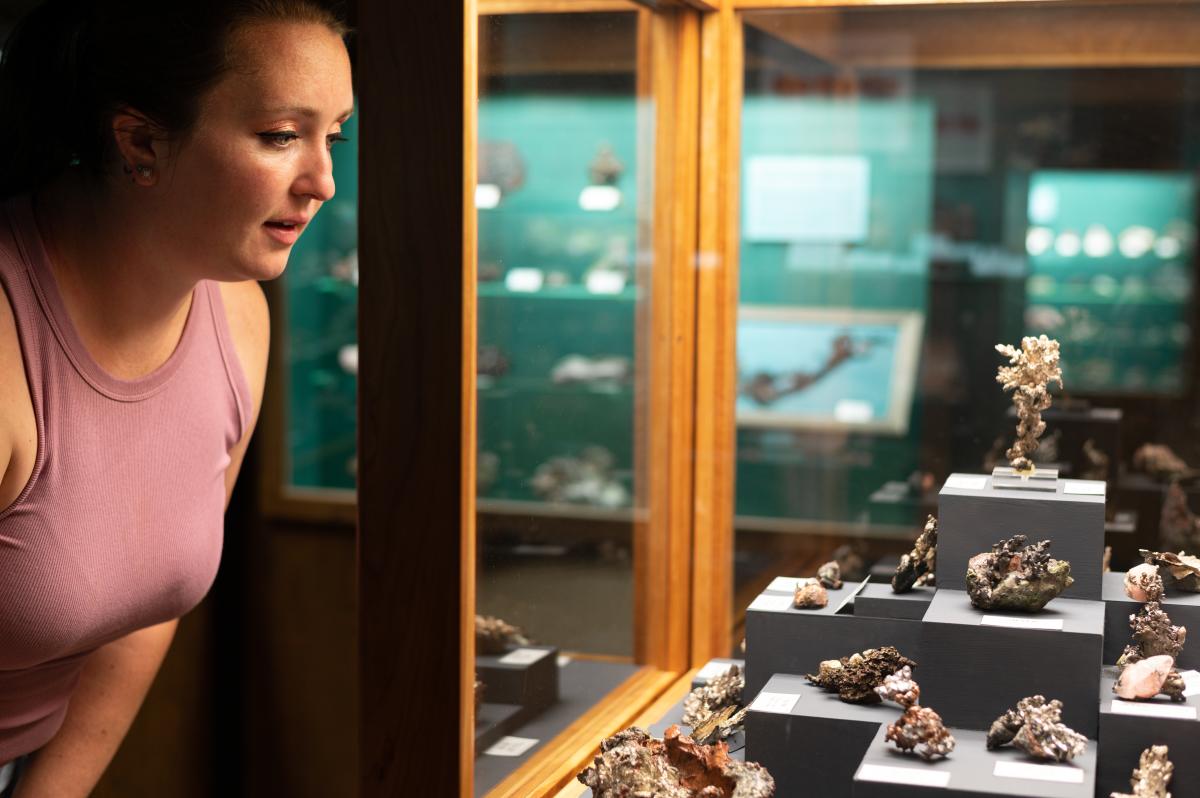 The A.E. Seaman Mineral Museum at Michigan Tech has an excellent display of Copper mineral formations from the Keweenaw.