Calumet is the heart of snow country here in the Keweenaw.  With yearly snowfall often exceeding 300" of total accumulation, it's easy to see why we love getting out for a snowshoe hike!  There are a ton of excellent options in and around Calumet to explore by snowshoe this winter.  We've put together a list of some of our favorites for you to check out next time you're up north.  Pick one or try for them all, there's plenty of snow to go around!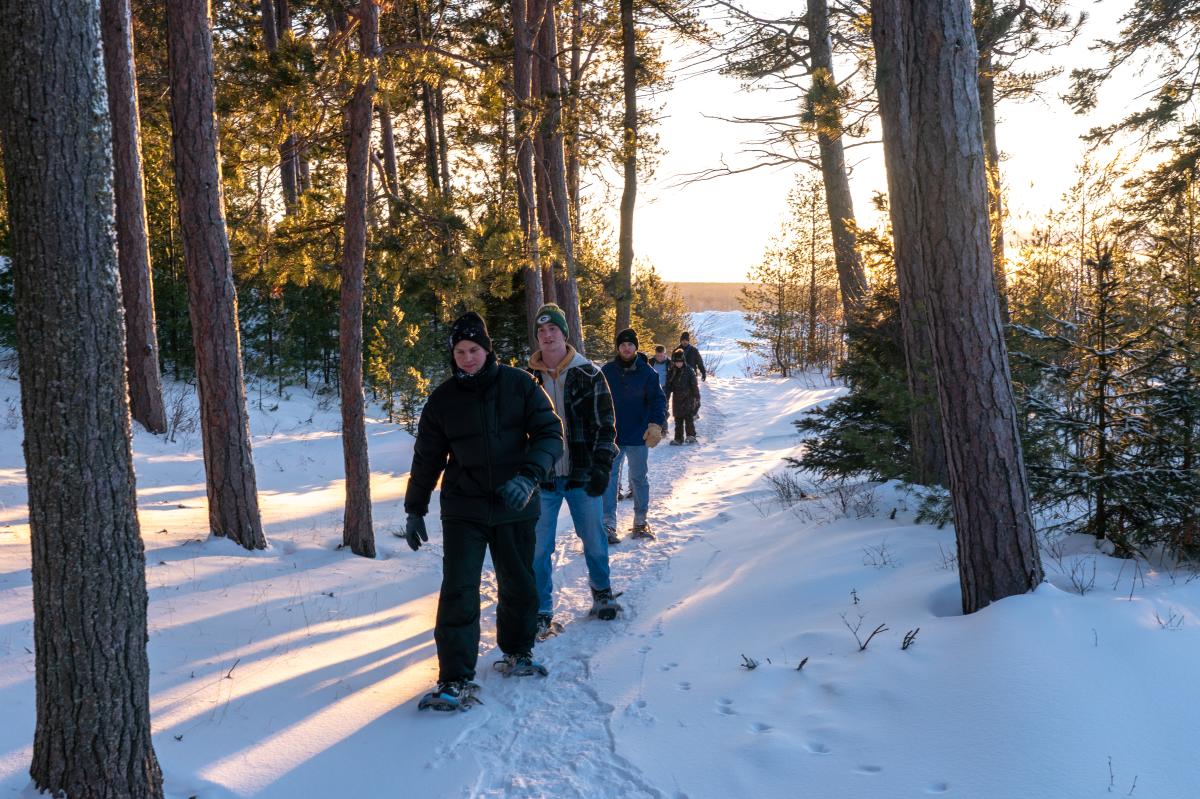 There are many excellent snowshoeing experiences in the Calumet area.
Hungarian Falls
Three distinct waterfalls lie within this rugged gorge, each of which would be a worthy adventure on their own.  As the winter progresses, the waterfalls slowly become entombed in ice and snow.  No two years have the same twisted icy shapes.  This is an excellent hike for the whole family and typically takes 1.5-2 hours to complete if you hike in from the Calumet (north) side.  The hike is easy to moderate in difficulty.  Enjoy big views out over Torch Lake, a historic dam, and more on this scenic journey.  Check out our full Hungarian Falls snowshoe guide for more information!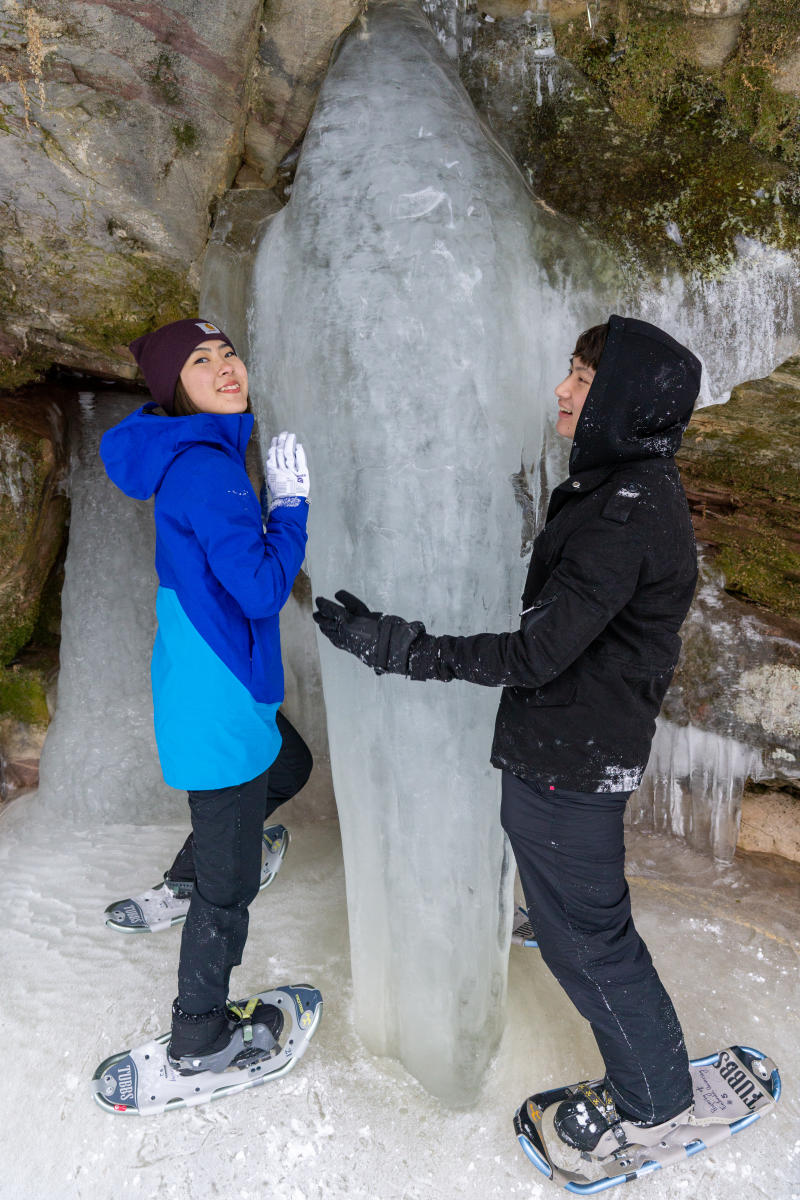 Hungarian falls freezes to create interesting and unique ice formations each year.
Swedetown Trails
Famous for its top-notch cross country skiing and growing fat biking scene, the Swedetown Trails also offer several kilometers of snowshoe trails for hikers to explore.  There's truly something for everyone here!  Swedetown couldn't be any closer to Calumet: the main trailhead is less than a mile from downtown.  The terrain is gently rolling in most areas.  No thigh-burning mountain climbs to worry about here.  Conclude your hike with a warm up at the chalet and a bonus trip down the sledding hill before you go.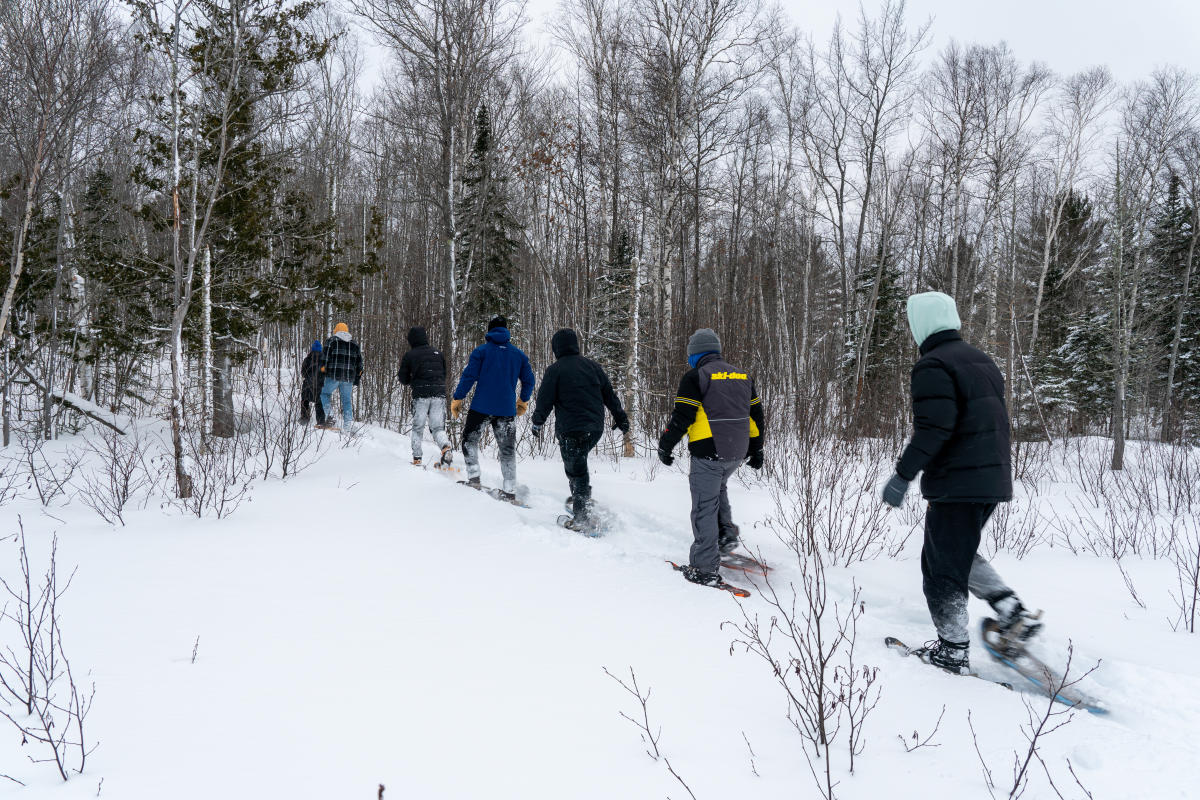 Swedetown trails provide gentle terrain. 
Black Creek Nature Sanctuary
One of the longest snowshoe trips on this list can be found at the Black Creek Nature Sanctuary.  Owned by the Michigan Nature Association, this special place protects an abundance of wetlands and lakeshore dunes, as well as a very scenic slice of Lake Superior shoreline.  In winter the hike is no less beautiful.  The rolling terrain is not too challenging, but definitely be aware that it's a ~4.5 mile round-trip to access the lake.  Plan for at least 2-3 hours to complete depending on how deep the snow is.  Visit early in the season for a chance to see ice volcanoes forming just offshore, or later in the season for the deepest powder buried in the woods. Be sure to follow the trail back to the parking area. Find the trailhead 2.5 miles down Cedar Bay Road.
McLain State Park
Although the campground is closed during the winter, you can still visit McLain State Park for a spectacular snowshoe hike.  The star of the show is the otherworldly landscape that forms here about midway through a typical winter.  Giant ice volcanoes create twisted crags a few dozen feet in height.  Don't fall off (or into!) one of these massive formations because liquid water may await you.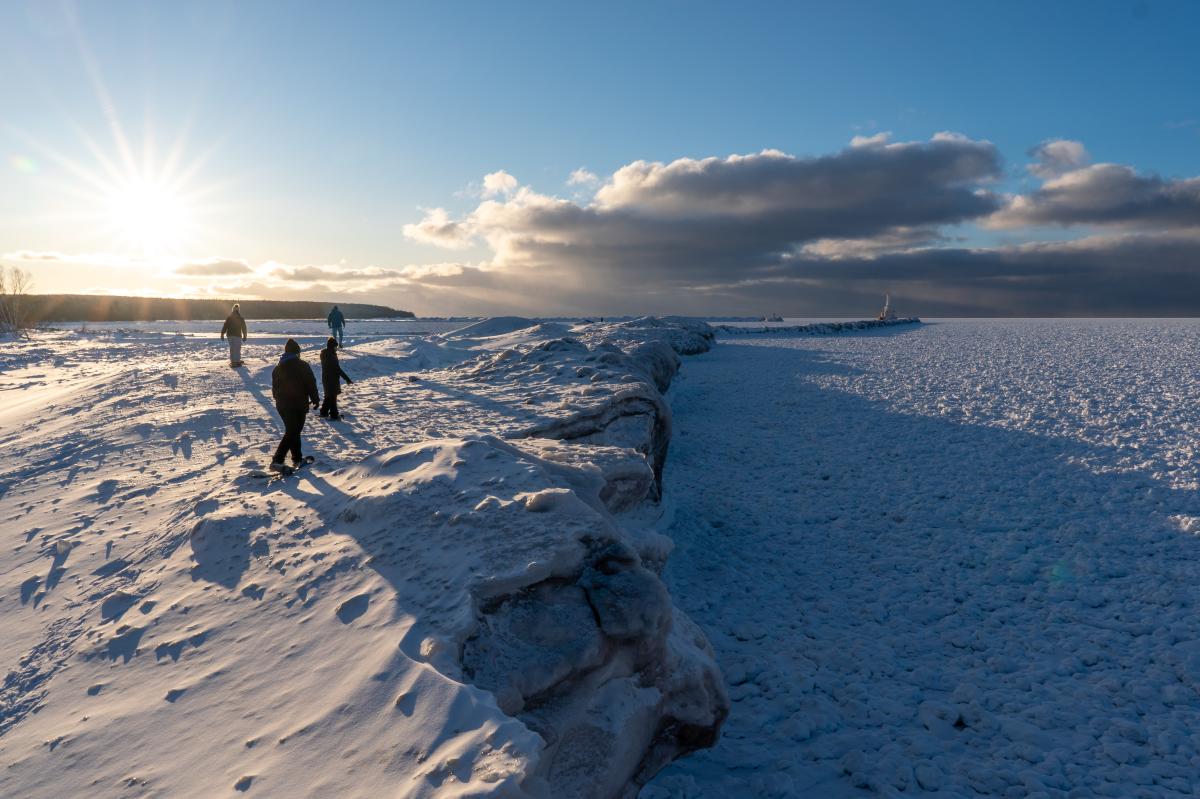 The frozen shoreline at McLain State Park is a sight to see. Just be sure to use EXTREME caution when trekking Superior's frozen shores. Lake Superior water is VERY cold.
As you hike your way along the icy shoreline, the Keweenaw Waterway Upper Entrance Light comes into view.  I wouldn't recommend hiking out along the breakwall because it can be extremely slick with ice.  A trail through the woods parallels the shoreline if you want to skip the majority of the exposed areas (it can get windy), or you can snowshoe back to your vehicle along the unplowed access road.  Plowed parking is limited and usually located near the park's utility entrance a little bit east of the main entrance on M-203.
Paavola Wetlands Nature Area
This is the easiest hike on the list and perfect for families or beginner snowshoers.  Paavola Wetlands features several loop trails that meander around this public nature area part way between Hancock and Calumet.  Along the way, you'll see an old farmhouse from the turn of the 20th century, snow-covered beaver lodges, and a variety of forest types.  The terrain here is almost completely level and suitable for hikers of all ages.  You're never far from your vehicle so heading home if you get hungry or cold is a cinch.  Park at either trailhead on No. 9 Road.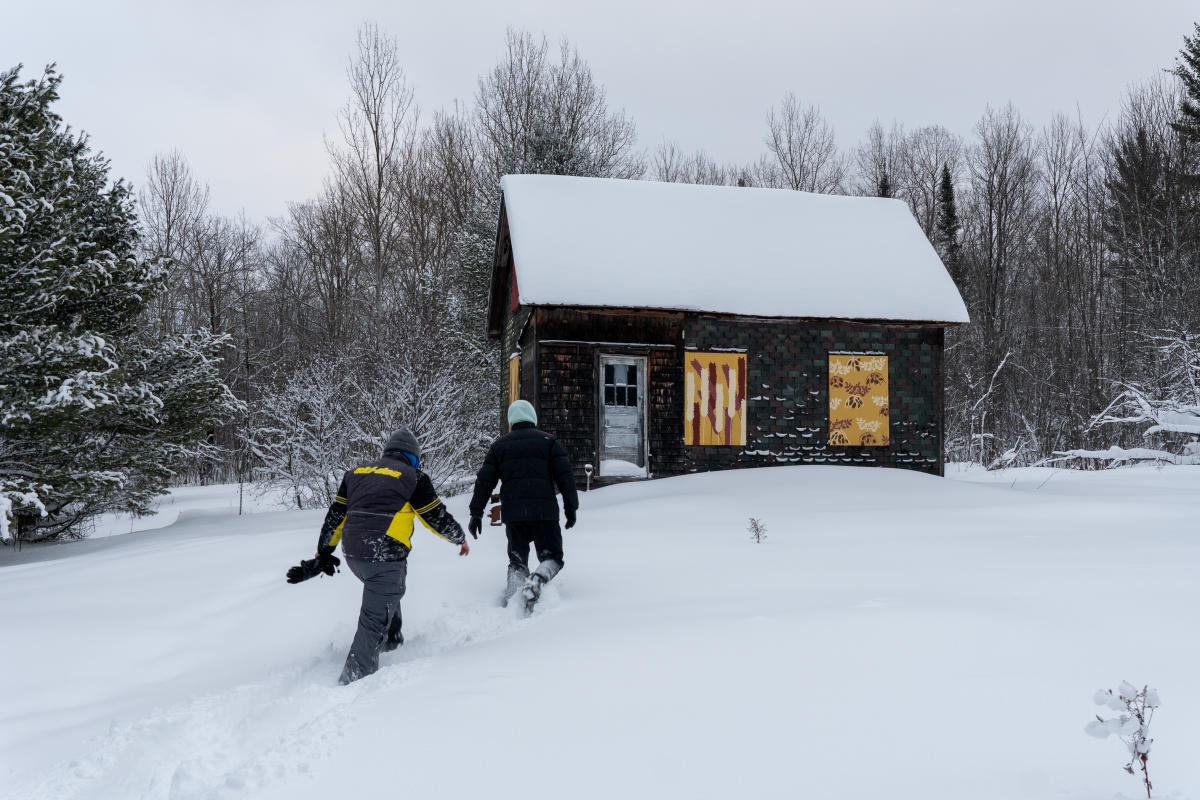 When hiking the Paavola Wetlands area, you will come across an old farmhouse. 
Gear Up
What type of snowshoes should you use on these adventures?  I prefer modern style snowshoes made of metal, plastic, and composite materials.  They're narrower which allows them to squeeze between trees on tight trails a little better, and usually have nicer crampons or cleats underneath to give you traction on hilly segments.  If all you have are classic wooden snowshoes, never fear! They'll be perfectly fine on many hikes, including McLain, Hungarian, Swedetown, and parts of Paavola.  You'll just have to take it easier on downhill/uphill portions.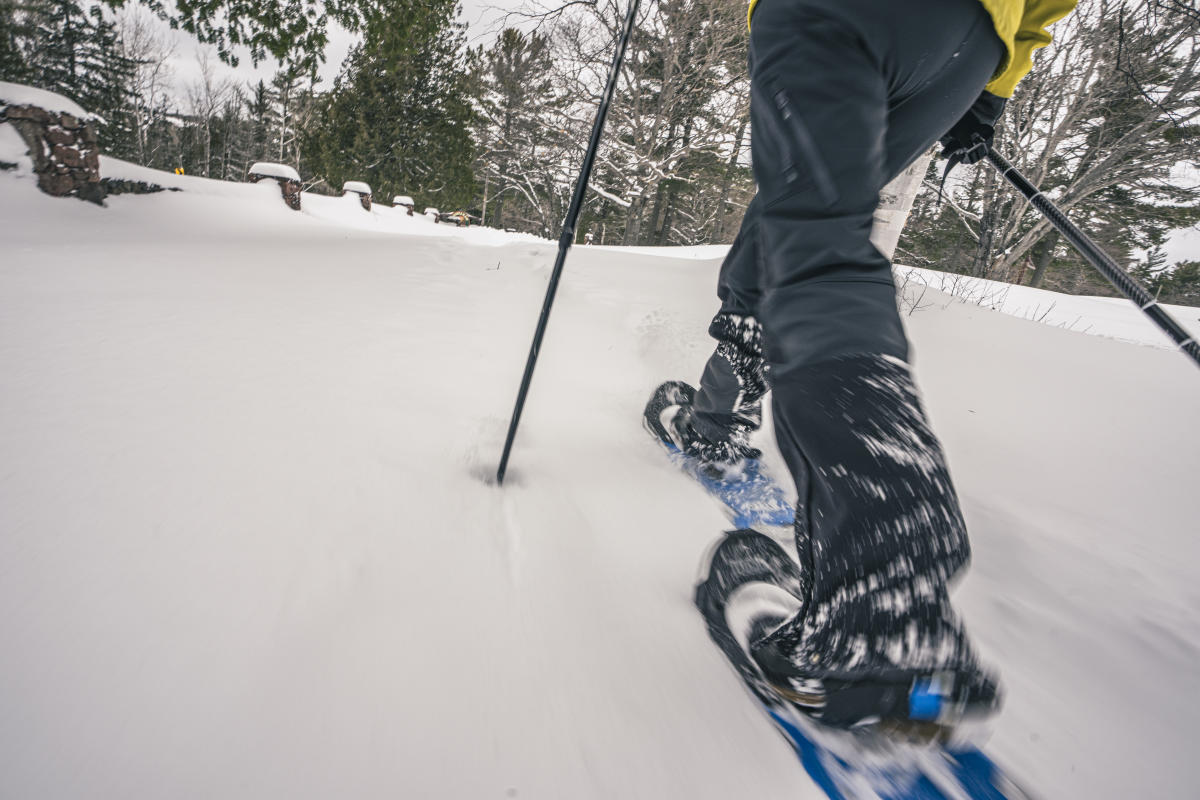 Modern snowshoes are lightweight and have good crampons on the bottom to provide extra traction.
If you don't own snowshoes, you're in luck because Cross Country Sports in Calumet rents them!  They're also a great location to pick up cold weather gear like gloves, hats, jackets, and more.  Heck, pick up a whole ski package and explore the best that the Keweenaw has to offer.  They'll also be able to offer you even more advice on where to go and what to see.
Winter Hiking Tips
Staying warm is one of the most challenging aspects of getting out in the winter.  When snowshoeing, you'll often start cold but will quickly warm up as you put more effort in.  Be sure to shed a layer or you'll be soaked with sweat in no time.  Later once you reach your destination, all that sweat will chill you quickly.  Even though it might seem like a hassle to put on and take off a jacket repeatedly, it'll keep you warmer in the long run.  Plus, nobody wants to be too sweaty at dinner! We recommend packing a daypack with room for your extra layers, a snack, and water. 
At Swedetown in particular, your snowshoe adventure may intersect groomed cross country ski trails.  When crossing these trails, it is important that snowshoers do not step in the deeply groomed tracks on the edge of the trail corridor.  Doing so will damage the tracks and could cause a skier to crash.  Be sure to step over the groomed tracks onto the flat portions on either side.  It won't be an issue at any of the other hikes on this list but is important to keep in mind if you hike elsewhere in the Keweenaw. 

Finally, be aware that conditions can rapidly change during lake effect snowstorms.  It is not uncommon for lake effect snow to fall at rates of 1"-3" per hour.  If you're out on a longer hike, not only will your visibility be very low during these snow dumps, your tracks could easily be buried for your return journey.  Check the forecast before going out and have a backup plan in case the lake effect snow machine kicks up while you're in the woods. Always practice responsible recreation while you are enjoying the great outdoors! 
Interested in updates, travel tips and quirky information about the Keweenaw? Just sign up for the Keweenaw Explorer, our monthly e-newsletter. Complete the form…