COPPER COUNTRY GHOST TOWNS & CEMETERIES
The discovery of copper in 1840 by Michigan's first state geologist, Douglass Houghton, brought about America's first mineral rush which led to a rapid influx of immigrants to the area. Fortune-seekers from all around the world flocked to the Keweenaw.
To accommodate the needs of the copper miners, towns sprung up across the landscape, complete with hotels, saloons, churches, brothels, and general stores.
Quiet streets, dilapidated houses, and forgotten cemeteries offer a haunting glimpse of a by-gone era, one that produced 10x more wealth than the California Gold Rush. Today, these historically significant locations serve as memorials to those thriving communities that once called them home, as well as offering visitors a unique glimpse of the past.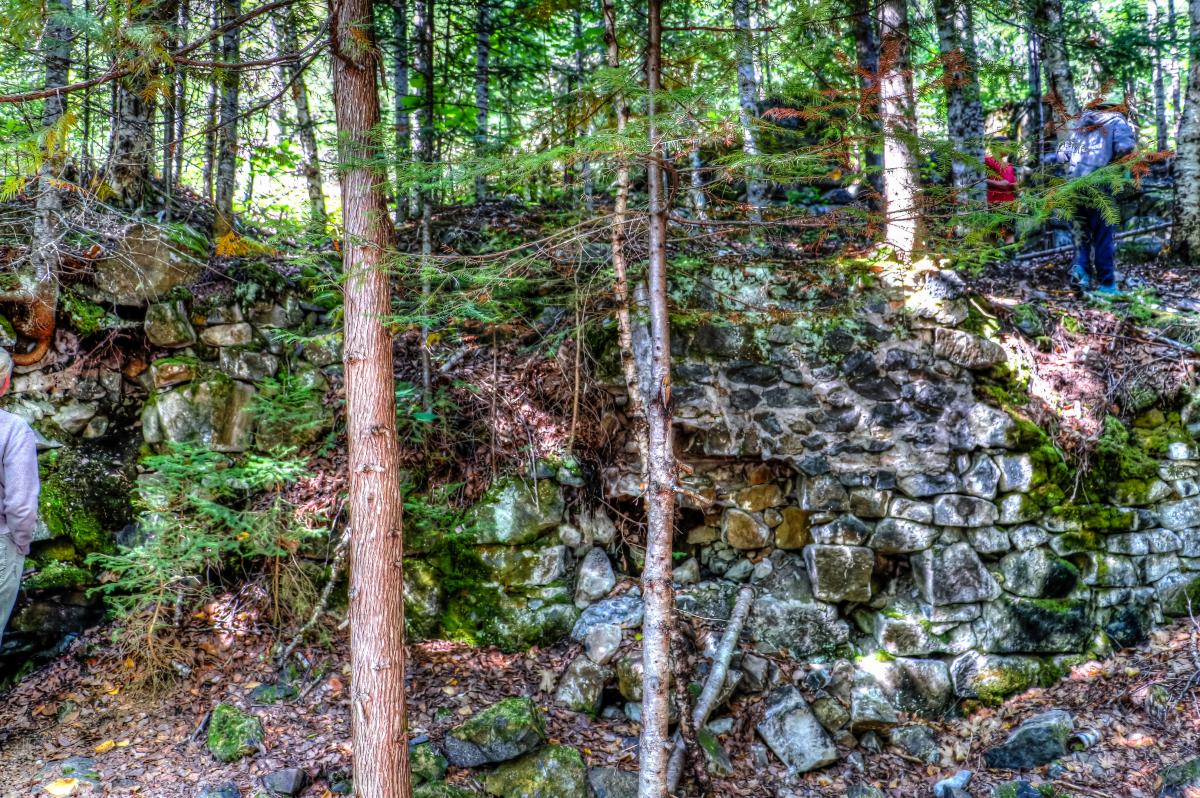 Exploring the ghost town ruins of the Cliff Mine | Photo credit Bob Vogt
KEWEENAW GHOST TOWN STORIES
Learn more about the Keweenaw's ghost towns like Freda, Cliff, Central, and Delaware through our YouTube Series: Ghost Towns of the Keweenaw.
1. CENTRAL
The town of Central is about 20 minutes north of Calumet, Michigan. The town was established in 1854 after a mine was opened on a discovered fissure deposit of copper. Central Mine was the first copper mine in the region to bring in a profit during its first year of operation.
At its peak, the bustling town's population soared to 1,350. Unfortunately, after 40 years in operation the mine's copper ran out and the mine closed in 1894. The population plummeted, and the boomtown went bust.
CENTRAL VISITOR CENTER
Today, your first stop when you arrive should be the Central Visitor Center. Take a self-guided tour of Central including going inside two restored miners cottages, House #25 and House #61. The Visitor Center has self-guided tour brochures, interactive exhibits, and a short film on the history of Central.
HIKING TRAILS
There are two scenic trails that wind through the woods, around the original site of the Central schoolhouse, old foundations, and offer spectacular views of the valley. They are ½ mile and ¼ mile in length.
Keweenaw County Historical Society owns and operates the property, and to help support restoration and maintenance efforts they rent out the Miners Cottage—yes, you can stay overnight in a real-life ghost town! The Miners Cottage is beautiful, bright, and like taking a time machine back to the 1890s. For more info on renting the Miners Cottage visit here.
2. PHOENIX
Phoenix is located about 20 minutes north of Mohawk on US-41. The town was settled in 1845 by the Phoenix Copper Company of Boston, Massachusetts. By 1877, the town's population reached around 1,100. There were saloons, hotels, a blacksmith shop, and several churches.
PHOENIX CHURCH
St. Mary's Church was built in 1858 in the neighboring community of Cliff. In 1899, the church was dismantled and brought to Phoenix where it was reassembled. St. Mary's was renamed The Church of The Assumption. The Church of the Assumption served families up until 1957.
In 1985, the Keweenaw County Historical Society took over The Church of the Assumption. After extensive restoration and preservation efforts, this historic Phoenix Church looks just as it did at the turn-of-the-century.
These days, the Phoenix Church is used for special events and memorial services throughout the year.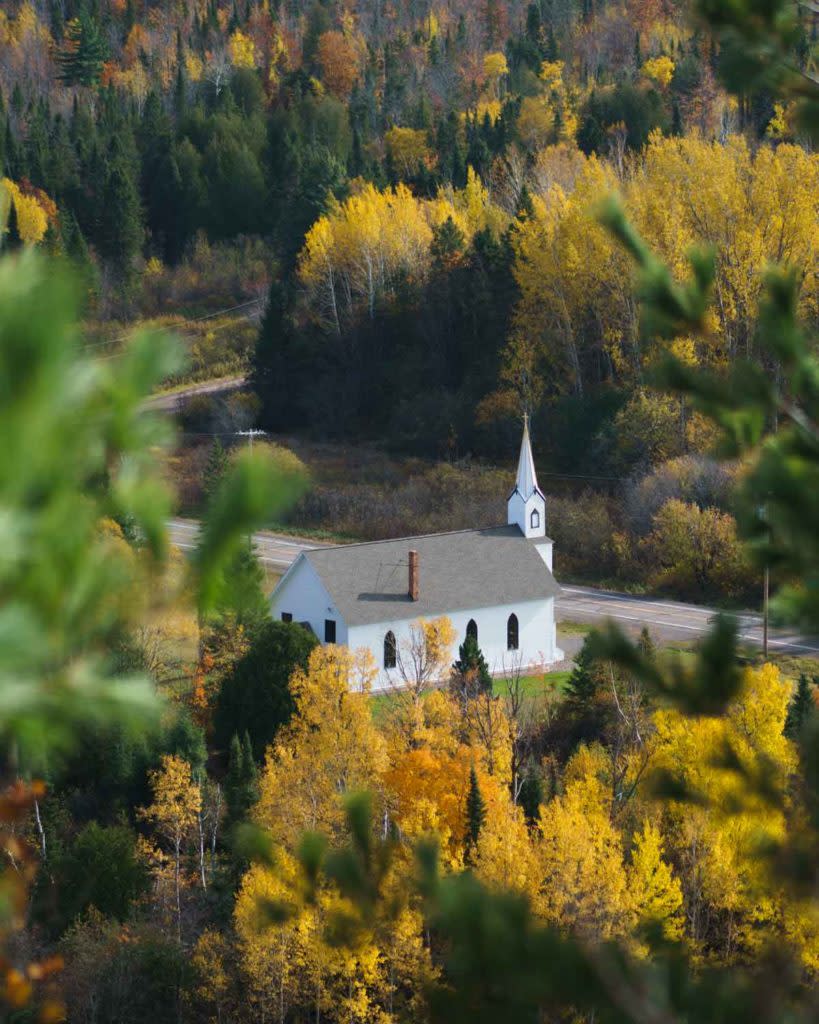 The Phoenix Church in Fall
BAMMERT BLACKSMITH SHOP
Around the corner from Phoenix Church is the Bammert Blacksmith Shop. The blacksmith shop was built in the 1880s and relocated to its current location in 1906. In 1998 the grandsons of the original blacksmith, Amos Blacksmith, donated the property to the Keweenaw County Historical Society.
There is a small parking lot off to the side of the blacksmith workshop. View the workshop and several outdoor exhibits. The building and property are well-maintained and a nice place to get out and walk around.
PHOENIX GENERAL STORE
You can't visit Phoenix without stopping by the Phoenix General Store. This landmark is located at the intersection of US-41 and M-26. You'll be greeted with a smile by Arbutus Peterson—she has owned the store since 1973. She loves sitting in her window seat and watching the cars drive by. She lights up when talking about her childhood growing up here in Phoenix—her father and brothers all worked in the copper mines.
The store has snacks, local history books, a wide assortment of grocery items, and old-fashioned coolers filled with ice-cold beverages.
3. WINONA
Winona is located almost halfway between Houghton and Ontonagon, Michigan, in Elm River Township. Winona's copper boom began in the early 1860s with the founding of the Winona Copper Company. It was a slow start with it being another two decades for mining really to get underway.
The bustling town of Winona included a barbershop, saloon (owned by the Bosch Brewing Company), hotel, Finnish Temperance Hall, athletic club, and general store. In the 1940s there was a bar called "Jake's Bar"
SCHOOLHOUSE
The Elm River Township school was constructed in 1906, and today it looks almost exactly like it did over 100 years ago. The school is still in operation and serves K-8th grade. Here's an interesting article by the Detroit Free Press on this landmark school.
These days Winona has adopted a much slower pace of life making it an ideal destination for a lazy Sunday afternoon drive.  About 25 miles south of Houghton, along M-26, turn onto Winona Road and drive ¼ or so until you reach the schoolhouse. You can pull off to the side and take a walk around—staying on the paved roads.
Mother Nature has been gradually reclaiming her land—you'll see old foundations, abandoned homes, and sheds—some with curtain fragments and tree limbs peeking from the windows. There is undoubtedly historic charm here but there are moments when the wind becomes still and everything becomes quiet–you'll swear you can hear the town as it was over a century ago.
4. FREDA
Freda is located in Houghton County, on the western edge of the Keweenaw Peninsula. To get here we recommend Covered Road. This route, especially during fall, feels like something out of a fairy tale. The branches of the large oaks and maples entwine over the road creating a magical tunnel. The road is narrow so take your time and enjoy the scenery.
Freda was established in the early 1900s by the Champion Mining Company. At its peak, Freda and the neighboring community of Beacon Hill had a population of around 500. Freda was a popular resort destination due to its location on Lake Superior and Freda Park.
Champion Mill's last whistle blew on November 4, 1967.
Check out this video on Freda's Ghost town Experience: Freda Ghost Town
HIKING
Today, you'll find the former site of Champion Mill encompasses several acres of massive concrete foundations, an imposing smokestack, stamp sand, and a manmade waterfall off a sandstone cliff. As a recent visitor remarked, "The remains have the feel of a large, open amphitheater."
It's a challenging hike down the steep embankment from the parking lot to the ruins but it's worth it—the views are spectacular.
5. BETE GRISE
Bete Grise means "Grey Beast" in French. During the late 19th-Century and early years of the 20th-Century Bete Grise Bay was an important harbor for ships to take safe refuge from the storms on Superior. Bete Grise was also a mining community with several dozen clapboard homes, schoolhouse, church, and mercantile. But by 1940 only a handful of residents remained, and if became a ghost town. How Bete Grise looks today is almost exactly what it was like in the 1940s. To get to Bete Grise, follow Gay Lac La Belle Road along the eastern edge of the Keweenaw Peninsula. This eight-mile stretch of road is dotted with several roadside parks, including Brunette Park and Point Isabelle, offering spectacular rock and land formations that jut out into Lake Superior.
SINGING SANDS OF BETE GRISE
The "singing sand" of Bete Grise has been featured in Roadside America, Lost in Michigan, and Midwest Living. Legend says that a young woman lost her beloved to Lake Superior and for her to sing to him—she needs visitors to press their palms to the sand. When you press your palms down on the sand it creates a sound which, according to legend, is her voice.
If you're thinking this singing sand would make a great souvenir to show off to your friends back home—unfortunately, the magic of this "singing sand" is lost when it leaves the beach. Your friends will just have to come visit the Keweenaw and see for themselves.
SWIMMING
With two miles of pristine shoreline and 1500 acres of wetland to explore, Bete Grise Preserve is a popular destination for sunbathers, swimmers, and those that just want to relax with a good book and watch the waves roll in.
6. JACOBSVILLE
Jacobsville began in the 1880s as a small fishing village before it became the epicenter of sandstone quarry activity. Jacobsville Sandstone was a popular building material, used all over the U.S. from St. Ignatius Loyola Church in Houghton to the original Waldorf-Astoria in New York City.
However, just like any trend, the demand for Jacobsville Sandstone did not last. Marble soon became the object of everyone's affection, and Jacobsville became a flash-in-the-pan boomtown.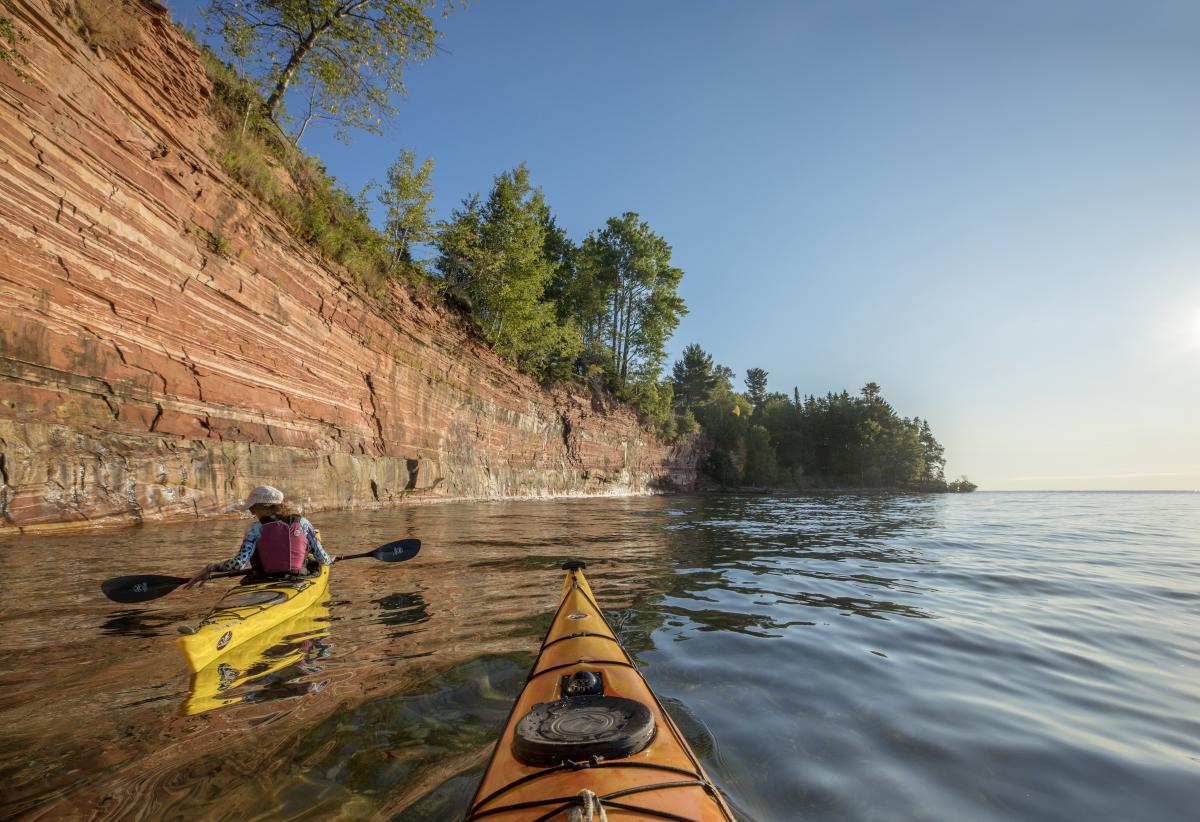 The town's population of 1,100 tumbled until only a handful of residents remained. Jacobsville's glory days might be over, but this "ghost town" retains such rich history, character, and beauty—it's received a second-wind as a popular location for geotourists.
BOATING
Most people, especially those interested in geology, would say the best way to view Jacobsville is by boat. You get to see billion-year-old sandstone and incredible rock formations that you wouldn't be able to see otherwise. If boating is not an option, it is still a beautiful drive. To get here, take Bootjack Road in Lake Linden to Jacobsville Road.
The Jacobsville Lighthouse was constructed in 1868 and overlooks Keweenaw Bay and the Huron Mountains. It's a picturesque lighthouse—stunning red brick and white siding, beautiful landscaping. 
7. WHITE CITY
Along the same route, as you drive past Jacobsville, continue until you reach the end of the road. Welcome to White City.
In the early 1900s, White City was the resort destination for the crème de la crème of society. There was a saloon, hotel, restaurant, and amusement park. Excursion boats ran several times a day from Houghton and Hancock. Families would arrive in the early afternoon and spend the entire day riding the carousel, dancing to music by the live band, playing baseball, and eating fresh Lake Superior whitefish the restaurant was famous for.
But when the copper mines closed and the trains stopped running, White City turned into a ghost town. The businesses were shuttered and eventually torn down.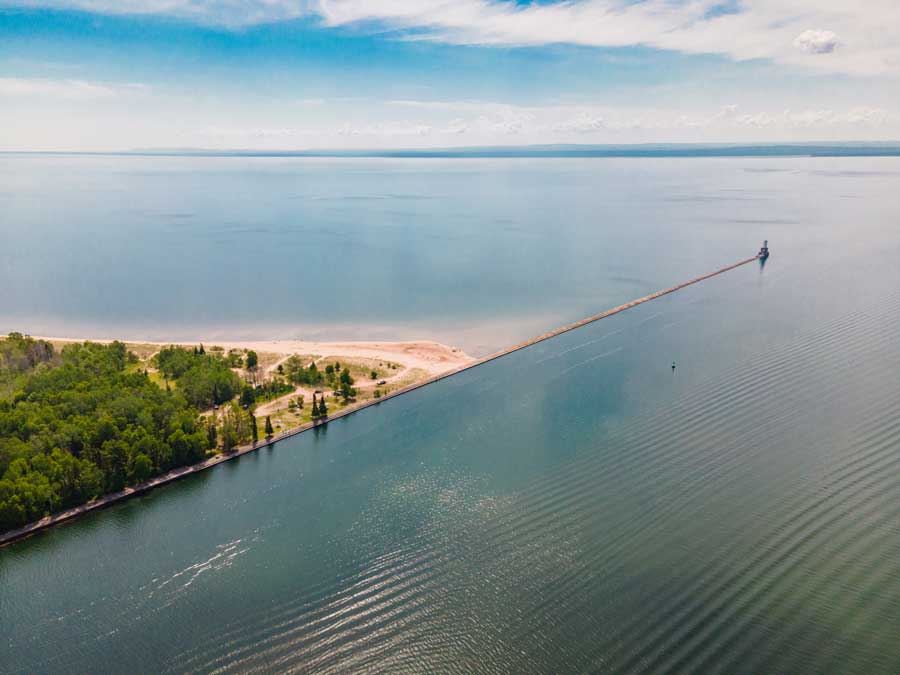 PICNIC
Dreamland Restaurant is about 8 miles from White City. They have delicious sandwiches, pizza, and salads. There are also plenty of picnic tables spread around White City Park. Order takeout from Dreamland and have a picnic.
Need more info on the Keweenaw's Ghost Towns? Click here to plan your visit.
CEMETERIES TO EXPLORE
There are many cemeteries in the Keweenaw that have graves dating back to the early 1840s. Some of these graves are the only markers left that preserve the lives of the Copper Country's earliest settlers.
Cliff Cemetery
Established in 1846 near Cliff Mine and the town of Cliff/Clifton, Keweenaw County. Cliff Cemetery is also sometimes listed on maps as Hillside Cemetery. This cemetery is what some would say is a "forgotten" cemetery. You'll find intricate iron grave markers hunkered in the shadows of pines.
It's a challenging cemetery to reach and there are certain times of year where it's inaccessible. Summer and fall are the best times to reach Cliff Cemetery.
Pinery Indian Cemetery
Located in Baraga County, no exact date is available on when this cemetery was established but the many graves date back to the early 1840s. These graves have above ground "spirit houses". This is a unique cemetery that's incredibly fascinating.
Evergreen Cemetery
Established in 1849, just outside of Eagle River, Michigan, Keweenaw County. Here you'll find a wide range of grave markers and monuments. There's an indescribable beauty here—with the cemetery surrounded by a white picket fence and an abundance of wildflowers.
Additional Resources: Keweenaw Time Traveler App, MTU Archives, Baraga County Historical Society, Keweenaw National Historical Society
IMPORTANT INFORMATION
Please use caution while exploring ghost towns, cemeteries, and abandoned mining sites.
Please don't enter Private Property without authorization. If you're unsure if the property is publicly accessible please contact the Michigan DNR or the Michigan Nature Association.