The Keweenaw's vast Lake Superior shoreline is dotted with scenic lighthouses. Once essential navigation tools for Great Lakes freighters moving supplies to and from remote communities, most of these lonely outposts are still used by fishermen, recreational boaters, and paddlers. During our long winters though, these lighthouses serve another purpose: beacons for snowshoeing sightseers!
With winter getting underway in the Upper Peninsula, there's no better time to start planning a must-see trip to our favorite frozen lighthouses. Some are as easy to get to as they are in summer.  Others require a bit more effort depending on how many feet of snow we receive this season. So bundle up and let's get out there!
EAGLE HARBOR LIGHTHOUSE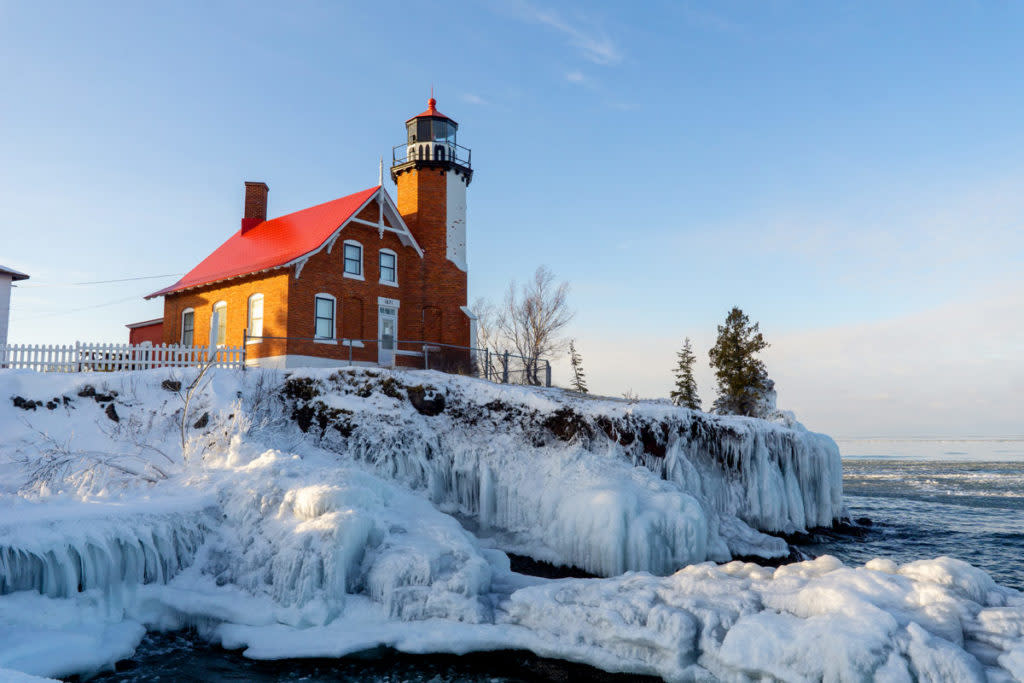 Eagle Harbor Lighthouse is one of the most picturesque lighthouses to visit during the icy winter months.
This is the Keweenaw lighthouse to see in the winter!  Though the museum buildings and parking lots are closed in winter, the grounds are still open to visitors year-round. Don your snowshoes and hike a short distance to this beautiful location right on the edge of Lake Superior. Storms whipped up across the Big Lake create intricate ice sculptures along the shoreline that are awesome to check out if you can safely reach them. Watch out for slippery ice because you do *not* want to fall in!  All of the same viewpoints you know and love in summer are easily accessible in winter. Bring your camera because you won't want to miss this one in the evening light.
KEWEENAW WATERWAY UPPER ENTRANCE LIGHT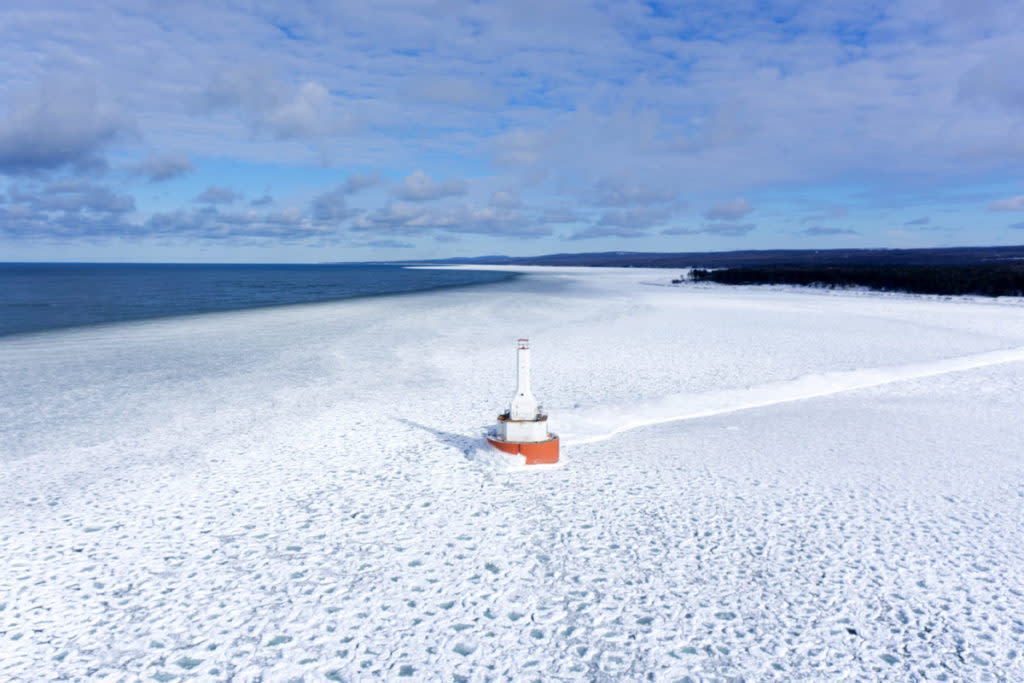 The Keweenaw Waterway Upper Entrance Light is a popular one to visit due to its proximity to McLain State Park.
Built in 1950, this utilitarian structure is the newest lighthouse in the Keweenaw region. It's a popular spot given its proximity to McLain State Park, whose sandy beaches are the perfect launching point for your summertime adventures. In winter, however, you'll need to bring your snowshoes or XC skis to check out this offshore light.  The parking area located just off of M-203 is about a mile hike from the beginning of the breakwater at the entrance to the Portage Canal. The breakwater can be treacherous if covered in ice and snow. Don't worry, the view from shore is still spectacular, even if the landscape often resembles Hoth.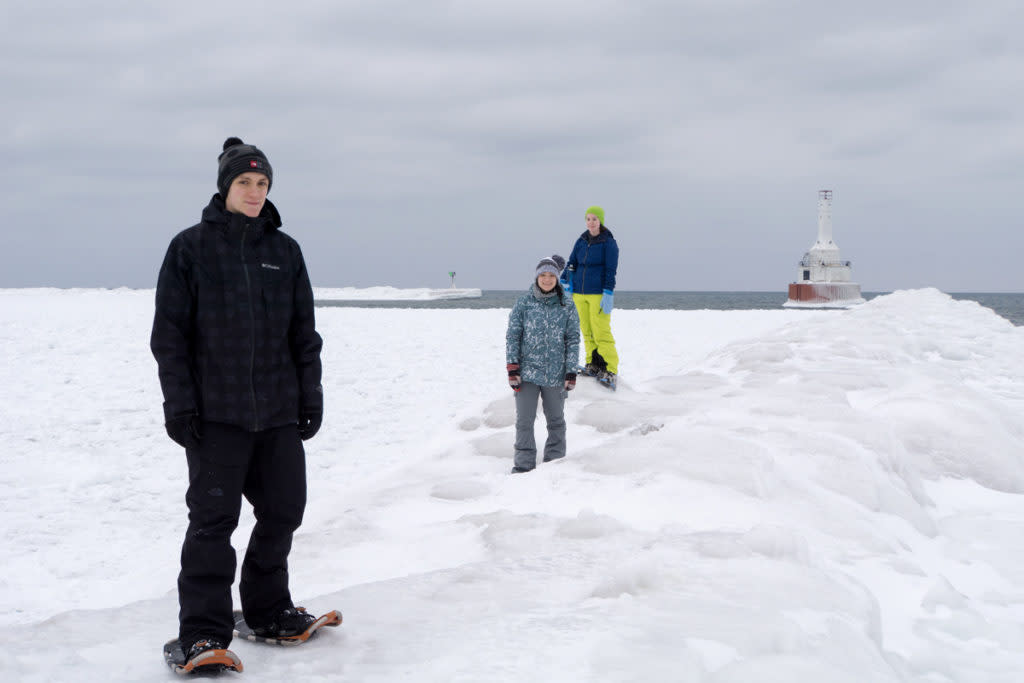 Snowshoes can be used to explore the Keweenaw Waterway Upper Entrance Light.
KEWEENAW WATERWAY LOWER ENTRANCE LIGHT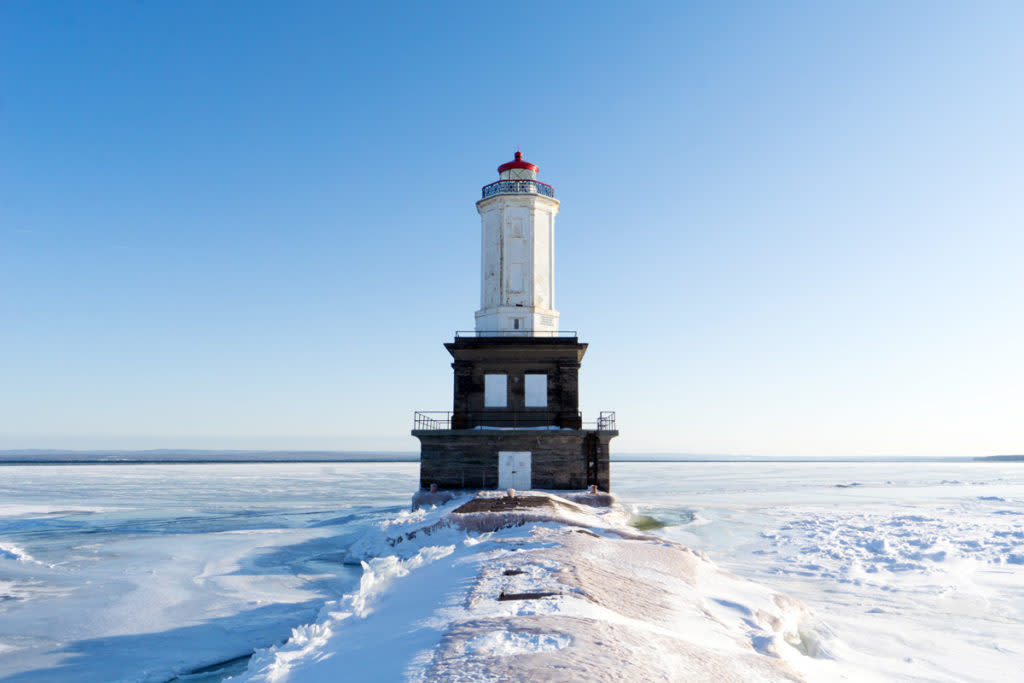 Keweenaw Waterway Lower Entrance Light sits at the end of a half-mile long breakwall.
Located on the southern end of the Portage Canal outside of Jacobsville, this lighthouse stands tall above Keweenaw Bay at the end of a half-mile long breakwater. There's plowed parking near the White City boat launch, itself another half-mile from the beach. Snowshoes with crampons are a must when visiting this light. Crashing waves build up a thick layer of ice on the breakwater and the wind-swept location prevents snow from sticking around too long. Assuming you're well-equipped, this is one of the most prominent lighthouses to see in winter.
COPPER HARBOR LIGHTHOUSE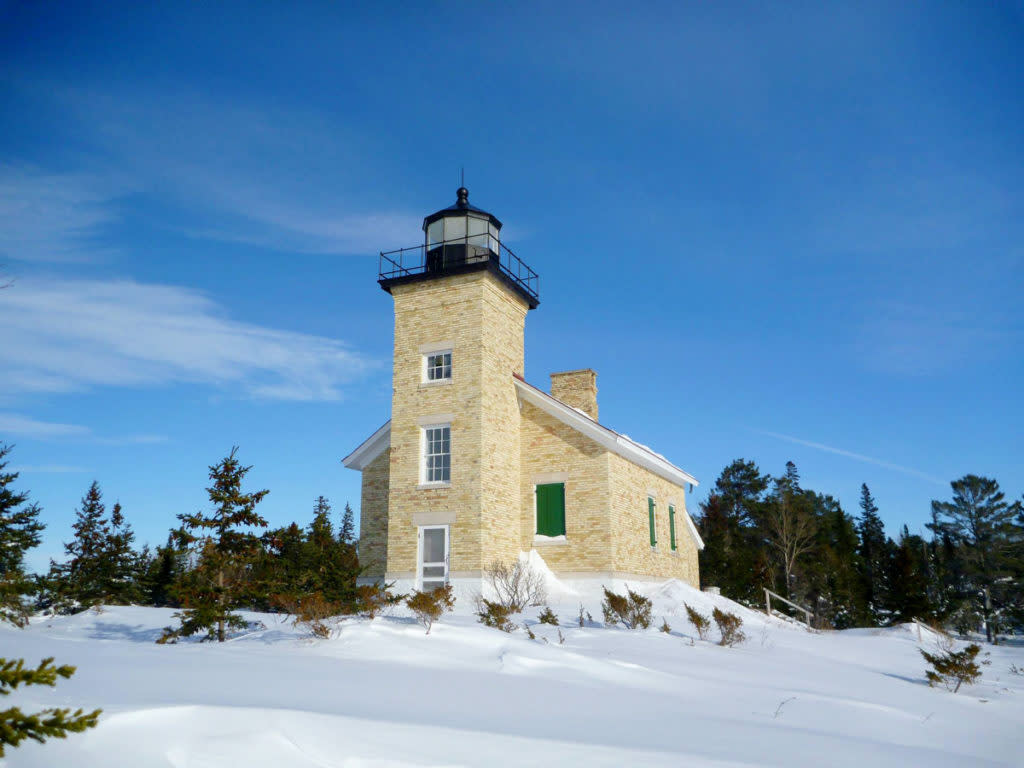 Copper Harbor Lighthouse, built in 1866, is one of the oldest lighthouses in the Great Lakes!
So close, and yet so far away! Visiting the Copper Harbor Lighthouse can be easy if Mother Nature allows. Just like in summer, the easiest way to take it in is from the established viewpoint on the southern side of the harbor near Fort Wilkins Historic State Park. Hike a short distance to the shoreline and take in the icy grandeur of Lake Superior. You'll be treated with a view of one of the oldest lighthouses in the Great Lakes (1866!). Don't try to cheat either: the road to the lighthouse is 100% private.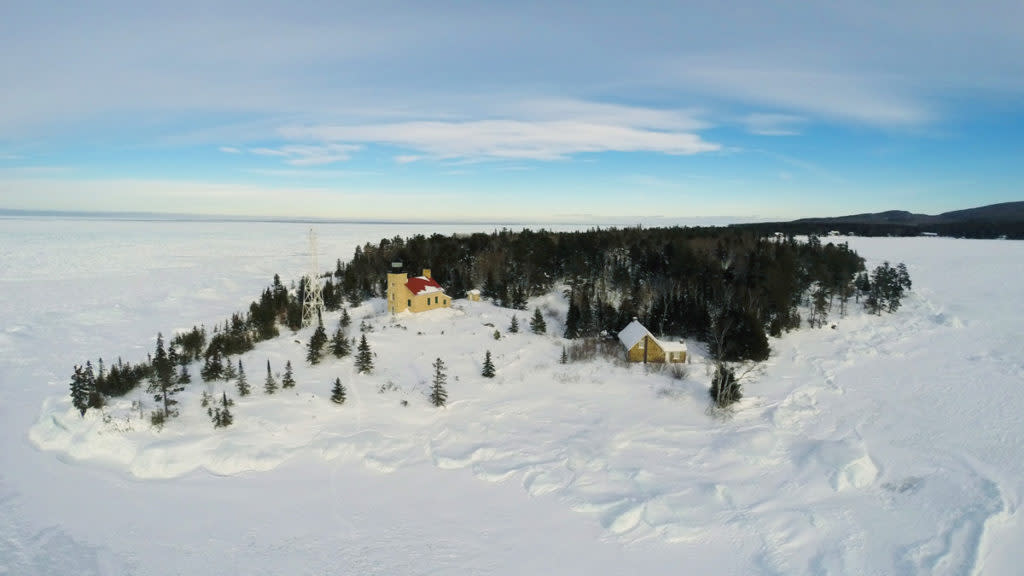 A cool aerial shot of Copper Harbor Lighthouse surrounded by drifting snow.
And one for the adventurous folks out there…
FOURTEEN MILE POINT LIGHTHOUSE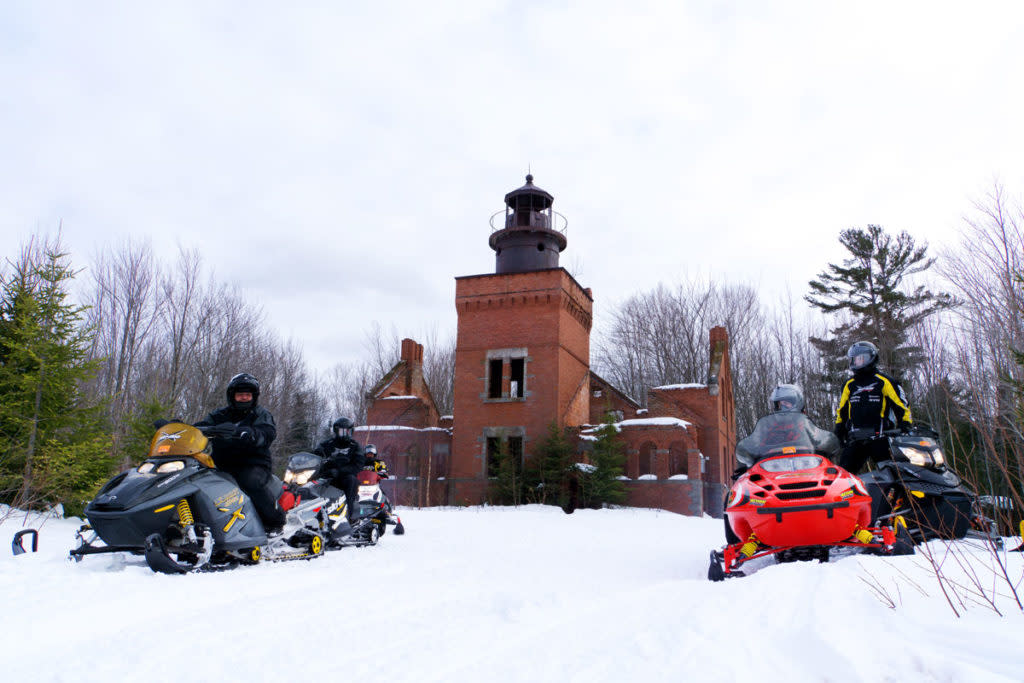 Fourteen Mile Point remote lighthouse is located about halfway between Agate Beach and Ontonagon
One of the least visited lighthouses in the Keweenaw area is Fourteen Mile Point Lighthouse. Never heard of it? That's because it's barely hanging on for dear life! This remote lighthouse is located about halfway between Agate Beach and Ontonagon, basically as middle of nowhere as you can get. Completed in 1894, it unfortunately was gutted by a fire in 1984. It is privately owned and has no road access, which makes it very difficult to get to, even in summer. I snowshoed several miles along the shoreline to take a look at this one and camped in an extinct ice volcano offshore. If you're not into that kind of adventure, snowmobiling the frozen shoreline also is an option once things freeze up. Either way, be prepared to spend all day hunting this one down! Or, you know, wait 'til summer and take your boat. If you do make the trek, respect the privacy of the owners by only taking pictures.
Interested in updates, travel tips and quirky information about the Keweenaw? Just sign up for the Keweenaw Explorer, our monthly e-newsletter. Complete the form…