Autumn is a fleeting, yet magical moment for the Keweenaw's lush landscape. Deciduous leaves change from vibrant shades of green to yellow, gold, fiery orange, and deep crimson red. Fall color provides the perfect backdrop for a wide range of outdoor adventures, and it's a great excuse to enjoy some of your favorite wilderness pastimes one more time before the first snowflakes fall.
Because of the micro-climate created by Lake Superior and the peninsula's northern location, the Keweenaw's fall colors usually peak between the last week of September and the first two weeks of October.  Specific Keweenaw locations may vary with Copper Harbor and Isle Royale peaking a bit later than areas farther south.
Before you venture out, be sure to pack some cozy clothes and get ready to experience fall color like you've never seen before.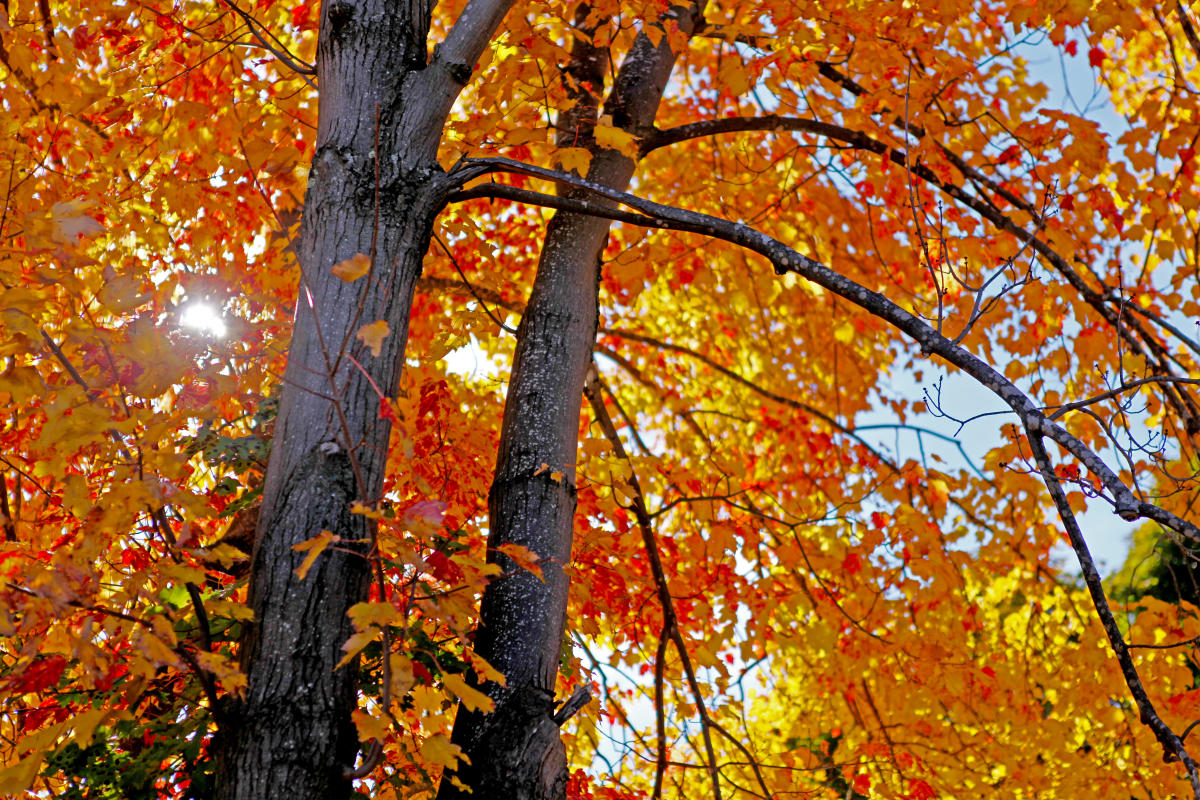 Fall color in the Keweenaw will take your breath away!
SCENIC FALL DRIVES
One of the easiest ways to take in the fall color is through a scenic drive. No matter which scenic route you take, you'll be amazed at the way Mother Nature paints her forests.
Covered Drive, also known as "The Tunnel of Trees," is one of our favorite fall drives. It is a well-maintained, but narrow, dirt path just outside of Houghton off Canal Road. The tall deciduous trees lining Covered Drive create a canopy of leaves that envelope you in colors of yellow and gold. Drive slowly, roll down your windows and breathe in the earthy smell of the autumn leaves as you go. Covered Drive eventually connects with Liminga Road. Take a left, and you will find your way to the ghost towns of Redridge and Freda.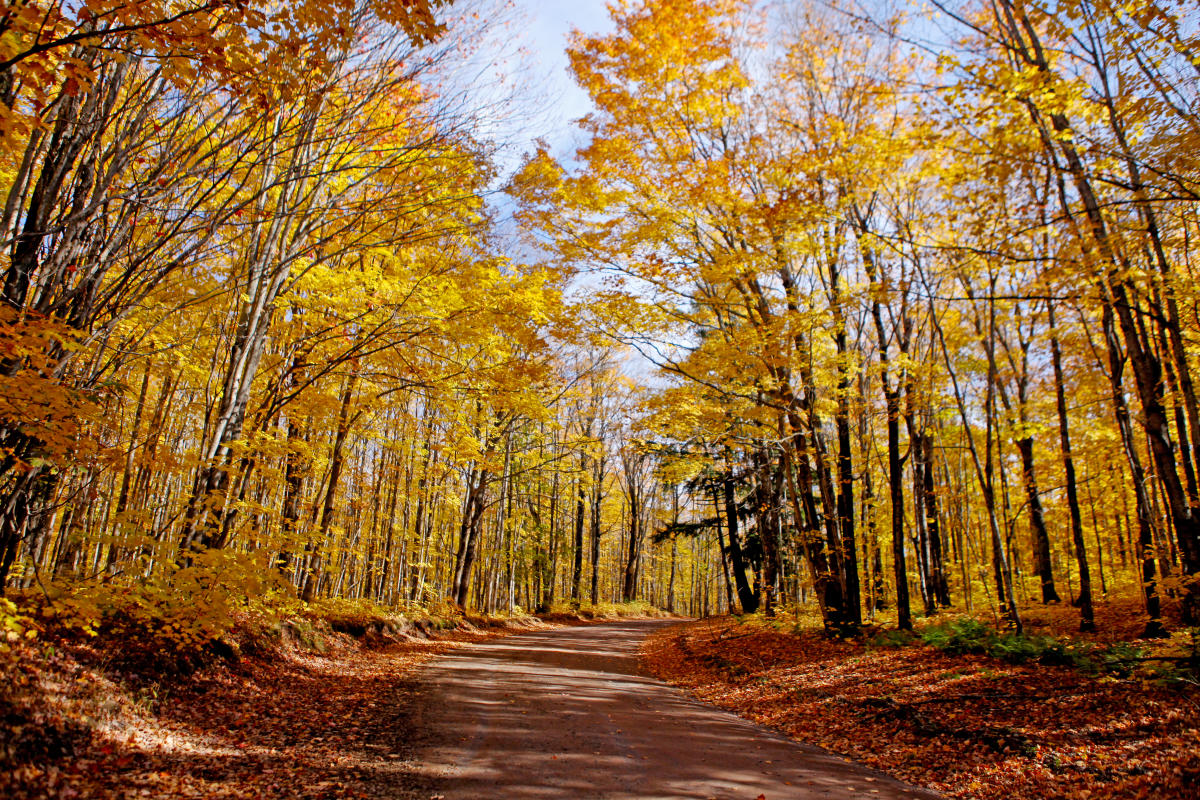 Covered Drive on a sunny fall day. 
Brockway Mountain Drive is one of the most well-known fall color drives in the Upper Peninsula. This paved 9-mile drive between Eagle Harbor and Copper Harbor offers several lookouts, including one at the very top of the mountain. Brockway Mountain Drive is the highest above-sea-level drive between the Rockies and Alleghenies; so be prepared to experience incredible panoramic views, featuring Lake Superior, inland lakes, and vast colorful forest in every direction you look. Brockway Mountain will not disappoint, and it's the perfect place to stop and capture photographic memories that last a lifetime.
WATERFALLS
Waterfalls roar back to life during September and October. Many of the Keweenaw's finest waterfalls are easy to get to and can be included in your fall color tour of the peninsula. On your way to Brockway Mountain Drive, you will pass by several roadside waterfalls enhanced by beautiful fall color.
Eagle River Falls: When passing through Eagle River, you'll see Eagle River Falls  at the bridge on State Highway M-26. There's a parking area on the right side of the road, and from there you can access the pedestrian bridge which will give you the best view.
Eagle River Falls is on the site of the original Lake Superior Fuse Company, and remains of the dam still span most of the 60-foot-wide river. The dam extends the falls to a total height of well over 60 feet. While on the pedestrian bridge, make sure to turn around and check out the Eagle River Timber Bridge (the one you just drove over). This bridge is constructed of two side-by-side timber arches spanning 74 and 79 ft. This eye-catching timber bridge is quite unique and fits in well with the landscape surrounding it.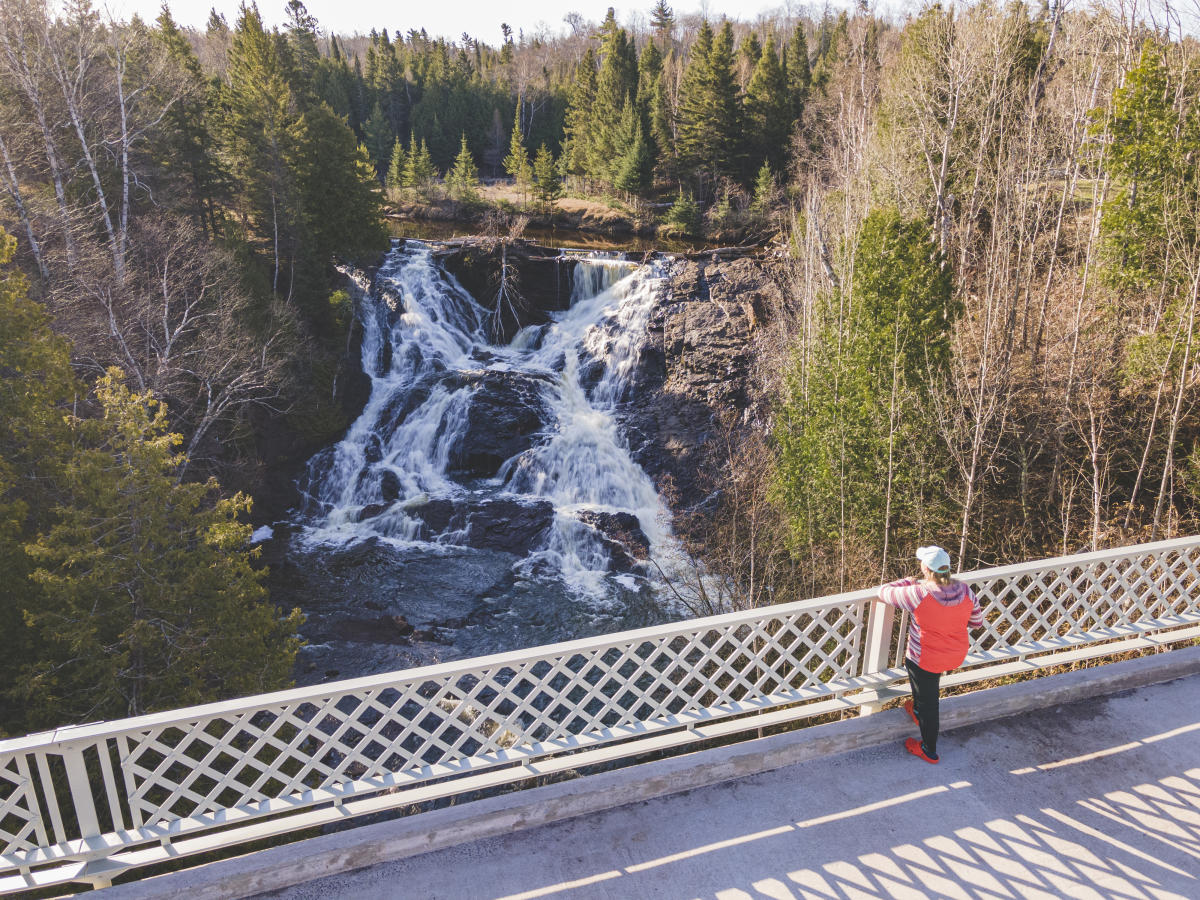 The pedestrian bridge at Eagle River Falls offers a spectacular view of the falls.
Jacob's Falls: Continue your trek east on M-26 another three miles to see Jacob's Falls. Make sure to stop at the Jampot next to the falls for a jar of gourmet Thimbleberry Jam and other delectable treats.  Proceeds from the Jampot, support the vision and works of Holy Protection Monastery, a Byzantine Catholic Monastery located near the Jampot store. The Jampot typically stays open through mid-October each year.
More waterfalls can be found throughout the Keweenaw Peninsula. Be sure to check out our waterfall map and pick a few to visit on your fall color tour.
HIKING
Take a deep breath of autumn air and experience the fall colors of the Keweenaw by foot! Hiking gives you the special advantage of reaching beautiful lookout points that are not accessible by vehicle. It also gives you the chance to slow down and take in the details that make Autumn such an enjoyable time of year.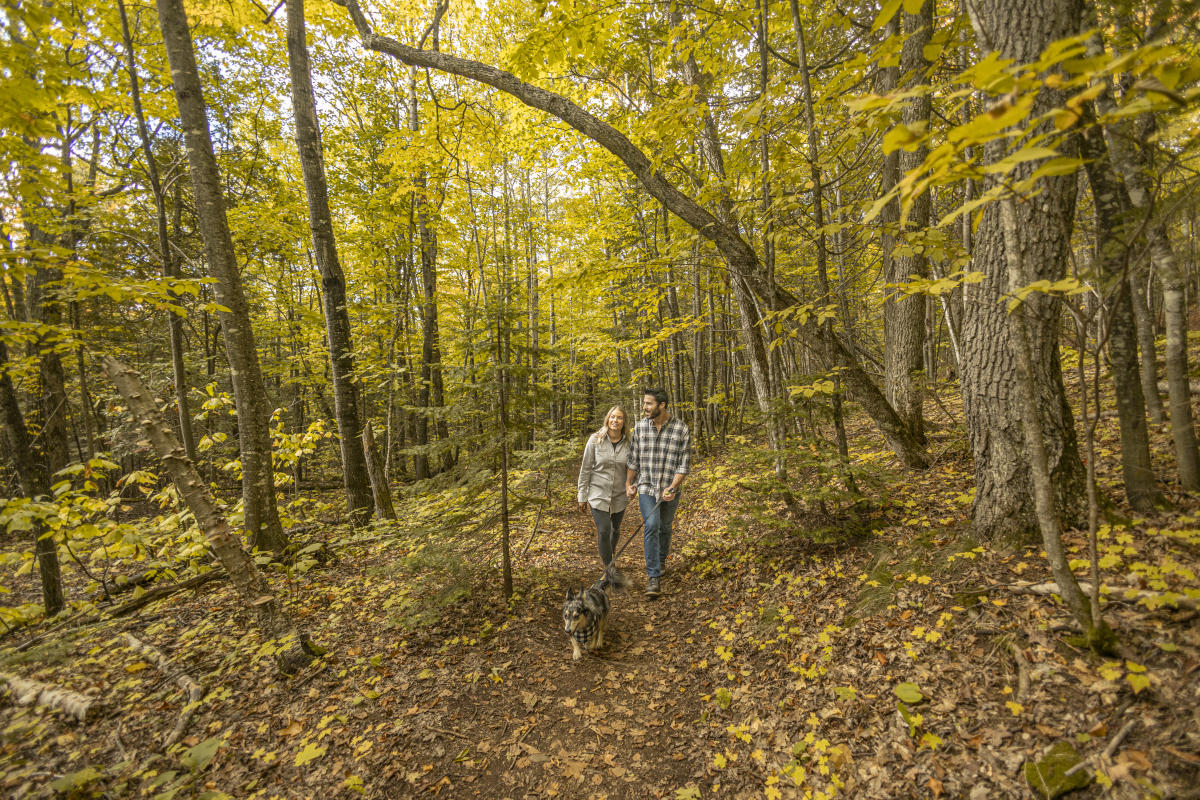 Fall is a great time to enjoy a hike in one of the Keweenaw' many nature areas. 
Mount Baldy: One of our favorite fall hikes is the Helmut & Candis Stern Preserve at Mount Baldy. This "bald" is the largest and least disturbed in the Keweenaw Peninsula, towering 730 feet above Lake Superior. This down and back hike has a round trip length of 6 miles. The first 3 miles of the hike is a steady uphill climb, but the view when you reach the peak is worth the climb. Take a long break at the summit before you head back to your vehicle because you won't be able to take those panoramic views of the fall canopy and Lake Superior with you.
Nara Nature Park & Boardwalk: The Nara Nature Trail Boardwalk is a 4,500-foot-long elevated boardwalk running along both banks of the Pilgrim River. This is a wonderful nature area with fishing sites, benches, access for launching kayaks and canoes, and plenty of birdwatching opportunities. Across the highway from the boardwalk, you will find the Nara Nature Trails Trailhead. Nara Nature Trails link to Michigan Tech University trails for a combination of over 50 miles of trails for hiking, running, or biking. This expansive trail system is a fantastic place to get in the woods and enjoy the beauty of fall!
Take a Hiking Tour: Book a tour with Yooper Steve, and explore some of the most scenic trails in the Keweenaw Peninsula. Steve is a fall color expert and can take you to some of the most scenic vistas and vantage points for viewing the best fall color. 
CHAIRLIFT RIDES
If the 6-mile hike to Mt. Baldy sounds a bit too extreme for your fall color tour (or if you want to rest those tired legs), we are happy to inform you of another option!
Michigan Tech's Mont Ripley Ski Hill will offer chairlift rides this fall. You can expect stellar views of Houghton, Michigan Tech, and the Portage Lake Lift Bridge with a backdrop of vibrant fall color. After your chairlift ride at Mont Ripley, make your way to downtown Houghton or Hancock, where you will find plenty of shopping, restaurants, and scenic fall walks along the waterfront.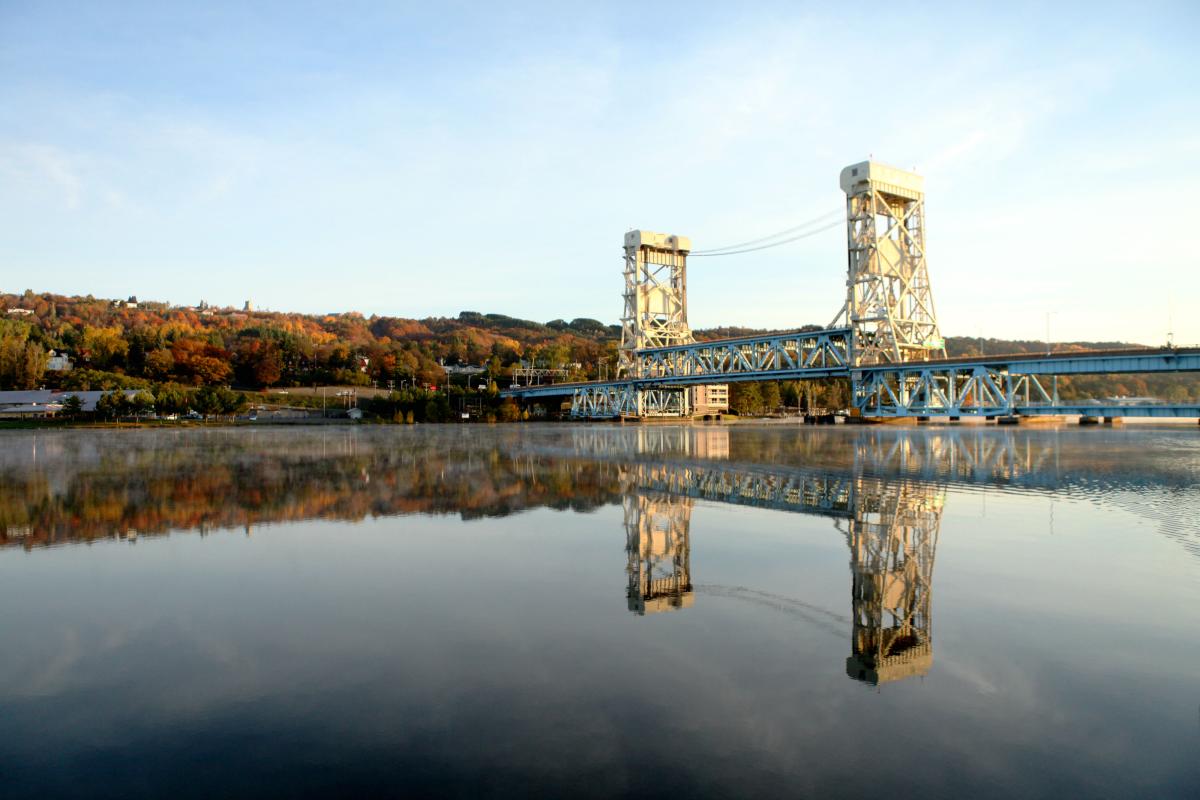 Portage Lake Lift Bridge on a crisp fall morning.
BY WATER
Copper Country Boat Tours: Looking for unique views of the Portage Lift Bridge with a colorful fall backdrop? Reserve your spot aboard the SS Dragonfly, an electric emissions-free Duffy boat. Copper Country Boat Tours will be offering fall color boat tours during peak color season.  During your tour, Captain Dominic Snell will take you into the past, teaching you about the historical importance of the Copper Country and the Portage Canal. The SS Dragonfly is also equipped with a surrey canvas, side windows, and a brand new heater which will keep you warm, cozy, and dry on those cooler fall days.
Day Tours and Twilight/ Sunset Tours are available. Book your fall color boat tour here: https://www.dragonflycopper.com/
Keweenaw Boat Tours: Now Reserving Fall Color Tours with Keweenaw Boat Tours! These 1.5 hour private tours depart from Bridge View Park in downtown Houghton and wind through the Keweenaw waterway to Lake Superior. The surrounding hills and shoreline are filled with spectacular colors of green, gold, orange, and yellow as the foliage begins its hibernation process for the winter.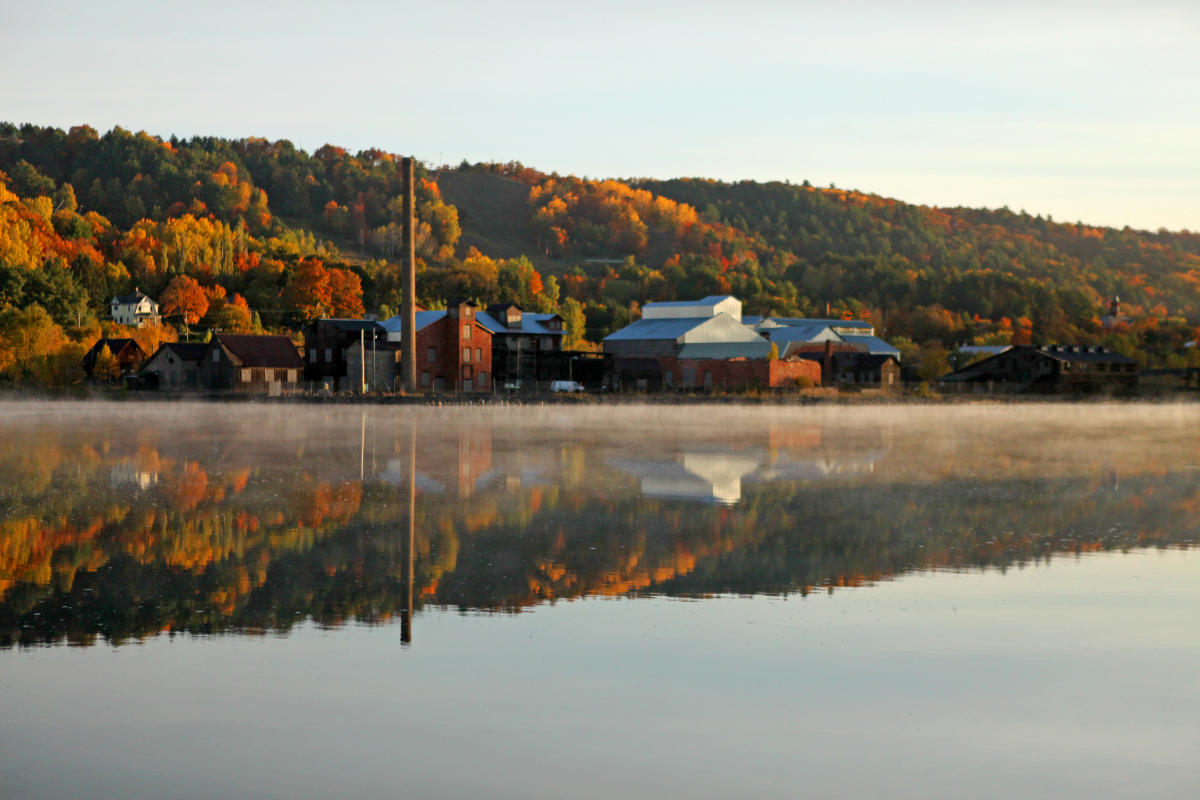 The Quincy Smelter is an incredible site with this backdrop of vibrant fall color. 
Paddle with Keweenaw Adventure Company: Paddle your way through the pristine waters of Copper Harbor and enjoy the magic of the fall colors along rugged shoreline. Keweenaw Adventure Company offers guided sea kayak adventures through early October and provide everything you need to have a safe and enjoyable time. Tours may be cancelled or rescheduled depending on weather conditions. 
U.P. Adventure Company Boat Excursions: Book a fall adventure with U.P. Adventure Company! This family-owned business offers local trips ranging from 2 to 8 hours. Circumnavigate the Keweenaw Peninsula, boat to Isle Royale, explore Manitou Island, or even take an adventure to the Huron Islands! Many trip options are available here. 
By Air
Join Isle Royale Seaplanes for a true bird's eye view of the Keweenaw's majestic fall colors. The 30-minute cruise takes passengers along the canal to the north entry, up the shoreline just shy of Eagle River, across the peninsula to Mohawk, over Lake Linden, and Dollar Bay. Book your tour here.
Interested in updates, travel tips and quirky information about the Keweenaw? Just sign up for the Keweenaw Explorer, our monthly e-newsletter. Complete the form…