The Keweenaw sees over 270 inches of lake-effect snow each year, creating a winter wonderland unlike anywhere else in the Midwest. And thanks to our peninsula's windswept microclimate, midwinter brings more than its share of sunny bluebird days and crystal-clear nights. In short, the Keweenaw is the perfect place for falling in love with winter.
The only thing Keweenaw locals love more than a day of winter adventure is celebrating the season as a community. From sports to science, from culture to pure craziness, our top five winter festivals in the Keweenaw help you celebrate winter in the way that fits you best.
Houghton Winter Wonderland — December 2, 2023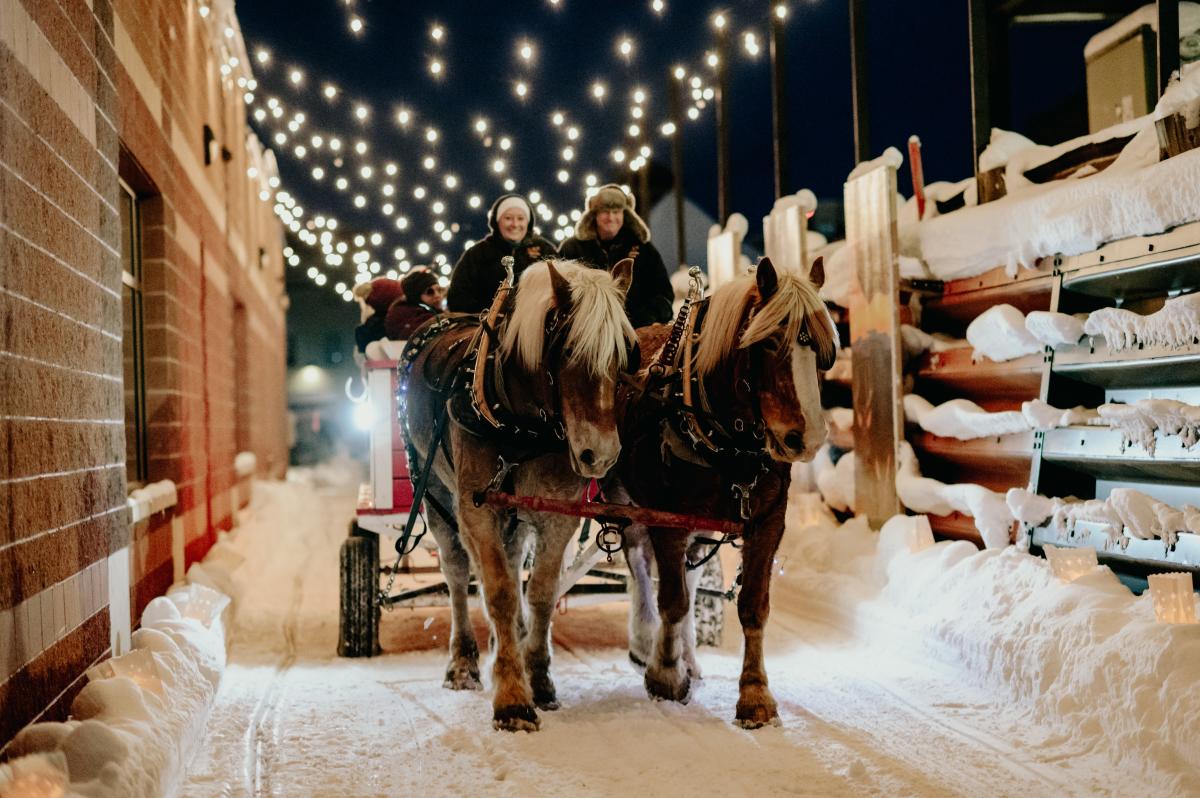 All are welcomed to enjoy the magic of the holiday season during Downtown Houghton's Winter Wonderland Celebration. Cozy up with a cup of hot chocolate and take a rustic horse-drawn carriage ride along the scenic Keweenaw Waterway. Enjoy views of the iconic Portage Lake Lift Bridge while traveling along the city's holiday-themed illuminated winter trail. Say "Hi" to Santa and tell him your Christmas wishes while listening to the enchanting sounds of Christmas Carolers'. Festive lighting displays, holiday tunes, and perfect family photo opportunities will be sure to bring about lots of holiday cheer! 
HEIKINPÄIVÄ — JANUARY 27, 2024
https://www.finlandia.edu/heikinpaiva/
This midwinter celebration of Finnish culture brings out the wacky side of winter. Starting in mid-January, just as the midwinter blues begin to hit, the shenanigans of Heikinpäivä last for up to a month.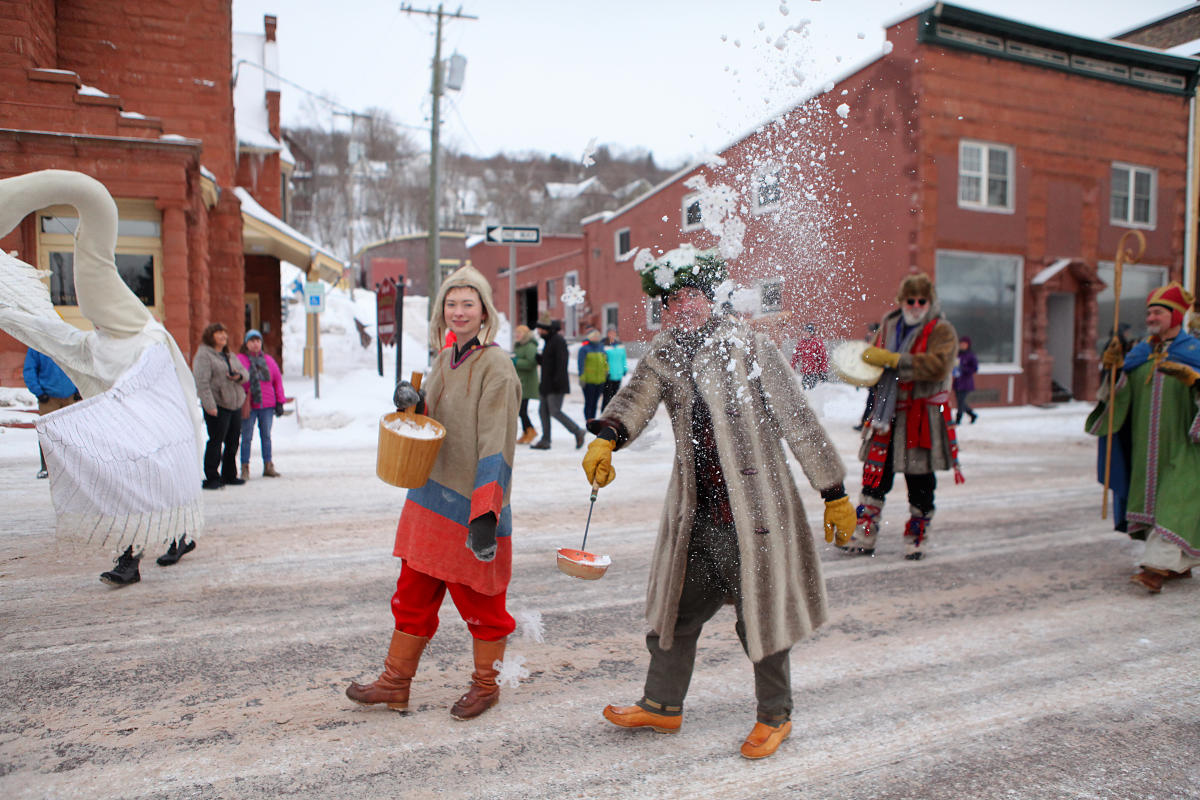 Heikki Lunta, the Snow God, throws snow during the Heikinpäivä parade. 
Key events include the Heikinpäivä parade featuring creatures from Finnish legend and the legendary wife-carrying contest, an obstacle course that sends married couples careening from one bizarre station to another. In between, there are kicksled races, musical performances, cultural and craft-making workshops, and a traditional Finnish contra-dance with a live band.
101st WINTER CARNIVAL — FEBRUARY 7-10, 2024
https://www.mtu.edu/winter-carnival/
In the days leading up to Winter Carnival, you'll start to notice something odd: two- and three-story blocks of solid snow plunked in the front yards on Fraternity Row. These blocks quickly transform into jaw-dropping works of sculpture and architecture, from Old West towns to space stations to scenes from classic movies. This cartoonish landscape is all for the sake of the snow sculpture contest, one of the highlights of Winter Carnival, a proud Keweenaw tradition hosted by Michigan Tech since 1922.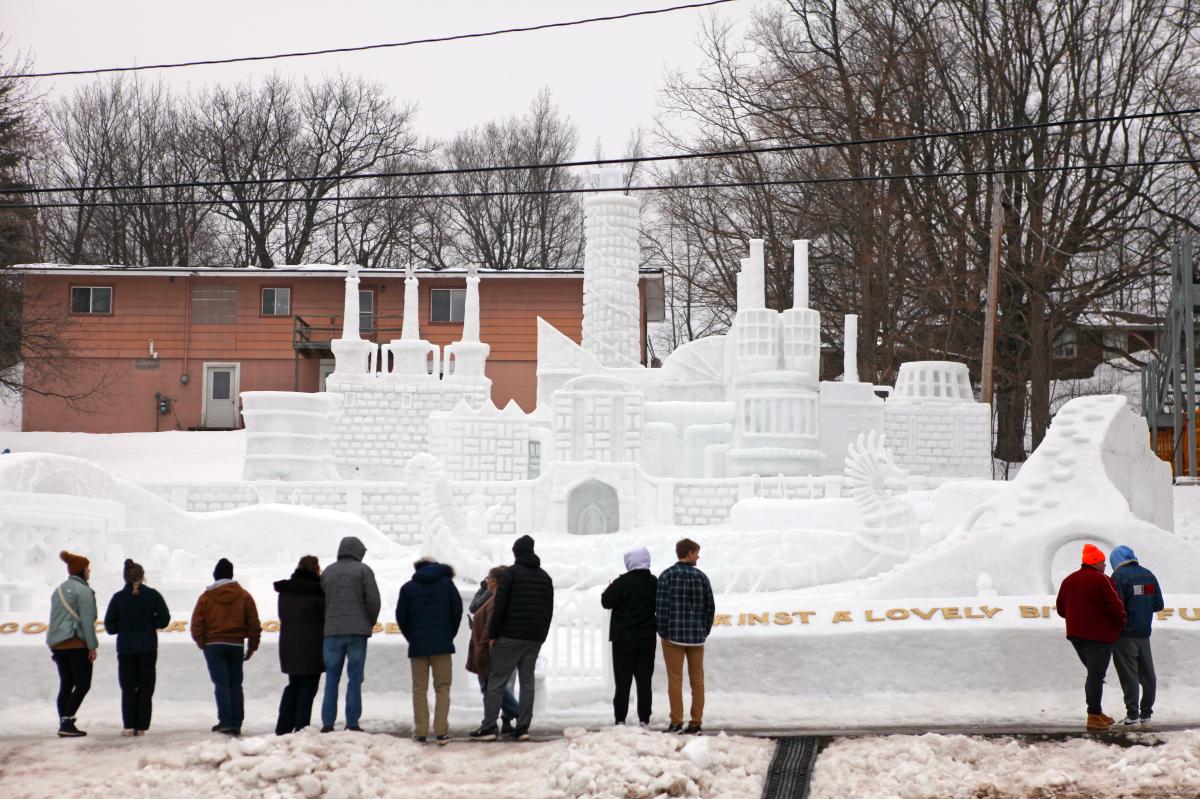 Phi Kappa Tau's Chocolate Factory took first place in the month-long statue category in 2023. 
During this weekend, the university pulls out all the stops for winter fun. Front campus comes alive with broomball matches, dogsled rides, and ice bowling, as well as more traditional winter sports like ice skating, snowboarding and even curling. In the evening, look for the zany, improv-heavy Stage Revue, a snowmobile freestyle demonstration, and the coronation ceremony for this year's Winter Queen. (It sounds like a beauty pageant, but trust us, it's anything but.) Make sure to find a good spot on the Houghton side of the river to watch the torchlight ski parade down Mont Ripley—it's a moment of pure winter magic. This year's theme is "From Forests to Shores We Love the Outdoors."
Jibba Jabba Rail Jam  — February 17, 2024
Bundle up and join us for the 2023 Jibba Jabba Rail Jam in downtown Houghton. What is a rail jam? A rail jam is a winter event in which a special course is created with rail-like features and objects that skiers/ snowboarders can perform tricks on. 
The excitement of freestyle snowboarding fills the streets of Houghton during Jibba Jabba. 
A unique rail jam course will be set up on Huron Street (next to Rhythm Bike & Board Co.), where professional and amateur freestyle snowboarders will attempt tricks and shred down Huron Street all the way down to the Houghton Waterfront pier. 
COPPER DOG 150 — MARCH 1-3, 2024
Mushers and their intrepid four-legged friends come from all over the world to compete in this iconic race. Easily one of the Keweenaw's most popular winter events, this three-day event starts on Calumet's historic 5th Street. Join the crowd on Friday night, buy a hot chocolate and find a spot along the track, and watch as more than 350 sled dogs from around the world explode from the starting gate and go mushing into the starlit night.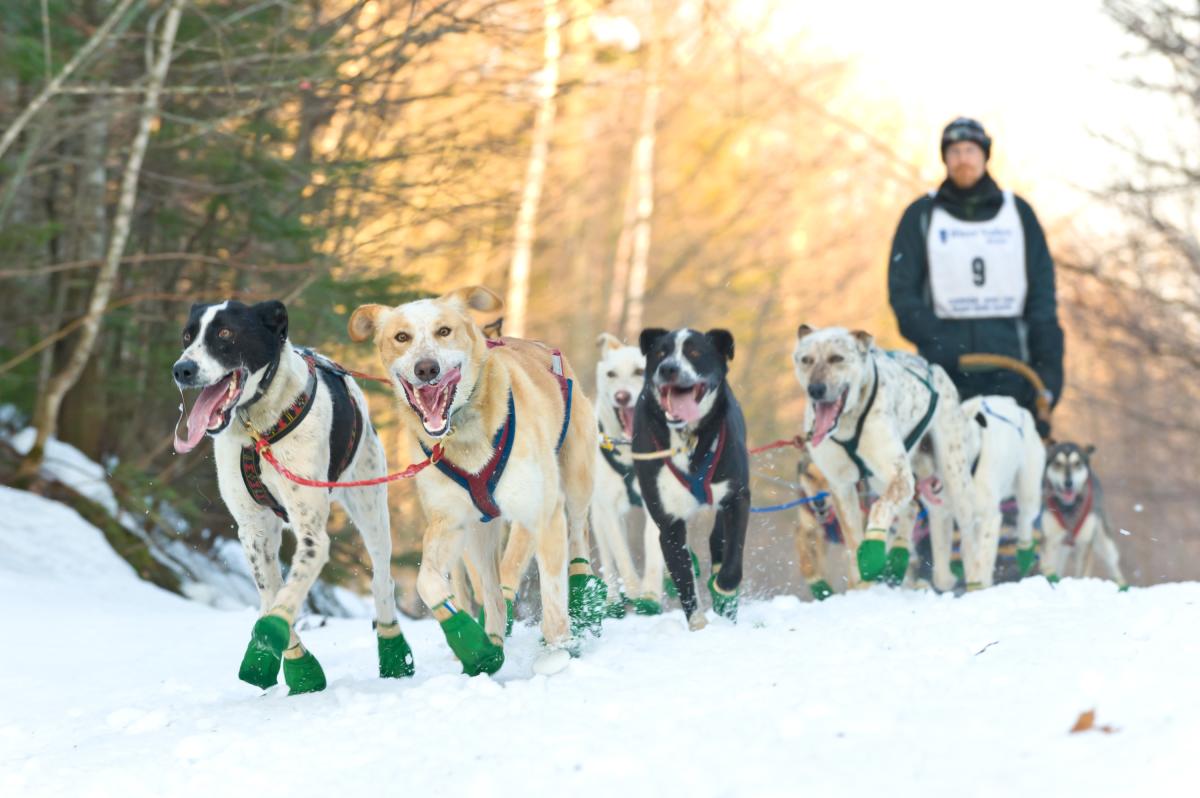 Watch as teams of dogs race through the Keweenaw's pristine forestland.
In between heats, enjoy live music, fuel up with snacks from food carts, and keep warm beside a roaring outdoor fire ring. You can follow the pack over the next two days as they continue on to the tip of the Keweenaw, or stay in Calumet and enjoy fun CopperDog festivities. Be sure to cheer racers on as they finish the race on Sunday! 
GREAT BEAR CHASE — MARCH 9, 2024
http://www.greatbearchase.com/
Nordic skiing through Michigan's Keweenaw Peninsula is one of the most serene winter activities you can imagine. It's also one of the Keweenaw's most fiercely competitive sports. Calumet's 1900-acre Swedetown Recreation Area is the setting for this amateur cross-country ski race. If you're feeling fit and adventurous, register for the 13K, the 25K or the 50K races, offered in both Classic and Freestyle, with prizes offered for a wide range of age groups. (Race registration is open until three days before the race.) If you prefer to be a spectator—and no shame if you do—post up along a good site line and make sure to bring a camera.
Interested in updates, travel tips and quirky information about the Keweenaw? Just sign up for the Keweenaw Explorer, our monthly e-newsletter. Complete the form…