Each autumn, for three or four short weeks, the Keweenaw's landscape makes a dazzling transition from hues of lush greens to bursts of gold, yellow and fiery orange. Its almost as if the land channels the last of its energy into this captivating display of color to celebrate the end of summer and usher in the glories of winter.
There's no shortage of ways to get your fill of fall color. But we're here to help if you need a little local insight into the perfect mix of prime leaf-peeping locations and other Copper Country fall attractions.
FRIDAY
2 P.M. – COVERED ROAD
You came for the color so why not start your vacation with one of the best scenic drives in all the Keweenaw? Just outside Houghton, off Canal Road, you'll find Covered Road—a tunnel of trees taken straight out of a movie scene. As you drive along this dirt (but shockingly smooth) road, don't be surprised if you see plenty of local wildlife, especially deer and wild turkey. This off the beaten path leads visitors to the ghost town of Redridge, the historic Redridge Dam, and Lake Superior.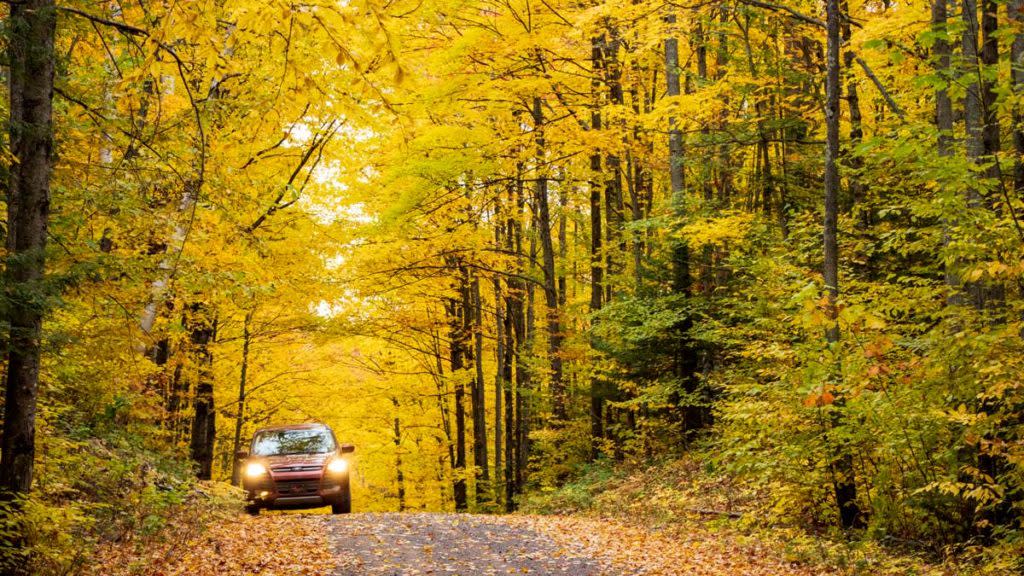 5 P.M. — TAKE A BREAK(ERS)
From Redridge, head east along Liminga Road and take Canal Road north to reach Breakers Beach Park. Nicknamed after a stone breakwater which protects the Keweenaw Waterway's north entrance, "Breakers" is a 180-acre park with a sandy Lake Superior beach popular with locals. Looking east, you'll see McLain State Park and the Keweenaw Waterway Upper Entrance Light across the waterway as you stroll the peaceful shoreline.
7 P.M. — SMALL TOWN COMFORTS
Take Canal Road into Houghton to explore downtown dining options. You'll find several restaurants on Shelden Avenue to choose from or cross the Portage Lake Lift Bridge into Hancock to try a few local favorites like La Cantina or Milly's which serves Detroit-style pizza using local, fresh ingredients. After dinner, head over to the Keweenaw Brewing Company's taproom on Shelden Avenue to grab a seasonal craft brew. Not quite ready to call it a night? Enjoy a leisurely stroll along the Houghton Waterfront and check out the local murals painted by Keweenaw artists.
SATURDAY
9 A.M. – PASTY FOR BREAKFAST?
Refuel for the day's adventures at Roy's Pasties and Bakery in Houghton. Roy's is known for having some of the best pasties in the Keweenaw, but have you ever tried a breakfast pasty? This savory delight filled with eggs, potatoes, and sausage is warm, mouthwatering, filling—just what you need on a brisk fall day. In the mood for something on the sweeter side? Try any of Roy's delicious baked goods in the front counter…you won't be sorry!
10 A.M. – HEAD WEST…THEN NORTH…THEN EAST
Head across the Portage Lake Lift Bridge and continue west on M-203 for a beautiful scenic drive along the Keweenaw Waterway. You'll be rewarded with incredible views of the Portage Canal and vibrant fall colors. Take a pitstop at McLain State Park approximately 20 minutes outside of Hancock. A common spot to view freighters crossing Lake Superior, the park has excellent walking trails that wind through expansive green spaces and plenty of mature northern hardwoods. Continue on M-203 to reach the historic community of Calumet.
12 P.M. — HEART OF THE KEWEENAW
At the turn of the twentieth century, Calumet was a bustling community of nearly 26,000 people thanks to the region's copper mining boom. Today, the area's population is perhaps ten percent of its peak. But much of its historical legacy remains. You can stroll through Calumet's downtown to view the grand architecture of the 1900s and get a sense of the wealth and energy generated by the mining industry.
Calumet has several tasty lunch options to choose from before heading north. If you haven't had your fill of pasties yet, try Tony's Country Kitchen or Connie's Kitchen. Keweenaw Coffee Works offers lighter lunch options and an obligatory caffeinated pumpkin spice fix.
1 P.M. – ALONG M-26
This is where the real fun begins. Start north on M-26/US 41 and take the left to Eagle River staying on M-26. In the middle of this small town is Eagle River Falls which should be roaring this time of year. Walk across the pedestrian bridge and view the forty-foot cascades for a great photo-op. Continue along M-26 as you hug Lake Superior's coastline. This drive is filled with incredible scenic views all year long, but it's a whole other level during autumn.
Travel fifteen minutes east from Eagle River and you'll enter Eagle Harbor—a picturesque community on the shore of Lake Superior and home to the Eagle Harbor Lighthouse. Built in 1871, it still safely guides maritime traffic along rugged shorelines and can be toured during the summer months.
2 P.M. — BALD(Y) IS BEAUTIFUL
Located a few minutes south of Eagle Harbor is one of the Keweenaw's most beloved hiking spots: Mount Baldy. A down and back trail with a total roundtrip length of about 6 miles, this hike is a calorie burner (did you eat those pasties that we recommended?). But the end reward is worth the effort, trust us. At the top of Mount Baldy, you'll get some of the most impressive views of the Keweenaw wildlands, inland lakes, and the greatest of the Great Lakes.
Not feeling a hike but still want the incredible views? We've got the perfect solution for you! Head south from Eagle Harbor to Lac La Belle. There you'll find Mount Bohemia—North American's favorite ski resort. In the fall Bohemia lets visitors take the ski lift up the mountain for jaw-dropping views of fall foliage and Lake Superior. Glide to the top of the mountain and wave to those that are still sweating their way up Mount Baldy.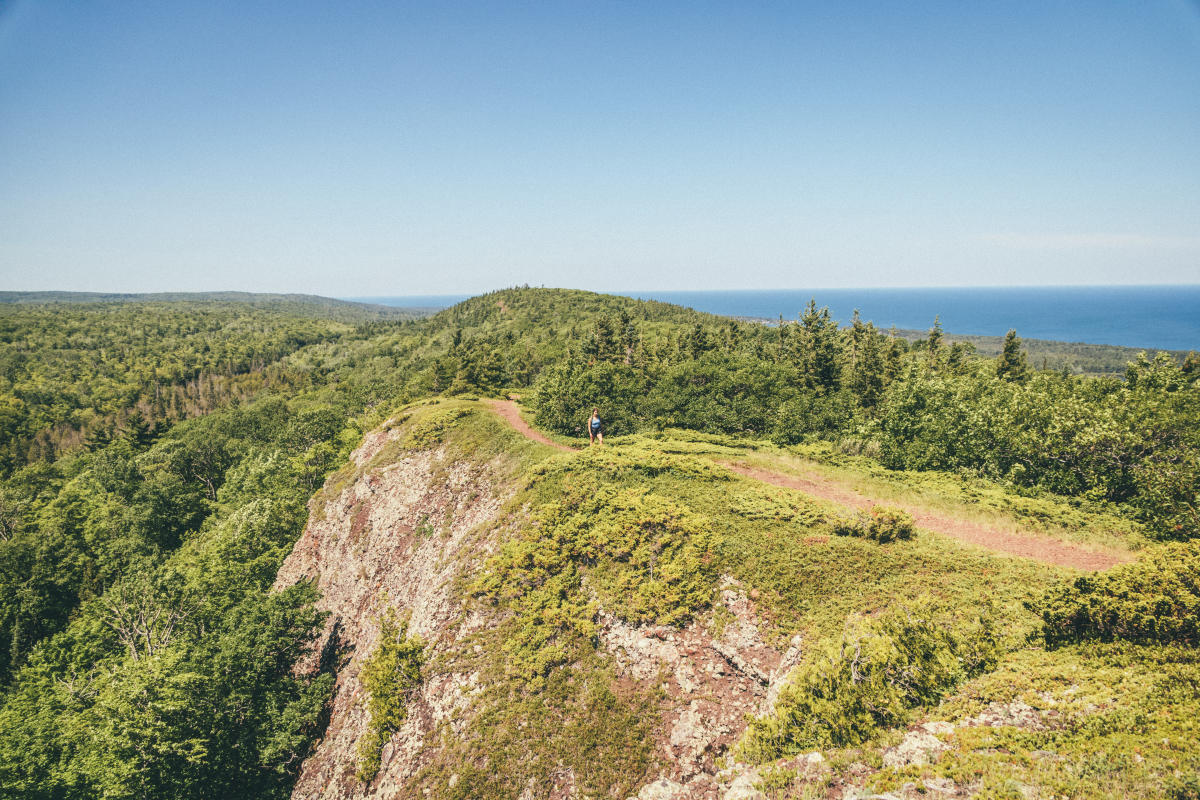 Mount Baldy offers panoramic views of Michigan's Keweenaw Peninsula, Lake Superior, inland lakes and nearby mountain tops.
7 P.M. – DINE AND UNWIND
After a day of leaf-peeping and exploration, your taste buds deserve some attention. If you opted for Mount Baldy, you'll want to make a beeline for the Eagle Harbor Inn & Restaurant which serves up fresh burgers, sandwiches, salads, and pizzas. If you coasted up Mount Bohemia, hop back in your vehicle and make your way up US-41 to Copper Harbor. There you'll find a number of great dining options including the Keweenaw Mountain Lodge, the Pine's Restaurant, and the Mariner North Restaurant.
SUNDAY
7:30 A.M. —  RISE & SHINE
A lot of people save Brockway Mountain for epic sunsets, but there's something special about starting your day watching the sun crest the eastern horizon from atop this Keweenaw landmark. Standing approximately 700 feet above Lake Superior, you can't help but stand in awe of the vast panoramic views. Take Brockway Mountain Drive, a paved county road accessed just outside Copper Harbor until you reach the Brockway Mountain Wildlife Sanctuary. Step outside your vehicle and soak in the immenseness of nature. Thousands of acres of fall color and vast Lake Superior as far as the eye can see. Linger here for a while because you can't take it with you.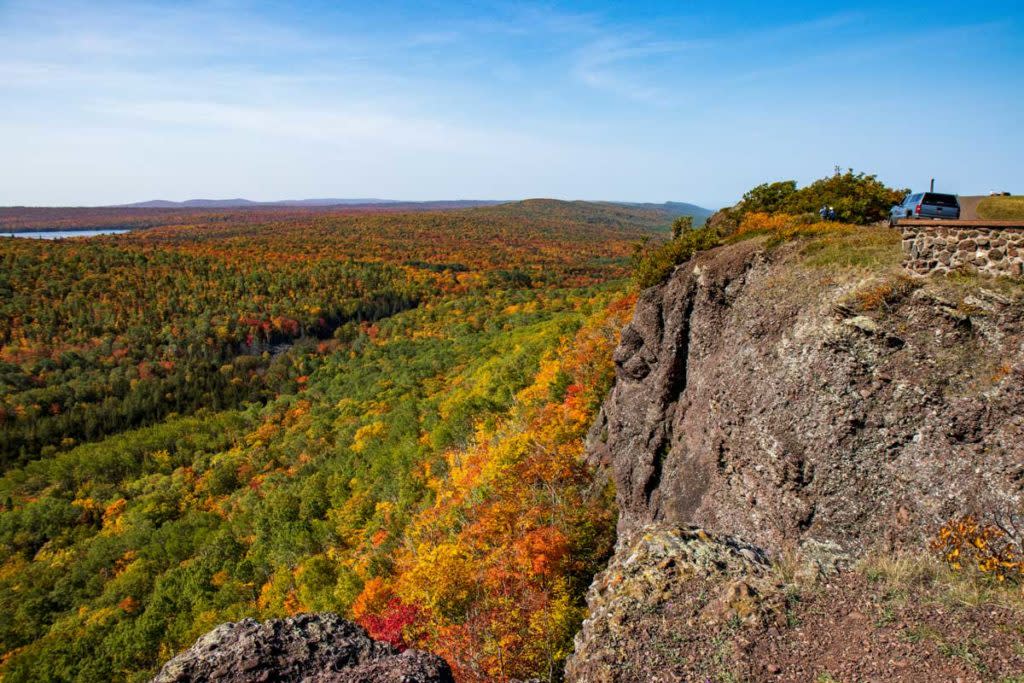 A view from Brockway Mountain 
9 A.M. — GRAB THAT THIMBLEBERRY DONUT
Head back into Copper Harbor and make your way to Jamsen's Bakery. You're not going to find another Thimbleberry donut like this in the world, so there's no reason to pass it up. You'd only have yourself to blame, and they're delicious. Enough said.
10 A.M. — ONE LAST RIDE
Take US-41 out of Copper Harbor back to Calumet. You'll pass through the area known as "Covered Drive" (not to be confused with Covered Road mentioned before). Another beautiful drive that takes you among a natural tunnel of trees filled with the colors of fall.
11 A.M. — DIG DEEP
No visit to the Keweenaw Peninsula is complete without a mine tour. And the Quincy Mine tops them all.  Ride the cog trail tram down to adit entrance and experience life as a mid-19th century copper miner! Be sure to check out the gift shop for a unique collection of gifts and souvenirs.
1 P.M. — SAYING GOODBYE TO THE COPPER COUNTRY
As you leave the Quincy Mine, you'll see a scenic turnout to your left as you make your descent toward Hancock on US-41. Pull over and enjoy the view of the Portage Lake Lift Bridge and Keweenaw Waterway nestled among the rolling hills of fall color. It's a great opportunity to bid farewell to Keweenaw—or start planning your next visit.