Visiting Isle Royale National Park is a dream for many, but very few make it to the Island.  The national park's location in the middle of Lake Superior, mixed with an abbreviated visitor season, consistently makes Isle Royale one of the least visited in the United States. And doing it right requires some planning.
After reading several blogs, asking friends and colleagues, and watching too many YouTube videos on the subject, our family made the pilgrimage to Isle Royale in June 2021…and the Island didn't disappoint!  So much so, we're already discussing our return visit.
But there were several things that took me by surprise. So here's a roundup of tips and factoids that I wish I had known before visiting Isle Royale National Park!
JAMSEN'S FISH MARKET & BAKERY
We opted to take the ferry from Copper Harbor to Rock Harbor, and the boarding process was incredibly smooth and stress-free.  We arrived at the dock thirty minutes before departure which gave us time to grab breakfast at Jamsen's Fish Market & Bakery next door.  While we knew all about Jamsen's amazing donuts, I had no idea that they also offer several savory breakfast options to keep us full on the three-plus hour voyage to the Island.  These include breakfast sandwiches and a cheddar bacon scone that was amazing!
Eleanor enjoying the world's best chocolate thimbleberry donut before our trip on the Isle Royale Queen IV ferry
ROCK HARBOR AMENITIES
For our first visit to Isle Royale, we decided to stay at Rock Harbor Lodge. Staying at the lodge helped simplify our experience, reduce some of the planning, and let us focus more on getting the most out of our day excursions. At Rock Harbor, you'll find the ranger station with a gift shop, restrooms, and daily weather reports. Plan on checking here each day to know what Mother Nature has in store for you.
The lodge's restaurant offers breakfast, lunch, and dinner options at very reasonable prices (particularly when you consider they have to ship/fly all their supplies in). The restaurant has a nice outdoor patio and plenty of nearby outdoor seating. It even had Keweenaw Brewing Company beer on tap which was great after a long day hike! The Backpacker's Breakfast Burrito was a family favorite to grab each morning to fuel up before hitting the trails.
We debated bringing a cooler for food because we knew about the lodge's restaurant and didn't want to overpack. But we were surprised to find charcoal grills near the marina, and the general store had plenty of grilling options for sale.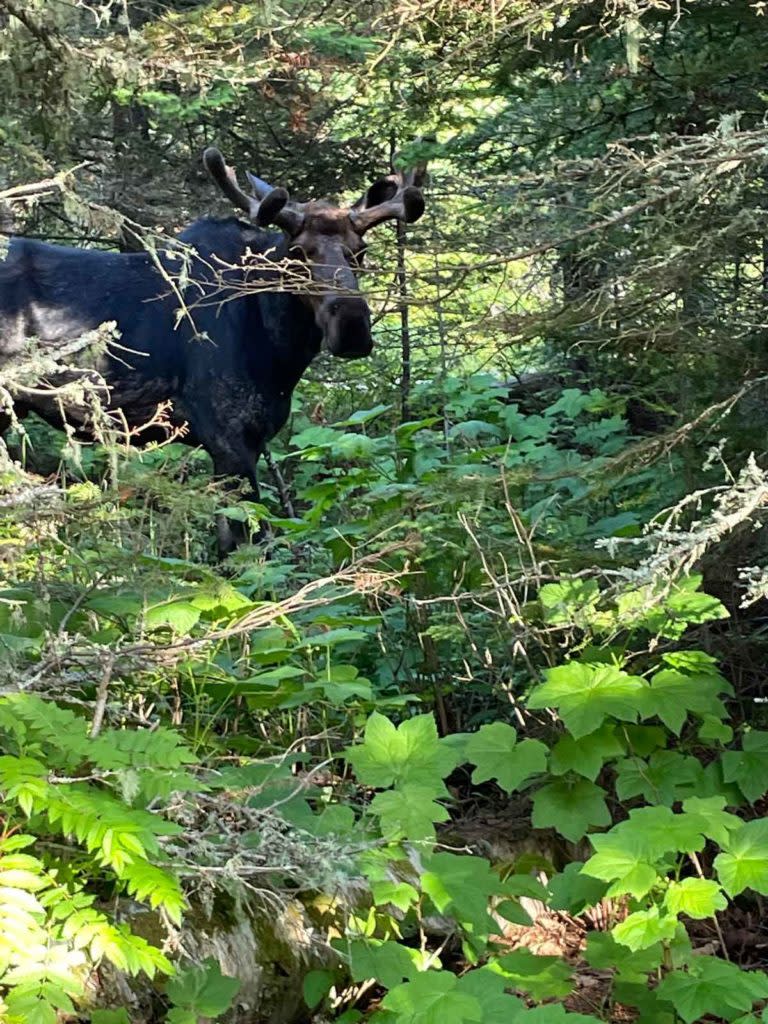 A young bull moose we spotted a few yards from our Rock Harbor Lodge room.
GETTING AROUND THE ISLAND
BRING A MAP
Your feet are the primary transportation option while on Isle Royale. Be sure to bring (or purchase) a good trails map to explore the Island. While the trails are signed, we used our map for planning and trekking to judge progress and distances.  If you can find a waterproof map, that's even better. It'll help protect the map's integrity in case of rain.
HIKING APPS
If you're like us and do a lot of hiking, you probably have an app to plan, track, and save your favorite hikes. You won't have cell service (except at Rock Harbor Lodge) which prevents most app functions. But we discovered downloaded maps on our AllTrails app did work for navigation. This showed our location on the trail and estimated the remaining distance to go. Unfortunately, I only downloaded one trail to my phone prior to the trip, but it was really helpful for that hike.  Next time, I'll be sure to download several more.
BOAT RENTALS
If you're staying in Rock Harbor, a boat can help you reach more remote trailheads and points of interest. We hadn't planned on renting a boat, but after tackling several trails around Rock Harbor, we were eager to explore more of the island. We rented a motorboat to get to Daisy Farm and Rock Harbor Lighthouse and it was a great day excursion. Rock Harbor Lodge rents small motorboats and kayaks for half and full days, but these are first-come, first-serve. The marina office opens at 8 am, so be there early to get a vessel.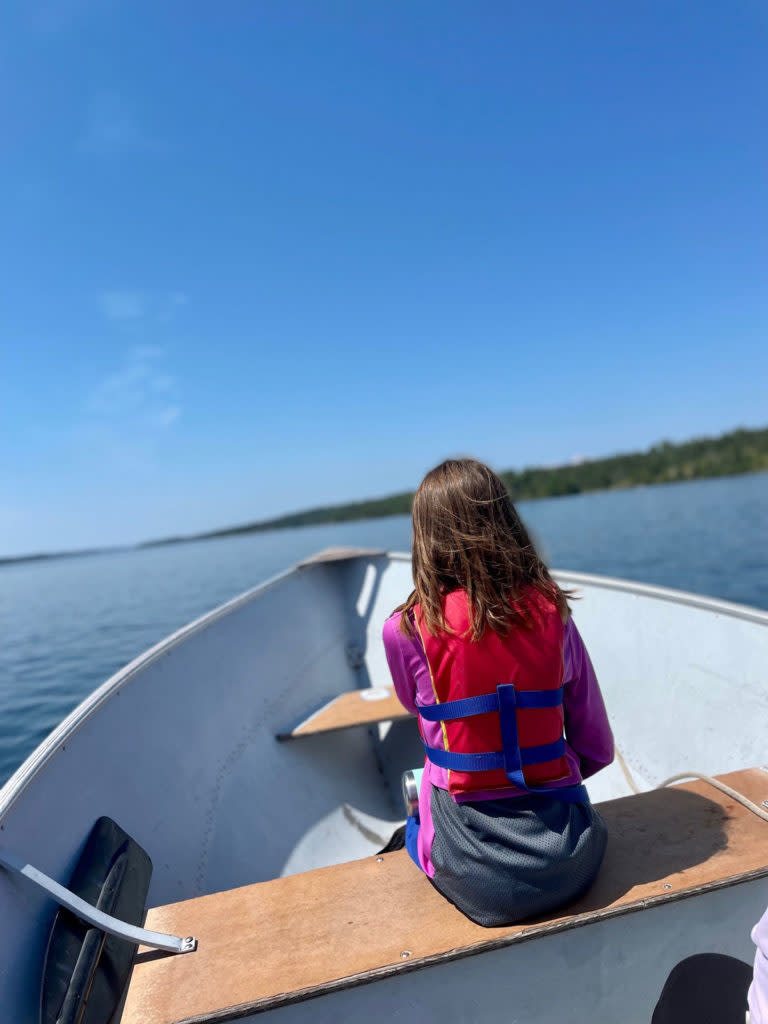 Renting motorboats or kayaks from Rock Harbor Lodge helps you reach more remote parts of Isle Royale.
FOG DAYS
With that said, you won't be able to rent watercraft when fog rolls into the island. And that can happen rapidly and without much notice.  While the fog lends its own unique beauty to the harbor, it can also create a nearly white-out visibility condition making boat operations hazardous. So if you do plan to rent a kayak or motorboat, be sure to have a backup option in case of foggy conditions.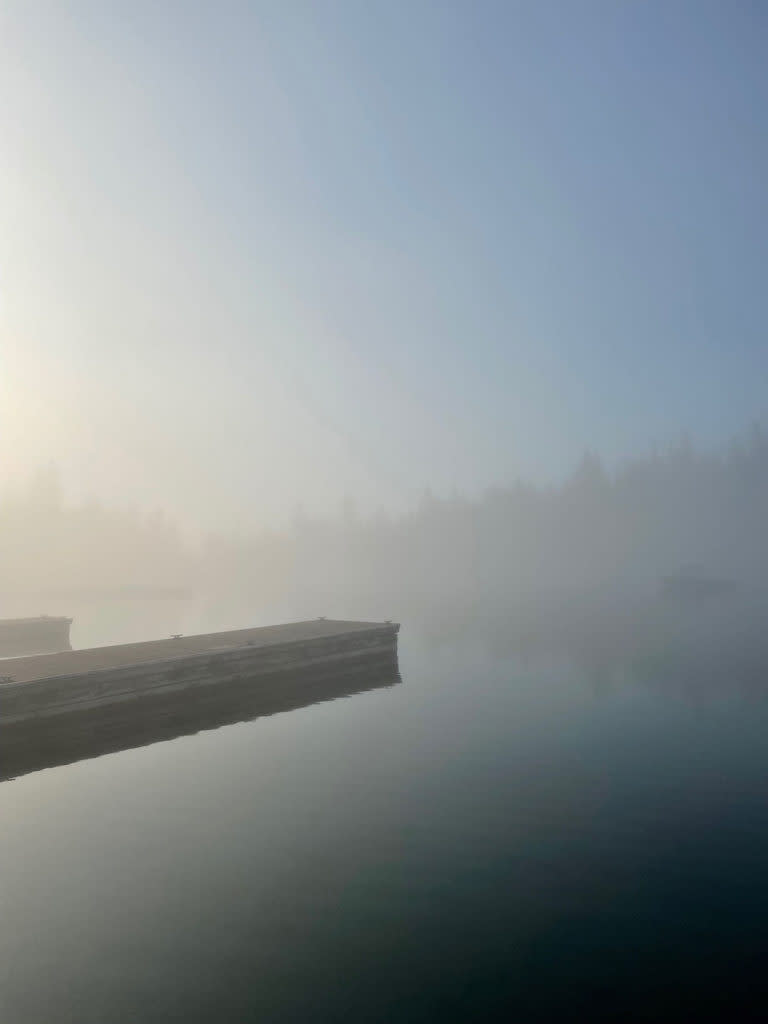 Lake Superior's weather is unpredictable and can lead to nearly white-out fog conditions.
DRINKING-WATER OPTIONS
The park staff does a great job of reminding visitors to pack plenty of drinking water as you explore the island. But it's important to note the only sources of potable water are at Rock Harbor or Windigo.  So fill up those water bottles, camel packs, canteens, etc. before leaving these areas (unless you packed filtration options). I mistakenly assumed the campsites throughout the island would have drinking water options, and they do not. Luckily, we carried enough water during our day excursions that this wasn't an issue.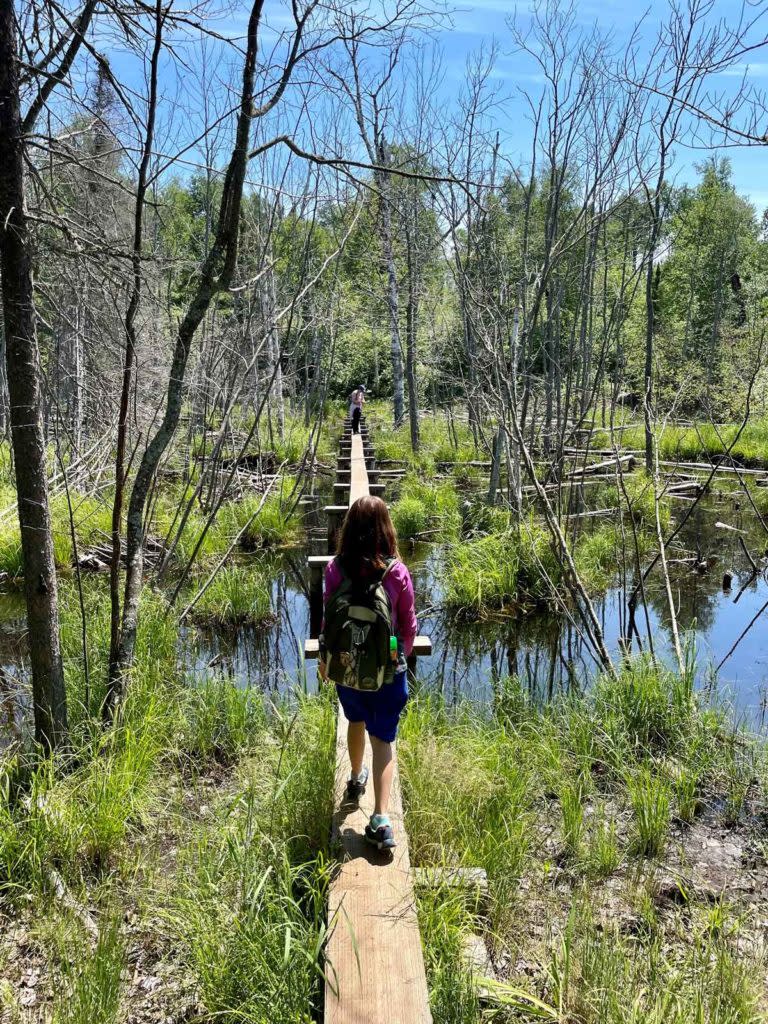 Pack plenty of water on your hikes. Rock Harbor and Windigo are your only sources of potable water unless you bring filtration options.
PACK SCREEN-DETOX OPTIONS
Part of the allure of Isle Royale is the lack of cell service and screen-time. It gives visitors a chance to disconnect from technology and reconnect with nature and people. While we only stayed for three nights and went on several hikes, we found ourselves with plenty of time for relaxation, reading, and conversation.  Rock Harbor Lodge has a recreation room for guests that includes several board games for families to enjoy, but it wouldn't have hurt if we had brought our own deck of cards or travel board games to pass the time post-day excursion adventures.
FLORA & FAUNA
Like a lot of visitors, we were probably most excited to see the Island's abundant wildlife. And we weren't disappointed as we were treated to moose, loons, numerous other waterfowl, and small critters (and one particularly chatty squirrel outside our room).  But we were equally impressed by Isle Royale's collection of plantlife including beautiful wildflowers nearly everywhere we looked. As we walked along the trails, the vibrant flowers popped against the lush greens of the Island. I really wish we had brought a book on local flora and fauna so we could ID some of the more memorable plants.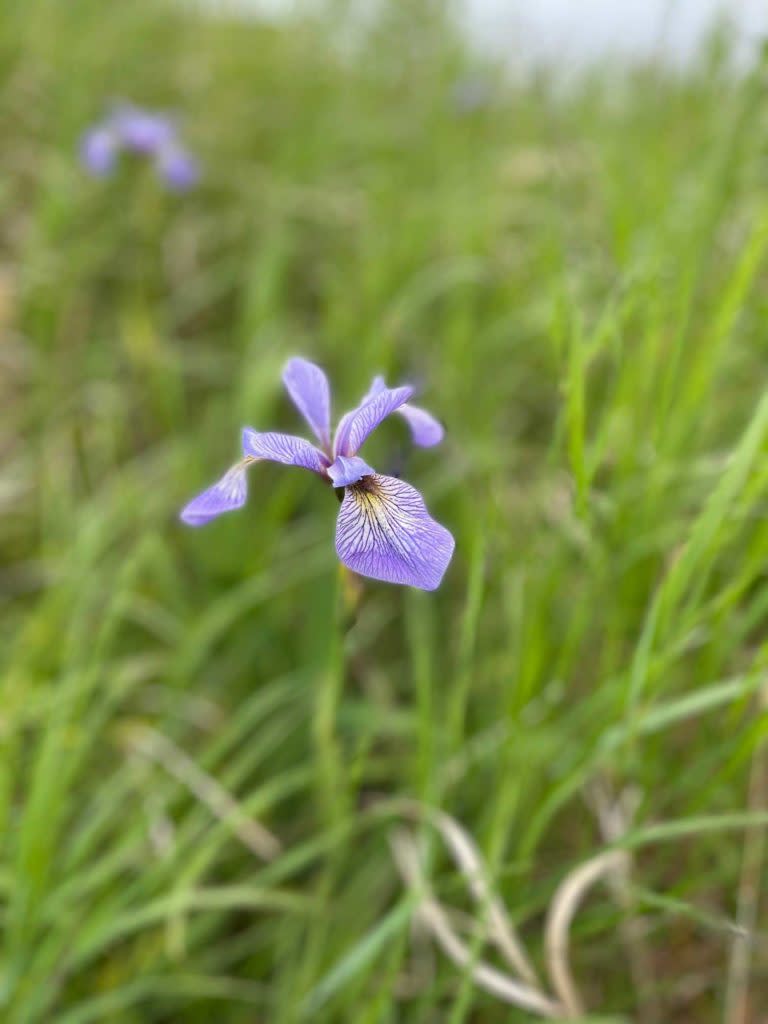 Beautiful wildflowers can be found on Isle Royale. We wished we had brought a book for plant identification as we explored the island.
ISLE ROYALE HISTORY
Similar to the previous point, I wish I had spent some time prior to the trip reading up on Isle Royale's history.  As we hiked and boated around the island, it became evident this wilderness has a long maritime, mining, and recreation history that predates it becoming a national park and before Europeans came to the Americas. Helpful signage along trails and at historical points of interest share the story of the Island.
Rock Harbor Lighthouse includes a small museum with artifacts and interpretive exhibits of life as a late 19th-century lighthouse keeper speaking to the importance of Isle Royale in the Lake Superior shipping trade. We also met a very helpful and knowledgeable park volunteer at Edisen Fishery who explained the history of small, commercial fishing operations that operated prior to park's creation. You can explore the collection of small buildings and artifacts which serve as an interpretive center.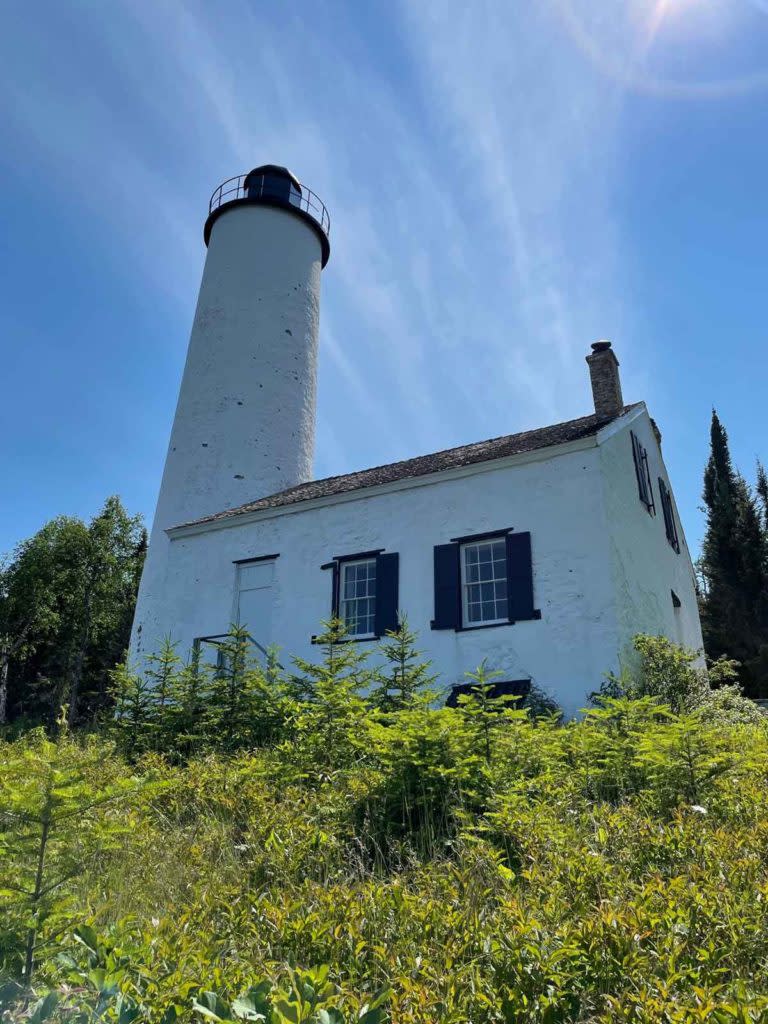 Rock Harbor Lighthouse is one of several historic features of Isle Royale National Park that serve as a testament to the island's maritime legacy.