Cruise the Keweenaw
Located in the heart of Gitche Gummee, you will discover a land of adventure and history. Discover what makes the Keweenaw an ideal destination in Michigan's Upper Peninsula for passengers seeking to become immersed in rich heritage, natural beauty and small-town charm.
Cruise Excursions
Nestled at the heart of the Keweenaw Peninsula, Houghton, Michigan, is a vibrant port city teeming with rich history, awe-inspiring landscapes, and a world-class blend of recreational activities that truly make it a unique port of call for Great Lakes Cruise Ship companies. With our new waterfront pier, your passengers can conveniently disembark directly in downtown Houghton, opening a gateway to an unforgettable Northern Michigan adventure. Below are just some of the cruise-ready experiences within a 45-minute community from Houghton's downtown pier.
Uncover a Deep, Rich History
Houghton and the wider Keweenaw region are treasure troves of historic sites and cultural experiences. Send your passengers on a journey back in time as they explore the remarkable Quincy Mine, a must-visit for any traveler. The mine tour not only dives deep into the copper mining history that made this region famous but also offers an exciting subterranean experience loved by all.
Just across the Keweenaw Waterway lies Hancock, a city boasting a rich Finnish heritage that shines through in its culture, architecture, and local traditions. A visit here is a delightful opportunity for passengers to immerse themselves in a slice of European culture within the heartland of America.
The Keweenaw National Historical Park also serves as a testament to the region's significance during the copper mining boom. Headquartered in Calumet, with over 21 heritage sites scattered across the peninsula, it offers a fascinating glimpse into the past.
Don't miss out on visiting historic Fort Wilkins State Park in Copper Harbor. This heritage site from the late 1800's contains was a function military post intent on keeping law and order in the Keweenaw's vast wilderness and protect vital shipping traffic on Lake Superior. Today, visitors can tour 17 buildings on scenic Lake Fanny Hooe that showcases military life and living conditions in the remote wilderness. Brought to life by "living history" actors during the summer who recreate the day-to-day fort operations, this is treat for history enthusiasts.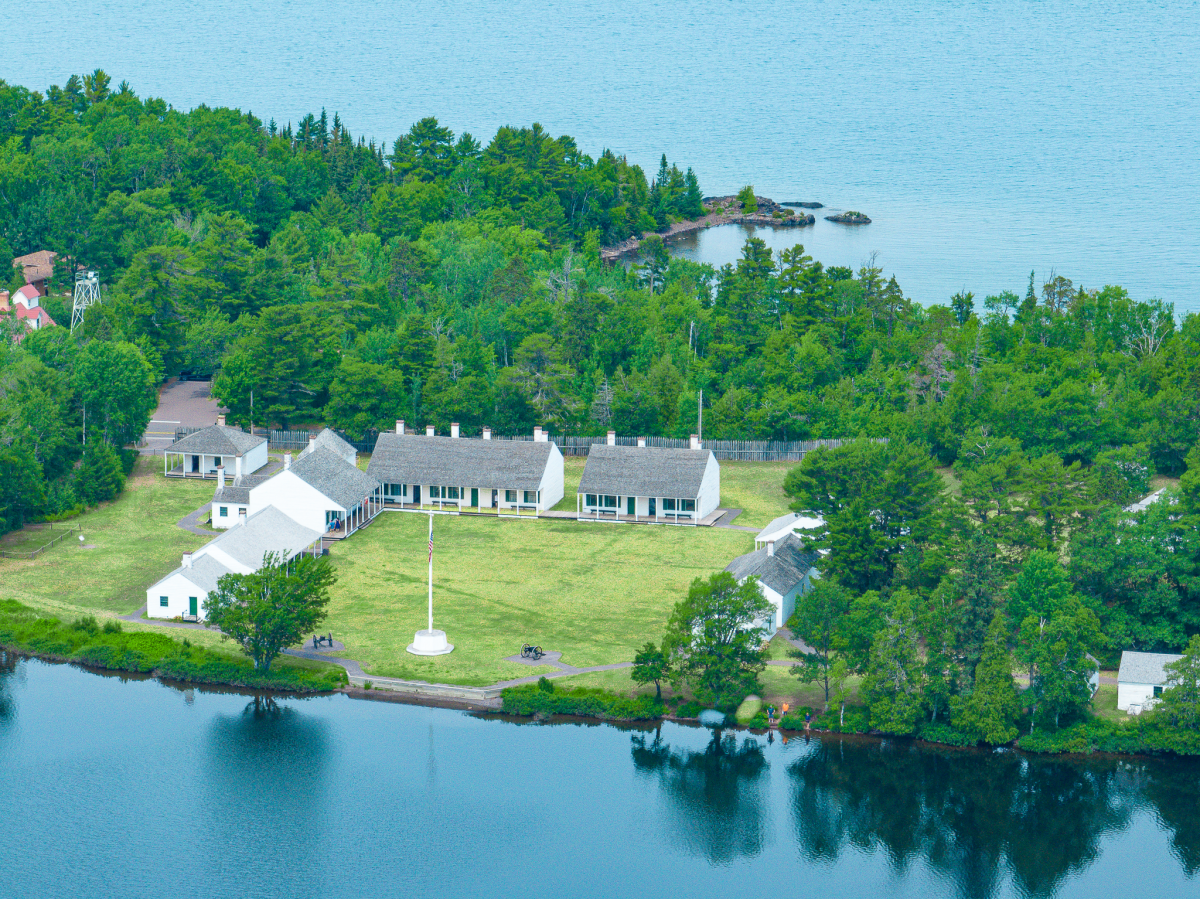 Immerse in Nature's Grandeur and Adventures
The Keweenaw Peninsula isn't just about history; it's an outdoor paradise with a bounty of experiences awaiting your passengers. Our world-class trails, whether for hiking, biking, or paddling, showcase the beauty and diversity of our landscapes, from lush forests to serene waterways.
Boat cruises along the scenic Keweenaw Waterway provide a different perspective of our region's breathtaking natural beauty, giving passengers the chance to spot local wildlife and admire the grandeur of Lake Superior.
For those intrigued by the natural world, a tour of the A.E. Seaman Mineral Museum is a must. Home to the largest public display of minerals from the Great Lakes region and the world's best collection of Michigan minerals, it's a hidden gem that both educates and fascinates.
Explore the Charm of Downtown Houghton
Our charming historic downtown is a hub of activity and culture. Just steps from the waterfront pier, passengers can browse local boutiques, sample regional cuisine in our diverse restaurants, and enjoy the warmth of our welcoming community.
With its unique blend of history, nature, and culture, Houghton is the perfect port of call for Great Lakes Cruise Ship companies, offering a wealth of opportunities for enriching land excursions. We look forward to welcoming you and your passengers to our beautiful corner of the world.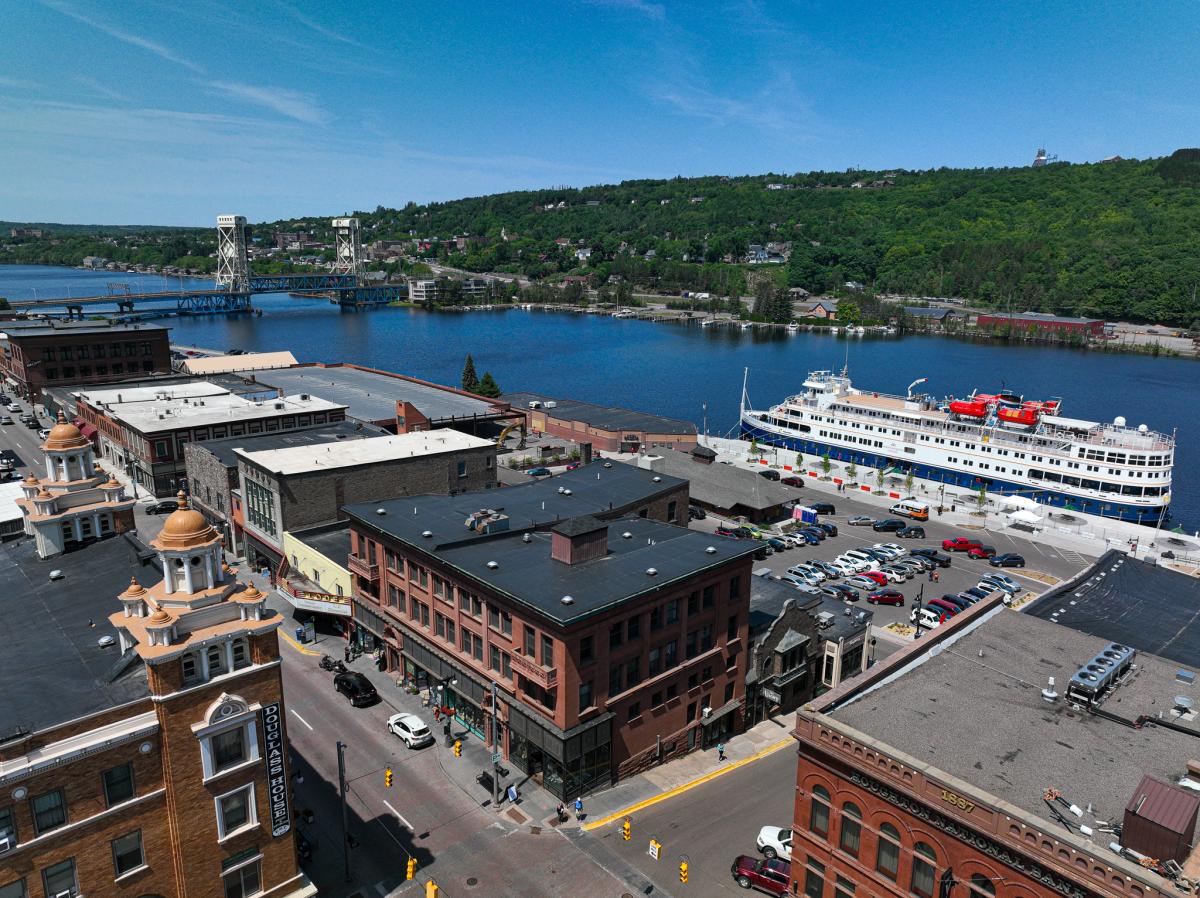 Discover the Wonders of the Night Sky
Just a scenic drive away from Houghton, the Keweenaw Dark Sky Park in Copper Harbor offers a celestial spectacle like no other. Located at the historic Keweenaw Mountain Lodge, this is the first International Dark Sky Park in Michigan's Upper Peninsula. Here, the clear, pollution-free skies provide an unrivaled opportunity for passengers to stargaze and contemplate the cosmos' vast beauty. Whether they're an astronomy enthusiast or simply a lover of natural wonders, the Dark Sky Park promises an awe-inspiring experience under the stars.
Marvel at the Power of Waterfalls
The Keweenaw Peninsula's natural beauty extends beyond the sky. Home to numerous waterfalls, the region is a paradise for those seeking the soothing sights and sounds of cascading water. Each waterfall has its own distinct character, and many are just a short hike away, nestled in serene woodland settings. These natural attractions add another layer to our outdoor adventures, offering picturesque settings for a leisurely picnic or the perfect backdrop for stunning photography.
Immerse in the Performing Arts
The cultural heart of Houghton, the Rozsa Center for the Performing Arts, is the hub of creativity and inspiration. Here, your passengers can indulge in a rich array of performances that showcase local and national talent. From riveting plays and energetic dance shows to soul-stirring musical performances, the Rozsa Center enhances any visit to Houghton with a touch of class and sophistication.
Houghton and the Keweenaw Peninsula offer a cornucopia of experiences that blend history, nature, and culture into a tapestry of unforgettable adventures. As a port of call, we promise a destination that will delight, inspire, and captivate your passengers, making their cruise voyage truly remarkable.
Your Welcome Team
The Keweenaw community is ready to welcome cruise passengers visiting Houghton and surrounding areas. Our partnership includes the City of Houghton, Visit Keweenaw, and the Keweenaw Chamber of Commerce. Need information about local excursions, guest services, port amenities and availability, or security? Reach out to our team, and we're ready to help!