If you're looking to really delve into Copper Country energy, there is no better place to spend your day than in Calumet, Michigan! The Jacobsville sandstone architecture radiates with history and the booming entrepreneurial spirit of the Copper Country days lives on in the thriving small businesses found on Main Street! Immerse in the glow of Keweenaw history, nature, and flavors that can only be found in Calumet.
STROLL MAIN STREET CALUMET
Whether you're rising with the sun, or taking an afternoon stroll, 5th Street is calling. Start at the head of Main Street by majestic St. Anne's (now the home of the Keweenaw Heritage Center)… peering down the alley lined by historic storefronts, one can almost envision a day on the town in 1900. Along the way you'll be treated to shops like Copper World, where you can find anything from Keweenaw-centric merchandise to insider agate-hunting tips! Main Street Calumet has a rich artist community, and here you can peruse galleries featuring a variety of artists and craftspeople. Stop in the Keweenaw Coffee Works and enjoy a house-roasted coffee to put a little pep in your step!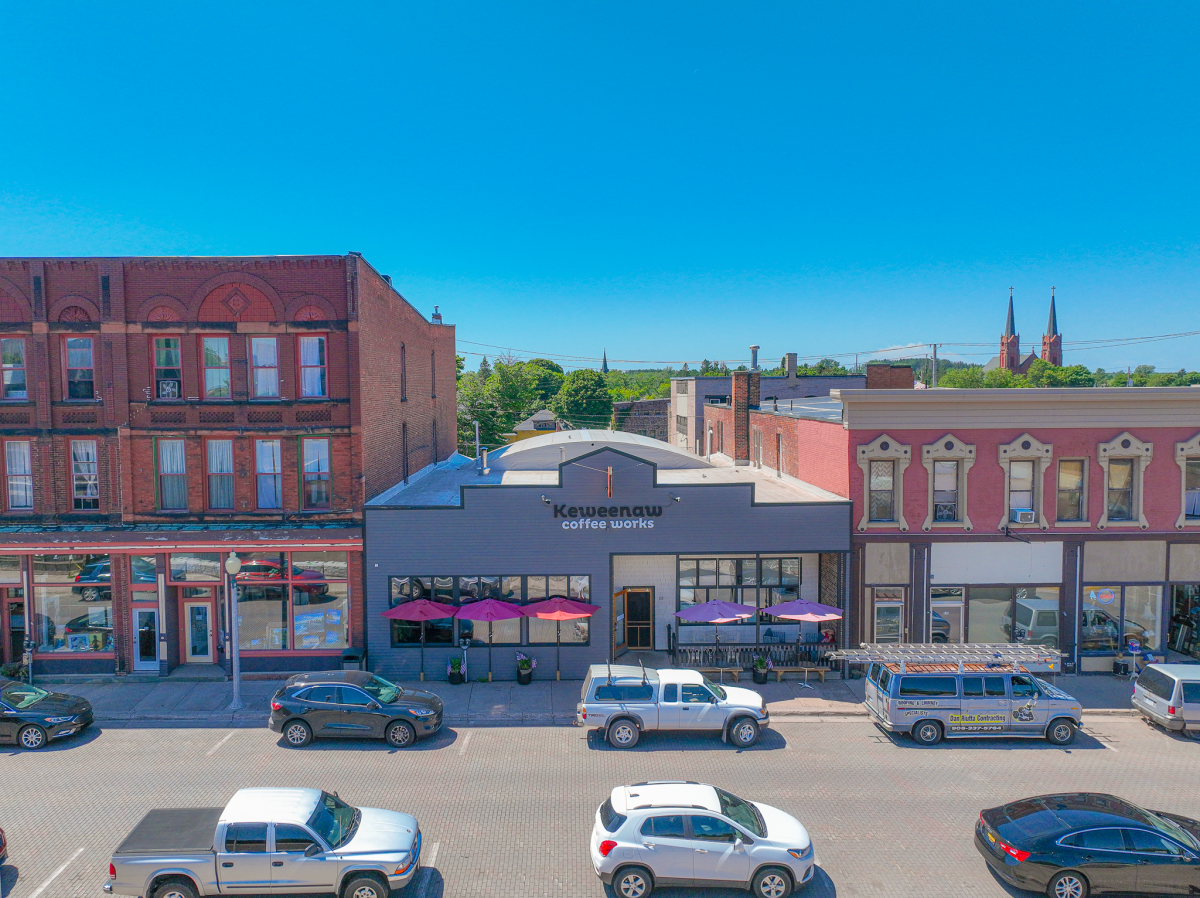 TOUR THE CALUMET THEATER
An icon of the Keweenaw, the Calumet Theater is unmissable. Quite literally – this opera house rises majestically, a grand structure hewn of pink sandstone with a glittering theater marquee. Wednesday through Friday, noon to five, you can cross that storied threshold and take a self-guided tour around the theater. The interior has been lovingly restored and maintained – don't forget to pick your jaw off the floor once you witness the painted shell surrounding the stage. Peruse the history displays throughout the two floors, and don't be alarmed if you meet Madame Helena Modjeska (she's just the longtime resident specter, no worries)!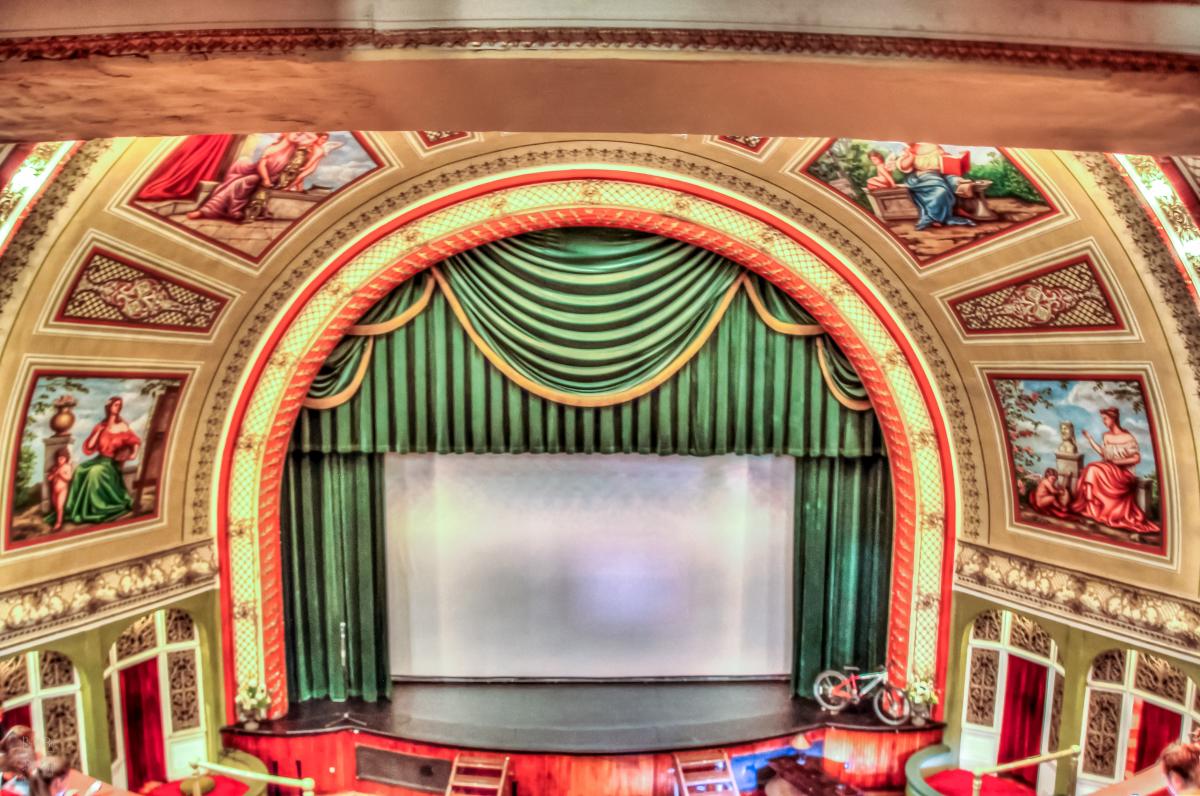 MINE COPPER COUNTRY HISTORY
The mining days shaped the modern-day Keweenaw, and it's impossible not to see and feel that everywhere you go on this great peninsula. Enrich your understanding of Calumet and the Keweenaw by heading to the Keweenaw National Historical Park and Welcoming Center. Here you'll uncover the histories of Copper Country past that still live on in the communities, ruins, and landscapes that have become indelible sights for those that enjoy the Keweenaw. The park also has a robust line up of seasonal activities and itineraries for visitors – be sure to check their calendar when planning your trip!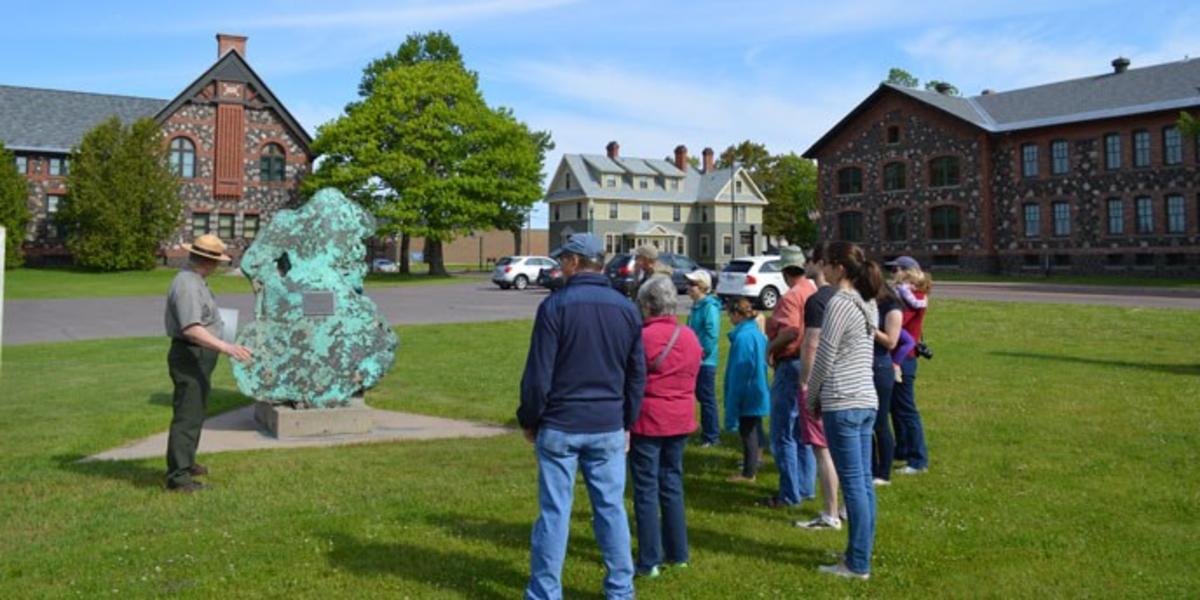 PICNIC AT CALUMET LIONS PARK
If you find yourself out and about on a particularly beautiful Keweenaw day, order your lunch or coffee to go and head to Calumet Lions Park. Here you'll find a place to enjoy fresh air and a place to play some disc golf! Sunshine and birdsong have you feeling a bit more adventurous? Stop at the Frozen Farms meat market and pick up some locally sourced meat to grill out at the park's charcoal grills.
HUNT FOR AGATES AT CALUMET WATERWORKS
Outside the Calumet village limits is a lakeside paradise for rockhounds. The Calumet Waterworks park offers those seeking agates, beach glass, or a dip into Lake Superior the perfect access point. These sandy beaches are rich in rocks, and agate-hunters will often leave with more than a pocketful of treasure. This spot is also an excellent place to watch a Keweenaw sunset. Late night beachgoers have been known to have good Dark Sky viewing as well, thanks to the limited population along this stretch of Lake Superior.
ENJOY THE CALUMET NIGHTLIFE
Calumet has a wealth of historic watering holes to enjoy a nightcap and swap a story or two! Looking for a craft beer? The Michigan House and Red Jacket Brewery is your place. Once the home to the Bosch Brewing tap room, the Red Jacket continues the tradition of tasty brews with their own unique craft beers. The Oatmeal Express is an undeniable favorite! Is a cold drink in a copper mug your speed? Head to Shute's and get one of their famous Moscow Mules. This fantastic bar is absolutely chock full of beauty and history, from their painted murals to the dazzling Tiffany bar! If you're out on a Friday, head to Luigi's for karaoke and belt your heart out. Maybe we'll meet you there for a group rendition of "Sweet Caroline'!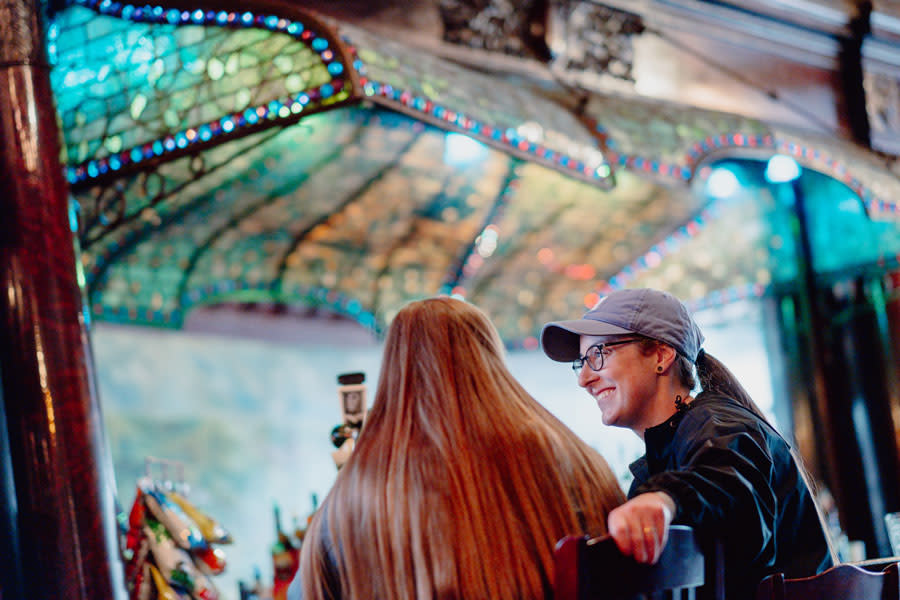 WHERE TO STAY
WHERE TO EAT