Famous for bountiful strawberry harvests and berry-themed celebrations, the charming community of Chassell is a hub of outdoor fun, food, and historical pursuits! For many who make their pilgrimage to the Keweenaw, Chassell is a welcomed sign that they've made it to the promised land. But don't sleep on Chassell because it's an untapped SoKe (South Keweenaw) gem. Here's the scoop to discovering the best of Chassell.
HOW DO I GET TO CHASSELL, MI?
Chassell, MI is located next to the southern end of the Portage Entry on the Southeastern corner of the Keweenaw. This Main Street community conveniently hugs US 41, so travelers won't miss their entrance into Chassell while traveling north on US 41. If you're traveling east from the Houghton area, you have several options – a smooth ride through Michigan Tech on US 41, or a more scenic route on the Chassell-Painesdale Road.
TOP THINGS TO DO IN CHASSELL
CENTENNIAL PARK
Chassell's Centennial Park is a spot you could literally spend all day at. Located along Portage Lake, this park offers many amenities to allow you to take full advantage of the waters. A boat ramp for easy boat launching is located along the waterfront, right next to the pier. The pier is a great spot to stroll and watch the waters of the Portage, or a serene spot to cast a line. Conveniently, across the highway from the park is a bait shop!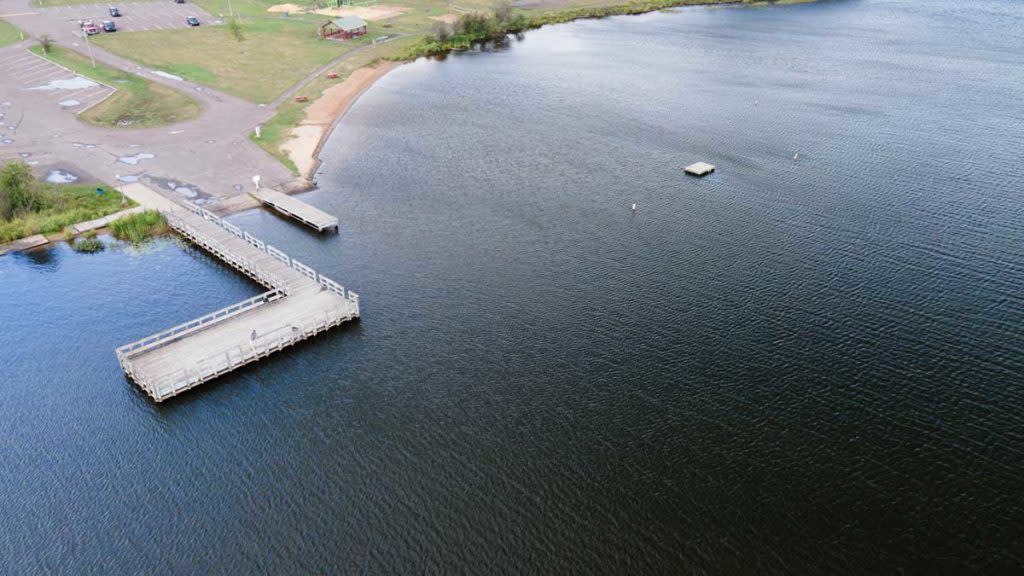 You'll find a sandy beach, boat launch, fishing pier, and more at Centennial Park in Chassell.
Here you'll also find a sandy beach along Portage Lake to catch a few of those occasional warm fall days, horseshoes, and a fantastic play structure for the kids. Pavilions offer a shaded place for your to-go lunch from Lacey's Bistro!
To the right of the largest pavilion, you'll also find one of the only fenced-in dog parks in the Keweenaw! Chassell's Bark Park is a great place to let your pup run off-leash and meet some new furry friends.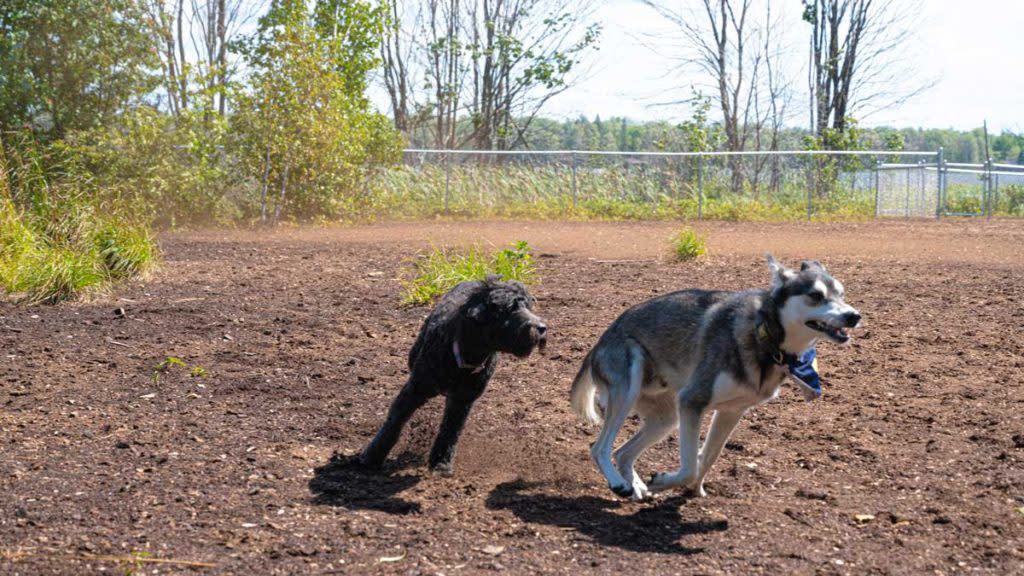 Your pups will love Chassell's dog park near the beach.
BOAT TO JACOBSVILLE & SOUTH PORTAGE ENTRY LIGHTHOUSE
Speaking of Centennial Park's boat ramp – this convenient launch puts you right into the south end of Portage Lake. From here, it's a beautiful southern cruise along the Portage River to the South Entry where the Portage meets Keweenaw Bay. View the South Entry Lighthouse in all its glory as you round to view the Jacobsville sandstone cliffs. Near the lighthouse is White City Beach, a great spot to anchor and play in the sand or cook lunch on their charcoal grills at the park! Push on along the shoreline, you'll be treated to the red, pink, and white stripes of the famous Jacobsville sandstone cliffs. You'll recognize this colorful stone, as many buildings in the Keweenaw (made obvious by their coral hue) are constructed using this "bacon-inspired" stone!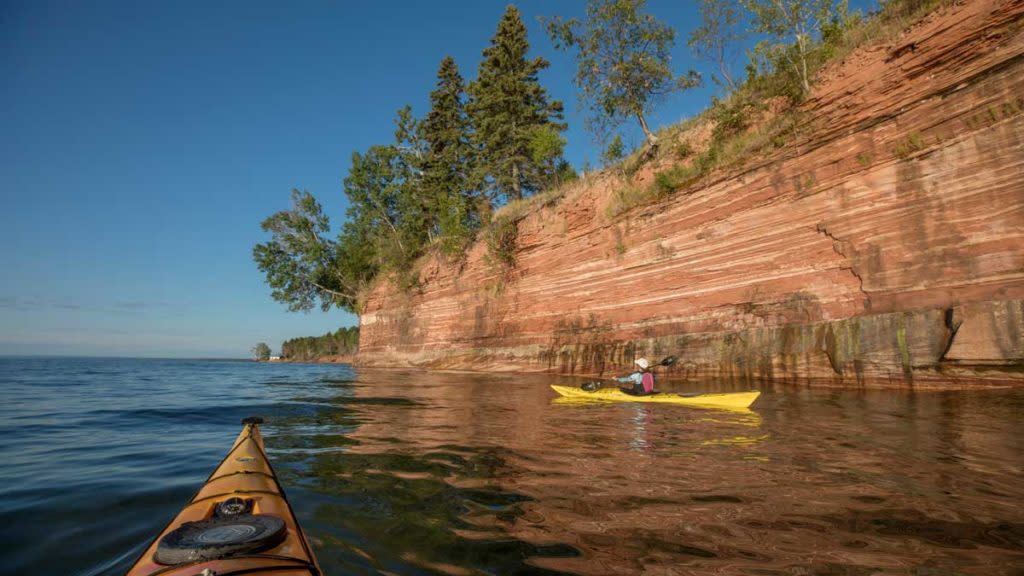 The Jacobsville Sandstone Cliffs are a short boat trip away from Chassell.
STURGEON RIVER SLOUGHS
A mile south of Chassell lies the Sturgeon River Sloughs. The turnoff here features a pavilion for a secluded stop, and an elevated wooden observation deck to view across the wetlands. This area is a birdwatcher's delight, as Canada geese, mallards, wood ducks, black ducks, blue-winged teal, eagles, blue herons, and osprey have been known to nest and visit here. Keen eyes have been known to spot beavers and other water-loving creatures here, so don't forget your binoculars or camera! Near the north side of the sloughs on US 41 is another small boat launch where you can access the waters for deeper observation.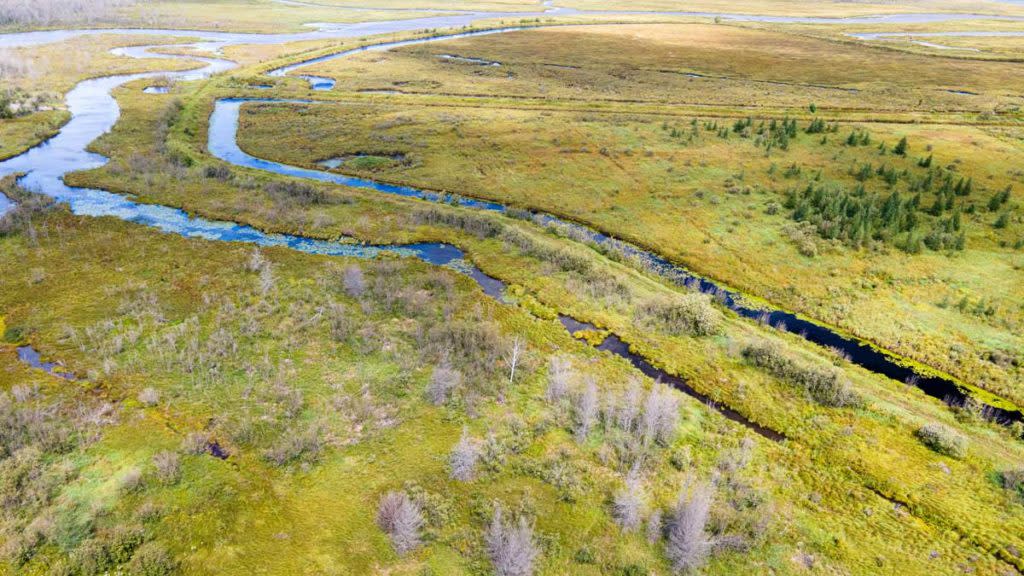 The Sturgeon River Sloughs near Chassell offer excellent opportunities for birdwatching and exploring a wetlands ecosystem.
PADDLE THE STURGEON
The Sturgeon River flows through Chassell and offers visitors an amazing venue to connect and immerse themselves in nature. The Sturgeon is one of the easiest kayaking and paddling rivers around, allowing for all levels of outdoor enthusiasts to take advantage of the waters. Great swimming for those adventurous on warmer autumn days and an abundance of active flora and fauna from the Sloughs can be found on your kayak trip! Resident adventuring conservationist Nathan Miller tells you how to experience it the best way possible!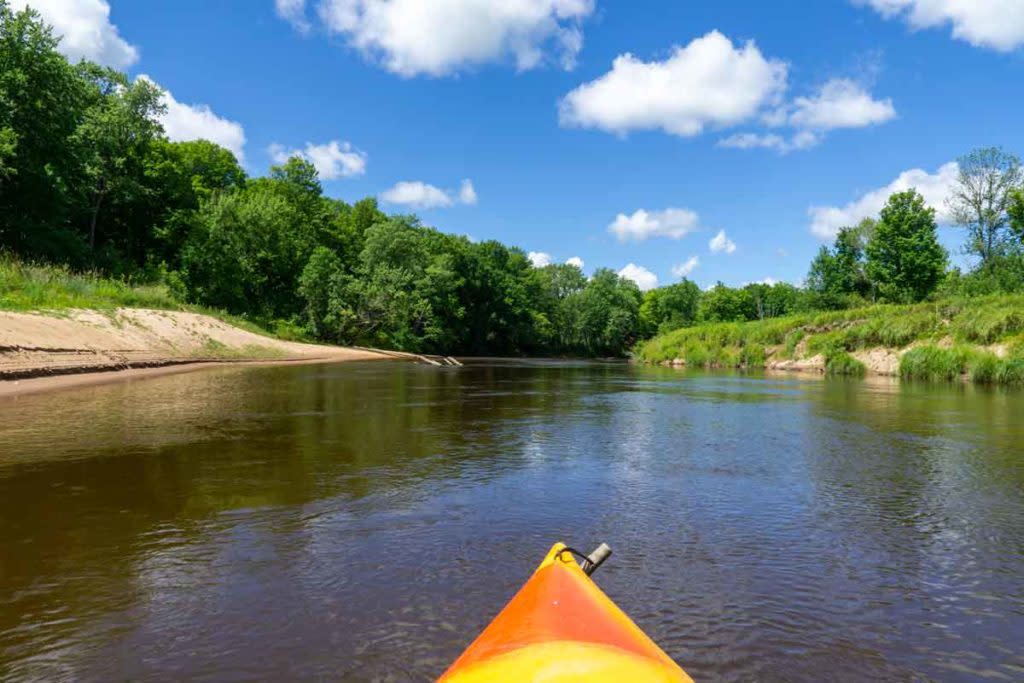 A paddle down the Sturgeon River features several sandbars. Photo credit: Nathan Miller
GITCHE GUMEE OUTFITTERS
Don't worry if you didn't come with your own kayak – Gitche Gumee Outfitters, located in the heart of Chassell, has everything you need to enjoy a day on the Sturgeon. Here you can rent kayaks and paddleboards, and get detailed insight and information about how to enjoy the area.
As an added bonus, Gitche Gumee doesn't just specialize in getting you on the water though- here you can also rent bikes to cruise town, camping equipment, and yard games like giant Jenga and cornhole!
FITNESS TRAILS
Located next to the Chassell Heritage Center is the trailhead for the Chasell Ski, Snowshoe & Fitness Trail. Here you can walk, hike, or bike through Chassell's gorgeous Northwoods. A detailed map of the trails can be found at the trailhead, and a downloadable map can be found on this website.
For those looking for a little more than an autumn stroll through the woods, fitness stations can be found along the trails to get your blood really pumping!
CHASSELL HERITAGE CENTER
Inside the historic elementary school that once served the children of lumbermen, lives the Chassell Heritage Center. Here you can dive deep into Chassell's past with curated exhibits that detail the lumber days and the lives of the Finns and French-Canadians that set the foundation for this community. Vintage fashion exhibits and a literal walk-through Chassell's timeline allows you to envision what life was like in this waterside community!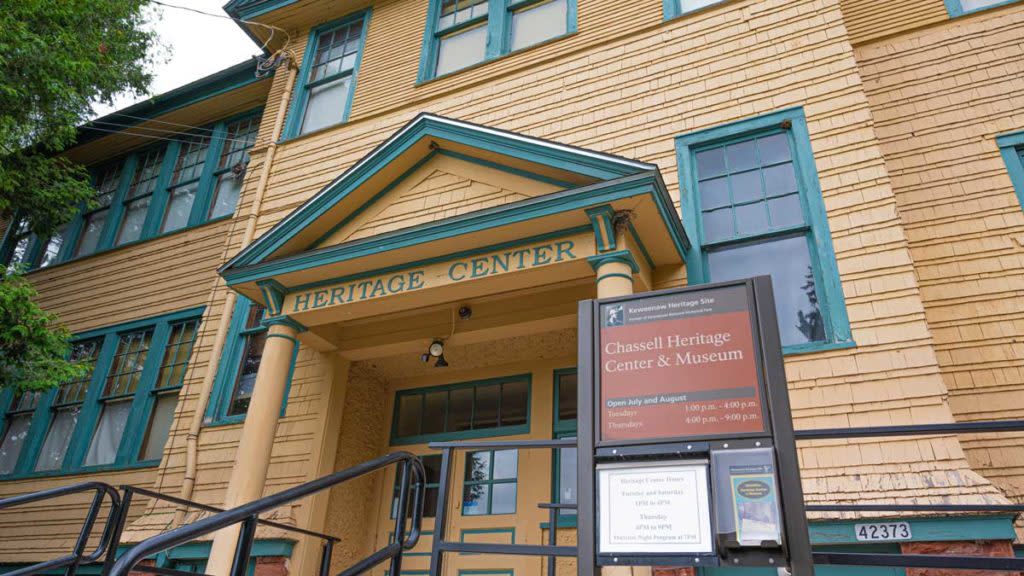 Learn more about Chassell's lumber history at the Heritage Center.