The Keweenaw area features quite a few rivers both big and small.  Most are notable for their waterfalls, including Montreal Falls, Eagle River Falls, and Hungarian Falls (on Dover Creek), just to name a few.  However, most rivers in the Copper Country aren't the best for paddling unless you're a fan of Misery Paddle Tours like I am.  For those who want a more leisurely paddle full of wildlife and beautiful scenery, look no further than the Sturgeon River.
The Sturgeon, south of Houghton, is one of the easiest paddling rivers around.  With trip lengths of a few miles to a couple of days, there's something for everyone.  The most popular journey and the one I'll describe here will take you a long, relaxing afternoon to complete. All told, this trip is 9-10.5 miles long depending on where you take out, and will likely take you about 4-6 hours depending on how many breaks you take and how quickly you paddle.  Budget more time if you are keen to sunbathe on those sandy beaches along the way!  Have fun, pack some snacks, and don't forget your life jacket.
Hop aboard and pack your cooler, we're goin' on a float trip!
WHERE CAN I RENT PADDLING EQUIPMENT?
Need rental gear? Portage Paddle Sports has you covered! Kayaks, canoes, paddleboards, and more... Portage Paddle Sports can deliver rental gear to Chassell area for use on the Sturgeon River. Just give them a call and let them know what you need!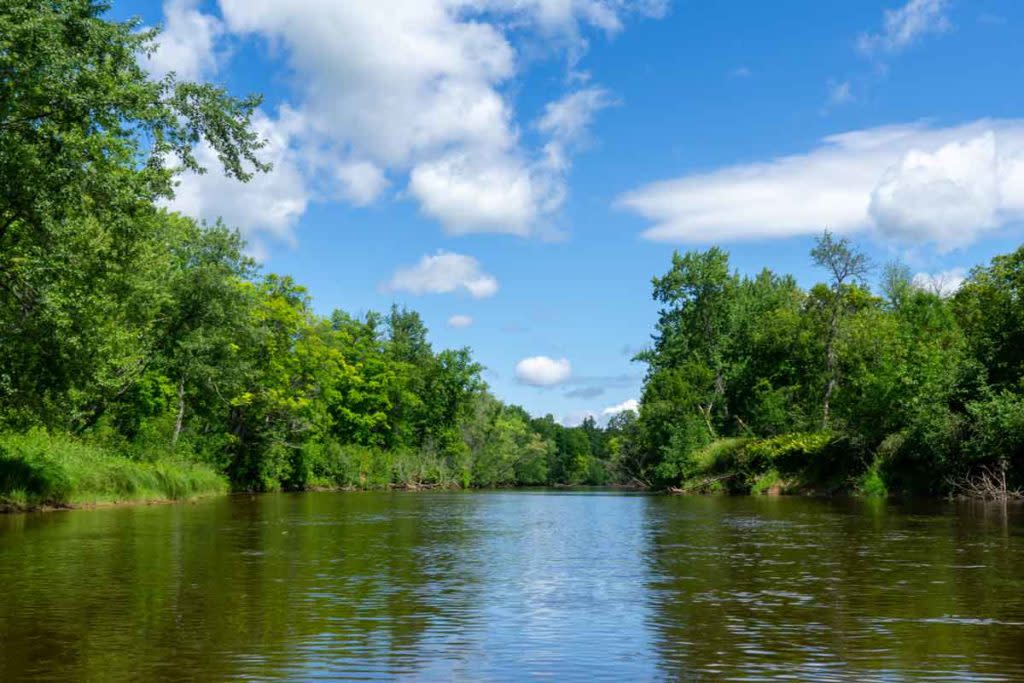 The Sturgeon River offers gentle waters for a leisurely paddle.
OTTER LAKE DAM LAUNCH
Our trip will take us from the Otter Lake Dam downstream to US-41, or Chassell if you prefer to go the full length.  The Otter Lake Dam can be accessed via Myllyla Road, a dead-end spur off of Arnheim Road.  There is plenty of parking and even an outhouse so you're ready to go for your upcoming journey.  The put-in is just down the stairs below the dam.  Don't be surprised if you see a few fishermen practicing their casts in the area!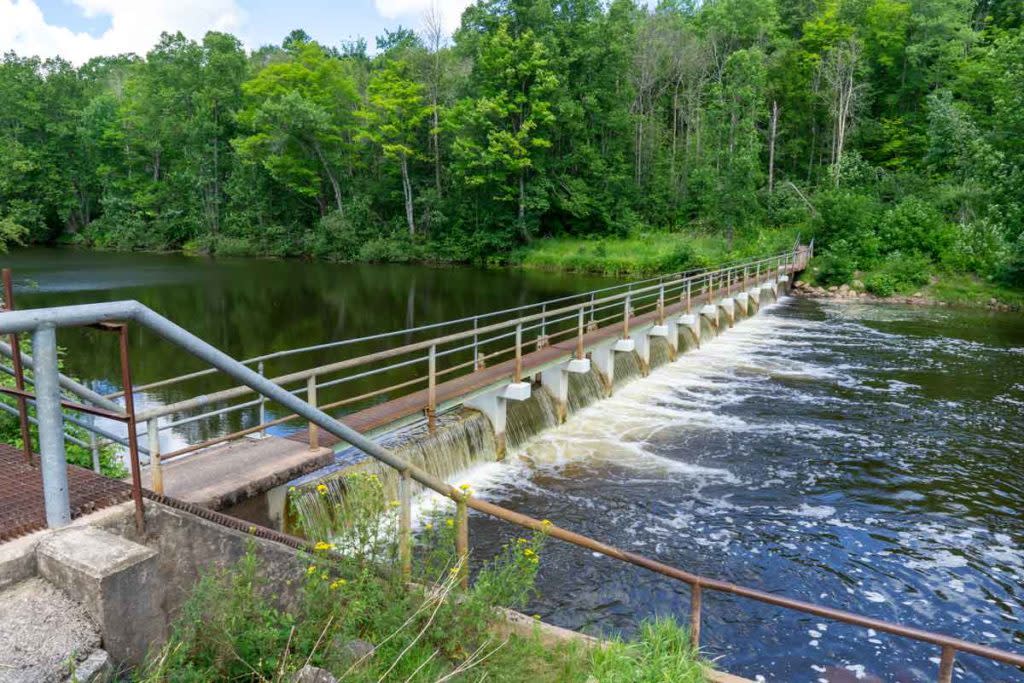 Otter Lake Dam serves as your official "put-in" spot for a paddle down the Sturgeon.
THE STURGEON RIVER
The first quarter-mile of your journey is on the Otter River.  It's a great taste of what's to come: wide waters, low current, and no obstacles.  You'll quickly reach the Sturgeon River and from here the river really opens up.  Hope you brought your sunscreen!
While most rivers in the Keweenaw are fairly fast-paced, the Sturgeon is very slow-moving below Otter Lake.  Over your roughly 9-mile journey, the river only drops a couple of feet in elevation.  That's what makes this river family-friendly and a great option for beginners! Even if you fall out of your canoe or kayak, you won't be swept away by a fast current.  Heck, you can swim upstream to retrieve a lost beach ball if you had to.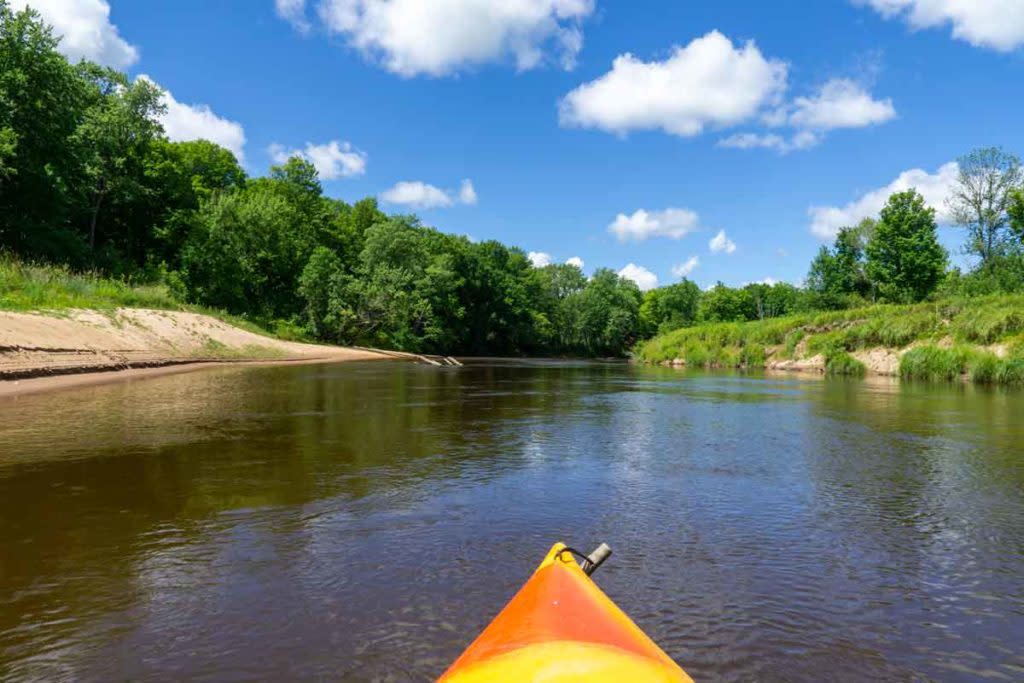 A paddle down the Sturgeon River features several sandbars.
If I were you though, I'd save the swimming for a little further on.  Starting about a third of the way through your journey downstream you'll begin encountering wide sandy beaches along sweeping corners of the river.  These accumulated sands make for perfect picnic spots in the summer sun.  A few of these sandbars have deep pools that are perfect for swimming in on hot days.  It doesn't get much better than that!  Just be sure to pick up your trash before you leave.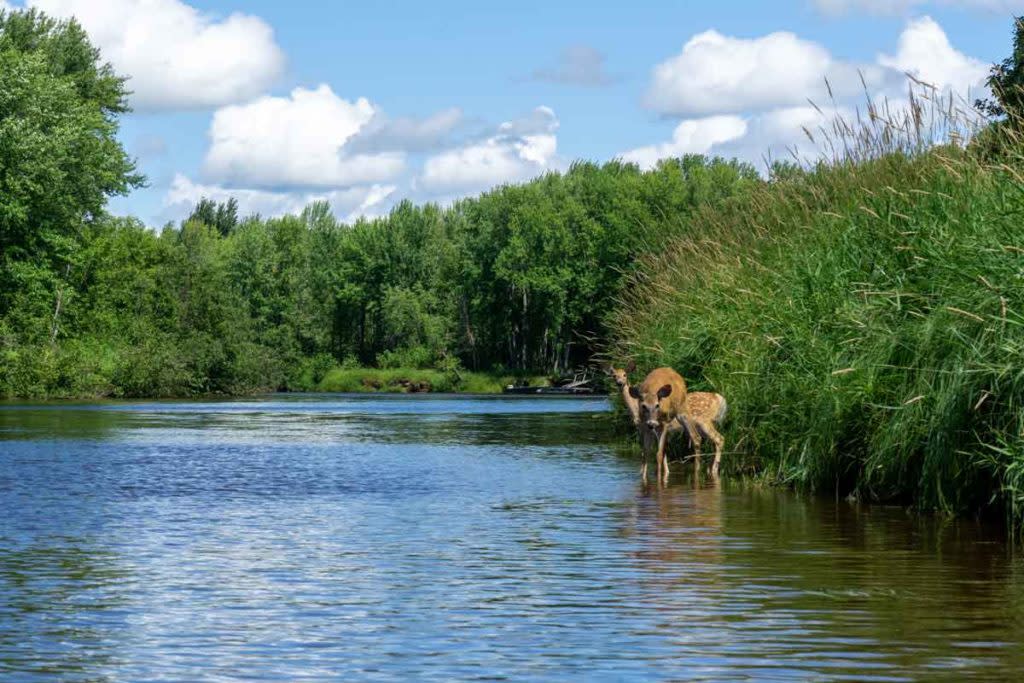 Paddlers often see deer, eagles, and other wildlife along the Sturgeon River.
Wildlife abounds in this area if you've got a keen eye (and quiet kids/dogs).  I've seen families of bald eagles every time I paddle through here, as well as sandhill cranes, kingfishers, otters, muskrats, deer, and even a bear along the shoreline.  Keep an eye out for wildlife and you never know what you'll find.
COMING TO THE END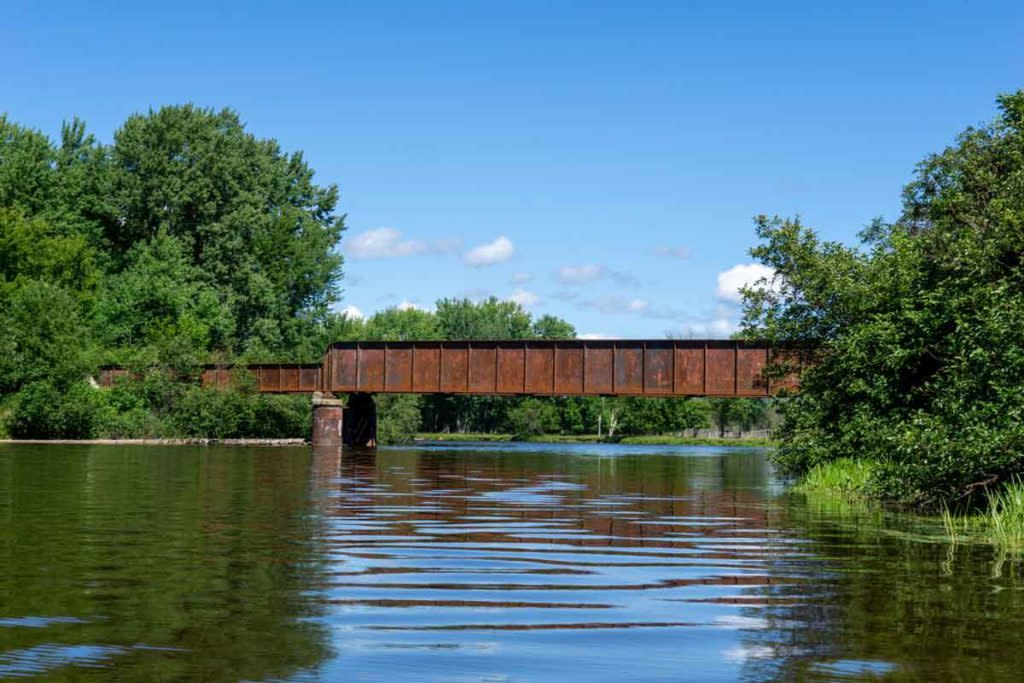 The old rail bridge serves as a landmark indicating the paddle adventure is coming to an end.
Eventually, you'll reach the signal your trip is nearing its end: a hulking old railroad bridge spanning the river.  Not long after the rail bridge, you'll reach US-41.  You've got a few options for taking your paddle craft out in this area.  The easiest is to simply pull your boats out at your vehicle parked near the US-41 bridge on the western side of the river.  Alternately, you can paddle another mile or so downstream until you hit a Y-intersection at 47.0272, -88.5028.  Hang a left onto an old canal (once used to divert logs to the sawmills in Chassell) to reach Pike Bay.  From here it's ⅔ of a mile of open water to reach Chassell Centennial Park.  Probably not ideal if it's windy out though.