The CopperDog 150 is a cornerstone Keweenaw winter event. Mushers and teams from around the world come to historic Calumet to partake in the early-March race in Michigan's northern-most wilderness. The Keweenaw's extensive snowmobile trails, diverse landscapes, and late winter snowfall create the perfect conditions for a sled dog race while many parts of the Midwest are welcoming spring.  
At the CopperDog 150, locals and visitors get an immersive sled dog experience. The race gets you up close and personal with the mushers, dogs, and communities. Before you start planning your own Jack London-inspired mushing adventure,  we've put together a guide for making the most of the CopperDog 150!
WHAT IS COPPERDOG 150?
CopperDog 150 features four sled dog distance races and typically begins the first week of March. Competitors are timed as they race to predetermined checkpoints throughout the Keweenaw. The team with the fastest overall time in their class (e.g. 150, 80, 30, 15) are declared the winner. Each race varies in length, days, route, and dog team size.
COPPERDOG 150
Team Size: 10 dogs
Length: 122 miles
Route: 
Stage 1 | March 3rd: Calumet to Eagle Harbor (46 miles)
Stage 2 | March 4th: Eagle Harbor to Copper Harbor (40 miles)
Stage 3 | March 5th: Copper Harbor to Eagle Harbor (46 miles)
COPPERDOG 80
Team Size: 8 dog
Length: 84.9 miles
Route: 
Stage 1 | Calumet to Eagle Harbor (44.7 miles)
Stage 2 | Eagle Harbor to Copper Harbor (40.2 miles)
COPPER DOG 30
Team Size: 6 dogs
Length: 30.8 miles
Route: 
Stage 1 | Calumet to Eagle Harbor 
COPPER DOG 15
Team Size: 6 dogs
Length: 16 miles
Route: 
Stage 1 | Copper Harbor to Copper Harbor 
GET TO KNOW THE MUSHERS
While attending the race and all its festivities is more than enough fun, having a team to root for makes it even better. It is a race after all! The competitors come from across the Midwest, and even overseas. But you'll find local mushers sprinkled throughout. So take some time to learn a little bit about the humans along for the ride, and you might discover a team near and dear to your heart.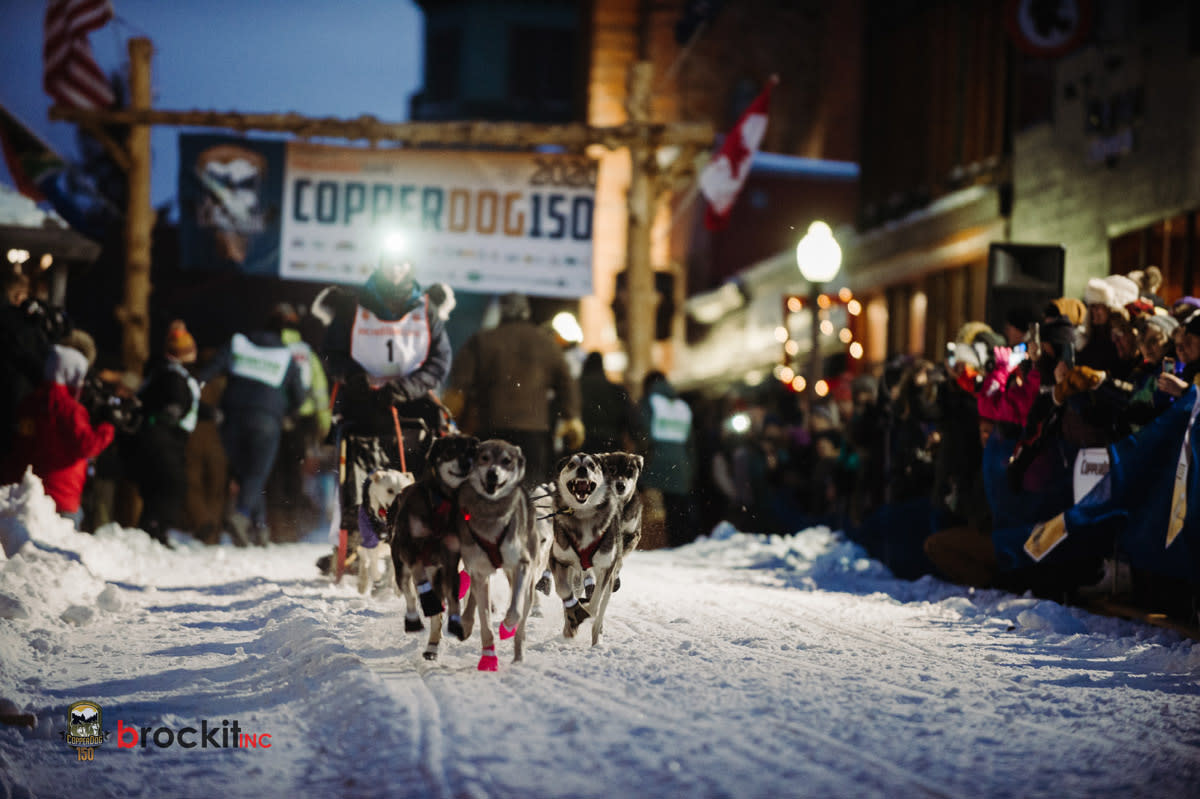 The CopperDog 150 race kickoff is full of excitement as energetic dogs glide across the snow-filled streets of Calumet.
ATTEND RACE KICK-OFF
When: Friday, March 1st
Where: Main Street Calumet
It's no understatement that the first night of the CopperDog 150 is not to be missed. Nestled in the red sandstone Main Street corridors of this historic Calumet, you'll find a bustling pre-race celebration. Restaurants, cafes, and shops will be slinging hot food and drinks to bundled visitors while the mushers prep their sled dog teams. The bonfires and music create a truly celebratory atmosphere. Here you can literally meet the dogs as they get ready — make sure to give them a head scratch for good luck! This event holds an electric energy, and it's an incredible sight to watch the musher and dogs glide through the cheering streets as the snow falls and the lights glitter in the cold night air. 
Note: No dogs or pets of any kind are allowed at any of the race locations, trailside or otherwise. Respect the safety and focus of the sled dogs, and avoid any potentially hazardous situations by leaving Fido at home. Keep an eye on children and toddlers as well, as the dog's excitement for pets could be overwhelming.
Stick around Calumet for a fireworks show from Agassiz Park, and then for those feeling the CopperDog spirit, head further north to follow the mushers along as they compete in Stage 1 of the CopperDog 150 & 80, as well as the CopperDog 30. There will be a bonfire near the finish for people who are spectating or volunteering to warm up. The Community of Eagle Harbor will also host a musher/volunteer potluck to ensure everyone is fueled up and ready for the next stage of the 150 & 80 events.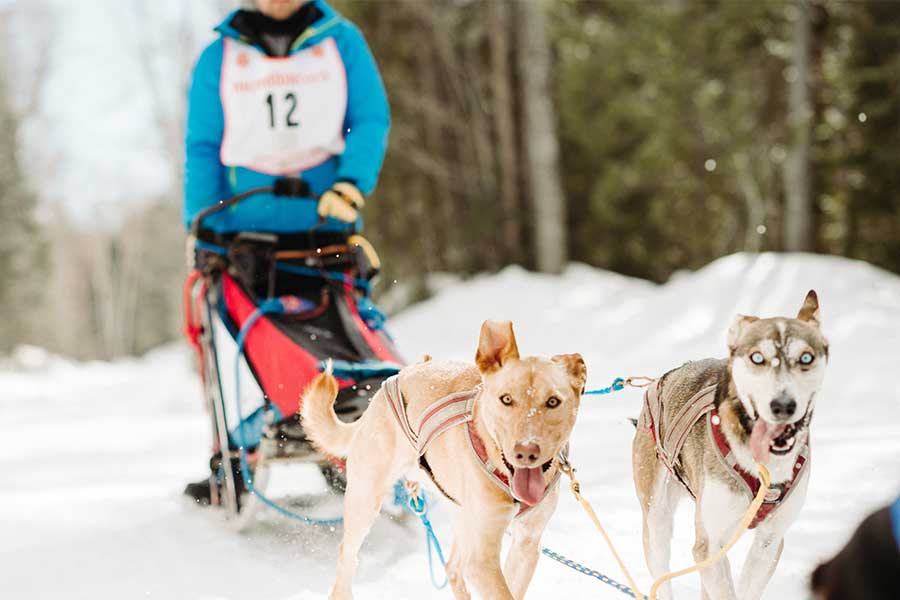 Make sure to seek out trailside views of the race to get the full CopperDog experience!
SEEK TRAILSIDE VIEWS
If you can't get enough of seeing those graceful canine powerhouses tear across the snow, you absolutely cannot skip watching them trailside. The CopperDog courses often cross US-41, and visitors will find easy access to these vantage points. Park alongside US-41 at these very visible, manned crossing points, and walk along the trailside to find a perfect viewing spot. Be sure to stay on the opposite side of the trails from the racers. Here, you can cheer on teams as they glide through the snowy northwoods. Looking to capture some sweet sled dog photos? Opt for a night view where the spotlights on the snow and trees create a dynamic scene. Our tip: head to the turn to Eagle Harbor off US-41 and post up there!
ADVENTURE NORTH… ALL THE WAY NORTH
Traveling up to the restarts allows you to explore the communities that lie on the craggy shores of Lake Superior. The Eagle Harbor Lighthouse is a beautiful sight among the ice, and the icy landscapes all along the shorelines are worth the drive up. 
Dining establishments in both Copper Harbor and Eagle Harbor will be ready with a warm-up for your belly and your spirit, as both food and community will be waiting for you. Hit up the Eagle Harbor Inn for some pizza or Lake Superior whitefish, or ramble on to Copper Harbor's Mariner North for a bite to eat!
DRESS WARM
Night owls flocking on Friday can gather 'round a late-night community bonfire in Eagle Harbor, and on Saturday morning watch the CopperDog restarts. Longtime CopperDog photographer Adam Johnson recommends those coming to the Eagle Harbor restarts dress warmly in protective gear, as the winter winds whipping off Lake Superior are no joke. Bring your ski goggles, scarves, balaclavas, or at least your sunglasses. Even if it's not bright, snow glare and windburn are real, folks.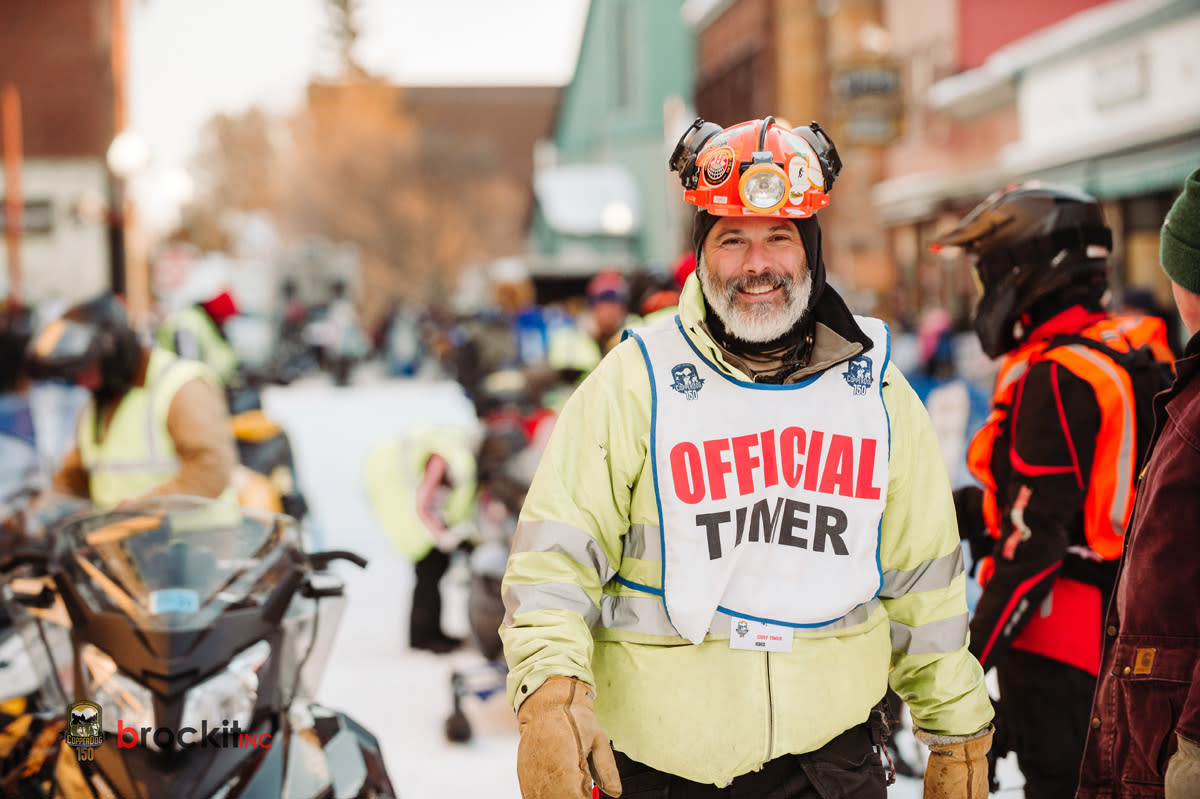 Get involved! CopperDog 150 is a completely volunteer-run race and additional volunteers are always welcomed.
VOLUNTEER FOR COPPERDOG 150
It's one thing to be on the sidelines, but you can create a life-long memory by actually participating in CopperDog. CopperDog has always been completely volunteer-run, and it's not just the loyal Keweenaw locals! If you're traveling specifically to watch the race, you can lend your hand and become a part of it. 
Volunteers act as dog handlers helping guide the teams to race starts, man the crossing points across US-41, and a number of other activities. Volunteer training takes place on Feb. 24th at 5:30PM in Calumet, MI.
EXPERIENCE A SLED DOG RIDE
There's no doubt after experiencing the energy of CopperDog 150, you'll be looking to try a sled dog ride for yourself. The Keweenaw is home to the Otter River Sled Dog Training Center and Wilderness Adventures, an outfit you'll likely have met at Copper Dog! Located in Tapiola, Otter River not only trains dogs in conjunction with the MTU Mushing Club, but also provides sled dog rides and experiences all year. If you've fallen in love with the energetic charisma of the dogs, this is a perfect opportunity to learn more about their rearing and the life of a musher!
For more information on race schedule, vendors, events, and volunteer opportunities visit: Copperdog150.com