Fresh from the Great Lakes, whitefish has become a highly sought after local delicacy. These freshwater fish are found in cold water up to 200 feet deep and are fished for commercially in the region. Aside from pasties, whitefish dinner is one of the most popular regional dishes in Michigan's Upper Peninsula. Luckily for all you whitefish lovers out there, the Keweenaw Peninsula is home to several restaurants that offer whitefish served in a variety of tasty ways.  
Houghton
Joey's Seafood
Located in downtown Houghton, Joey's Seafood offers a mouthwatering baked lemon pepper whitefish dinner. From the ice-cold waters of Lake Superior to your plate, sprinkled with Joey's special citrus spice and fresh lemon juice. This whitefish dinner will be one to remember.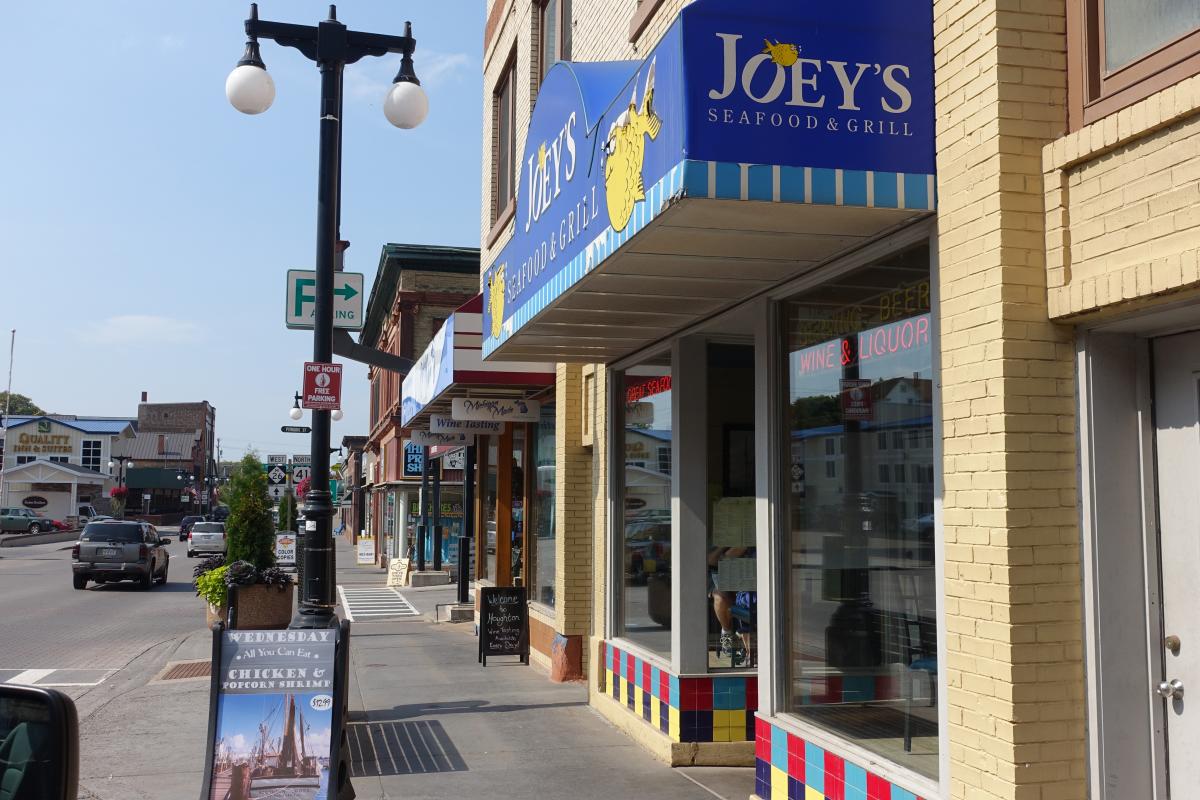 Enjoy fresh Lake Superior whitefish in a fun and festive atmosphere at Joey's Seafood in Houghton.
Not only that, but the restaurant takes you into the depths of the sea with their vibrant decoration and aquariums full of colorful fish.  
Bonfire at the Continental Fire Co. 
Enjoy almond-encrusted whitefish served with a delicious cranberry compound butter when you visit the Bonfire at the Continental Fire Co. This beautiful restaurant is located in Houghton's original firehall. The vibe offers a pleasant mix of old and new, highlighting our regional history, while offering comfortable modern amenities. To top it all off this gorgeous venue also features live music by local musicians, karaoke, dancing, and a full menu of delicious drinks.  
Roy's Pasties & Bakery
During the cold winter months, Roy's Pasties & Bakery serves warm (and tasty) whitefish chowder on Fridays & Saturday's. This is a fan favorite and pairs perfectly with any of their sandwiches or pasties. Located right on the Portage Canal, views from inside the restaurant are hard to beat. This is also the place to go for a donut or a cup of coffee before you head out for your day time adventures in the Keweenaw.  
Mine Shaft & Rock House 
Bowling, beer, whitefish, and more! The Rock House Grille is a great spot to catch a football game and have a beer while enjoying freshly caught Lake Superior Whitefish. The whitefish dinner here is a classic – baked and served with tartar sauce and lemon garnish. The restaurant is part of a larger complex that also offers bowling, an arcade, summertime mini golf, and a SportsPlex. This is a family-friendly destination that is great for an afternoon of fun.  
The Library 
Home of Copper Country Brewing, The Library is not your typical "library." In fact, it's not a library at all. It's a restaurant and brewery located in the heart of downtown Houghton with seating options that allow views of Houghton's beautiful waterfront. Step inside and enjoy library-themed décor as you sip on a handcrafted brew and enjoy The Library's Lake Superior whitefish dinner. The whitefish is served baked or blackened with ancho or garlic butter.  
The Copper Range Depot
Located along Houghton's waterfront, the Copper Range Depot is one of Houghton's newest restaurants and offers locally caught whitefish cooked your way. Enjoy it pan fried with white wine, broiled with tarragon-lemon compound butter, or blackened with white strawberry balsamic compote.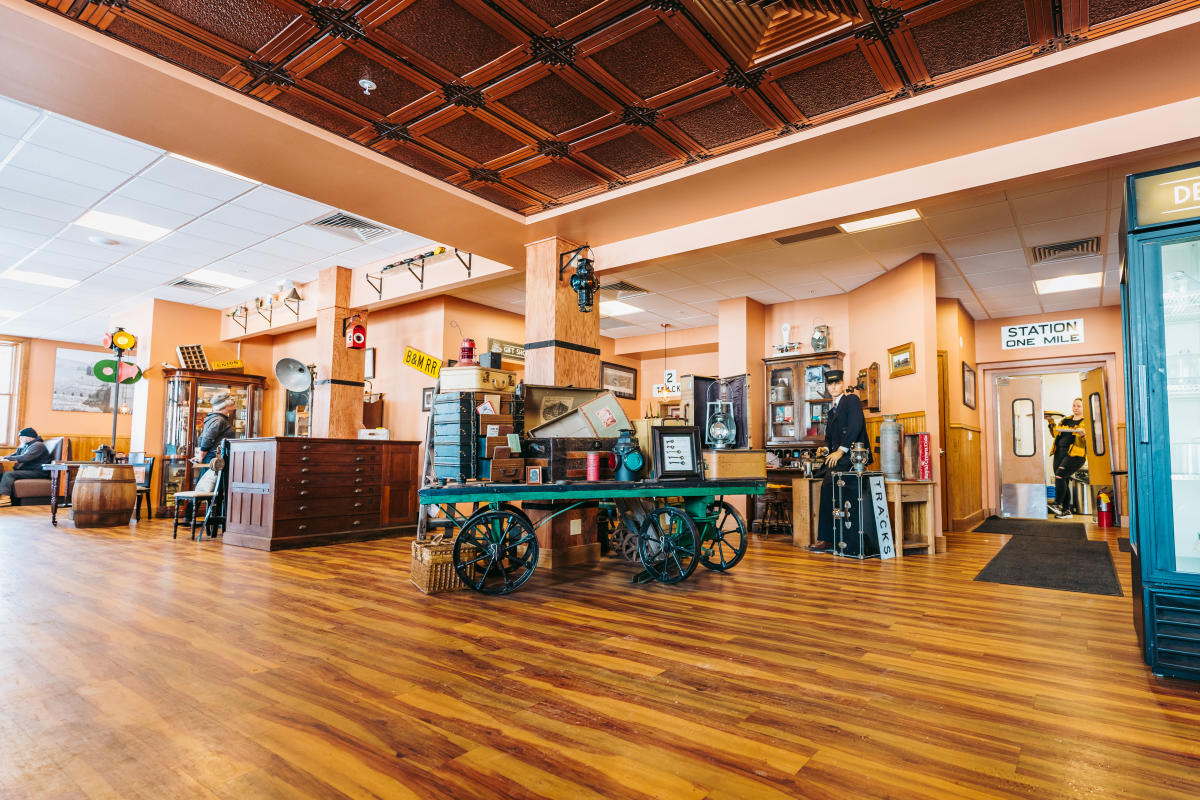 Step back in time and learn about rail history in the Keweenaw when you dine at the Copper Range Depot.
Housed in Houghton's old railroad depot, the restaurant features plenty of train memorabilia and historical insight into the Copper Range Railroad.  
Armando's Restaurant & Douglass House Saloon
From the depths of the Big Lake to your plate. At Armando's you can expect your Lake Superior whitefish to be seasoned and grilled to perfection. Delicious whitefish served with garlic toast and a choice of two different sides. Make sure to pop on over to the Douglass House Saloon, a historic 1890's saloon, and enjoy a pickled egg and drink before you go.
Hancock
Gino's
Tucked away in downtown Hancock you will find Gino's - a charming family-owned and operated restaurant that is devoted to a simple menu, kind service, and classic Italian comfort food. One of their popular non-Italian entrees is their baked whitefish with fries.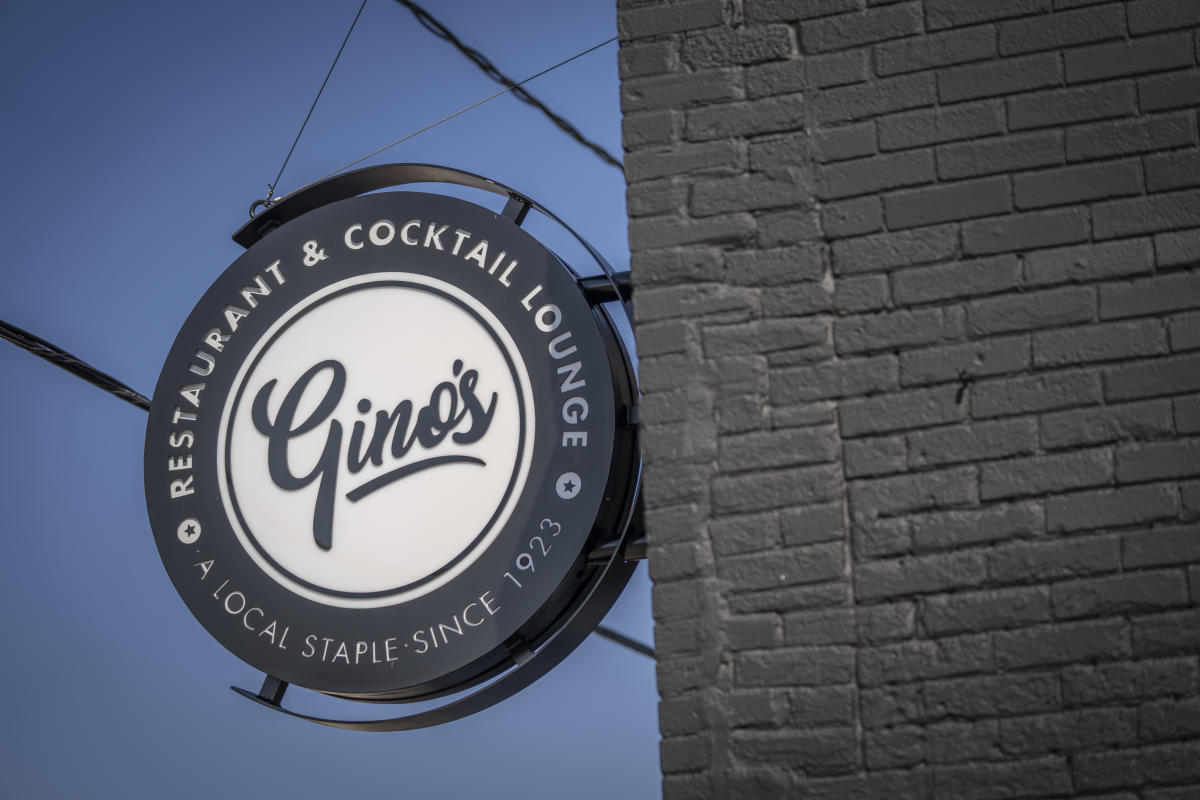 Enjoy whitefish dinner and a cozy atmosphere in Gino's family-owned restaurant in Hancock, MI.
Some of the things we like most about Gino's include the comfortable atmosphere, outdoor patio, and its close proximity to the ATV/ snowmobile trail. Stop on in this neighborhood favorite and enjoy a friendly conversation with the locals at the bar.  
Four Suns Fish and Chips
Resting at the top of Quincy Hill in Hancock, Four Suns Fish & Chips offers dining with a view of the Quincy Mine Hoist. This seasonal restaurant offers all things fish in a fun drive-in style format. If you prefer, you can walk inside their open-air dining area and eat there. Four Suns offers whitefish sandwiches, tacos, tostadas, and baskets. Whitefish baskets come in a few different varieties – baked, or deep fried, Singapore chili baked, or parmesan-crusted baked whitefish. Make sure to try this hot spot between June and mid-October.  
Dollar Bay
Quincy's
Quincy's, a family-friendly restaurant just outside Hancock, offers a warm and inviting environment with tons of local memorabilia. Step back in time as you browse the showcases of old mining artifacts and imagine life during the depths of Keweenaw winters when bear claw snowshoes or wooden skis were popular modes of transportation. Of course, let's not forget the whitefish. Quincy's Lake Superior whitefish can be ordered off the dinner menu and comes in a few different styles. The first option is to try it baked with lemon peppers or Cajun seasonings. Alternatively, you could order the fresh whitefish almondine – baked to perfection with seasoned crumb breading and almonds.  
Lake Linden
Loading Zone II
A classic Lake Linden Bar & Grill, the Loading Zone II offers an expansive menu full of delicious food in the heart of Lake Linden. If you're looking for a place to watch a football game, this is the place! A house divided by Green Bay Packers and the Detroit Lions, you can expect a fun time watching the game! The Loading offers their whitefish on fish fry Fridays, but other fish options are available throughout the week. 
Dreamland Restaurant & Bar
Whether you get here by ATV, snowmobile, boat, or car... Dreamland Restaurant & Bar has always been a favorite for those looking for an adventure along the way. Dreamland's whitefish comes broiled or deep-fried with your choice of two sides.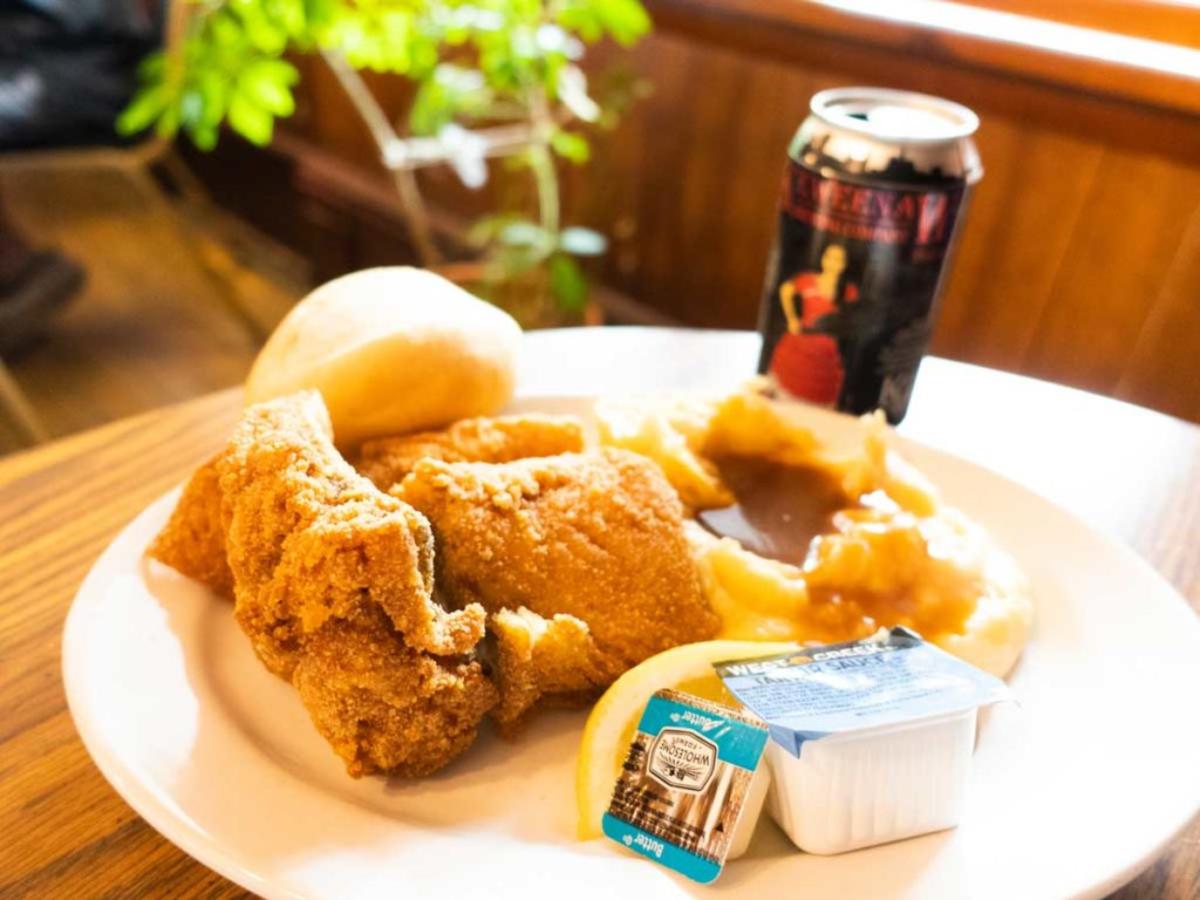 Head to Dreamland Restaurant Bar for fish fry Friday! 
They also offer a fresh catch sandwich with your choice of deep-fried or broiled whitefish, lettuce, tomato, and either may or tartar sauce topping. The antique back bar features beautiful woodwork detailing, and the staff is always friendly and kind!  
Calumet & Calumet Township
The Hut
A Calumet icon since 1952, The Hut is a family style restaurant just north of Calumet on US-41. The unique architecture of this building makes the experience a vibe.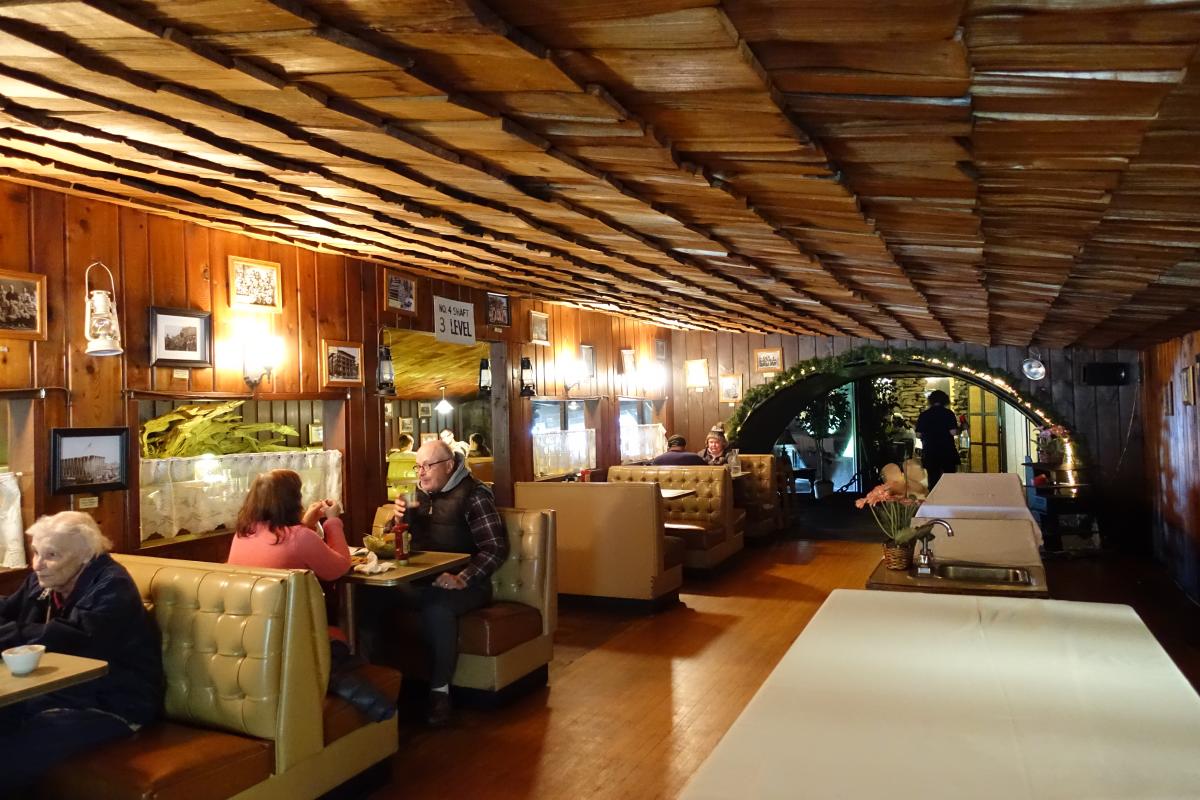 The interior of The Hut is very warm and cozy. 
Expect a hobbit-home feel with comfortable booths and tables, as well as private rooms perfect for special occasions. The rocky interior and cedar shake along the domed ceiling make this a unique choice on your Keweenaw vacation. Here, you can enjoy a beautiful filet of fresh whitefish, broiled to mouthwatering perfection.  
Mohawk
Glacia
A Mohawk area favorite, Glacia is a fantastic restaurant on US-41 that offers a wide variety of menu items, including its whitefish dinner. At Glacia, you can enjoy this fresh, mild Lake Superior fish either broiled or fried, and it will come seasoned lightly with a tasty dry rub. The restaurant also offers craft cocktails and beer to enjoy with dinner. Sit at the bar or grab a table, this fan-favorite will surely not disappoint.
Eagle River
The Fitzgerald's Restaurant
Located on Lake Superior in Eagle River, The Fitzgerald's offers some of the best views and fine dining. Enjoy craft beer, fine whiskey, real smokehouse barbeque, and of course, a fantastic whitefish dinner. The whitefish at this restaurant is grilled with tarragon butter, then served with smashed potatoes and broccolini. This small restaurant offers a cozy wooden interior and great sunset views over Lake Superior. Reservations are recommended (and even required during the busy summer months), so head to https://www.fitzgeralds-mi.com/ to book your table.  
Copper Harbor
Mariner North
After a long scenic drive to Copper Harbor or a day full of adventure in the woods, you are bound to get hungry! Head to the Mariner North, the only restaurant open year-round in the harbor, and enjoy the cozy log cabin vibes of this bar and grill. The Mariner North has a few different whitefish options! Ask for the Seafarer sandwich, and be treated to a delicious Lake Superior whitefish filet dipped in beer batter then deep-fried to perfection. This fish is served on a ciabatta bun with lettuce, tomato, and tartar sauce. How does soup and a sandwich sound? Double up on the fish with the Great Lakes Chowder. This thick cream chowder is loaded with lots of vegetables and a generous combination of trout and whitefish. 
Harbor Haus
Waterfront dining at its finest. The Harbor Haus is a seasonal restaurant that offers a vast dining menu featuring fresh local fish, seafood, steaks, and German/ Austrian flavors. The Harbor Haus has a few styles of whitefish on their menu. Enjoy the Tempura whitefish appetizer with Asian slaw and daikon and poké sauce or choose from one of the whitefish appetizers. The first entrée includes planked style whitefish – smoked bacon wrapped and grilled with a honey orange ginger glaze. Alternatively, try it "griddle" seared with beurre monté, capers and lemon, or as part of their seafood variety platter. The Harbor Haus also participates in the Michigan Catch & Cook program and will cook and serve the fish you caught with participating charter businesses.  
Buy Fresh Fish to Take Home
Didn't get enough whitefish while you were visiting? Consider packing your cooler with fresh fish to take home!  
Peterson's Fish Market
Located in Hancock, MI, Peterson's Fish Market has been in operation since 1992. This family-owned business operates two commercial fishing boats and serves takeout food at their restaurant, Four Suns Fish and Chips, during the summer months.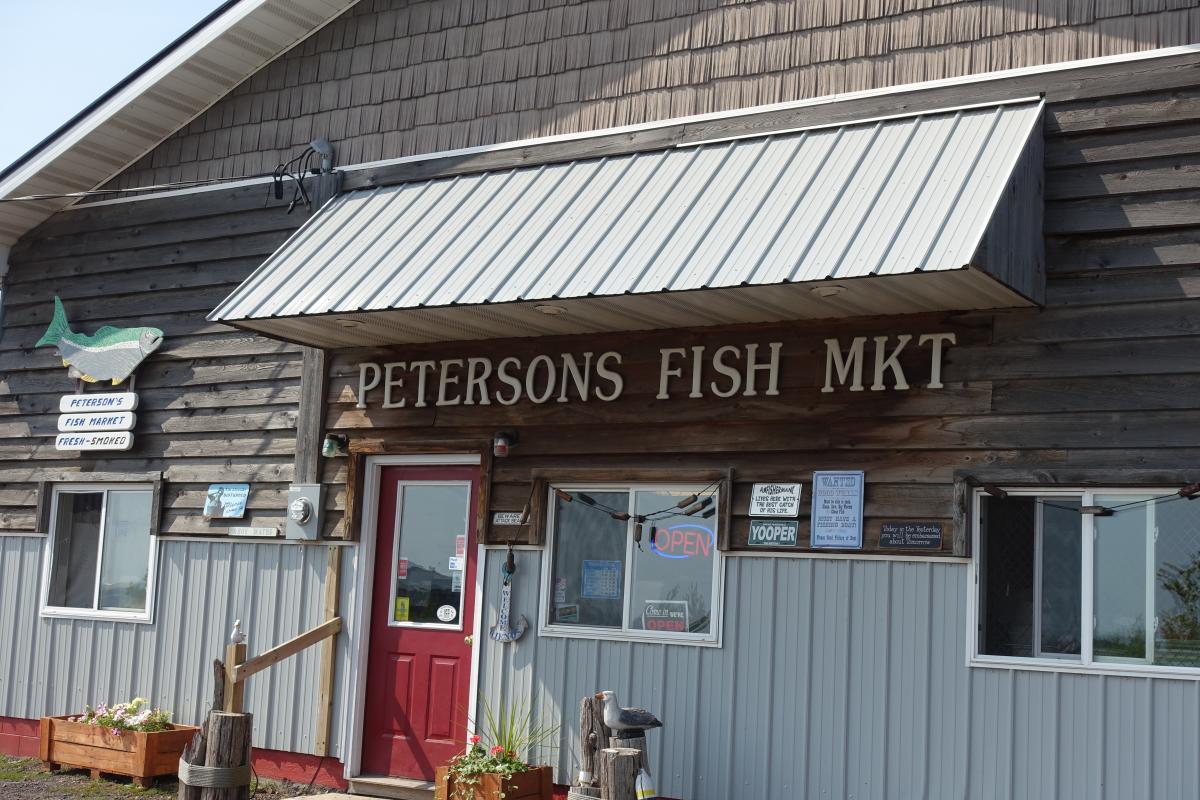 Located near the Quincy Mine, Peterson's Fish Market offers fresh fish year-round.
The fish market is open year-round and offers a nice selection of fresh fish products. From whitefish, salmon, and trout fillets, to smoked fish and mouthwatering whitefish dips. This is a great place to shop for Lake Superior fish. Not only that, but Peterson's will ship their products to anywhere in the United States!  
Keweenaw Fish Co.  
Based out of Calumet, MI, Keweenaw Fish Company sources fresh local fish from commercial fisherman operating on Lake Superior. This fish is then sold at local shops, like the Mohawk Superette and Frozen Farms.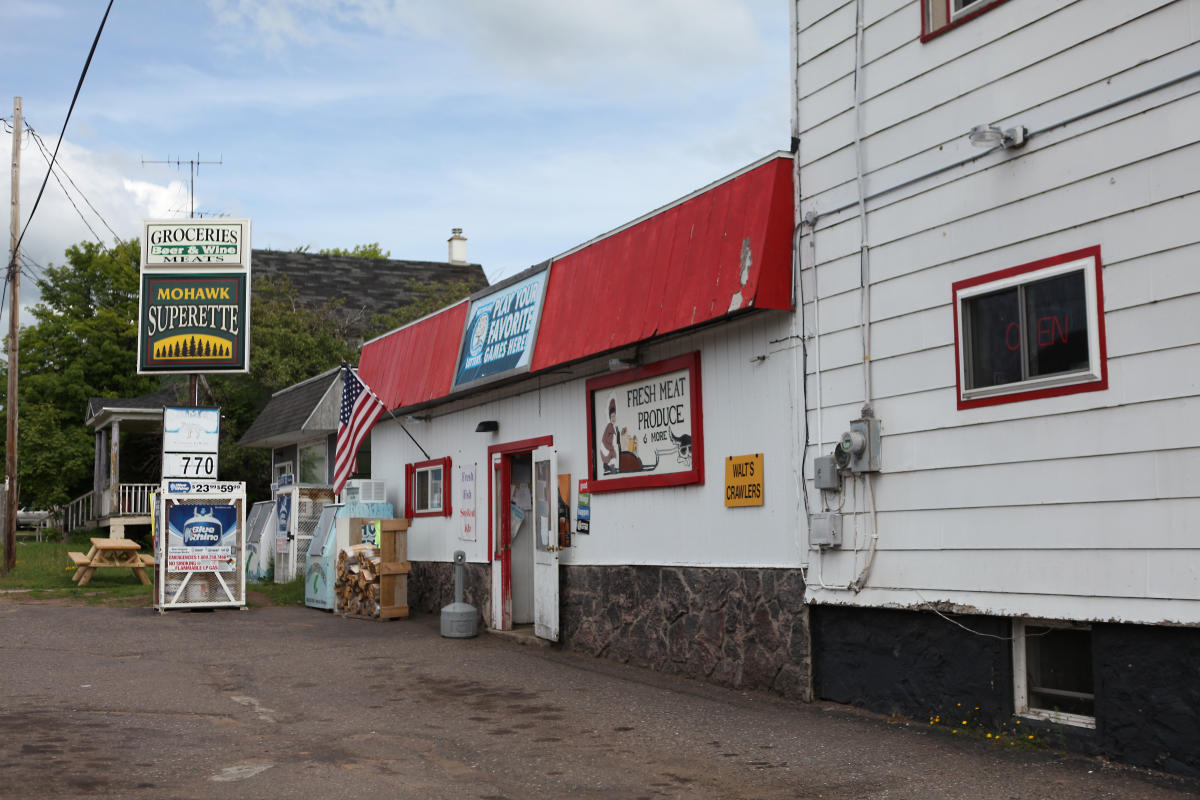 Get fresh fish to take home. Places like Mohawk Superette sell fresh fish from Keweenaw Fish Co.
If you love smoked fish, then you must try their smoked trout or whitefish. You can find it at the Mohawk Superette or enjoy it as a snack at Shute's 1890's Saloon. Fish orders can be made in advance for local pickup through their website. 
Catch Your Own Fish
There's nothing more rewarding than catching your own meal. The Keweenaw is home to many professional fishing guides that will take you out onto Lake Superior. They are equipped with all the knowledge and tools necessary to hook the big ones! Some guides will even fillet your fish for you to take home. Find a charter fishing guide here.