After a thrilling day of exploring the Keweenaw Peninsula, there's nothing quite like the inviting warmth of a cozy drinking spot to unwind. Here are our top Keweenaw bars and breweries to enjoy during the cold weather months. Picture yourself wrapped in a soft flannel, sipping on a cold beer or comfortable cocktail as the temperatures outside begin to drop. Always remember to drink responsibly and never drive under the influence of alcohol.
Shute's Saloon: A Hidden Gem in Calumet
Step into a great hideout at Shute's Saloon in Calumet. Nestled off 6th Street next to the historic Calumet Theatre, Shute's beckons you into its welcoming embrace. Take in the captivating mural on the back wall and marvel at the original woodworking while you sip on your drink. Enjoy old school, lifted wooden bar chairs and a Brunswick stained-glass canopy that overhangs the back bar.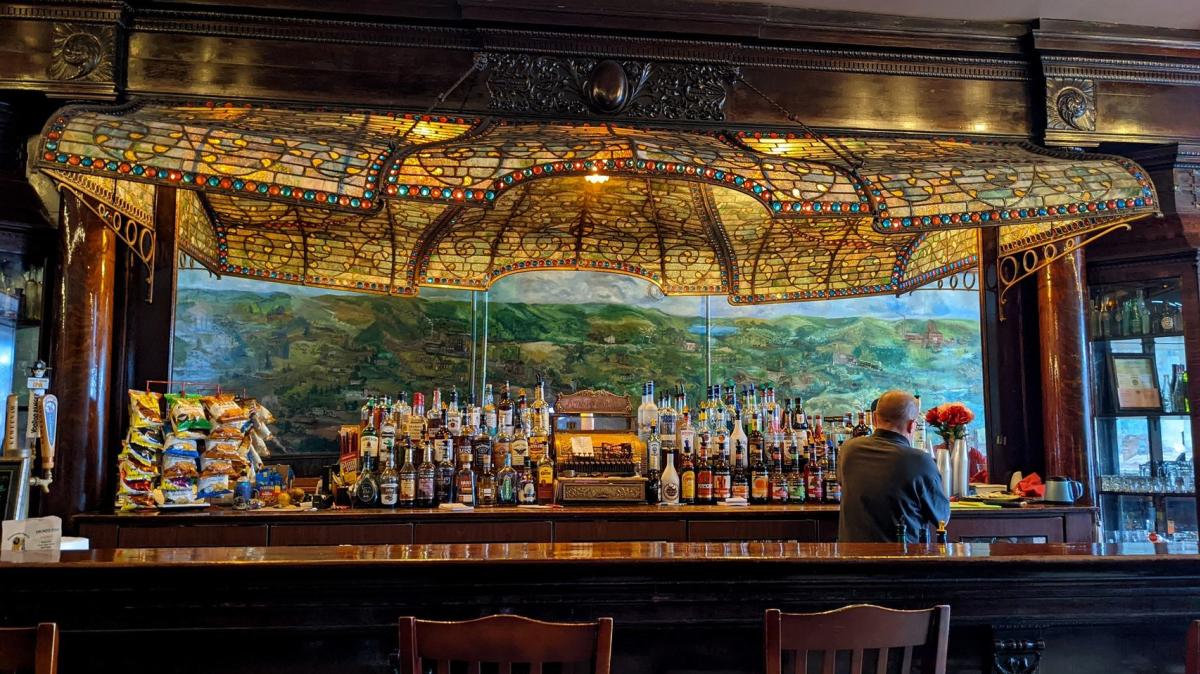 Shute' 1890's Saloon features incredible woodworking and a Brunswick stained glass canopy above the back bar.
Mingle with locals, cheering your heart and introducing you to new friendly faces. Shute's is a staple watering hole in the Keweenaw. Golden lights glow over the inside – illuminating your surroundings. If you're looking to spend time in Calumet, make yourself cozy at Shute's.
Bill's B&B Bar: Your Cozy Retreat in Houghton
Boasting Portage Canal views and sitting just outside Houghton's "Yooper Loop" – Bill's B&B Bar will make you feel at home. Pick a cozy seat at this locally loved bar and chat with locals to get comfortable with town and map out your next move. Start your morning right with a scrumptious Bloody Mary from the B&B. Relish in the nostalgia of freshly popped popcorn and the option to savor pickled eggs – a late night delicacy and daytime indulgence cherished by many in the Keweenaw. Try them with hot sauce or salt to switch up the flavor.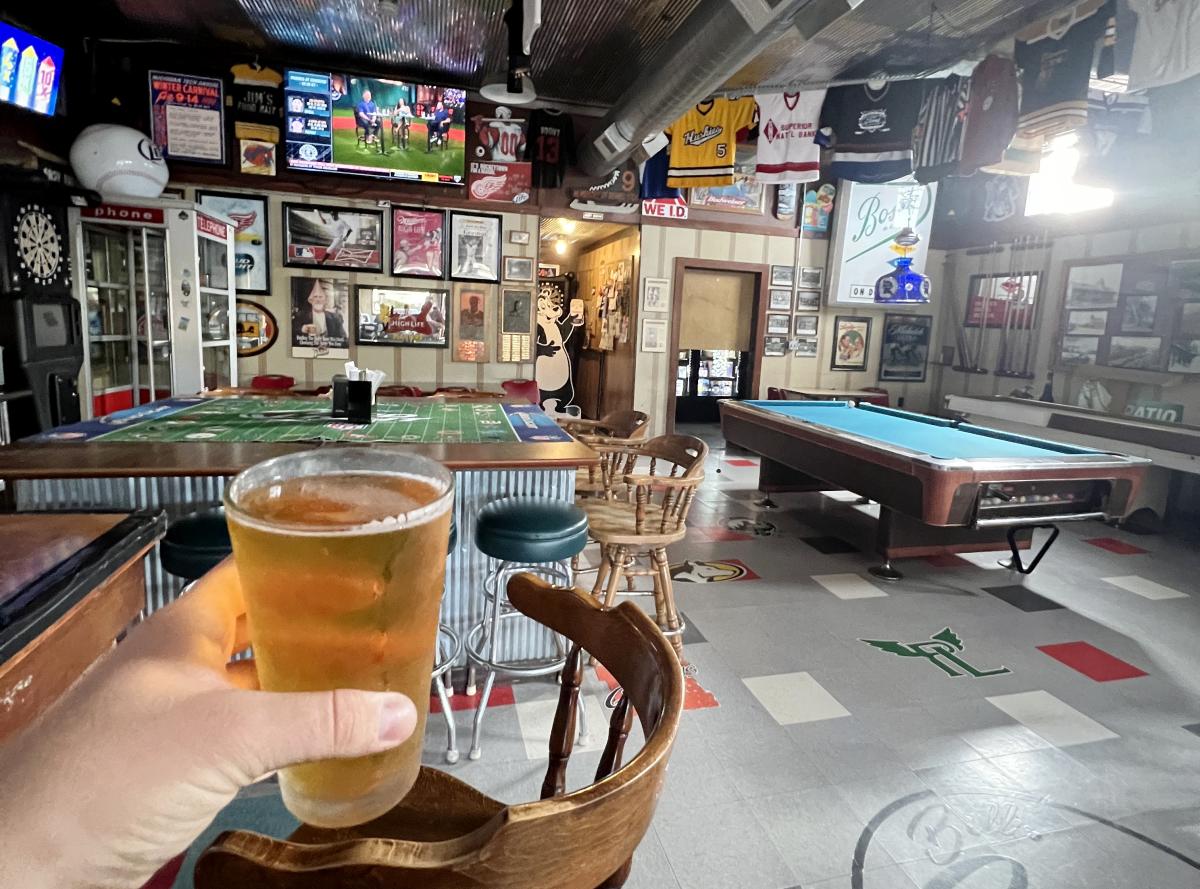 Bill's B&B has pool and shuffleboard tables and can be a great place to watch a game. 
Remember, the B&B is cash only so come prepared or use the ATM inside. Parking at the B&B can be tricky –try the hill up Fourth Street in Houghton or surrounding spots. It's walkable from downtown and you'll find wonderful views along the way.
Keweenaw Brewing Company (KBC): A Fireside Haven
Mozy on over to the fireplace to warm up at the Keweenaw Brewing Company (KBC) in downtown Houghton. Get a crispy cold Keweenaw beer or seltzer on tap and stay to see friends or unwind after a big day. All beer drinkers will find something for themselves here.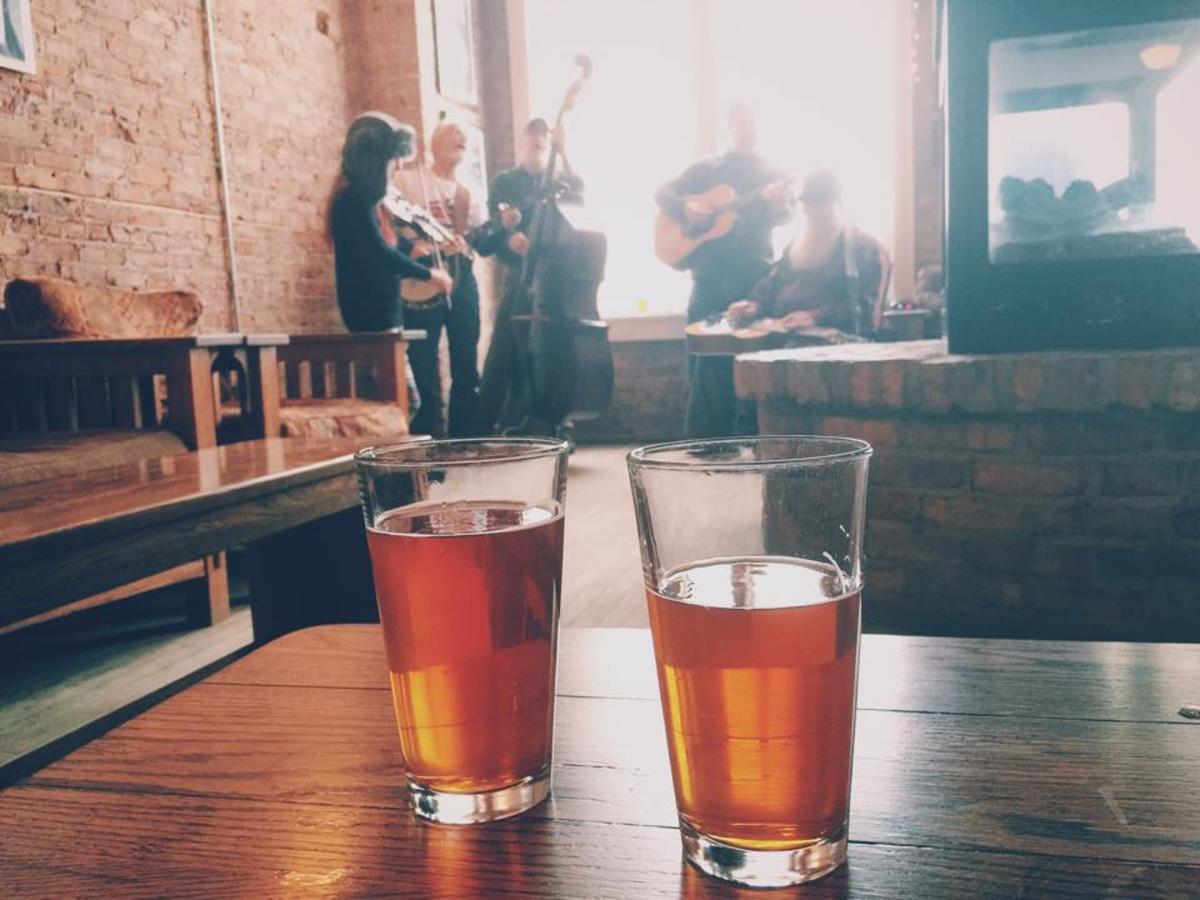 The KBC offers a cozy interior and sometimes features live musicians. 
Sit where you like, enjoying a brand-new deck addition on the tranquil Portage Canal, or stay inside with the tall, decorated ceilings and aromas of hops. Enjoy yourself in the comfort of your Yooper casual clothes and play board games, kept in house for customers to use.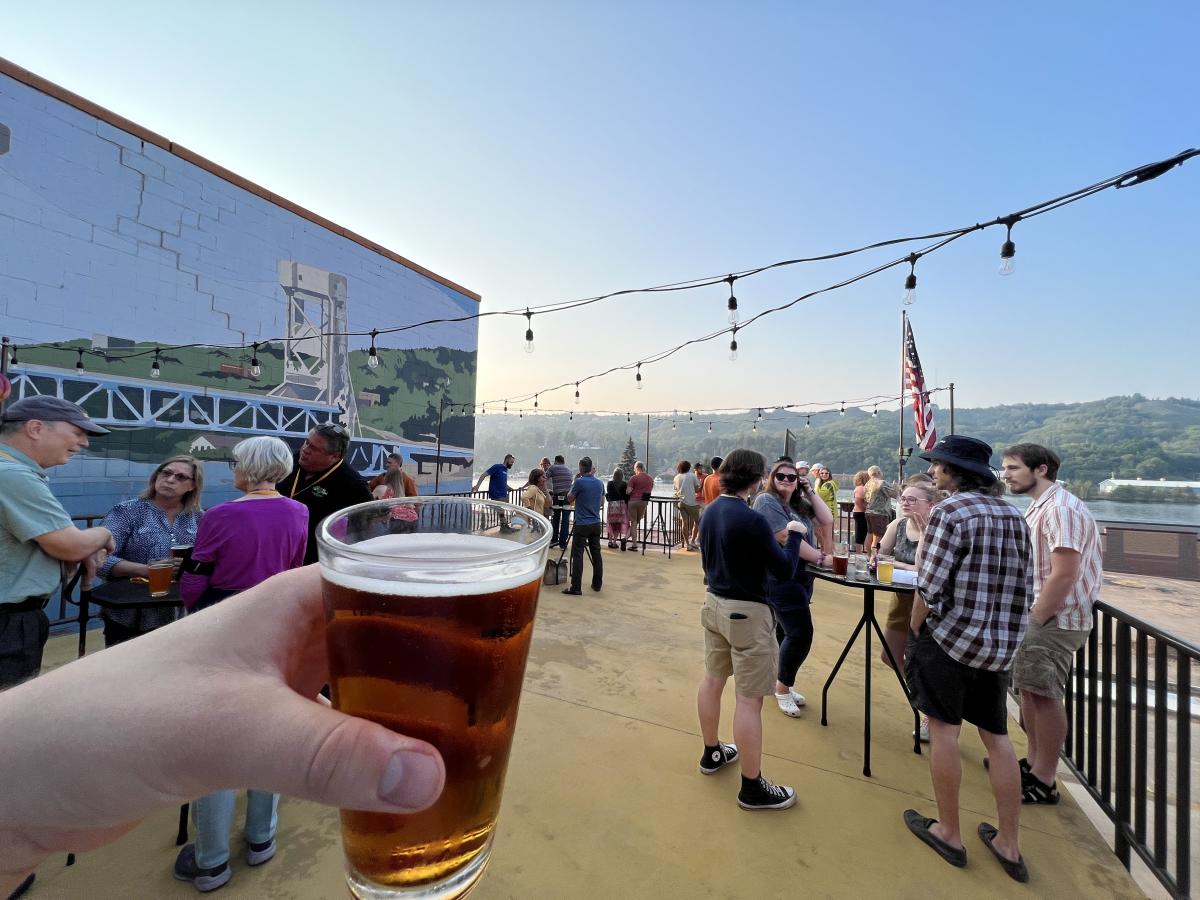 On warmer days, the KBC deck is a nice place to sip on a beer and take in the views of the Portage Canal. 
What's cozier than spending time at the Keweenaw Brewing Company on a chilly day? Bring in food to-go from surrounding businesses and enjoy it in one of Houghton's welcoming establishments.
Mariner North: A Safe Harbor for the Adventurous
For the intrepid souls who've braved the great outdoors, the Mariner North stands as the coziest haven to stop and fuel up in Copper Harbor year-round. Dive into  piping hot dishes from hearty spaghetti to whitefish and other entrees. The cabin-style architecture will make you feel protected from whatever elements lie outside.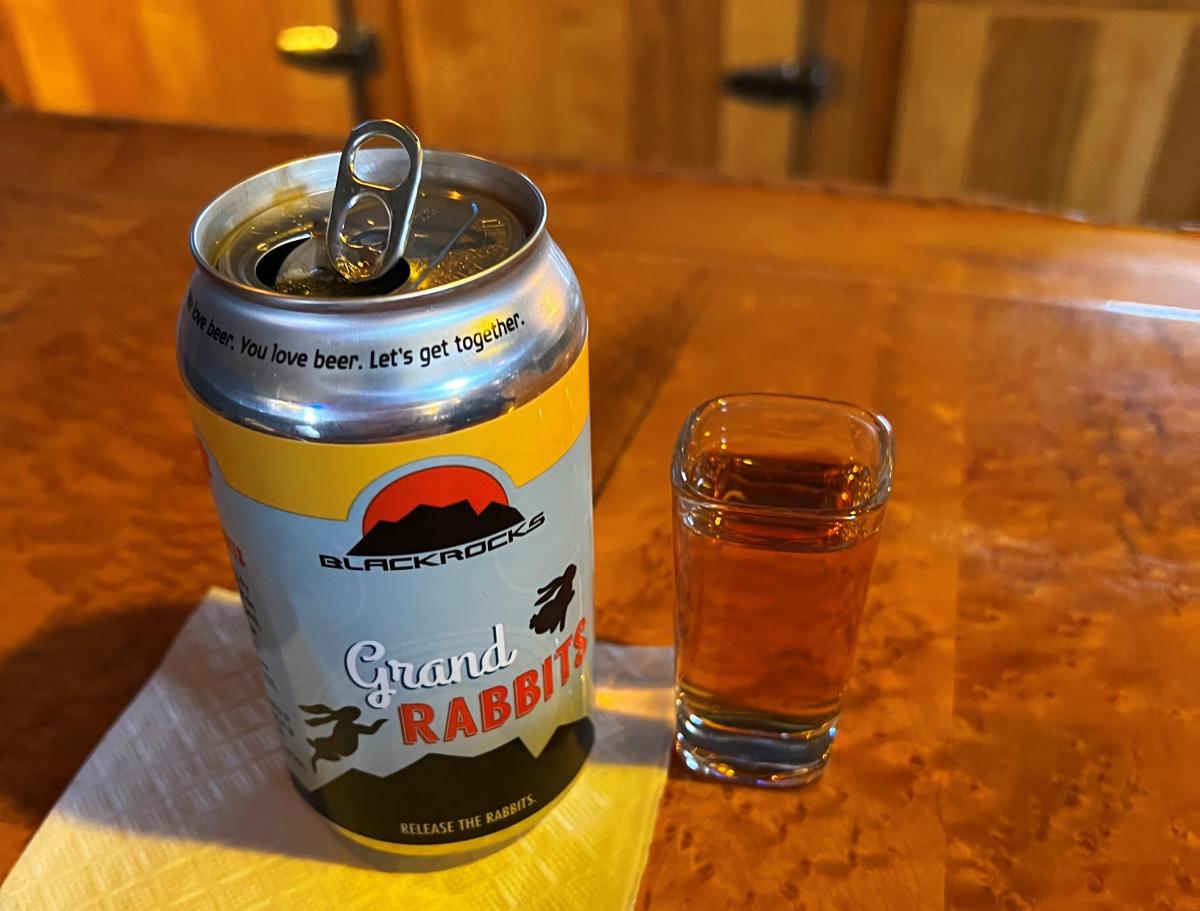 Enjoy an Upper Peninsula beer at the long wooden bar of the Mariner North. 
Step up to the generously sized wooden bar and always find room for yourself and your team. The high ceilings will welcome you inside and make you dream big for your next Keweenaw adventure. Need to stay the night? The Mariner North's lodging options have double-size private whirlpools and queen beds. Recharge to your fullest potential at the Mariner North.
Wolven Wood Axe Bar: A Howling Good Time
Get comfortable at the Keweenaw's newest 21+ establishment: The Wolven Wood Axe Bar in Hancock. Find your seat at the long, U-shaped wooden bar and order a variety of drink options. The Wolven Wood has a range of craft beer and domestic favorites on tap, quenching your thirst.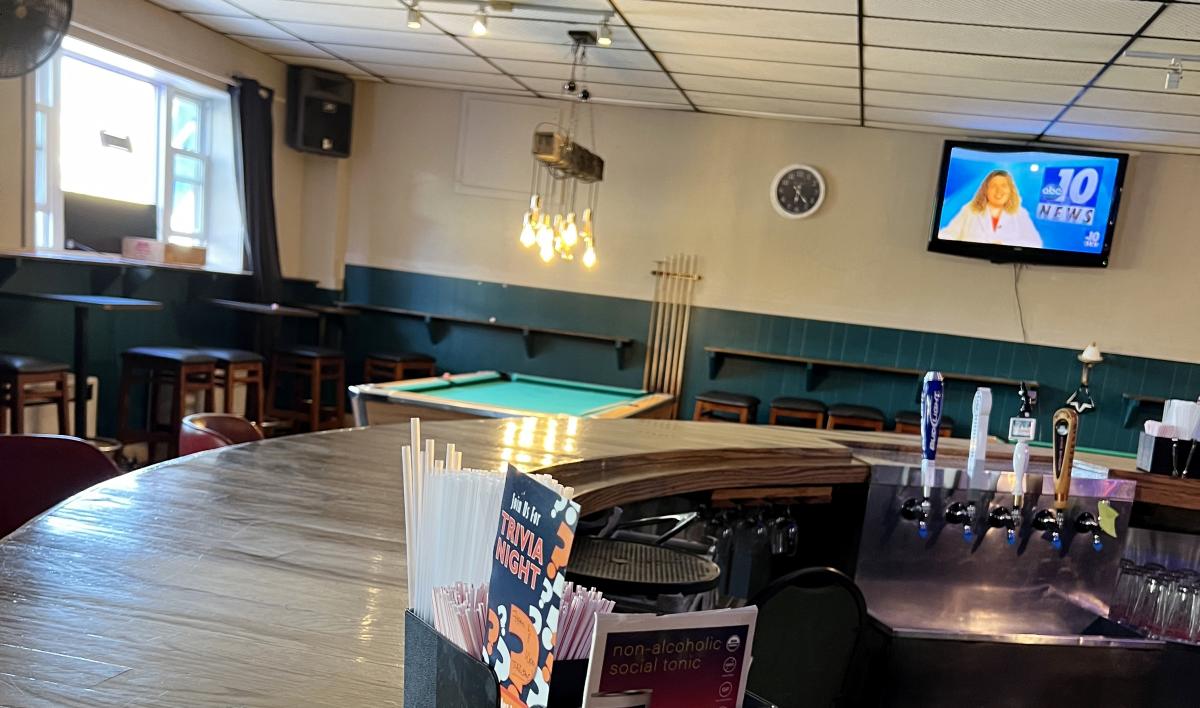 The Wolven Wood Axe Bar features three high-quality pool tables and a large U-shaped bar. 
Smile and warm your heart singing your favorite songs on karaoke nights. Be sure to check their Facebook Page for event times and days. Feel like a true Yooper, with axe throwing coming soon. Billiard fans can stay all day, with three high-quality pool tables available at the Wolven Wood. Enjoy views of the distant Portage Lake Lift Bridge out the windows as you sip your favorite drink on the corner of Reservation and Hancock Street (US-41). Escape the busy day in Hancock and enjoy a comfortable reprieve on your way north, or back below the canal.
The Gay Bar: Stop in and Cozy Up
Cruise to the town of Gay, on the southeastern shores of the Keweenaw. This quiet "ghost town" welcomes you with the peace of Lake Superior's waves and the comfort of the Gay Bar. Warm yourself with fun favorites like pudding and jello shots, or fill your belly with a burger. The building looks like a house, so make yourself at home!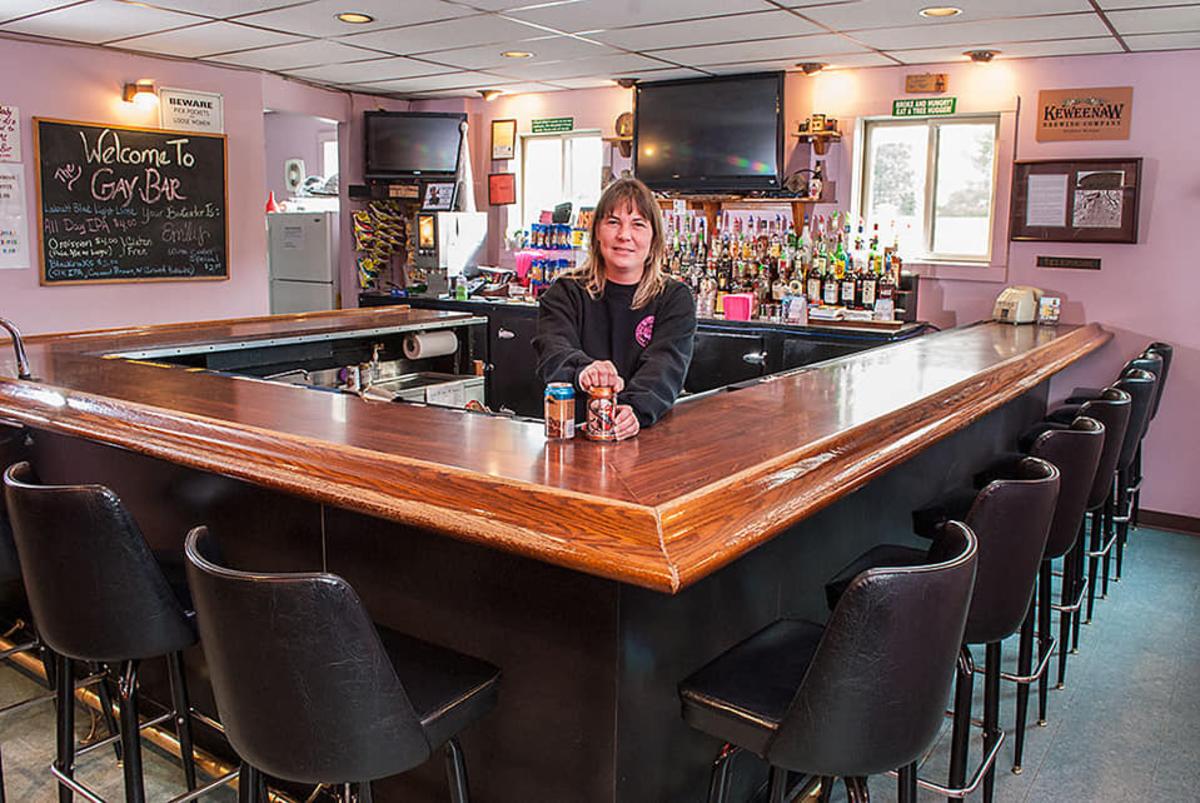 Cozy up to the iconic Gay Bar and sip on a cold one from our local brewery. 
Squeeze in at the bar and tell stories from your time in the Keweenaw and get more recommendations from the locals. Snowmobile, ORV and motorcycle friendly, you can come as you are in your gear for a break at the Gay Bar. Refuel and find a new delight in one of the Keweenaw's less-traveled towns. Take home a warm crewneck, or look at the bar's other iconic merch.
Keweenaw Mountain Lodge – Little Cabin Café
The Keweenaw Mountain Lodge is one of the best places to immerse yourself in all things cozy and Keweenaw. Located off US-41 just before you get into Copper Harbor, this historic lodge offers the ultimate cozy experience. Turn on to the property and head up the hill to the lodge. You'll be greeted by kind staff and welcomed into the lodge.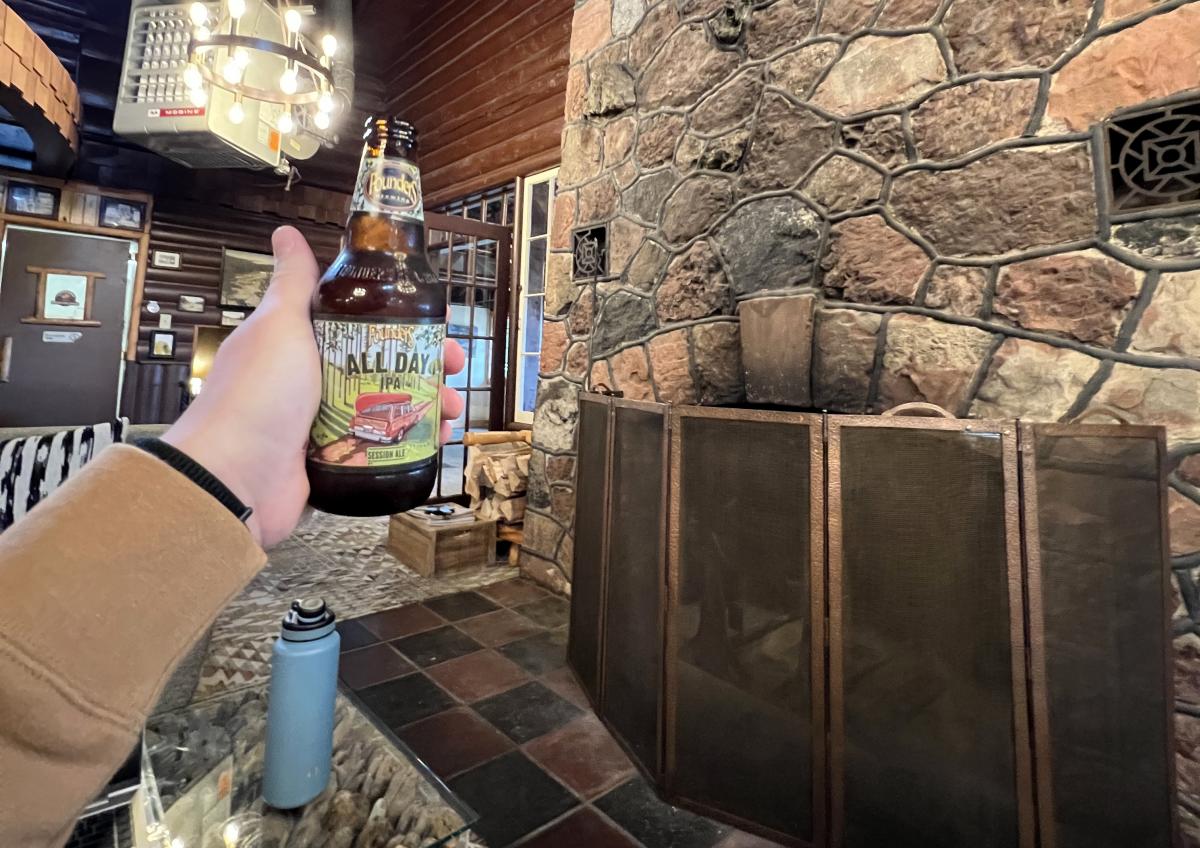 What's cozier than a beer by the fireplace at the Keweenaw Mountain Lodge? 
If you're not staying, you can still stop by for a drink or food from the Little Cabin Café. Admire the lodge's elegant woodwork and feel like you're living your dream life in a cabin. Sit down next to the roasting fireplace with your beverage of choice and listen to the crackling blaze. You can always stay in the cabins, which come with stoves and are stocked with firewood. Play a game of golf or stargaze at the Keweenaw Dark Sky Park on the lodge's property after sunset.
Cliff View Bar: Safe and Sound Inside
After checking out the Cliff Mine, or Cliff Drive – pull up a chair at the Cliff View Bar. Right off the snowmobile/ORV trail, you can relax after a long ride and set your helmet down. Feel the warm embrace of "Yooper Bar Vibes" you find at Cliff View.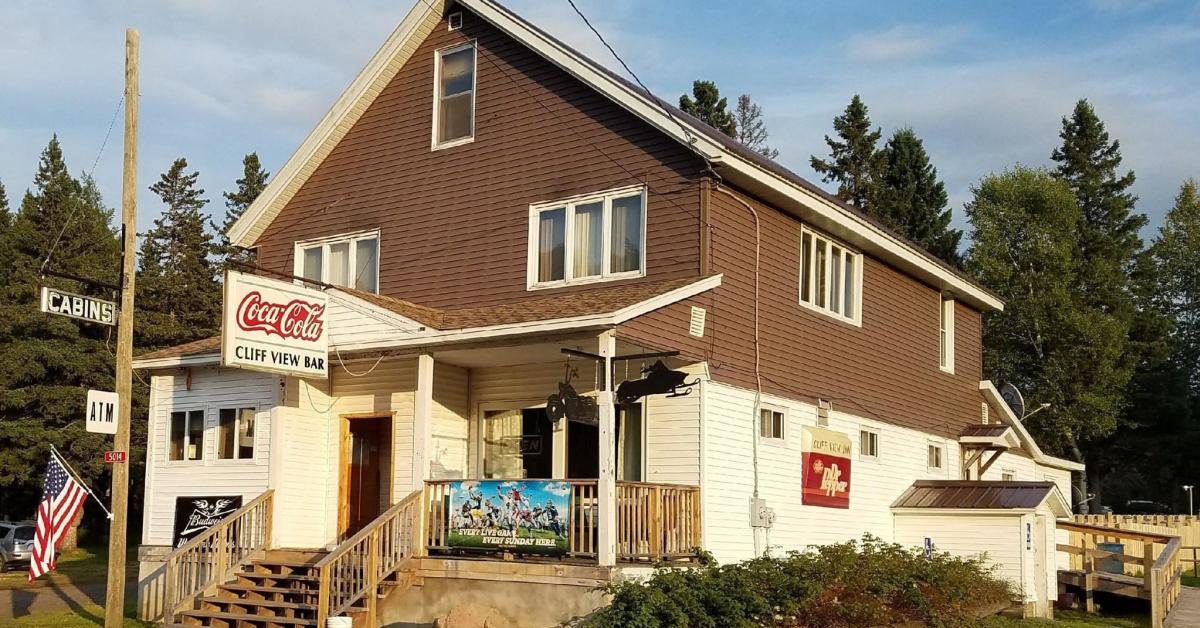 The deck of the Cliff View Bar offers incredible views of the Cliff Range. Once it cools head inside to warm up at the bar.
The interior is adorned with log cabin walls, blending with the surrounding woods. Between Pheonix and Mohawk on US-41, you can start your trip north with a visit, or go by on your way back down. When temperatures go down, find comfort and camaraderie at the Cliff View Bar. Warm yourself during happy hour every weekday from 4-7 p.m.
Please Drink Responsibly
Savor the warmth of these beloved establishments as you create your unforgettable memories in the Keweenaw. From Houghton to Copper Harbor, you'll find welcoming bars and great people. After exploring the outdoors, cherish these spots and get cozy. Remember to use alcohol responsibly and never drive after you've been drinking. Find transportation options here. Lyft, Superior Transportation & Logistics, and Copper Country Limo all operate in our area for a safe ride back to your hotel. 
Interested in updates, travel tips and quirky information about the Keweenaw? Just sign up for the Keweenaw Explorer, our monthly e-newsletter. Complete the form…