The Copper Country is home to a plethora of scenic sites to visit, from huge vistas to hidden waterfalls.  Getting to these natural places is part of the fun, but in winter our deep lake effect snow makes access a challenge.  Particularly for protected natural places that only allow non-motorized travel or areas that are beyond where other trails end, your best bet may be cross country (XC) backcountry skis.
In this guide, I'll talk a bit about how XC backcountry skis can help you reach your new favorite winter sport in the Keweenaw.  With a little practice, I might see you out in the backwoods later this season!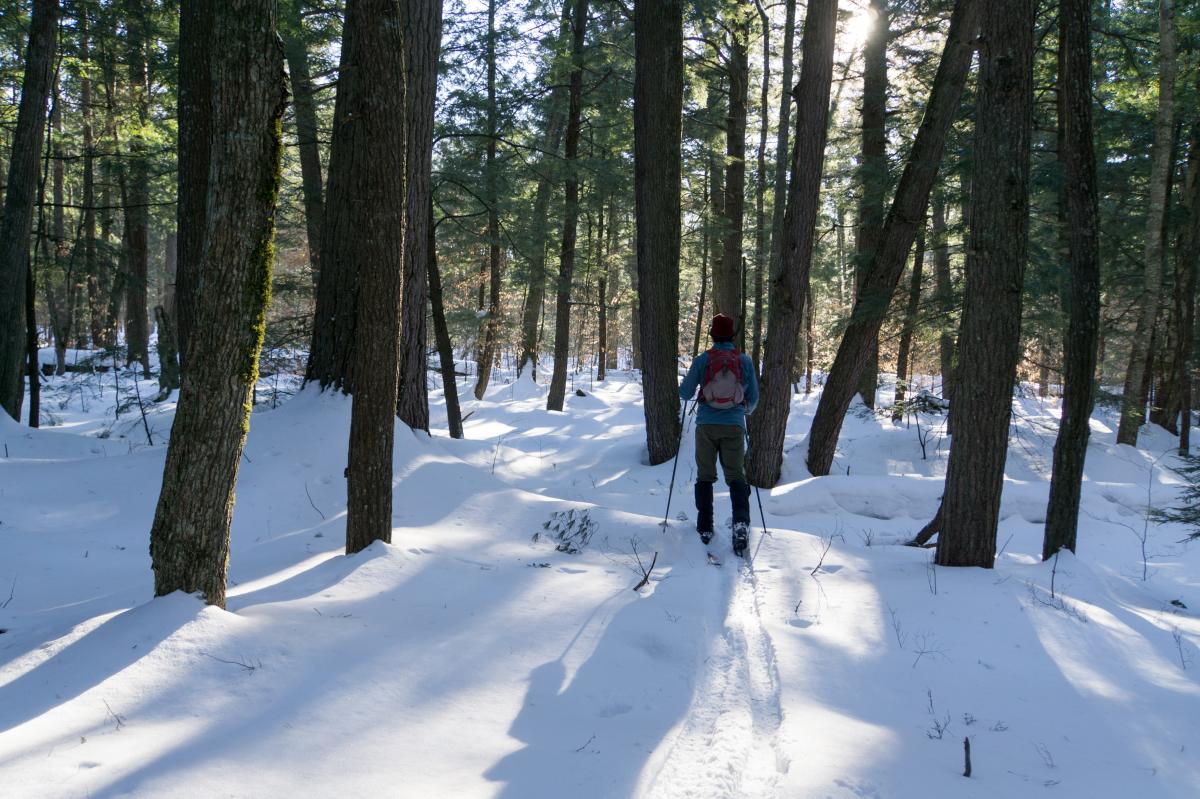 Backcountry XC skiing helps you reach more remote locations in the Keweenaw.
WHAT IS BACKCOUNTRY XC SKIING?
People use all sorts of ski setups in the Keweenaw, and it's easy to get tripped up by the terminology.  Don't worry, even those of us who ski regularly get confused!  Let's start with the basics.
There are two common styles of skiing, downhill and cross country (XC).  Downhill skis are fully clipped into a stiff plastic boot, giving you excellent control at high speeds.  They are typically used at resorts like Mont Ripley (groomed runs) and Mount Bohemia (ungroomed).  Downhill skis can be heavy, and up here in the Keweenaw, our local powder hounds prefer wide varieties that offer plenty of floatation.
Cross country skiing is typically slower and takes place on flatter or gently rolling terrain, like the groomed trails at Swedetown, Michigan Tech, or Maasto Hiihto.  XC skiing is split into two types, Classic and Skate, each with its own style of propulsion.  XC skis are narrower and lighter than downhill skis, and the skis are only attached at the toe of a moderately flexible boot.
Got it so far?  Phew!  Here's where the fun starts.  Classic XC ski equipment can be used off groomed trails if you're brave.  However, narrow XC skis don't have quite enough flotation to keep you on top of our fluffy snow, causing you to sink like quicksand.  That's where XC Backcountry ski equipment comes in handy.  These skis are much wider, the boots taller and more robust, and the bindings built tougher.  Whereas most XC skis are in the 40-60mm range, many XC backcountry skis are 100mm wide!  They also have metal edges for turning on ice and are shorter, allowing you to better explore tighter forests and varied terrain.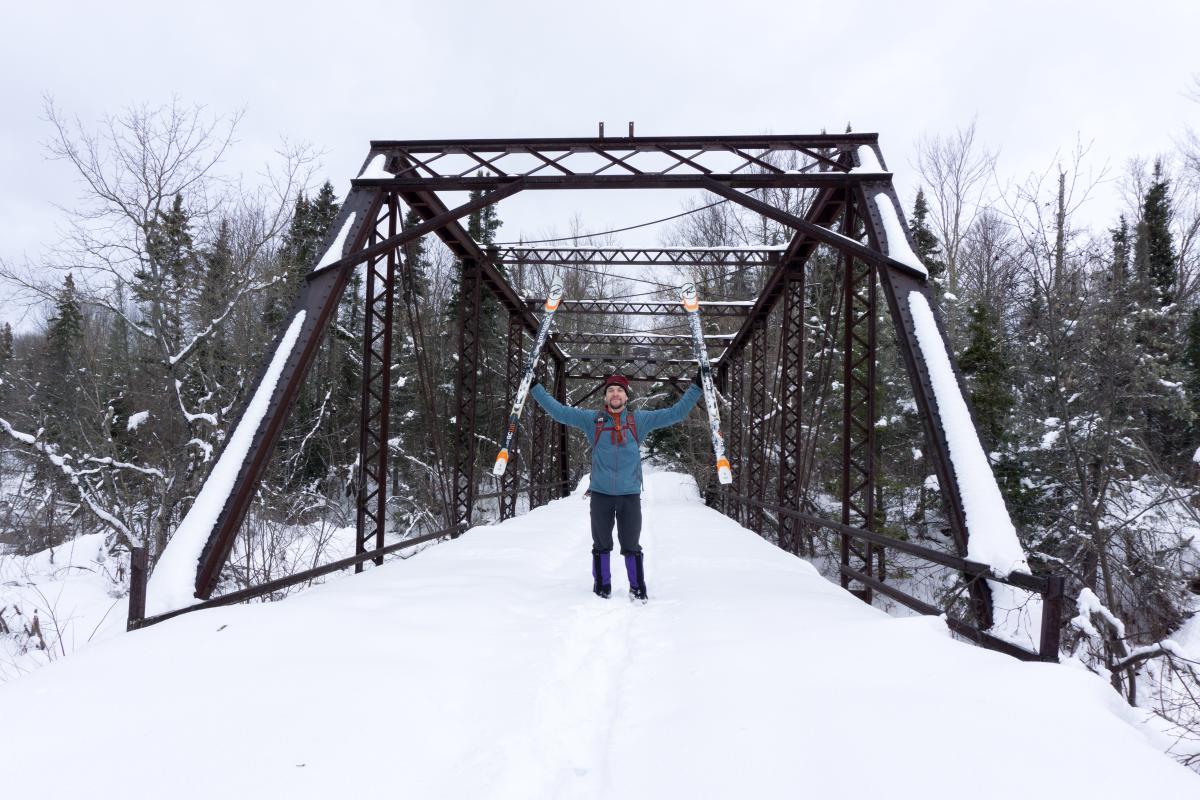 Backcountry XC skis are wider and shorter than traditional skis. Gear up in layers and back snacks to fuel up.
A common question people ask is "How do you go uphill on skis?" Depending on the ski, there are a few different options. Some classic XC skis have a patch of fuzz in the middle of the ski directly under your boot.  When you push down this contact patch grips the snow with enough friction to help push you forward, rather than sliding backward.  An alternative is to use thin scales underfoot instead.  When gliding forward the scales are relatively frictionless, but when sliding backward or as you push off, the scales dig in to give you just enough traction to move.  At least that's the idea!  Most XC backcountry skis fall into the scales category.
Worth mentioning briefly (at the risk of adding even more confusion!) are alpine touring skis, often referred to as backcountry downhill skis.  Used to access untouched "pow" off-piste away from lift-serviced ski runs or to traverse lengthy mountain routes, these downhill skis allow you to climb hills and descend quickly using the same gear. A few dedicated people do this type of skiing in the Keweenaw, but I'm not allowed to tell you where because those secret powder stashes are a closely guarded secret.
WHY IS IT FUN?
XC skiing on groomed trails can be a great workout, but at the end of the day, you're (ideally) back where you started.  For adventurers like myself, I like to visit a destination if I'm going to get out.  Fortunately, the Copper Country is full of neat places to check out.  With XC backcountry skiing, you can much more easily explore areas that are off the groomed path.
Backcountry XC skiing is also considerably quicker than snowshoes on gently rolling backcountry terrain.  Particularly if the snow is somewhat settled or packed in, you can expect to go a few miles per hour faster on flat-ish terrain than hiking with snowshoes.  You're not going to be able to easily climb up steep hills though, so be prepared to sidestep or take lots of switchbacks.  However, as the saying goes, "What goes up, must come down super-fast while shouting WOOOO!!"  Keep in mind that your heel isn't locked in.  Get going too quickly on those downhills and you'll have a face plant in your future.
Being able to knock out several miles of backcountry travel in an afternoon is key during our short winter days.  Unfortunately, many premier destinations are located far from plowed roads.  Often I'll hop on a snowmobile trail for a few miles before jumping off again deep in the backcountry nearer to my destination.  XC backcountry skis eat up those miles very quickly, and I can easily transition to deeper ungroomed snow for the last leg of my journey.  Just be sure to ski on the edge of the trail in case there's fast-moving traffic!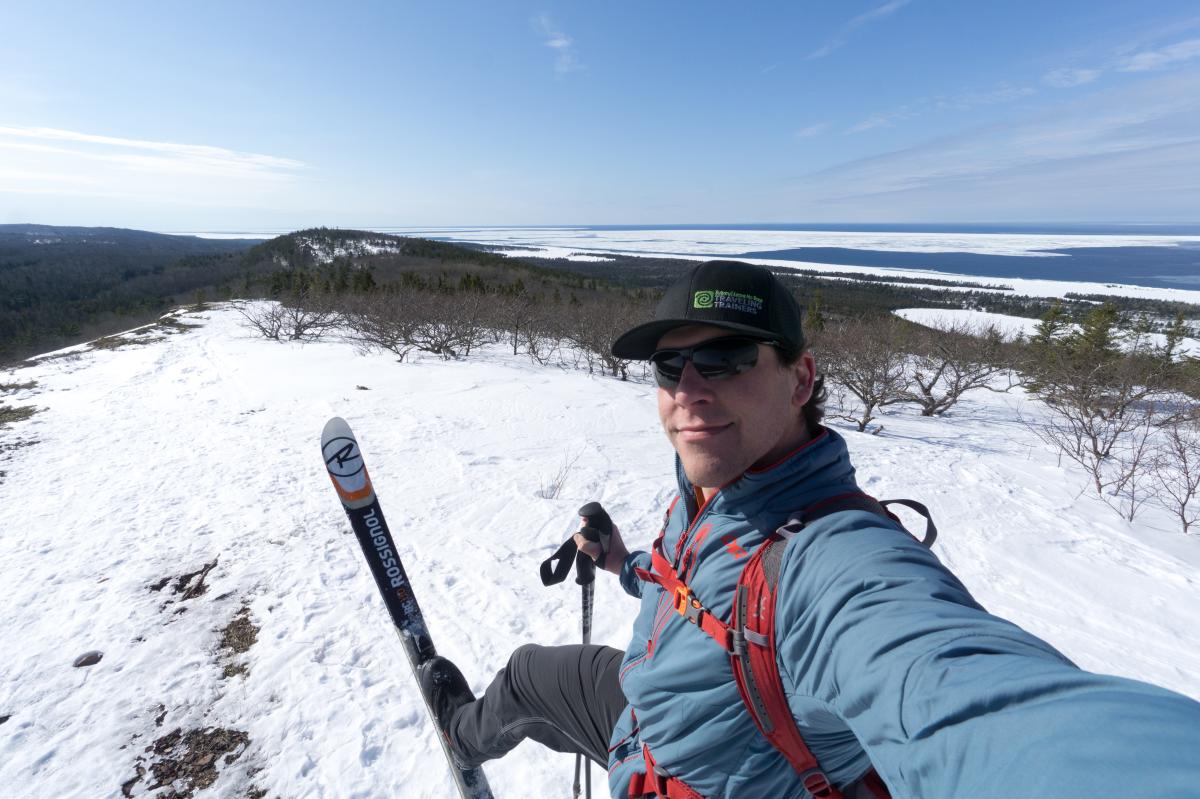 Reaching the top of Mount Baldy takes some effort, but the reward is the three-mile downhill return.
WHERE SHOULD I BACKCOUNTRY XC SKI IN THE KEWEENAW?
Here are a couple of ideas to get you started.  Need more inspiration?  Send me a message or contact Visit Keweenaw for a list of favorites!
Horseshoe Harbor: A quick 5-mile, out-and-back adventure that's the perfect starter trip for anyone getting into the sport.  Find a detailed trip report here!
Mount Baldy: Some of the most expansive views around can be found from the top of this high bluff.  Expect to be tested by steeper terrain on this 6-mile round-trip journey.  Read more here.
High Rock Bay: The end of the Keweenaw is an awesome sight no matter the season. If you don't have a snowmobile, don't fret.  It's a 15-mile round trip backcountry ski on unplowed roads and groomed ORV trails to reach this distant location.  Totally worth it if you ask me!  While the hills are gentle, it's the distance that'll get ya.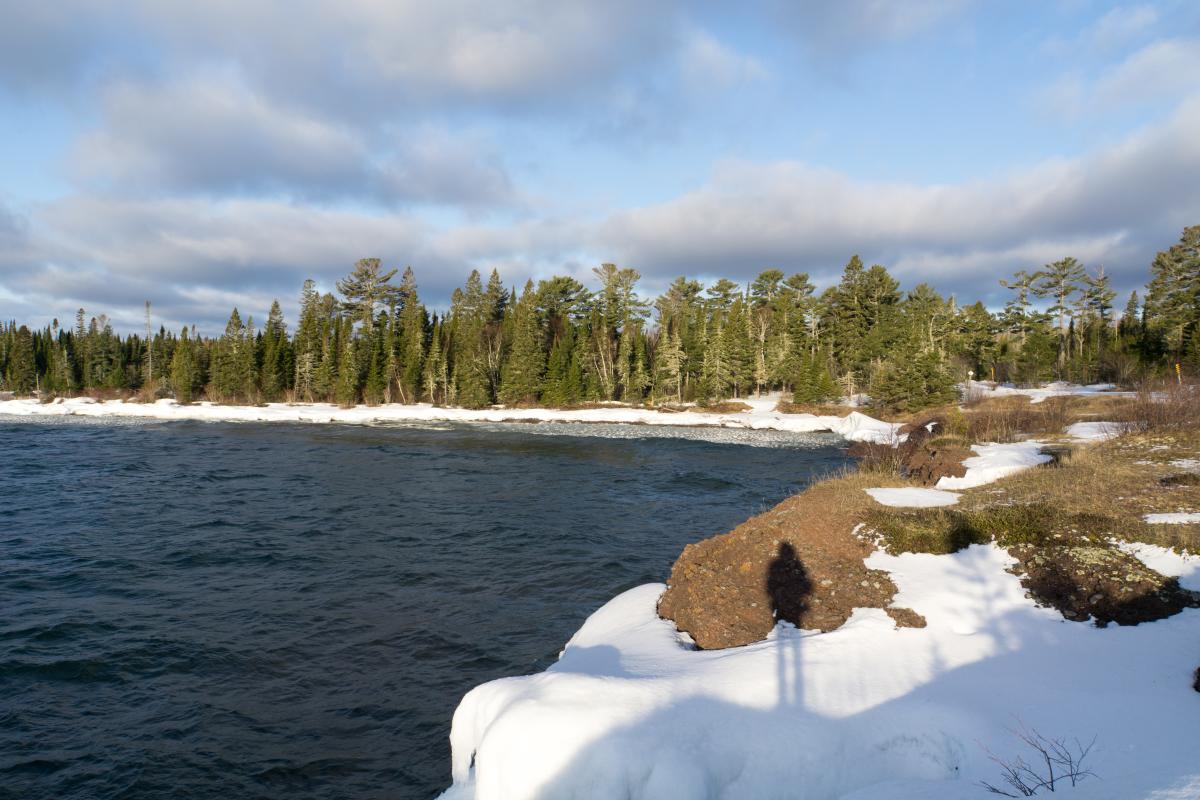 A view from High Rock Bay deep in the Keweenaw Wilderness.
GEAR FOR XC BACKCOUNTRY SKIING
Like all outdoor sports in the Keweenaw, warm layers are a must.  Wearing multiple layers is essential for higher-intensity sports like XC backcountry skiing.  When you get too warm, shed a layer to dissipate some heat.  Otherwise, you'll be drenched in sweat and will get chilled as soon as you stop moving.
Your choice of gloves will depend on the conditions and your comfort levels.  If I'm out on relatively stable terrain and don't plan to fall down much, I'll wear lighter gloves that breathe well or sometimes none at all.  However, if I'm bushwhacking through snowy trees or expect to take a few spills, I'll likely wear more impervious gloves that snow won't stick to.
Don't forget your poles!  These help with balance, propulsion, and to give your hands something to do instead of throwing snowballs at your friends.  Pack a small bag with you on longer trips to store extra layers, water, snacks, map, headlamp, etc.  And a camera to take pictures of all the cool stuff you're going to see!
EQUIPMENT RENTALS
Need more info? Stop by Down Wind Sports or Cross Country Sports here in the Keweenaw for a much more in-depth conversation about gear than I can provide in this one blog post!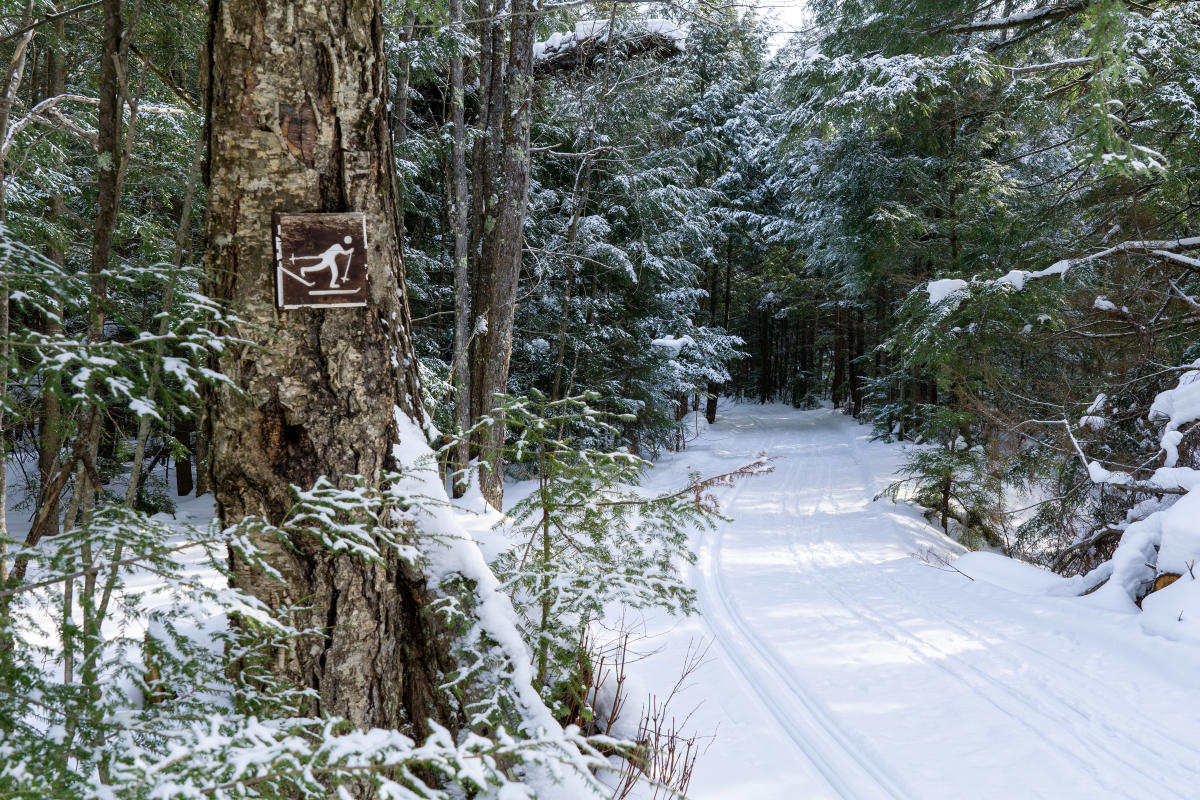 The Keweenaw wilderness and snowfall make majestic backdrops for backcountry adventures.