Mining ruins are everywhere you look in the Keweenaw, a testament to how all-encompassing the Copper Mining era was in our community.  Wherever you go you're almost guaranteed to find a historical site nearby!  Some are mere remnants of their former glory, while others stand tall decades after the last whistle blew.
Nowhere is that more true than in the Houghton & Hancock area.  As the two most central cities in the growing copper mining district, dozens of mining ventures and related businesses popped up to support the trade.  Although the mines have long since closed, many of the structures remain.  We've gathered together some of our favorite ruins that are close to the hustle and bustle of town so you can get a flavor of what life was like during the Keweenaw's heyday.
Know Before You Go
Although we call them ruins, many of these historic sites are actually well preserved by a wide variety of groups that care about our local heritage.  Even the National Park Service cares about our region's history!  Please do not damage, deface, remove objects you find, or otherwise impact these special places during your visit.  Once history is lost, we'll never get it back again.  It's up to you to keep the Copper Country story alive!
Wearing closed-toed shoes is generally a good idea during your visits.  Loose rock, rusty metal, broken concrete, and other hazards are often present.  Be aware of your surroundings and keep an eye out for jagged material as you hike around.  Although the chances of finding an open mine shaft are slim, you might find a slippery trail or unstable rock wall that could pose a risk.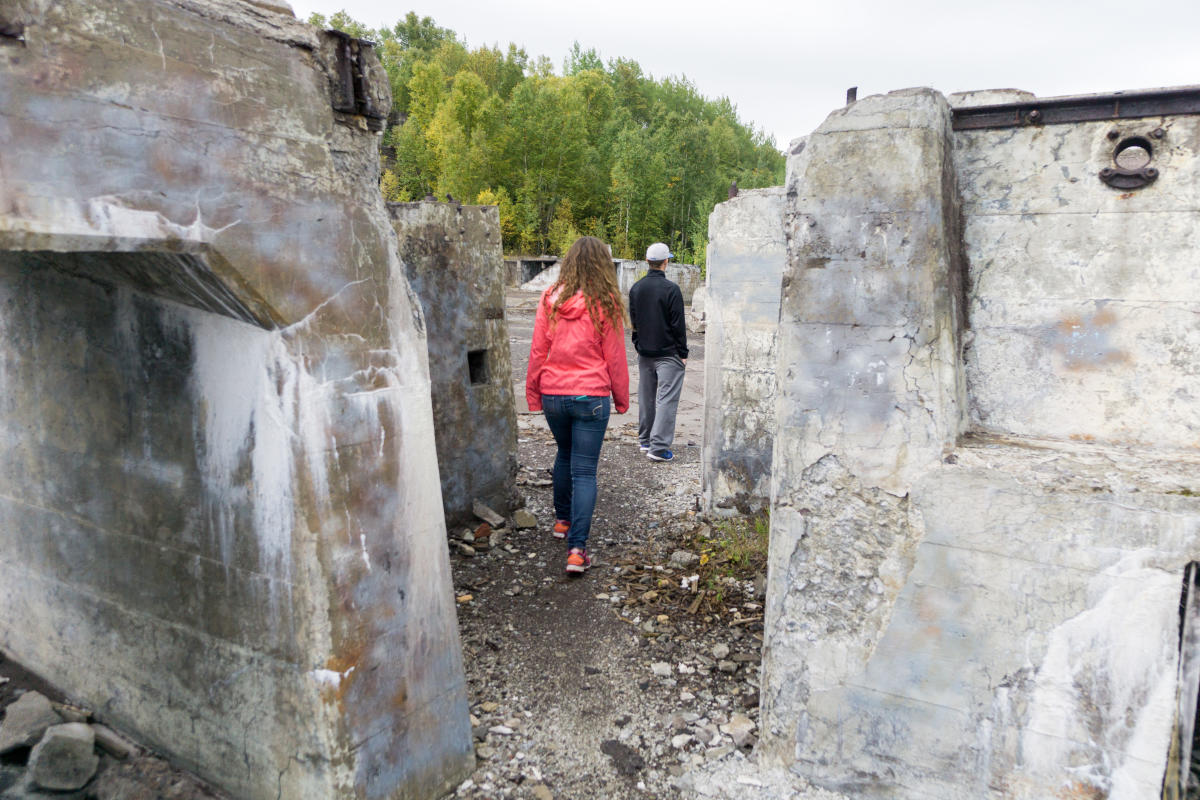 Respect historical sites and walk carefully as you proceed through old industrial sites. 
Remember to always pack out your trash and leave what you find.  Historically garbage was often tossed in midden piles and may appear to be worthless (or worth adding to).  Today, those old garbage piles give us an opportunity to learn more about how people lived long ago.  Don't make modern day researchers' lives more difficult by leaving your trash too!
Finally, mining ruins are everywhere in the Keweenaw and often lie on private property.  Stick with the listed locations below and avoid trespassing if you see something cool while driving around.  Always be sure to ask the experts before you head out so you know if a site is open to the public. Please recreate responsibly and remember to leave no trace. 
Quincy Mine
Aside from the Portage Lake Lift Bridge, you'd be hard pressed to find a more iconic symbol of the Keweenaw than the Quincy No. 2 Shaft-Rockhouse atop the hill overlooking Hancock.  Owned by the Quincy Mine Hoist Association, the towering structure once pulled copper ore from a 9,260' mineshaft driven over a mile beneath the surface.  At the time of its closure in 1945, this was the longest mineshaft in the world!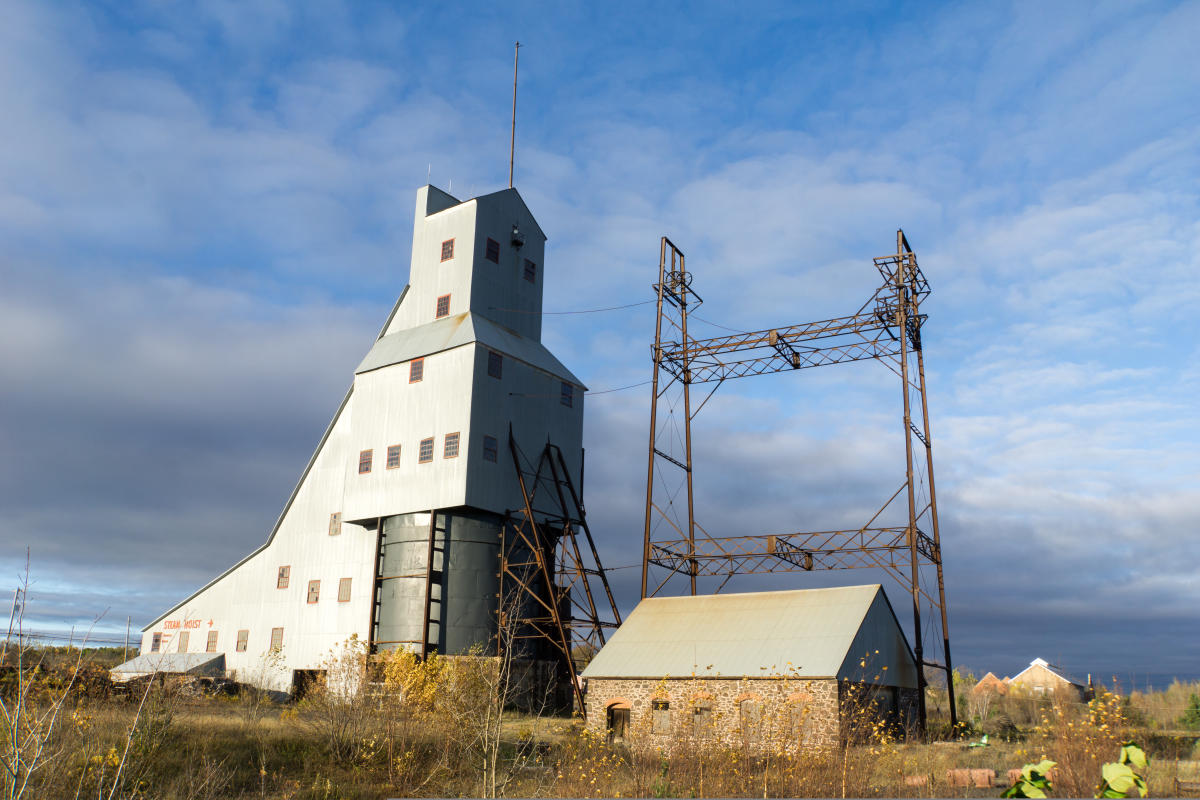 The Quincy Mine Hoist once pulled copper (and miners) from deep underground. 
Adding to Quincy's glory (we like to brag about our mining heritage up here), the Quincy No. 2 Hoist House contains the largest steam hoist ever built.  This truly massive feat of engineering provided the power needed to haul ore from such depths, earning Quincy the nickname "Old Reliable" for paying dividends to its investors for an unheard of length of time (over half a century!).  The hoist remains intact within one of the Keweenaw's most beautiful buildings, surrounded by stone ruins of all shapes and sizes.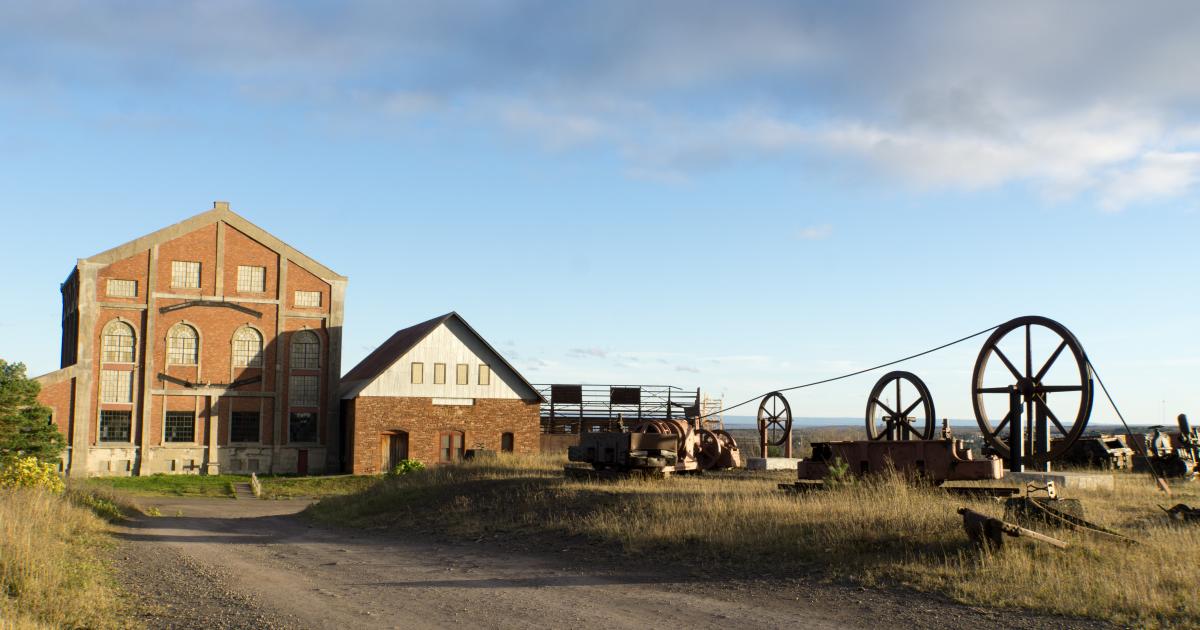 Underground and surface tours are available at Quincy Mine. 
You could easily spend an entire day learning about one of the Keweenaw National Historical Park's signature Heritage Sites.  We absolutely recommend hopping on either an underground or surface tour of this amazing place.  Not only do you get to ride the Midwest's only cog-railway, you get to venture back in time with some of the Keweenaw's finest tour guides as they treat you to an unforgettable experience.
Quincy Smelter
Just when you thought the Quincy Mine couldn't get any more interesting!  From nearly any vantage point on the Houghton side of the Portage you're bound to notice the sprawling Quincy Smelter along the Hancock waterfront.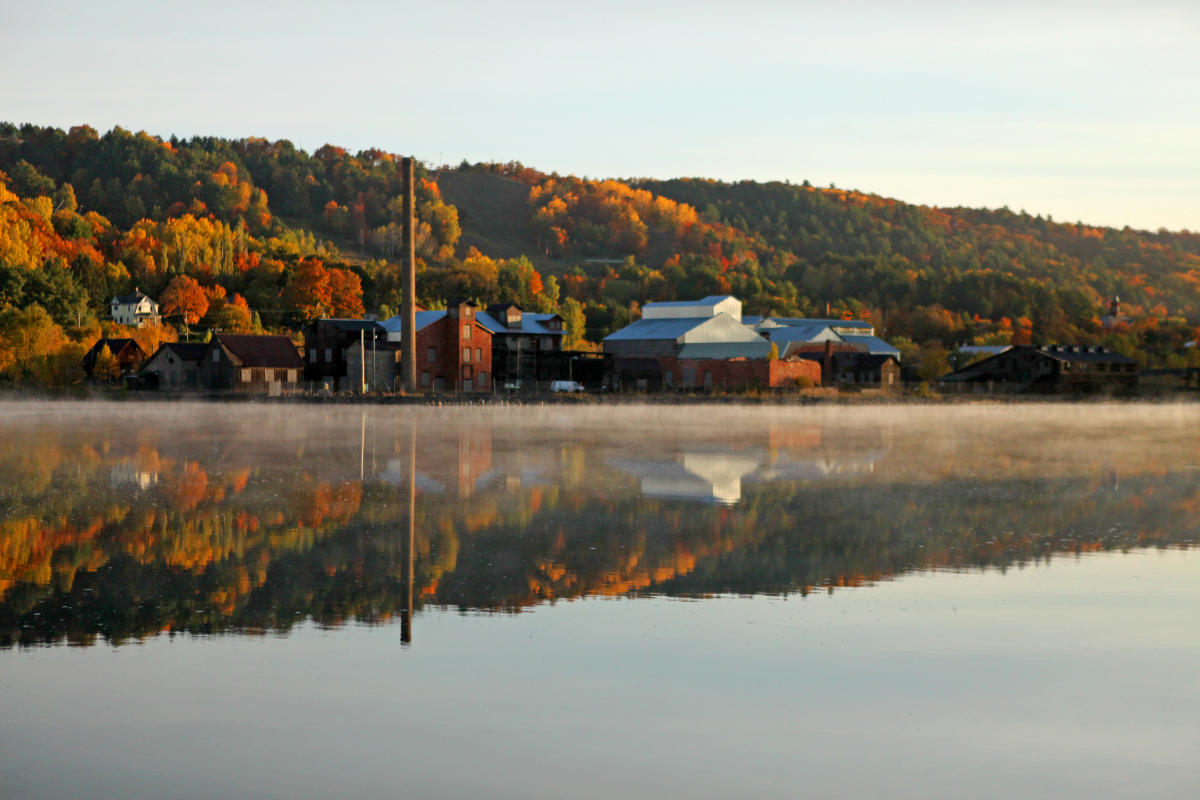 The Quincy Smelter was the last stop for copper ore before being shipped around the country. 
The smelter site was the final stop for copper ore before it was sent away to be turned into a vast array of products that helped our young nation grow. Signing up for a tour is a must if you want to properly experience this special place.  This is the only remaining copper smelter remaining in the world from this era and is a must-see on your journey to the Keweenaw.
Champion No. 4 Shafthouse
Just south of Houghton is the tiny community of Painesdale, the last in a series of major townsites that sprang up to support a variety of mines in this area.  Although most of the mines have long-since been cleaned up, one managed to hang on nearly untouched into the modern age: the Champion No. 4 Shafthouse.  Unlike Quincy, this shafthouse is tucked away out of sight from M-26.  Don't let its shyness deter you from visiting because you'll want to make tracks for this hidden gem.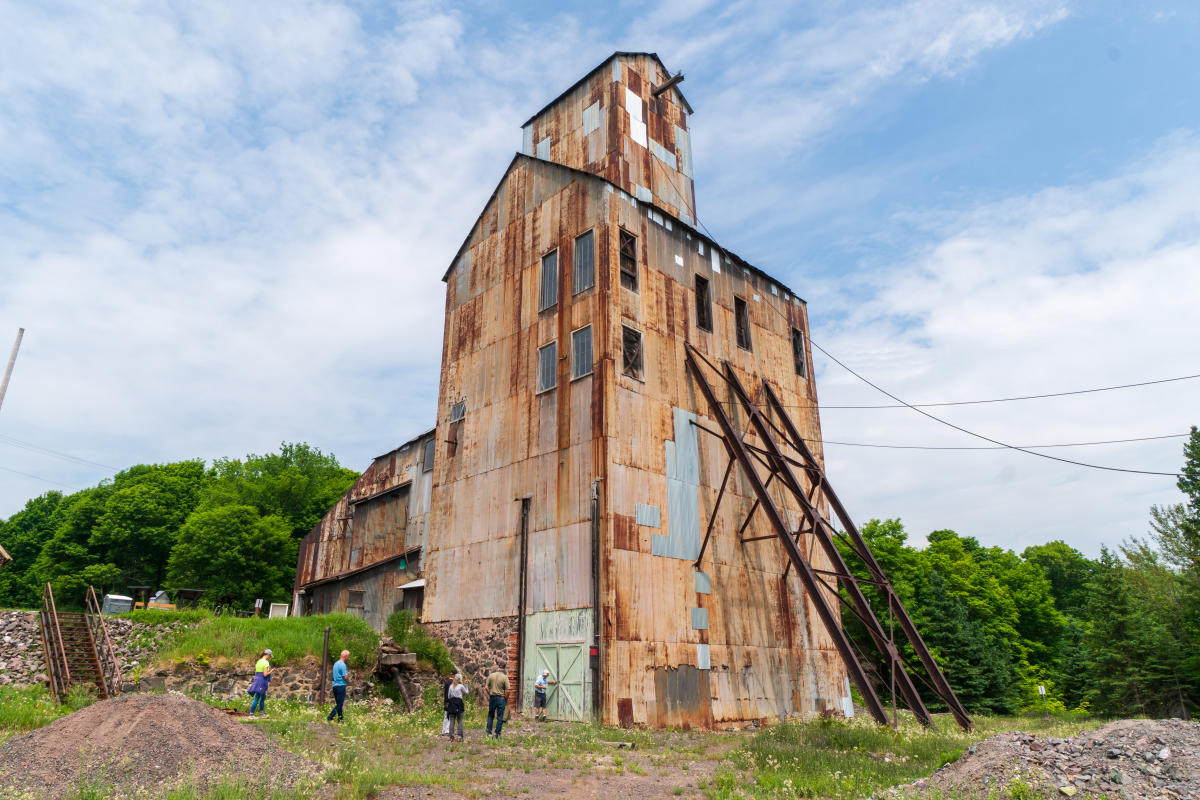 The No.4 shafthouse has remained mostly untouched into present day. 
Owned by Painesdale Mine & Shaft, the No. 4 shafthouse and associated hoist offer a glimpse into how a mineshaft worked unlike any other site in the Keweenaw. We're not exaggerating: although the mine closed in 1967, the shafthouse was kept open for another generation due a fluke of hydrology that enabled this historic site to provide water for many of the local communities to this day.  As a result, the shafthouse remains in much the same condition as it always had, free from the opportunistic scrappers that decimated much of our heritage.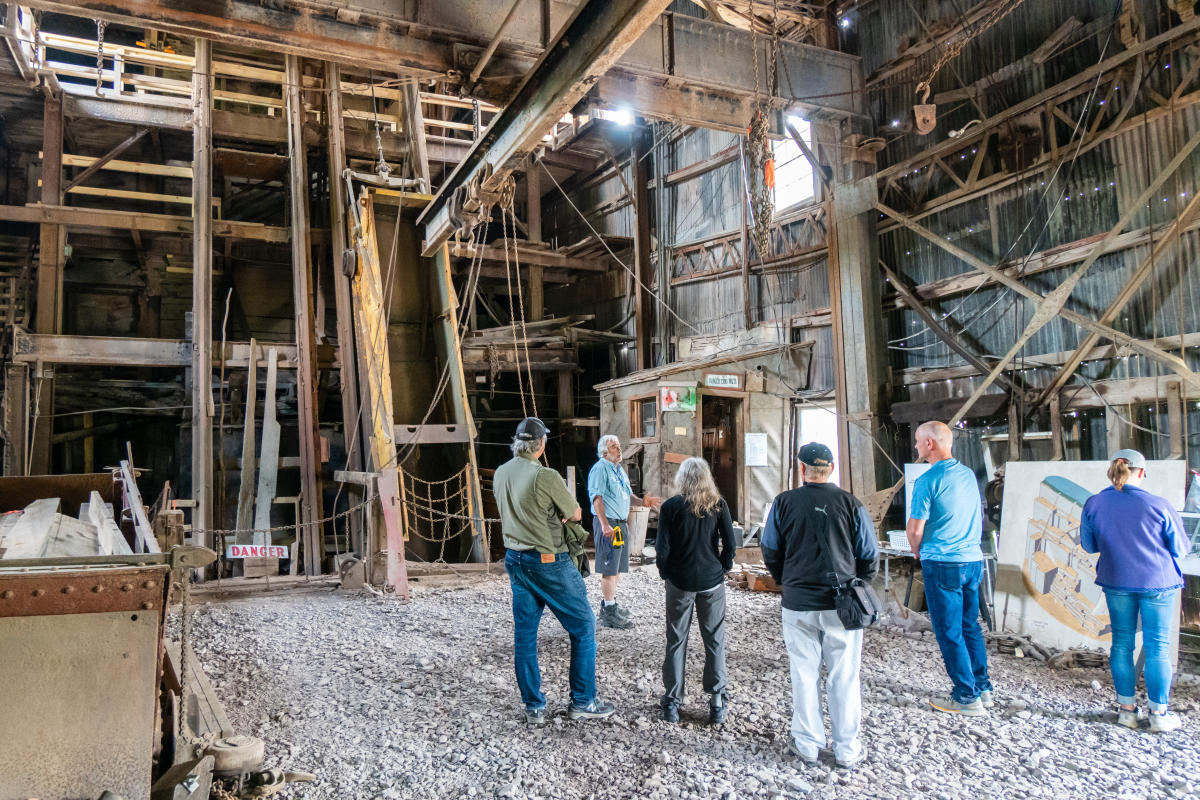 Surface level tours and tours of the upper shafhouse are available at Champion No.4 Mine. 
Volunteers continue to clean up this historic site.  Tours are offered during the weekend in the summer months and take you up into the shafthouse to see sights you won't find anywhere else.  Each year improvements are made to expand these tours, ensuring no two visits will ever be the same.  We can't recommend it enough!
Redridge Steel Dam
Hands up if you've ever seen a dam made out of steel… don't worry if you've never heard of such a thing, because the Redridge Steel Dam is one of just three that were built in the United States.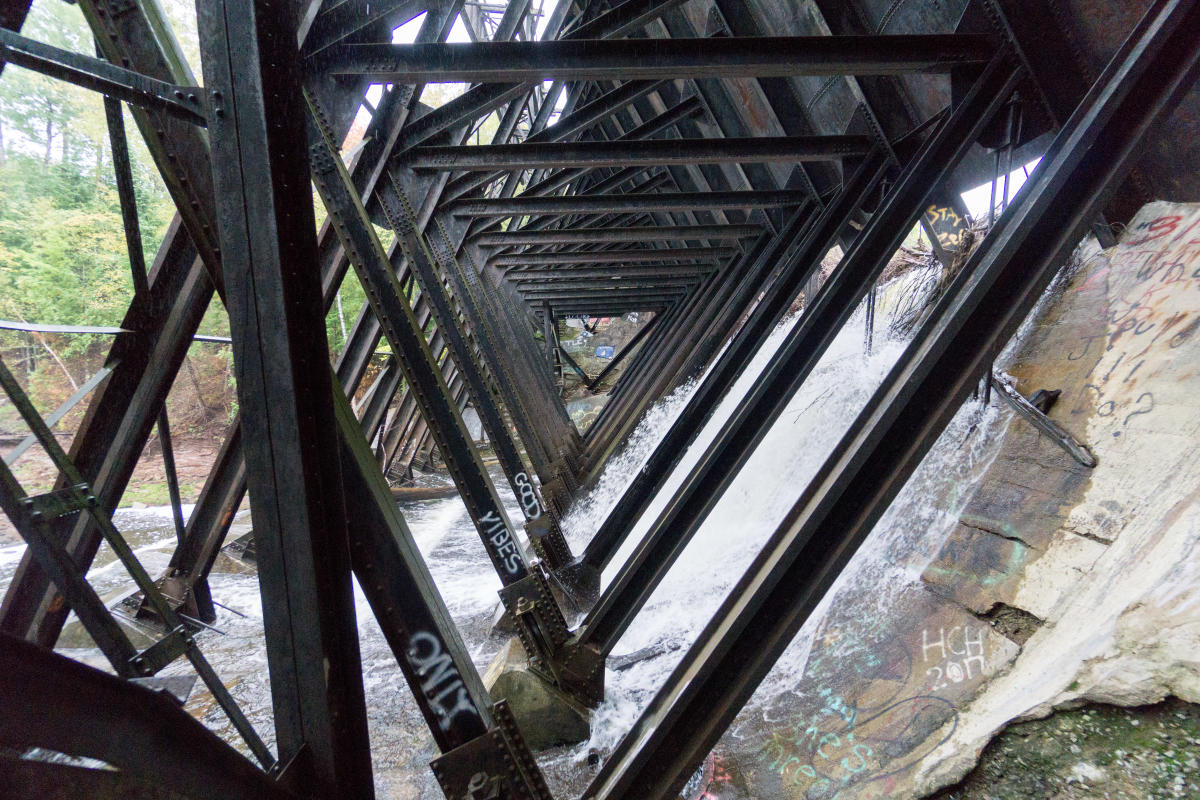 The Redridge Dam remains a stable structure made of steel. 
It was believed that building a dam out of steel would be quicker and cheaper, but the unconventional material was unpopular and the idea soon dropped.  Lucky for us, we still have one in our backyard!  Now owned by Stanton Township, this rugged piece of history can easily be paired with the Champion Stamp Mill ruins below for a quick afternoon adventure.  Find the parking area here (MAP) and follow the well-trodden paths to your destination.
Champion Stamp Mill
Located in the ghost town of Freda, the Champion Stamp Mill was tasked with crushing millions of tons of copper ore to extract the tiny flecks of metal located within.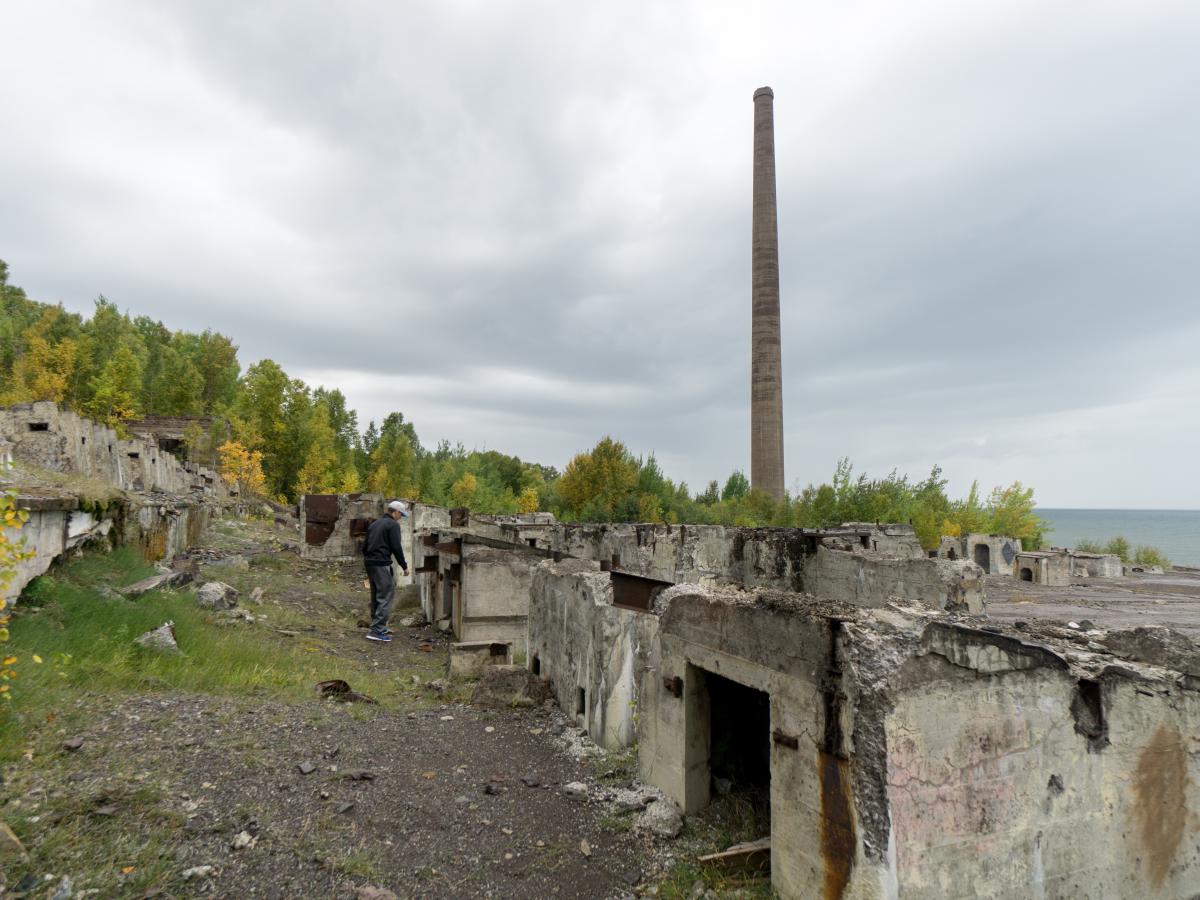 Ruins of the Champion Stamp Mill along the shores of Lake Superior still exist in the small ghost town of Freda.
For decades, the mill operated surrounded by a busy little town at the very end of the road along the shores of Lake Superior.  Eventually the mine's luck ran out and the mill closed for good in 1967.  Scrappers quickly reclaimed the useful iron from the massive structures, leaving a sea of concrete that visitors can explore (carefully) today.
To best take in the ruins at Freda, check out our in-depth guide for more info!
Ahmeek Stamp Mill
Right along the side of M-26 in Tamarack City are the remains of the Ahmeek Stamp Mill. Located adjacent to a small public park (MAP), these giant concrete pedestals each held equally impressive stamping machinery for pulverizing ore to extract the copper within.  Although nearly every mine in the Keweenaw had a stamp mill, remaining examples with the machinery intact are nearly impossible to find… except here!  For whatever reason scrappers left a single crusher in place, giving future generations an opportunity to see how the mill would have operated.  Missing from this historical scene are the giant building to contain the mill and its equipment, a towering trestle allowing fully loaded trains to deposit ore directly into the awaiting jaws of the stamp mill, and hundreds of workers who once supported this critical piece of infrastructure.  You'll just have to use your imagination.
The Dredge
You might be a little confused what a building is doing half tipped over in Torch Lake along M-26 on your way to Lake Linden.  Don't be confused, that's The Dredge!  Or Quincy Dredge #2, to cite its official name.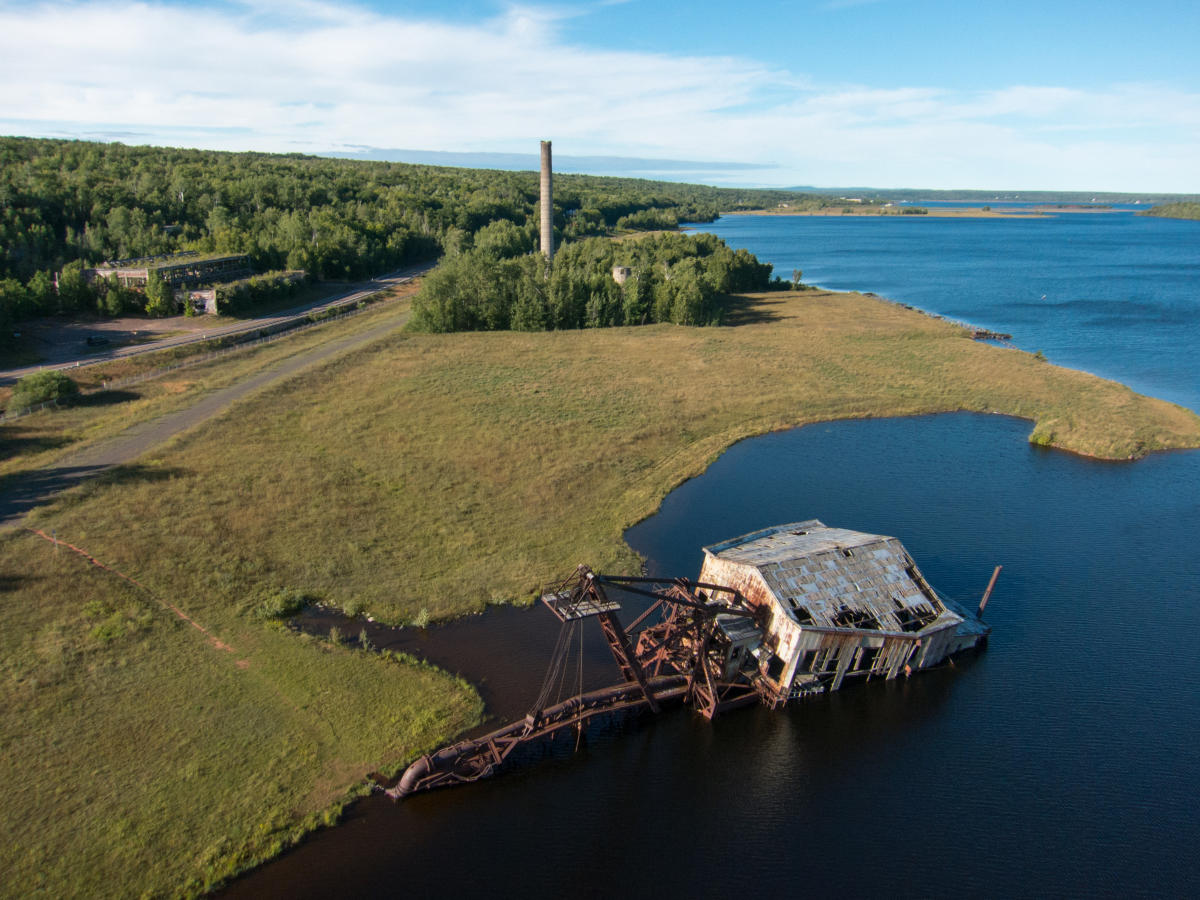 The Quincy Dredge No. 2 tipped over in the shallow waters of Torch Lake. 
After many copper mines ceased operating in the 1920s, Quincy and Calumet & Hecla realized that the waste stamp sands they dumped in Torch Lake could be reprocessed to extract even more copper.  Thus, two dredges were built to suck up millions of tons of material: one eventually sank in the middle of the lake in 1956, and the second along the shoreline in 1967, just within reach.  An unceremonious end to the copper mining era in the Keweenaw!
It's a unique piece of our mining heritage not commonly seen anywhere, really. We recommend taking a peek from shore where the chances of a dunk in the lake are minimal.  Find the parking area here.
Interested in updates, travel tips and quirky information about the Keweenaw? Just sign up for the Keweenaw Explorer, our monthly e-newsletter. Complete the form…