The Keweenaw is defined by its lakes.  Okay, it's actually defined by one lake in particular, good ol' Lake Superior.  Gitche Gumee is a wonderful place to dip your toes into or go for a paddle, but did you know that there are plenty of other inland lakes to paddle on in the Keweenaw?  Each is unique and has beautiful scenery to explore.  Best of all, they warm up far quicker than Superior does!  
Read on to get the skinny on some of our favorite lakes to bring your kayak, canoe, or paddle board to in the Keweenaw.
Lake Fanny Hooe
The skinniest lake in the Keweenaw!  At two miles long but only a fifth of a mile wide, Lake Fanny Hooe has a lot to check out and is conveniently located right outside of Copper Harbor.  Fort Wilkins Historic State Park is located along the northern shoreline and has several easy access points available to the public.  Patrons of the Lake Fanny Hooe Resort can put their kayaks or canoes in at their beach as well.  Few lakes in the nation have an expertly restored Civil War-era fort to see from the water, so take advantage of the opportunity to explore this historic resource from a new perspective.  The Keweenaw Adventure Company has rentals available for kayaks, canoes, and paddle boards.  Don't worry about how to transport them, they can bring them right to the launch point for you!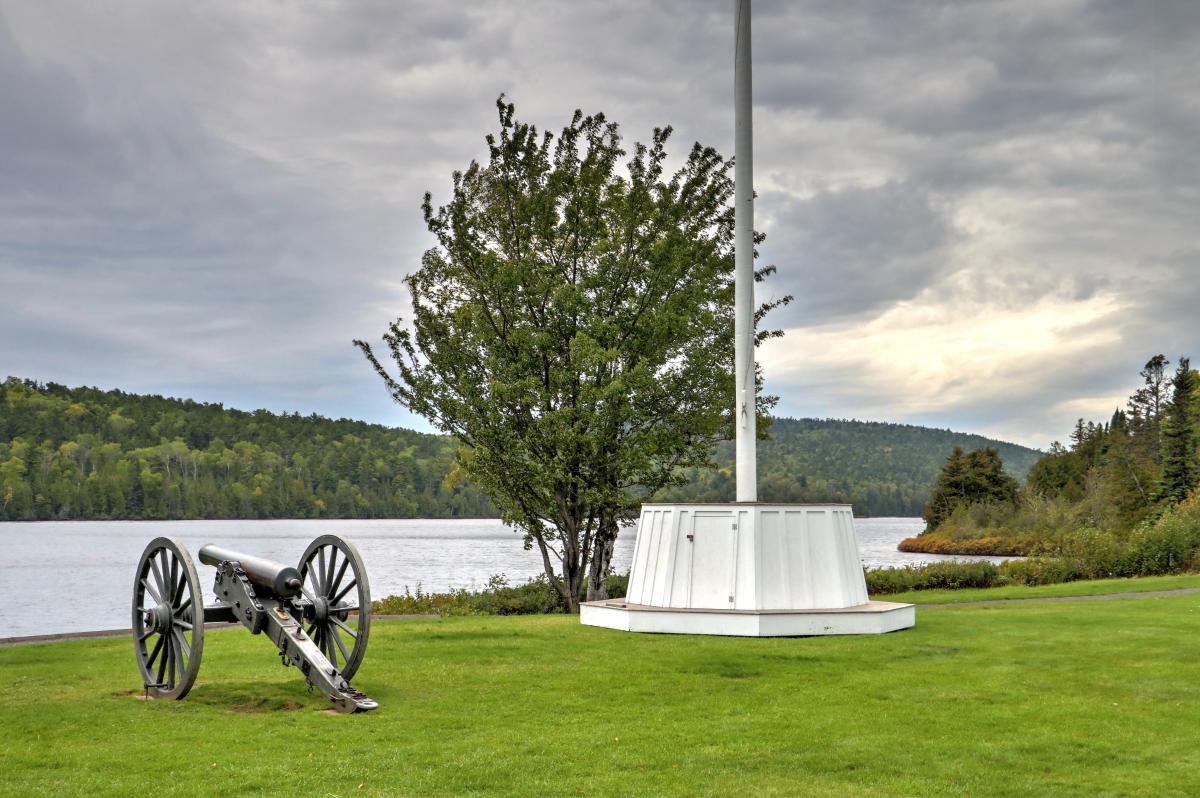 Portage Lake
Probably the most important lake on this list, at least from an economic and historical standpoint!  Portage Lake was the center of it all during the copper mining era, helping ship raw materials in to support the area's industries while offering an easy place to load their treasure for sale on the global market.  Today, Portage Lake is the center of our community and has several great places to launch your canoe or kayak from.  Near the northern end, there are launches on both sides of the canal near Lily Pond, a wider, quieter place to explore.  There's a lot of private development up here, although the landscape around the Marsin Nature Retreat is beautiful to see from the water.
Closer to town, you have tons of options.  Both Hancock Beach and Houghton's Kestner Waterfront Park (AKA Chutes & Ladders) are easy places to put-in with plenty of parking.  If you don't have your own paddle craft, you're in luck here!  Portage Paddle Sports offers kayak and paddle board rentals from either location.  They even offer private lessons for first-timers.  You can easily paddle to downtown Houghton and Hancock, marveling at the beautiful historic buildings and the mighty Lift Bridge from a new angle.
The lake widens considerably as you head further south.  The next best launch point is right in Chassell. Just outside of Chassell is one of my favorite day-paddle locations, the Sturgeon River Sloughs.  With a launch point just off of US-41, you can explore the wetlands and lakeshore in a calm area with tons to see.  You can even paddle upstream on the Arnheim Ditch all the way to Otter Lake before returning down the Sturgeon River!  I wouldn't recommend it though, as that's a 23+ mile looped trip that will beat up even the most adventurous paddler.  Stick with the more comfortable scenic options if you don't want your family to think you're crazy.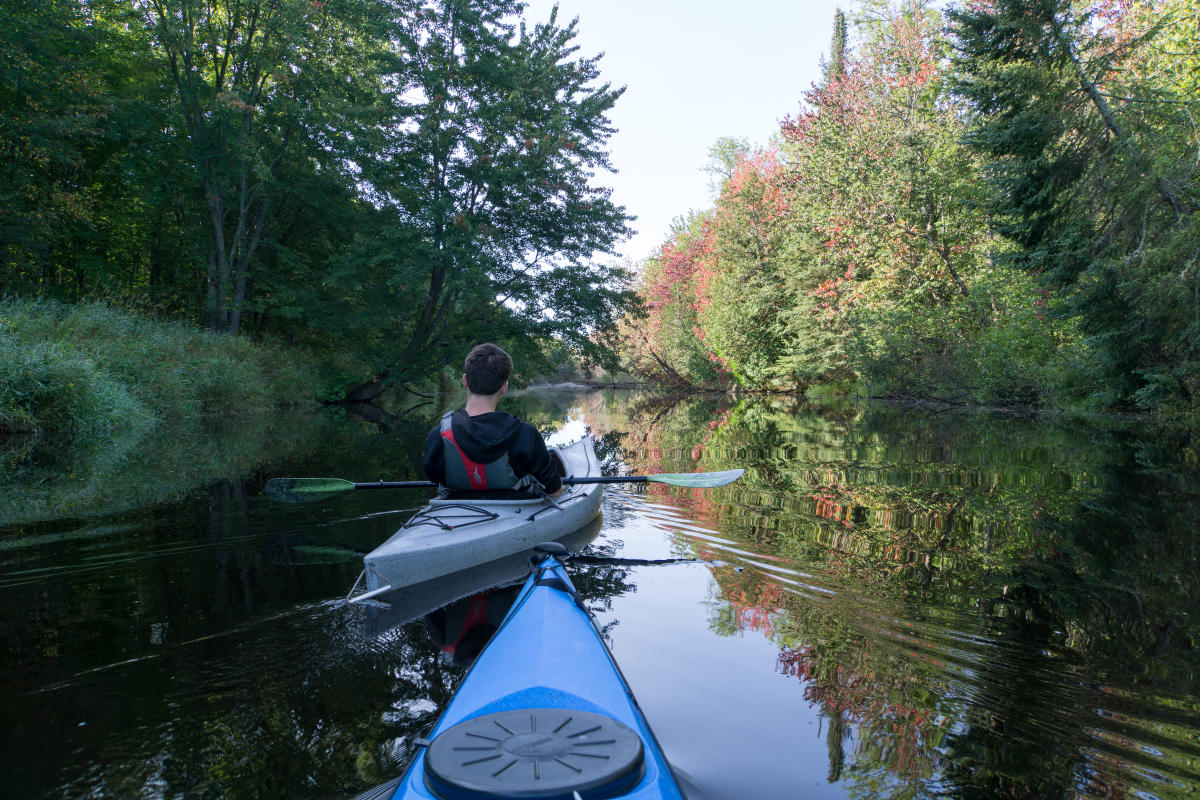 Lake Medora
If you've driven to Copper Harbor on US-41, you've no doubt looked out over Lake Medora and thought, "Wow, that's a cool looking lake!"  You're right!  Lake Medora has a number of rocky islands to explore, giving it a totally different feel than most of the other lakes on this list.  Much of the shoreline is private, although the development is scattered enough to not take away from the rugged feel.  With many lobes to explore and the Rocky Ridge topography looming in the distance, no two views from this lake are the same.  A public DNR boat launch is located right along US-41 for easy paddle access.
Lake Perrault
Located just off of M-26 south of Houghton, Lake Perrault is a surprisingly nice place to get away from it all.  There's a dirt parking area right next to the water that you can easily launch your canoe or kayak from.  This dollop of a lake is surrounded by a beautiful northern hardwood forest, along with plenty of hemlocks and giant white pines adding to the scenery.  There's a small lobe to explore as well as plenty of potential for trying out your casting if you're into that.  If you need to stretch your legs afterwards, you can see the lake from every angle by hiking the trail that circumnavigates it.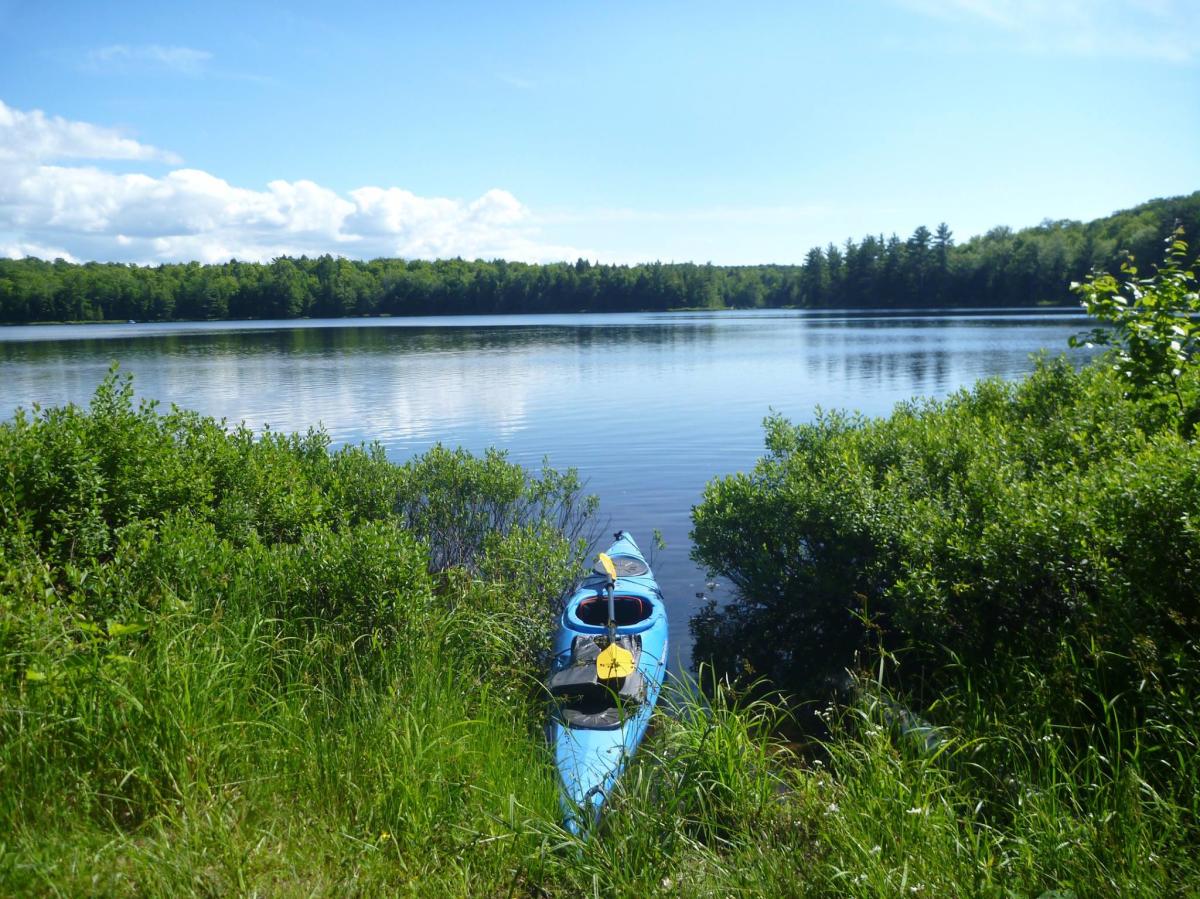 Lac La Belle
Does this one count as its own lake even though it's connected to Lake Superior?  Sure!  Once upon a time Lac La Belle was separated from Superior by a dune and swale ecosystem along Bete Grise Bay.  A channel was carved through the wetlands to offer boaters a safe place to escape the Big Lake's fury.  The channel still exists today, as well as the wetland sloughs that wind back and forth at the eastern end.  These sloughs are teeming with wildlife and a perfect place to explore.  As a bonus, if the weather is calm you can paddle out the channel and kick back on the white sand beaches at Bete Grise.  No matter where you're at on Lac La Belle, you'll be treated to immense views of Mount Bohemia or Mount Houghton.  There's a DNR put-in in Lac La Belle proper (2.5 miles from the channel), or you can drop your paddlecraft in directly to the sloughs opposite the Bete Grise north beach.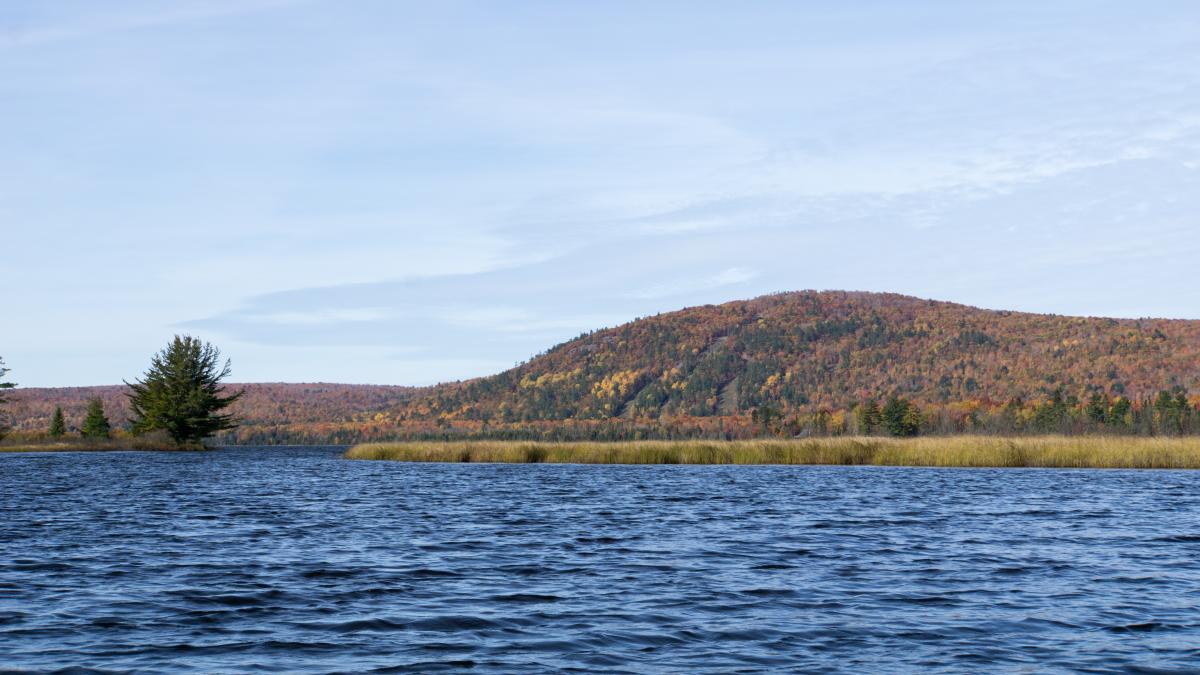 Otter Lake
Just south of Chassell lies Otter Lake.  It's one of the bigger lakes in the Keweenaw so plan accordingly.  There's plenty to explore here from either of the two launch points.  The southern end has a launch not far from the Otter River 'delta,' where the river empties into the lake.  You can paddle up the river as the current is very slow in this area, marveling at the dense canopy of trees overhead.  Or put in near the Otter Lake dam at the north end, exploring the wetlands and sloughs where the rivers and lake meet.  Once upon a time the Sturgeon River once entered the lake too, the remnants of which are perfect places to watch for birds and other wildlife.  Due to the size of Otter Lake (2.5 miles long, 0.8 miles wide), I wouldn't advise paddling around the middle portions of the lake on a windy day as sizable waves may give you hassle.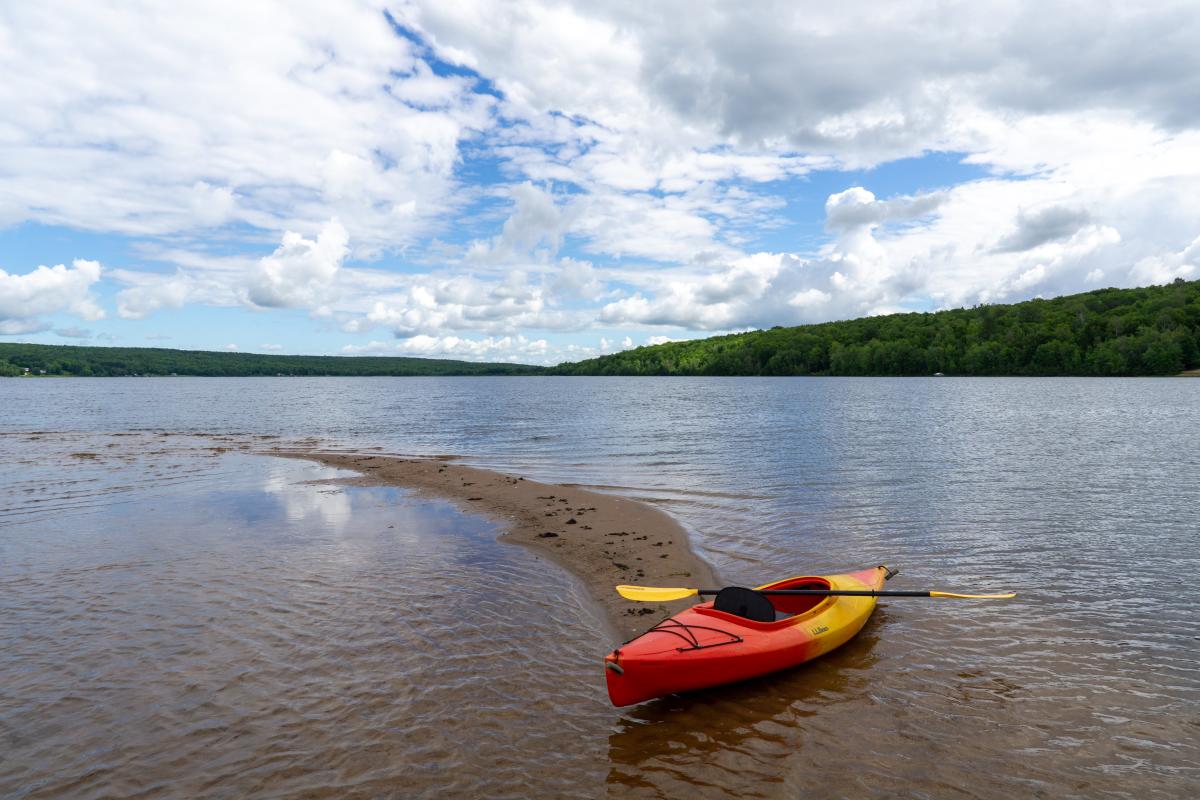 Gratiot Lake
This lake is bigger than you think!  About the same size as Otter Lake, Gratiot Lake boasts some of the wildest shorelines in the Keweenaw.  The Gratiot Lake Conservancy has protected nearly three miles of shoreline and manages the Noblet Field Station for educational purposes throughout the summer months.  Expect to see a lot of wildlife out here!  The lake is watched over by the Gratiot Lake Overlook, a beautiful lookout point you can hike to for planning your next paddle.  A DNR boat launch on the northern side of the lake is your best access point for this afternoon adventure.
What to Bring
Whichever lake you visit this summer, you'll want to bring a few essentials with you.  Sunscreen is probably the most important.  We may not see a lot of sun in the winter months, but come summer it's as strong as anywhere and will linger well into the late evening.  You'll also want to bring a water bottle (or two), some snacks, and of course a life jacket. 
If you're bringing your paddle craft in from another area, be sure to wash it first to prevent accidentally transporting any invasive species with you.  Keep those out, please!  A GPS can be helpful for finding your way back to your launch point on bigger lakes but usually isn't required.  You may also want to bring a small dry bag to keep your things in just in case.
Guides
If you're new to paddling, or looking for some local insight, consider hiring an area guide. These folks can help visitors learn more about the area and make sure you stay safe.
Find the Lakes
The largest of Keweenaw Counties inland lakes, Gratiot is 1,438 acres with a maximum depth of 70 feet. Large northern pike, perch, tiger muskie and walleye lure anglers. Public access site and boat launch. South of US-41 at Central on the Gratiot Lake Road.
Lac La Belle, one of Keweenaw Counties larger lakes, is a 1,146 acre lake with a maximum depth of 39 feet and access to Lake Superior through the Mendota Canal. Fish include walleye, small & large mouth bass, perch, crappie, northern pike, and muskie. Public access site and…
Located in Keweenaw County, Lake Fanny Hooe is 227 acres with a maximum depth of 40 feet. This is a good walleye lake and also has brook trout, splake, smallmouth bass and largemouth bass. Public access site and boat launch in Ft. Wilkins State Park along with camping facilities…
Keweenaw County's Lake Medora is 695 acres with a maximum depth of 30 feet. Small, picturesque islands are scattered about the lake. Fishing is good for walleye, smallmouth bass and perch and the popular Montreal River is nearby. Public access site and boat launch. Along US-41…
This small inland land, off M-26 south of Painesdale, has a sandy swimming beach, fishing, and picnic area. Public access site. Located nearby the Robert Thorson Brown Nature Sanctuary
A popular fishing lake for the locals, Houghton County's Otter Lake has brook trout, walleye, perch, sauger, rainbow and northern pike in its 890 acres.Public accesss site and boat launch. Several resorts are located on this lake.Pike River Road South of Chassell.
Portage Lake cuts across the Keweenaw Peninsula and offers entry into the waters of Lake Superior on both ends. It is one of the premier fishing and boating lakes in the area. Northern pike, walleye, smallmouth bass, perch, crappie, sturgeon and punkinseed lure fisherman. Public…
The Keweenaw area features quite a few rivers both big and small. Most are notable for their waterfalls, including Montreal Falls, Eagle River Falls, and Hungarian Falls…
Summertime in the Keweenaw Peninsula of Michigan is an event in and of itself. With the array of outdoor activities, historical sites, and learning opportunities, any…