Many people know that the Keweenaw Peninsula is legendary for the amount of lake-effect snow it receives each winter. Lesser known but equally impressive is that the same lake that dispenses buckets of snowfall is responsible for the Keweenaw Peninsula's miles of pristine coastline.
The meeting of Lake Superior and the Copper Island coastline has created an array of diverse beaches. Rocky, sandy, remote, close to town, you name it—the Upper Peninsula has it.
So to aid you on your next north-bound journey, we've compiled a list of the best beaches in the Keweenaw.
WHITE CITY BEACH
47.1171072, -88.5620736
White City Beach sits at the southern entry of the Portage Canal, a 40-minute drive from Houghton. White City sits with its "back" to the northwesterly winds, protected by the ridge of the Keweenaw Peninsula. This provides calm water and a perfect pocket for swimming. White City features a half-mile break wall at the end of which a steel lighthouse stands sentinel serving as an active beacon light for boaters. The break wall is a great place to walk and see the beach and expansive Lake Superior views from a new vantage point. With fine, white sand, a view of the Huron Mountains, a gradually deepening swim area, and lots to explore, it is the perfect place to bring the family for a day at the beach.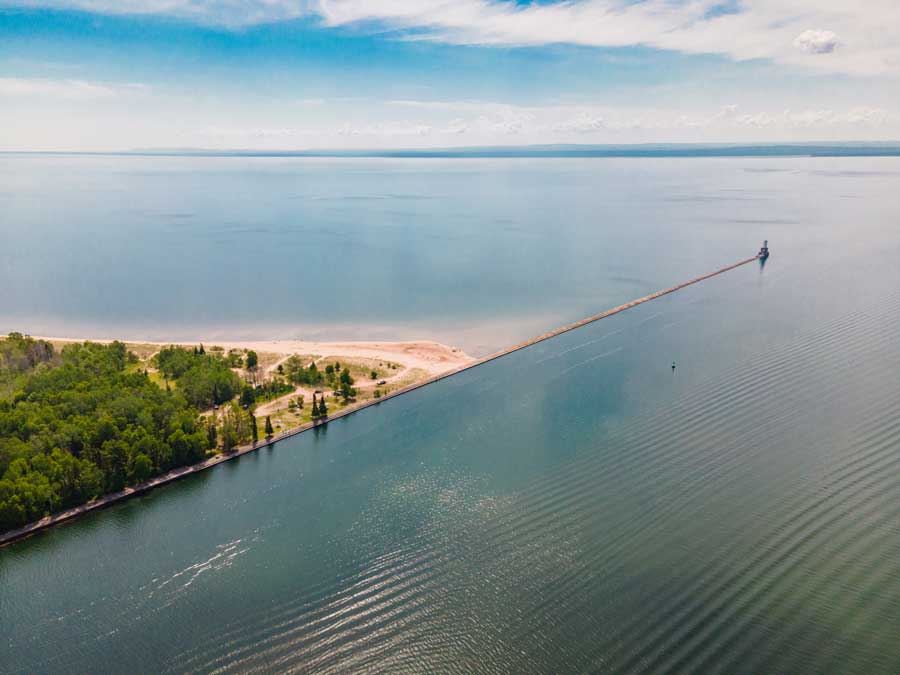 RAY KESTNER WATERFRONT PARK (CHUTES AND LADDERS)
47.1206131, -88.5880872
Close to the heart of Houghton is Ray Kestner Waterfront Park, lovingly named by locals as "Chutes and Ladders." Kestner Park boasts a variety of things to do, including paddle sport rentals, a concession stand, a large playground, volleyball courts, a picnic area, and a protected swim area. Even though it's close to town, you can still experience as much adventure here as you like. This park also plays host to many of Houghton's outdoor events and festivals like the much-lauded Bridgefest.
BETE GRISE
47.3867944, -87.9570262
(Yooper phonetic spelling: Bay-duh-gree)
Bete Grise tops the list of best beaches in the Upper Peninsula with soft white sand beaches surrounded by rugged Keweenaw coastline. Bete Grise's crescent shape creates a safe harbor for boaters, protected from the quick-tempered Lake Superior. It is also a haven for paddlers who can explore the area's many channels. Bete Grise sits an hour north of Houghton and a half-hour south of Copper Harbor on the eastern shore. Its remoteness makes it a great spot to spend the day picnicking far from crowds. The sand on this beach also holds a little magic. Visitors who swirl their hands around in the sand report a faint singing sound, which is said to be that of a Native American woman singing to her love who was lost in the Lake.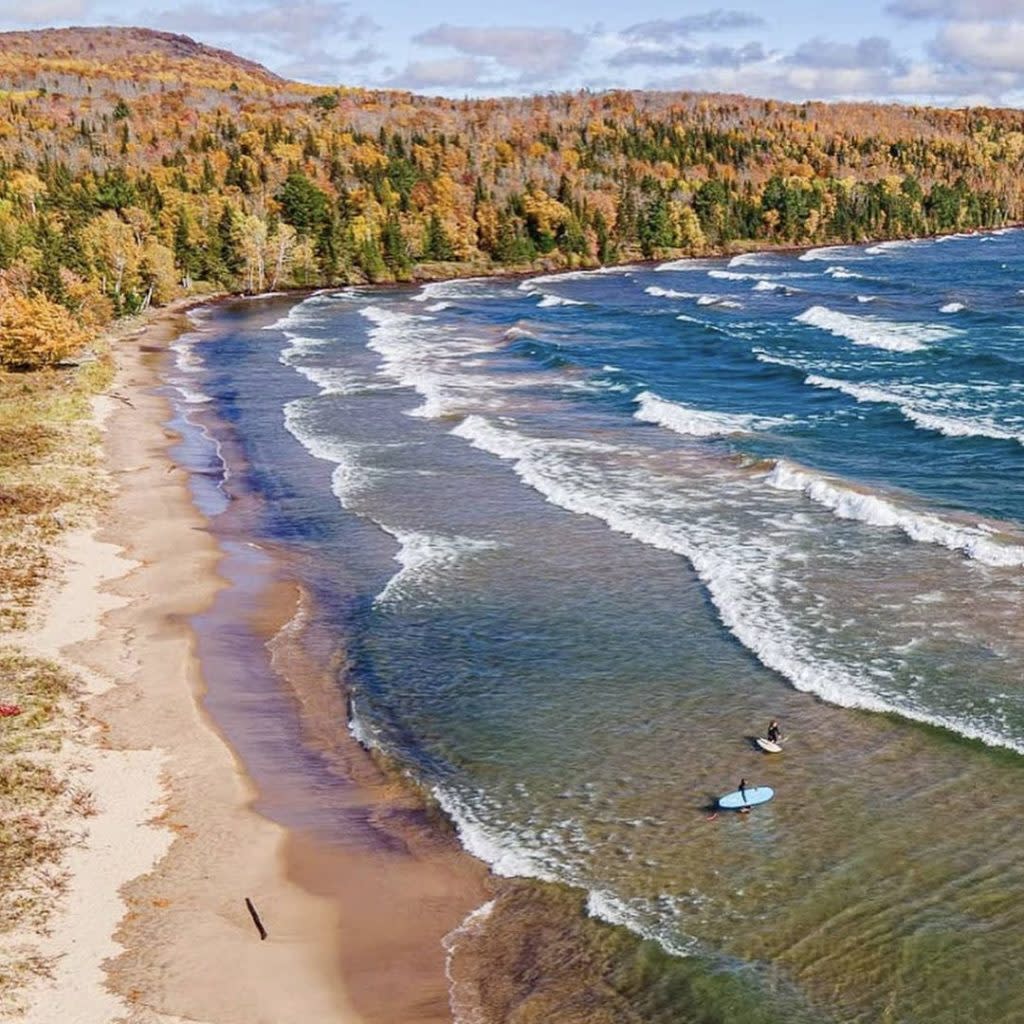 EAGLE RIVER PUBLIC BEACH
47.4163049, -88.2971792
Located on the western shore of the Keweenaw Peninsula, Eagle River delivers some of the most exceptional sunsets in Michigan. It is also known as a prime spot for catching the Northern Lights. While you may be tempted to drive right through to Copper Harbor, Eagle River beach offers breathing room away from crowds and continuous coastline for agate hunting or soaking up the sun. The Eagle River beach also sits right next door to one of the best restaurants in Michigan, Fitzgeralds. It is one of the best places to grab a drink and sit out on the deck and enjoy the views of Lake Superior.
BIG TRAVERSE BEACH
47.1698083, -88.2597056
Schoolcraft Township Park (dubbed by locals as Big Traverse) is definitely off the beaten path. While other beaches may be farther north, they are positioned close to creature comforts—Big Traverse is not. It makes our list for this very reason, its secluded nature. As with many of the beaches on the eastern shore, Big Traverse is a sandy beach great for swimming or paddling. The park also includes picnicking spots, a small playground, and a boat launch that gives access to Lake Superior. It is a great place to spend the day if you're looking to ditch the crowds and experience the peace of the Keweenaw.
MISERY BAY
46.998330, -88.980264
Misery Bay may not sound like a place you want to spend a summer day, but those who have visited know the name is a misnomer. While the Upper Peninsula's western shore is typically rockier, Misery Bay offers sunset exposure with a sandy shore. It also provides an extended shallow area great for swimming or paddling with the whole family. Next to the beach, the Misery River feeds into Lake Superior. Crossing the river gains you access to about over a mile of white sand beach. For those looking to fish or take a sunset cruise, a boat launch is located at the main parking area with plenty of room to park a truck and boat trailer.
AGATE BEACH
47.0399451, -88.9344406
Agate Beach lies 30-minutes south of Houghton on the western shore of the Keweenaw Peninsula, only 8.5 miles north of Misery Bay. As its name implied, Agate Beach is a great spot for rock hunting due to the geologic nature of the lakeshore in that area. Not only can you find the occasional agate, but Agate beach is a great spot for hunting Yooperlites. Yooperlites are rocks that contain a fluorescent mineral called sodalite which glows when exposed to UV light. Agate Beach also includes a campground with scenic Superior views. If you're looking for a more rustic option on your trip to the tip of the Keweenaw, Agate Beach is an exceptional waypoint.
MCLAIN STATE PARK
47.2352263, -88.6174332
McLain State Park sits just across the North Entry of the Portage Canal from Breakers (officially known as North Canal Township Park). Because these beaches are sisters across the channel, you might think they would hold similar experiences. But where Breakers is wide open with dark sands, McLain offers shady trees, pavilions to gather under, and light, fine sand. McLain State Park is located midway between Hancock and Calumet. With cozy campsites, it is a great place to spend a night as you tour the Keweenaw.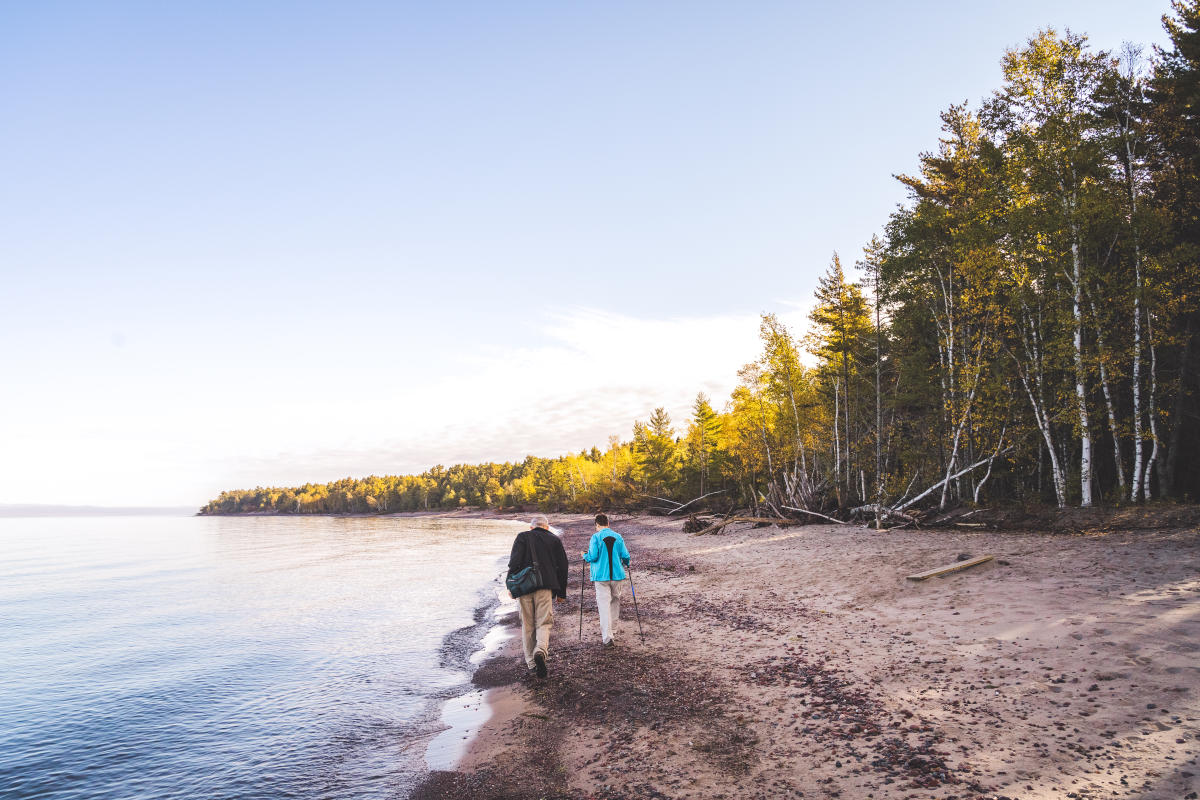 EXPLORE MORE BEACHES
The beaches along Lake Superior are an exceptional place to visit during your trip to the Upper Peninsula. After days of hiking, mountain biking, shopping, and exploring, be sure to slow it down and soak up your memories. Take a day to agate hunt on the western shore, play in the endless waves, watch the sunset sink down behind Lake Superior, and make some sticky s'mores to close out a beach barbeque. There is always more to explore in the Keweenaw Peninsula. Come and experience it for yourself.
Interested in updates, travel tips and quirky information about the Keweenaw? Just sign up for the Keweenaw Explorer, our monthly e-newsletter. Complete the form…