Calumet is all about history. There are probably more historical attractions packed into this small community than anywhere else in the Upper Peninsula.  Walk the streets of its downtown, and you can't help noticing the architecture's grandeur, often built from the rare Jacobsville sandstone, and the magnitude of wealth created by the region's copper boom in the late 1800s and early 1900s.
While today's population is nowhere close to its early 20th-century peak, you'll pick up on Calumet's new energy centered around preserving its history and embracing its role as the hub of the Keweenaw thanks to its central location between the big metro of Houghton and the remote communities up North.  Calumet's growing arts scene, quaint coffee shops, and nearby trails make it a great destination for Keweenaw travelers.
So what should you do once you're set on exploring Calumet?  Let's find out!
1. KEWEENAW NATIONAL HISTORICAL PARK VISITORS CENTER
A trip to the Keweenaw National Historical Park Visitors Center equates to a half-day well spent. Explore the top-shelf museum's three floors of exhibits detailing the Copper Country's mining lore and its legacy that still shapes the Keweenaw today. From the geology that makes the area so unique to stories about the lives of the miners (including samples from police logs back in the day), it's well worth your time. Don't forget to check in with the local park rangers in the gift shop to learn about walking tours and programs.
2. HISTORIC CALUMET THEATRE
This jewel box opera house stands as a living example of fantastic sandstone architecture and is still a great place to catch a show. If an evening of live music or theatre doesn't fit in your itinerary you can always stop by during the summer months for a guided tour.
The Calumet Theatre is the oldest municipally-built and owned opera house in the country. Since its opening in 1900, at the peak of the copper boom, it has played host to some of the biggest names in entertainment, it became a movie house in the early days of movies then transitioned through years as a community theater and, finally, a venue for professional artistic performances.
Substantially restored, the Calumet Theatre offers guided and self tours of the historic building as well as performances by local, regional, and nationally known artists.
3. SWEDETOWN RECREATION AREA
Travelers seeking some outdoor R&R should visit the Swedetown Recreation Area located minutes from downtown Calumet. Featuring 1,900 acres of rolling, wooded trails perfect for winter and summer silent sports. In summer and fall Swedetown more than 25 miles of purpose-built singletrack mountain bike trails. During the snow season, you'll find over 35 kilometers of cross country ski trails groomed for skate and with tracks set for classic skiing, 10 kilometers perfect for fat-tire biking, and two trails made for backcountry snowshoeing. Be sure to stop by the Chalet for maps before heading out.
Swedetown has 35 kilometers of groomed cross country trails.
4. LAURIUM MANOR INN
While technically outside of Calumet, any history buff will want to take the time to visit this former copper baron's 14,000 square-foot mansion located in the village of Laurium. Listed as one of the region's heritage sites, the Laurium Manor Inn is now one of the Keweenaw's most beloved B&Bs. Built in 1908 by Thomas Hoatson, then owner of Calumet & Arizona Mining Co., no expense was spared building this 45 room mansion. At a time when miners were making 25 cents per hour, this house was built at a cost of $50,000, and $35,000 of furnishings were added.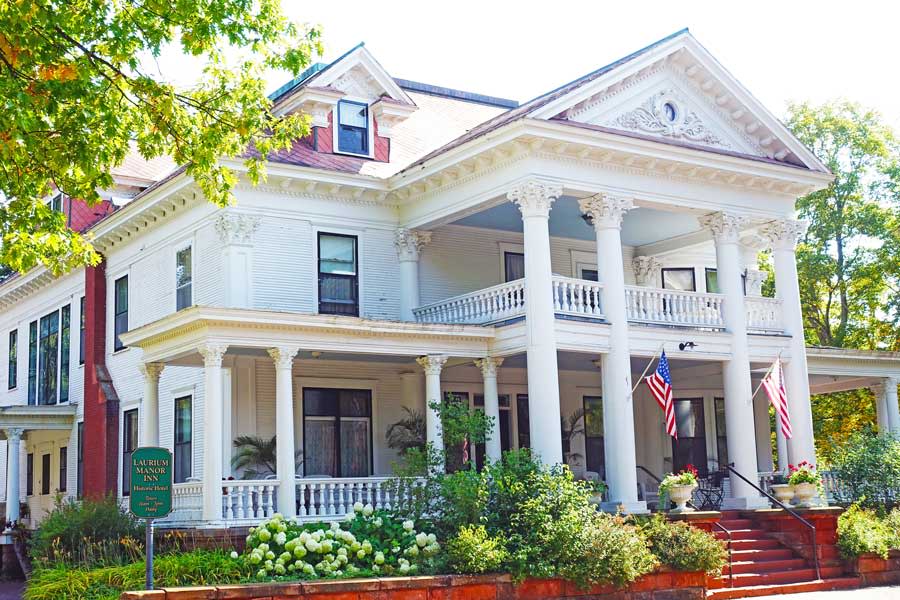 The Laurium Manor Inn was built in 1908 to display the region's wealth and grandeur generated by the copper mining industry.
5. CALUMET ART DISTRICT
Located on 5th and 6th St. in Calumet's historic downtown, the Calumet Arts District is home to a mix of art galleries displaying collections created by local artists and craftspersons. Admire copper-made art at Hahn Hammered Copper or works of art at The Vertin Gallery and the Calumet Art Center. Enjoy an evening stroll the first Friday of each month, as the Calumet Arts District Galleries offer an open house to showcase new installations.
6. SHUTE'S SALOON
Some say Shute's (pronounced Shoo-teez) Saloon is Michigan's longest continually operated bar. We're not going to argue with that claim's accuracy. Located next to the Calumet Theatre for easy access pre/post-performance, you won't find a more beautiful bar in the Midwest. Originally an Italian saloon called Curto's, Shute's still has the magnificent original back bar, booths, and all the trappings of boom-town saloons. Be sure to grab a drink and dream what it was like during the mining heyday of the early 1900s.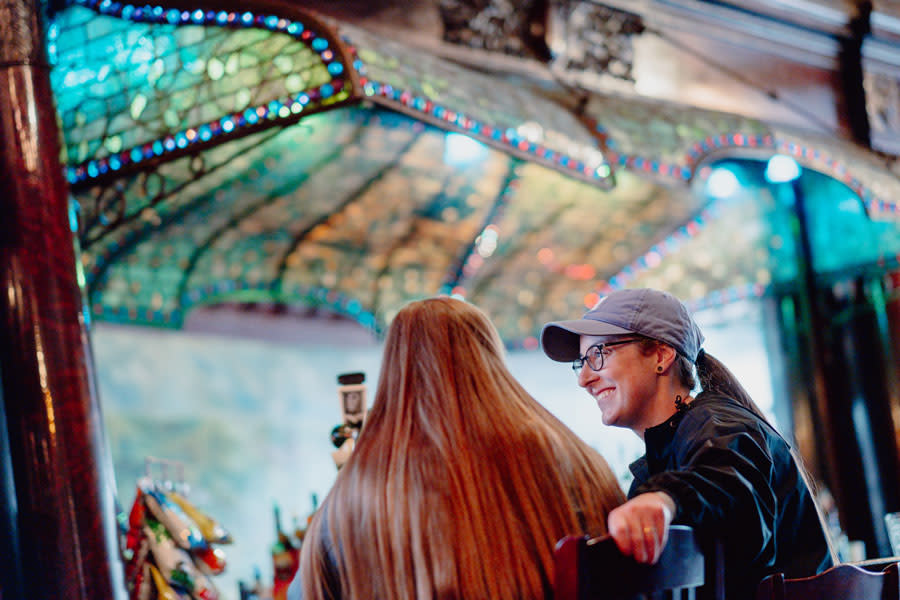 Shute's Saloon is a local favorite next to the Calumet Theatre. It's also Michigan's oldest bar.
7. THE COLOSSEUM
Built in 1913, the Calumet Colosseum is considered the oldest operating continuous-use ice rink in North America and one of the oldest operating indoor hockey arenas in the world. Hockey afficionados will definitely want to make the pilgrimage to the arena which served as the host to the NHL's Kraft Hockeyville in 2019 where the Red Wings beat up on the St. Louis Blues 4-1.
8. COPPER WORLD
You can't leave the Keweenaw Peninsula without souvenirs, and there's no better place to find one than Copper World (also known as Calumet Mercantile).  Consistently rated as one of the best gift shops in the Upper Peninsula by publications like Lake Superior Magazine, you can find a little bit of everything here. From fudge to jewelry, books about the Copper Country, and probably the best collection of Keweenaw-inspired clothing in the Peninsula, you'll find something you'll need to take home.  Family owned and operated, you'll be sure to leave with a smile and a good bit of candy.
9. RED JACKET BREWING COMPANY
Beer inspired by the region's copper mining history? Check. Beer brewed in a former brewery? Chck (Bosch Brewing Company).  Mouth-watering food (especially the burgers and the smoke-porked sandwich)? Check. Beautiful scenery? Check. Simply put, The Red Jacket Brewing Company in the Michigan House is a place you need to check out.