2022 Annual Update
An overview of Visit Keweenaw achievements, investments and activities for 2022
The new year is off to a fresh start, but before we close the door on 2022, the Visit Keweenaw team would like to share a recap of highlights and notable accomplishments from the past twelve months. Despite last year's tumultuous nature, our organization and board of directors are proud of the progress we made in driving the Keweenaw's visitor economy and sharing what makes this place so special. As always, the work we do is a reflection of the team's dedication to the Keweenaw and the collaborations we share with our members, local businesses and community partners.   
Visitor Economy: Economic Impact of Visitors
Despite economic headwinds in 2022, the Keweenaw's visitor economy remained strong. Inflation, gas prices and economic uncertainty were all concerns leading into the summer travel season; however, our destination appears to have had its second strongest year on record surpassing 2019 and falling just short of 2021. While data for the final quarter of 2022 is still coming in, we are confident that the Keweenaw's visitor economy remains robust compared to 2021's historic year.
Total Visitor Estimates
Pulled from Visit Keweenaw's Tourism Statistics Dashboard, we estimate that 254,000 overnight visitors stayed in the Keweenaw between January 1st, 2022 and September 30th, 2022. This represents a slight decline (-2.7%) compared to the same period in 2021.  
Economic Impact Estimates
Visit Keweenaw estimates that overnight visitors to the Keweenaw spent approximately $85.5 million during the first three quarters of 2022. Even when adjusting for inflation, this represents an increase of 3.5% compared to the same period last year. On average, each overnight visitor spent approximately $471.27. A breakdown of spending per visitor by category is provided below.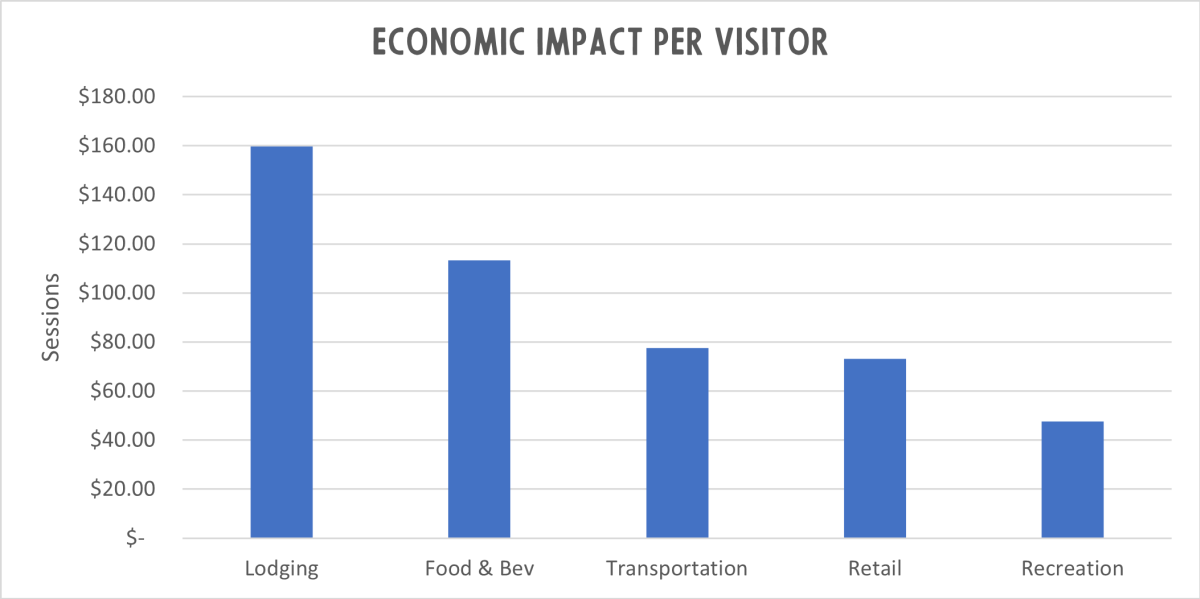 Responsible Recreation
The growth of the Keweenaw's visitor economy, mixed with first time visitors to the region, has highlighted the need for increased education and communication regarding responsible recreation and leave-no-trace principles. As visitors come to the Keweenaw, it is important to communicate the importance of respecting our communities and the wilderness. In May, the Visit Keweenaw team launched a campaign to encourage visitors to practice responsible recreation creating marketing resources speaking to the need for preparation, respecting private property, and other best practices. This winter we even collaborated with Keweenaw County's Sheriff Department to highlight responsible snowmobiling to keep riders safe and reduce user conflicts.  
Visit Keweenaw Brand & Website Launch
In June, our team launched a new destination promotion brand and website transitioning from the "Keweenaw Convention & Visitors Bureau" (KCVB) to "Visit Keweenaw".  The switch required nearly every aspect of our marketing and organizational collateral (e.g. logos, stickers, print material, letterhead, envelopes, ads, signage, maps, etc.) to be updated. While it was a heavy lift, it was long overdue. And it gave our destination and organization a fresh, new, consistent look and feel. The feedback from local and industry partners has been overwhelming positive, and we know it will lead to stronger destination and brand recognition moving forward.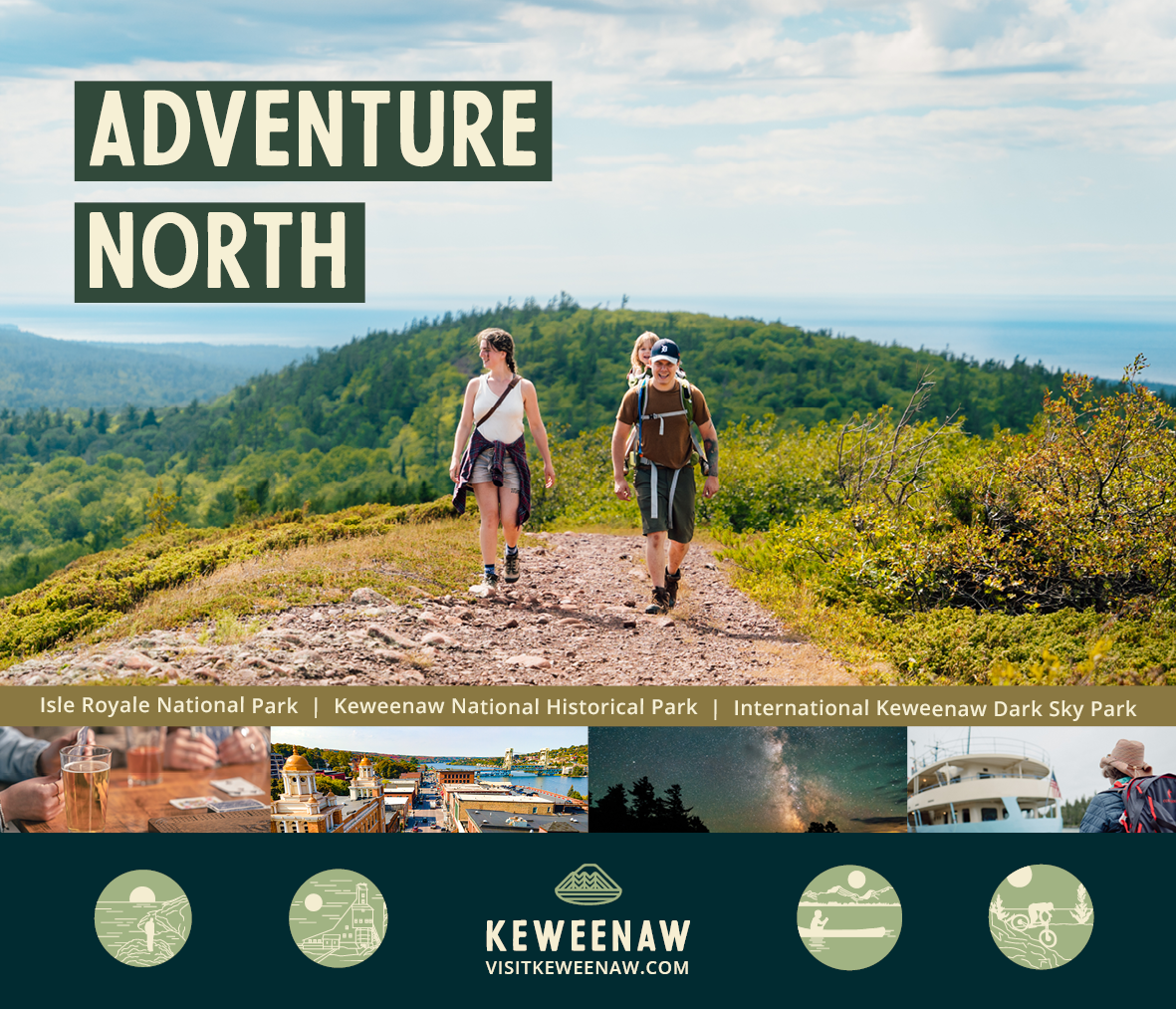 With a new brand came the launch of a completely revamped website, VisitKeweenaw.com. This mobile-first site was built by Simpleview, the leading destination website company in the United States, and created a modern and professional home for Keweenaw content, planning tips, business listings and more. The time, cost and effort to launch this site was intense, but our community deserved a site that reflected its beauty, history and experiences. If you haven't done so already, consider adding a link from your site to VisitKeweenaw.com so that visitors can find information on lodging, activities, events and more.
Destination Development
One of Visit Keweenaw's goals in 2022 was to make investments to preserve and enhance experiences for visitors. Launched at the beginning of the year, Visit Keweenaw's Destination Development Program offered matching awards to nonprofit and government organizations to support initiatives that would grow the visitor economy and support the region's collection of outdoor recreation, cultural, and historical amenities. Over $40,000 of awards were made. Below is a list of awards made in 2022 through the program.
Keweenaw Trails Services - $10,000 - Groomer Barn Development & Energy Efficiency
Copper Harbor Trails Club - $10,000 - Bike Skills Park at the Keweenaw Mountain Lodge
Copper Harbor Trails Club - $5,000 - Trail Development - PHF Giving Tuesday
City of Hancock - $4,500 - Downtown Historic Plaques & Signage
Carnegie Museum of the Keweenaw - $3,800 - Downtown Historic Houghton Walking Tour
Chassell Township - $2,800 - Wayfinding and Historic Interpretive Signage
Keweenaw Nordic Ski Club - $2,500 - Trail Development - PHF Giving Tuesday
Swedetown Recreation Area - $2,500 - Trail Development - PHF Giving Tuesday
Calumet Township - $2,300 - Fat-Tire Bike Trail Grooming Equipment
Adventure North Winter Campaign Launch
In October, Visit Keweenaw launched our 2022-2023 Winter Campaign to promote the region for snow tourism. While the winter tourism season is heavily dependent on Mother Nature, staying "top-of-mind," building the Keweenaw's destination brand is critical to attract visitors from across the Midwest. Working with videographer and photographer Aaron Peterson, our team worked to create content that represented the uniqueness of the Keweenaw winter experience and to attract those that truly love snow. Checkout Aaron's work by watching our lead video piece (which has been viewed more than 360,000 times across our social media channels).
By The Numbers: Promoting the Keweenaw
We constantly strive to measure performance to demonstrate progress and value. Below, you'll find a few of Visit Keweenaw's key performance indicators (KPIs) we use to monitor our marketing program.
Total Marketing Reach
Numbers don't always tell the full story, but Visit Keweenaw's marketing program took a step forward in '22 thanks to the increase in the local room assessment to 5%. The additional resources allowed our team to participate in new marketing opportunities and expand existing ones. Last year, Visit Keweenaw's marketing program generated an estimated 92 million impressions to target audiences (an increase of 38% year over year). An "impression" is generated when an advertisement or content piece is viewed.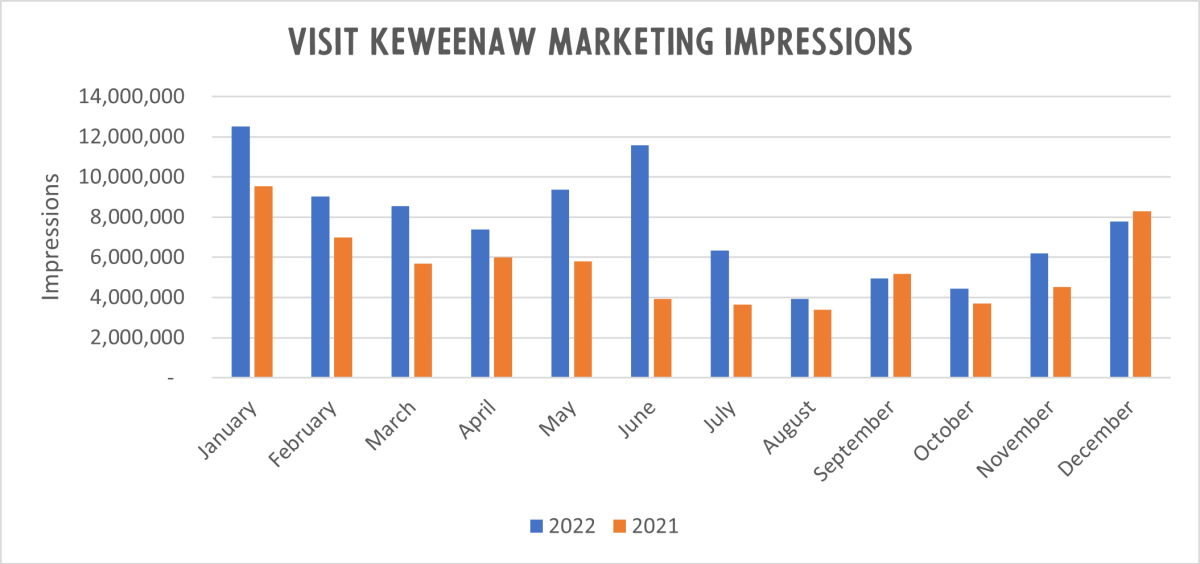 Website Traffic
Website traffic to VisitKeweenaw.com (formerly Keweenaw.info) is generated through a combination of paid advertising, partnerships, and unpaid (organic) traffic. In 2022, Visit Keweenaw's website received more than 630,000 site visits. Compared to 2021, this was a slight decrease of about 0.4% which is attributed to a domain change impacting organic search optimization traffic.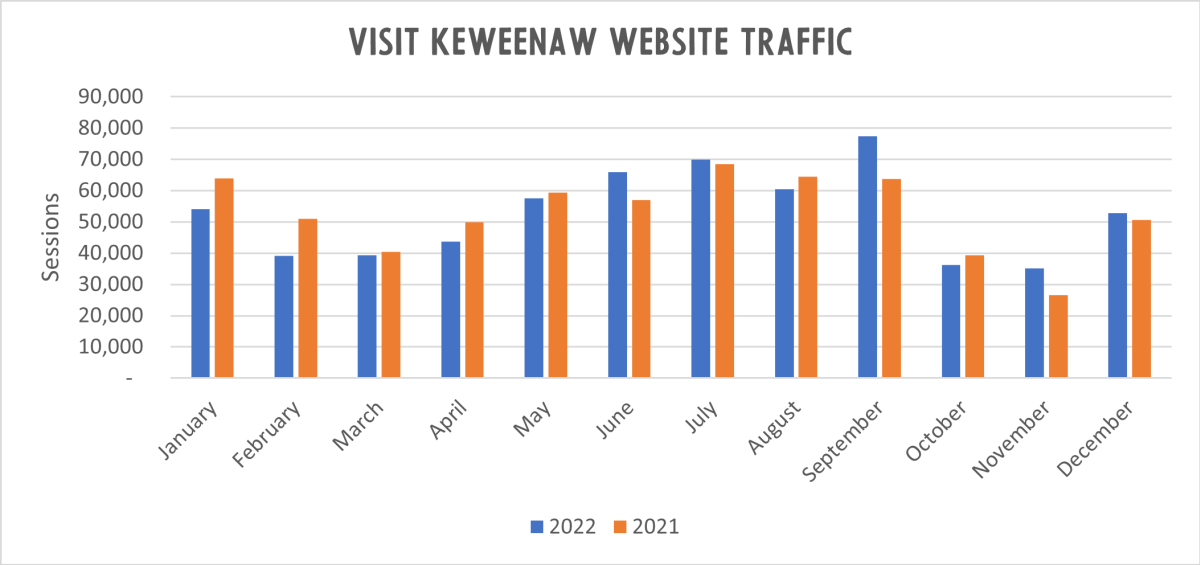 Top Website Visitor Markets - Top 10
Chicago, IL - 100,520 sessions
Detroit, MI - 67,372 sessions
Milwaukee, WI - 43,102 sessions
Minneapolis-St. Paul, MN - 40,364 sessions
Grand Rapids, MN - 37,226 sessions
Green Bay-Appleton, WI - 18,573 sessions
Flint-Saginaw-Bay City, MI - 12,964 sessions
New York, NY - 13,660 sessions
Traverse City, MI - 12,675 sessions
Madison, WI - 10,275 sessions
Traffic to Partner Websites
Visitors come to our website to learn about the Keweenaw and plan their experiences. Once they come to VisitKeweenaw.com, we want them to learn about our amazing business partners, attractions and activities. Our new website helps us measure that by monitoring views of business listings on our website and tracking the traffic that we pass on to these businesses and attractions. Last year, business listings on VisitKeweenaw.com were viewed nearly 54,000 times and generated more than 60,000 visits to partner websites.
Events Views
Highlighting the Keweenaw's abundance of seasonal events was a top destination marketing priority for '22. Last year, Visit Keweenaw helped visitors connect with more than 270 community events (big and small). More than 70,000 people viewed event information on our Facebook channel or website. 
Video Views
The Keweenaw is a beautiful place with dramatic landscapes, picturesque communities and spectacular experiences. Video is a great way to showoff a destination like the Keweenaw. In 2022, Visit Keweenaw made a strategic investment in video content to promote the region and using social media channels to get in front of our target audiences. The investment nearly tripled total views year-over-year and surpassed more than 6 million views.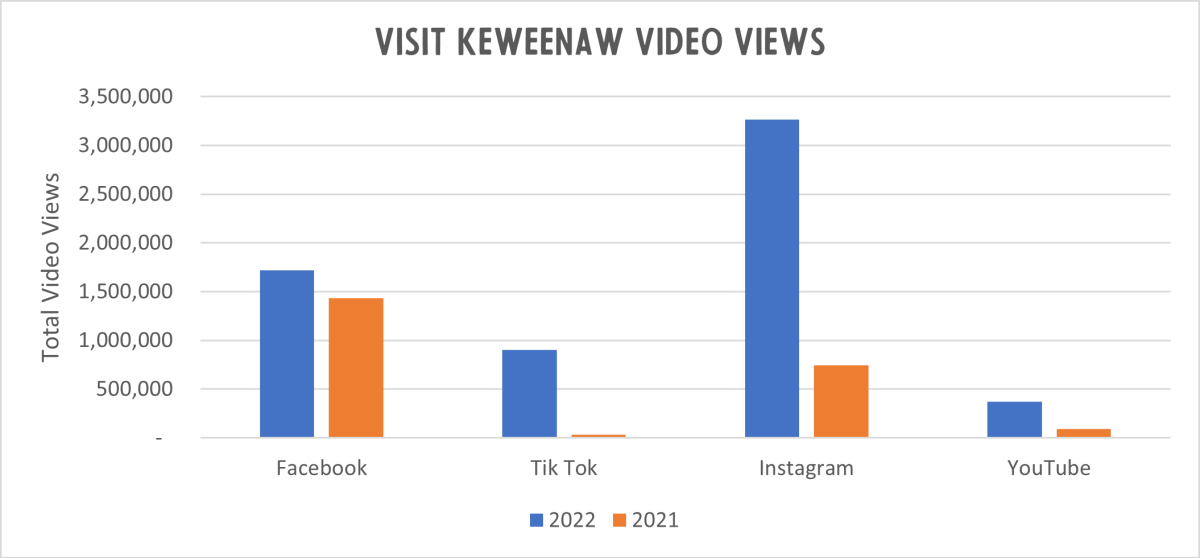 Video Content Watch Time
In 2022, video watch time for Visit Keweenaw content on Facebook and YouTube surpassed 1.1 million minutes (approximately 18,000 hours). This represents a 39% increase compared to '21. The majority of that growth came from Visit Keweenaw's YouTube channel. Watch time statistics for Instagram and TikTok are not provided by these platforms.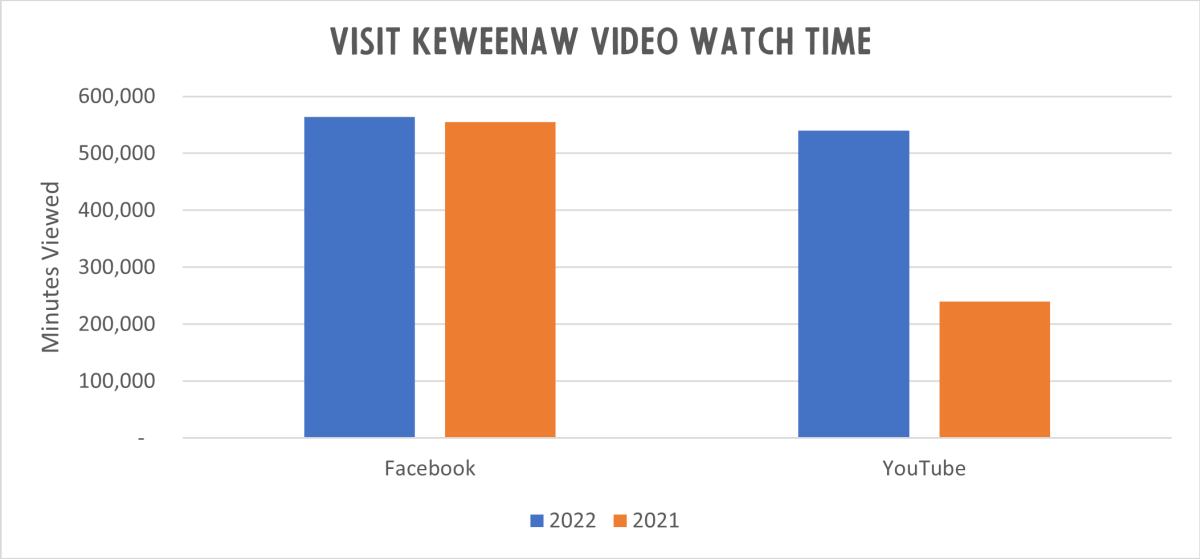 Community Event Support & Sponsorship
Events bring together visitors and community members to celebrate what we love about the Keweenaw. Whether its a sporting event, a celebration of history, great music, delicious food, or all the above, there's no doubt that events are both good for the soul and great for the visitor economy. This year, Visit Keweenaw sponsored several keystone community events and helped plan and coordinate several as well.  
Sponsored Events
Michigan Tech Winer Carnival (100th Anniversary)
CopperDog 150
Lake Fanny Hooe Down 2
Farm Block Fest
Great Deer Chase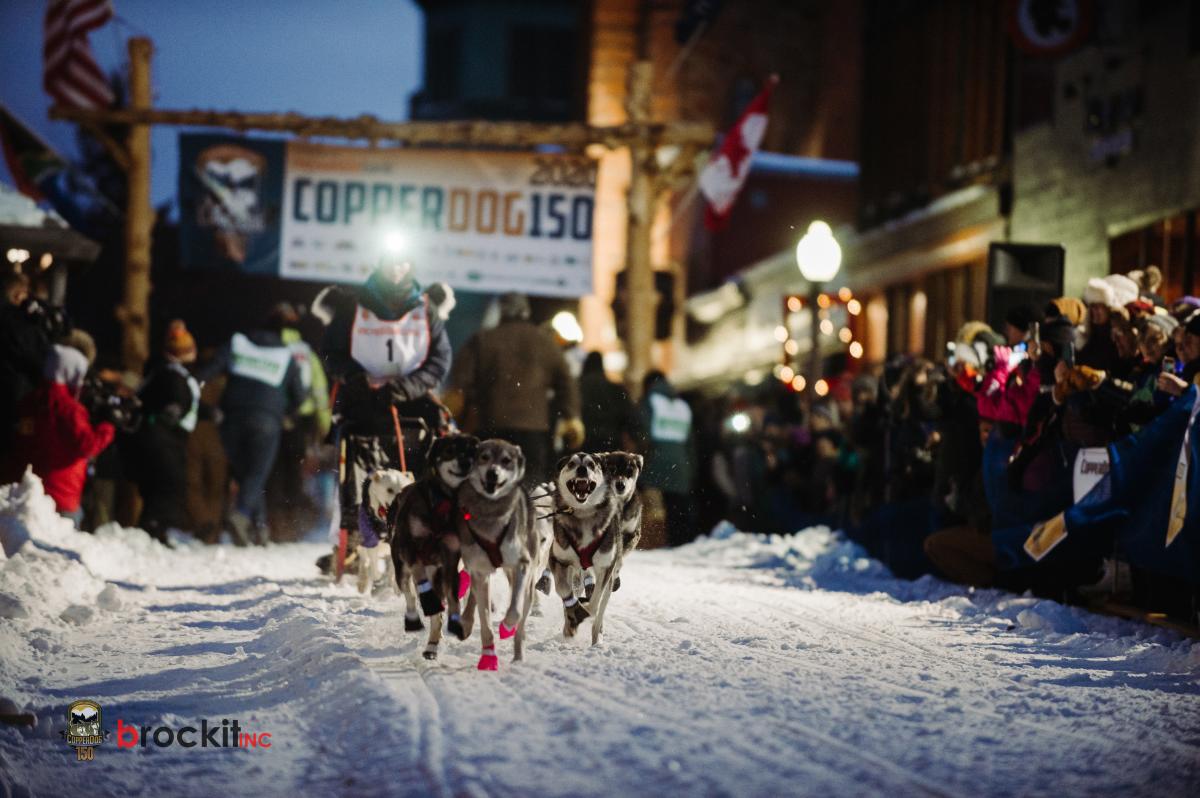 Event Coordination
In collaboration with community partners, Visit Keweenaw staff got their hands dirty with planning and organizing several events in 2022. Not only did we enjoy the opportunity to work with fellow volunteers, it was rewarding to connect with the community as they celebrated the change of the seasons. Events included, the First Annual Houghton Fall Fest, the Houghton Winter Wonderland Festival, and the Keweenaw Episode Under the Radar Community Watch Party. 
Keweenaw Land Project
In December, to the excitement of many, The Nature Conservancy announced the acquisition of 32,600 acres in Keweenaw County with the intent to preserve the land for recreation, conservation and the visitor economy for future generations. The purchase was a community effort with many project partners including Visit Keweenaw who assisted with data gathering and community survey work to justify the multi-million dollar investment and advocacy efforts to state and local leaders. Now that the deal is done, Visit Keweenaw will continue to play a role in developing land management and governance strategies for land not eventually acquired by DNR. This was a monumental win for the Keweenaw community and the broader visitor economy.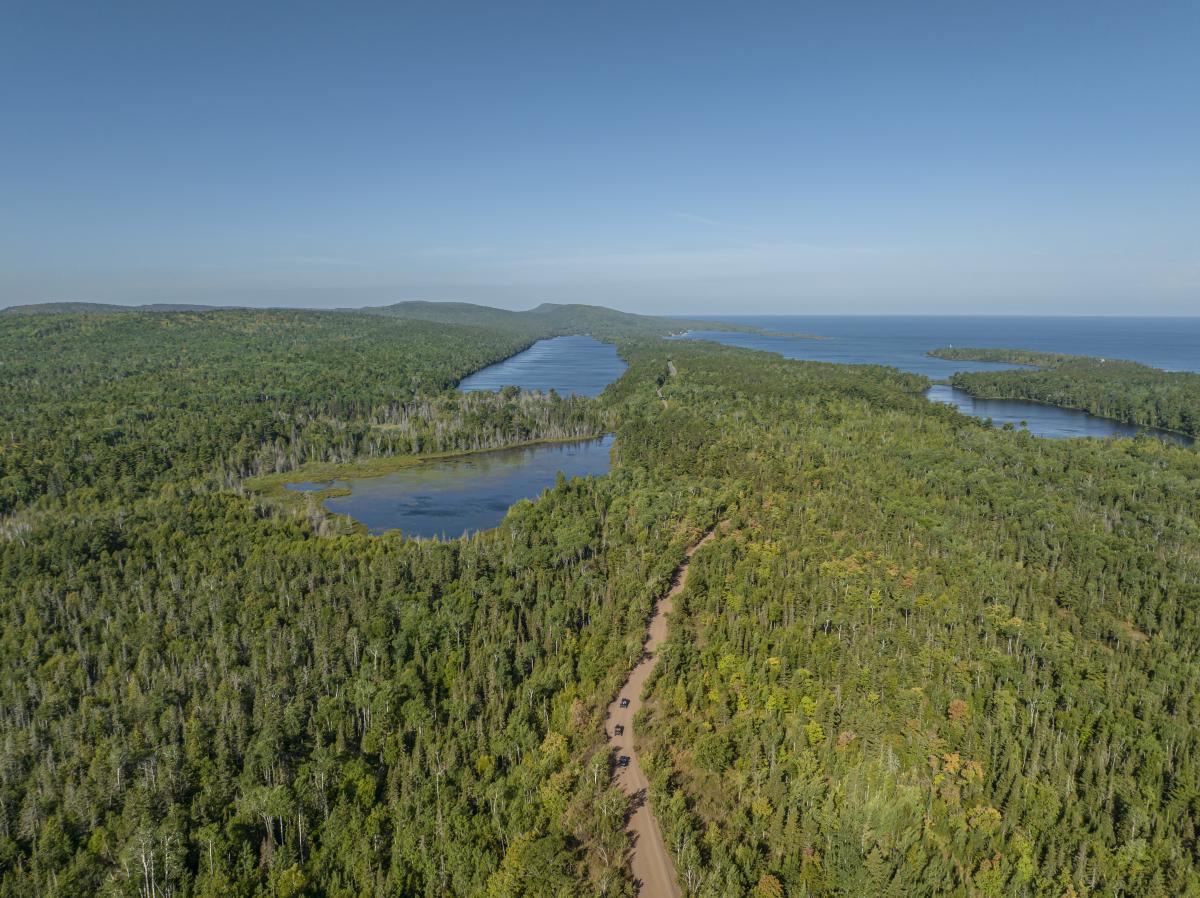 Keweenaw Dark Sky Park
The world's newest International Dark Sky Park is in Michigan's Keweenaw Peninsula. In June '22, the Keweenaw Dark Sky Park, with its headquarters at the Keweenaw Mountain Lodge in Copper Harbor, was certified by the International Dark Sky Association. It is the first International Dark Sky Park in the Upper Peninsula, and the third in all of Michigan, joining the Headlands International Dark Sky Park in Northwest Lower Michigan and Dr. T.K. Lawless International Dark Sky Park in Southwest Michigan.
At the Lodge, visitors can participate in special nightly programming like astrophotography seminars, light control workshops, and night-sky viewing parties. Lodging guests can even borrow a telescope from the KML Outdoors Activity Center (OAC) to get a better view of the celestial shows above. Visit Keweenaw was proud to support the Lodge's effort by helping to fund KeweenawDarkSky.com.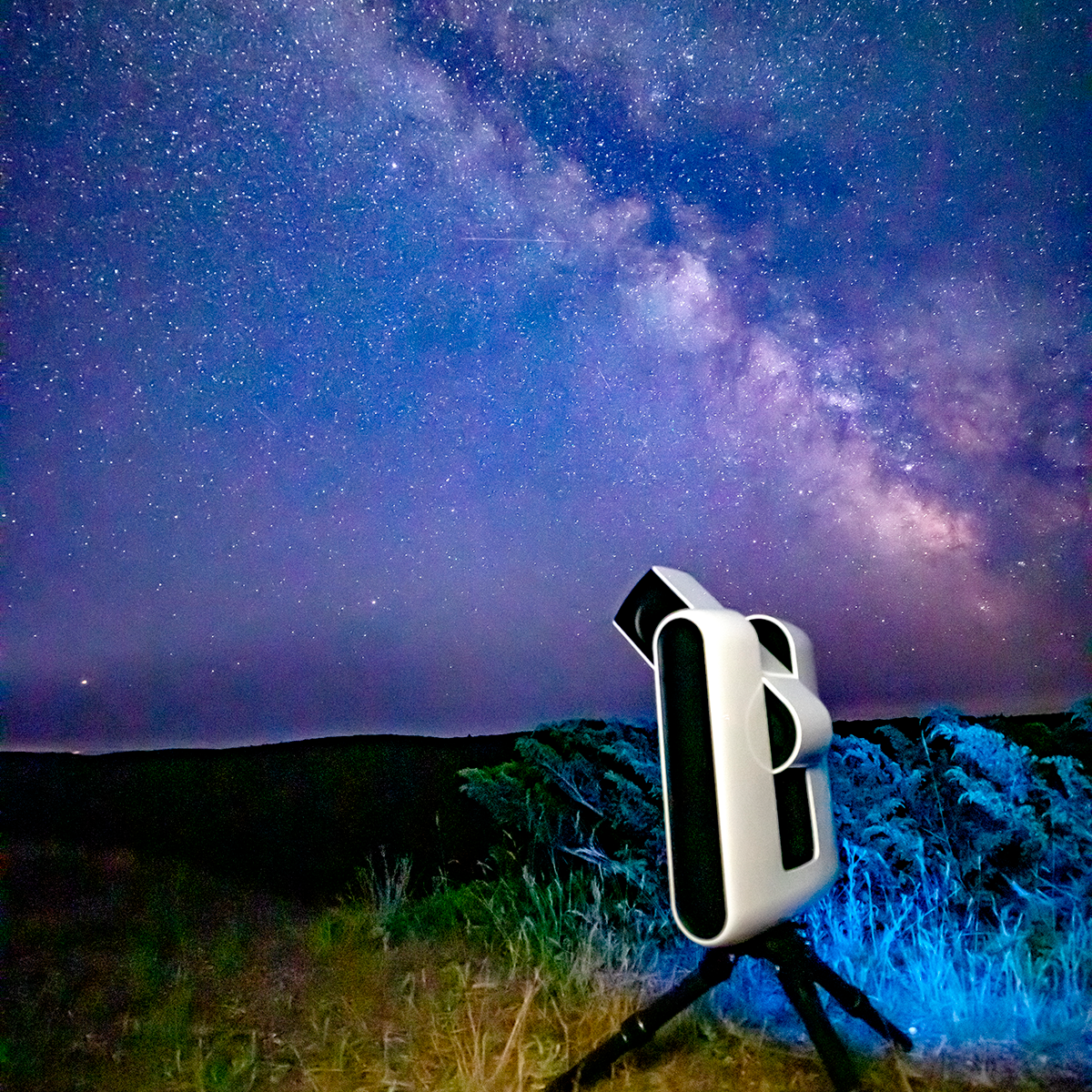 Return of the Cruise Industry
This summer marked the return of the cruise industry to the Keweenaw. While speculation had built for several years, the American Queen Voyage's Ocean Navigator entered the Keweenaw Waterway on June 10th being welcomed by a consortium of community partners including members of the Visit Keweenaw team. Working with the City of Houghton and the Chamber of Commerce, our team helped plan and coordinate a community welcome effort to greet passengers as they disembarked from ships and assist cruise line staff as needed. While the weather dissuaded several ship visits, we're eager to welcome passengers to the Keweenaw again this summer.