The Keweenaw is full of great snowshoeing destinations, from Mount Baldy to McLain State Park and everywhere in between.  Snowshoeing is the perfect way to enjoy our long, snowy winters and is a great family-friendly activity.  Almost all of our favorite summer locales are accessible on snowshoes for an entirely different point of view.
The snowshoe adventures don't stop if you set foot outside of the Keweenaw Peninsula.  There are a ton of great snowshoe hikes within 30-60 minutes of Houghton if you drive south from town.  Check out some of our favorites and start planning a day trip from your Keweenaw home base today!
Bishop Baraga Shrine
There's no better way to celebrate the "Snowshoe Priest" than with a snowshoe hike!  You've probably caught a glimpse of this one while driving around the head of Keweenaw Bay on US-41 (MAP).  If you haven't stopped by to check out the Bishop Baraga shrine yet, winter is a great time to visit.  The hike is short and perfect for the whole family.  Plus, the view over Keweenaw Bay is spectacular from the top of the sandstone cliff.  This is the most approachable hike on the list.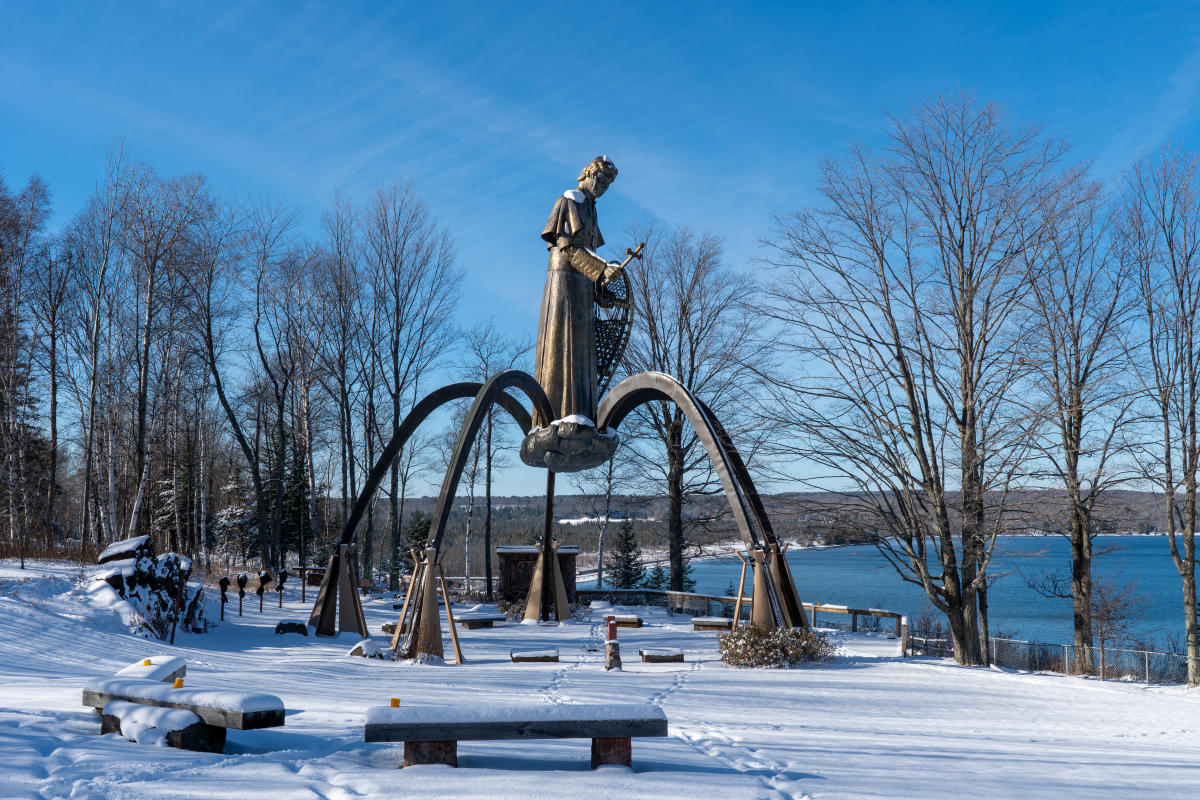 The Bishop Baraga "Snowshoe Priest" can be seen from US-41 as you are driving towards Houghton County and is a great snowshoe destination.
Hanka Homestead
Although the buildings are closed during the winter months, Hanka Homestead's historic landscape is a beautiful place to check out when blanketed in fresh snow.  Once a bustling farm owned by Finnish immigrants, Hanka Homestead has been kept alive and includes an abundance of details you won't find anywhere else (except maybe in your grandpa's shed).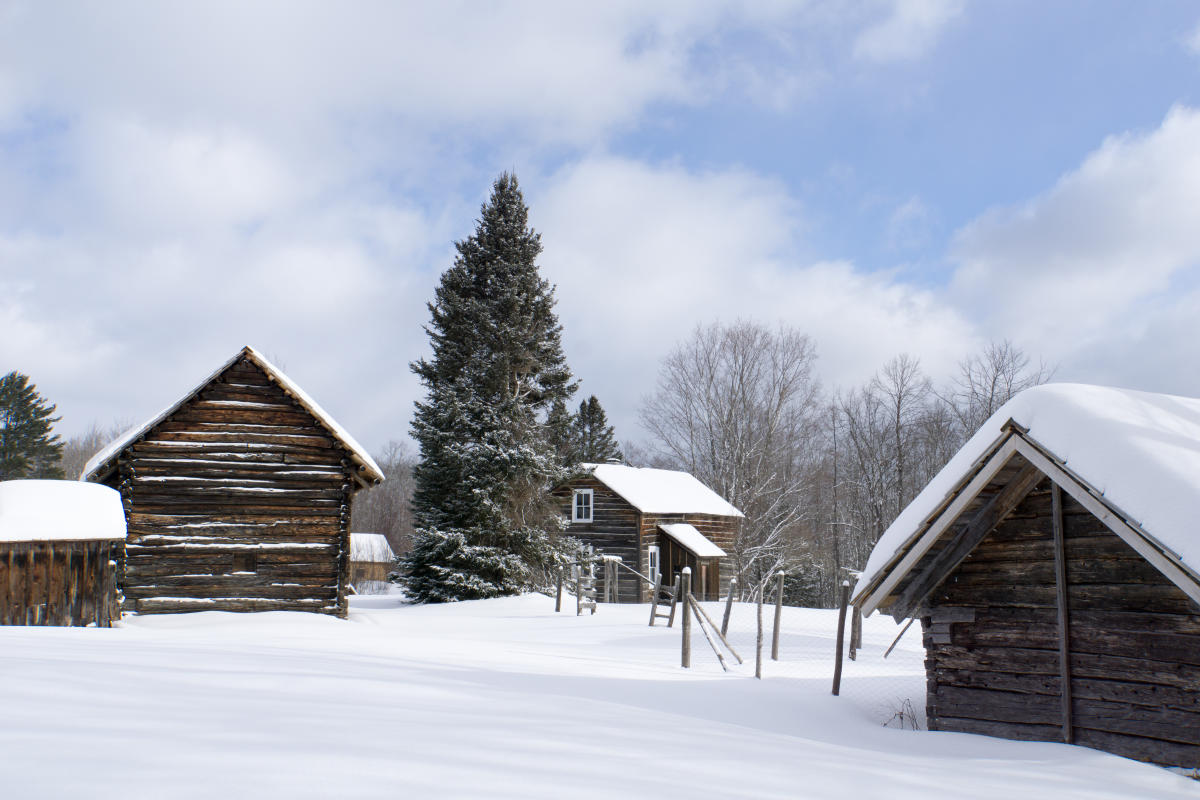 The Hanka Homestead keeps the historic details of an old Finnish homestead alive.
The road is not plowed so you'll have an extra ¾ of a mile hike to get there.  This Keweenaw Heritage Site is located in the community of Askel, about halfway between Houghton and Baraga.  Park along Tower Road (MAP) and follow the signs down to the homestead.
Little Mountain
An underrated gem located just south of L'Anse!  While little might be in the name, the view from the top of this micro-mountain is quite spectacular.  It's even better than Mount Arvon, Michigan's highest point.  Much of the top of this hill is bald with few trees, which means your view of the surrounding landscape is unimpeded.  L'Anse and Baraga are easily visible in the middle distance and far across the bay is the Keweenaw Peninsula.  Test out your geography skills and Keweenaw familiarity by trying to figure out which hill is which!  Bohemia, Brockway, Horace Greely, Quincy… can you name them all?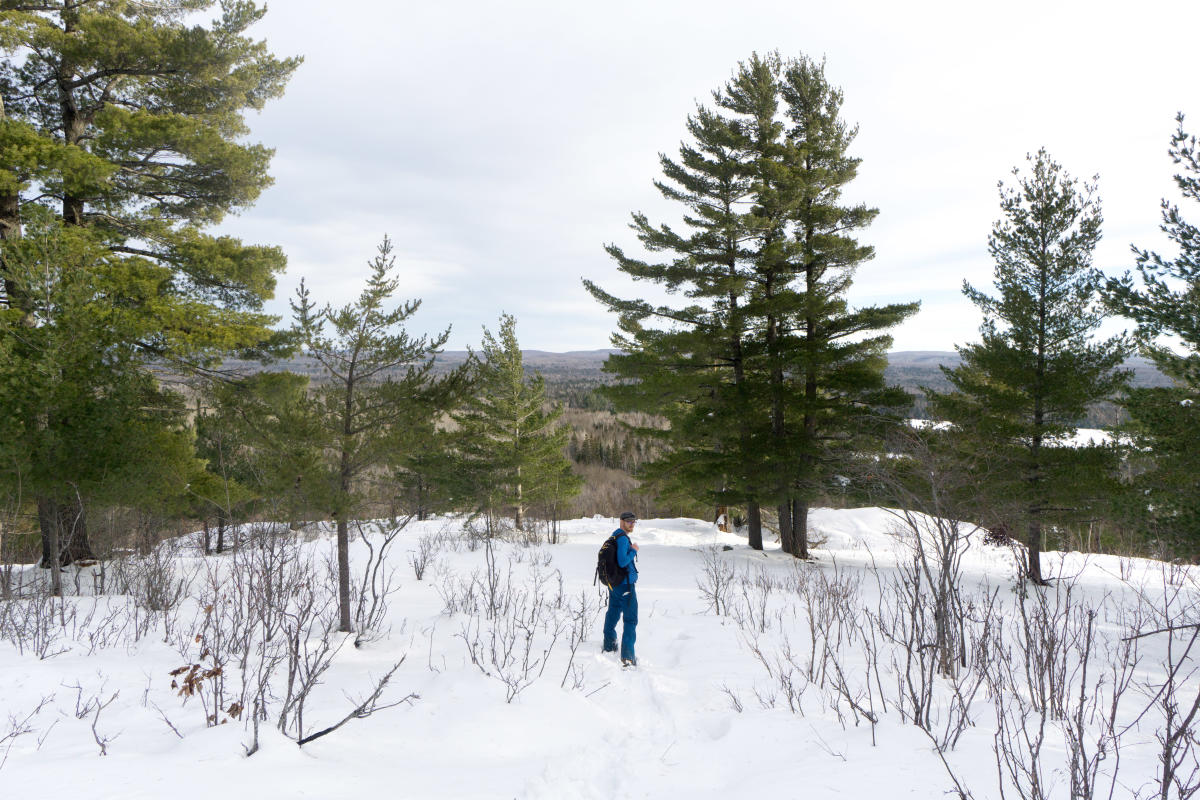 Little Mountain offers unimpeded views of L'Anse, Baraga, and even the Keweenaw Bay, and Keweenaw Peninsula. 
Park at the end of Golf Course Road (MAP) to begin your snowshoe.  The trail is usually well marked and often has a panked down path from prior hikers to follow.  It winds gently through a mature forest before rising at the end to climb the hillside.  This is an easy one to knock out in ~2 hours, plus the time to drive there.
Tibbets Falls
The Sturgeon River has several waterfalls on it, including Canyon Falls and Sturgeon River Falls deep within the nearby Wilderness.  Tibbets Falls is a much lesser known waterfall further upstream on this wild river.  Located outside of Covington near the southern end of the Baraga Plains, Tibbets is a long (¼ mile!), rocky rapid-like waterfall with multiple chutes and crags to give it character.  Best of all, it's a relatively easy snowshoe to get to!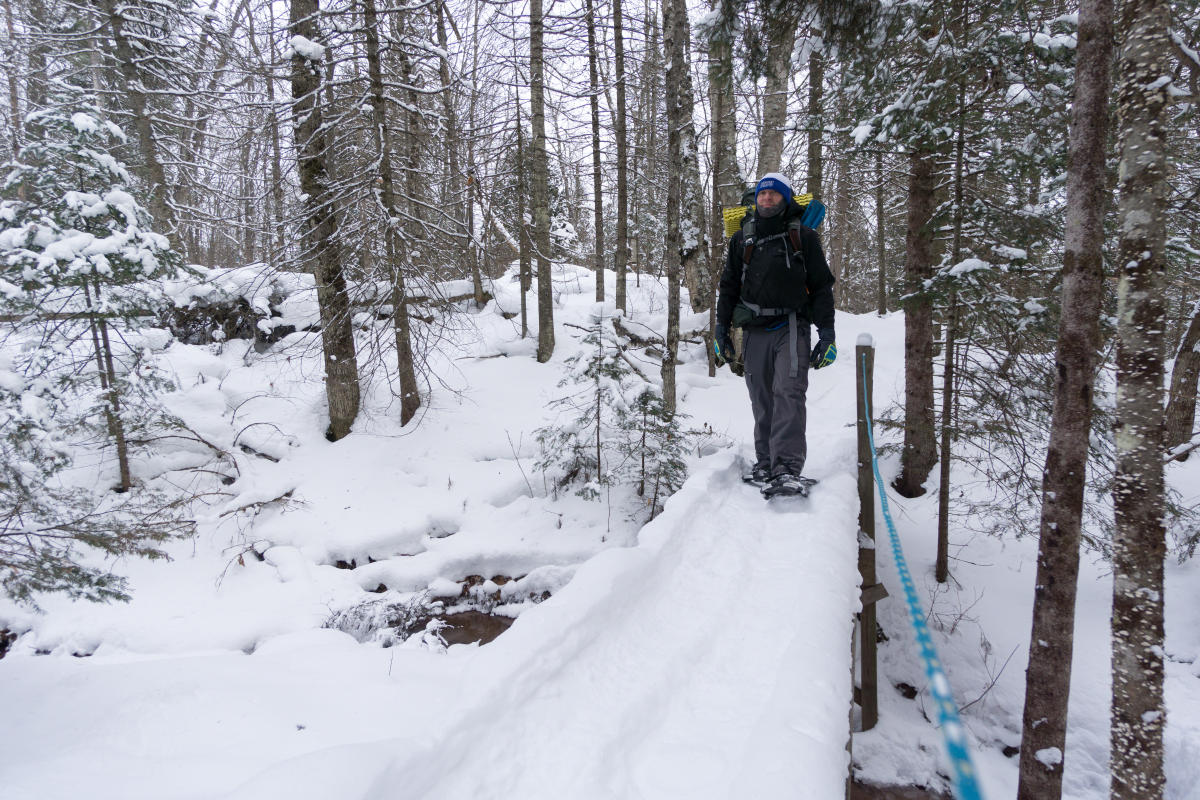 Tibbets Falls is a long rapid-like waterfall on the Sturgeon River. 
Your adventure to Tibbets Falls begins near the bridge over the Sturgeon River on Baraga Plains Road (MAP)  There is often plowed parking off the road, but if not park carefully on the shoulder.  On the west side of the road, look for a spur trail leading to the North Country Trail, about ⅓ of a mile away.  Follow the spur to the NCT before continuing west for about another mile until you reach the river.  In mid-winter this waterfall often freezes over so for best effect go early or later when more water is visible.  Continue for ¾ of a mile to reach the scenic and remote Oren Krumm shelter if you want to extend your adventure.
Norwich Bluff
One of the most impressive outcrops in the Ottawa National Forest!  Norwich Bluff has a lengthy history of copper mining dating back to the mid-1800s (right up there with the mines on Cliff Drive).  The views from the top of Norwich Bluff are incredible.  Viewpoints along the North Country Trail look west towards the Porkies, north towards Lake Superior, east along the Ontonagon River valley, and south into the true "Middle of Nowhere."  It's a wild spot for sure!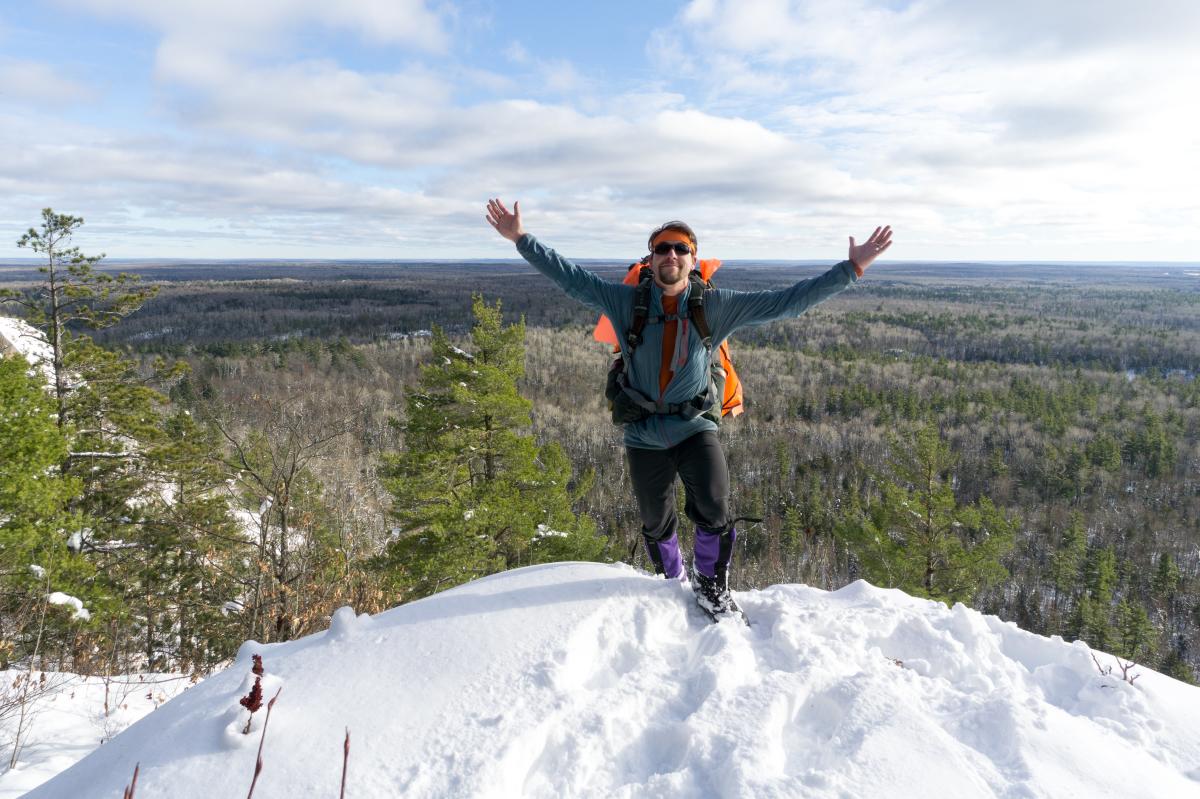 Nathan Invincible can be seen atop Norwich Mountain after the snowshoe climb to the peak.
Snowshoeing here can be strenuous at times and is the toughest on this list.  Plowed parking off of Norwich Road can be found on FR630 (MAP).  Hop on the North Country Trail and head east up the hill for 0.9 miles before you hit your first overlook.  Several big views can be found for the next 1.5 miles or so, as well as various closed-off mine adits, historical signs, cliffs, and more.  Plan for a nice, long afternoon here to see the best of it.
Know Before You Go
Before you head out, make sure you have everything you need to have a safe and enjoyable wilderness experience. There are many spots in the Upper Peninsula where you may loose cellular coverage. Make sure to save maps to your phone so that they can be used offline or have paper maps of the area ready. When hiking in the winter, it is essential to dress appropriately. Always dress in layers and have a backpack handy to tuck away layers as you warm up. We also recommend stocking your backpack with snacks and water to keep you fueled and hydrated. Recreate responsibly to keep these beautiful nature areas pristine and do your part to Leave No Trace. 
Interested in updates, travel tips and quirky information about the Keweenaw? Just sign up for the Keweenaw Explorer, our monthly e-newsletter. Complete the form…