The Keweenaw Peninsula is a special place that calls to people from near and far. Shop small this holiday season and find meaningful gifts that celebrate the Keweenaw Peninsula, Lake Superior, and Michigan's Upper Peninsula.  From regional flavors to art and books inspired by our heritage, we've put together this Keweenaw Holiday Gift Guide to help you find the perfect gift for everyone on your holiday shopping list.  
Flavors of the Keweenaw  
Michigan's Upper Peninsula is home to some unique flavors that you just won't find anywhere else. Here are some of our favorite Keweenaw gifts for the foodies on our holiday shopping lists.  
Vollwerth's | King of Meats 
Vollwerth & Co. has been the King of Meats in the Keweenaw since 1915. German immigrant, Richard Vollwerth started this company with the goal of producing high quality sausage. Now over one hundred years later, 3rd, 4th, and 5th generation family members continue to distribute high quality meats made using traditional methods and time-honored recipes that have been handed down through generations. 
Vollwerth's products are available in just about every supermarket and convenience store in the Keweenaw Peninsula.... But if you can't make it to the Keweenaw before Christmas, their products are also available online. Some of our favorite Vollwerth's gifts include Holiday Polish Sausage, Sauna Makkara (sausage Yoopers hang in their saunas), Snack Sticks made with Upper Michigan Honey, or a Vollwerth's gift boxes. 
Pasties 
A delectable, folded pastry case stuffed with a savory filling of seasoned meat and vegetables... the pasty (pronounced "past-ee") is a cultural point of pride that came to the Keweenaw by way of Cornish immigrants during the 19th century. This travel-ready hand pie provided mine workers with a warm and filling meal they could bring with them underground in their lunch pails.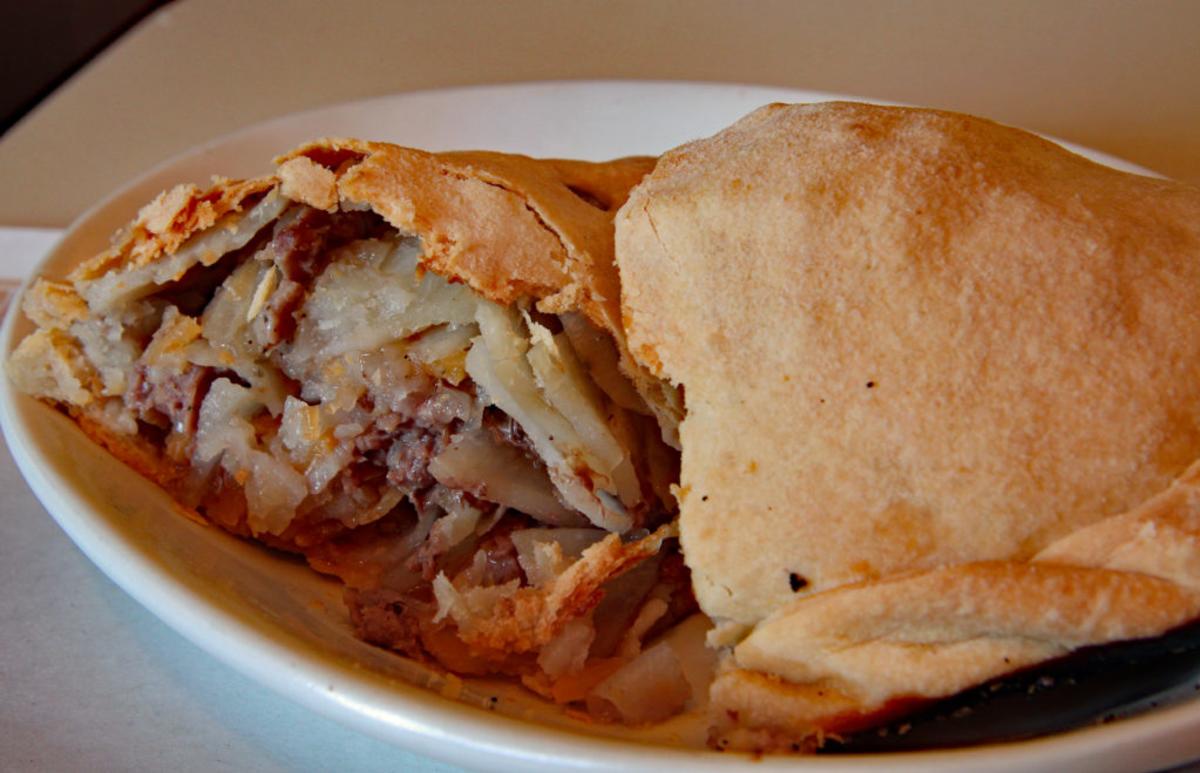 Savory and delectable, a warm pasty is perfect to enjoy during the holiday season.
The pasty has become a popular meal for locals and visitors alike, and many people yearn for a hot pasty during the holiday season. You can find warm pasties at restaurants throughout the Keweenaw Peninsula or buy them frozen to enjoy (or gift) later on. For a complete list of our local pasty shops, visit our Keweenaw Pasty Trail page. 
Not in the Keweenaw this holiday season? Pasty Central will deliver pasties to all 50 states! This is a great gift for pasty lovers who can't make it back to the U.P. this holiday season.  
Jams, Jellies, Syrup, and Honey 
Enjoy the flavors of a Keweenaw summer year-round with local preserves. Wild thimbleberry or blueberry jam, maple syrup made using the sap of Keweenaw trees, and honey provided by our local Keweenaw bees. Some places even offer wild thimbleberry, blueberry, or raspberry syrups. Imagine pouring that over your pancakes!  
These types of gifts can be found at gift shops throughout the Keweenaw. You can also find them online through Copper World, The Jampot, or The Jam Lady.  
Roasted in the Keweenaw 
Give the gift of freshly roasted Keweenaw coffee and warm the hearts of your loved ones as they sip on it on Christmas day. The Keweenaw Peninsula is home to a few expert coffee roasters that will take that holiday cup of coffee to the next level.  
Stop by Keweenaw Coffee Works to peruse their gift area and find the perfect bag of freshly roasted beans. Here you will find bags of beans with unique names inspired by our north woods and cultural heritage. Holiday gift boxes, gear, and tasty treats can also be found in their online store. 
Keweenaw Coffee Works features beans with names inspired by our regions culture and history.
The Monks of the Holy Protection Monastery, a Byzantine Catholic Monastery also roast and sell their own coffee. Enjoy complex single origin coffee or the rich flavors of their espresso blend. Coffee is available year-round through their online store or at The Jampot during the summer.  
Out of the Houghton area, we have The Sugar Dragon. Find beans for coffee lovers who appreciate a bold and flavorful cup of coffee or beans perfect for a brighter, more tangy cup. They also offer some pretty yummy candies that are hard to find anywhere else in the Keweenaw.  
And for the fisherman on your list that always packs a thermos of hot coffee for their ice fishing trips... we have Catch and Release Coffee Roasting Co. This is a small batch specialty coffee roasting company nestled on the outskirts of Houghton. Stay up to date on their current bean options or send them a message on Facebook to order beans.  
Keweenaw Brewing Company 
Do you know a Michigan Tech Alumni that fell in love with Keweenaw Brewing Company beer? Why not grab them a six-pack of their favorite KBC beer? Or stop by the KBC Taproom in Houghton, MI and pick them up a growler of the latest seasonal beer. The taproom also offers apparel, can and growler koozies, and unique KBC swag that make the perfect stocking stuffers.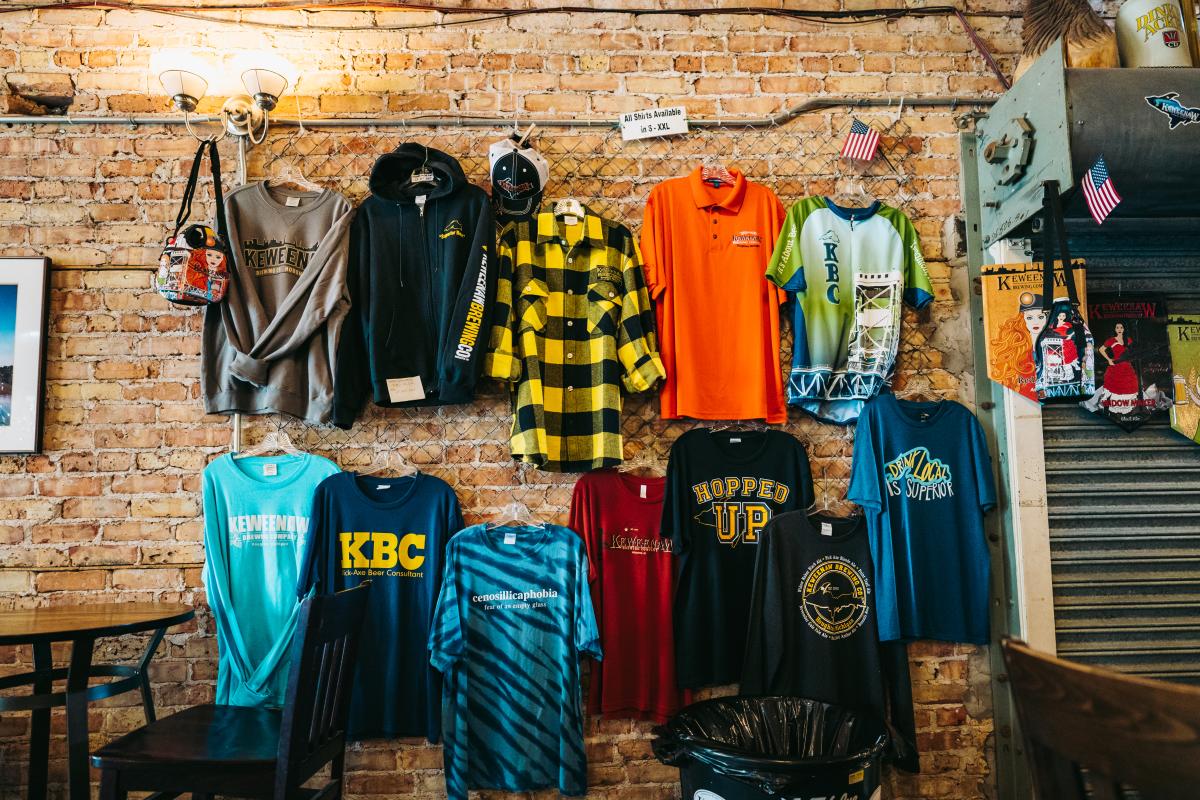 The KBC has a nice selection of apparel perfect for the beer drinker on your holiday shopping list.
Inspired by the Keweenaw | Local Art 
Great Lake Superior, pristine wilderness views, and the Keweenaw's unique cultural heritage inspire the many talented artists and artisans who call the Copper Country home. Explore vibrant paintings that reflect the hues of Lake Superior's ever-changing waters, stunning jewelry made with the finest agates or greenstones, or professional photography that captures the changing seasons of the Keweenaw. At our local art galleries and gift stores, you will find a diverse tapestry of creative works that mirror the rich history and natural wonders of the Keweenaw Peninsula region.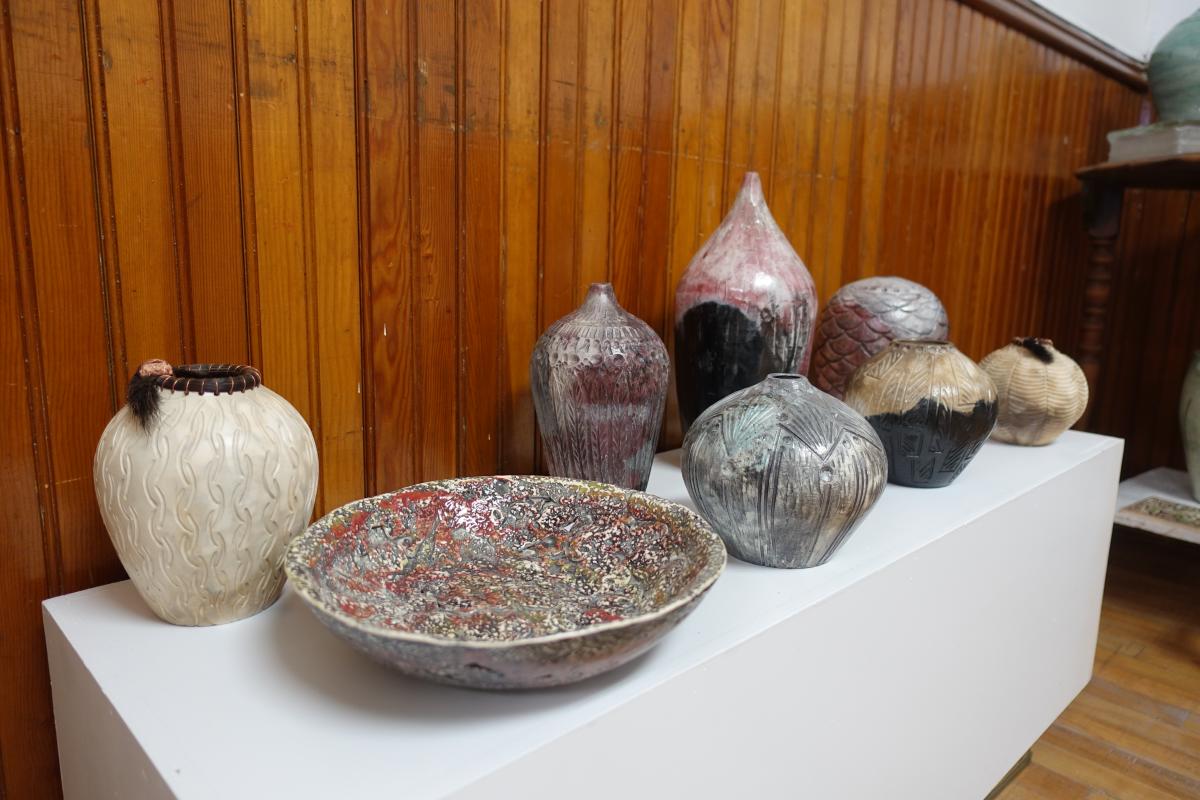 The Keweenaw is home to exceptional artists and galleries full of beautiful gifts. 
Calumet, Michigan has a lovely art district and is a great place to dive into local Keweenaw art. Here you will find galleries like the Copper Country Associated Artists Gallery, Gallery on 5th, and the Calumet Art Center. Pick up a piece of stained glass from Laura Hamlett or a handcrafted wooden statement piece by Pat Regan.  
While there is no shortage of exceptional art in the Calumet area, Houghton and Hancock also have some unique art galleries and studios. Stop by the Copper Country Community Arts Center in Hancock and explore the Artists' Market Sales Gallery with art from nearly 200 regional artists or the month-long gallery exhibit in the Kerredge gallery. In downtown Houghton, be sure to stop by Studio 13 and check out the creative prints by Chris Schmidt. The Rozsa Center for Performing Arts also features two galleries that include artwork created by Michigan Tech students.  
Outdoor Gear 
The Keweenaw Peninsula is a destination for adventure-seekers and outdoor enthusiasts. Countless miles of world-class outdoor recreation trails, secluded Lake Superior beaches, and miles of rugged natural wilderness call to those who love to explore. But before anyone steps a foot into the Keweenaw's great outdoors, it's essential to be prepared! y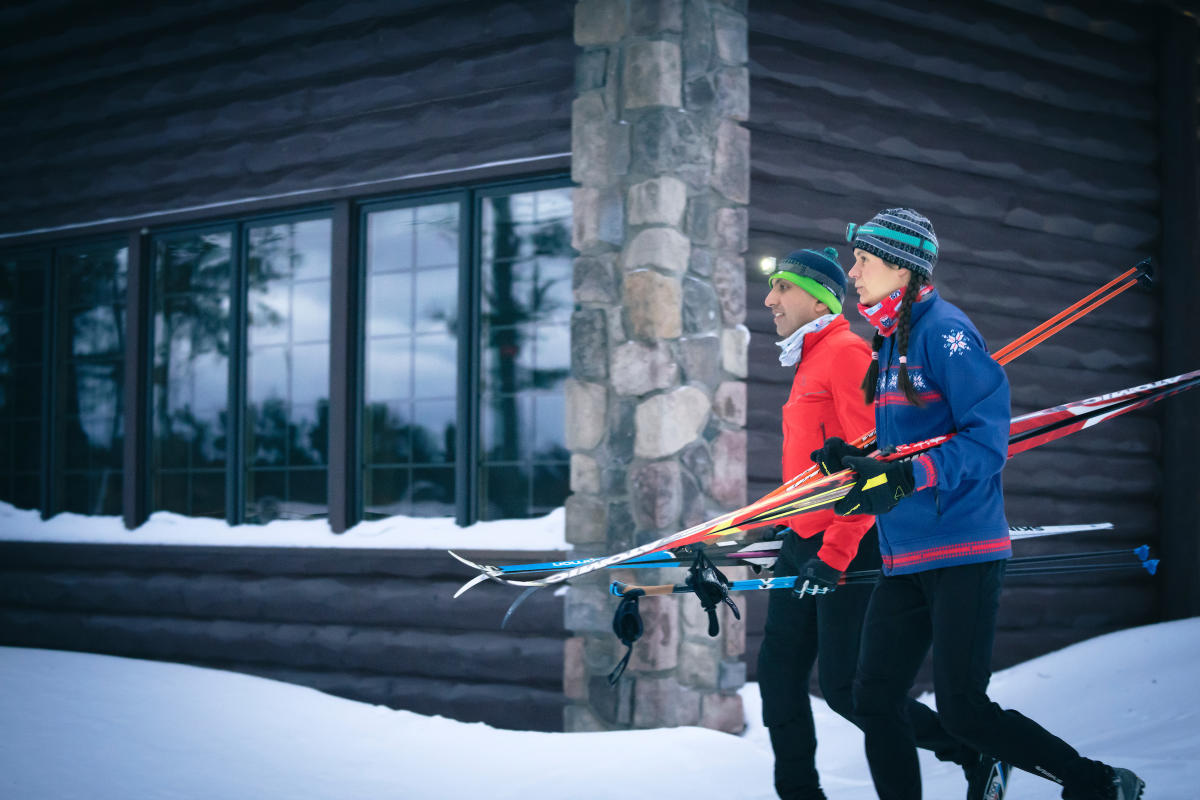 Local sporting goods stores can help you find outdoor equipment for your loved ones this holiday season.
Different activities and seasons require different outdoor gear. Our local outfitters are equipped with the knowledge and expertise to help you make informed decisions about what gear is needed for every outdoor activity the Keweenaw's four seasons have to offer. So, whether the folks on your shopping list enjoy cross-country skiing, snowmobiling, mountain biking, or hiking, our local sporting goods stores can help you choose the most appropriate gear for your loved one's next outdoor adventure in the Keweenaw. Down Wind Sports of Houghton and Cross Country Sports of Calumet are two great local shops to check out for quality recreational equipment. These stores offer everything from high end mountain bikes to cross country skis or snowshoes. For gear made in the Keweenaw, check out local brands like Chicken Tramper,  41 North Co., or High's Adventure Gear.  
Cultural Gifts 
The Keweenaw Peninsula is a storied place – rich with history and heritage that can be felt throughout our communities. From the early Ojibwe people who inhabited this land to the European immigrants who settled here during the bygone era of copper mining... there is no denying that cultural heritage is a big part of what makes the Keweenaw unique. Thanks to the Keweenaw National Historical Park and ongoing historical preservation efforts, the Keweenaw has become a well-received destination for travelers who enjoy learning about culture and history. Many of our visitors even have family ties to the region. For these individuals, we recommend some special Keweenaw gifts to remind them of the deep connection they have with the area.  
Finnish & Scandinavian Gifts 
Many of the immigrants who stayed in the region after the decline of the copper mining industry were Finnish or Scandanavian. Even today, a good portion of the Keweenaw's population is Finnish-American.  Our community takes pride in this heritage, as evidenced by places like the Finnish American Heritage Center, Finnish bakeries, Porvoo Park (named after Hancock's sister city in Finland) and events like Heikinpaiva. There are also several stores that sell beautiful Finnish & Scandinavian gifts, as well as foods and candies imported directly from Finland. Check out Swift's Hardware or Victoria's Kitchen & Gifts in Houghton or Kuusi Modern Mercantile of Allouez for beautiful Finnish & Scandinavian gifts. Looking for Finnish bakery to bring to a holiday party? Stop by Nisu Bakery & Café of Hancock for authentic Finnish & Swedish baked goods and gifts. Don't forget to visit Northwind Books at the Finnish American Heritage Center for wonderful books that tell tales of Finnish life and folklore.  
History & Heritage 
Stop by our local gift stores or antique shops to find the perfect gift for the historian on your holiday shopping list. In the heart of the Keweenaw Peninsula, you'll discover a treasure trove of gifts that celebrate the rich history of Copper Country. Be on the lookout for antique mining tools, copper jewelry inspired by Native-American design, and books detailing the stories of influential settlers, the Copper Country's immigrant communities, and the enduring tales of what life was like for mine workers and their families. These gifts make meaningful educational presents for those with a passion for the past. The Keweenaw National Historical Park Headquarters & Visitors Center, Copper World, and the Quincy Mine Gift Shop all have a great selection of regional books to choose from. Books from Copper World and Quincy Mine can also be purchased from their online stores. If you are looking for regional antiques, check out Blast from the past Antiques in Hancock or the Vertin Gallery in Calumet.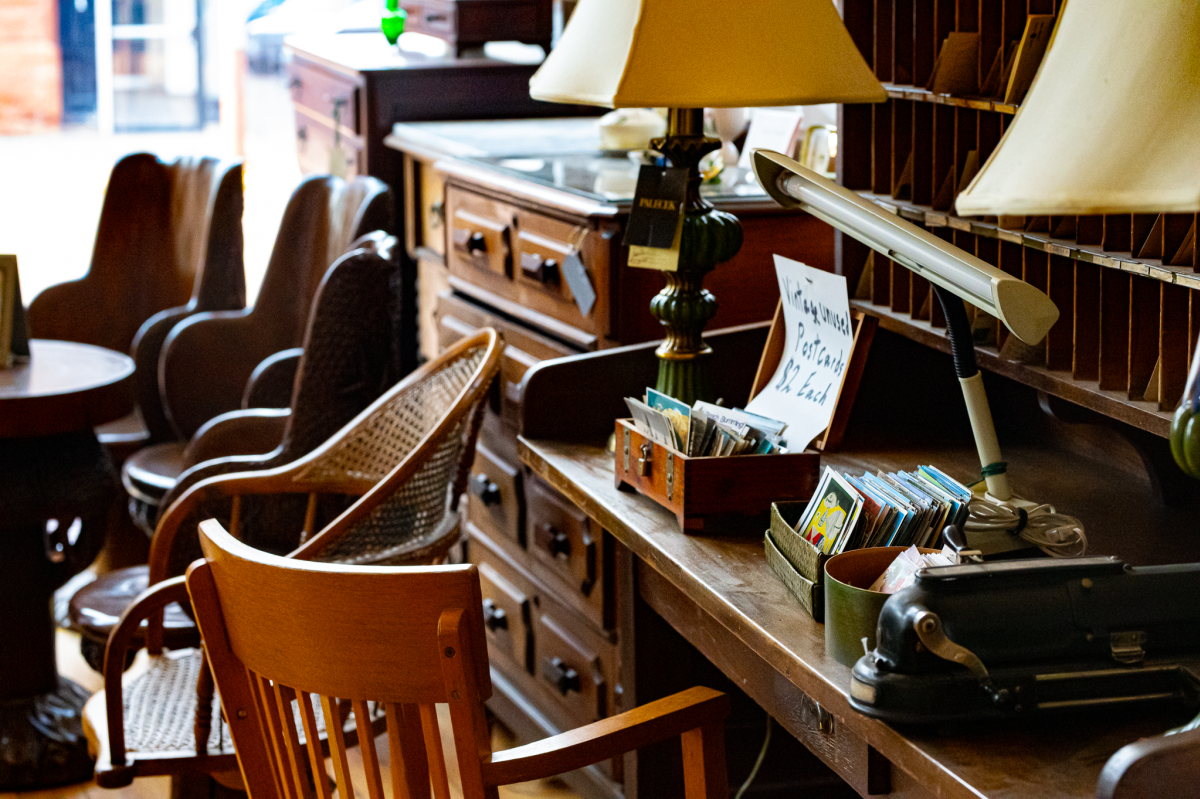 From vintage postcards to late 1800's furniture, the Vertin Gallery has unique gifts for the historian on your list. 
Wellness & Self-Care 
The holiday season is a great time to think about wellness and self-care. Perhaps a gift certificate for one of our local massage therapists would go well with that pair of fuzzy socks this year. Or maybe a pass to Mount Bohemia's Nordic Spa... Here your loved ones can indulge themselves in an experience designed to rejuvenate their mind and body using hot and cold water exposure.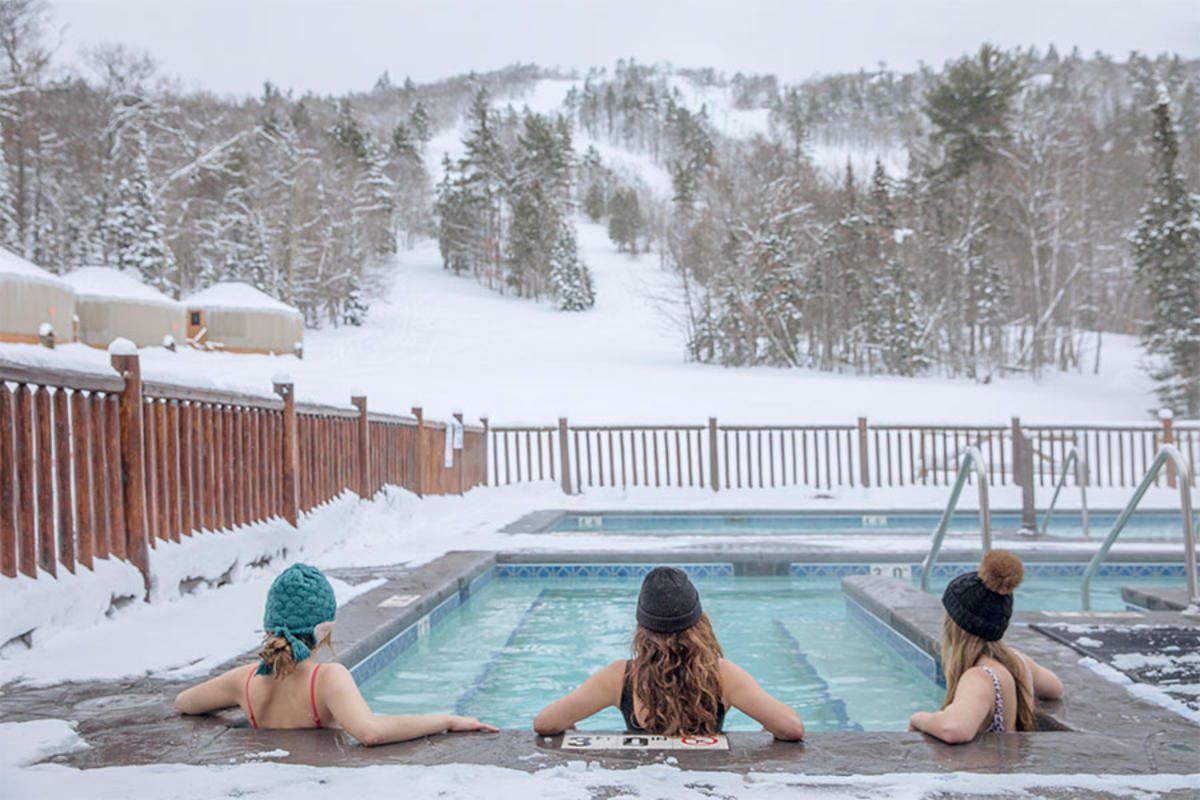 The Nordic Spa at Mount Bohemia is the perfect place to relax and unwind. 
Additionally, Mount Bohemia's Nordic Spa includes a Finnish Sauna, Eucalyptus Steam Cabin, and the largest outdoor hot tub in Michigan's Upper Peninsula. Pair this with a yoga class or a walk in the woods for the perfect wellness retreat right in the heart of the Keweenaw.  
Gifts For an Adventure North to the Keweenaw 
Are your friends or family planning their next vacation to the Keweenaw? Help them out with some fun gifts that they can use next time they are here!  
Experiences 
The Keweenaw Peninsula is full of magical experiences waiting to be discovered. During the winter months, you can snowmobile countless miles through rugged backcountry, ski down steep slopes at Mount Bohemia, or snowshoe Lake Superior's frozen shores. Why not buy your buddy a day pass to Mont Ripley ski hill or rent him a snowmobile for a day?  
Keep in mind that Mount Bohemia's $99 season pass sale runs from November 22 to December 2nd and Mont Ripley usually has season pass deals around Black Friday. Copper Country Rentals of Calumet can help you out with snowmobile rentals.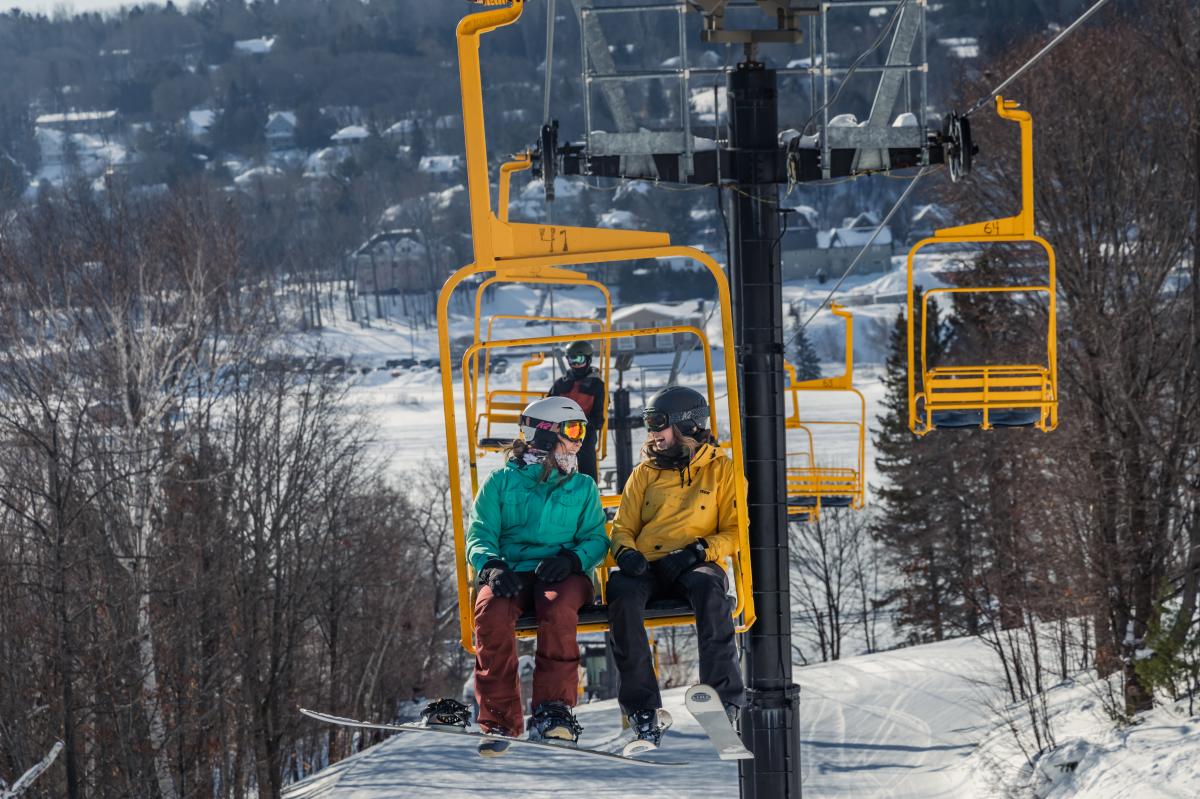 Gift your friend an adventure this holiday season. A lift pass or snowmobile rental is the perfect holiday gift.
Summer comes with its own activities to enjoy. Think ahead to what your loved ones may enjoy. Is it a round of golf at the local golf course, a guided fishing trip, or a sea kayaking adventure with Keweenaw Adventure Company?  There are many creative ways to gift your loved ones a memorable experience that they can enjoy the next time they visit the Keweenaw.  
A Meal 
It's always fun to visit new restaurants when travelling, and the Keweenaw is home to many that serve up delicious regional foods, Superior water views, and award-winning dishes that need to be enjoyed. A gift card to your friend's favorite Keweenaw Peninsula restaurant is sure to put a smile on their face this holiday season.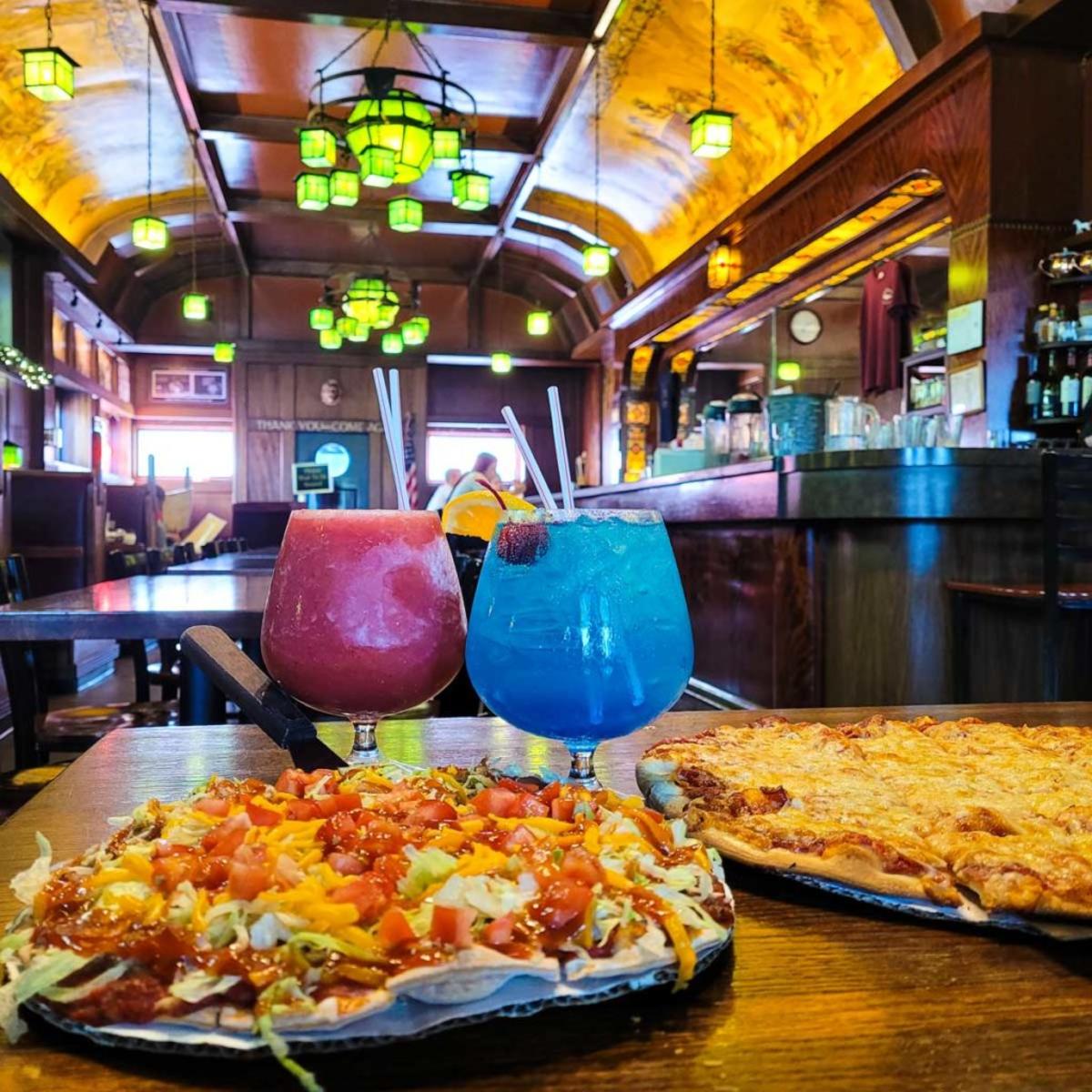 Gift your buddy a meal at their favorite Keweenaw restaurant this holiday season. 
Lodging 
Do you have a friend or family member that needs a vacation? The Keweenaw is a great place to relax and unwind! Gift them an escape from the hustle and bustle of everyday life by booking them a stay at one of our local lodging accommodations. From cozy cabins on the shores of Lake Superior to boutique hotels in the heart of the downtown area, the Keweenaw Peninsula is ready to take care of your loved ones during their next vacation.  
Interested in updates, travel tips and quirky information about the Keweenaw? Just sign up for the Keweenaw Explorer, our monthly e-newsletter. Complete the form…