Heikinpäivä, a mid-winter Finnish-American celebration, returns to downtown Hancock this January. This event is planned intentionally during a quiet time of year and celebrates the Hancock and Copper Country's Finnish heritage. This lively festival reminds of us of the many ways that winter can be enjoyed and provides community members with a way to connect to and learn about Finnish-American heritage.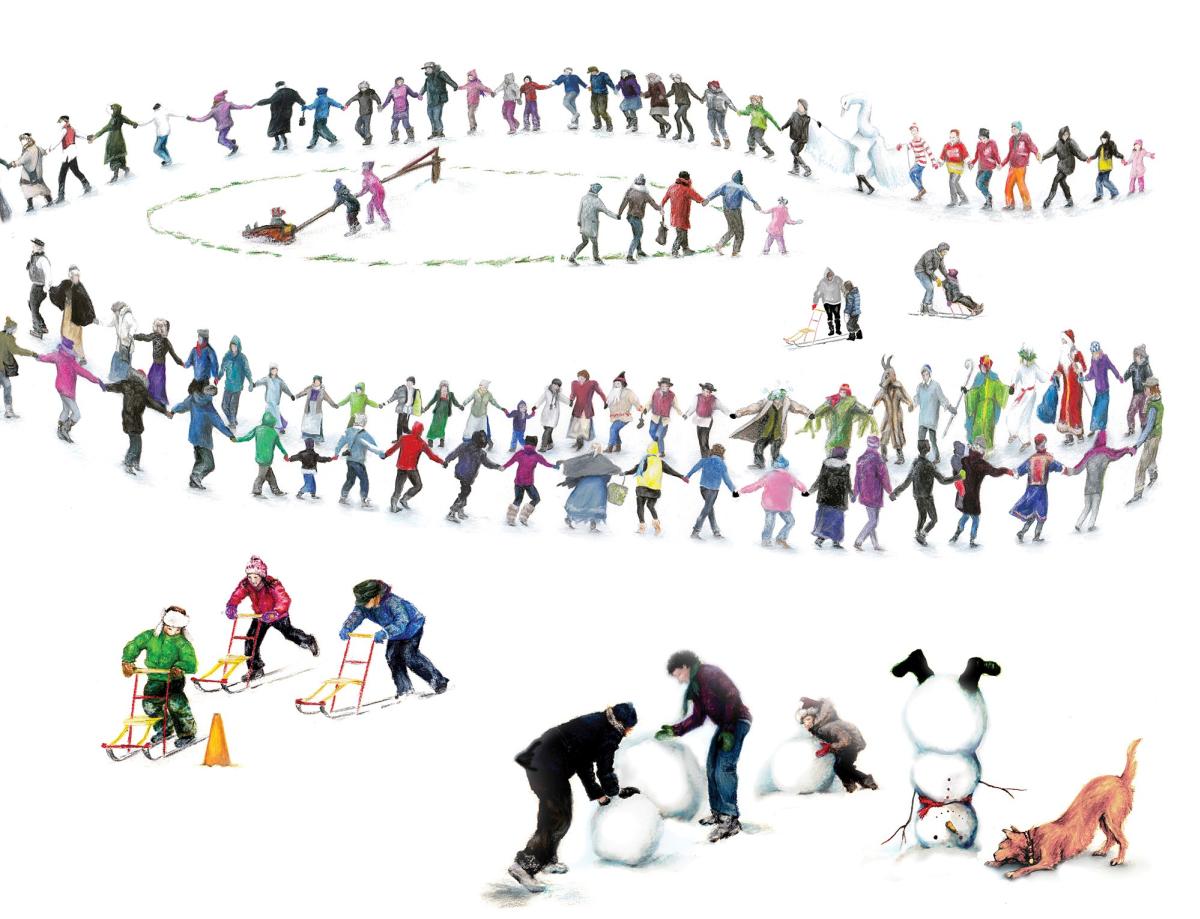 This piece of art by Alice Margerum, Finnish Theme Committee Member, shows participants enjoying Heikinpäivä's outdoor games.
What Makes Heikinpäivä Special? 
Heikinpäivä is an important part of Copper Country history, with the first iteration of the event taking place in 1999. In a community so dominated by Finnish ancestry, its easy to see why this festival is special. Not only does it celebrate winter, a season significant to residents of both the Keweenaw and Finland, but it also connects our Finnish-American community members. It gives everyone a chance to experience traditional Finnish music, food, games, films, and crafts. 
Jim Kurtti, Director of the Finnish American Heritage Center and one of the original organizers of this event explained: "It celebrates Hancock and the Copper Country's Finnish heritage, but also it strives to make winter seem shorter.  We celebrate how winter can be enjoyed, in particular through a Finnish heritage lens. After all, who else has a parade in January?  The event and all the tangential events, e.g. enrichment classes, films, dance lessons, cooking classes, all provide people with tangible means of attaching their appreciation of Finnish identity to something they can participate in."
Finnish-American Mid-Winter Festival Events 
Heikinpäivä is more than just a one day affair. This mid-winter celebration includes a variety of events that take place throughout the month of January. Activities include unique enrichment classes, themed films, traditional dance lessons, and cooking classes providing individuals with a way to experience Finnish heritage and culture. 
Enrichment Classes 
This year, the Finnish American Folk School is hosting a variety of enrichment classes throughout the month of January. Each class allows the community to explore Finnish-American traditions through creative ways with the assistance of experienced instructors. This year's enrichment classes include Inkle Band Weaving, Sewing a Laudeliina (sauna bench mat) or Placemat, Constructing a Traditional Straw Himmeli Mobile, Knitting a Neckwarmer, or attending a Finnish Cookie Workshop. Learn more or register here. 
Films
As part of the mid-winter celebration, two Finnish films will be presented. On Wednesday, January 18th, the Finnish American Heritage Center will feature "Sirkka: Past & Present" of the Nordic Film Series at 2PM. This film offers a look into the life of Sirkka Tuomi Holm and the lives of her family in 19th century Finland.
The historic Calumet Theatre will present "Pelikaanimies" (Pelican Man), a Finnish comedy about a pelican who undergoes a transformation into a young man in order to learn more about the ways of people. The film starts Saturday, January 21st at 2PM, with coffee and a nisu social beforehand at 1PM. 
Family Fun Night & Hobby Horse Hoedown
Head to the Finnish American Heritage Center from 6-8PM on January 20th for an evening of family-friendly fun with Kay Seppälä & Ginger Alberti. This festive evening includes music, Finnish dances, and Hobby Horse indoor games & obstacle arena. Hobby horses will be available to borrow, but if you have your own, ride it in!
Heikinpäivä Events You Don't Want to Miss - January 28th, 2023
Themed Parade
11AM | Quincy St.
A parade in January? Why not? The Heikinpäivä parade is a time to celebrate winter and Finnish culture with music, noise, colors, and quirkiness. Join the parade with your best Finnish attire. Prizes will be available to participants who best represent Finnish, Nordic, and winter themes. Not sure what to wear? Watch the Finnish Theme Committee's costume collection bring Finnish and Finnish-American mythical characters to life. Some of characters you may have heard of before include Heikki Lunta, Väinämöinen, St. Henrik, Louhi, and Lemminkäinen, along with his ever-vigilant mother. 
Tori Markets 
10AM-3PM | Finnish American Heritage Center & United Methodist Church
Heikinpäivä includes two Tori Markets at the Finnish American Heritage Center and the United Methodist Church. Both markets will feature numerous vendors and a wide selection of handmade items, including those with Finnish, Nordic, and winter themes. Be on the lookout for everything from delicious Finnish treats like nisu bread and licorice to hand-knitted mitts or sturdy rag rugs. Many of your favorite vendors from previous years will be returning to this Finnish marketplace. Shop til you drop, or kick back with a fresh cup of coffee and Finnish delicacies while you enjoy the sights and sounds of local traditional musicians and performers.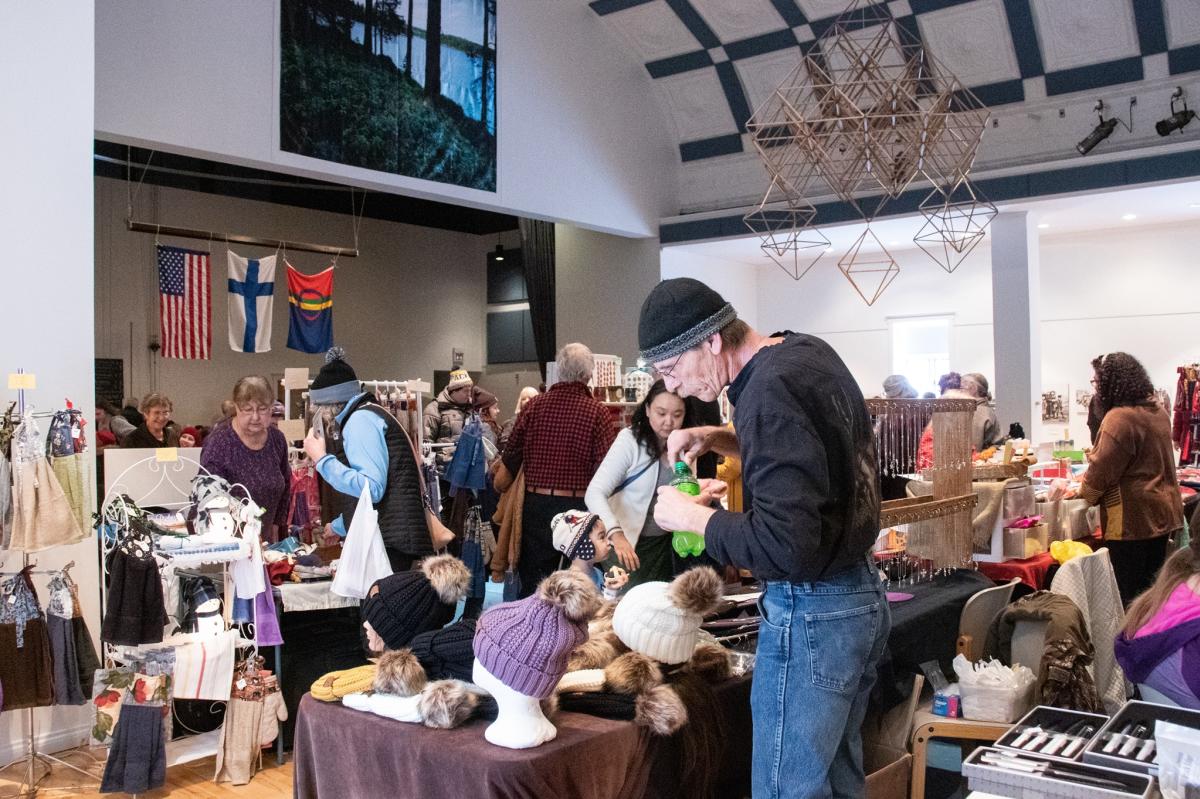 Vendors selling their wares at the Finnish American Heritage Center, one of two Tori Markets. | Photo by Jim Kurtti
Outdoor Games
Immediately following parade | Quincy Green
Explore the joy of winter by participating in exciting traditional outdoor games on Quincy Green. From boot throwing to wife carrying, there is Finnish fun for everyone. Try out a kicksled and race others in your age group. Kicksleds were traditionally used on hard, slippery surfaces and could be used for travelling long distances over frozen lakes. Make sure to check out the larger than life kicksled that resides on Quincy Green.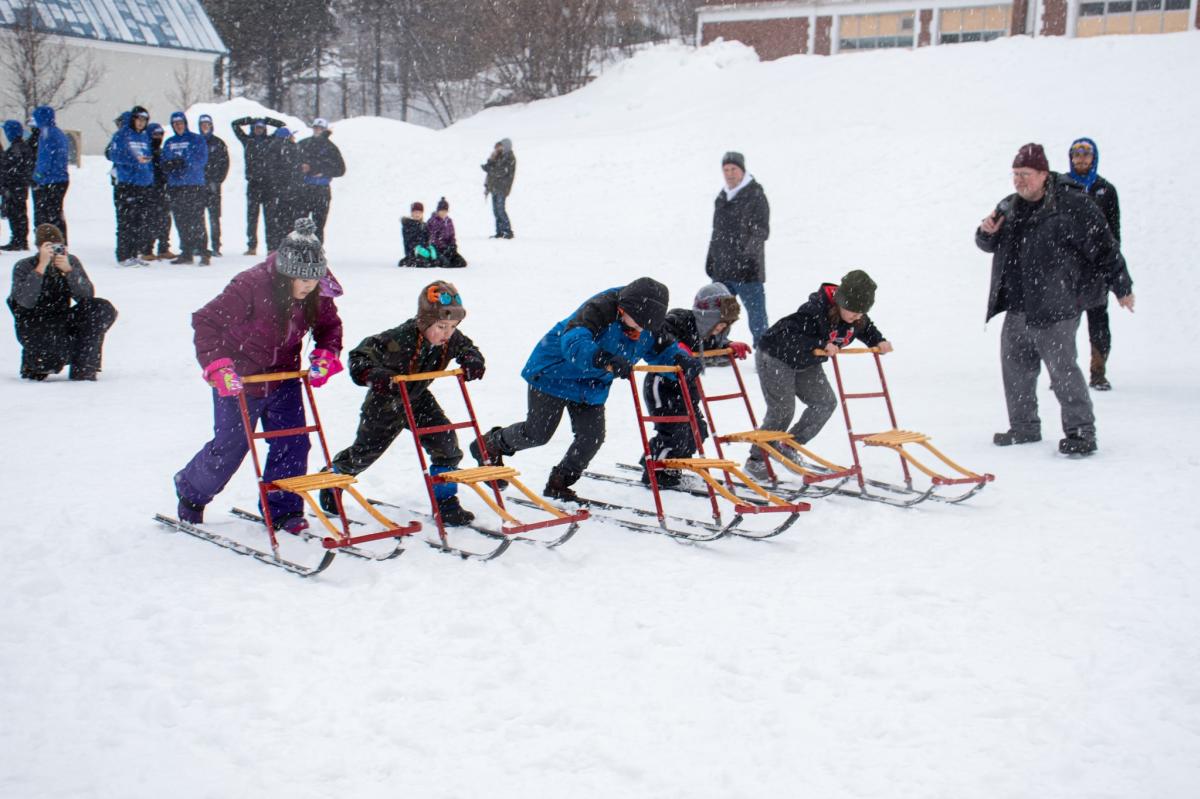 Children participate in Kicksled (potkuri) races, one of the Heikinpäivä outdoor games on Quincy Green. | Photo by Jim Kurtti
In recent years, the Karhunpeijäiset, or Bear Spiral Dance has been a crowd favorite at Heikinpäivä. The Bear Spiral dates back to an old tradition related to the bear hunt. Join in the fun and frolic among bears and characters who were part of the parade, as the leader brings the large group into an ever tightening circle.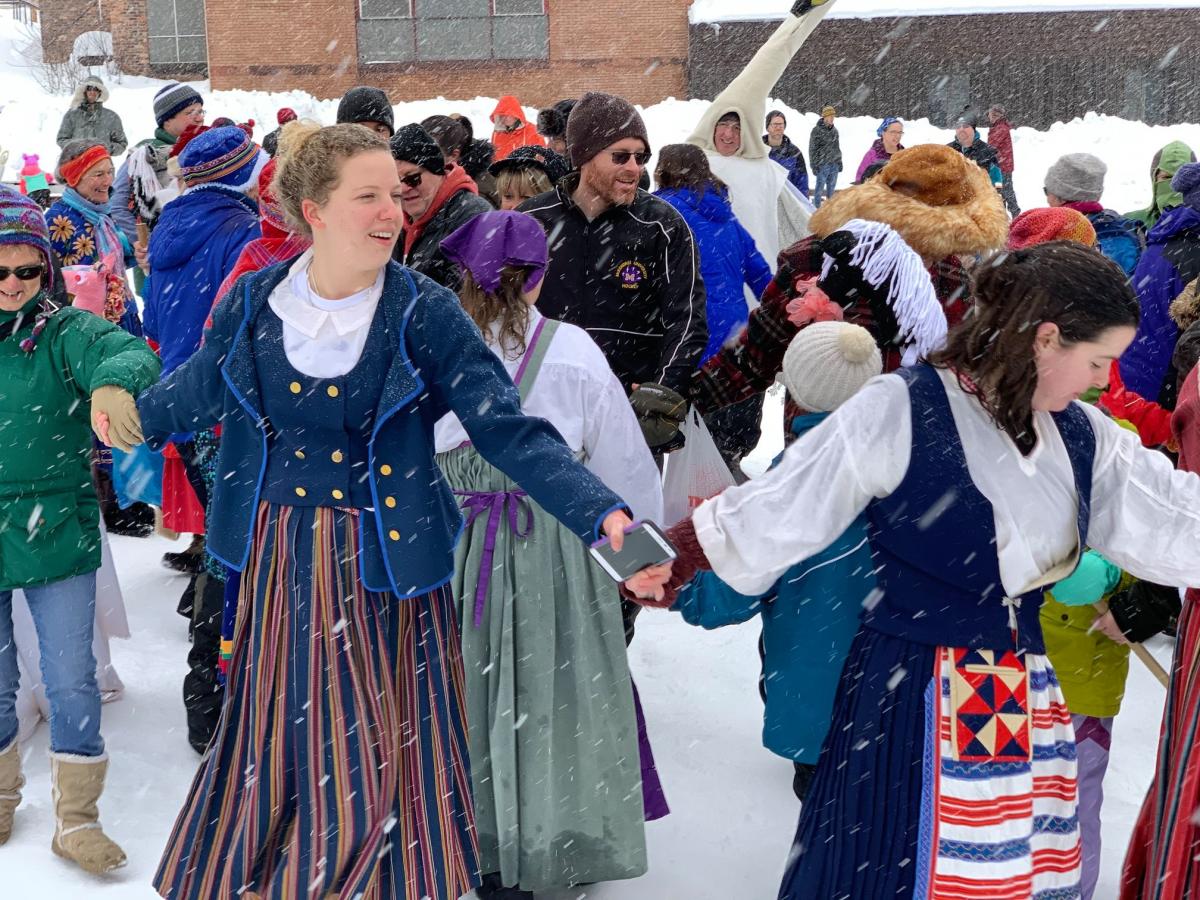 Participants dressed in traditional Finnish themed costumes participate in the Bear Spiral. | Jim Kurtti
Wife carrying is an an actual event in Finland, where the men sling their wives (or female friend) over their shoulder and complete a race through an obstacle course. Finnish American Heritage Director Jim Kurtti, told us that this hilarious event "pays homage to a typical Saturday in a Finnish American home; clean the house (shaking the ragrugs), taking a sauna and having coffee afterwards."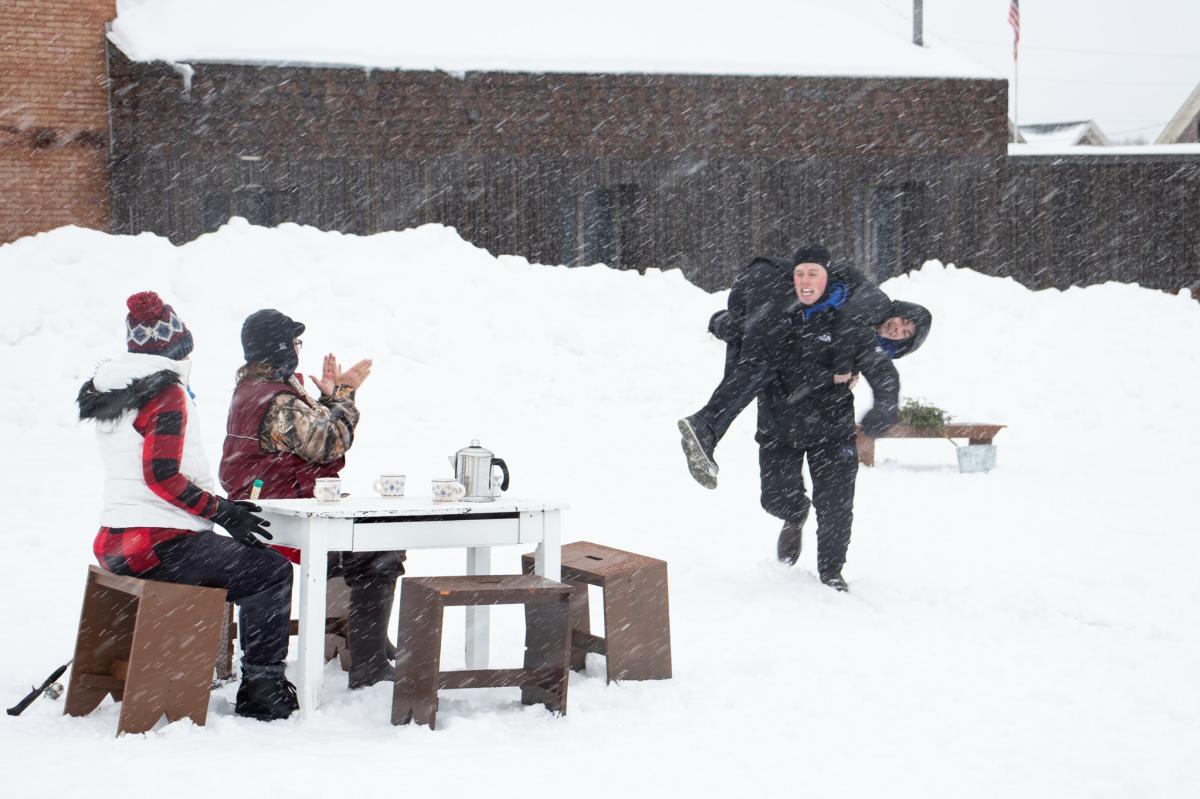 The wife carrying contest, with a little extra Copper Country Style. | Photo by Jim Kurtti
Iltamat
7:00-10:00PM | Finnish American Heritage Center | $15
Iltamat is a lively evening event, that includes traditional Finnish dance, Finnish Dance music by the Back Room Boys and a buffet of Finnish treats prepared by the Finnish Theme Committee. This fun party is open to the public, but you may want to touch up on your raatikkoon or mazurka dances before you go. Folk and ballroom dance lessons are available January 17th from 7-8:30PM at the Finnish American Heritage Center for just $5/student. No partner or pre-registration necessary.
History of Heikinpäivä 
When asked how Heikinpäivä got started, Jim Kurtti, Director of the Finnish American Heritage Center, said "I was asked to host a conference - Project 34 - which was looking at reaching out to the third and fourth generations of the Finnish American community.  They wanted to meet in a Finnish community, and someone from the group volunteered me.  Then I thought, how are the conference goers going to interact with the local community so I approached the Finnish Theme Committee of Hancock and we created Heikinpäivä (as a one-time event) to do that.  We had such a big response it became an annual event."
Get the Most Out of Heikinpäivä
Get the most out of the event by visiting the official event website. This Heikinpäivä website includes a complete event schedule and information about how you can get involved! While attending the event, check out the signage throughout Hancock, which will explain what the parade costumes represent. Costumes will relate to Finnish-American and Finnish folk characters. Take advantage of enrichment classes and the opportunity to explore Finnish-American traditions, or the goofy outdoor games! Don't be afraid to dress up and have fun!
Interested in updates, travel tips and quirky information about the Keweenaw? Just sign up for the Keweenaw Explorer, our monthly e-newsletter. Complete the form…