So you've found yourself in Houghton for a day – lucky you! Whether you're dropping off your Tech student, or making the town your basecamp of Upper Peninsula adventures, the bustling community of Houghton, Michigan has many ways to enrich your travels. This list will stack the next 24 hours, but don't be surprised if you're charmed into planning a much longer stay!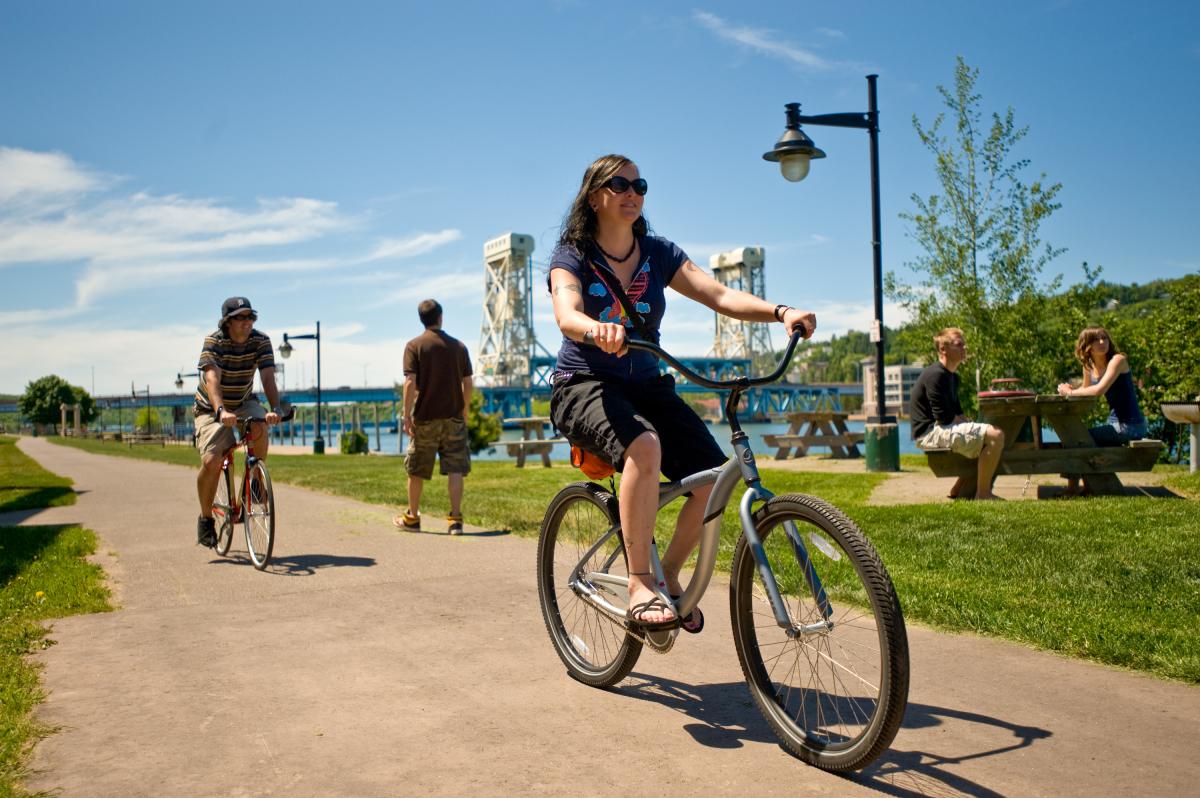 COFFEE ON THE CANAL
There is nowhere better to be when the sun breaks over the horizon than waterside on the Portage Canal on the Keweenaw Waterway. Houghton is a city that appreciates a good cup of Joe, so stop at one of our local coffee shops on your way down to the boardwalk. The latte from Cyberia is a heavenly dose of caffeine, or try Camp Coffee for a unique seasonal drink! Sip and stroll along the Canal boardwalk by the Portage Library and watch the sunrise warm Mont Ripley from across the water. Perhaps you'll catch kayakers silently slip through the water for some gorgeous morning photos. From the boardwalk, you can stroll under the iconic Portage Lake Lift Bridge on down past Roy's (for a caffeine and cronut refuel). If you're looking for an epic Lift Bridge selfie spot – this area is tops! The Houghton Beautification Committee keeps this boardwalk blooming with flowering gardens all the way to Ray Kestner Park (Chutes and Ladders), and along the way, you can discover secret art installations!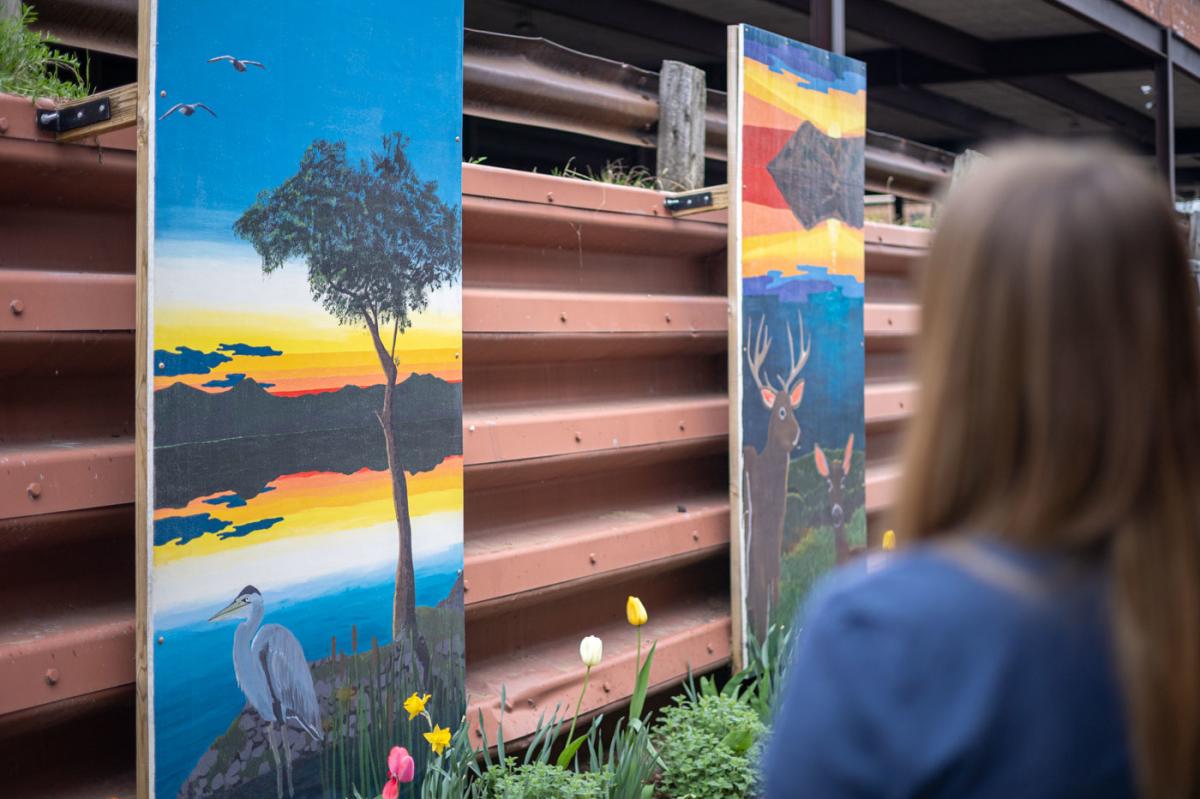 CHUTES AND LADDERS (RAY KESTNER PARK)
Ray Kestner Park is a go-to location for kids looking to burn off some energy, folks looking to kayak, or somewhere to enjoy an outdoor picnic. This park is home to Chutes and Ladders, a monumental wooden construction winding with tube slides. Swings and climbable structures abound – a perfect place to bring the kids for some fresh air. Located on the grounds is Portage Paddle Sports, and here they provide easy access to the canal for a quick paddle. You can swiftly make your way under the Lift Bridge for an unforgettable perspective of our local icon! Plenty of picnic tables around this park, and there's even a small sandy beach to warm your toes and enjoy an outdoor meal.
BREAKFAST OF CHAMPIONS
Finnish influence is strongly interwoven in Keweenaw culture, and no place celebrates that like Suomi Restaurant. Suomi is the native name of Finland, and their most iconic dishes pay homage to the homeland of many people who came to work the Copper Country's copper mines. Here you can get a warm, custardy pannakakku topped with raspberry sauce. This Finnish "pancake" has won over many a student and traveler, and you'll find yourself craving this after you've gone! Here, you can enjoy a slice of Nisu french toast (another Finnish-inspired creation), or even a traditional American pancake that's bigger than your head!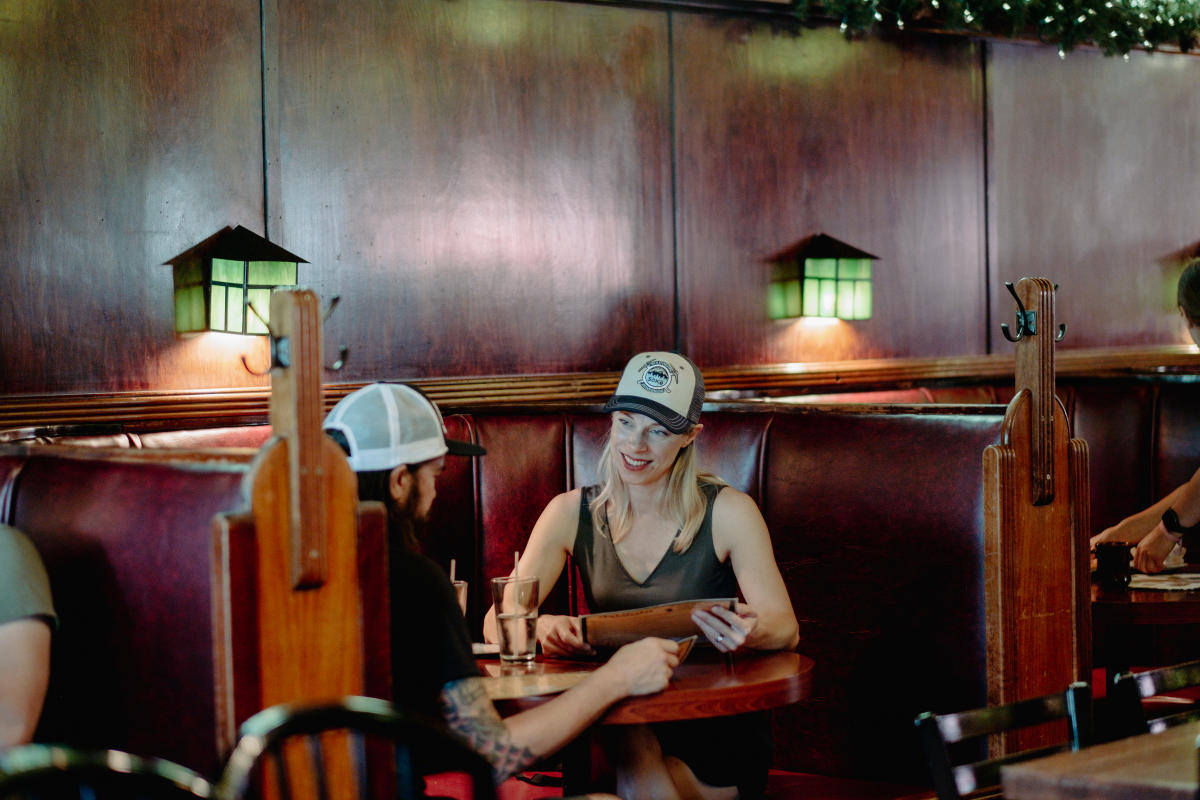 A KEWEENAW GEM
You could easily spend immersing yourself in copper mining history throughout the Keweenaw, but the A.E. Seaman Mineral Museum offers an easily accessible way to learn about Copper Country history. Douglass Houghton's life-sized painted portrait hangs at the head of an impressive collection of Copper Country mining artifacts and gems and minerals collected around the world. This museum offers visitors a way to also appreciate the influence and presence of Michigan Technological University, a cornerstone of the Keweenaw community. Expansive, well-curated, and quiet, you can pass a meditative hour or two!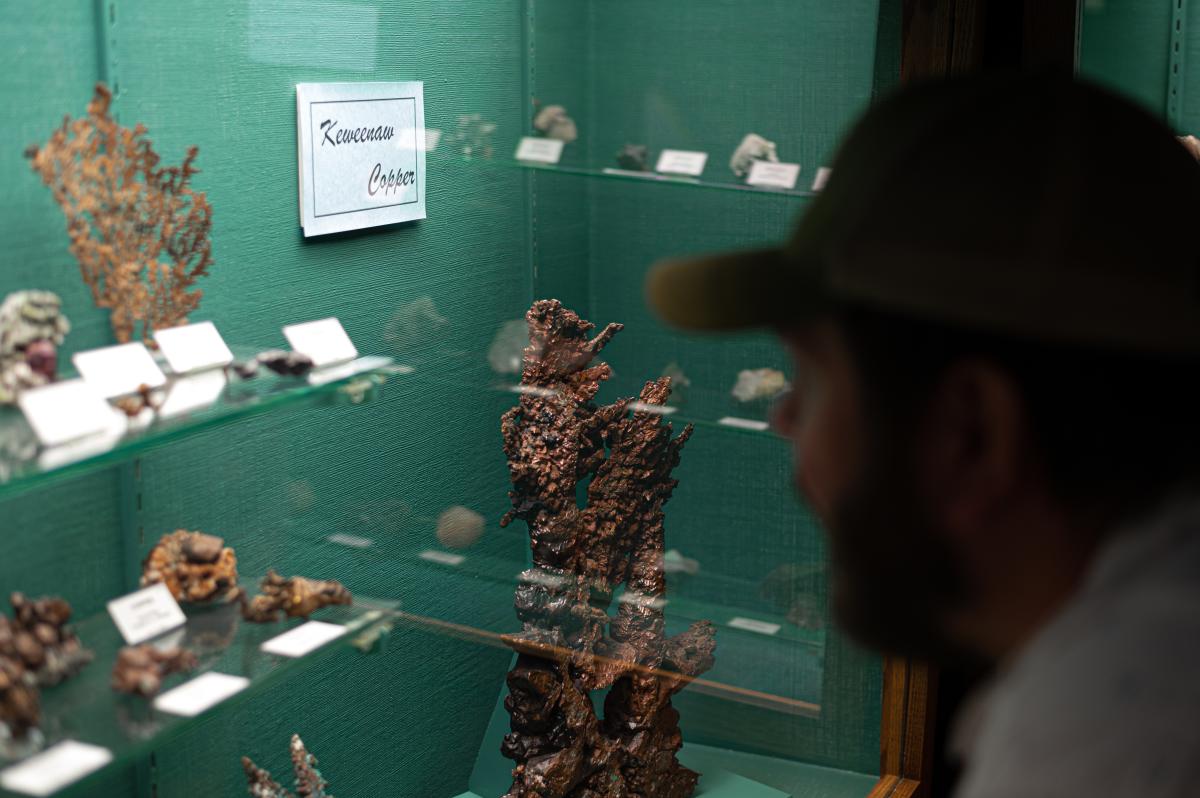 PATIO LIFE
When the sun is shining, run (don't walk!) to our favorite outdoor Happy Hour spots! Craft beer lovers cannot miss sampling a flight at the Keweenaw Brewing Company. Located right downtown, their outdoor patio offers a lovely spot to gaze across the Portage and enjoy some rays. lf you've been lucky to find KBC at your local grocer, trying it straight from the tap is going to blow your mind! Look to their artful menu boards for seasonal offerings, or try one of their beloved regulars-you won't go wrong with a Widowmaker!
Another classic patio spot is located on the Downtowner Lounge. From the patio here, you're right up close and personal with the Lift Bridge! The Lift Bridge views here are incredible – and so is the food! If you're looking for a tasty burger, wings, or some fried munchies while you enjoy a cocktail, the DT deck cannot be missed!
EXPLORE SHELDEN AVE
While we're hanging out on Shelden Avenue, don't pass up an opportunity to walk this historic thoroughfare. The storefronts boast great local shopping, restaurants, and an opportunity to simply marvel at the Copper Country architecture. Beautifully maintained, one can easily imagine what a stroll through downtown Houghton was like during the mining heyday. Bring home Keweenaw-inspired art from Studio 13, gear up at Downwind sports, or find something truly Michigan at many of the local boutiques!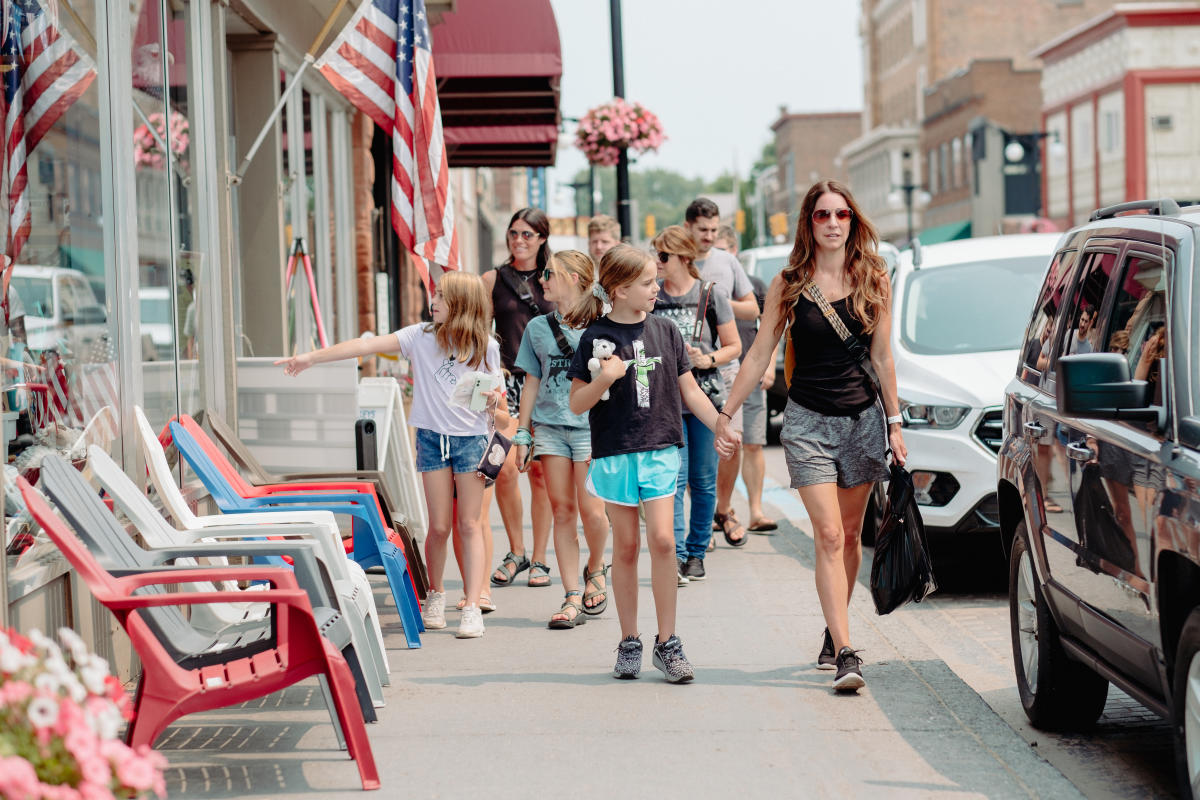 BOAT CRUISE
Boardwalk strolling is one thing, but seeing Houghton from the Canal is another! Book a session on the S.S. Dragonfly – the craft of Copper Country Boat Tours. This tour is a beautiful way to spend an afternoon on the water. Captain Dominic has a wealth of knowledge about the area's history, nature, and the best ways to enjoy your time in Houghton!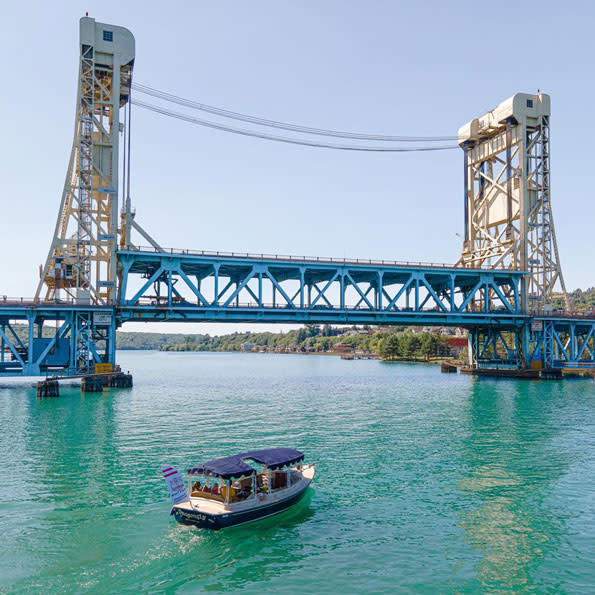 HIT THE TRAILS
One of the many charms of the Houghton is its effortless flow between city charms and rustic Northwoods. The Keweenaw is home to extensive trail systems that can be enjoyed just about any way you could imagine. Walk, run, trek, bike, snowshoe, ski, unicycle! No judgments on how you get active outdoors! On the outskirts of Houghton towards Chassell, you'll find the Nara Nature Park and trails. On both sides of US-41 you'll find a diverse range of trails experiences that both encompass boardwalks through the wetlands and deep Northwoods. Head behind MTU and you'll find the Michigan Tech Trails. A favorite of mountain bikers, these trails are well maintained for those who are looking to both connect with nature and burn some energy!
LET'S TACO 'BOUT PIZZA
Houghton is home to many creative and delicious dining establishments, but if you only have a brief (but shining) moment in Houghton, you have to stop at the Ambassador Restaurant! This eatery has been a staple of the Keweenaw since 1965, and their signature thin-crust pizza has left an indelible impression on everyone who passes through its doors. So much so, that they were inducted into PMQ Pizza Magazine's Pizza Hall of Fame! It's not just the pizza – when you're in Houghton and someone asks if you want to get a fishbowl, they're not talking about goldfish. They're craving one of the Ambo's vibrantly colored, potent cocktails in the classic large tulip glass! The Ambo's loyal followers have their orders memorized by heart, and some have even stuck to them for 40+ years! You'll definitely understand why once you discover your own favorite, like the Taco Pizza, in the company of the painted gnomes on the ceiling!
BREAKAWAY TO SUPERIOR
If you're lucky enough to find yourself in the Keweenaw, you'd be remiss if you didn't head out and seek Lake Superior. So much more than a lake, the endless oceans of freshwater that surround the Keweenaw have shaped and honed the culture here. Truly one of the world's greatest wonders, many folks who enjoy Houghton find the easiest access to Lake Superior through Breakers Beach. Also called North Canal Township Park, you can easily access this beach by taking Canal Road to its end. Here you can drive straight to the black stamp sand beach that cradles the northern entrance of the Portage Canal into Lake Superior. In the warmer months, you can watch the Ranger III glide into Lake Superior on its way to Isle Royale National Park and slip into the waters of Mother Superior to cleanse your own spirit. These beaches have long been a favorite location for bonfires and sunset watching, so should your day require a healthy dose of awe and inspiration, head out to Breakers ASAP.
ENJOY THE NIGHTLIFE
When night falls, don't think your Houghton adventuring is done. Especially if you're out enjoying a Lake Superior sunset at Breakers Beach, you're already in position for one of the most epic late-night shows the Keweenaw has to offer: the Northern lights! Far enough away from the city lights, you can see why the Keweenaw is known to be one of the best locations for Dark Sky viewing. Download an Aurora tracker before you arrive, because on nights when the KP is high you have excellent odds at catching the dance of the northern lights. With a camera, you'll be better able to enjoy the chromatic brilliance of the night sky, but regardless, deep nights bring out the brilliance of the starry sky.
After, you can enjoy a Houghton nightlife of another kind! Houghton is home to some excellent establishments where you can get a crafty cocktail, listen to live music or enjoy a brew with friends! The Bonfire at the Continental Fire Company is an absolutely gorgeous venue with a cool historic background. Once the Fire Hall, this renovated place both pays homage to the Copper Country history, but brings forwards excellent food and artful drinks. On their big stage, you'll regularly find live music and other events like karaoke! Looking for a hangout spot that'll earn you cred with the locals? Head to the Douglass Houghton Saloon, affectionately known as "The Dog". Here you can serve yourself up a tray of fresh, salty popcorn and enjoy their signature Tom Collins in the moody lighting and dark wood of this long-standing bar. If you're a real one, try the Yooper Challenge. Pickled egg, blackberry brandy, and an Old Mil as fast as you can. Don't cringe! It's a right of passage!
In the morning, start back at #1 and wonder… should you stay longer? We think so!