As summer reaches its midpoint, foragers and hikers exploring the Keweenaw Peninsula's wilderness are sure to discover a unique, bright-red berry hidden along a quiet trail. Deliciously sweet with a hint of tartness, this berry is called a "thimbleberry" and is a favorite among local residents (both human and wildlife).
WHAT ARE THIMBLEBERRIES?
According to U.S. Forest Service, rubus parviflorus (common name: Thimbleberry) is named after its appearance, as it does resemble a thimble from the top, where the thimble has little indentations to push down upon the needle. Imagine a raspberry but smaller, with smaller but more numerous fruitlets. Thimbleberries may be eaten raw but are often cooked and made into jam. The berry is ripe when it takes on a bright red color.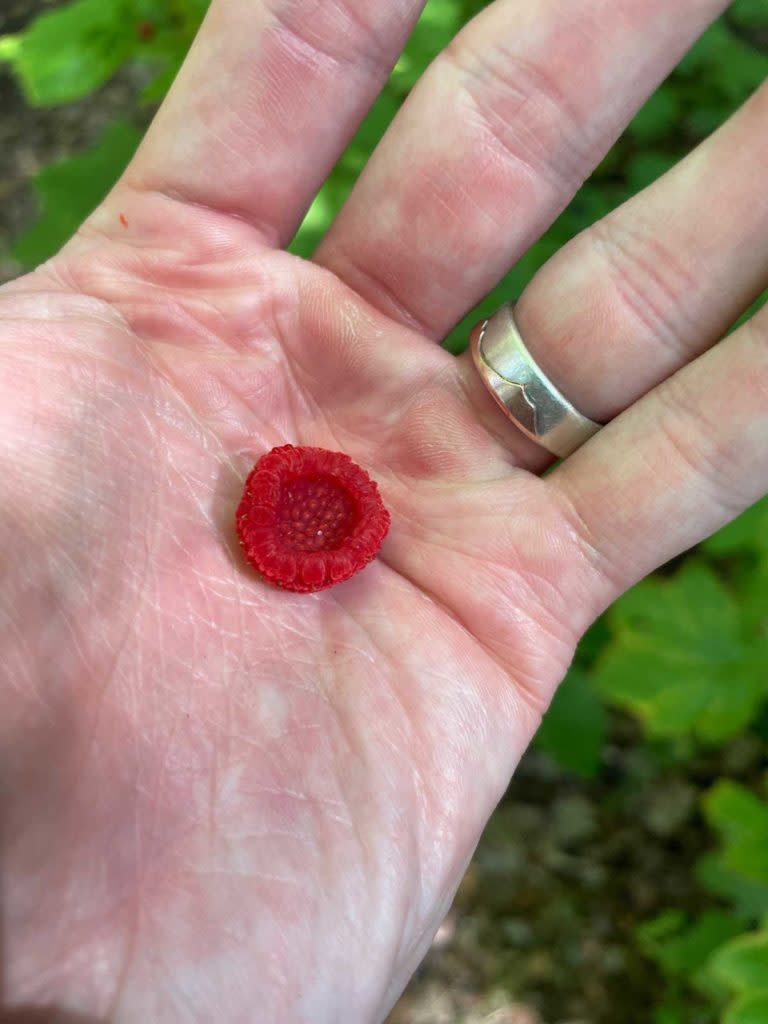 Thimbleberries get their name from the impression found on the top of the berry.
WHERE CAN I FIND THIMBLEBERRIES IN THE KEWEENAW?
Thimbleberries grow best in places that are shady, moist, and cool, and are often found along the Keweenaw's forested trails and hillsides and even on Isle Royale. Look for plants with rounded five-lobed leaves typically no taller than waist high but can reach over six feet.  Paths to inland waterfalls and mine ruins hidden in forests present ideal conditions for thimbleberries.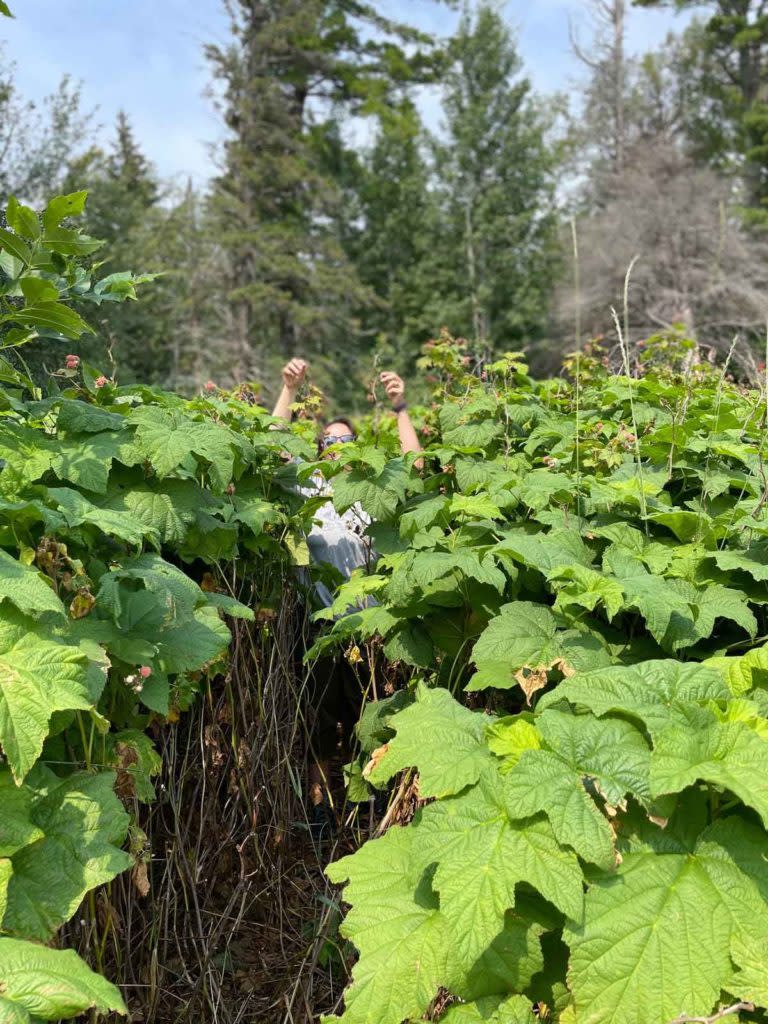 Lost in nature: A thimbleberry patch just outside of Eagle Harbor.
WHEN CAN I PICK THIMBLEBERRIES?
The Keweenaw's thimbleberry season is brief, typically running from mid-July to late August. In late spring and early summer, the berry begins to take form inside a white flower. As the weather warms, the pinkish berry ripens and turns a brilliant, bright red.
TIPS FOR THIMBLEBERRY FORAGING
A thimbleberry plant typically produces just a few berries per plant. Remember patience and persistence pay off.
Thimbleberries plants are thornless making gloves unnecessary.
Use care when picking thimbleberries as they are fragile and easily damaged. Use one hand to hold onto the stem and the other to gently remove the berry.
Use a wide container to carry your berries. The fruit can be crushed under the weight of just a few layers of berries.
Refrigerate your berries as quickly as possible. Thimbleberries last just a few days once removed from the stem.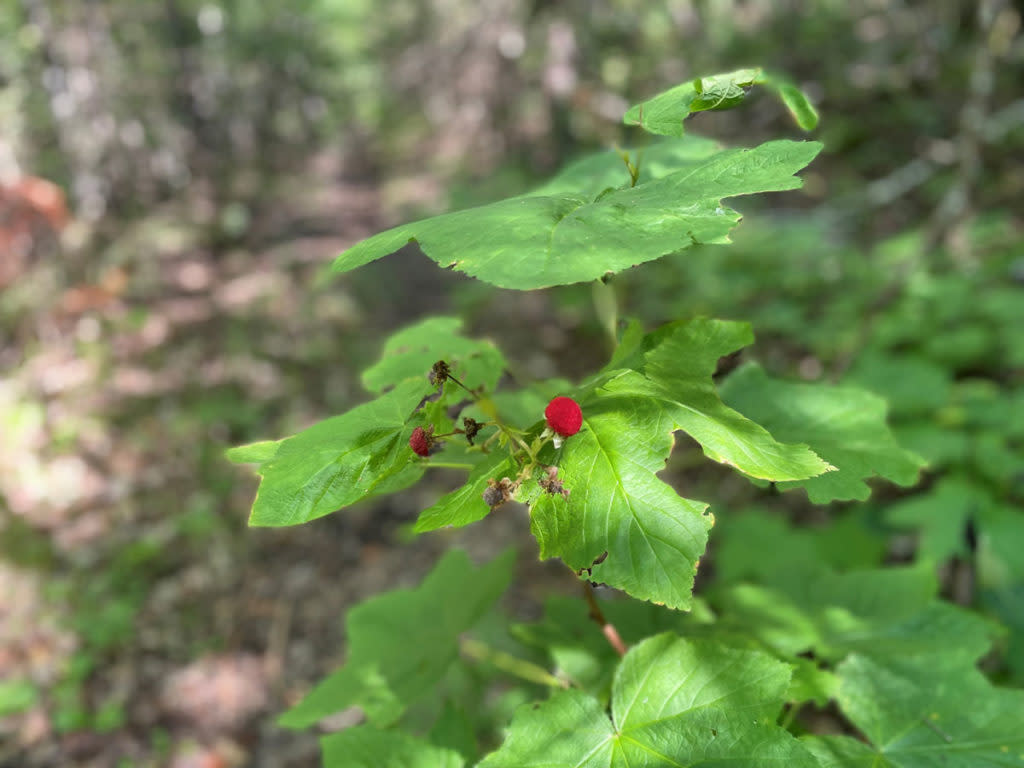 A ripe thimbleberry near Copper Falls in Keweenaw County.
WHERE CAN I BUY THIMBLEBERRY PRODUCTS?
Many local gift shops offer thimbleberry products for sale, most commonly as jam. Popular jam purveyors include The Poorrock Abbey's Jampot near Eagle Harbor, The Jam Lady in Eagle River, and the Wood'n Spoon in Mohawk. However, the berry is used in margaritas and even donut glazes to add a unique, local flavor.