On the cold evening of November 23, 1953, a fighter jet disappeared without a trace over the icy waters of Lake Superior. The jet was on a mission to intercept an unidentified aircraft near the Keweenaw from Kinross. Within moments of nearing the target, the interceptor seemed to vanish. Neither the jet or its crew were ever seen again. We've put together this blog to help share the unique story of this unexplained moment of Keweenaw cold war history. 
70 Unexplained years since interceptor jet went missing over Lake Superior Near Keweenaw Peninsula
70 years ago this week on Nov. 23, a radar tower at the Calumet Air Force Station in the Keweenaw Peninsula observed what was believed to be a Canadian aircraft headed to Sudbury in Ontario. However, being 30 miles off course it was classified as unknown. As a result, an F-89C Scorpion rapidly deployed to respond to the aircraft. The Scorpion, nicknamed "Avenger Red" set out on a northwest course across Lake Superior to intercept the target from the Kinross Air Force Base. Later called the Kinross Incident, First Lieutenant Felix E. Moncla Jr. and Second Lieutenant Robert L. Wilson would never come home from their flight.
As Avenger Red neared the Keweenaw its communications were handed over to the Calumet Air Force Station from Kinross in Chippewa County. Nearly 30 minutes into the flight, Calumet directed Avenger Red to descend for interception. The target was said to be 10 miles out at Avenger Red's 11 o'clock position. This was the last order that received a response.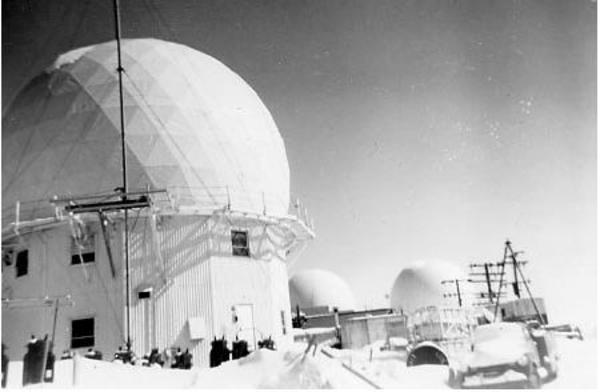 Calumet Air Force Station radar tower in the snow. (MTU Archives)
Three minutes later, Avenger Red approached the intercept target's radar blip. The two aircraft appeared to converge on the control screen at Calumet, then Avenger Red disappeared from the radar. Further attempts to reach the pilots failed. In hopes it was a disrupted signal, two more F-89Cs were deployed from Kinross (Avenger Black & Avenger Purple) to attempt raising Avenger Red on the radio. 40 minutes later, one of the pilots and their radio operator alleged they heard a short transmission recognized as Moncla's voice.
No further contact was made with Avenger Red. Low clouds and snow showers made the visual search incredibly difficult.
72 minutes after the last radar contact, Avenger Red would officially have run out of fuel. A missing aircraft was declared, and search and rescue operations began. Initially, two aircraft from the 49th Air Rescue Squadron and another from the Coast Guard and a surface ship began searching the last known area the night of Nov. 23, 1953. More aircraft arrived in coming days and searched, increased their reach along the northeast and southern coasts of Lake Superior. Multiple possible clues and reports were investigated, but none led to any new information. No signs of Avenger Red were found, and the search was suspended in five days.
There are a lot of mysteries surrounding the disappearance of aircraft 51-5853A on Nov. 23, 1953. The mysteries are only compounded by inconsistencies, misinformation, conflicting stories and details, mistakes in official documents and missing information. Furthermore, the story has been sensationalized over the years with various details being added or changed with seemingly no factual basis or supporting evidence. These new details are being repeated in further versions of the story.
Open Skies Project, a group of Michigan Tech alumni who now own and are restoring the property for visitation, have performed intensive research on the topic in anticipation of the 70-year anniversary. To further explore this unsolved mystery the group offers some insight and questions to help understand what happened that night. Read the full blog online to learn more, including more evidence, documents and known mechanical issues that may have led to this disappearance.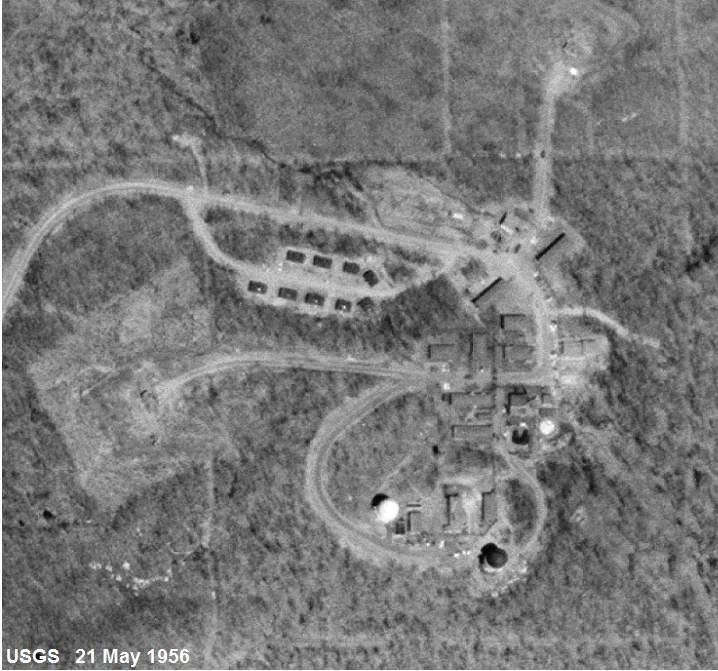 Aerial view of Calumet AFS in 1956. (MTU Archives)
Take a tour in the future with Open Skies to connect with the history firsthand.
LINKS:
Calumet Air Force Station Photos Download (MTU Archives)
This Air Force Jet Was Scrambled to Intercept a UFO – Then Disappeared (History Channel)
Interested in updates, travel tips and quirky information about the Keweenaw? Just sign up for the Keweenaw Explorer, our monthly e-newsletter. Complete the form…