5 minute read
On average the Keweenaw receives over 270 inches of snow annually. From meticulously maintained trails to adrenaline-packed experiences through the pines and along Lake Superior shoreline, there's no shortage of sledding adventures. With over 200 miles of snowmobile trails and award-winning restaurants and hangouts along the way, the Keweenaw is a snowmobiler's dream destination!
TRAILS EXPERIENCES
There are so many incredible side loops and backcountry jaunts. Start your planning by downloading or requesting a copy of a Keweenaw snowmobile trail map. Note that the Keweenaw snowmobile trail system is made up of state-owned and privately-owned trail segments.  It's through good trail stewardship and private-public partnerships that the Keweenaw is able to offer a world-class snowmobile experience.
Here are just a few of our favorite excursions.
BROCKWAY MOUNTAIN
Trail #3 from Mohawk takes you up and over Brockway Mountain. A beautiful route with plenty of places to stop and stretch your legs. Enjoy a Vollwerth's footlong hot dog grilled to perfection at The Cliff View Bar & Cabins, head further north, and stop by The Phoenix General Store, a Copper Country landmark. The Phoenix General Store serves up ice-cold beverages and a wide variety of snack foods. Check out the old coolers, over a century old.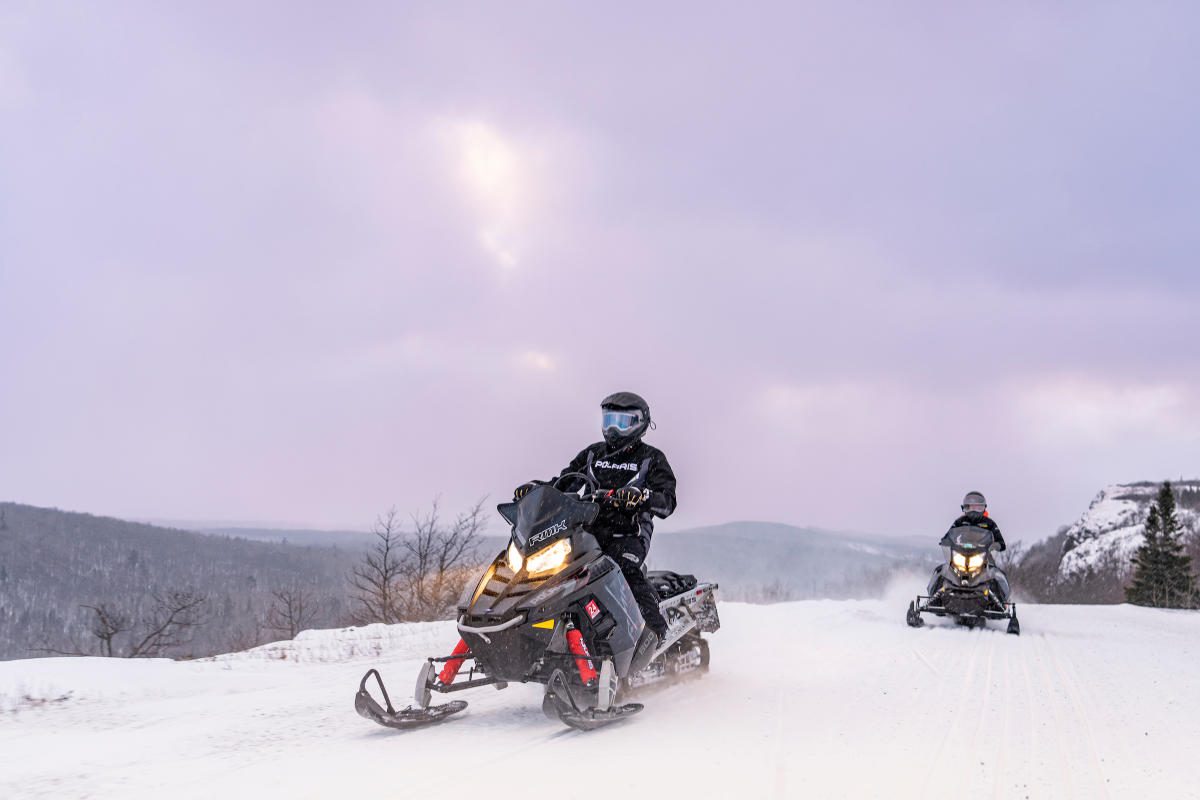 Views from the Copper Harbor Overlook on Brockway Mountain Drive
MANDAN TRAIL TO HIGH ROCK BAY
Take "Mandan Trail"/Trail #134 out to High Rock Bay where Lake Superior awaits. This trail is a still-in-use logging road that opens to snowmobile traffic generally in early January. Trail #132 is a popular trail that treats you with spectacular overlooks of Lac La Belle. It's arguably one of the best trails in terms of unparalleled views and beautiful terrain. While in Lac La Belle don't forget to stop in the Bear Belly Pit Stop for something to eat. Don't feel quite like jumping back on the sled right away? Head over to the rejuvenating Nordic Spa at Mount Bohemia. Did you know Mount Bohemia is home to the largest hot tub in the Upper Peninsula?
TWIN LAKES REGION
The Bill Nicholls Trail passes through the Twin Lakes/Toivola area and Krupps Resort is right there awaiting your arrival! They have some of the best pasties! The Bill Nicholls Trail is over 40 miles and runs parallel for several miles alongside M-26. Several lodging establishments and places to grab a bite to eat are right on the trail.
PORTAGE LAKE LIFT BRIDGE EXPERIENCE
Running on the south side of the Portage Canal the Bill Nicholls Trail becomes walking distance away from downtown Houghton. Plenty of places to park right off the trail including under the Portage Lake Lift Bridge. Go check out the Library Restaurant & Brewpub—it's amazing! Order the famous tostado pizza at the Ambassador Restaurant, stop in The Downtowner for a game of pool or to watch a hockey game on one of the large flatscreen TV's. Want to pick up a souvenir to bring back home? There are several gift stores in Downtown Houghton that feature some of your favorite Keweenaw Gifts, such as Thimbleberry Jam, Keweenaw rocks and minerals, Finnish & Scandinavian gifts, and much more!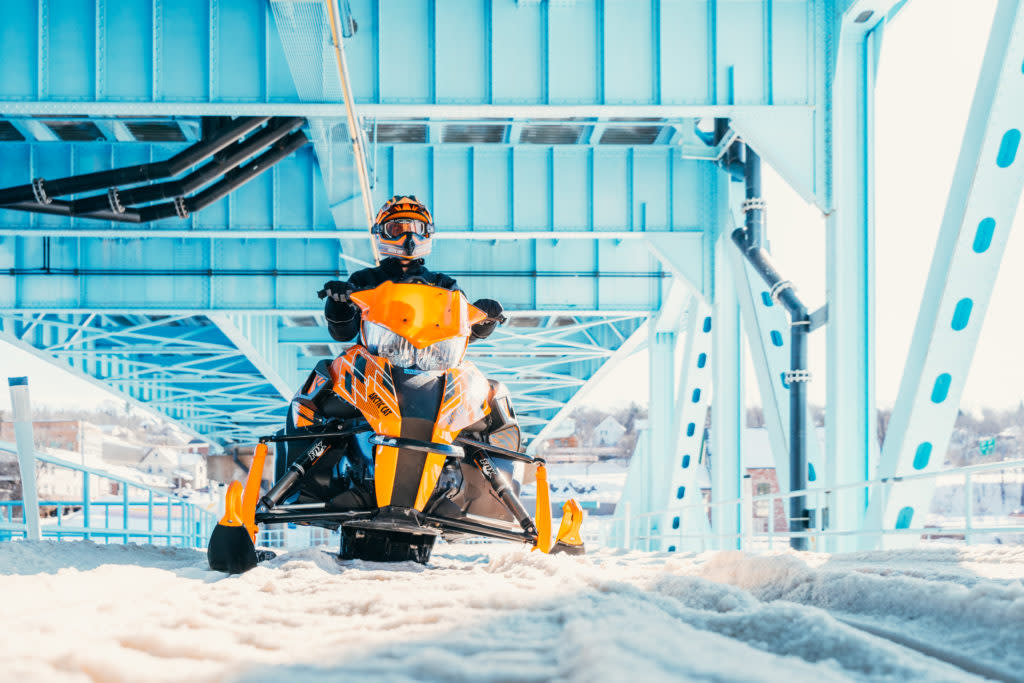 A ride across the Portage Lake Lift Bridge is an iconic Keweenaw experience for any snowmobiler.
SNOWMOBILE RENTALS
If you need to rent a snowmobile, look no further. Not only do these family-owned and operated businesses provide snowmobile rentals, but they also have years of experience and valuable insight, and a passion for all things snowmobiling.
 
Ride Responsibly
Ride in Groups. When it comes to snowmobiling, there is safety in numbers. In case of an accident, medical emergency, mechanical trouble, or poor weather, don't ride alone. On the plus side, riding with friends is more fun!
Check Trail Conditions. Stay up to date on current trail conditions, trail closures and the weather forecast. Keweenaw Trail Reports is a great source for all things related to snowmobiling in the Keweenaw. Visit Keweenaw updates snow & trail conditions and provides downloadable trail maps. For real-time trail grooming updates download the Groomer Tracker App!  Sign up for the Keweenaw trail system with a portion of the fees shared to support our local trail grooming club!
Check the Forecast. Occasionally, groomers suspend trail maintenance due to inclement weather. Rain and warm temperatures cause grooming equipment deterioration and performance challenges. 
Stay off the ice! For your safety as well as others, stay off the ice!
Respect private property. If you don't have the property owner's permission to ride on it, don't ride on it.
Report Trail Issues. If you come across an obstacle that could be a hazard to other riders, please report it.
Ride Sober.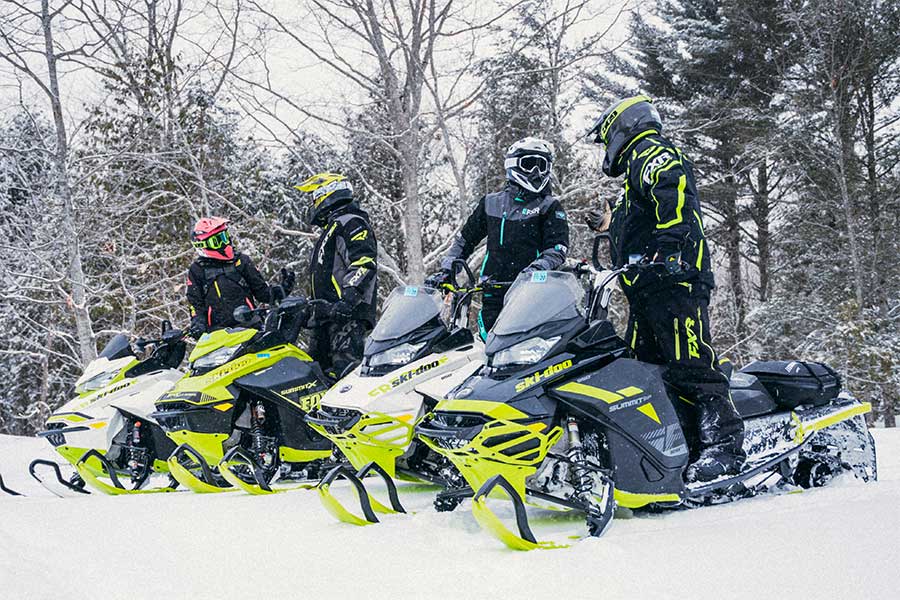 Group rides add to the enjoyment and safety of a Keweenaw trail ride.
BEFORE YOU GO…
Before you're legally allowed to operate a snowmobile in Michigan you must purchase a trail permit. The trail permit allows you to ride state-designated trails and (where authorized) public land and roads.
You can purchase a trail permit at a DNR customer service location or online with the Michigan Snowmobile & ORV Association.
WHO MAINTAINS THE TRAILS?
The Keweenaw Snowmobile Club is a nonprofit organization responsible for grooming and maintaining 233 miles of snowmobile trails that run from Toivola (about 15 miles south of Houghton) to the northern tip of the Keweenaw Peninsula. They have a fleet of five state-of-the-art groomers and a select team of dedicated and experienced trail groomers that are out on the trails sometimes twice a day. They average 35,000 groomed miles each season. That's one-and-a-half times around the world!
The Valley Sno Drifters is a nonprofit group that maintains the "Dreamland Trails" (Trail #122). These are beautiful backwoods trails in the Lake Linden area. They go right by The Dreamland Bar & Restaurant located on Bootjack Road. These spectacular tree-lined trails really showcase the beauty of the Keweenaw.