Houghton is often referred to as the Gateway to the Keweenaw seamlessly blending the great outdoors, history, and small town charm. Home to Michigan Tech University, a vibrant downtown, ample dining options, and easy access to the Keweenaw Waterway, you'll find plenty of things to do…especially in the summer. Read on to discover our top recommendations for the perfect Houghton summer experience.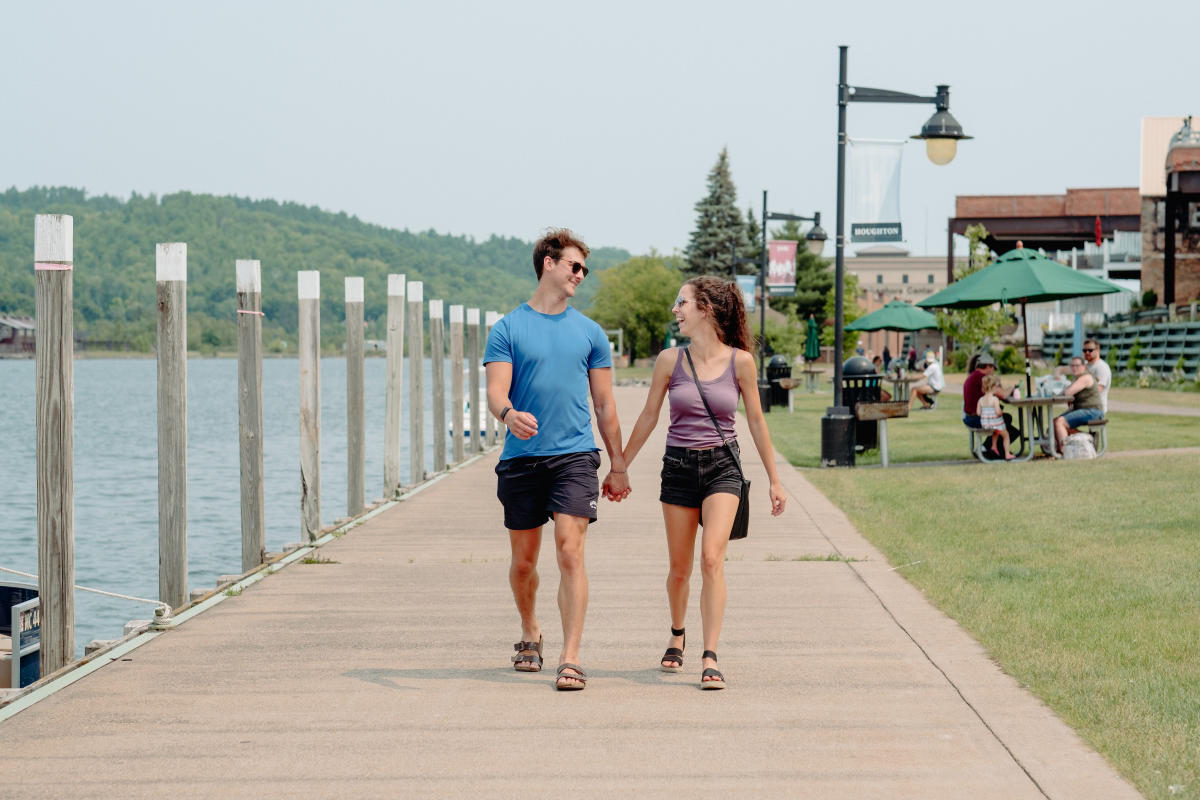 1) CHANNEL YOUR INNER KID AT RAY KESTNER WATERFRONT PARK (CHUTES & LADDERS)
47.1206131, -88.5880872
Close to the heart of Houghton is Ray Kestner Waterfront Park, lovingly named by locals as "Chutes and Ladders." You can't miss this park on the shores of the Keweenaw Waterway thanks to its epic combination of tubular slides and ladders (like the children's classic board game). Kestner Park boasts a variety of things to do, including paddle sport rentals at Portage Paddle, a concession stand, a large playground, volleyball courts, a picnic area, and a protected swim area. Even though it's close to town, you can still experience as much adventure here as you like. This park also plays host to many of Houghton's outdoor events, live music, and festivals.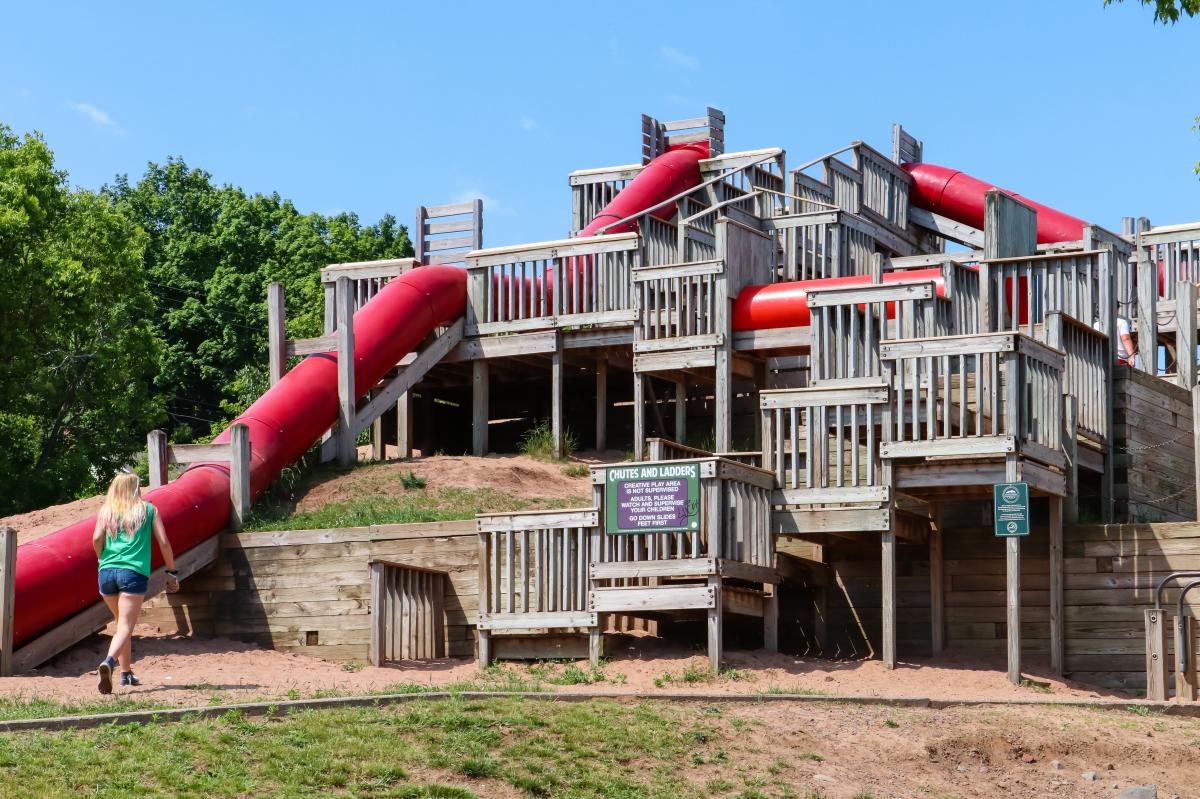 2) VISIT THE A.E. SEAMAN MINERAL MUSEUM
47.1108056, -88.554517
The A.E. Seaman Mineral Museum showcases remarkable minerals from around the world and is the official mineral museum of the State of Michigan. Its collections contain rare specimens, fluorescent exhibits, and historic samples that were collected 100 to 200 years ago. It even features a 19-ton native copper vein in the outdoor pavilion. The extensive displays feature minerals of all colors, textures, and sizes. The A.E. Seaman Mineral Museum also contains a gift shop from which you can purchase a mineral of your own to take home.
3) HIKE OR BIKE AT THE MICHIGAN TECH/NARA TRAILS
47.1070623, -88.5508596
Houghton's varied elevation creates the perfect canvas for unique hiking and biking trails. The Michigan Tech and Nara trail systems provide over 26 miles of trails for bikers and 35 miles for hikers and runners. The trails vary both in style and difficulty, making it easy to find something for everyone in the family to enjoy. While out on the trails, you will encounter an assortment of interesting landmarks including chattering brooks, large boulders left from glacial movements, and several man-made trail features for the brave at heart.
4) FREE YOUR INNER FOODIE
A trip to Houghton isn't complete without a few essential dining experiences. One way to experience a place is to eat where the locals do—so we'll let you in on Houghton's foodie secrets. 
KEWEENAW BREWING
47.1220826, -88.5709467
The Keweenaw Brewing Company offers a unique take on the area's mining history while serving up Houghton's most popular craft brews. Summer evenings are best spent sitting on their patio soaking up the sunshine and fresh air.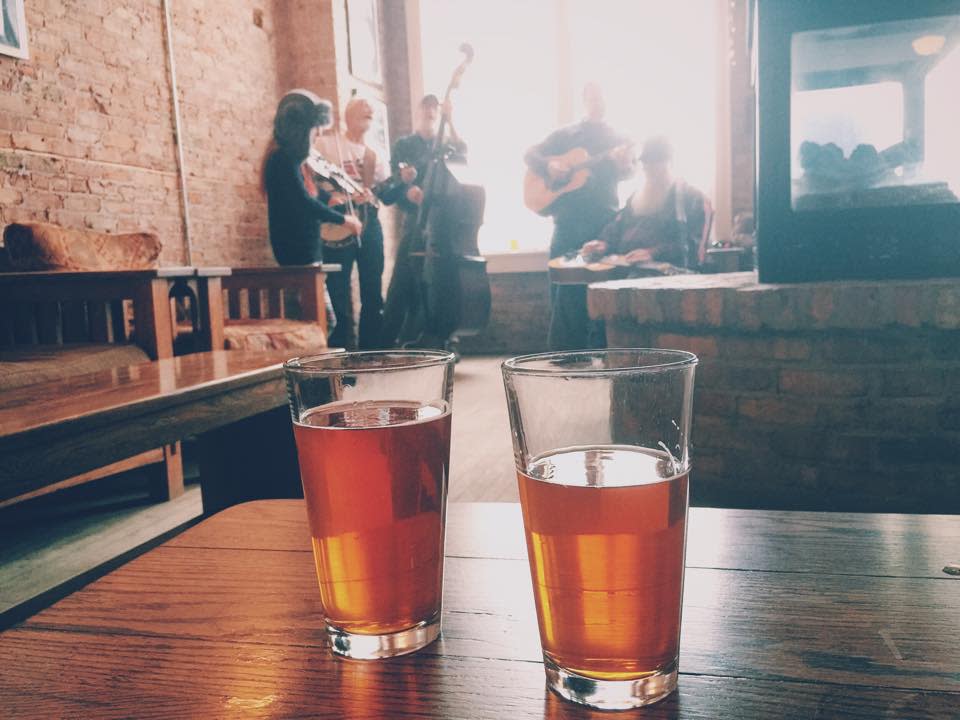 SUOMI RESTAURANT
47.1222608,-88.5704947
For breakfast, Suomi's (pronounced Soo-me) is a must. This quaint diner offers exceptional Finnish-American breakfast and small-town charm. The much-lauded pannukakku is a great option to fuel your adventures for the rest of the day. 
ROY'S PASTIES AND BAKERY
47.1214945, -88.5795602
For lunch, you can't pass on a pasty (pronounced pass-tee) and Roy's makes some of the best. Located along the waterfront path, Roy's boasts gorgeous views and excellent lunch and bakery options. It's a great place for a quick bite whether you choose to dine in or take your lunch to Ray Kestner Park for a picnic.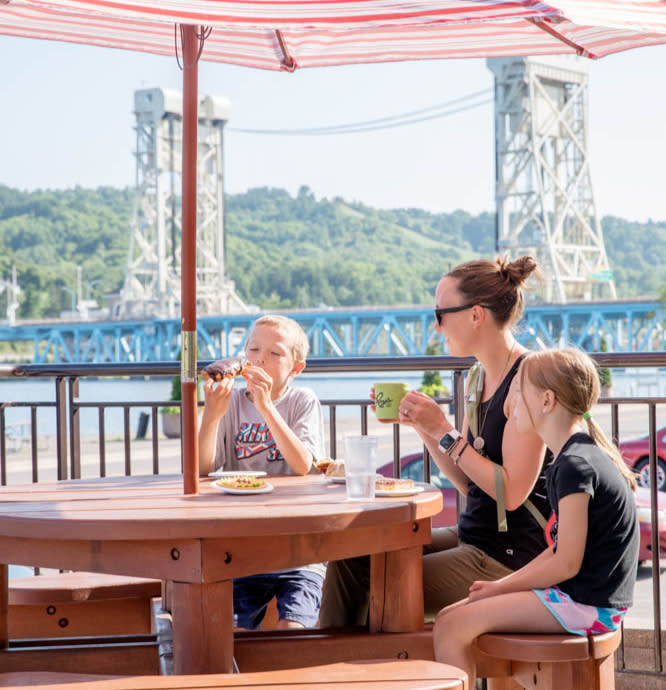 THE DEN
47.1219855, -88.5733097
For dinner, the Den is a local favorite. The Den offers mid-century modern vibes and a classic menu with a few novel twists. Enjoy one of their signature cocktails and an appetizer before savoring one of their crafted entrees. 
You can enjoy each of these restaurants without ever having to leave downtown. They sit only a short walk from each other along the waterfront path, making it easy to spend the day along the canal and break for a great meal.
5) PADDLE THE PORTAGE CANAL
47.1205494, -88.5880547
If you're craving a new vantage point, explore Houghton from the water. You can rent a stand-up paddleboard (SUP) or kayak at Ray Kestner Park and paddle your way to the Upper Peninsula's favorite inland lake according to MLive readers. Paddling along the Portage Canal offers unique views of many of Houghton's landmarks as well as a more protected paddling experience compared to Lake Superior. Portage Paddle Sports also offers a larger "group" paddleboard that can accommodate up to 6 riders, making it easy to include younger kids who just want to come along for the ride. 
6) SHOP DOWNTOWN
47.1212446, -88.5700583
Downtown Houghton is awash with charming shops. You can find everything from outdoor gear to home decor and clothing. You can find one-of-a-kind Keweenaw-inspired art at Studio 13. If you're looking for something to brighten up your home or wardrobe, stop by Grace + Gather. If outdoor adventures are your thing, Downwind Sports can equip you for any Keweenaw adventure. While you shop, stop in one of the local cafes for a coffee break.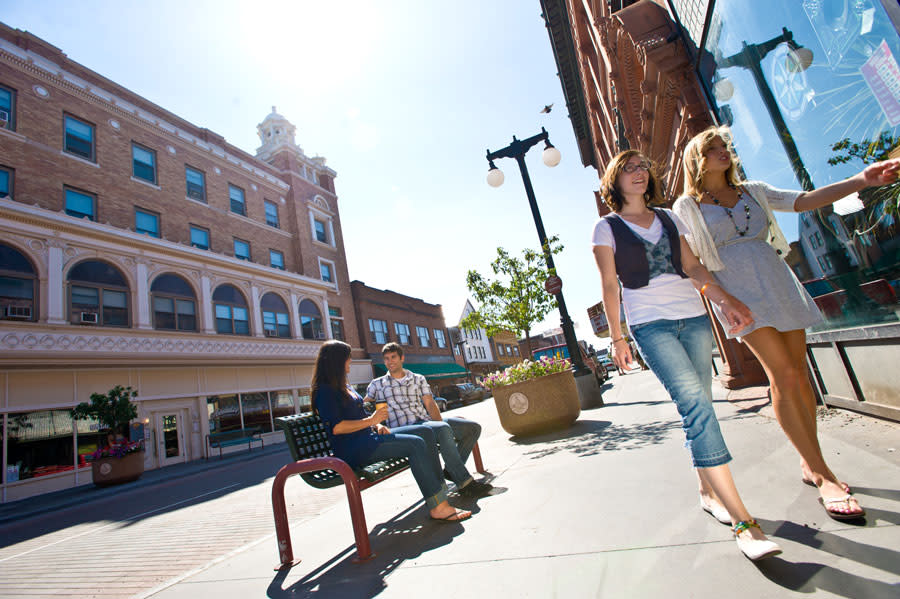 7) ART WALK ON THE WATERFRONT TRAIL
47.1224347, -88.5708059
Houghton's waterfront trail hosts many beautiful murals depicting the natural beauty of the Keweenaw, native wildlife, and historical scenes. It makes for a wonderful walk, connecting many of Houghton's landmarks with art and waterfront parks.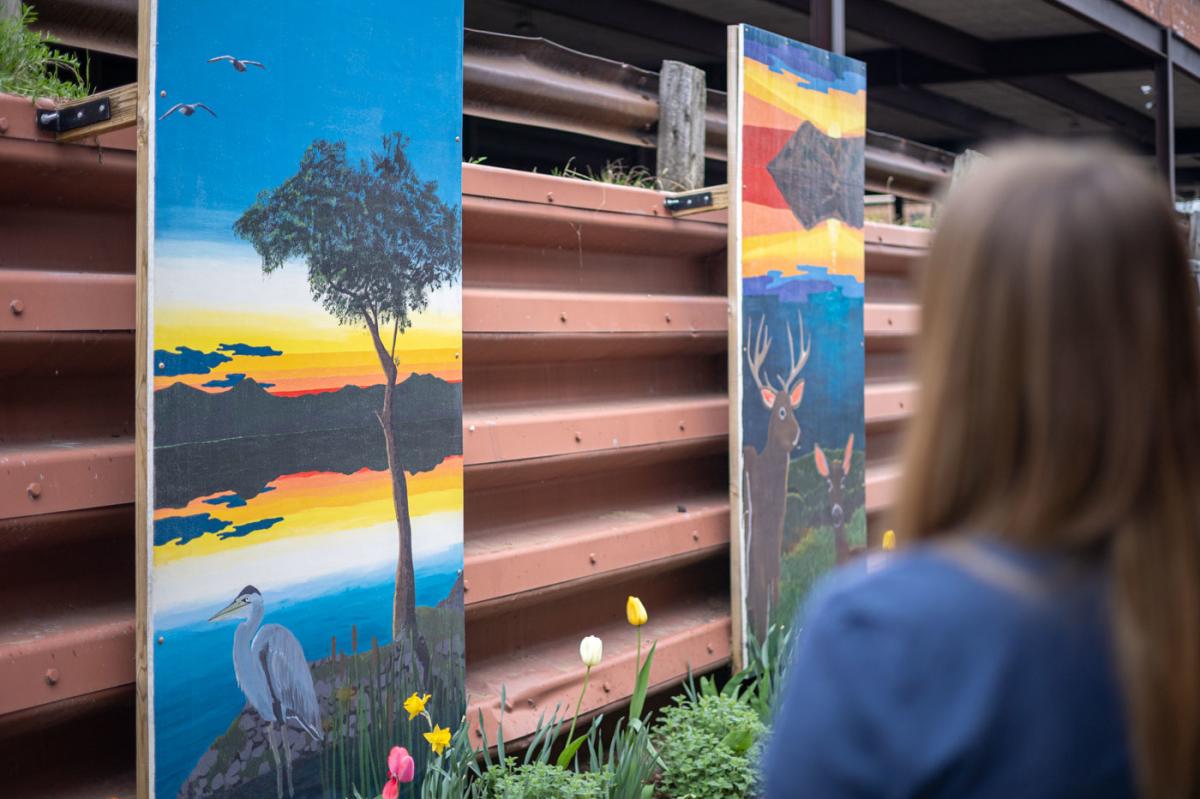 8) SCOPE OUT THE SKATE PARK
47.1224526, -88.5599546
While exploring downtown Houghton, don't forget to check out the skate park at The East Houghton Waterfront Park. The skate park is a great place for kids to play and improve their skills. The park also includes a pavilion that sits adjacent to the canal. It is a great spot for a picnic lunch and a break between shopping downtown and dinner at the Den.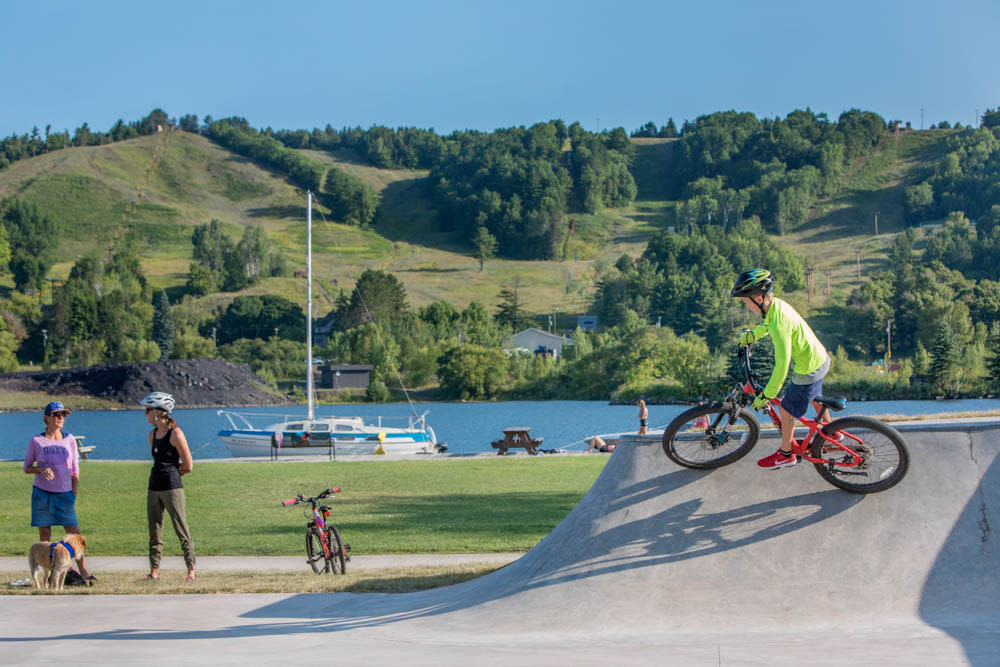 9) DEE STADIUM
47.1229903, -88.5676112
If you're a hockey fan, the last one on our list is for you. This historical monument in Houghton is where professional hockey was born—Dee Stadium. Dee Stadium is still home to some young, hopeful professionals, serving as an active arena for several local hockey programs. The arena also includes a historic hockey exhibit where you can learn about the inception of professional hockey and how the sport has evolved in Houghton. The Dee also plays host to many community events, like the Parade of Nations. Be sure to check our events calendar to see if any events will take place during your stay. 
The city of Houghton offers the most abundant collection of places to stay in the Keweenaw making it a great option for families and business visitors.