Michigan's Keweenaw Peninsula is not to be underestimated, despite being the furthest point north in the state. It offers an abundance of parks, nature, and water to explore. In 2021, the Keweenaw Peninsula won Michigan's Best Vacation Spot in the Western Upper Peninsula by MLive! So there's no doubt that escaping back in time to the slow life of the copper country would make for a beautiful vacation to unwind and make memories. Here, you and your family can spend priceless family time and find the best places to relax and refresh on your next family vacation. 
Why The Keweenaw Is For Families
As many families become conscious of the powerful benefits of unplugging and spending time in nature, they are making time to turn off devices and step out of their homes. There's a wonderful benefit to risky play out in nature that has been lost as more and more children spend time indoors. When allowed to play out in nature, a child is able to build their own self-confidence, resilience, executive functioning abilities, and even risk-management skills. Oftentimes, this comes with reducing the risk of injury too! The Keweenaw makes a completely affordable and budget friendly trip between the free parks and trails, affordable hotels and rentals, you are bound to find something in your budget. Many equipment rental companies are able to supply equipment for children as well (be sure to call ahead to confirm)! What better place to build family and life skills than the home of vast stretches of shoreline, beaches, waterfalls, inland lakes, and dense forest. With ample trails to get out and explore, there's no better place to spend as a family!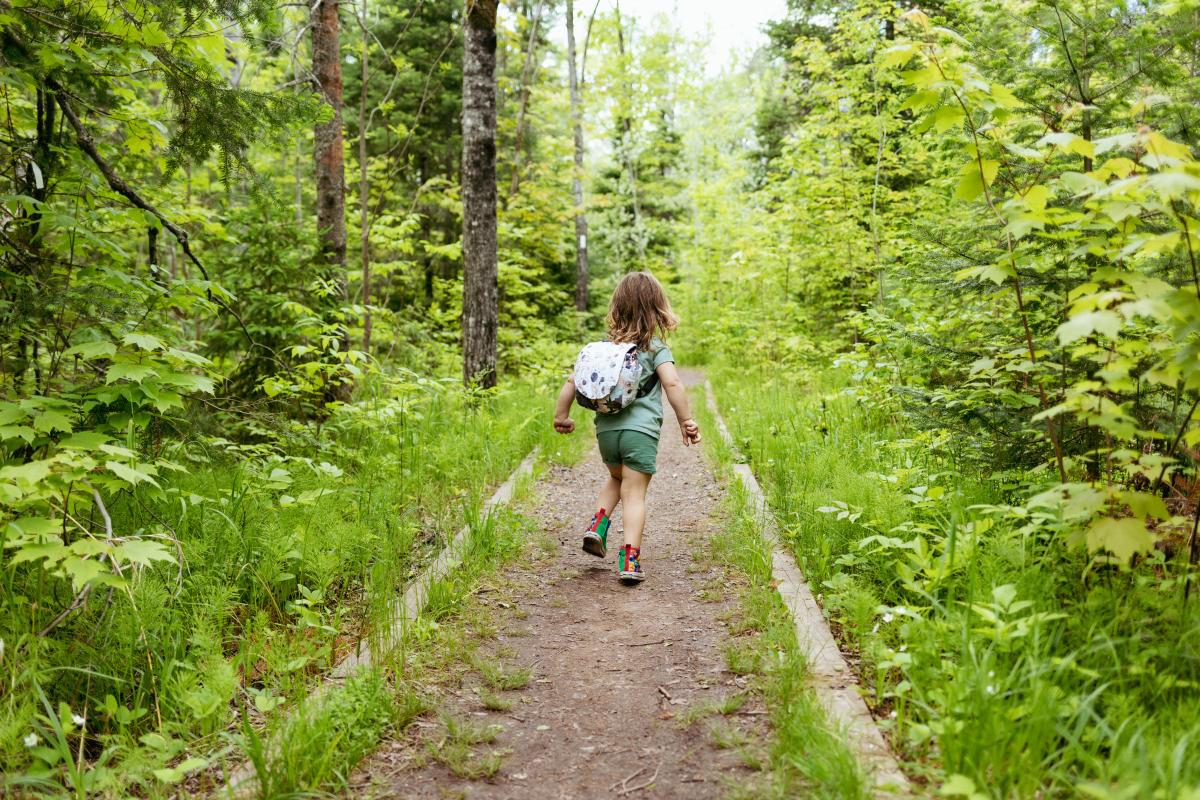 Photo credit: Searra Liggett | @searraliggett  
Things To Do For Families
Best Beaches and Parks
The Keweenaw has both rocky and sandy beaches along its shoreline. Whether you are looking for a relaxing day splashing in the water, or spending some time rockhounding, there are many wonderful options. Agate Beach is a lovely rocky beach with a stunning sunset view. Bete Grise Beach and roadside park and Great Sand Bay are two of the best beaches in the area. You also must take your adventurous kids to Kestner Waterfront Park for the infamous Chutes and Ladders play structure, the most unique playground in Michigan! Everyone can take turns navigating the labyrinth and take turns sliding down the thrilling tube slides. Afterwards, you can enjoy some ice cream on the beach.
Family Friendly Hikes
With hundreds of miles of trails, the Keweenaw Peninsula has many amazing explorations to choose from. Some of our favorite family hikes would be Mt. Baldy, a rigorous, down and back,  6 mile hike with panoramic views of Lake Superior and the Peninsula. The Monk Trails near Jacob's Falls will lead you around the Arnold Mine Ruins and the Jacob Creek Gorge for a moderately challenging 2 mile hike. Head up to Brockway Mountain for a .75 mile hike over Lake Shore Traps, old lava flows, and stunning panoramic views of Lake Superior (a favorite sunset viewing spot and northern lights viewpoint). The Nara Nature Park is also full of easy, family friendly trails and boardwalks, this one does require a trail pass that can be purchased through Michigan Tech's Outdoor Adventure Program.
Best Biking
The Keweenaw has some of the best mountain biking trails, with Copper Harbor hosting one of the best trail systems in the Midwest! If mountain biking isn't your family style, the Soo Line Railroad Trail, running from Kestner Waterfront Park to Chassell, is an easy 10 mile mix of paved and crushed gravel trail. The Keweenaw Mountain Lodge has several kid friendly trails. If you are in need of bikes, the Keweenaw Adventure Company can set you up with bikes, instructions, techniques, and guide you through the trails best for your (and your families) skill level. 
Tours
Being home to 10 waterfalls, 15 lighthouses, and a myriad of historic buildings, there's no shortage of fun tours throughout the Peninsula. Enjoy a guided mine tour at the Quincy Mine, a self-guided waterfall tour, check out the Keweenaw National Historical Park Visitors Center after some shopping around downtown Calumet, visit the Mineral Museum, photograph all 15 lighthouses, or jump back in time at the Fort Wilkins Historic State Park. 
Berry Picking
There's no better family memory or creative vacation than one that includes a trip out berry picking. Chassell is home to the famous Copper Country Strawberry Festival where you can find the best, locally picked strawberry shortcake. The Peninsula also has quite a few wonderful U-pick farms: Crane Berry Farm, Gierke Blueberry Farm, Larry Monette, Makinen Farm, Norman Forsman Farm, and Henry Ohtonen. Or if you are looking for wild berry picking, you can find tons of raspberry bushes, wild strawberries and Thimbleberry bushes all throughout the Peninsula. As always, never eat anything you can't identify. 
Lodgings & Restaurants
Visit Keweenaw has already made a list of amazing hotels, rental cabins, and campgrounds so you don't have to do all of the searching. From local favorites to hidden gems, you can find all of Keweenaw's amazing eateries in our list of places to eat as well.
Things To Keep In Mind
If you are headed to any body of water, be sure to never swim alone, be mindful of currents, and wear a life preserver. The most important thing we can do for our, and our children's, skin is to apply sun care. The summer months here are also known for the bugs! So be sure to bring proper sun care or bug repellant. If you forget it, don't worry! Just swing into one of our amazing stores to replenish.
The Peninsula has limited service and internet throughout the area, so be sure to save or download any gps routes or your Google/Apple maps ahead of time and keep a spare paper map in the car. This makes for the perfect opportunity to have your kids practice reading a map (or learn if they don't already know how)! As we mentioned earlier, this poses the perfect time to truly unplug, put devices away, and leave any work at home. 
If you are in need of renting equipment, I'm sure these places would be more than happy to help: Cross Country Sporting Goods in Calumet, Keweenaw Adventure Company, Keweenaw Mountain Lodge, Portage Paddle Sports, and Portage Wake.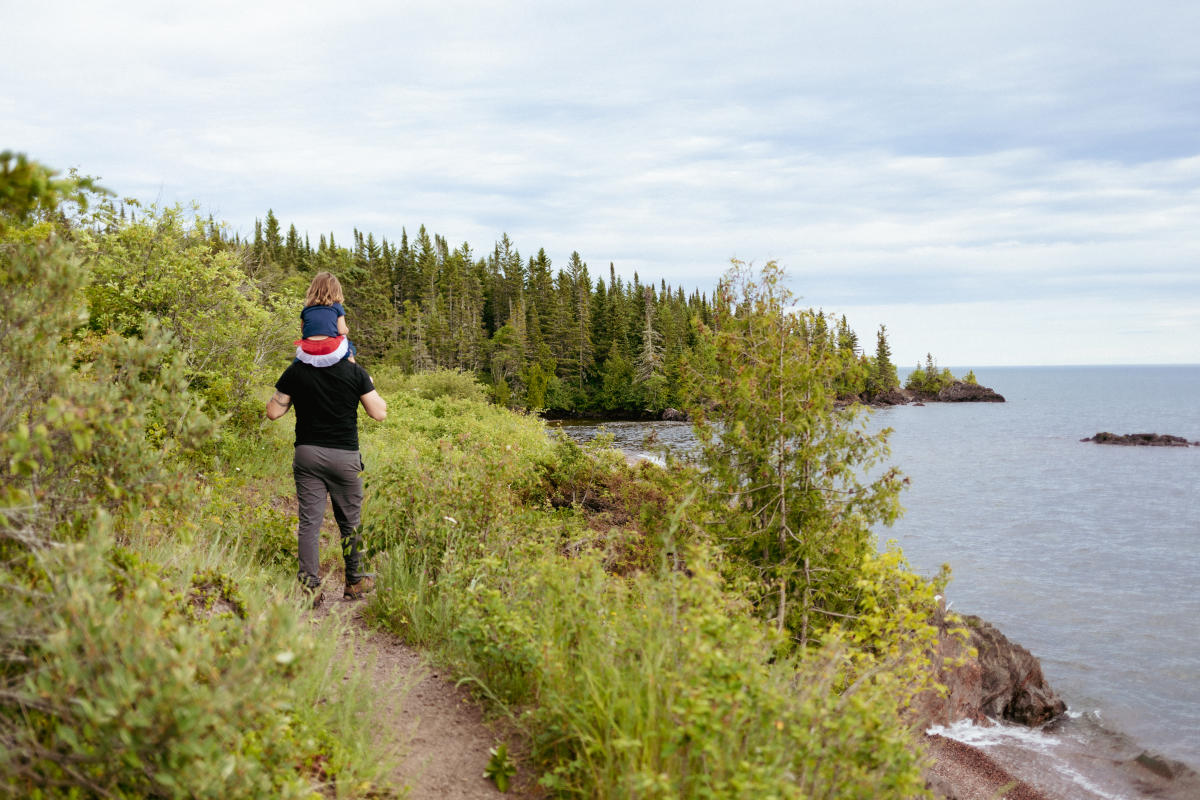 Photo credit: Searra Liggett | @searraliggett  
Get Out And Adventure 
Some of the best memories are made when you just get out and have fun. It doesn't matter where you go on the Peninsula, or what you do, your kids just want to be with you. Prioritizing family time this summer will always be the best reward, and make a summer well spent.
Interested in updates, travel tips and quirky information about the Keweenaw? Just sign up for the Keweenaw Explorer, our monthly e-newsletter. Complete the form…
Request a copy of our Keweenaw visitors guide for information on activities, lodging, and more!