Become a keweenaw rockhound 
Over a billion years ago, ancient lava flows helped form the Keweenaw Peninsula during a geological event known as the Midcontinent Rift. Volcanic activity of that time is responsible for the abundance of copper that eventually brought tens of thousands of immigrants to this area.  
Even before the copper mining boom of the mid-1800's, copper was used by indigenous communities to make tools, jewelry, and other artifacts. Much of the copper that was used by these communities is known as glacial float copper. Glaciers smoothed the edges of these copper pieces and transported them to areas where they could easily be found. This same glacial activity also helped free agates from ancient lava flows. 
As you make your way to the tip of the Keweenaw Peninsula, be on the lookout for an impressive cliff ridge. The Keweenaw Fault Line runs along the spine of the Peninsula and gave rise to these massive cliffs. The discovery of a large copper boulder along this cliff ridge led to the establishment of the Keweenaw's first profitable copper mine in 1844: The Cliff Mine. 
Keweenaw treasures to look for 
This geologically rich region consists of a fantastic variety of unique rocks, minerals, and other treasures that even the best rockhounds are itching to discover. From copper veins deep underground to distinctive Keweenaw Agates and monstrous Yooperlites, here's a list of some of the most sought-after Great Lakes specimens that can be found along the Keweenaw Peninsula.  
Copper
Lake Superior Agates
Datolite
Prehnite
Thompsonite
Quartz
Pieces of water-washed pottery
Greenstone (State Gemstone) 

Fossilized Coral
Jasper
Rhyolite
Yooperlites/ Sodalite (famous glowing rocks that can be found with UV light)
Washed Beach Glass
Amethyst
Driftwood
Jacobsville Sandstone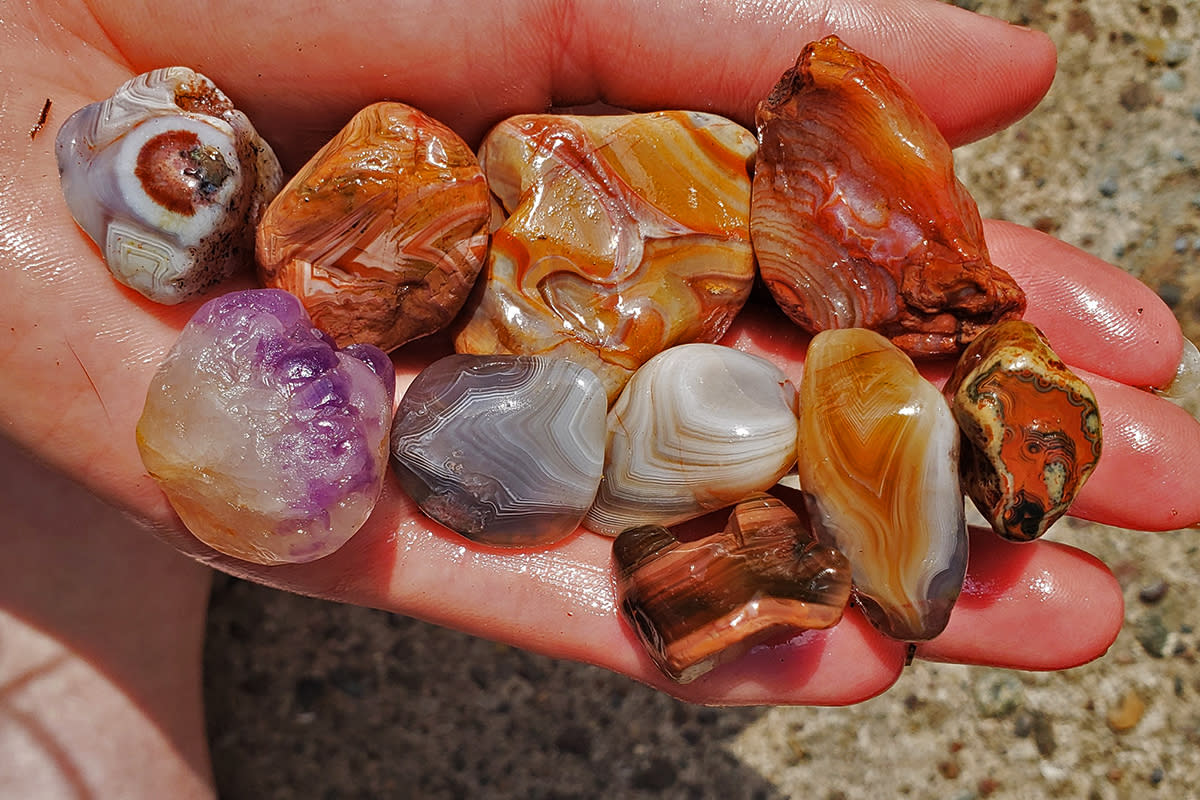 All of the rocks seen here are agates, with the exception of the purple amethyst quartz. 
Since the Keweenaw Peninsula is such a copper-rich and geologically diverse area, some of the treasures you can find take on unique features. Keep your eyes open for special Keweenaw Paint Agates, Copper-Replacement Agates, or copper inclusions in minerals such as prehnite.  
Identifying Rocks & Minerals 
The Keweenaw is home to a wide variety of rocks and minerals and learning how to properly identify them takes time and practice. Evaluate the rock's physical properties, such as color, layering, banding, and luster, as well as the hardness and texture. Spend time comparing the rocks you find so that you are able to see the differences between them. There are many resources available that can help you learn how to identify different types of rocks and minerals. We recommend joining a Facebook Group like Great Lakes Rocks & Minerals and getting a field guide to bring with you on your rock hunt.  
Beaches 
While we can't give away all our secret rock hunting spots, we can point you in the right direction. The north shore of the Keweenaw tends to have more pebble beaches suitable for picking. Lake Superior waves toss and tumble the rocks found along these beaches, which lends to their smooth texture and rounded appearance. Those huge waves and high tides you see during big storms also help move and rotate the massive piles of stones along the beach. This is why some of the best picking happens right after a storm.  
Unlike the rugged rocky northern shore of the Keweenaw, the southern shore tends to be comprised mostly of soft white sand and beautiful sandstone bedrock that runs out into Lake Superior and up high along the Jacobsville Sandstone Cliffs. While your chances of finding an agate are much slimmer on this edge of the peninsula, the pure sandy beaches are perfect for swimming and the sandstone cliffs offer excellent views for paddlers. 
Recommended Beaches for Rock Hunting  
There are many beaches to explore throughout the Keweenaw Peninsula, but here are a few of our top recommendations to get you started. 
McLain State Park  
McLain State Park is centrally located between the cities of Hancock and Calumet and offers two miles of Lake Superior shoreline suitable for finding agates, rhyolite, and Yooperlite. Not only is it a prime destination for rock hounding, but the park also offers a campground, hiking trails, a lighthouse, and exceptional sunset views.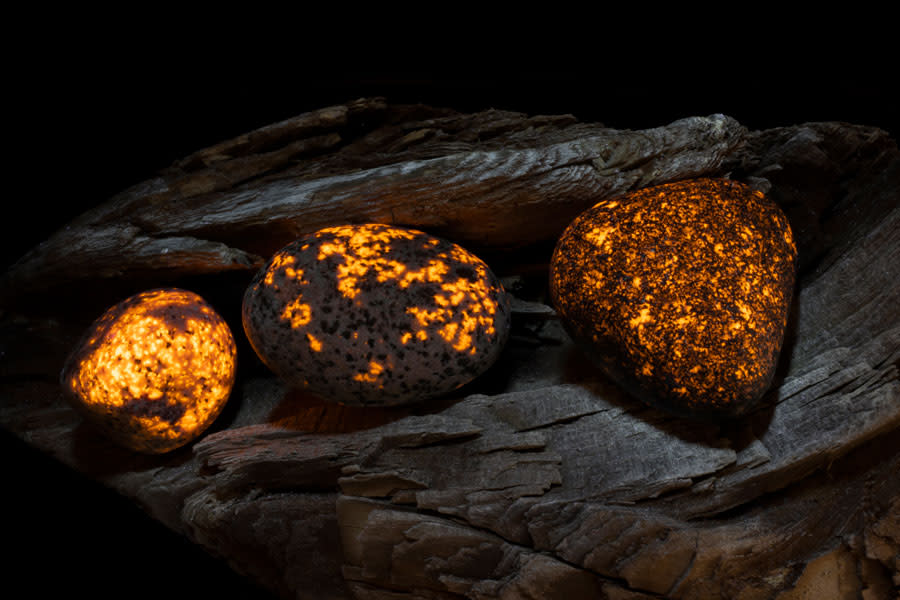 McLain State Park and Calumet Waterworks are both great places to hunt for the glowing Yooperlites. Bring your UV light!
Calumet Waterworks Park 
Calumet Waterworks Park is one of our favorite rock picking destinations because of its close proximity to town. No matter how many plans you have for the day, the short drive to the beach makes it easy to squeeze in an hour of rock picking. Agates, prehnite, beach glass, and Yooperlites are commonly found along this stretch of shoreline. The park also offers pavilions, charcoal grills (bring your own charcoal), a playground, a basketball court, and horseshoe pit.  
Great Sand Bay 
Great Sand Bay is a beautiful, protected beach between Eagle River and Eagle Harbor. Despite what the name implies, the beach at Great Sand Bay actually offers both sandy and rocky sections of shoreline. This makes it a great spot for swimming, as well as rock hunting. A variety of agates, quartz, and other treasures can be found along the shore.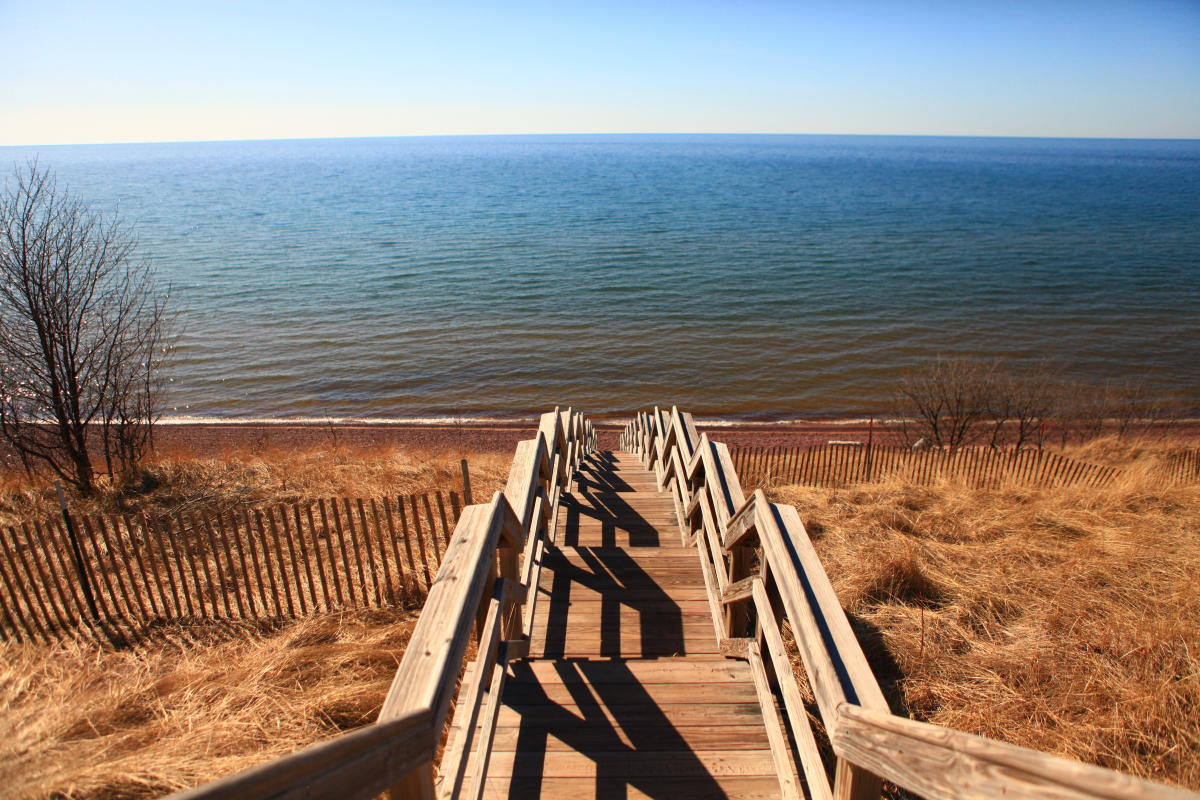 Don't let the name deceive you! Great Sand Bay has loads of rocks to look through. 
Esrey Park 
Esrey is a small roadside Park that offers incredible Lake Superior views from atop giant ancient boulders with natural stairs carved to make the climb to the top easier. The park offers picnic tables and pit toilets, as well as a small pebble beach for rock picking. This is a great spot to find small whole agate nodules, as well as beautiful pieces of prehnite and thompsonite. Views of the rugged shoreline at Esrey are hard to beat. 
Hunter's Point Park 
Hunter's Point is a beautiful beach with climbable volcanic rock formations and red pebble beach extending out into Lake Superior. Much of the rock found on this beach is jasper and rhyolite, but if you're lucky, you may be able to find an agate or two.  
Mine Sites 
The days of copper-mining have come to an end in the Copper Country, but not every piece of copper has been found. Metal detectors can be used to search for copper on select mine tailing piles. Other minerals such as Greenstone, Datolite, Quartz Crystals, and Copper-Replacement Agates may also be found in these areas.  
Currently, the only mine tailing piles that are accessible and legal to pick are Cliff Mine and Central Mine. Please note that visitors are only welcome to pick at Central Mine when the gates are closed and no work is being done on the site. Certain piles are "flipped" or rotated once a year for surface mineral collection during Keweenaw Mineral Days. These sites include the Seneca Mine, Central Mine, and Wolverine Mine. This is the only time of year where these additional sites are open for picking.  
Please Note: Most old mine sites are located on private property, and it is illegal to rock hunt in these areas. Do not trespass. It is also important to take appropriate safety precautions when collecting at old mine sites. Be sure to wear closed-toe shoes and watch your footing. Some of these piles can sink or collapse over time and exposed metal may be present.   
Places of interest to Rock & Mineral Enthusiasts
The Keweenaw takes pride in its rich geological history. Stop by one of the following sites to learn more about the unique rocks and minerals that can be found throughout this region. 
A.E. Seaman Mineral Museum  
No trip to the Keweenaw is complete without a visit to the A.E. Seaman Mineral Museum of Michigan Tech (The Official Mineral Museum of Michigan). This stunning museum features a jaw-dropping showcase of minerals from the Great Lakes Region, as well as minerals from around the world. Not only is the A.E. Seaman Mineral Museum home to the record-holding 19-ton native copper vein, but it also has one of the best fluorescent mineral exhibits in the United States. New in 2023, the museum even features a special exhibit on Yooperlites. The museum's educational and informational displays will help you discover how minerals are important to daily life, as the colorful array of specimens fill you with fascination and wonder.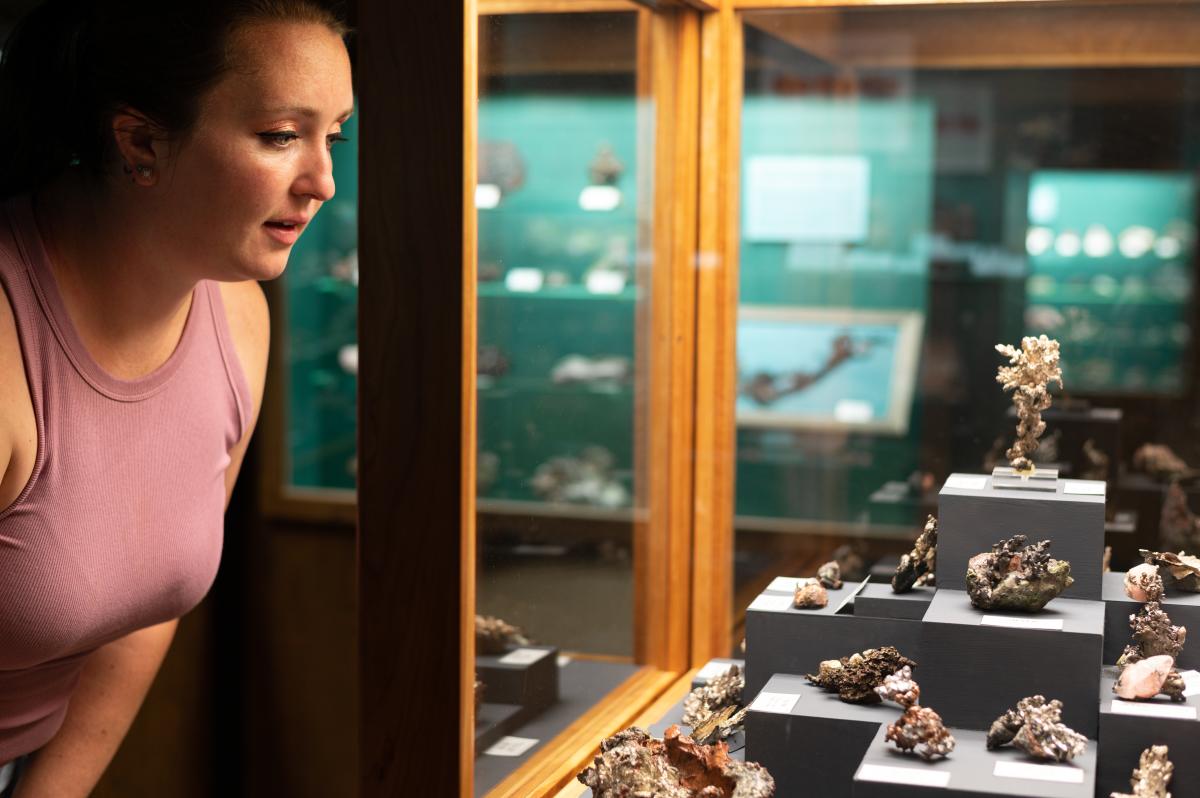 The A.E. Seaman Mineral Museum is a great place to learn about rocks and minerals of the Great Lakes Region before heading out to pick. 
Prospector's Paradise 
Located on US-41 in Allouez, MI, Prospector's Paradise is known as the "The Rock Walmart" and is a must-stop-shop for all rock collectors. Precious stones line the shelves of this massive emporium of treasures and bins full of mine rock can be found outside the entrance. This unique stop is also the home of a mysterious vortex, a place some feel is bursting with natural energy, possibly because of underground rivers in the area. Make sure to take a peek at the mysterious spiraling tree and learn about the mystery behind it.  
Keweenaw Gem & Gift 
Keweenaw Gem & Gift turns some of the best specimens into handmade creations that you can enjoy for years to come. This Houghton gift store offers Keweenaw specialties, like copper bookends and clocks, as well as beautiful mineral specimens. This beautiful store also offers lapidary services and a wealth of knowledge when it comes to regional rocks and minerals.  
Events for RockHounds  
Keweenaw Mineral Days  
For Keweenaw rockhounds, this is one of the most EXCITING events of the year! This event provides a legal opportunity for mineral collecting on surface prepared rock piles of former native copper mines in Michigan's Keweenaw Peninsula. Keweenaw Mineral Days is hosted by the A.E. Seaman Mineral Museum in collaboration with Keweenaw Gem & Gift Inc. Learn more here.  
Quincy Hoist Rock Swap 
Each August, the Friends of the Quincy Mine Hoist Association hold an annual rock swap at the grounds of the Quincy Mine Hoist on US-41 in Hancock. A variety of vendors partake in the rock swap, bringing with them amazing specimens, incredible jewelry made with local treasures, and fascinating stories of rockhound adventures.  
Responsible Rock Picking 
Thou shalt not trespass. Perhaps the most important rule to remember when collecting rocks is to stay off private property. Please look for and obey all posted signs. There are plenty of public areas to rock hunt.  
Respect the Limits. The annual limit for collecting natural rocks and minerals on Michigan state-owned and public trust lands is 25lbs per person, per year. Please help us preserve our rocky beaches for generations to come by respecting these limits.  
National Parks are Off-Limits. Isle Royale National Park is home to some pretty awesome treasures. No, you cannot bring them home with you.  
Michigan High Water Line. Public beach use is granted below the high-water line on Michigan shoreline, providing that no trespassing occurred to gain access to the beach. There are many public access sites available throughout the Keweenaw. Learn more here.  
Metal Detecting. Metal Detecting is NOT permitted in F.J. McLain State Park or Fort Wilkins State Park. Cities and counties may have different rules. Some places require permits. Laws such as the Archaeological Resources Preservation Act and National Historic Preservation Act must be followed. Do your research before you go! 
Interested in updates, travel tips and quirky information about the Keweenaw? Just sign up for the Keweenaw Explorer, our monthly e-newsletter. Complete the form…