LIKE A DREAM
In 1913, a Canadian immigrant named Norbert Sarazin put down roots in Bootjack, Michigan. In this remote Keweenaw gem, Norbert built a resort that catered to loggers too weary to travel home. Originally named Dreamland Hotel, the Dreamland Restaurant & Bar has lived up to its name as an oasis of food, drink and community for over 100 years. Dreamland has remained in the Sarazin family, and Dear Writer here is lucky enough to call one of Norbert Sarazin's distant progeny "friend". I posed the question to him, "What is your perfect trip to Dreamland?" And by golly, his list did not disappoint.
The Dreamland Restaurant & Bar has lived up to its name as an oasis of food, drink and community for over 100 years.
GET ICE CREAM IN LAKE LINDEN
As any great adventure should begin, your journey starts in the afternoon with ice cream. (Alert J.R.R. Tolkien that he should consider a re-write of The Fellowship of the Ring.) 
Since your route will most likely require you to drive through the beautiful, historic city of Lake Linden to access Bootjack Road, you'll have a MINIMUM of three opportunities to get a post-lunch treat. Lake Linden takes dessert seriously. Travelling north on M-26 you can pick up cones at the Drive-Thru Depot before you hit Lake Linden proper. You can split a strawberry shake at Lindell's Chocolate Shoppe in downtown Lake Linden. Don't worry if you've missed the first two… Beakers at Dairyland (close to your turn near 9th Street) has a plethora of soft serve! 
Do not neglect this first step. As we all know, ice cream is a vital part of summer, and if you don't head off to your next location with a Blue Moon stain on your shirt, you're not doing it right.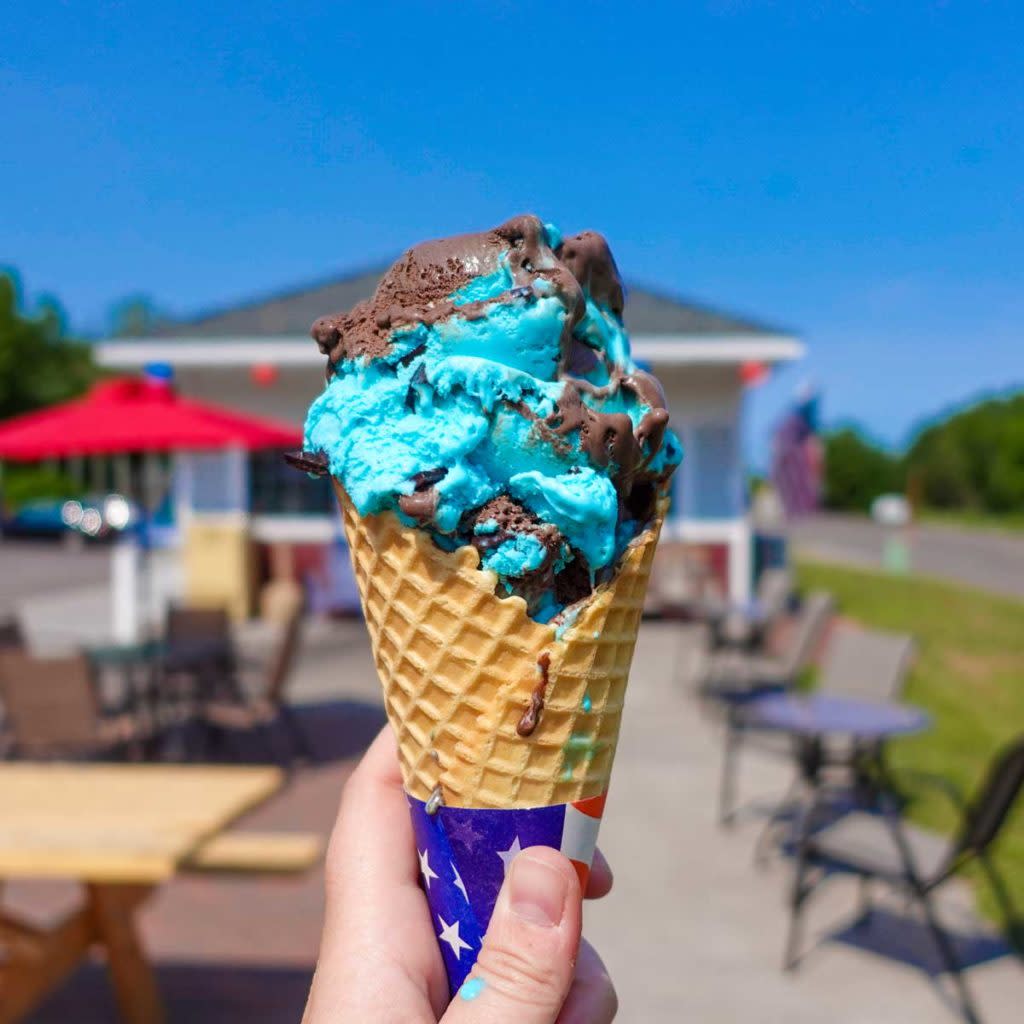 Iconic Blue Moon ice cream from one of Lake Linden's ice cream shops!
BEER AT DREAMLAND
Post-ice cream, you will turn onto 9th Street in Lake Linden, which will transition into Bootjack Road, and from here all paths lead directly to Dreamland. The long, winding roads to Dreamland evoke warm, shimmery-soft feelings and views… the Keweenaw's lush and verdant summertime forests teem with healthy trees and flowers, the warm air brings the sweet smells of grass and wildflowers, cabins peek cheerfully from the waterfronts, and the occasional snippet of laughter or the seasonal call of the native jet-ski can be heard. And just when you think that maybe you're too deep into the woods, the Dreamland Restaurant & Bar shows up stately and proud right off the main road.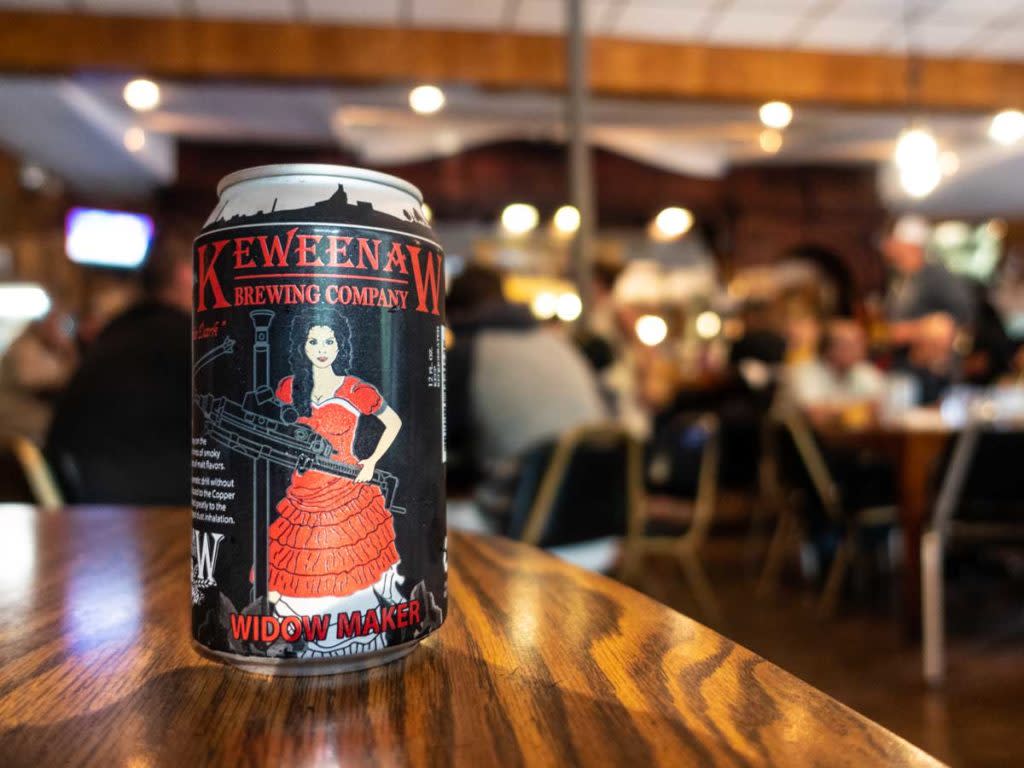 Enjoy a refreshing KBC Widow Maker at Dreamland's Restaurant & Bar!
With a pristine white-wash and wrap-around porch, Dreamland makes for a fine scene. Its architecture hearkens back to its 1900s origins, and it vibrantly exudes the aesthetic of a resort community from the buzz of activity at the camps bayside and around its grounds. The iconic Dreamland neon sign is like a modern wink to travelers as they pull in.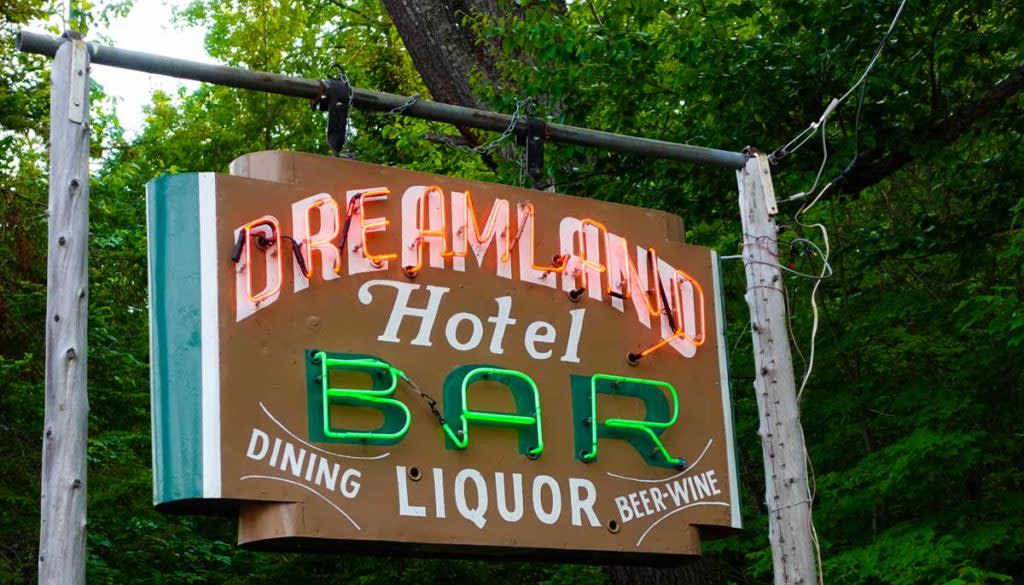 Dreamland Restaurant & Bar's iconic neon sign can be seen from Bootjack Road.
Your first stop here for a craft beer refreshment is to remind yourself (if the ice cream didn't hit it home) that this excursion is a mindful intention towards relaxation. Quite literally drinking in the Keweenaw, this is a moment to stop and play, to whet your appetite for the evening dinner to come. Like any Copper Country staple, they've got the whole Keweenaw Brewing Company line-up crisp and cold. Enjoy your beer at the ornate wood and mirror bar, or peruse the photos lining the walls of the happenings at Dreamland and Bootjack across the generations. This place is the nexus of life here – it's not just the food. A cabinet of books and movies are available to the folks at Dreamland, trophies of annual community events line the wall, a sign for ice cream for the kids stopping by. Take your brew outside to one of their picnic tables, or toss a horseshoe. Just sit back and enjoy the sounds of summer.
WHITE CITY BEACH
Once your beer is quaffed and all responsible parties are ready to ride, your journey parts ways with Dreamland. White City Park is our ultimate destination, but along the way one can be enticed into detours. The route to White City will take you past Jacobsville, a paddler's paradise. If the name "Jacobsville" seems to be reminding you of something, it's probably because at some point in your Keweenaw travels you've come across Jacobsville Sandstone. Many of the iconic reddish-pink stone buildings we have in the Keweenaw were sourced from the Jacobsville sandstone cliffs. Today, you can paddle alongside the high, striped cliffs, seeking alcoves and vibrant textures. 
Swings, picnic tables, and charcoal grills for those daytripping, and a wide sandy beach for beach bums like us. The park sits along the far end of the Portage Canal, and the concrete breakwalls make for a lovely stroll. White City has delighted Copper Country residents and visitors for as long as Dreamland itself has been around. A la Coney Island, White City was an early 1900s amusement destination – restaurants, saloons, hotels, cabins, a dance pavilion, bandstand, a merry-go-round, and a ROLLERCOASTER. Yes. A rollercoaster. So as you promenade along the pier, imagine in your mind's eye a lively carnival, the laughter and joy of those long relegated to history.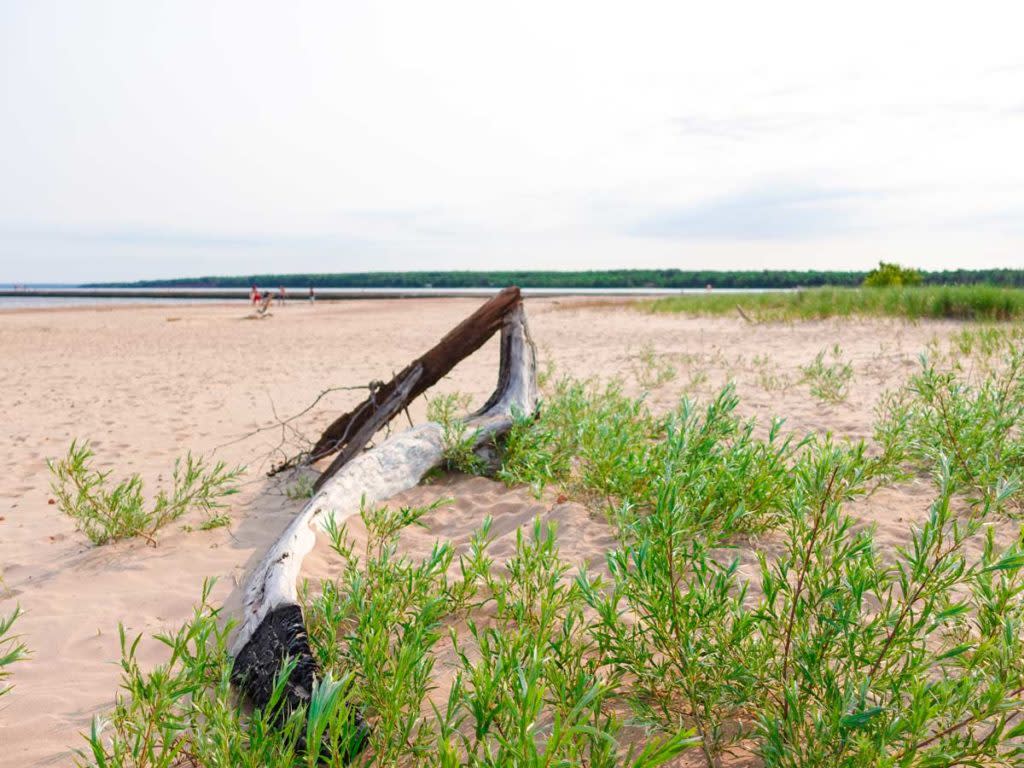 White City Beach & Park provide the ideal oasis for enjoying a warm summer afternoon.
From both the park and the beach, the Keweenaw Waterway Lower Entry Light offers a picturesque foreground to the gorgeous views of the Keweenaw landscape. From the beach you can see cliff faces, the rolling terrain south of Houghton county. And somewhat ironically, mere yards from the beach you can see Chassell across the canal. Don't dwell on the fact you drove an hour to get here when a boat from Chassell could've gotten you here in 10 minutes. That wasn't the point. We're doing something more meaningful here.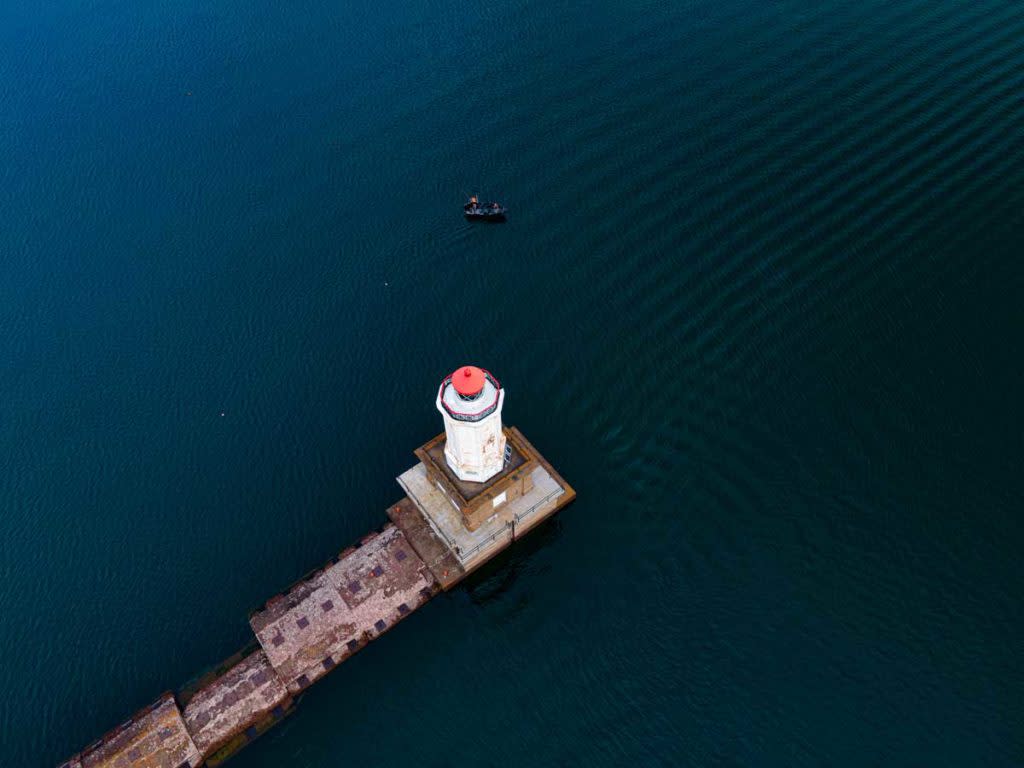 Keweenaw Waterway Lower Entry Light at White City Beach
The waters of White City beach are shallow and calm, as the pier to the lighthouse provides us with some shelter from boat wake and wave breaks. A great spot for kids to splash around, or a little self-care afternoon in a floatie, make sure to spend a long afternoon soaking up the sun.
FRIDAY NIGHT FISH FRY AND MOSCOW MULES
Now it strikes me that I've glossed over a very integral part of executing this master plan… you MUST do this on a Friday. Yes, Saturdays and Sundays are great, Monday through Thursdays are fine enough, but on Friday, there is FISH. Yes, the renowned Friday Night Fish Fry. Texas has Friday Night Lights, but in Michigan we take our Friday fries seriously. Maybe that's because we are lucky to be surrounded by the greatest and most abundant fresh waters in the world. Or maybe it's because we have places like Dreamland that have been perfecting the most delicate, savory dishes for 100+ years?! We will never know.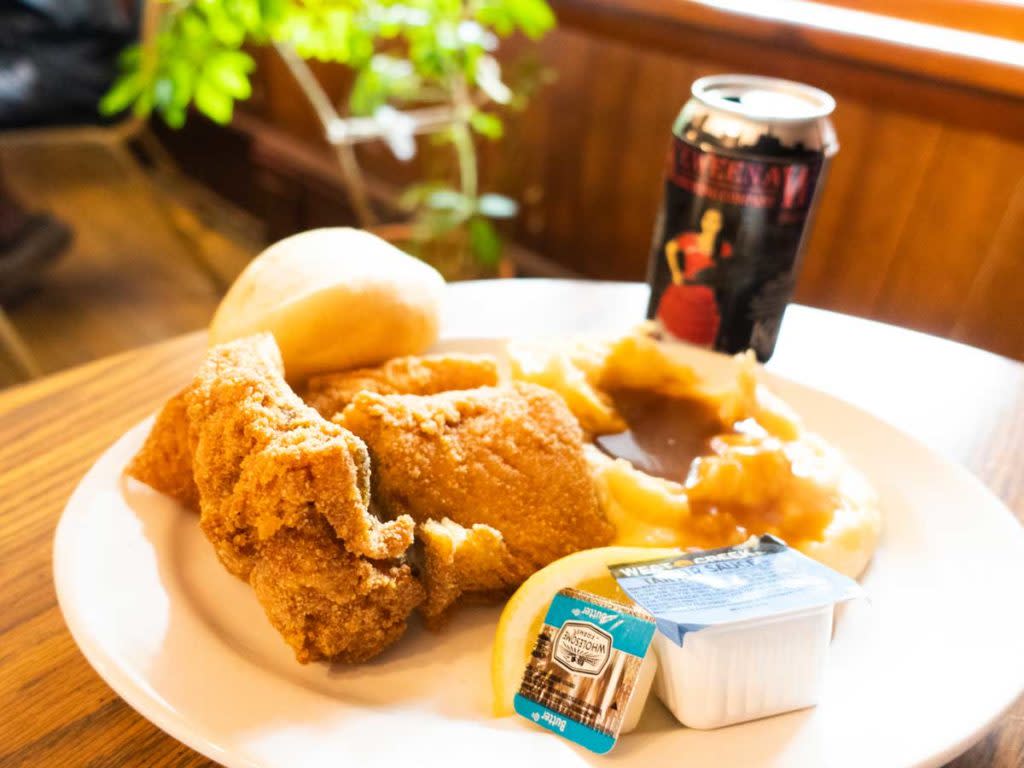 Friday night fish fry at Dreamland Restaurant & Bar.
At this point in the near-evening, the golden-hour light will shine down on the back-woods roads leading you back to Bootjack. The tall grasses, tree limbs, even the dust rising from the roads are all limned in the most perfect glow. If there was ever a moment to reflect and be grateful for your place in the world and the fact you get to experience it in the Keweenaw, this is one of them. 
During the evening, especially on Friday, Dreamland Restaurant & Bar is humming with a renewed life. Happy diners, families, campers, tourists and locals alike fill the bars and tables. The already cozy atmosphere brightens even more – the camaraderie of both the patrons and the employees is palpable and playful. This scene has played out for generations, a well-oiled groove of welcoming hospitality, good smells, great food, and cold drinks. 
Up for grabs tonight are fried whitefish and lake trout, both fresh caught. Whether you get them in the traditional fillets, or in pieces, you'll be treated to some of the finest flavors in the Keweenaw. While a Moscow Mule might not be your first idea for a drink pairing, the pairing of fresh lime is the perfect acid balance to the savory flavor of your fish. These hand-crafted drinks are served in a traditional copper mug – so truly, perhaps the most divine drink of the Copper Country. (Sorry, KBC.)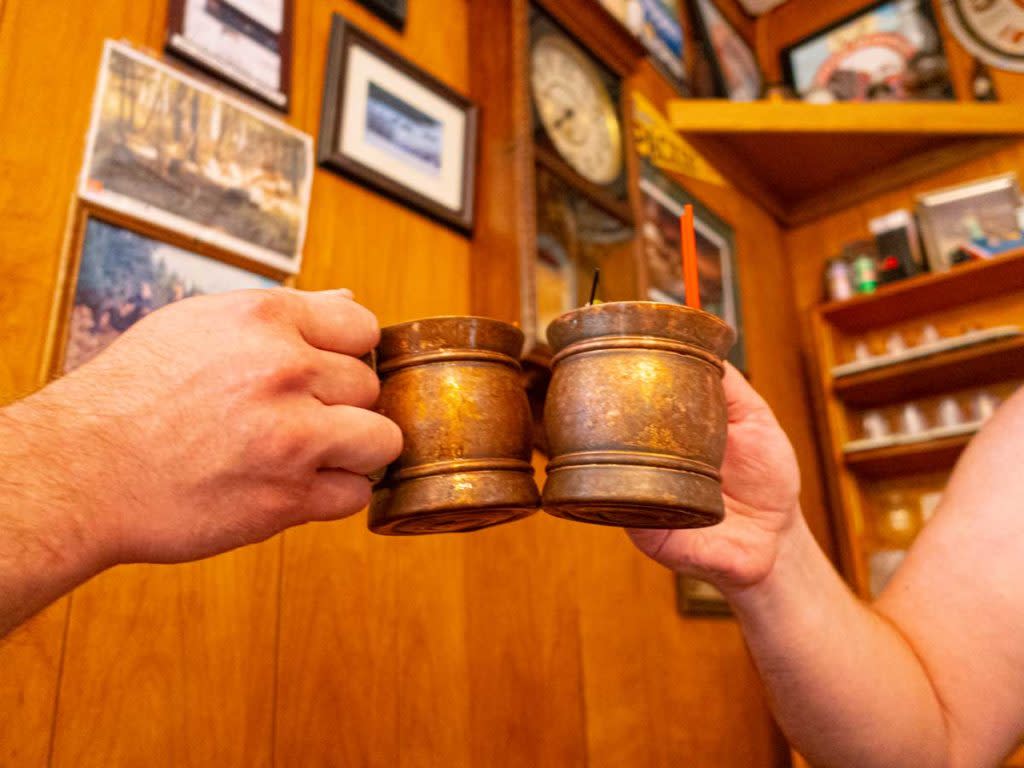 The fresh lime juice in these Moscow Mules pairs perfectly with the savory fried fish from Dreamland Restaurant & Bar.
Kippis!