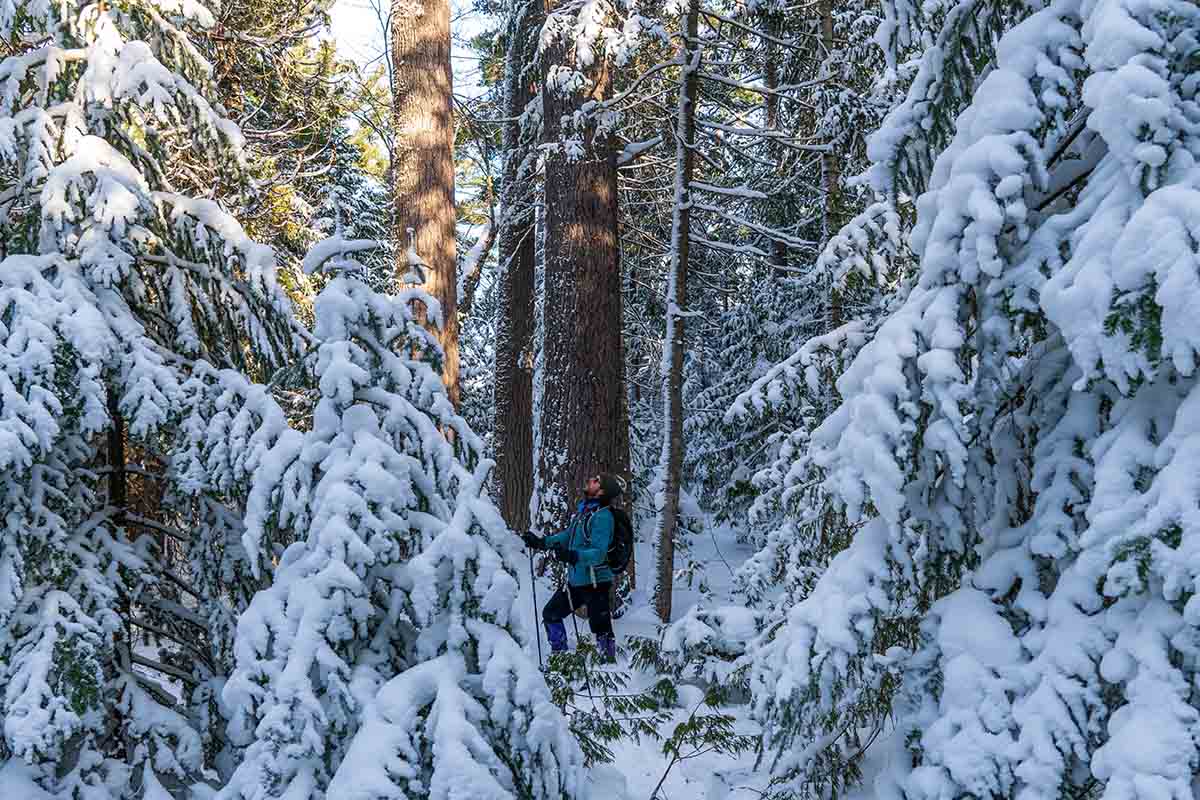 Estivant Pines is one of the most spectacular places to visit in the Keweenaw.  Its old-growth white pines are unrivaled and have towered over the landscape for centuries.  They're truly a sight to behold!  But few visit Estivant Pines during the winter. The journey isn't particularly perilous or long, and with the proper gear, nice weather, and this guide, you can visit this beautiful place during your next trip to the Keweenaw. Read on to learn more about how to prepare for your next Keweenaw wilderness adventure!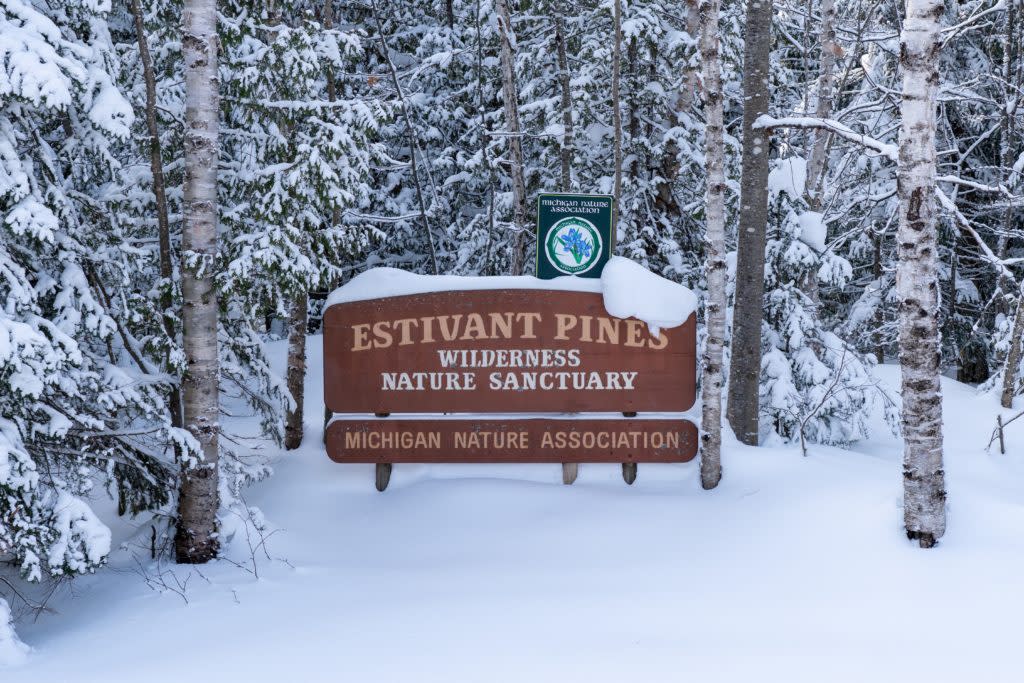 The trailhead to Estivant Pines isn't easy to access during the winter months, but it's definitely worth the journey.
WHY ESTIVANT PINES?
The Estivant Pines Nature Sanctuary holds some of the last remaining old-growth forests in the Keweenaw Peninsula.  Many of the white pine here are over 300 years old and wear their age well.  Named after its original owner, Edward Estivant, the property changed hands between Calumet & Hecla Mining Company and Universal Oil in the mid-1900s.  After the latter threatened to harvest the last remaining stands of old-growth timber, concerned citizens worked with the Michigan Nature Association to protect this special place in 1973.  The sanctuary was further expanded in 1989 and 2019 and now encompasses 570.5 acres of pristine, backcountry wilderness.  The forests within this sanctuary are unlike anything else in the Keweenaw.  You can feel the forest's vitality, a reminder of what the entire U.P. was once like.
Access is easy in summer, with a parking area located along Burma Road just a short drive outside of Copper Harbor.  In winter, you're on your own!  No roads are plowed this far from town and most are converted to snowmobile trails for the winter months.
GETTING THERE
You have a few methods you can take to get to Estivant Pines in winter.  The easiest is to snowmobile.  Trail 135 comes within half a mile of the Estivant trailhead.  Burma Road is not groomed for snowmobiles, so plan to park a little ways away if you go this route. You'll have to walk at some point because all of the trails within the sanctuary are snowshoeing (or skiing) only.
If you prefer to hoof it like me, you have three great options for an afternoon adventure.  You can either snowshoe, backcountry XC ski, or hok ski.  Your route is the same no matter what you choose.  Park near the Fanny Hooe Resort in Copper Harbor on Manganese Road.  As the road heads south out of town, it turns into a snowmobile Trail 134.  Near the top of the hill, you'll turn left onto Clark Mine Road.  Follow the big signs to avoid getting lost.  Eventually, you'll reach Burma Road and Trail 135.  Hang a right, then follow the ungroomed road shortly after to reach the trailhead.  Be on the lookout for smaller "E.Pines" signs on trees to guide you.  It's about 2.1 miles one-way to the trailhead.  Make sure to stay off to the side of the snowmobile trails as much as possible, as the trail is narrow and windy in many areas.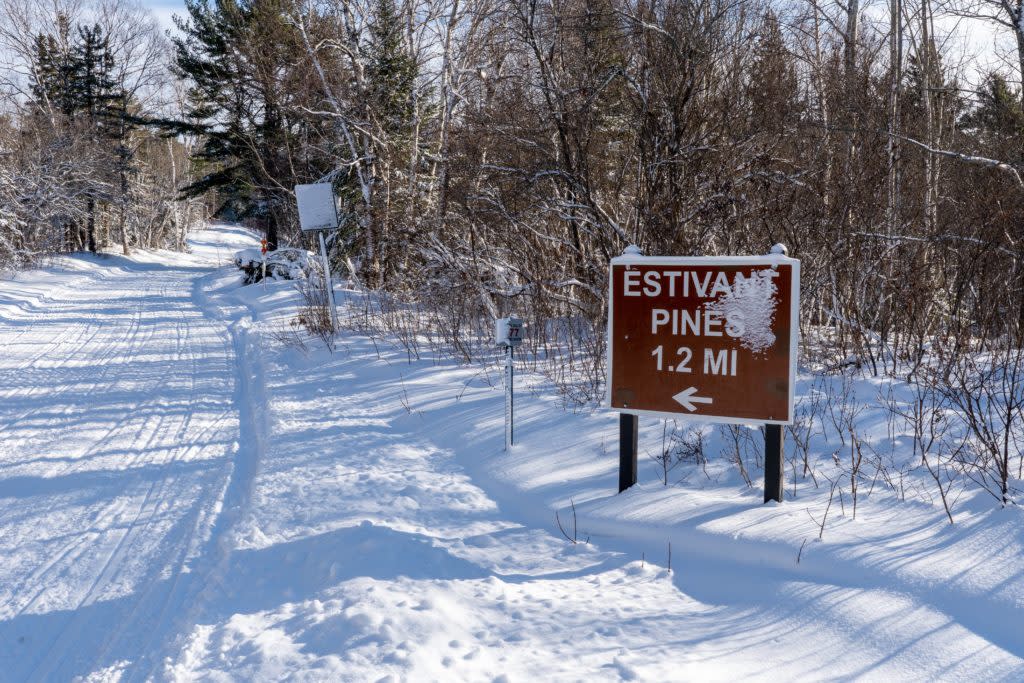 Follow the signs to Estivant Pines. The two-mile journey to the trailhead takes advantage of the snowmobile trail system. Stay to the side of the trail as you make your way if you are skiing or snowshoeing.
WHAT TO SEE
You'll be greeted at the trailhead with a large sign, as well as several informational signs and an outhouse.  Hopefully, you went before you left town because snowdrifts block the door in winter!  Two and a half miles of hiking trails explore the rugged terrain.  There are two loops spurring off of a central trail, although I wouldn't plan to visit both on the same trip.  Getting around these ungroomed backcountry trails is slow going no matter what's on your feet, and the deep powder in the untouched forests will sap your energy quickly.  Be sure to save some for the return trip!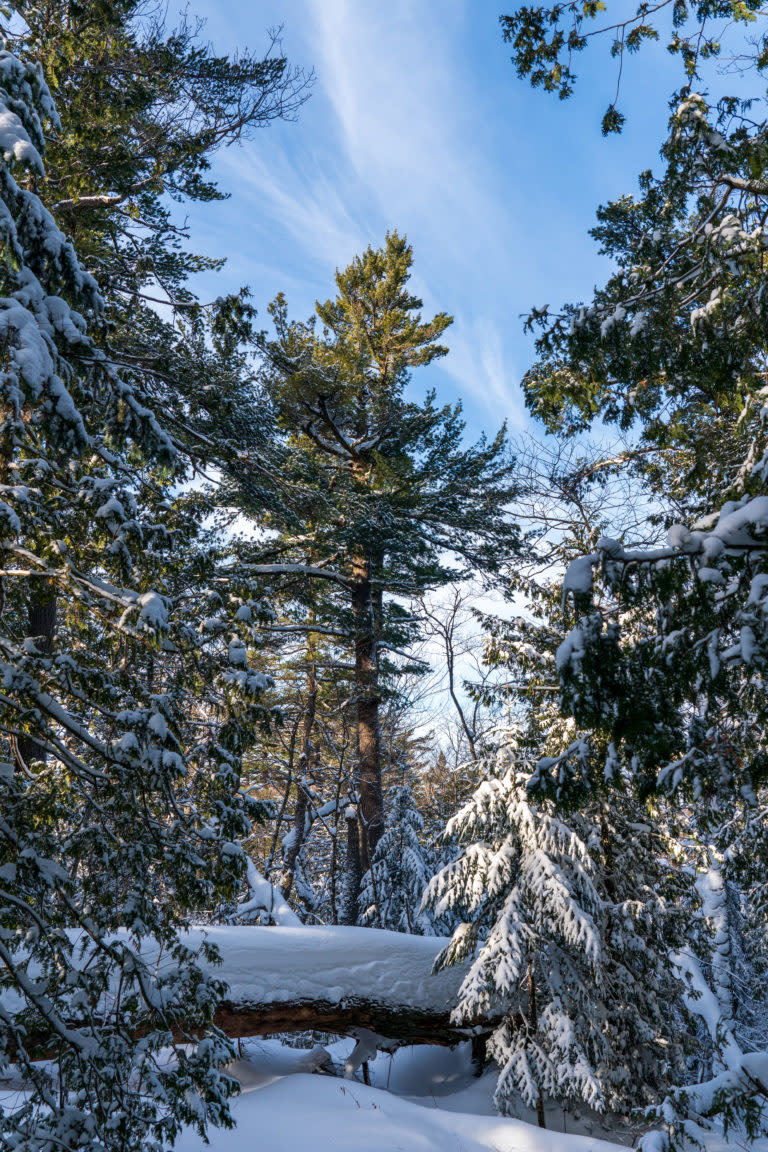 The winter trail at Estivant Pines can be difficult to discern because of the snow. Follow your tracks back to the trailhead if you get lost.
You'll soon reach a map along the main trail, marking the beginning of the Memorial Loop.  I took this loop to reach the center of the grove with some of the biggest trees.  The trail is moderately well-marked, although the deep snow and bent trees make finding your way tricky.  You will likely lose the trail at some point.  Don't despair though – as long as you follow your tracks on the way out, it's hard to get too lost!  Once I lost the trail, I just aimed for the tall pines and meandered around off-trail before turning around the way I came.
You will likely be the only one at Estivant Pines during your visit.  The serenity of the snow-covered trees makes for a beautiful experience.  It's a totally different feel than what you'll get in the summer.  Aside from my tracks and the trailhead amenities, there was no sign of human interference on the landscape anywhere.  Estivant Pines in winter is about as wild as it gets in the Keweenaw!
A HOK SKI EXPERIENCE
If you're looking for a new type of winter adventure, hok skiing might be just the thing for you.  Created by Altai Skis, hok (pronounced 'hawk') skis are shorter and wider than normal XC skis and feature a much larger patch of felt on the bottom for traction.  The bindings are super simple and strap onto any semi-stiff hiking or winter boot.  They're an excellent middle point between snowshoes and backcountry XC skis.  They don't have quite as much traction as snowshoes but travel much quicker on flat or descending terrain.  They're also more maneuverable than XC skis, yet don't feel as out of control on hills.  I'd recommend them for anyone looking to get a little more out of snowshoeing, but don't want to go all-out on a full backcountry XC ski system quite yet.
Not sure if they're right for you?  Do like I did and rent a pair from the Keweenaw Mountain Lodge! Their Outdoor Activity Center has snowshoes, XC skis, and hok skis to rent all winter long.  Whether you use them around their groomed trails or take them on a backcountry adventure, the KML staff will help get you set up for your next adventure in and around Copper Harbor.  Tell 'em Nathan sent you!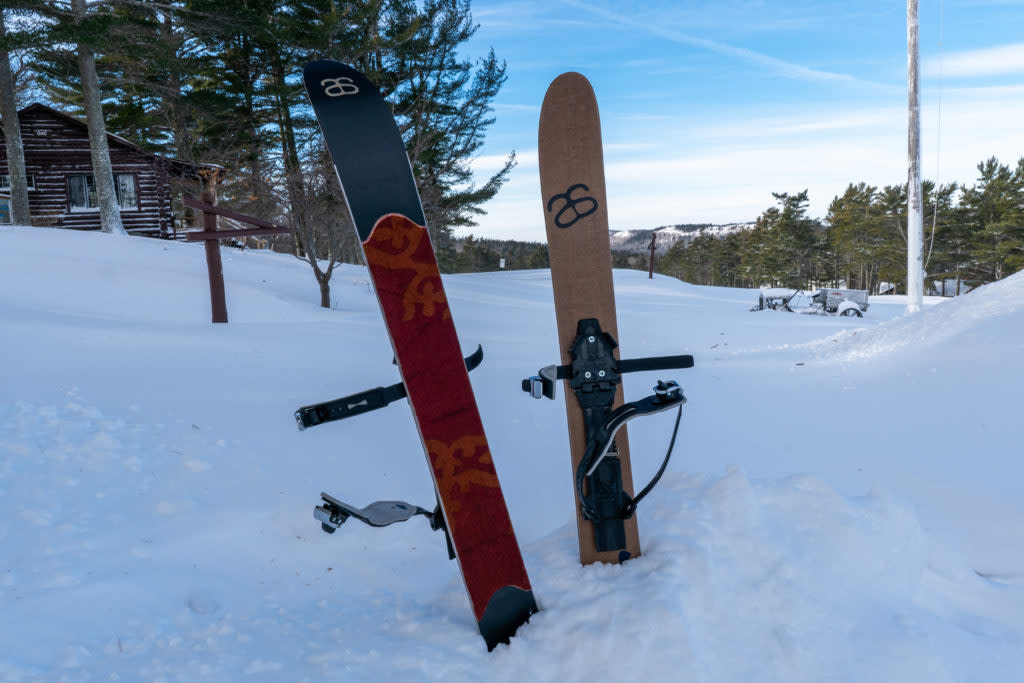 Hok skis are a hybrid of snowshoes and backcountry XC skis. Sets can be rented from the Keweenaw Mountain Lodge in Copper Harbor and Cross Country Sporting Goods in Calumet.
QUICK TIPS
On hok skis I was able to make the 2.1-mile trek to Estivant Pines in about an hour.  The return trip was a bit quicker because as with most winter sports going downhill is much easier.  I would add about half an hour on either end if you snowshoe, and subtract a little if you backcountry XC ski.  Once there, I spent around 1.5 hours exploring the forest.  I only traveled about 1.25 miles while I was there (like I said, slow going!).  Of course, a lot of that time was spent taking pictures and marveling at the scenery.
Be sure to pack snacks, water (in an insulated thermos if you've got one), a map or GPS, and a camera.  Bring a bag to haul your gear in, as well as extra layers of clothing.  You'll likely get warm climbing the hills and won't want to get too sweaty.
As for your post-adventure dinner plans, you have a couple options.  The Mariner and Lake Effect Bar & Grill in Copper Harbor are excellent choices for walk-ins.  The Keweenaw Mountain Lodge requires reservations and serves some of the most unique food around.  Finally, if you can survive being hungry a little while longer, the BBQ at Fitzgerald's in Eagle River cannot be beaten!