With leaves ablaze in fiery reds and golden yellows, crisp air that invigorates the soul, and the unmistakable scent of autumn wafting through the historic downtown streets of the Keweenaw Peninsula, it's the perfect time for a culinary adventure. As you explore this picturesque corner of Michigan's Upper Peninsula, we've compiled a delectable guide to satisfy your taste buds, warm your body, and fuel your adventures. From cozy bakeries to scenic dining spots, coffee havens to outdoor beverage hideaways, and exciting fall events, let's fall into flavor!
Bakery Bliss
With the cool starry nights and warm golden days of the Keweenaw fall, waking up on a misty morning is made for our local bakeries. Indulge in freshly baked pastries, bread, pasties, and the locally beloved Finnish nisu. A warm smile and a bit of something flaky and delicious await you whether you're gearing up for fall color adventures or simply treating yourself (you deserve it)!
Add to the Bucketlist: 
Nisu Bakery and Cafe: Hancock, MI
This much lauded new location on Hancock's main street is a go-to for nisu, chocolate croissants, cardamom coffee and many more daily delights! 
Roy's Pasties & Bakery: Houghton, MI
With a perfect patio view of the Portage Lake Lift Bridge, head to Roy's for your breakfast pasties and cronuts.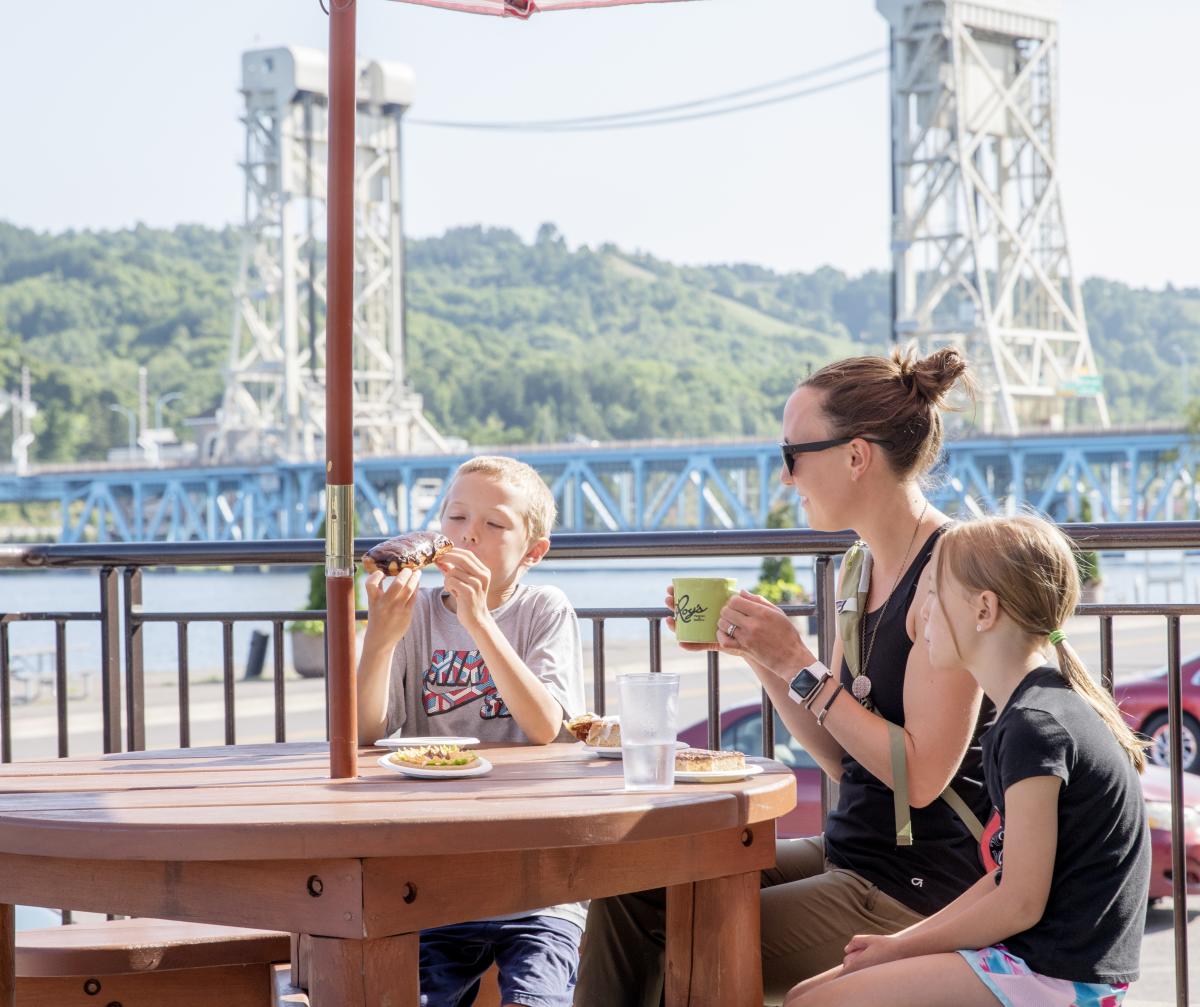 Roy's Patio offers fantastic views of the Portage Lake Lift Bridge and is right next to the Houghton Waterfront Trail.
Inside a perfectly vintage former gas station on 5th and Elm, Ramona's is a tasty spot for donuts, pies, and all manner of tasty treats. 
Jamsen's Bakery: Copper Harbor, MI
Thimblerry Donut. Must we say more? Fall color road trips north on US-41 should end right at the dockside bakery in Copper Harbor!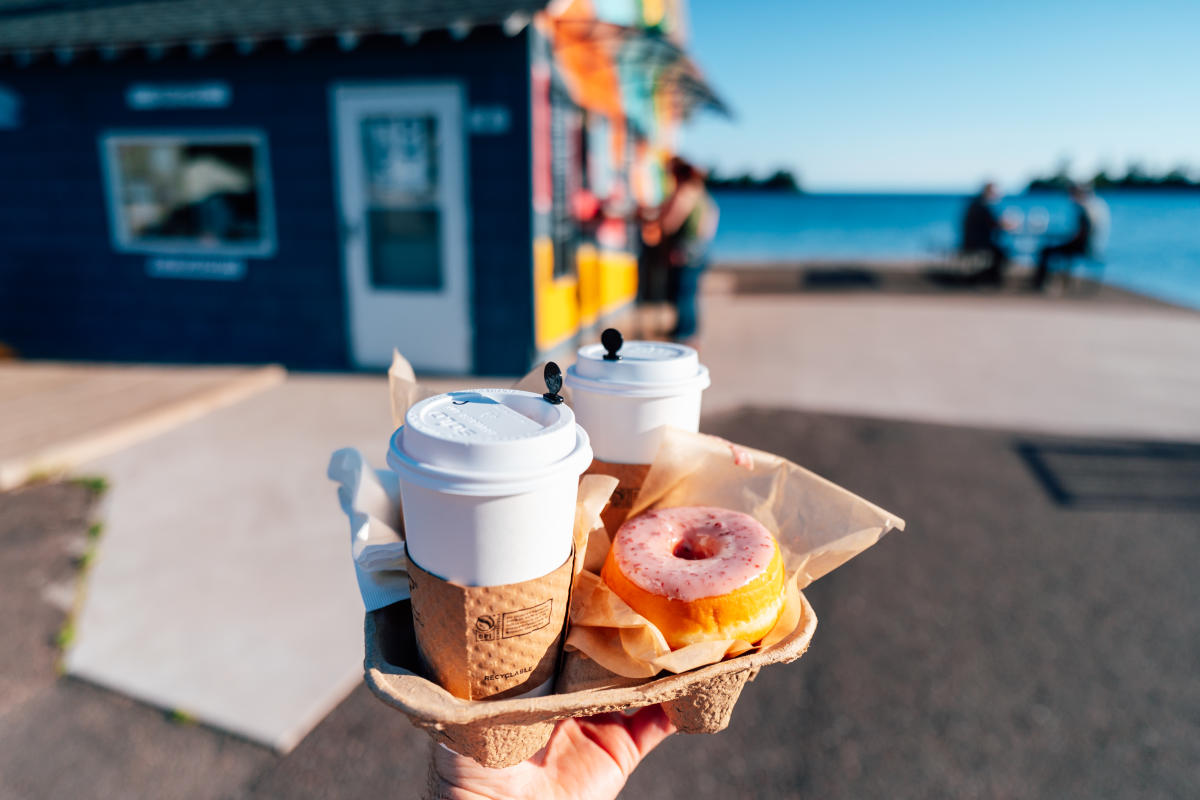 Enjoy a thimbleberry donut and hot coffee along Copper Harbor's waterfront when you visit Jamsen's Bakery. 
Dining with a View
The Keweenaw is home to a wide variety of truly delicious and inventive restaurants, but one cannot deny the added dash of exceptional fall ambiance enhances any scrumptious meal. Whether offering a panoramic view of the unfolding fall colors, or dining seated in view of Lake Superior's varied autumn moods, immersing your self (and taste buds!) into the nostalgic ambiance of a Keweenaw fall deepens your dining experience. 
Add to the Bucketlist: 
The Den Restaurant: Houghton, MI
A newly opened outdoor patio dining area with a killer view of the Portage Canal is an excellent spot to enjoy a drink or a wood-fired dinner.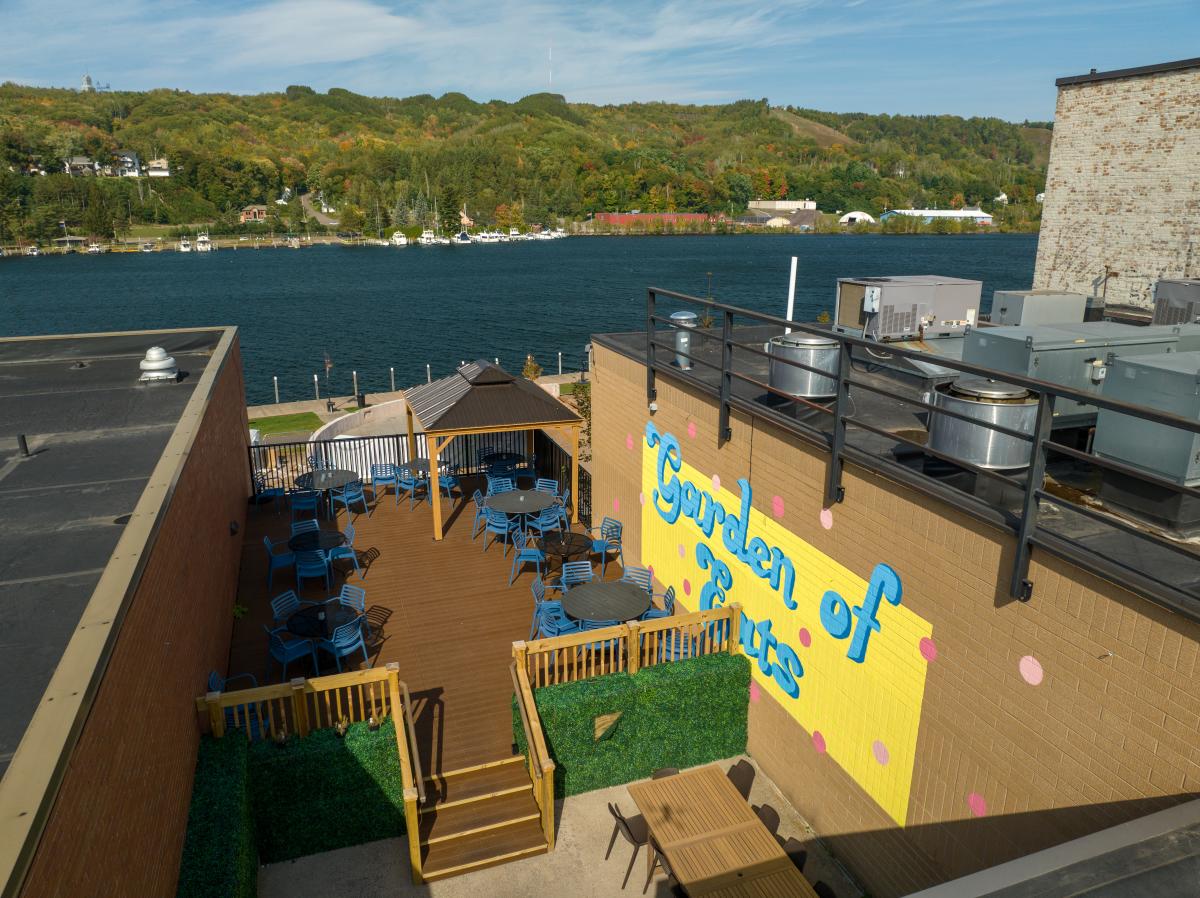 The Den opened a new outdoor patio during 2023.
The Library Restaurant: Houghton, MI
Brewing craft beers here for over 20 years, this classic downtown Houghton restaurant has panoramic views of the fall colors across the Portage!
Harbor Haus: Copper Harbor, MI
For a touch of elegance, and a full dose of golden and crimson fall colors along the way, head to the Harbor Haus! German-inspired dishes in full view of Lake Superior's glory. 

Don't Miss Out: Last day of Harbor Haus's season is October 14th, 2023.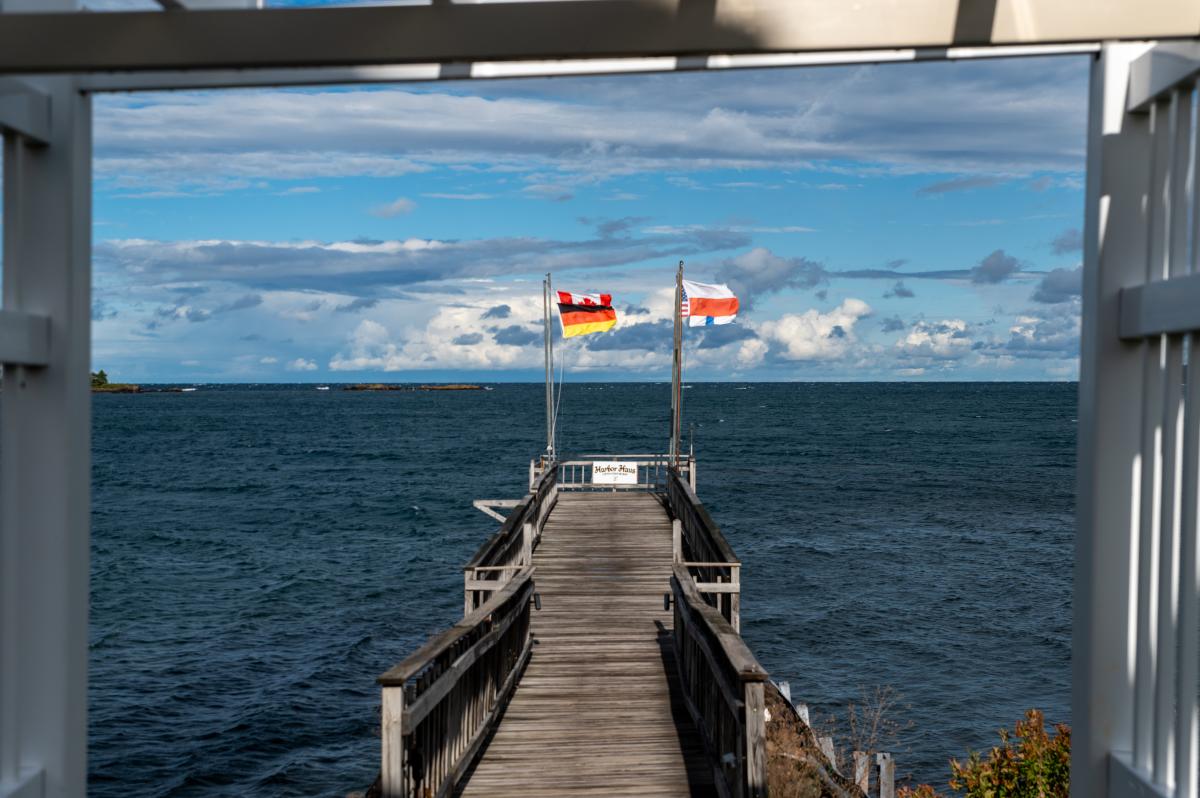 The Harbor Haus offers incredible waterfront views while you dine.
4 Suns Fish and Chips: Hancock, MI
Taste the bounty of Lake Superior in full view of the Quincy Mine surrounded by fall color. Famous for their fried whitefish, don't miss out on the Whitefish Chowder or many of their other fresh fish dishes!

Don't Miss Out: Last day of 4 Sun's season is October 14th, 2023.
Coffee Chronicles
The Keweenaw is well known for its java appreciation. Stop into any cozy cafe on Main Streets or along your leaf peeping adventures and find a spiced seasonal beverage to give you that little extra bounce in your step. Expert level coffee drinkers won't forget their thermos to fill for a little warm-up on the trails!
Add to the Bucketlist: 
Camp Coffee: Houghton, MI
Stop in this cute cafe for a creative cuppa on your Downtown Houghton shopping strolls!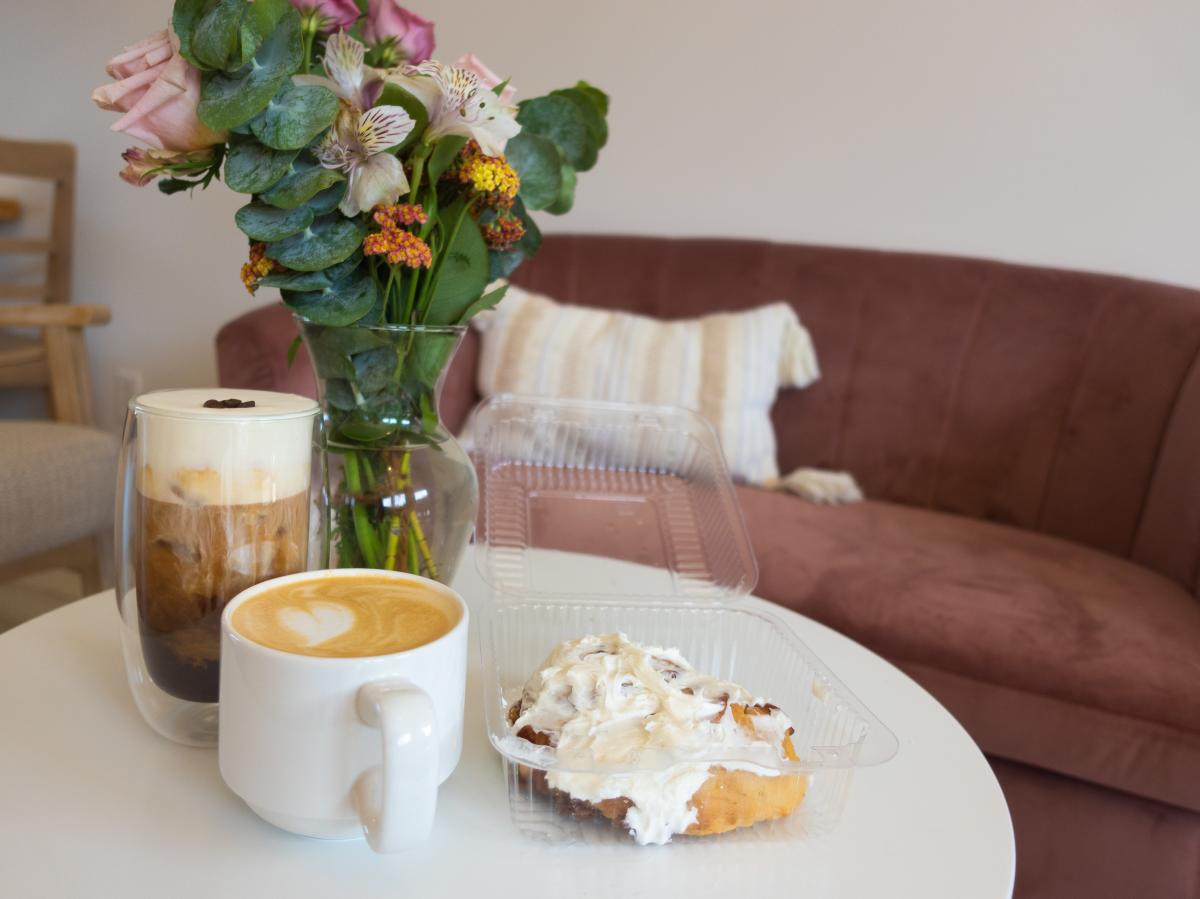 Camp Coffee is located in the heart of downtown Houghton and offers cute aesthetics to go with your cappuccino. 
Keweenaw Coffee Works: Calumet, MI
Flavor-forward and always innovating, the widely regarded coffee house on Main Street Calumet is a must-stop for your fall caffeine craving. Keweenaw Coffee Works also is a roasterie, so be sure to grab a bag to take home!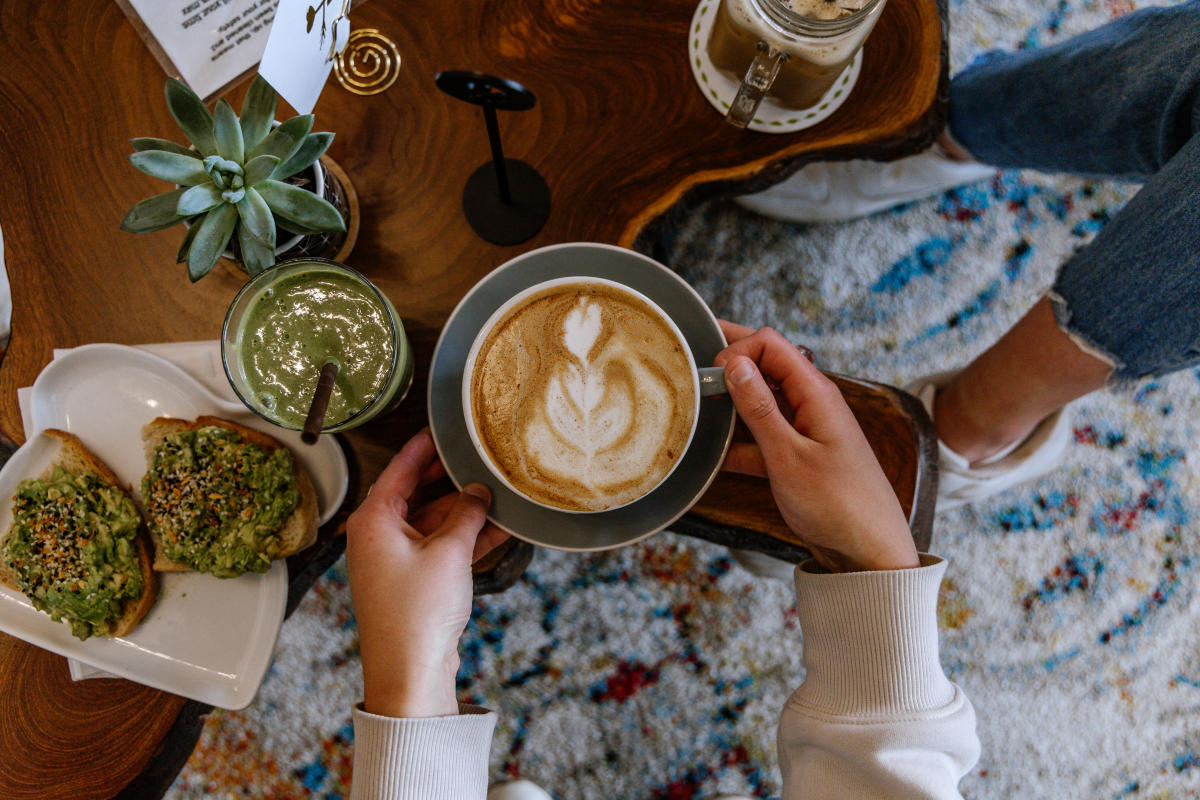 Keweenaw Coffee Works roasts their own coffee in Calumet, MI.
K.C. Bonkers: Hancock, MI
Part toy shop, part coffee house, absolutely all magic! Finely crafted brew awaits at KC Bonkers - plus, Keweenaw playing cards and other imaginative ways to enjoy your travels can be found here!
Outdoor Beverage Spot for Warm Fall Days
On those days when the sun shines golden and warms your face in that particular way only autumn can, you'll find us seeking a perfect patio spot. Hang your flannel on the back of your seat, and sit back and soak in the crisp fall air as it dances through the autumn trees.
Add to the Bucketlist: 
Keweenaw Brewing Company: Houghton, MI
Enjoy the expansive new views of the Portage Canal from the KBC's newly renovated patio deck!
Gino's Restaurant and Cocktail Lounge: Hancock, MI
Gino's famous Patio Pails still rock the fall scene! Enjoy a sip with friends in this intimate, private patio space.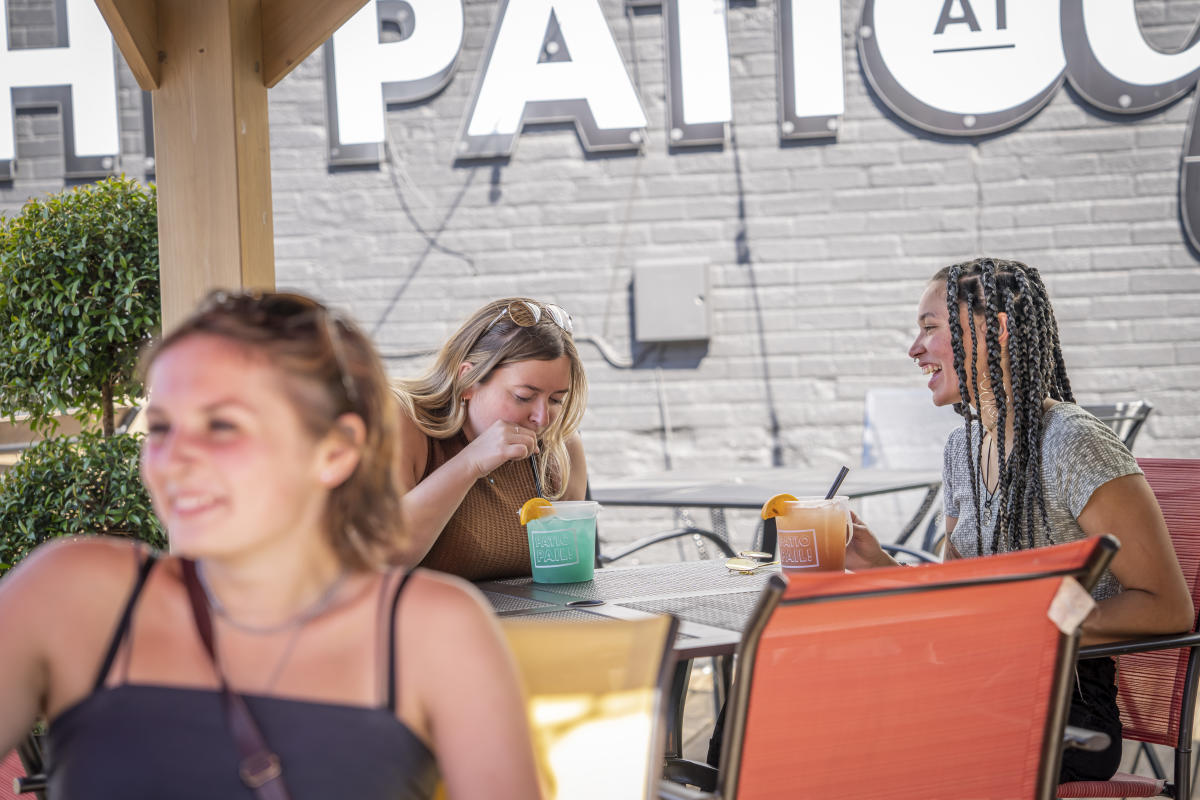 Grab a Patio Pail and kick back on Gino's outdoor patio. 
Shute's 1890 Saloon: Calumet, MI
Did you know that this historic bar also has a perfect patio for outdoor drinks? Order from the ornate Brunswick bar, and then head outside for some clean Keweenaw air!
The Fitzgerald: Eagle River, MI
Exquisitely crafted cocktails and Michigan craft beers on an outdoor deck situated right exactly on the lapping shores of Lake Superior. Any closer and you'll be in it!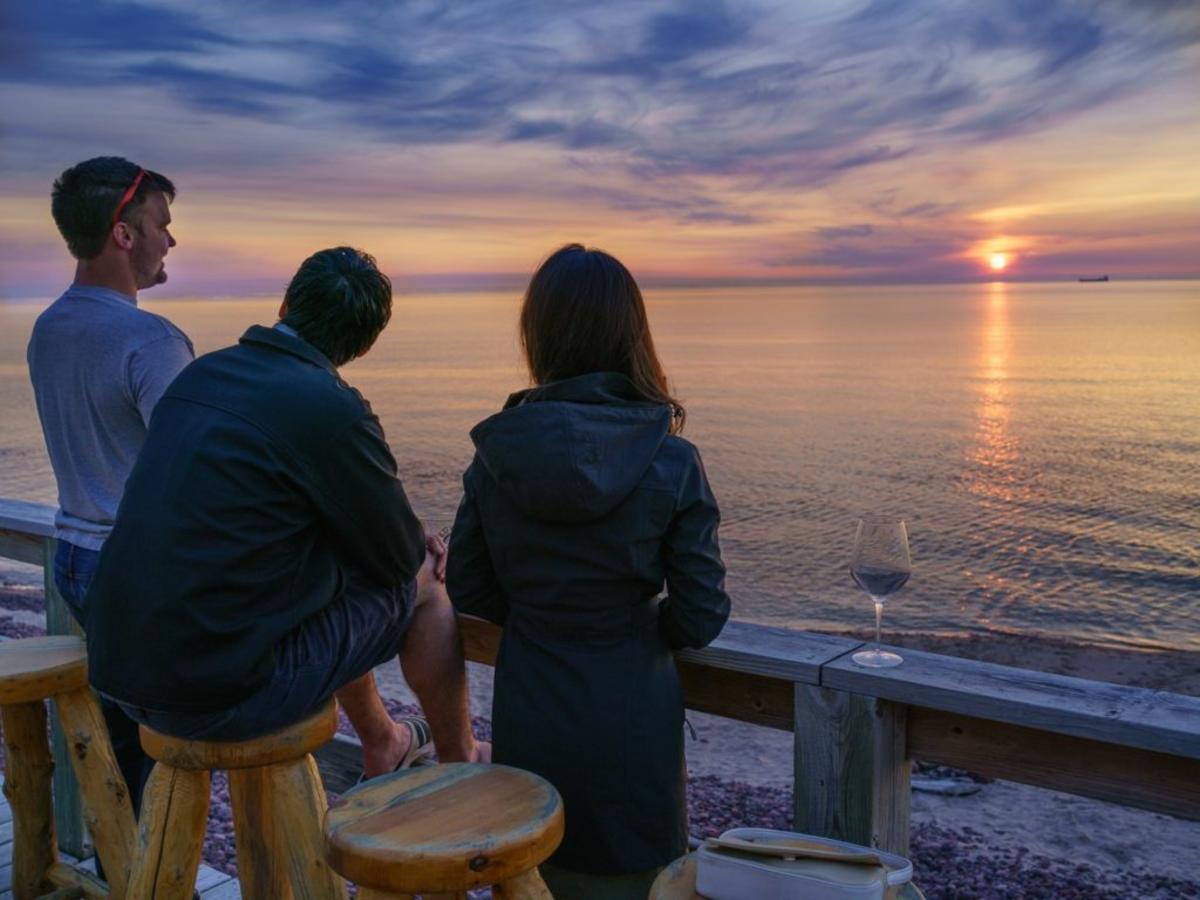 Watch the sun go down as you sip on a glass of wine at the Fitzgerald's Restaurant. 
Events to Sip and Savor
Embrace the spirit of a Keweenaw fall by joining in the plethora of autumnal events happening around the local communities. Stay up to date on events and new offerings at VisitKeweenaw.com!
Add to the Bucketlist: 
Cider Pressing at Central Mine: Central, MI
Join the cider making festivities at the Central Mine Historic District and savor the flavor of freshly pressed Keweenaw apples among the historic remains of the mining community. 
Fall Fest 2023 | Houghton, MI
At Fall Fest indulge in delightful donuts and fresh pressed cider while soaking up the autumn vibes and fall colors on the Houghton Waterfront Pier. 
As you explore Michigan's Keweenaw Peninsula during the enchanting fall season, let your taste buds be your guide. From delightful bakeries to scenic dining, coffee hotspots, outdoor beverage hideaways, and exciting fall events, this culinary adventure promises to be a feast for all your senses. So, grab your appetite and embark on a playful journey through this northern wonderland. Your taste buds will thank you!
Interested in updates, travel tips and quirky information about the Keweenaw? Just sign up for the Keweenaw Explorer, our monthly e-newsletter. Complete the form…