Full of rich history dating back to the peak of the Keweenaw copper mining boom, Calumet's historic red sandstone buildings are enhanced when lake-effect snow falls. Calumet's central location makes it a great hopping off point for countless winter activities and day trips for snowmobiling, skiing and snowshoeing, and also offers a myriad of gift shops, galleries, dining options, and local watering holes.  
Downtown Calumet 
As you drive into the heart of main street Calumet, you will instantly feel a connection to the past. Calumet's streets are lined with historic 3-4 story buildings and churches constructed from locally sourced Jacobsville Sandstone, with many of these buildings dating back to the late 1800's.  Make sure to stop by our Visit Keweenaw Welcome Center (right on US-41) on your way into town to pick up maps of the downtown area.  
Calumet Art District 
Located on 5th and 6th Street, Calumet's Art District features several excellent art galleries that display collections created by local artists and creators. Much of the art in this district is inspired by the beauty and history of the Keweenaw Peninsula, Lake Superior, and Isle Royale. Works featured in our Calumet galleries range from handcrafted pottery and woodwork to paintings, photography, fiber work, and glass work. On the first Friday of each month the Calumet Art District celebrates its artists with an open house to showcase new installations.  
Not only does Calumet offer wonderful art galleries, but it is also home to fantastic gift shops and niche stores. Find the perfect Keweenaw gifts at Copper World, grab a vintage record at Kitschy Spirts Record Store, or pack your cooler full of local meat at Frozen Farms Company.  Calumet antique stores also offer interesting historic artifacts and local memorabilia.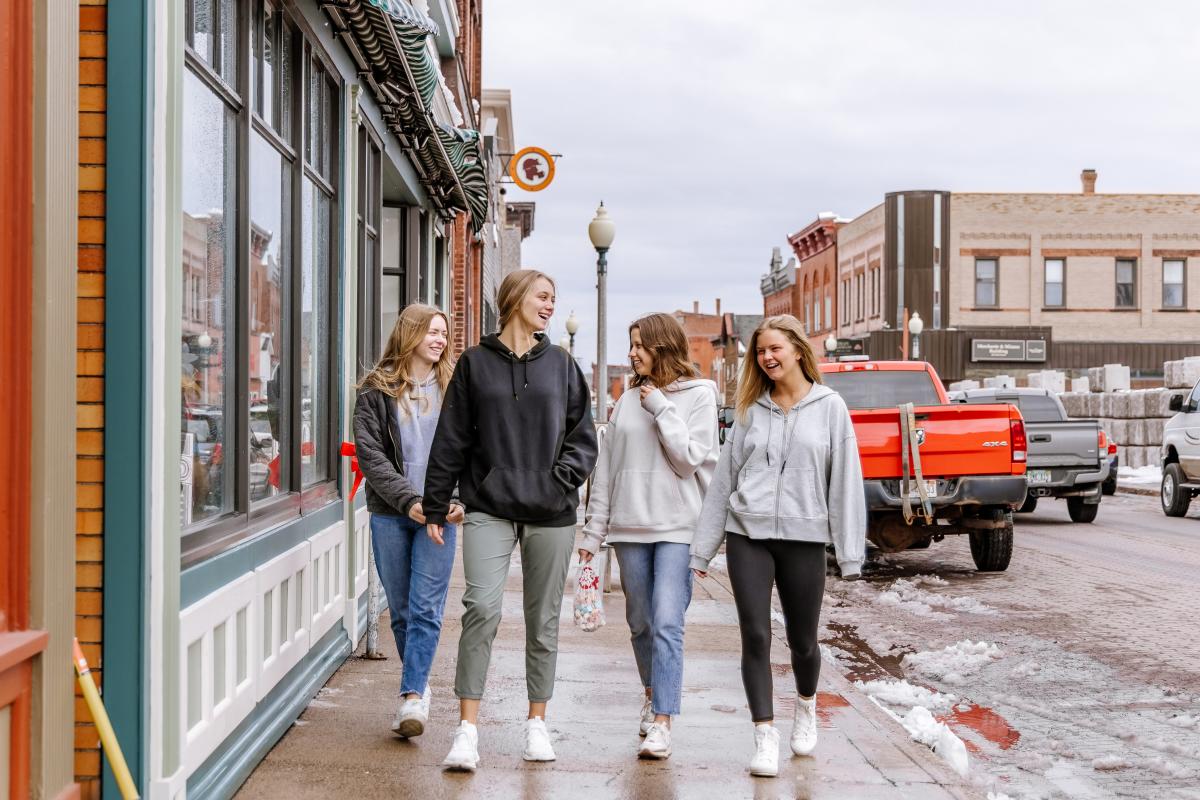 The Calumet Arts & Shopping District is located on 5th and 6th Street in Calumet. 
While you explore the art and shopping district, make sure to stop by our local coffee roastery, Keweenaw Coffee Company, for a coffee and bite to eat. Café Rosetta and Ramona's Bakery also offer plenty of breakfast snacks and coffee to help fuel your day.  
Visit the Keweenaw National Historical Park
The Keweenaw National Historical Park Headquarters and Visitor Center is located on 5th Street in Calumet and offers a free museum experience. Learn about the history of the copper mining industry and what life was like for miners and their families by exploring two floors of interactive exhibits. The KNHP Headquarters is open Thursdays-Saturdays during the winter months.
Catch a Show at the Calumet Theatre 
Calumet Theatre is the oldest municipally built and owned theater in the country and is on the National Register of Historic Places. First opened in March of 1900, the Calumet Theatre is an architecturally stunning building with exquisite fine details, balcony seating, detailed paintings above the stage, and built-in acoustics.  
Today, the theatre continues to offer a quality entertainment experience while preserving the historic character of the theatre. Stop by for one of the upcoming events, like the Late Show series, Kid's Movie Magic, or the Travelogue series.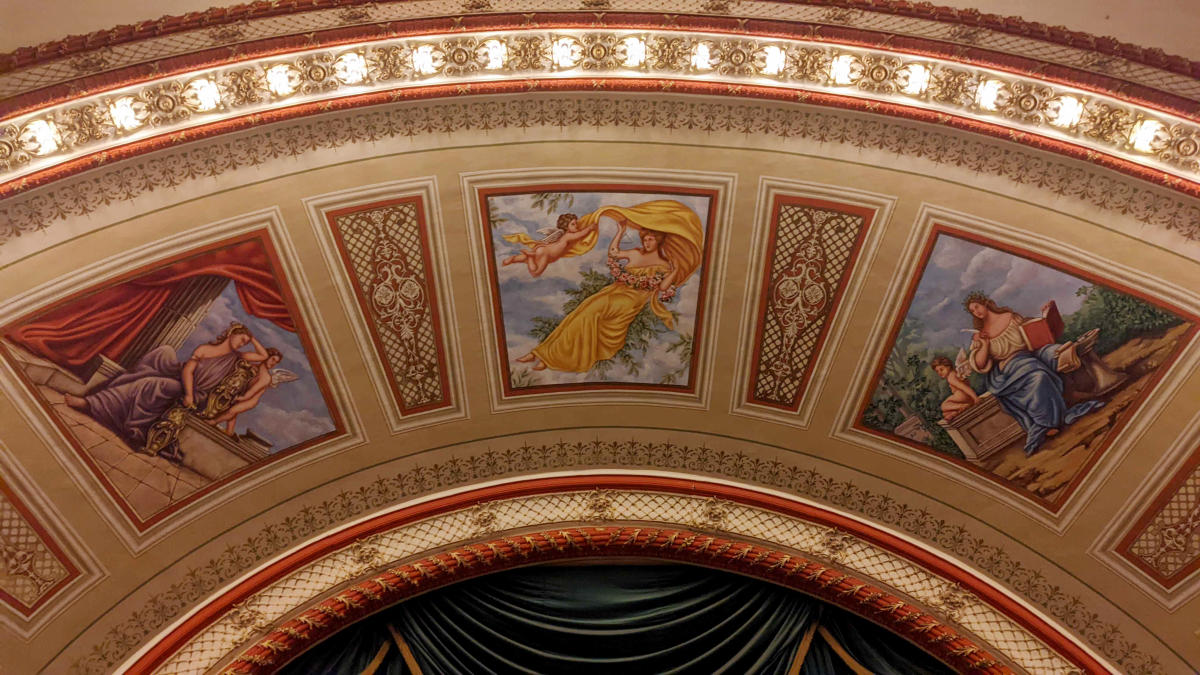 The Calumet Theatre is a beautiful turn of the century opera house that still offers shows and events. 
Throw an Axe
5th Street Calumet is also home to The Copper Axe, a warm and rustic axe throwing parlor. The Copper Axe is a family-friendly venue, and children ages 5+ are welcome to join in the fun! Special axes are available for kids who aren't ready for the real thing. Feel free to bring your own snacks or drinks, such as pizza from Calumet Pizzaworks or a six-pack of your favorite Keweenaw Brewing Company beer. 
Hit the Trails 
There are several great nature areas in Calumet that feature groomed trails suitable for a plethora of fun activities.  In the wintertime, these activities include skiing, snowshoeing, and fat-tire biking. Don't worry if you're new to the sport, Cross Country Sports can provide you with the essential gear and knowledge to try one of our favorite winter activities for the first time.  
Where to go? 
There are many great trails in the Calumet area that are worth exploring during the winter months. Here are some of our favorites!  
Swedetown Recreation Area 
Swedetown Recreation Area is the largest trail system in the Calumet area and offers 10 miles of fat-tire bike trails, 26K of cross-country ski tails groomed for classic and skate skiing, 5 miles of scenic snowshoe trails, and a groomed sledding hill!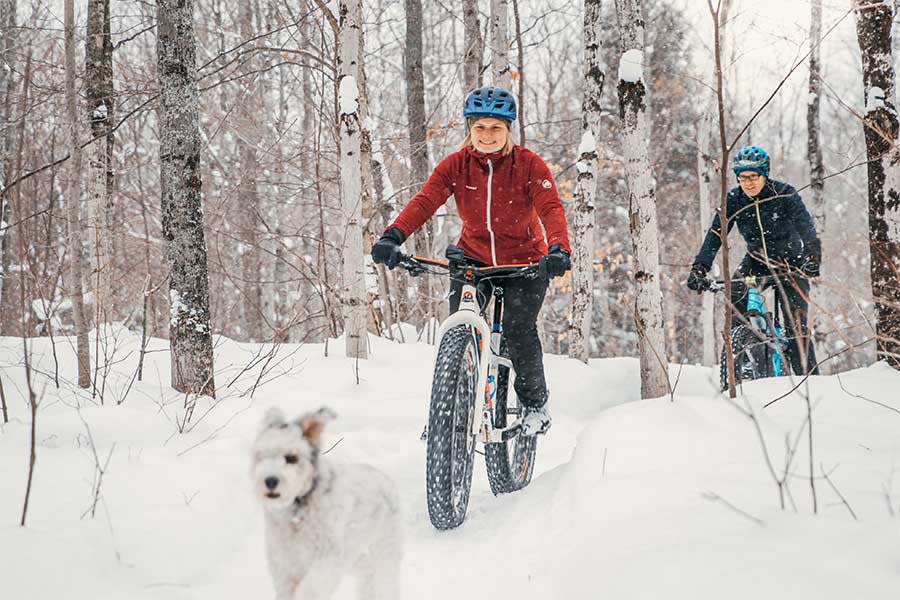 Calumet Area is a great place to try a new winter activity, such as fat-tire biking. 
Calumet Lake Trails 
Calumet Lake is a popular summer destination for disc golf and picnics, but during the winter, it turns into the perfect winter recreation area! These trails are located right in town and can be reached by turning onto Waterworks Street off M-203/ Pine Street. Trails in the park area are dog-friendly and open for walking, snowshoeing, skiing, and fat-tire biking. This year, new grooming equipment was purchased through the support of a Visit Keweenaw Destination Development Award to make grooming possible for the fat-tire bike trails.  
Hungarian Falls 
Head to the end of Golf Course Road, park your car, and step into a magical winter wonderland. Snowshoes are a must for this fun adventure. After a short hike to the falls, you will be greeted by magical ice formations created by the trickling (and sometimes rushing) water of Hungarian Falls. For a complete guide on snowshoeing to these beautiful icy creations, check out our guide by Nathan Invincible Miller.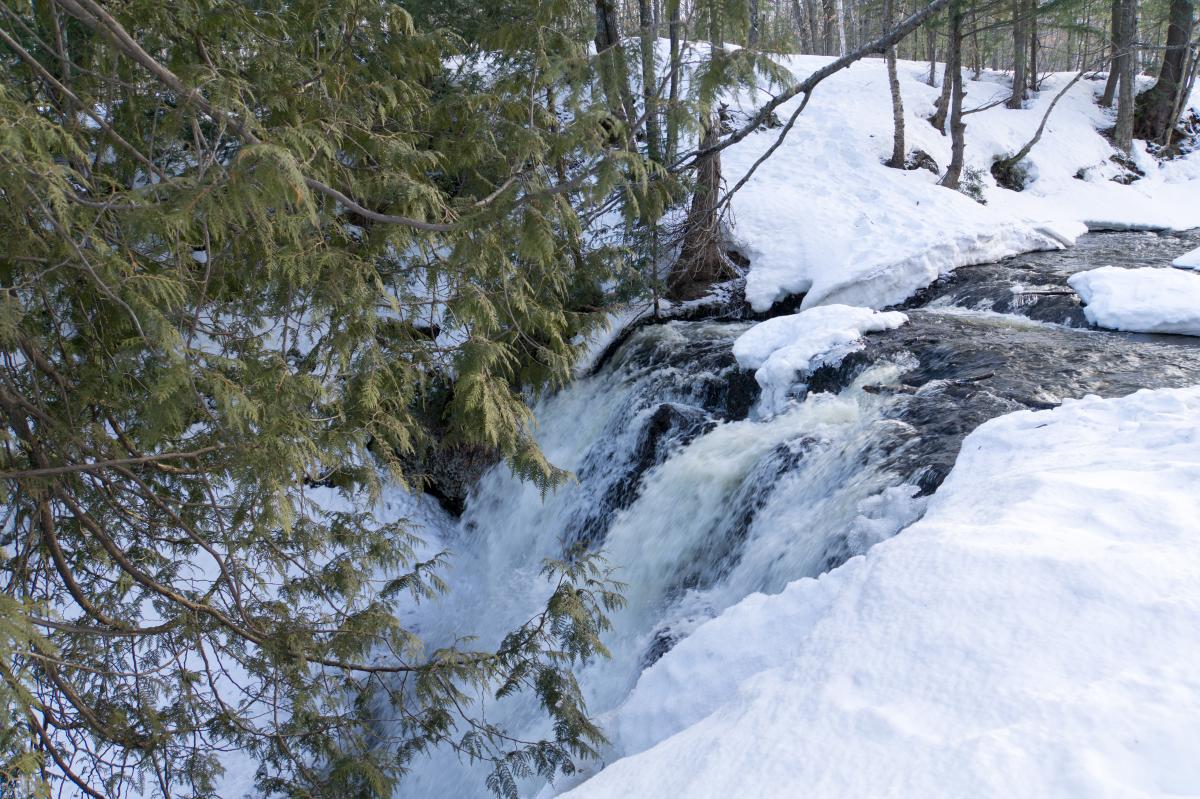 Hungarian Falls is perfect for a fun afternoon snowshoe hike. 
Try Curling
The Copper Country Curling Club has converted the historic Calumet & Hecla Mine's former drill shop into a unique venue for enjoying the classic winter sport of curling. If you are interested in throwing some stones, the Curling Club is a great place to try it out. The club organizes open houses a few times a winter, and anyone is welcome to join in the fun. The Drill Shop is also available for rent. Book a private event, enjoy a 2-hour lesson with a certified curling coach, and have the opportunity to throw down in a real game.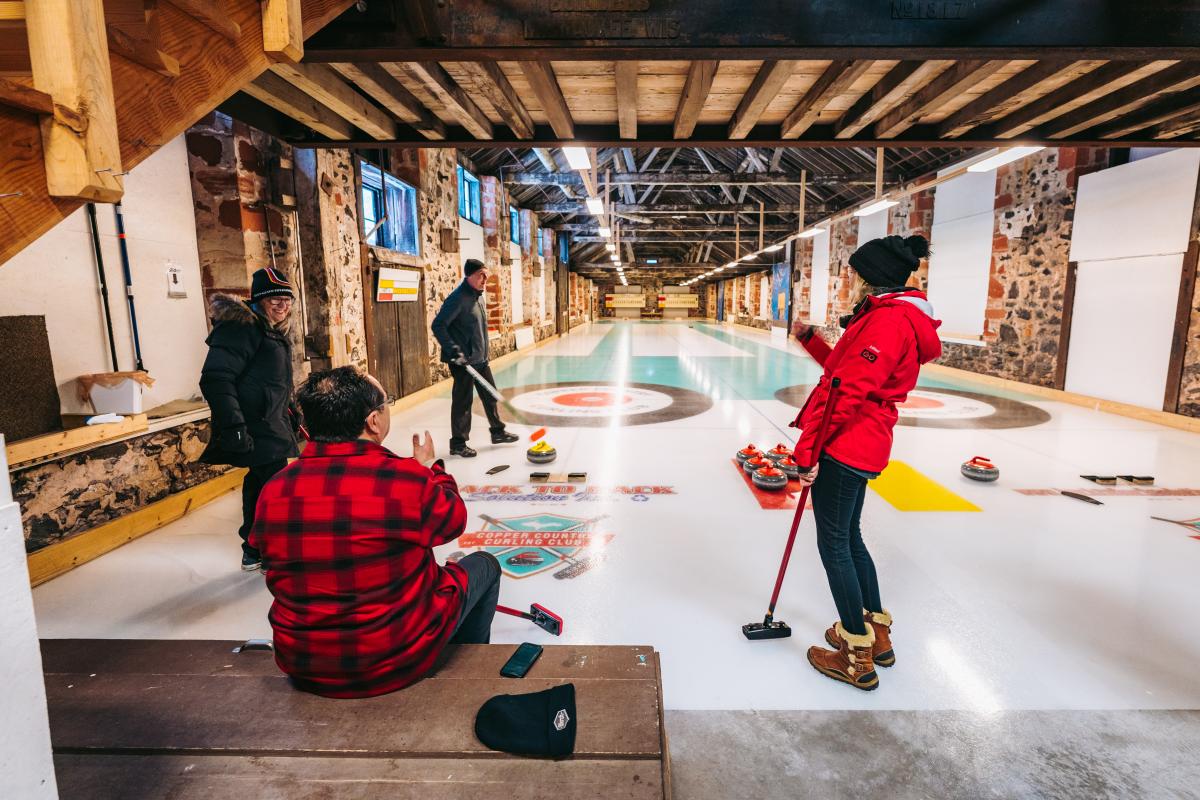 The Drill Shop is a unique curling venue and home to the Copper Country Curling Club. 
Rent a Sled 
Calumet is a hot spot for snowmobile enthusiasts. Keweenaw snowmobile trails run directly through town and rentals are available at Copper Country Rentals, right on US-41. Many of Calumet's lodging facilities are located near the trail system, making it easy to walk out the door in the morning and start your snowmobiling adventure. Calumet is a great place to make home base for your next (or first) snowmobiling adventure.  
Visit Lake Superior  
No matter what season it is, you can't visit Calumet without a trip to the Lake Superior. The closest (and easiest) access to Lake Superior is at Calumet Waterworks Park. The parking lot is plowed during winter for all the Lake Superior enthusiasts. While the lake can be seen from your vehicle, we recommend bringing some snowshoes and heading down to the beach. It's always fun to explore the ice formations that winter has created along Lake Superior's frozen shores.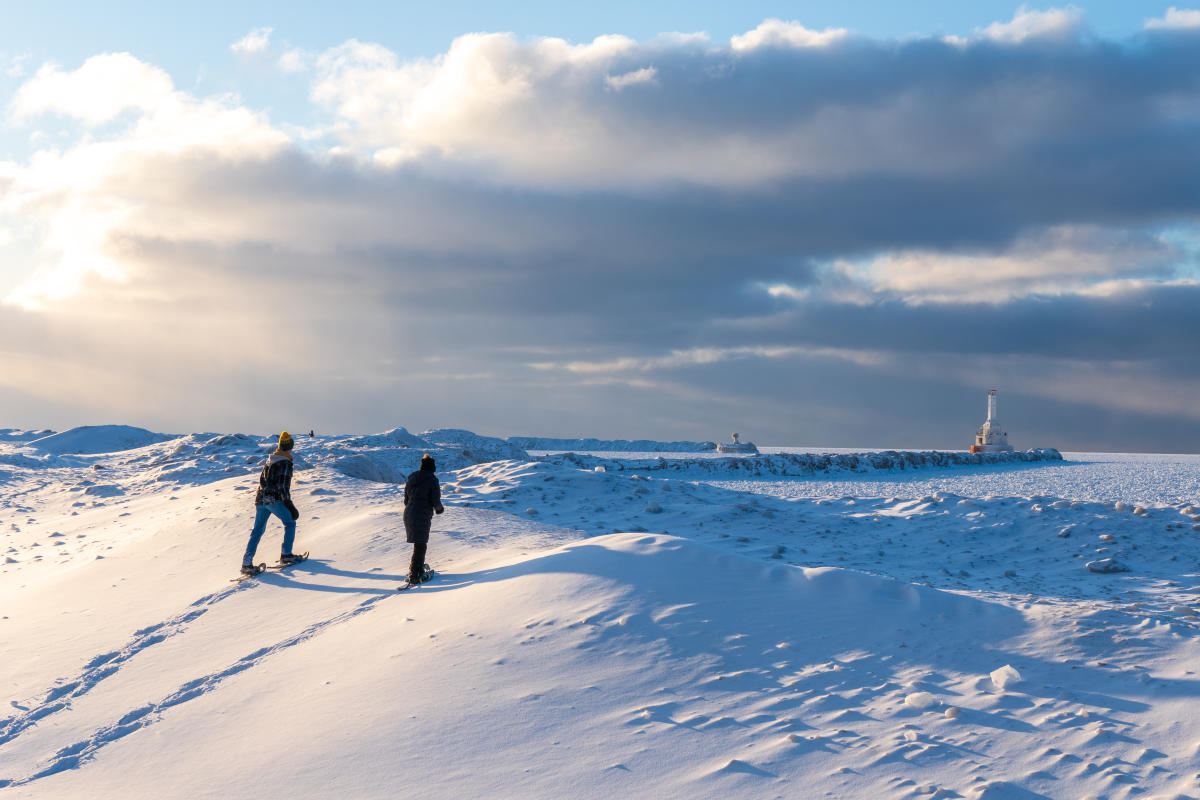 Lake Superior is a must-see spectacle during the winter months. 
Another fantastic spot to explore is McLain State Park, which is just a short drive from Calumet on the M-203. This state park is known for its incredible "ice volcanoes" during the winter months, and it features the frozen North Entrance Light. Snowshoe trails lead to the beach and through the towering pines in this beautiful state park. For more information on exploring McLain State Park in the winter, please see our complete guide. 
Calumet Dining & Watering Holes 
One thing we love about Calumet is the walkability of the downtown area. Grab dinner at Michigan House, Carmelita's, or Offshore Fish & Chips, then head to one of the local watering holes to get the local scoop on where to go and what to see.  
Shute's 1890 Saloon is a fan favorite for its classy historic details, such as the late 1800's Brunswick glass canopy overhanging the bar and the intricate woodwork detailing. Need a late-night snack? The U.P. Pub, just a short walk from Shute's, offers great grill food, including hamburgers, Reubens, and Philly Cheesesteak Sandwiches. The Pub is just about as "Yooper" as they get and is the perfect spot to match some locals to a game of pool.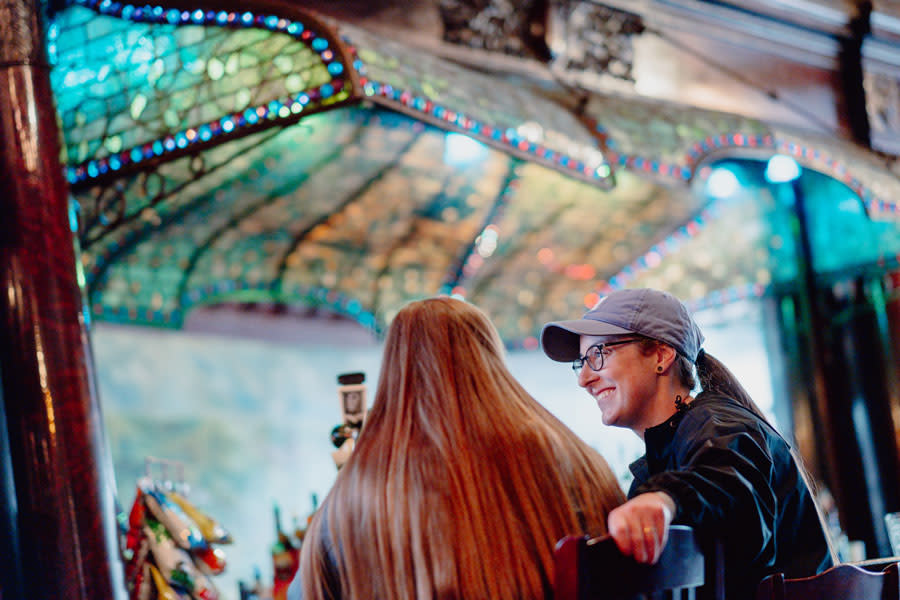 Calumet is home to several historic pubs and bars, including Shute's which features a late 1800's Brunswick glass canopy over the bar.
Explore Laurium 
The towns of Laurium and Calumet are right next door. Take a short drive (we're talking 2 minutes) to Laurium to view historic mansions, access more dining options, and even go bowling! If you want to explore the historic mansions of Laurium, stop by our Visitor Center on the way to pick up information for your self-guided tour. For bowling, set your compass to Miller's Lanes. This 77-year-old bowling lane offers 6 bowling lanes, billiards, and food and drinks.  
Go Ice Skating  
If you happen to have your ice skates in the car, there are a few public skating rinks nearby! The Gipp Arena in Laurium offers public ice skating for just one dollar on the weekends. Alternatively, you can take a short drive North on US-41 to skate at the Emil Aho Memorial Ice Rink, A.K.A the "Ahmeek Ice Rink." The Ahmeek Ice Rink is an outdoor rink with a warming shack. Make sure to check their Facebook page for details on hours and ice conditions.  
Adventure North (or South)  
Calumet is a great place to stay thanks to its centralized location in the Keweenaw Peninsula. It is easy to hop in the car and take a scenic drive to Copper Harbor, or head down to the Keweenaw's "big city," Houghton.  
If you choose to drive to Copper Harbor, make sure to take M-26 on either the way there or the way back. If you choose to take M-26 through Eagle River on the return trip to Calumet, there's a good chance you will get to experience an incredible sunset on the rugged shores of Lake Superior. You will also see a few frozen roadside waterfalls, a winter deer feeding area, and the Eagle Harbor Lighthouse.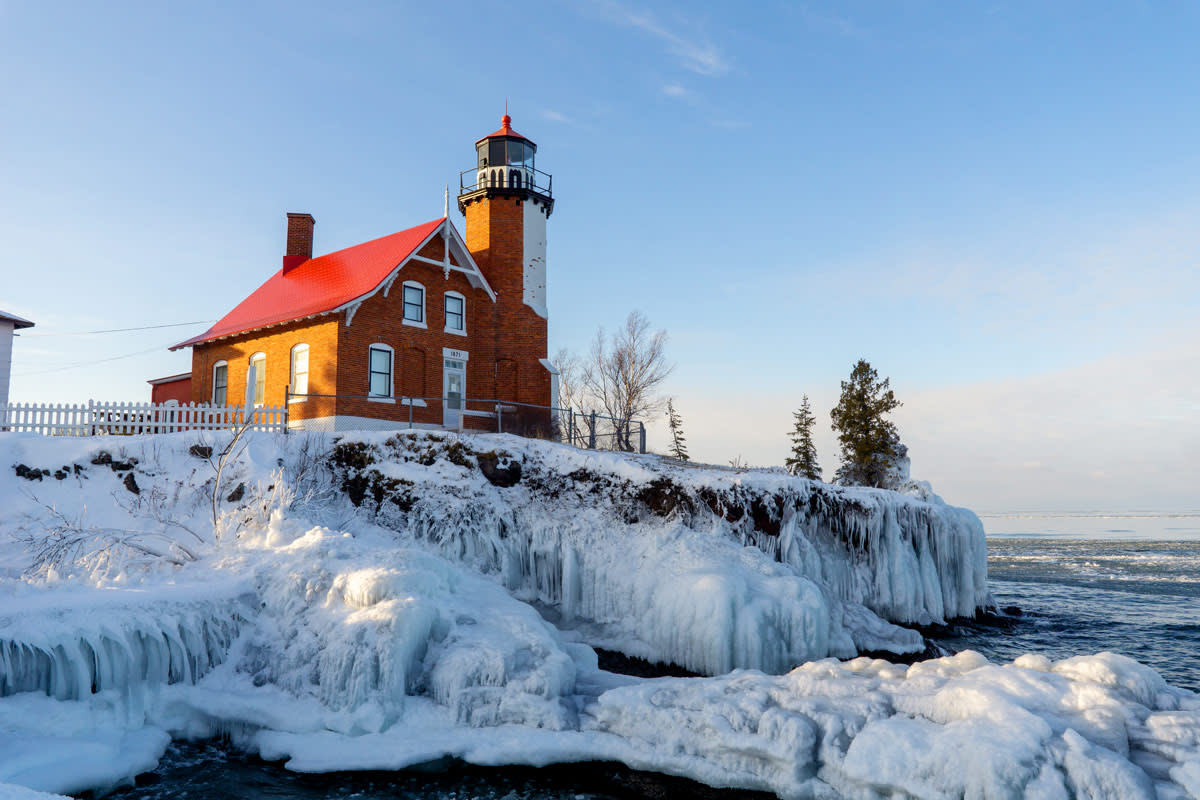 Calumet is a great hopping-off point for a variety of Keweenaw adventures.
The Houghton-Hancock area offers plenty of dining options and a great shopping district in the downtown areas. Winter views of the Portage Lake Lift Bridge are hard to beat, and it's always fun to watch skiers as they swerve their way down Mont Ripley Ski Hill. Make sure to stop by the A.E. Mineral Museum (the official mineral museum of Michigan), and check our events calendar to see if there are any shows at the Rozsa Center for Performing Arts, Orpheum Theatre, or Bonfire at CFC. 
Calumet Winter Events 
Plan your trip during one of Calumet's renowned winter events for an extra special winter vacation. CopperDog 150 and the Great Bear Chase take place in March and are the perfect time to schedule a trip to the area. The energy of these fun winter events is unmatched and make the Keweenaw experience come to life.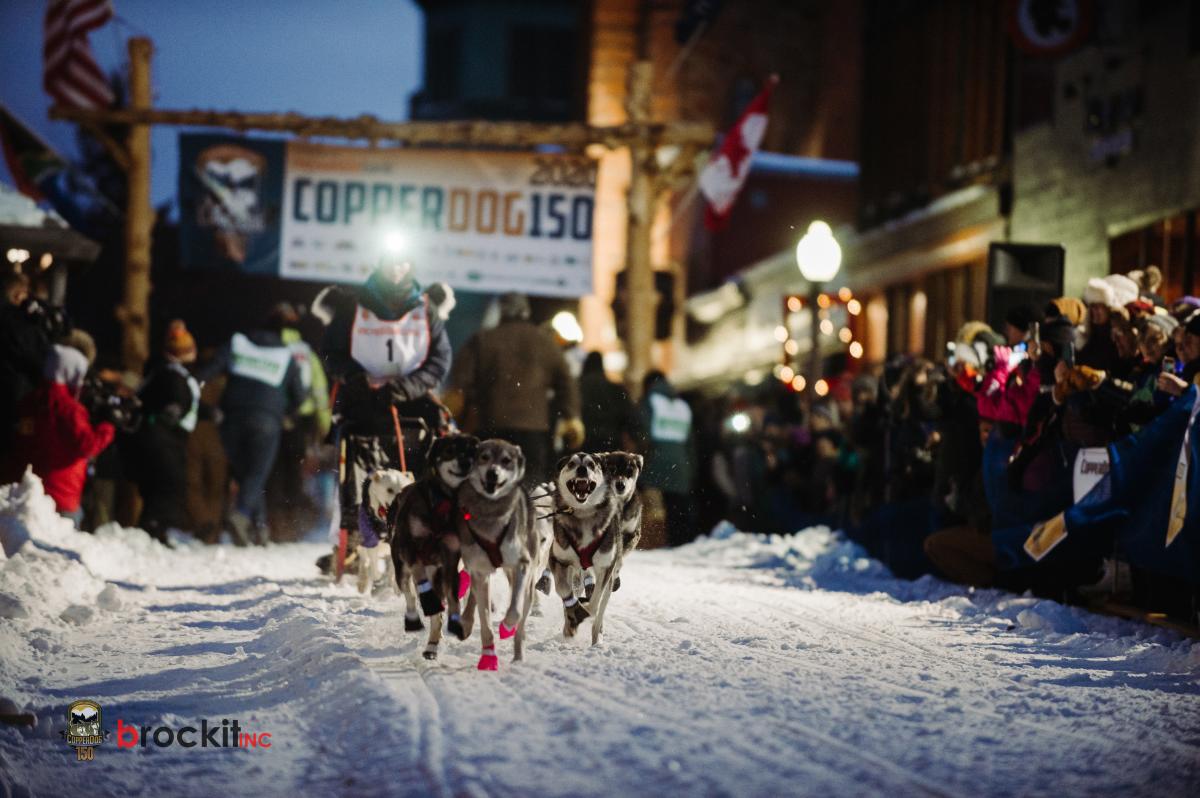 CopperDog 150 starts on the streets of Calumet and is a spectator-friendly dog-sledding event.
Calumet can also be a great place to find accommodations when making reservations during times of other popular Keweenaw events, such as Winter Carnival at Michigan Tech.  
Interested in updates, travel tips and quirky information about the Keweenaw? Just sign up for the Keweenaw Explorer, our monthly e-newsletter. Complete the form…