A breathtaking winter landscape awaits you in the Keweenaw Peninsula, the Upper Peninsula's northernmost peninsula. Whether you're looking to explore the winter landscape while you're up here hitting the slopes or perhaps you just need to unplug for a couple days and recharge the batteries…
FRIDAY: SNOWSHOEING HUNGARIAN FALLS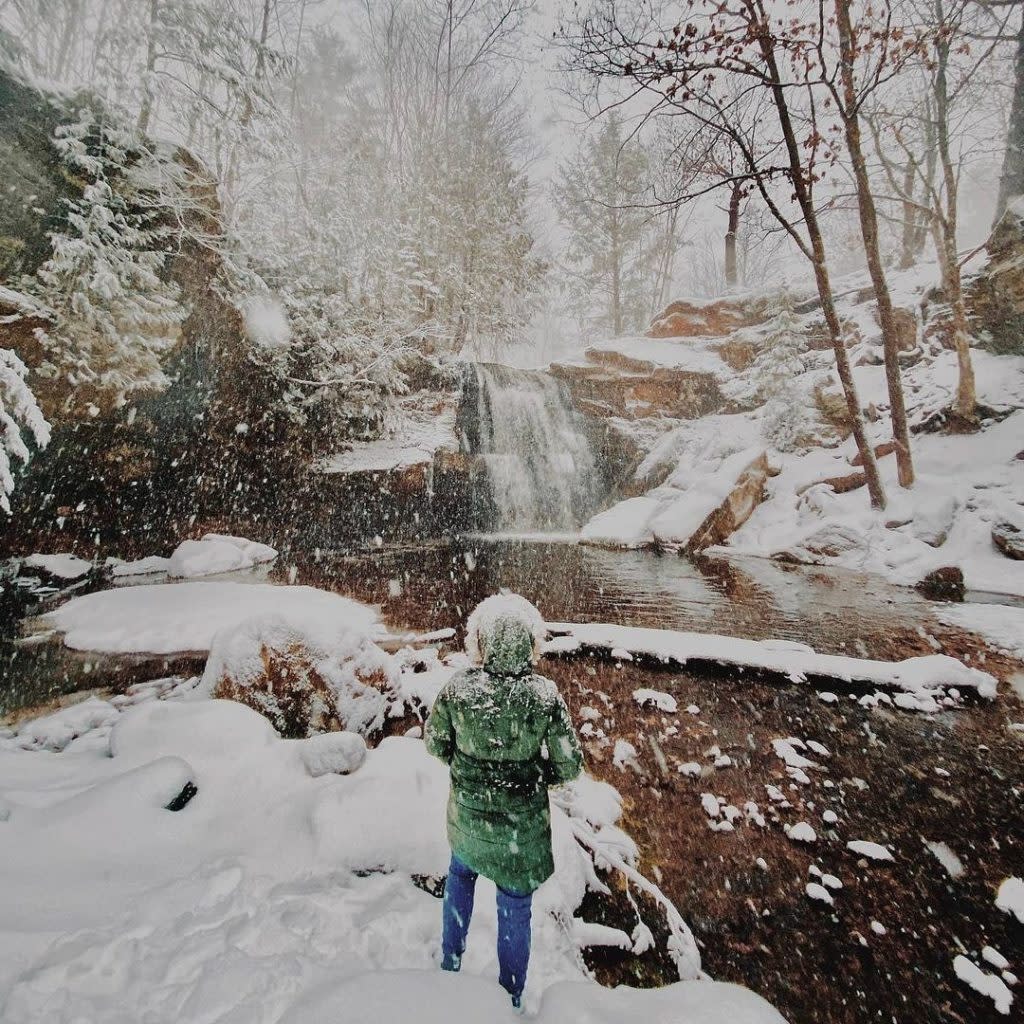 Get ready for a day of snowshoeing and fuel up with breakfast at Armando's Restaurant before heading north across the bridge to Hungarian Falls.
Hungarian Falls is an impressive series of three major cascades with a number of smaller ones along Dover Creek in Tamarack City. The falls range from 20 feet to a spectacular 60-70 foot plunge over a conglomerate cliff face.
There are two miles of ungroomed trails comprised of uneven terrain and steep slopes. Use caution while navigating the trails, especially near sections of trail that come close to the edges of the gorge. There are routes near the middle falls that allow you to safely cross areas of the creek that are narrow and only 5-6 inches in depth.
HOW DO I GET TO HUNGARIAN FALLS?
From Houghton/Hancock:
Head north on M-26, following signs for Lake Linden
After about 8 miles, turn left onto 6th Street in Tamarack City
Follow Golf Course Road up the hill for about 0.5 miles
In winter, not all of Golf Course Road is plowed. It's best to park at the bottom of the hill and snowshoe up.
For lunch or dinner, head to Quincy's Dining Co. in Dollar Bay. It's less than 5 minutes away from the falls. On Friday nights they have their famous fish fry—fresh from Lake Superior. Get the Baked French Onion Soup too—it's phenomenal and comes out with the cheese still piping hot and bubbling!
SATURDAY: BACKCOUNTRY HOK SKIING AT THE KEWEENAW MOUNTAIN LODGE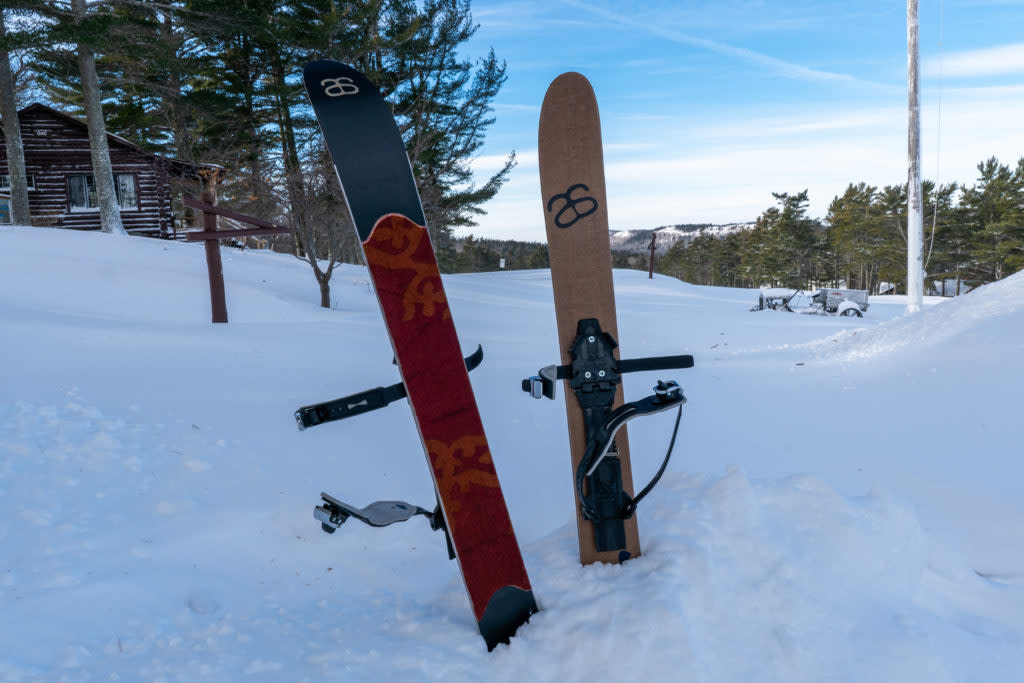 Venture north to the Keweenaw Mountain Lodge to breathe deeply and experience the aroma of snow-covered evergreens while trying out backcountry skiing using Altai Hoks.
The Keweenaw Mountain Lodge is open year-round with lodging, gourmet dining, and trails that welcome silent sports.
The resort has an Outdoor Activity Center where you'll find outdoor winter equipment available to rent. Their friendly staff has extensive knowledge and experience to help answer all of your questions.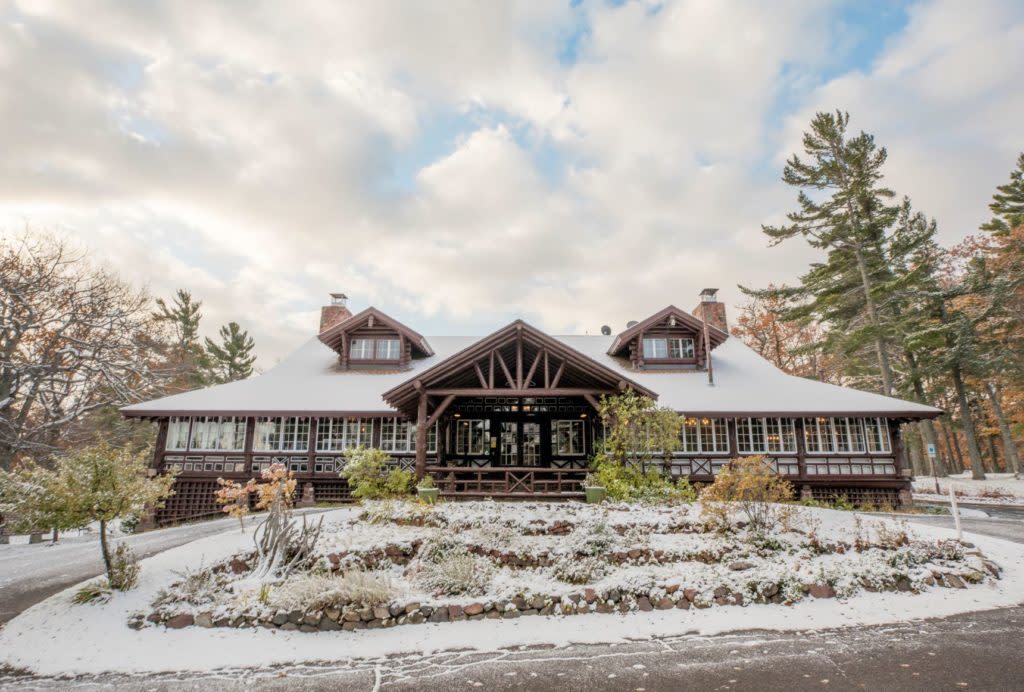 Altai Hoks combine the maneuverability of snowshoes with the gliding motion of cross country skis. They are shorter and wider than traditional skis, and also have a climbing skin—making them ideal for variable elevations and terrain.
Altai Hoks don't require any special boots, just your regular winter boots. Use the ratchets on the binding to tighten around your boot, and you're good to go.
Altai Hoks were inspired by the indigenous people of the Altai Mountains in Northern Asia. They have used this one style of ski for thousands of years to do everything from week-long hunting expeditions to tending to their livestock. Wherever there is snow, you can use Altai skis.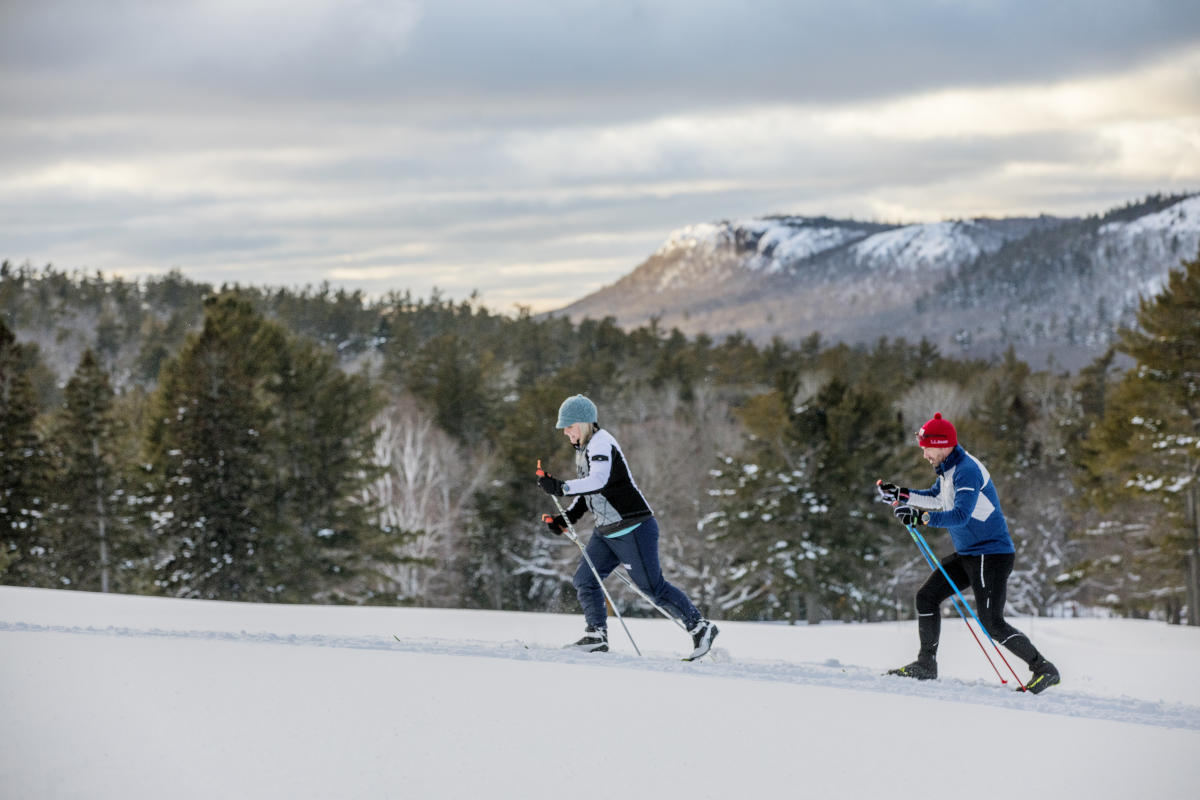 The winter trails at the Keweenaw Mountain Lodge are open to resort guests and the general public. Out of the five trails, Out There Loop was the only one ungroomed with layers upon layers of fresh powder. The other four trails were rolled and packed. (Trail conditions are updated daily here.)
If you've worked up an appetite on the trails, Keweenaw Mountain Lodge serves breakfast, lunch, and dinner (lunch was amazing and I highly recommend the Three Sisters Salad—butternut squash, kale, white beans, and corn with a drizzle of light vinaigrette.)
They also have the Little Cabin Café where they make specialty coffee drinks like this one. (Shh! If you want this glorious Apple Crumble Latte you must ask for their secret menu. You're welcome.)
HOW DO I GET TO THE KEWEENAW MOUNTAIN LODGE?
From Calumet:
Head north on US-41, following signs for Copper Harbor
After about 35 miles, you'll see a sign for the Keweenaw Mountain Lodge on your right
Turn right and pull into the parking lot by the main lodge
If it's your first time using the winter trails or you're looking to rent winter equipment, follow the signs to the conference center
Everyone from the novice to the more experienced snowshoe or ski enthusiast will discover an alluring winter landscape and challenging terrain in the Keweenaw.
Trip add-on ideas:
After a day on the trails, experience a far infrared sauna at J. Jukuri Spa in Houghton. A far infrared sauna relaxes muscles and helps release tension. They also offer a wide variety of other massage and wellness services too.
De-stress and stretch with a yoga Class with Natasha Kentala (instructor at Fresh Coast Yoga). She offers classes virtually as well as in-person.
SUNDAY: FUEL UP WITH A FINNISH BREAKFAST
Before departing for your return journey home, be sure to visit Suomi Home Bakery & Restaurant in Houghton for a traditional Finnish aamiainen (breakfast).  This downtown diner is a favorite with the locals thanks to its prompt service, ample servings and wallet-friendly prices. You'll find Finnish favorites like pannukakku (a sweet custard-like pancake served with local berry toppings) and other traditional American fare.
HOW DO I GET TO SUOMI HOME BAKERY & RESTAURANT?
From Calumet:
Head south on US-41, following signs for Houghton
After about 15 miles, cross the Portage Lift Bridge and stay in the left two lanes to stay on US-41
Turn left onto Huron St and head down the hill. Suomi will be on the left with a parking lot straight ahead.