While summer and fall are popular times of year to visit the Keweenaw, it's the winter season that truly defines this magical place. Beginning as early as late October, successive layers of powdery snow begin to blanket the landscape. The result is a breathtaking winter wonderland where evergreen boughs become dusted with snowflakes, and previously churning waterfalls and streams slow to a standstill. While our days become shorter, this only accentuates the beauty of a clear night sky and increases the chance of seeing an inspiring display of the Northern Lights. With nearly 270 inches of reliable snowfall each year, let's hear what the locals recommend for the ultimate winter Keweenaw experience.
Locals Suggest
THE Downhill Destination. 
The Keweenaw's probably best known for its amazing outdoor recreation scene and the incredible amount of powder that falls from the sky each winter. Nothing combines those two facets better than  Mount Bohemia, which is widely recognized as one of the top downhill skiing scenes in the U.S.  With a 900-vertical drop (tops in Michigan), 107 runs (yup, that's right), and the only cat skiing operation east of the Rockies, it's easy to see why skiing and snowboarding junkies from all over make the pilgrimage to Lac La Belle winter after winter.  This backcountry experience, featuring rugged rock outcroppings, drops, and ungroomed wooded trails, is well worth the drive north.
Mount Bohemia in Lac La Belle, MI is a powder destination for advanced downhill lovers.
Downhill enthusiasts will also enjoy Mont Ripley Ski Area in Hancock, MI. Mont Ripley welcomes all snow enthusiasts and features runs suitable for all skill levels. It is also home to the Keweenaw's only Tow-Rope Tubing Park and the biggest Terrain Park in Michigan's Upper Peninsula. Enjoy scenic views of the Portage Canal as you explore the trails of Mont Ripley Ski Area.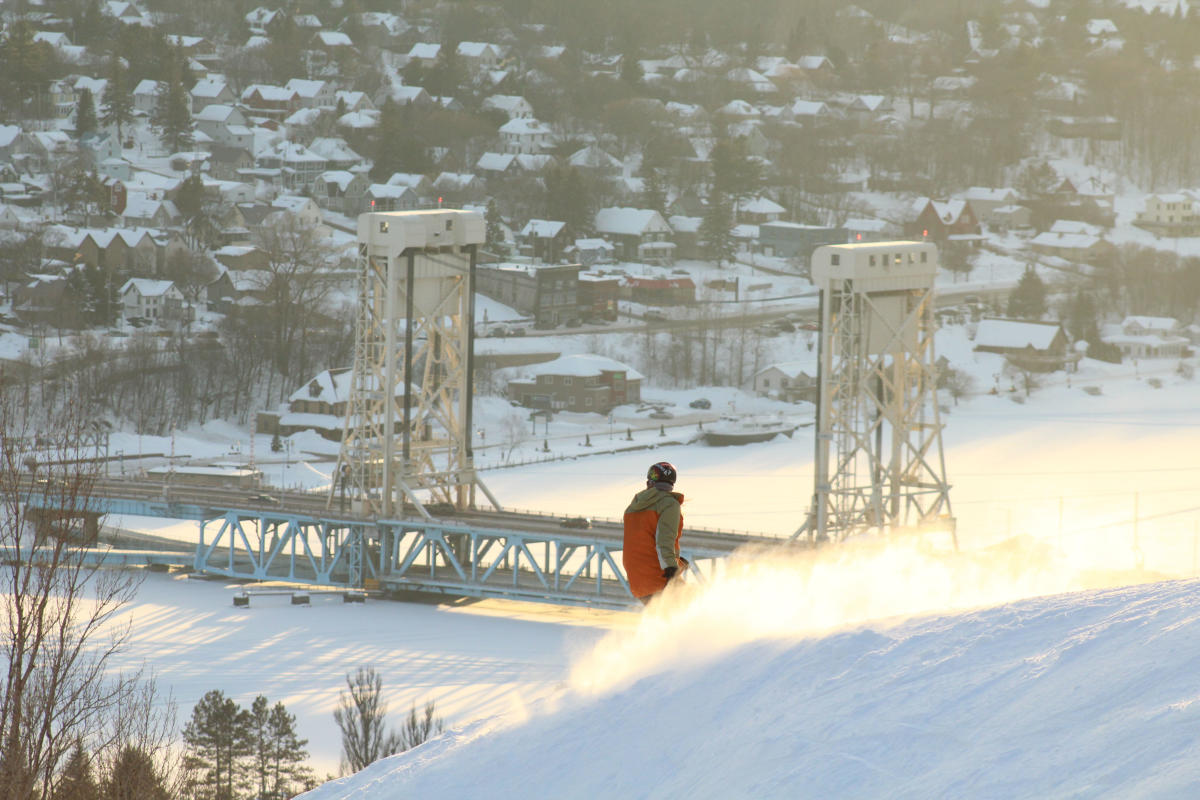 Mont Ripley Ski Area is conveniently located in the Houghton-Hancock Area and offers snow-filled fun for all skill levels. 
Winter Festivals
In the Keweenaw, we celebrate winter for its breathtaking beauty, enduring inspiration, and the joy that a fresh coat of powder brings to outdoor enthusiasts. This is reflected in several amazingly unique festivals that take place in the chillier months.  Take Winter Carnival for example. This four-day festival in early February began in 1922 and features dozens of huge, elaborate snow statues, ice carvings, outdoor competitions (like snow-volleyball), comedy skits, queen coronations, sleigh rides, and lots more winter fun. Heikinpaiva, which takes place in January, celebrates the halfway point of winter. Lasting almost an entire month, this event's roots are tied to the region's Finnish heritage and is characterized by demonstrations of Finnish music, cuisine, artistry, and outdoor games and activities.  Speed across the snow on a Finnish kicksled or carry your spouse in a feat of strength and speed during the annual race in Hancock to win eternal glory.

Find more Winter Festivals!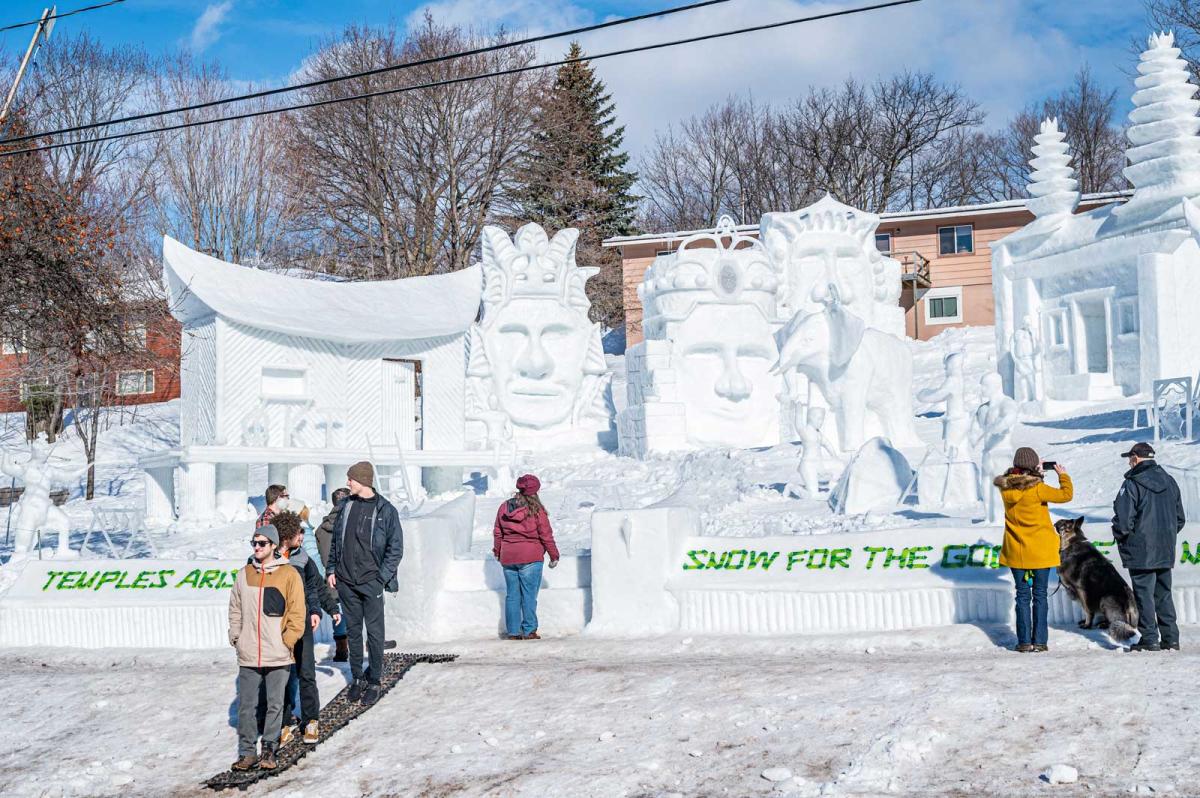 Winter Carnival has been a tradition at Michigan Tech for over 100 years. 
Make like a musher. 
Have you ever dreamed of racing to glory in the Iditarod? Or, do you have a need to be surrounded by high-energy, four-legged, furry companions?  Either way, Otter River Sled Dog Training Center & Wilderness Adventures is here to make your dreams come true. Grab a friend and lead the pack as you traverse up to 10 miles of pristine Keweenaw wilderness as your dog team flies across the snow. 

Keweenaw Pro-Tip: Mark your calendars for the 14th running of the CopperDog 150 sled dog race:  March 1-3, 2024.  Watch these furry, world-class athletes from across the globe compete in an exciting three-day, 150-mile race around the Keweenaw!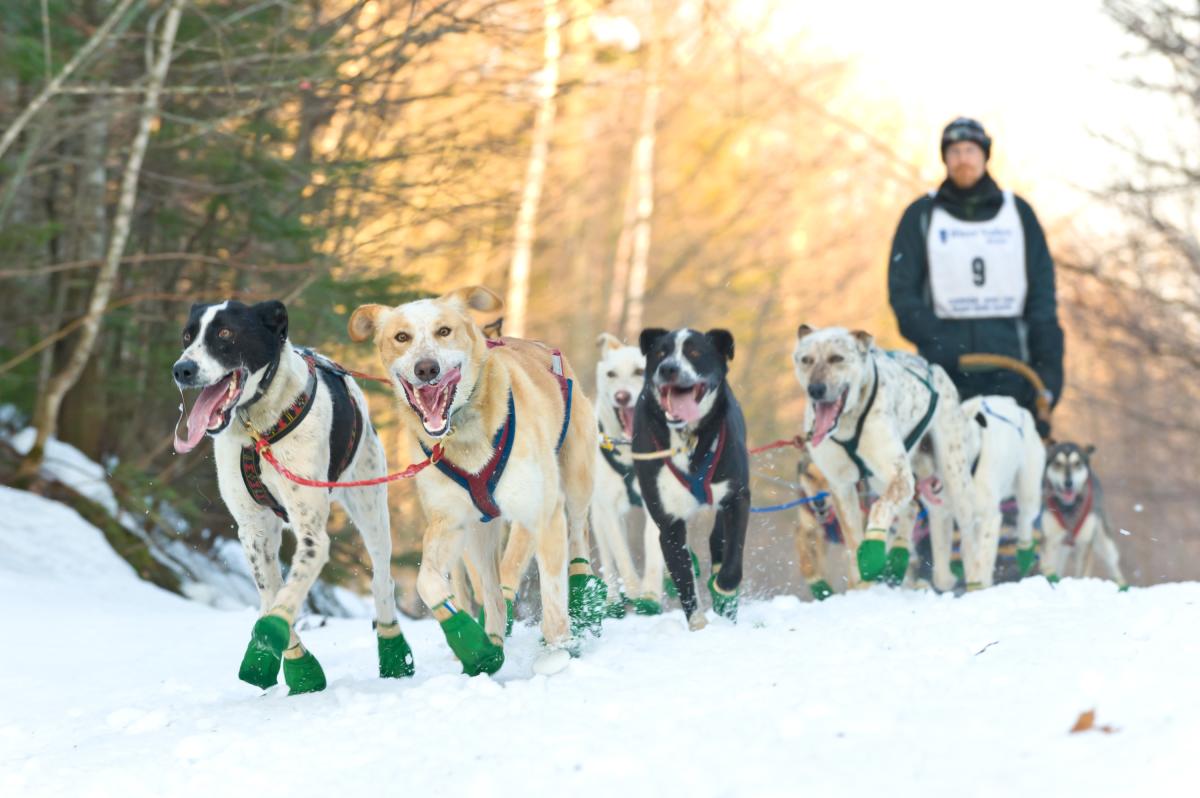 Sled dogs pull a musher during a CopperDog 150 race in the Keweenaw Peninsula
Grab your sled and ride. 
With more than 200 miles of prime trails, it's no wonder why the Keweenaw is a snowmobiler's paradise.  Take the trail from Houghton all the way to Copper Harbor and be sure to grab a pasty (pronounced past-ee) for the long trip. You can do an informal pasty "trail" by visiting: Roy's Pasties & Bakery and Suomi Restaurant in Houghton, Amy J's Kitchen in Hancock, Jen's (formerly Connie's) Kitchen in Calumet, Toni's Country Kitchen in Laurium, The Hut just north of Calumet, and The Mohawk Superette in Mohawk. 

Need a ride?  Stop by Copper Country Rentals in Calumet to rent your sled.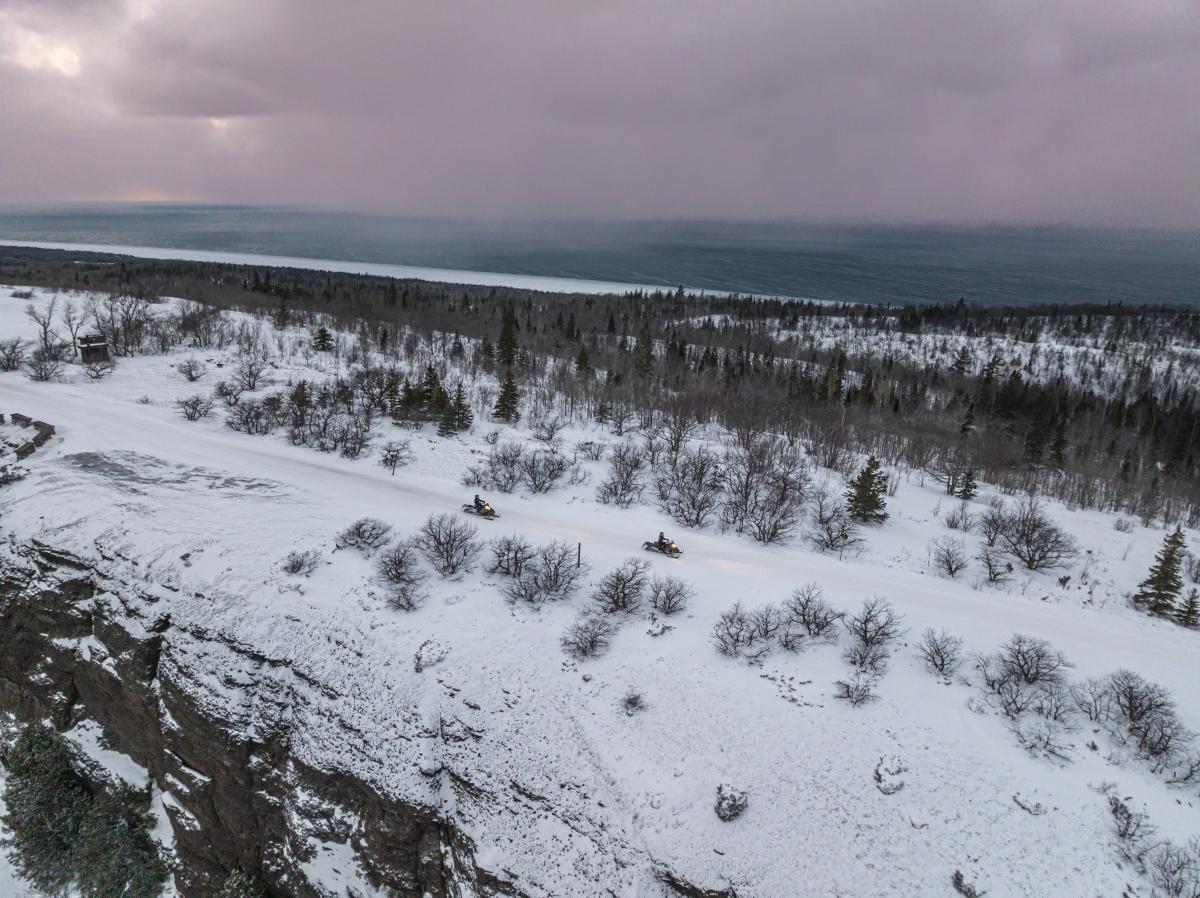 Ride atop ancient cliff ridges in this snowmobiling paradise. 
Experience Black Creek Nature Sanctuary. 
The Keweenaw offers an amazing array of treks perfect for experiencing the sights and sounds of winter. The Black Creek Nature Sanctuary near Calumet is a less-frequented destination where visitors are treated to beautiful views of fantastical ice hills and "volcano vents" formed by ice buildup from Lake Superior. The 242-acre sanctuary features gently rolling trails, forested landscapes and a picturesque lagoon that feeds into Lake Superior during the warmer months. This secluded location is home to abundant local wildlife including beavers, spruce grouse, and the occasional wolf or black bear.
Fat Tire Biking. 
If you love biking, you've likely noticed a niche, but growing winter trend: fat-tire riding. This sport features fat-tires (4"-5") normally set to 5-8 psi which helps riders float atop snowy surfaces.  The style is gaining traction across all surface types.  And in the Keweenaw, snow-biking allows you to experience your favorite trails in a completely new light. Popular places to ride include the Michigan Tech trails in Houghton and Swedetown in Calumet. Be sure to stay hydrated and dress in layers!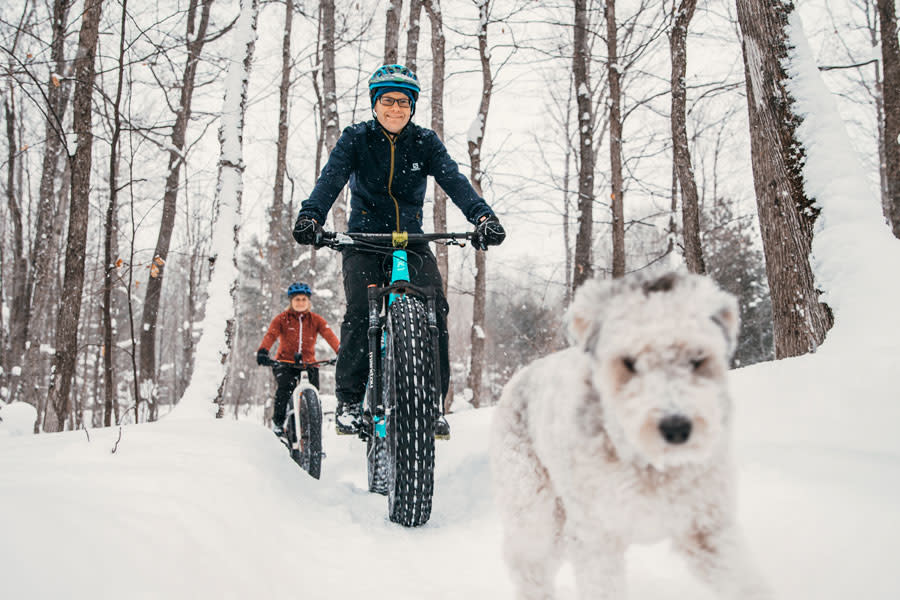 A couple and their furry friend enjoy fat tire biking at Swedetown Trails
Cross Country Skiing. 
While the Keweenaw's downhill scene deservedly gets a lot of attention, its Nordic counterpart is one of the best ways to experience the Copper Country during wintertime. Cross-country skiing's popularity with locals and visitors stems from the region's numerous trail systems, fresh, powdery snow, and scenic landscapes.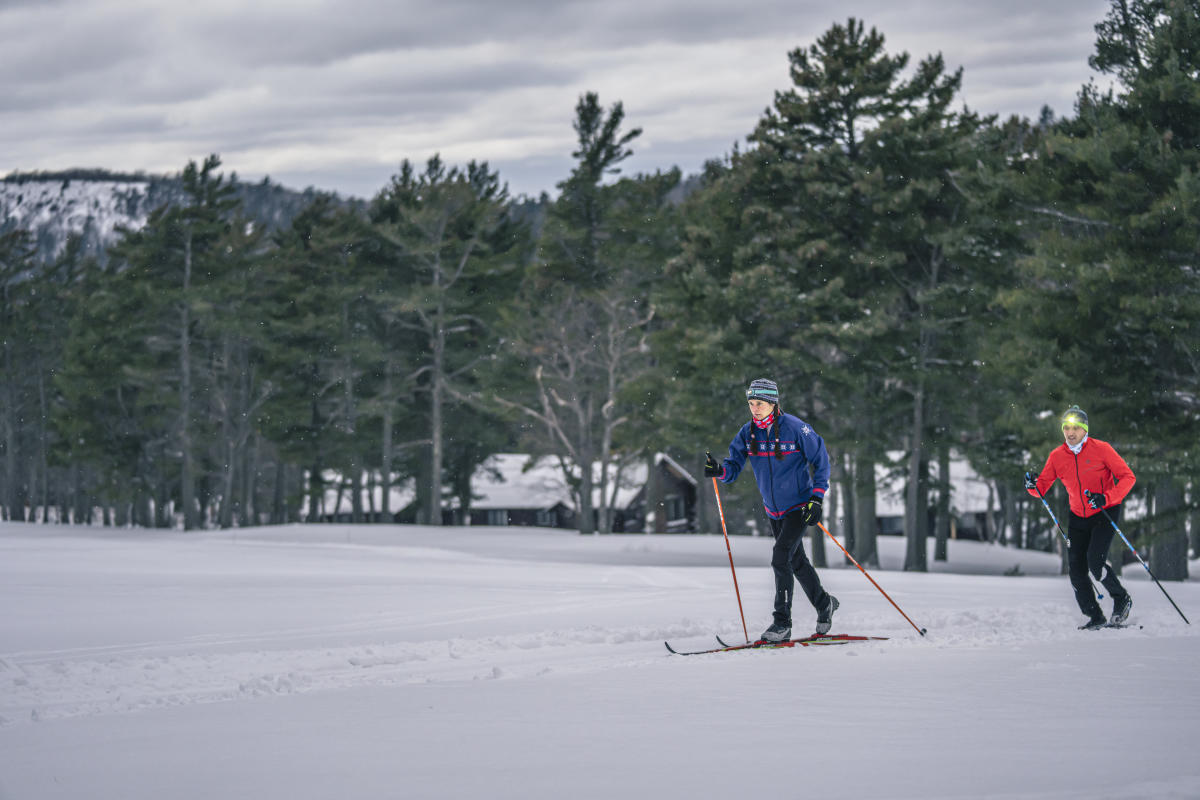 Cross country ski through the Keweenaw's pristine wilderness.
Enjoy a Sauna: 
After a thrilling day of winter recreation, it's time to relax. There's no better way to do it than enjoying a traditional Finnish sauna which combined hot and cold treatments to excite the senses and then lull them to a pure state of bliss.  Lucky for you, we've got just the spot:  Mount Bohemia's Nordic Spa in Lac La Belle. After several rounds, you'll be rejuvenated and ready for another day of exploring the Keweenaw's winter wonderland.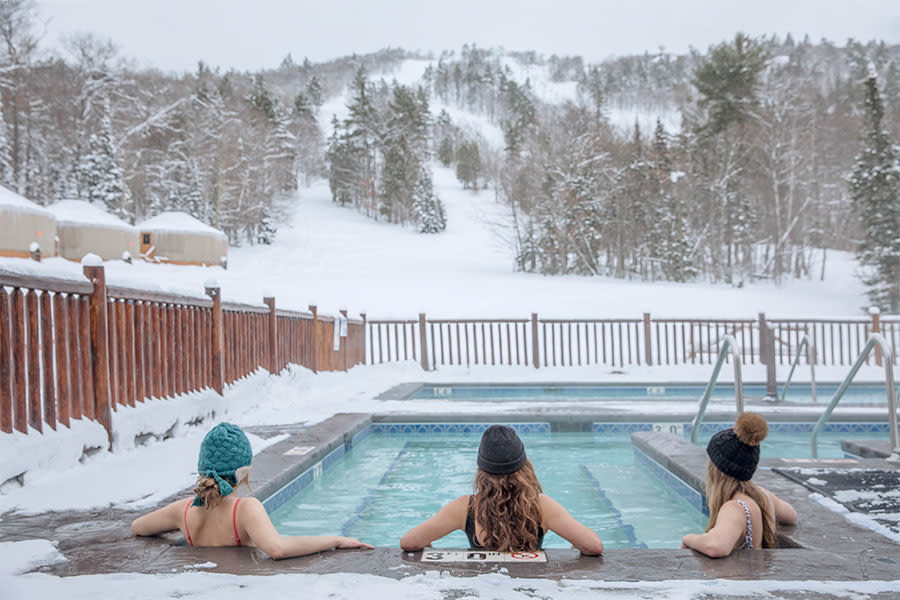 Mount Bohemia's Nordic Spa rejuvenates the body and soul.
Interested in updates, travel tips and quirky information about the Keweenaw? Just sign up for the Keweenaw Explorer, our monthly e-newsletter. Complete the form…